Some time ago we published an in-depth Samsung Galaxy S21 review. Today we take a closer look at the top model of the S-series, the Samsung Galaxy S21 Ultra. This time however, we did not use a standard model for the review, it is a customized Limited Edition from Caviar. The Russian company is known for enriching and decorating high-end Samsung phones with high-quality and durable materials.
A week after the introduction of the Samsung Galaxy S21 series, Caviar released a collection of luxury smartphones, based on Samsung's new top model. LetsGoDigital has been given the opportunity to test one of these Galaxy S21 Ultra models to write a review on it. We made use of the Customize option, Caviar designed a model for us on request. Therefore only one copy of this special device has been made.
We have opted for a mix of two existing models; the top is the same as the White Alligator model, the bottom has the same black, hardened titanium honeycomb structure as the Gold Ox version. To keep the design as minimalist and sleek as possible we have omitted the crown, which symbolizes the Caviar brand. It is a relatively simple customization, without rare materials such as meteorites, diamonds, gold, bas-reliefs and other options that Caviar also offers.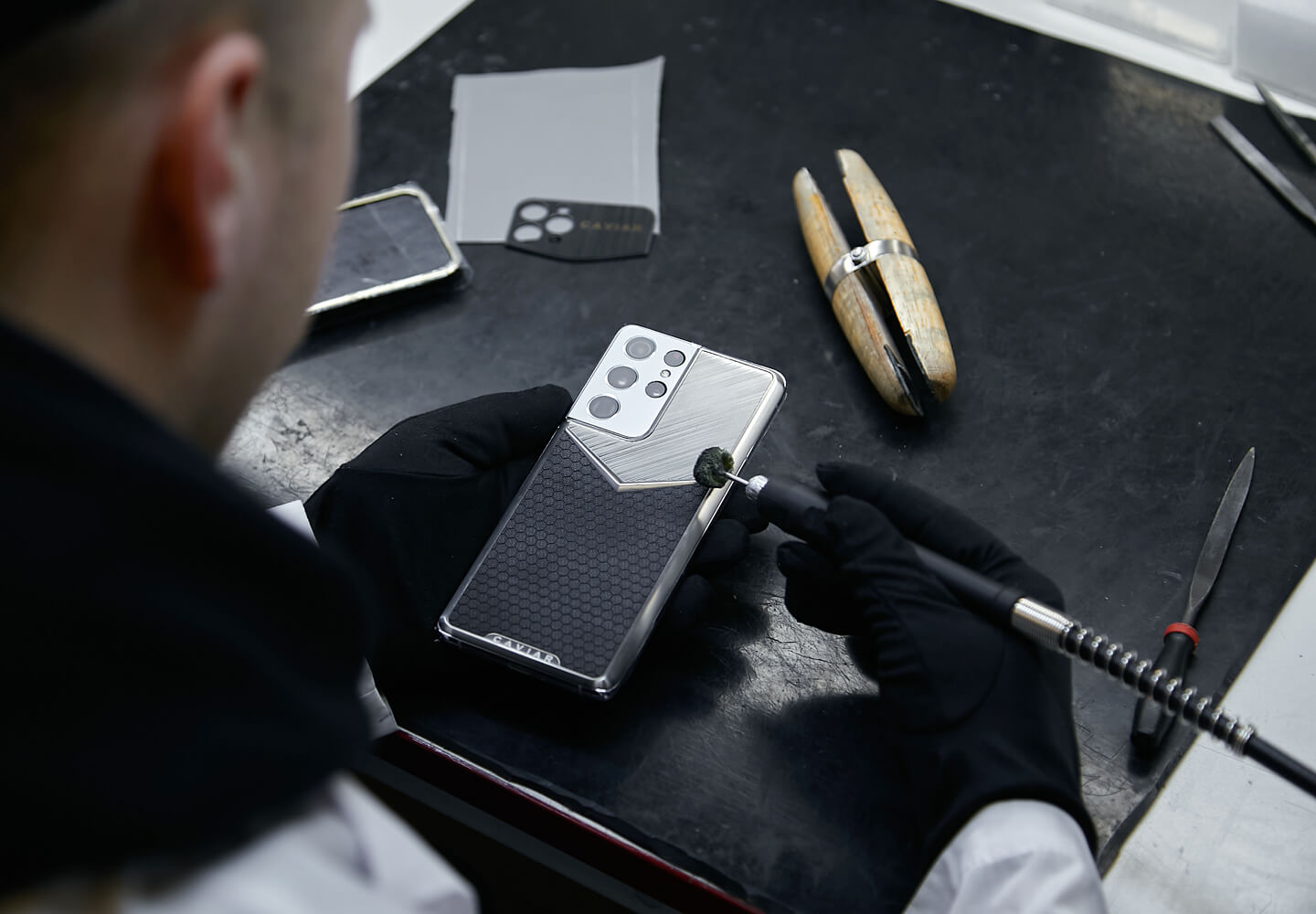 Samsung S21 Ultra customized by Caviar
After we made our wishes known, the Caviar designers got to work. Within a few days we had a concept drawing in hand, after approval the production process took less than a month. The entire process, from order to delivery, took about 6 weeks. For the occasion, Caviar took a series of 'Behind the scenes' photos during the manufacturing process, showing how the S21 Ultra was taken care of in Caviar's design studio.
The Limited Edition smartphone comes in a beautiful white leather box. As soon as you open the storage box you will see a small light source that illuminates the device beautifully. From opening the box to holding the device, everything feels like high-quality. In our opinion, the design looks very refined and detailed and gives the already luxurious Galaxy S21 Ultra that little bit extra distinctive character.
The finish also looks very nice. Every nook and cranny has been treated with an eye for detail, further enhancing the overall sense of luxury and exclusivity. The camera system also protrudes less far from the housing than with the original. This is because the hardened titanium layer, which replaces the glass back of the Samsung S21 Ultra, is thicker than the original.
Naturally, the addition of these high-quality materials, mainly hardened titanium, also provides the necessary extra weight. Nevertheless, this Limited Edition smartphone offers a comfortable grip, partly because your index finger falls exactly under the slightly protruding "V" shape. This "V" shape can be found in the entire S21 collection from Caviar and stands for "Victory".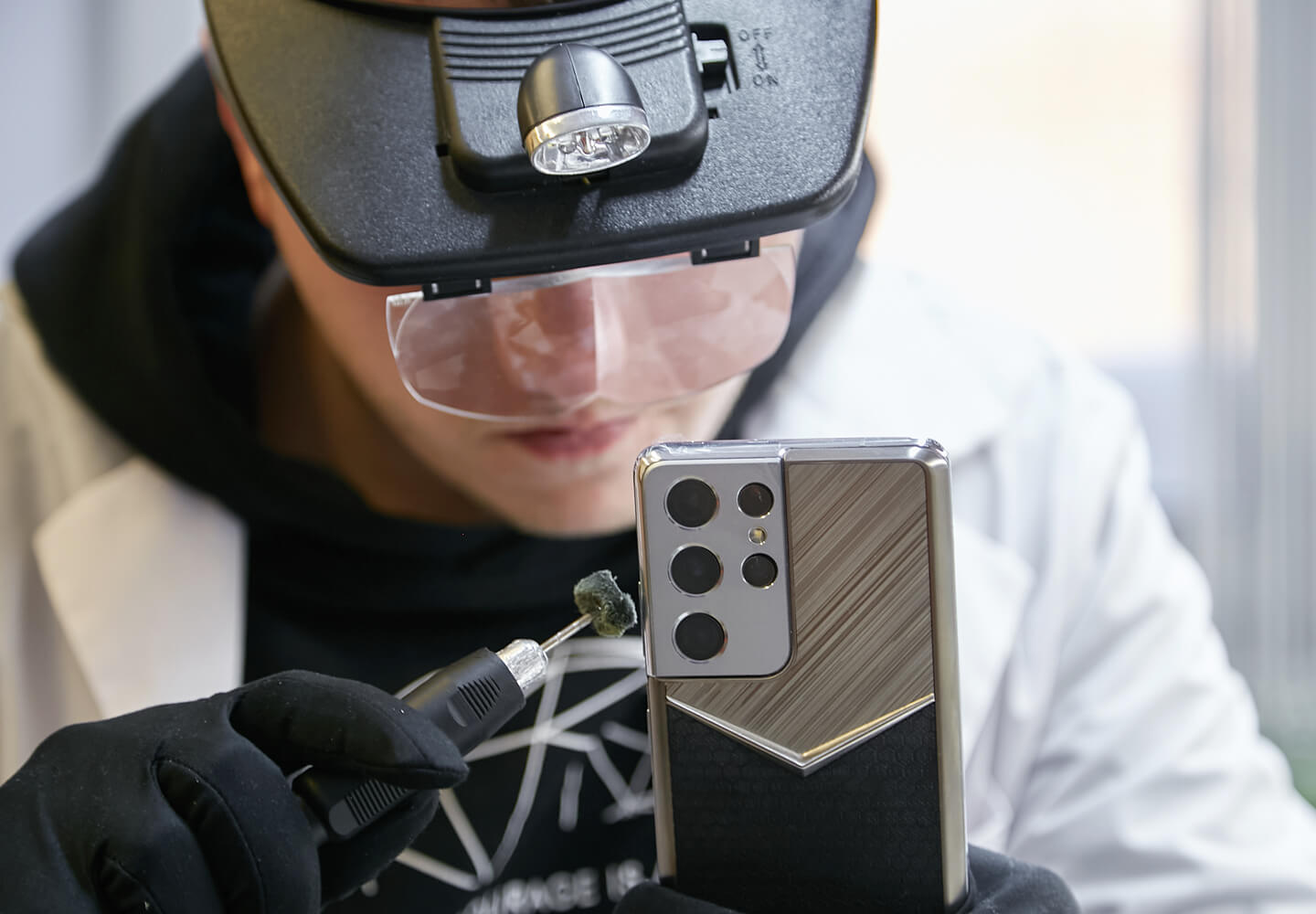 What can you expect from the Galaxy S21 Ultra?
In terms of functions, this Limited Edition smartphone offers exactly the same functionalities as a standard Galaxy S21 Ultra. Samsung's top model offers several extras compared to the cheaper Galaxy S21 and S21+. For example, the Ultra is the only model that features a 6.8-inch curved display with a QHD+ resolution (3200 × 1440 pixels) and an adaptive 120Hz refresh rate.
For the first time, this high refresh rate can also be used at the highest screen resolution too. Moreover, it is adaptive, in other words, the refresh rate is automatically adjusted based on the app you are using. The high refresh rate is ideal while scrolling or playing a game, as moving images merge more smoothly.
The screen is protected by Corning Gorilla Glass Victus. This is the most scratch and drop resistant screen protector from Corning to date, it is the successor to Gorilla Glass 6. Samsung has also updated the fingerprint sensor, which has been placed again under the screen, but is 1.7x larger than before. In practice, the renewed ultrasonic sensor works much faster and more accurately than before.
Compared to its predecessor, the S20 Ultra, the display is also slightly smaller: 6.8" instead of 6.9". This is of course a minimal difference, but in practice this means that the new model is a little easier to operate with one hand. As we are used to from Samsung, the new flagship offers an extremely pleasant viewing experience. Everything looks super sharp, with vibrant colors.
The mobile phone not only has a particularly bright and beautiful screen, it is also the only Samsung smartphone with a dual telephoto lens. The quad-camera system consists of a renewed 108 megapixel wide-angle camera, a 12-megapixel ultra-wide-angle camera, a 10-megapixel telephoto camera with 3x zoom and a 10-megapixel periscopic zoom camera with 10x optical zoom and 100x digital zoom – also called Space Zoom by Samsung. Three of the four cameras are equipped with optical image stabilization, meaning sharp shots are ensured.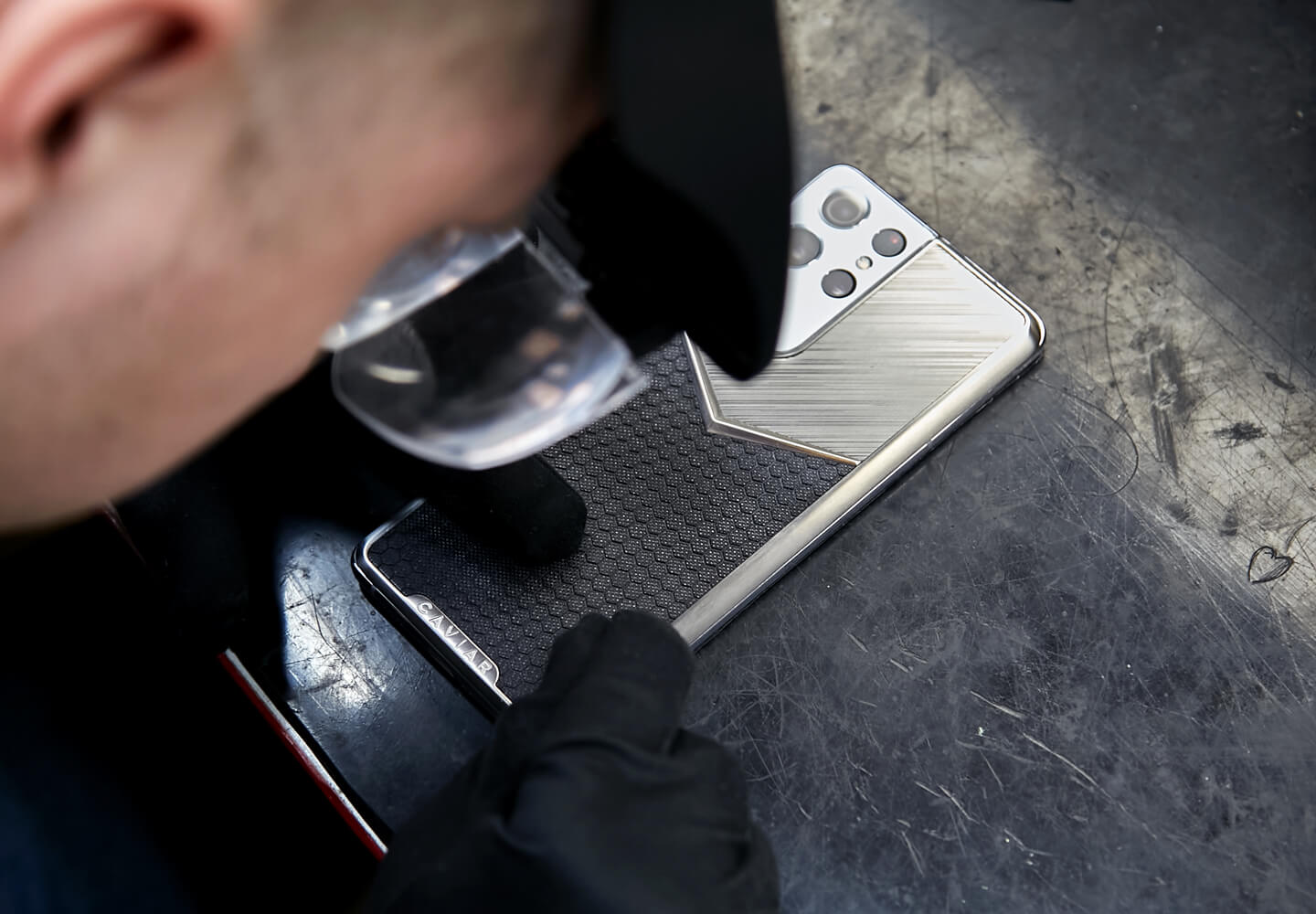 The new combination offers an excellent image quality. This is partly due to the laser autofocus sensor. It was first used on the Galaxy Note 20 Ultra and is much faster and more accurate in focusing than the DepthVision camera used in the S20 + / S20 Ultra. The colors, contrast, dynamic range – everything looks just that little bit better with the cameras of the S21 Ultra.
Zoom photos also look significantly better than before. I am not a fan of the digital zoom, since this feature comes at the expense of image quality. The optical zoom, however, produces impressive pictures. Also useful is the new "Zoom Lock" function, where a combination of optical and electronic stabilization together with AI helps to create flicker-free, sharp images. Especially useful when you zoom in far.
Also new is the possibility to take macro photos up close, for which the 12MP wide-angle lens is used. The results are astonishingly good, the macros look very clear and detailed. Better than on many other smartphones with a separate macro lens. I am also pleased with the evening recordings, provided that the night mode is switched on, as that difference is clearly noticeable.
In the field of video, Samsung has also implemented numerous improvements and innovations. For the first time, it is possible to capture 4K videos @ 60fps with all lenses. This allows you to capture extremely smooth and sharp video images, regardless of whether you want to shoot wide angle, ultra wide angle or zoom videos. Advanced features such as Directors View and Pro-Grade video let you customize any video.
Of course the Samsung S21 Ultra is also equipped with a selfie camera. A punch-hole camera system has been used for this, which is centrally placed. It contains a 40 megapixel image sensor, which manages to capture much more detail than the 10MP front camera of the other two S21 models.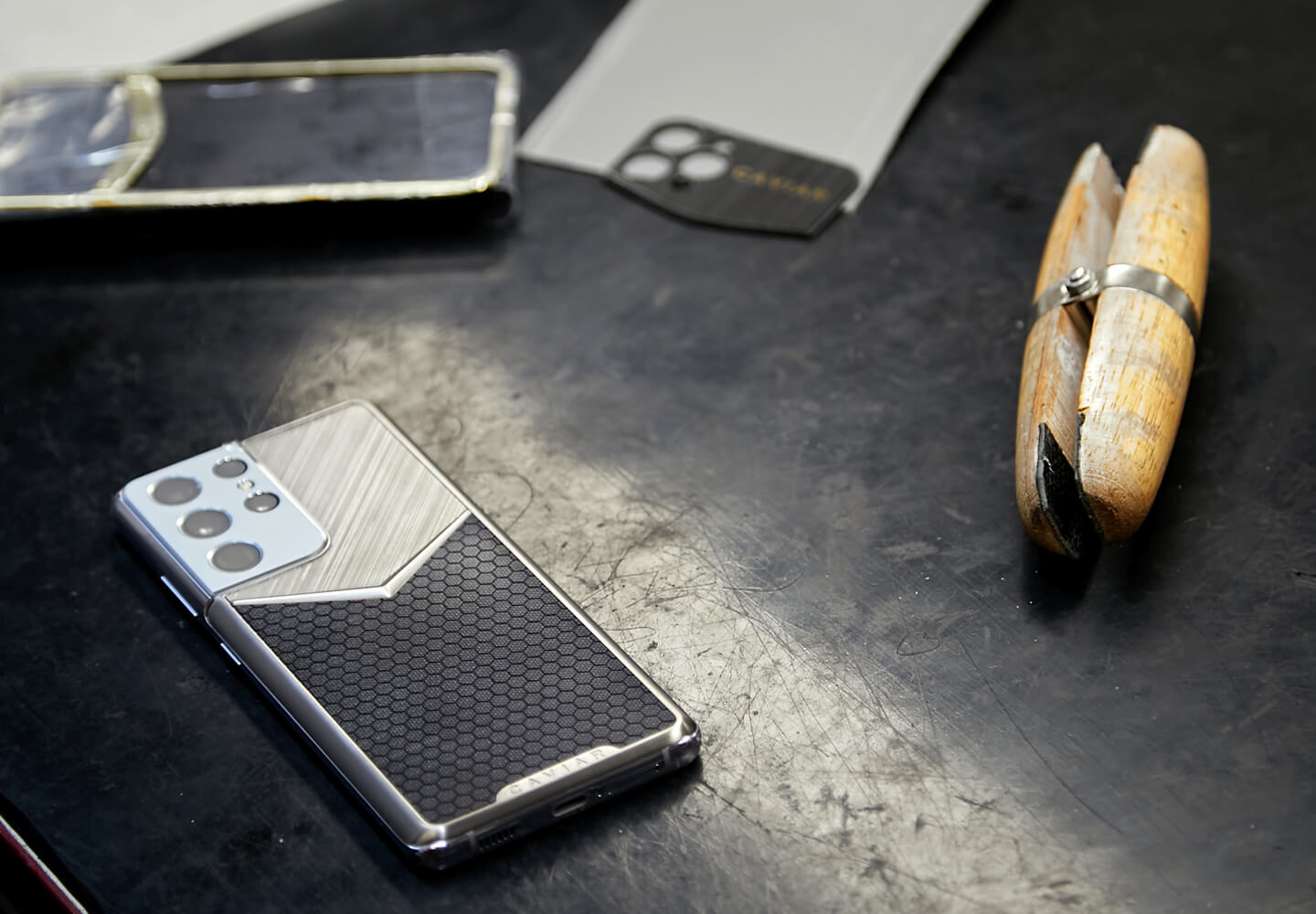 Powerful chipset with latest software
The Exynos 2100 chipset is placed under the hood. This particularly powerful Samsung-made processor is the counterpart of the Qualcomm Snapdragon 888, which is used in many other flagship smartphones this year. The 5nm Exynos 2100 with integrated 5G modem offers comparable performance and uses less energy than its predecessor, the Exynos 990, which was used in the S20 series. Samsung has also made a host of performance improvements that add to the speed and stability of the phone. During our test period, we have never had to deal with any hitches.
As standard, the S21 Ultra is equipped with 12GB of RAM, making the device powerful enough to multitask. In addition a minimum of 128GB of storage memory is built in – which is definitely on the meager side for a top model in 2021. All the more because the memory is no longer expandable with a microSD memory card.
Fortunately, there is the option to choose 256GB or 512GB, so you can avoid running into memory problems over time, which comes at the expense of overall performance. Caviar offers the same memory configurations as Samsung.
The Samsung S21 Ultra also scores well in terms of software. Out of the box, the smartphone runs on the Android 11 operating system, combined with the user-friendly One UI 3.1 interface. There are numerous personalization options available and everything looks well-organized and clear. The software is simply very nice to use. If you are already used to a Samsung phone, everything will also feel very familiar.
Another positive side effect, Samsung has revised its update policy last year. Nowadays, Samsung provides its high-end models with 3 years of Android OS updates and 4 years of security updates as standard. A big plus, especially since many other Android brands limit this to just two years. This way you retain access to the latest functions and up-to-date software.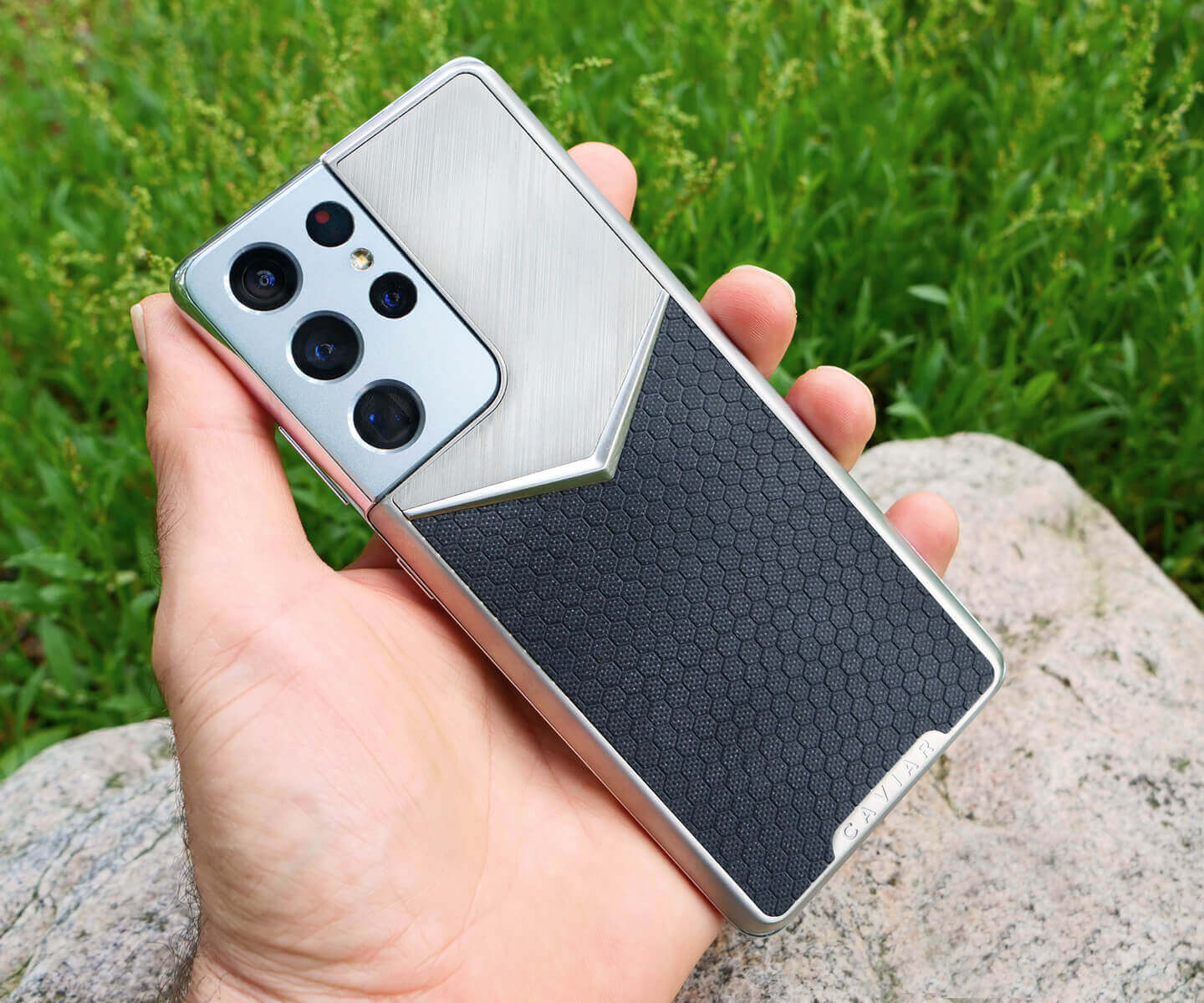 Compatible with the S Pen
Compatibility with the S Pen is also new to the Galaxy S21 Ultra. While the S Pen is optional, it is definitely a valuable addition to the S series. Not only to work creatively, but also to work effectively and productively. Since it is an optional accessory, the review sample that we received from Caviar did not include an S Pen. Nevertheless, we have already been able to test this functionality during our preview with the new Galaxy S21 models.
It is a slightly different pen than that of the Galaxy Note 20 (Ultra). The S Pen has a slightly slimmer and longer design and offers a comfortable grip. The functionality is very similar, but Bluetooth is not supported and therefore Remote functions are not available. Samsung has also released several phone cases, in which you can store the stylus pen, as there is no S Pen compartment built into the device itself.
Finally, the S21 Ultra is also equipped with the largest capacity battery of all new S-Series models. The 5,000 mAh battery provides an average battery life of about 16 hours. There is nothing to complain about the battery. Unfortunately, this does not apply to the charging speed.
Wired charging is possible with a maximum charging power of 25 Watts. A remarkable development, since the S20 Ultra was compatible with a 45W charger. The new model is therefore slower to charge, while the competition now offers 65W or more. Obviously, this is a point where Samsung has yet to hit. If you have no trouble with long charging times, you can also opt for 15W wireless charging. Reverse wireless charging is also supported.
You will probably have noticed that Samsung no longer includes a charger in the sales package. Fortunately, Caviar is well aware that a phone will quickly become unusable without a charger, therefore the company does include an official Samsung 25W Travel Adapter in the sales box as standard. This way you will find everything you need in the sales box. Furthermore, a USB-C cable and an International Certificate of Ownership are also included.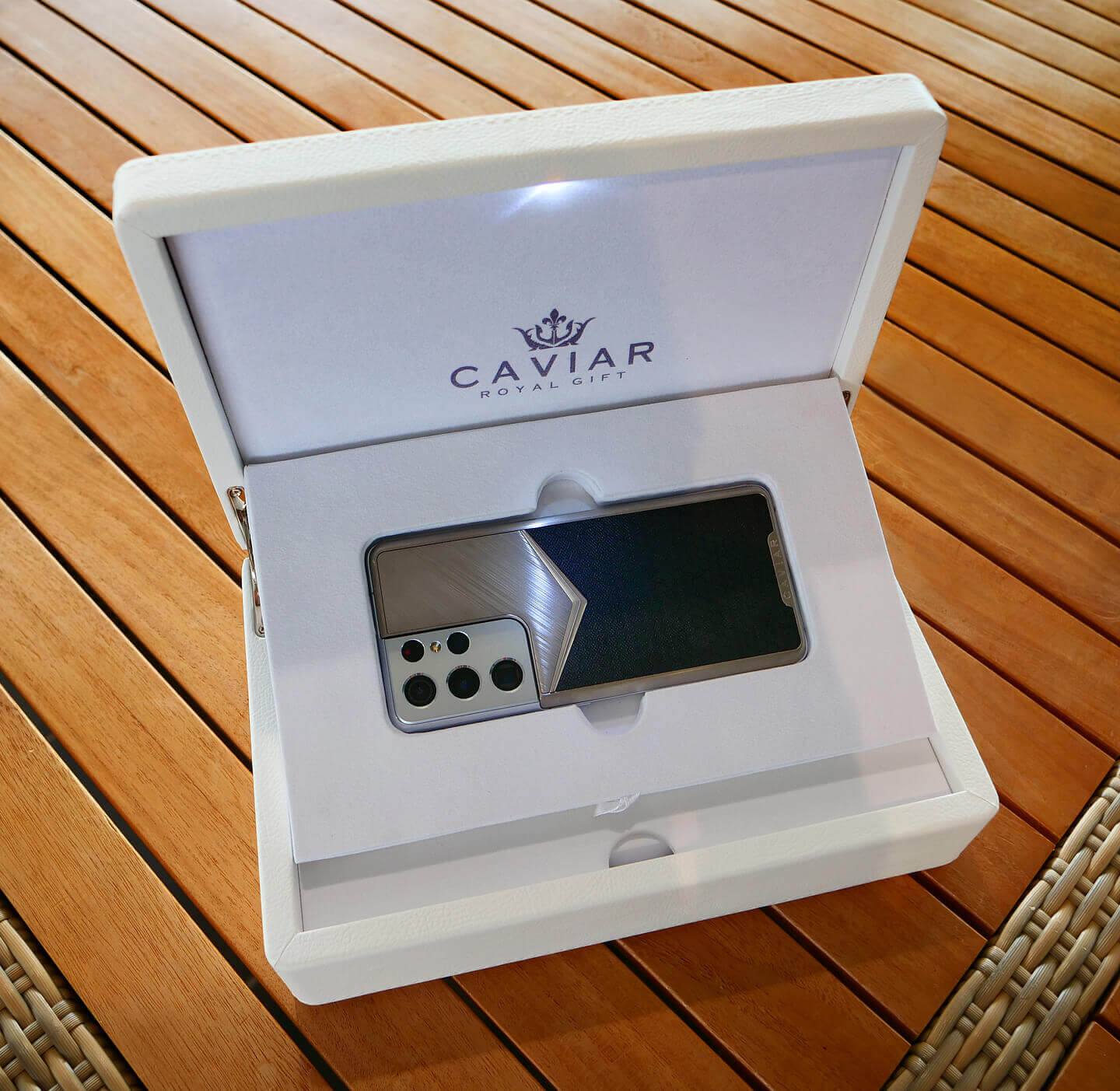 Exclusivity comes at a price
Caviar's exclusive phones are of course not for everyone. After all, many consumers already find the standard Samsung Galaxy S21 Ultra very pricey. For the entry-level model with 12GB RAM and 128GB ROM, the suggested retail price has been set at € 1,250. The customized Limited Edition variant of Caviar costs € 4,750. In fact, you will receive the same functions for this, but wrapped in a very unique jacket.
Caviar cleverly responds to the user's feeling, because as soon as you hold this smartphone, feelings of luxury, class and invincibility arise in you. With this device at hand, you can handle any business meeting. It is a very unique and exclusive accessory. Of course you can argue about how much this feeling is worth, which will also vary for everyone and undoubtedly depend on the depth of your wallet.
Whatever you may think of the price, it must be said that Caviar is able to deliver very high-quality products. The Russian company only uses durable and rare materials, from hardened titanium to gold, gemstones, leather and / or carbon. In the jewelery workshop, the goldsmithing art is carried out with the utmost care and precision.
Caviar regularly introduces new models, which are usually cast in a specific theme. If you rather design your own phone, you can make use of Caviar's Customize service, also known as "Individual design". This service allows you to create a phone model that exactly meets your needs and your budget. This way you can create something really special and you are assured that you buy a phone of which there is no second. An ideal way to distinguish yourself.
The Customize service can also offer a great solution as a promotional gift. For example, you can have a logo, a name or a slogan incorporated into the design. Even the storage box is customizable, the custom box is available in white, black, red and carbon. In addition, there is a choice of a vertical or horizontal box.
At the start of the ordering process you will be assigned an English-speaking sales manager by Caviar, as a permanent contact person. This way you can achieve the desired end result together. You hardly pay extra for this service. After all, it are mainly the materials and the manufacturing time that customers pay for.
It goes without saying that the materials largely determine the selling price. A complete gold phone like the recently introduced Galaxy S21 Ultra Gold Bar, with a retail price of approx. $ 170,000,  is of course only for a very small audience. Regardless of the model you opt for, shipping is free, no matter where the device should be shipped to.
Apart from the materials, you can also choose your desired phone model. For example, if the Samsung S21 Ultra is too large, you can go for the 6.2-inch Galaxy S21. Next year, the Galaxy S22 will undoubtedly also be offered as a Limited Edition by Caviar. In addition to Samsung smartphones, Caviar is also very familiar with the Apple iPhone. Regardless of which model you choose, Caviar offers the same memory variants as the manufacturers themselves.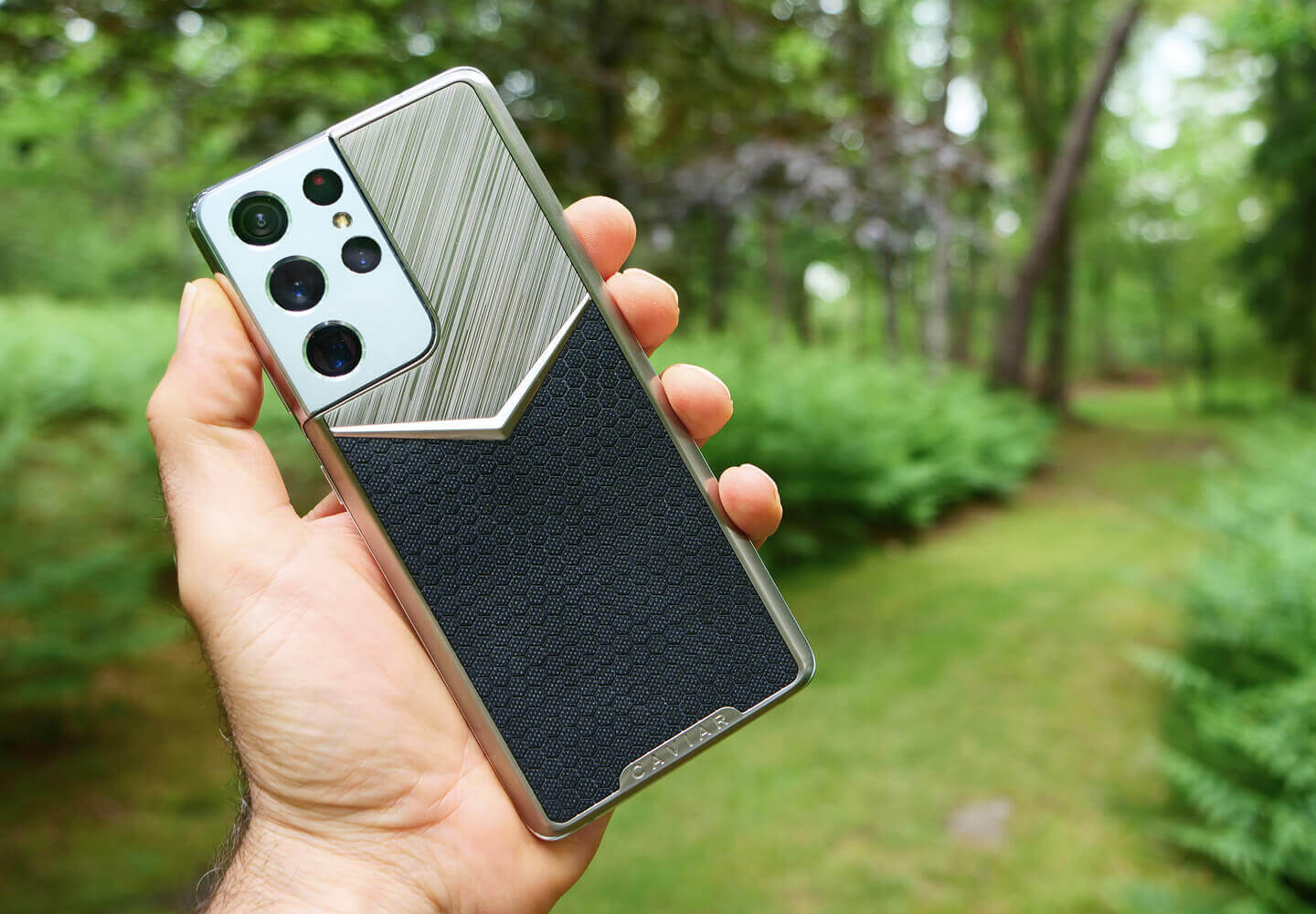 Samsung Galaxy S21 Ultra review conclusion
The Galaxy S21 Ultra is Samsung's top model. This is by far the best Samsung smartphone you can currently buy. The device offers a fantastic user experience, a bright and large screen and an impressive camera setup. If we have to mention a point of criticism, then our thought quickly turns to the fast charging options, which are somewhat limited with 25W wired / 15W wireless. We also see the lack of a microSD memory compartment as a disadvantage. Apart from that, the S21 Ultra is simply a great smartphone.
The Limited Edition version from Caviar makes the device extra unique and luxurious. We were delighted to have experienced Caviar's Customize service. The company is flexible, cooperative and solution-oriented, with the aim to make your wishes come true and to immerse you in a feeling of luxury and exclusivity. Caviar does not only make unique smartphones, the collection also covers other popular consumer electronics products, including smartwatches and headphones. The company even created their own PlayStation 5 Limited Edition.