Luxury smartphone and accessory brand Caviar has announced a series of new Limited Edition smartphones and a tablet within the new 'Autograph collection'. Five models of which four iPhone 13 Pro models and one iPad Pro tablet. Each is dedicated to a famous person whose thoughts and actions changed the world forever. Think of Napoleon Bonaparte, Michael Jackson, Elon Musk, Steve Jobs and Grigory Rasputin.
Caviar also announced the launch of a new exclusive service in the form of a custom studio. Interested parties can create their own individual smartphone design with an authentic signature of their idol. By using this software tool, you can be sure that you will soon be the only one walking around with this exclusively designed phone.
Caviar will bear the cost of finding the right signature of the famous person you have in mind. The company already has the signatures of celebrities such as Muhammad Ali, Cristiano Ronaldo, Henry Ford, Leo Tolstoy, Virgil Abloh, Kobe Bryant, Winston Churchill, Vladimir Lenin and many others. The option of making an individual design is not new, however, the signature option has now been added to make the design even more personal and unique.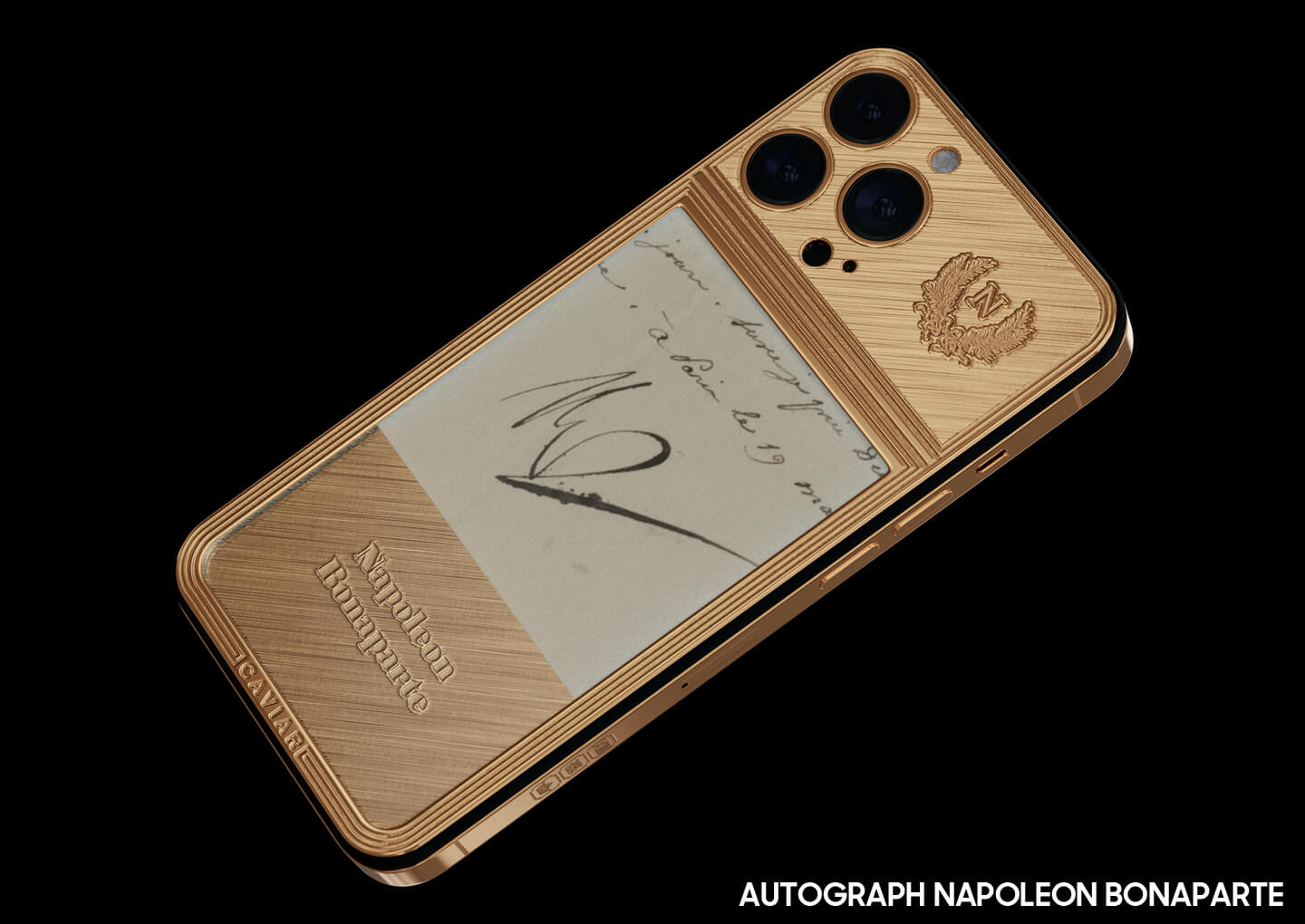 iPhone 13 Pro dedicated to Napoleon Bonaparte
Caviar has launched four exclusive iPhone 13 Pro models within the Autograph collection. The most expensive model is dedicated to the French general and dictator Napoleon Bonaparte, who ruled a large part of Europe from 1804 to 1814.
The signature of Napoleon Bonaparte is integrated into the housing of the iPhone 13 Pro. The design of the phone is tailored to the emperor, with embossed patterns and precious materials. For example, the housing is made of 24-carat gold.
This exclusive iPhone 13 Pro is available for a suggested retail price of $75,500 USD. For this you receive the base model with 128GB memory. In addition, there is a choice of 256GB, 512GB and even 1TB of memory. Interested parties can also opt for the extra-large and advanced iPhone 13 Pro Max or the small iPhone 13 mini. Caviar will produce only 1 copy of the Napoleon Bonaparte edition.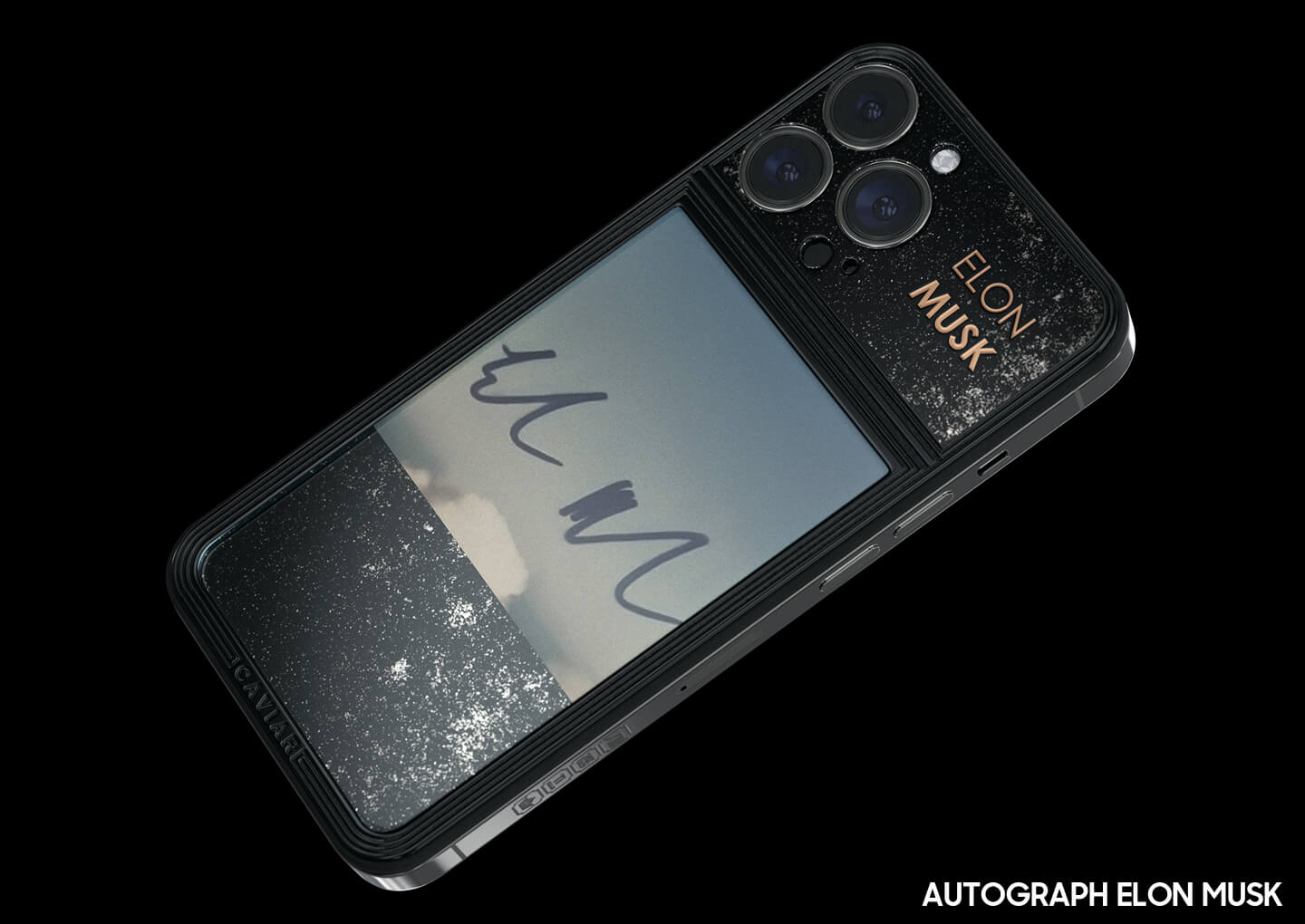 iPhone 13 Pro with signature by Elon Musk
Do you think the gold iPhone is a bit too pompous and expensive? Caviar has also designed a stylish Elon Musk edition, with a black PVD coated titanium frame. The design is refined with a starry sky, for which laser engravings have been applied to metal. The starry sky refers to Elon Musk's space company called Space X.
Successful entrepreneur and engineer Elon Musk is known for his self-confidence, genuine enthusiasm and inexhaustible energy. The signature comes from a photo of a fan, on which Elon Musk himself has put his signature. It is safely enclosed behind a frame that is protected by tempered glass.
Caviar will also produce only 1 copy of this iPhone 13 Pro. The cost for this model is set at $27,250 USD (128GB). Customers can also choose the iPhone 13 mini or iPhone 13 Pro Max.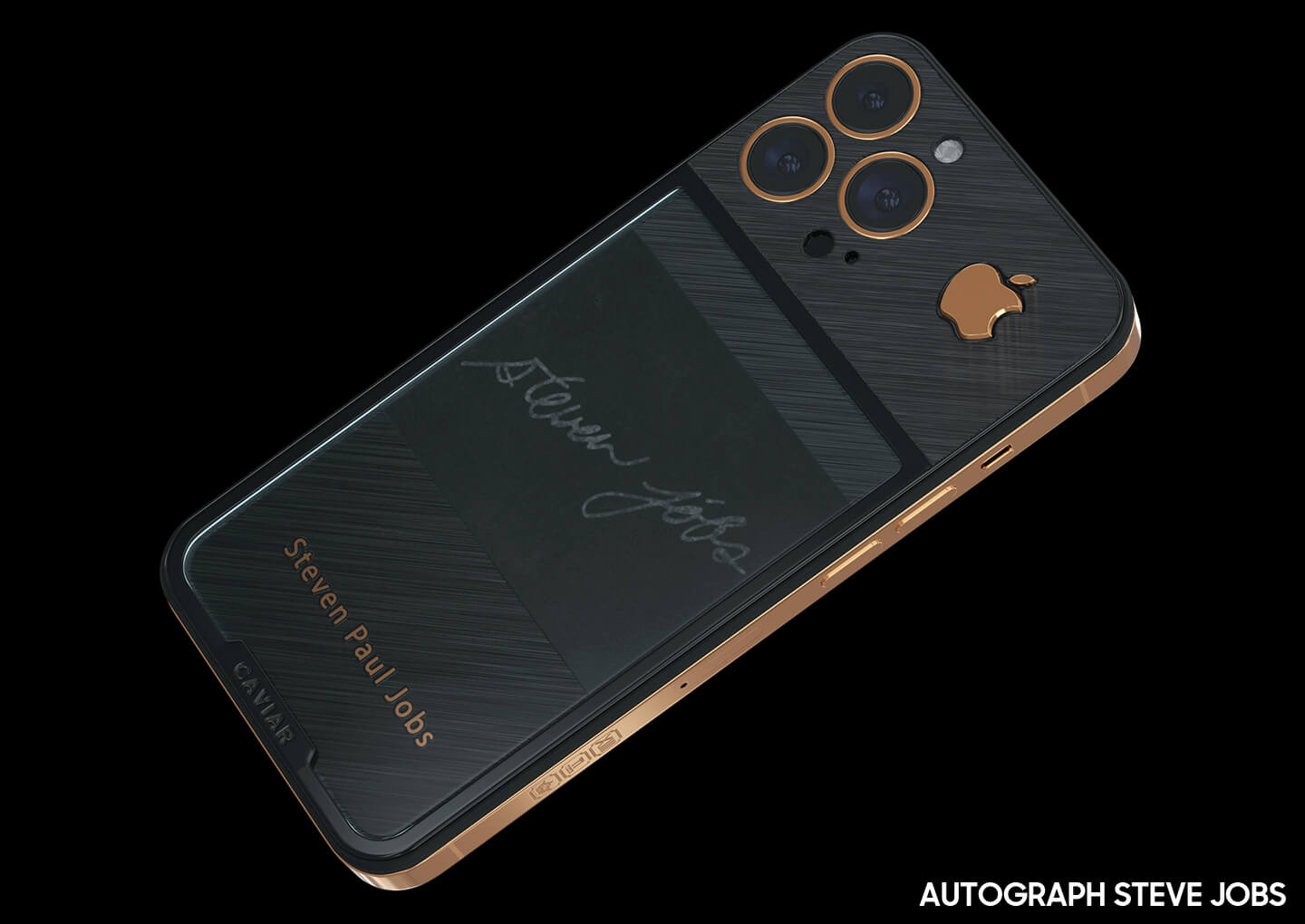 Limited Edition iPhone dedicated to Steve Jobs
The third smartphone model in the Autograph collection is dedicated to Steve Jobs – the founder of Apple. This special iPhone also comes with a black PVD titanium housing. This time, however, a smooth satin finish is applied which make the phone extra stylish and modern.
The signature comes from The Times Magazine, where Steve Jobs left the autograph for a fan. His name 'Steven Paul Jobs' is also included in the design. In addition, Caviar's designers have implemented the Apple logo to the right of the camera system.
This museum piece has a starting price of $ 26,790 USD, for this you receive the iPhone 13 mini with 128GB. Prices for the iPhone 13 Pro start at $27,250 USD and the Pro Max costs $27,790 USD (128GB).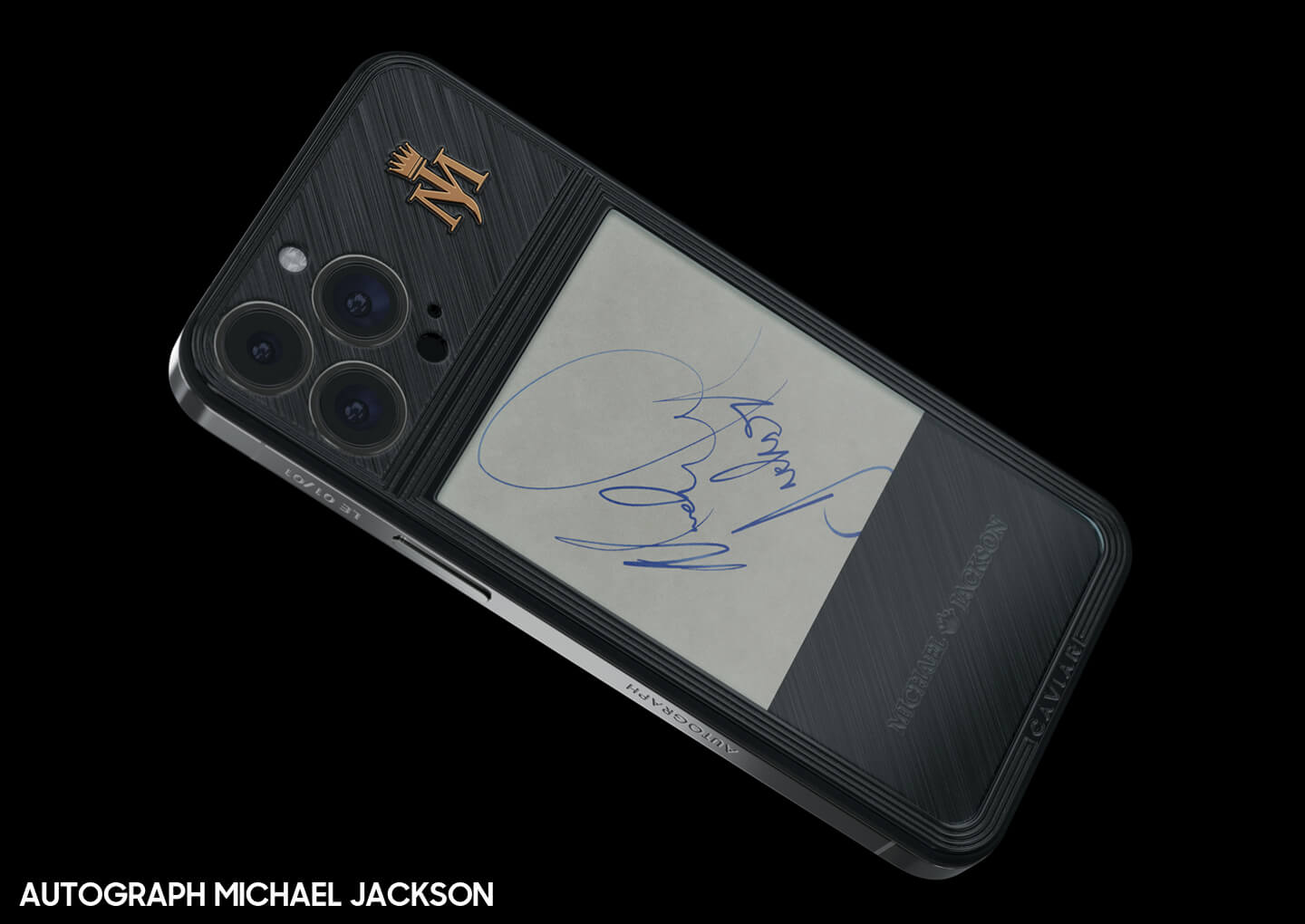 iPhone 13 Pro dedicated to Michael Jackson
Finally, Caviar has made a fourth smartphone model dedicated to the American pop star Michael Jackson. The American singer, also known as 'The King of Pop', managed to distinguish himself with his recognizable voice and his typical dance movements. His music is still heard in all corners of the world, and his dance shows are still very popular with many fans.
Caviar has managed to get hold of an exclusive card from Michael Jackson, which bears his signature, at a private auction. The signature has been incorporated into the iPhone 13 Pro Limited Edition. This device features a durable black PVD titanium housing decorated with an embossed satin pattern. To the right of the camera system is the Michael Jackson company logo.
The cost of this unique collector's item is set at $24,540 USD – for this you will receive the iPhone 13 Pro with 128GB of memory. Just like with the other models, Caviar will make only one copy of this Limited Edition smartphone.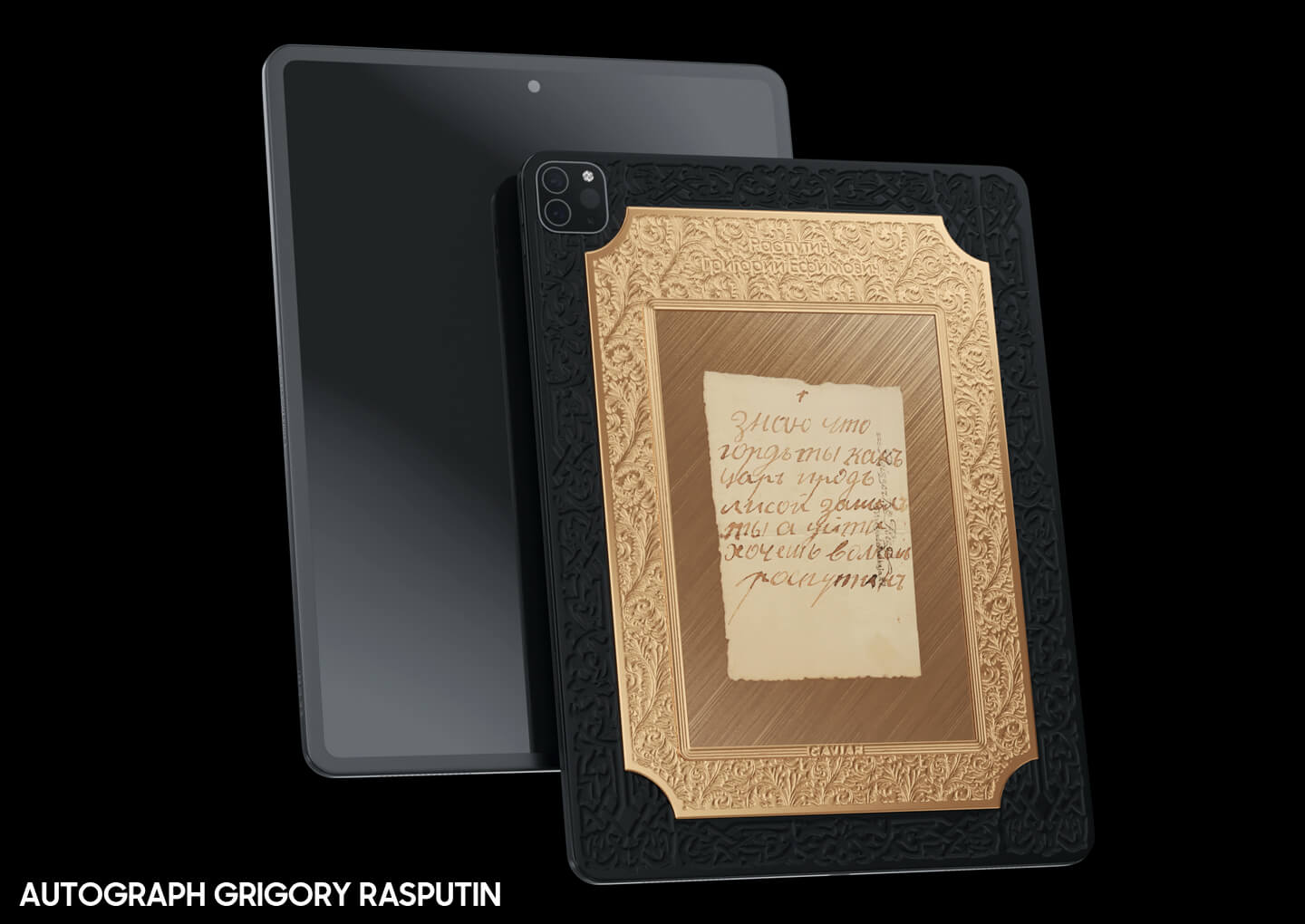 Gold iPad Pro 2022
The flagship model within the Autograph collection is a powerful Apple tablet. It is a modified iPad Pro with a 12.9" display and a powerful M1 chipset. The tablet features a personal message from the 'holy old man' Grigory Rasputin. It is stated: "I know you are as proud as Tsar Herod, you came in like a fox, and you want to leave like a wolf".
The inscription is set in a special frame, made of jewelry alloy and covered with gold of the highest standard and protected by shock-resistant glass. The back of the iPad Pro is decorated with relief patterns, echoing the interior of the Yusupov Palace, where Grigory Rasputin's life tragically ended.
The cost of this unique 13" iPad Pro Limited Edition is set at $92,330 USD (128GB). An 11" model is also available for $91,100 USD (128GB).