Last Tuesday, LetsGoDigital published a revealing article about an unknown electronic device from Sony, based on a design patent that the Japanese company has filed with a patent agency in Brazil. The patent only included one image, so we couldn't determine for 100% whether it was a game console. Shortly after our publication, however, we managed to obtain even more patent photos, showing the device from all sides. At that time it became clear this device is most likely the hotly anticipated Sony PS5 or the Development Kit.

Sony PlayStation 5
Shortly after our publication, there was a large wave of speculation on the internet, several leading gaming sites started to report that this could be the real PlayStation 5. However, not long after, game developer Matthew Stott published a Tweet which stated this is the PS5 Dev Kit, the company he works for already has multiple copies in the office.
Within a few hours this tweet (and his full Twitter account) was deleted, was this at the request of Sony Interactive Entertainment ?? Chances are… Companies can exert considerable pressure and the leakage of sensitive information is simply not appreciated, LetsGoDigital has also experienced this several times in its 20-year existence. Undoubtedly, contracts will have been signed, in which high fines must be paid if the agreements made are violated.
Of course we tried to get in touch with Matthew, we also asked him for a photo of the device. But unfortunately he cannot tell us anything, was his reply.
Matthew Stott has been working at Codemasters as a Senior Artist for over 12 years, as his LinkedIn profile says. Codemasters is a game developer of racing games. The introduction of the Sony PlayStation 5 is expected in six months' time, in theory Codemasters can of course already have access to a PS5 Development Kit.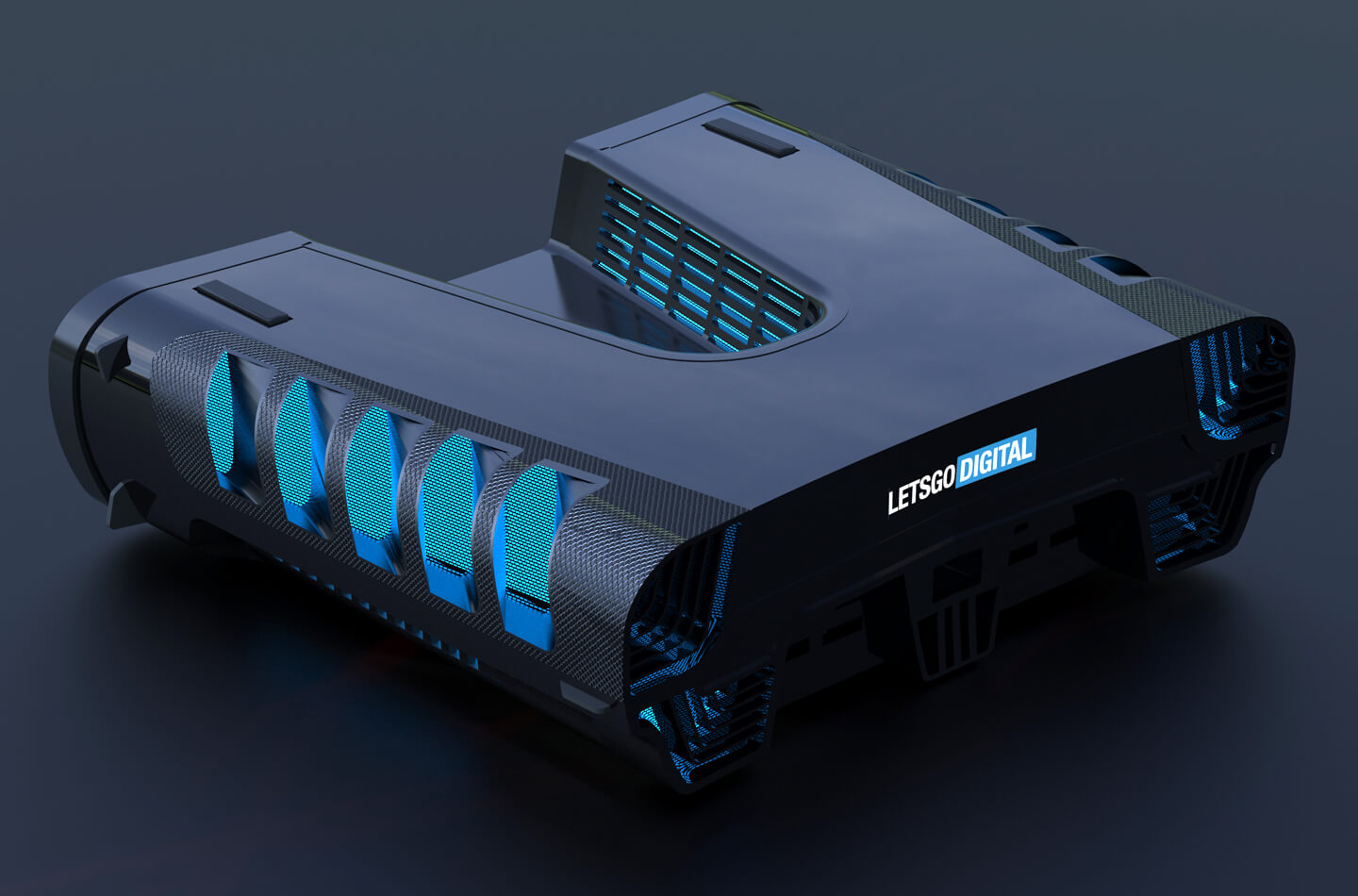 Many people find the design awful and are therefore happy that Dev Kits generally deviate greatly in terms of design compared to the game console that consumers can buy. But how could this design look like as an end product?
LetsGoDigital has decided to design a series of product renders based on the patent sketches we unveiled earlier this week, to get a better picture of the patented product. After all, to date, this is the only design that actually comes from Sony itself that seems to have a connection with the PS5.
In addition, some believe that the design does not resemble a Dev Kit. Previous development kits from Sony all had a fairly rectangular, boring design that was easy to stack. Why would Sony develop a V-shaped Dev Kit? That does not make it simpler to give all components a place. In addition, developers often need multiple test devices that can be stacked. With such a V-shape, that is not exactly easier and more stable.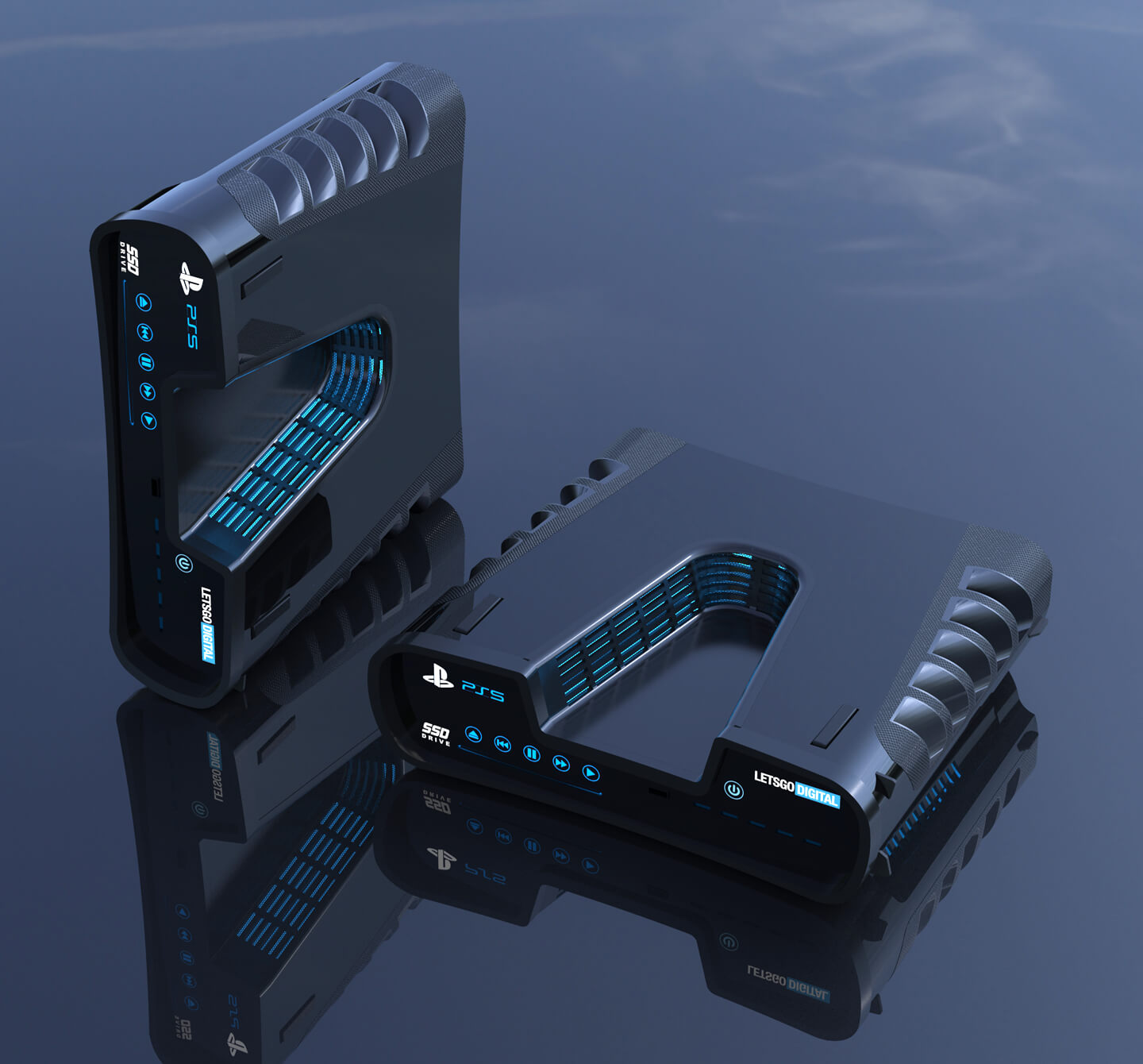 What strikes me too; there are no screw holes on the patent illustrations. If I look at the patents for both the PS4 Development Kit and the PS4 Pro Dev Kit, you will see clear screw holes. This is at least remarkable.
For the time being, however, it is still speculating whether we are dealing with the real Sony PS5, a prototype or the Development Kit. If it turns out to be the Dev Kit, then the real console must look incredibly good. If so much effort has been put into designing the Dev Kit, the final design will only get better, right? The name is also still not entirely certain, although PlayStation 5 seems the most logical, Sony can of course opt for a different name.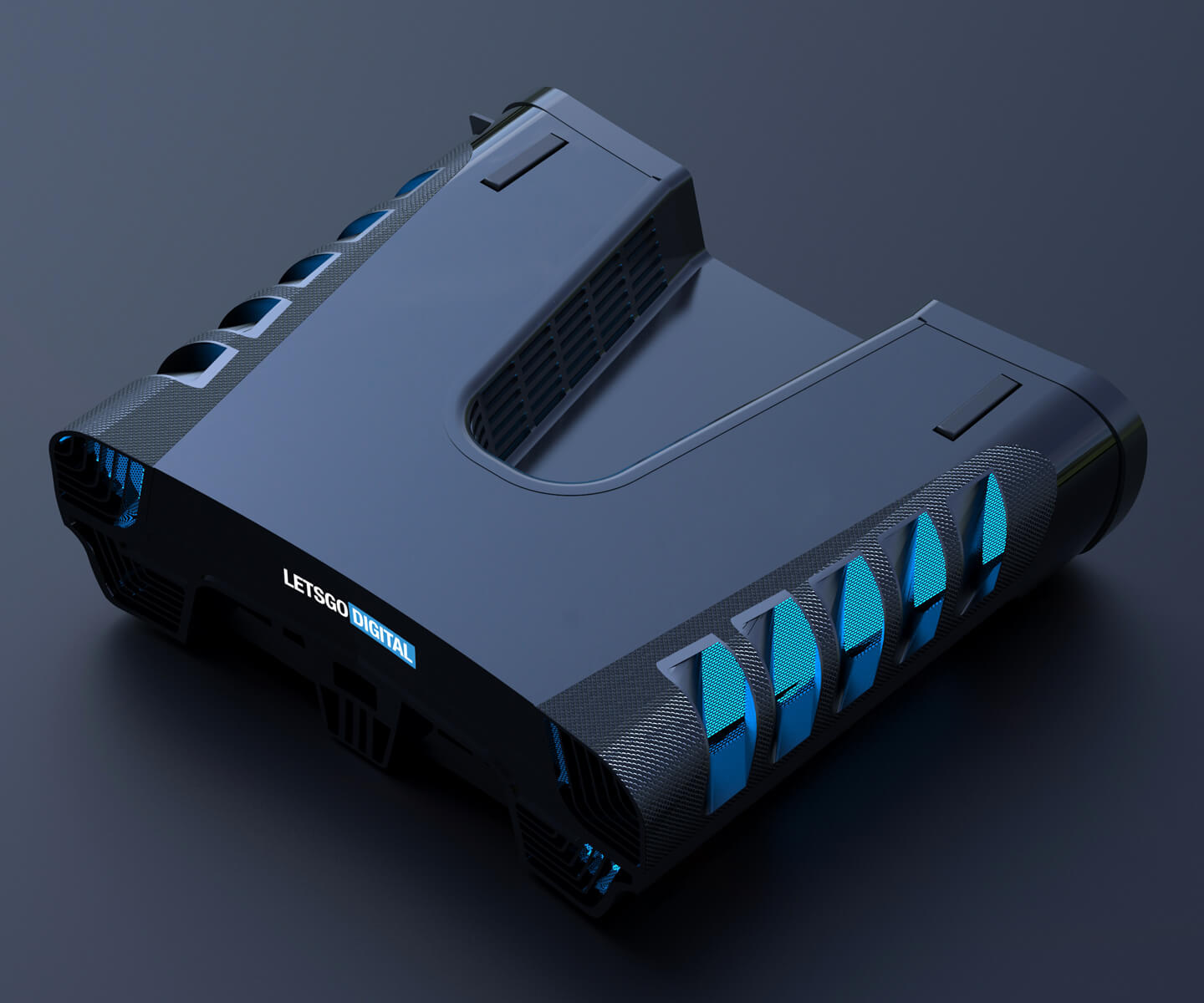 Features of the Sony PS5 game console
Nevertheless, details are already known about the hardware. The new console will become many times more powerful than the current PS4 (Pro). The game console will be driven by a specially customized 8-core AMD Ryzen processor with a GPU and AMD Navi architecture that supports ray tracing. This is a technology that simulates sunlight to create complex interactions in 3D environments, it is a function that until now can only be found in high-end gaming PCs.
The direct benefits of ray tracing are largely visual. Because it mimics the way light reflects from object to object in a scene, reflective surfaces and refractions through glass or liquid can be rendered much more accurately, even in real time. This leads to an increased sense of realism.
The AMD chip also enables 3D audio, which should provide a whole new sound experience. There was only a little difference between the audio quality of the PS3 and PS4, this will change for sure on the PS5.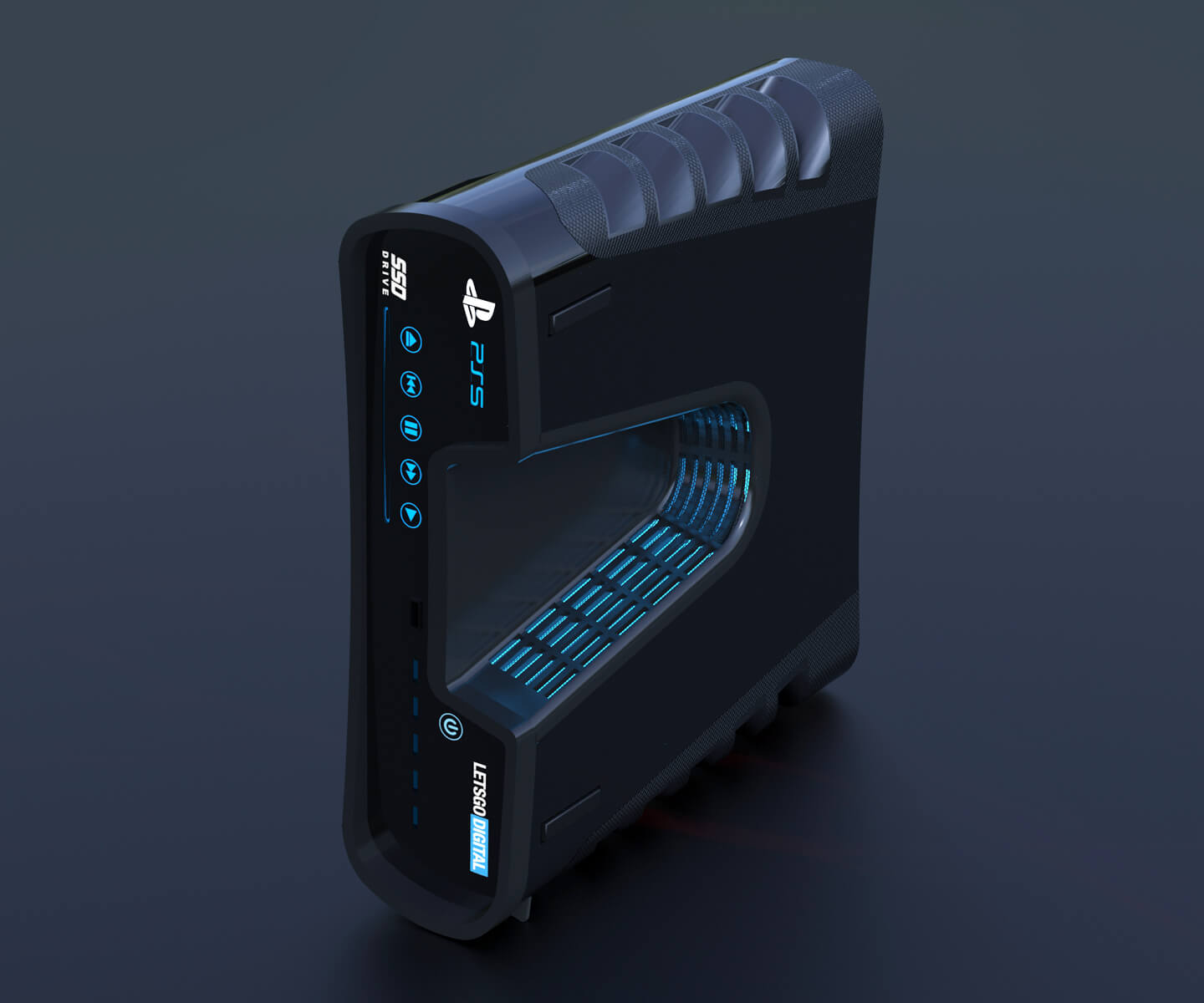 The Sony PS5 will also support 8K games, however, it's uncertain whether they will make use of an upscale technique. One of the most important innovations is the SSD (Solid State Drive). Current game consoles have an HDD (Hard Disk Drive). By using an SSD, up to 19x shorter loading times can be achieved. In practice, this means that a loading time of 15 seconds on the PS4, will last only 0.8 seconds on the PS5.
An SSD not only ensures shorter loading times, but also determines the speed at which a world can be represented and the speed at which a character can move through that world.
PlayStation fans are also happy to hear that the new game console will be backwards compatible. Which means you can continue to play your current PS4 games on your new game console. So you don't have to buy all your favorite titles again, which is a big plus of course.
Of course, Sony excels in its large collection of exclusive games. Like popular titles such as Spiderman, God of War and Horizon: Zero Dawn. The PS5 release will undoubtedly be accompanied by the announcement of a number of new exclusives. On the internet there has been speculation for months about which exclusive titles are coming to PlayStation 5.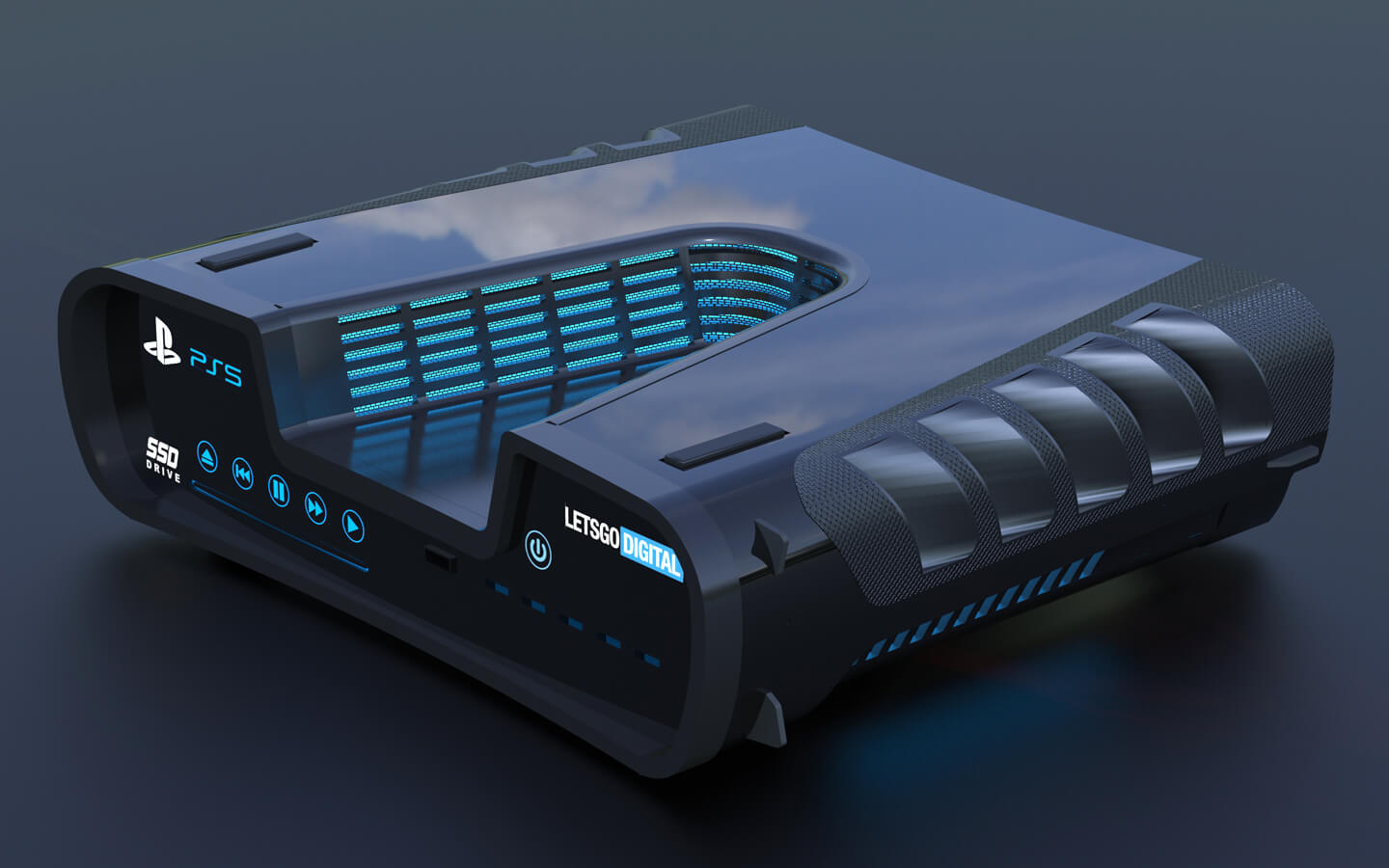 Price & release date
Regarding the price of the new console, earlier this year the chief architect of the Sony PS5 reported that the console will get an "attractive price, given the advanced specifications". Since computers with SSD are considerably more expensive than those with an HDD, you may assume that the PS5 will at least cost more than the PS4.
When the Sony PS4 Pro was introduced three years ago, the console carried a suggested retail price of € 400. For the Xbox One X, which was launched two years later, the introduction price was set at € 500. It seems likely that the price of the Sony PS5 will be at least € 500 and maybe even € 550. However, Sony does not want to repeat the same mistake as they made with the PS3 and thus they will try to keep the price of the console at a minimum. After all, a lot of money is being made with the purchasing of games and services.
The introduction of Sony's newest game console is likely to take place in February 2020, during PlayStation Meeting 2020. Then all details will undoubtedly be announced. It will then still take a while before you can actually buy the new console, Sony has already indicated that the PS5 will not be released in the first half of 2020. Possibly the launch will take place around November 2020.