In half an hour Samsung will hold a press conference to officially announce the new Galaxy S22 models. It concerns three smartphone models, with the S22 Ultra being the new flagship. If you have followed the news a bit in recent times, you will undoubtedly have already seen all the specs. A huge amount of marketing material from Samsung has appeared online early – including official press images of the Galaxy S22 Ultra and live photos shot during short hands-on sessions.
Graphic designer Parvez Khan, aka Technizo Concept, was the first to visualize the redesigned Galaxy S22 Ultra in October 2021. In the run-up to the official introduction, Technizo Concept also released an impressive video trailer of Samsung's new top model, in which all four expected colors are shown. This time he made a Galaxy S22 Ultra Unboxing video. If in doubt: No, this is not a real hands-on review, it is about digitally generated images – which do indeed look lifelike.
Samsung S22 Ultra Unboxing
Are you ready to unbox the brand new Galaxy S22 Ultra? For the first time in the history of the S series, Samsung will include an S Pen as standard with the new Ultra model. The phone comes with an S Pen compartment to store the stylus. You can be extra creative and productive with the help of the stylus pen.
What is unfortunately (again) missing from the sales packaging is the charger. You have to buy this as an optional accessory. Samsung does seem to offer two options this year, you can buy the phone with and without a charger.
The Samsung S22 Ultra will support 45W wired charging and 15W wireless charging. For this, Samsung will release several new 45W and 15W wireless chargers. Of course, Samsung will also release numerous cases and covers for the new flagship. These will also be offered as an optional accessory.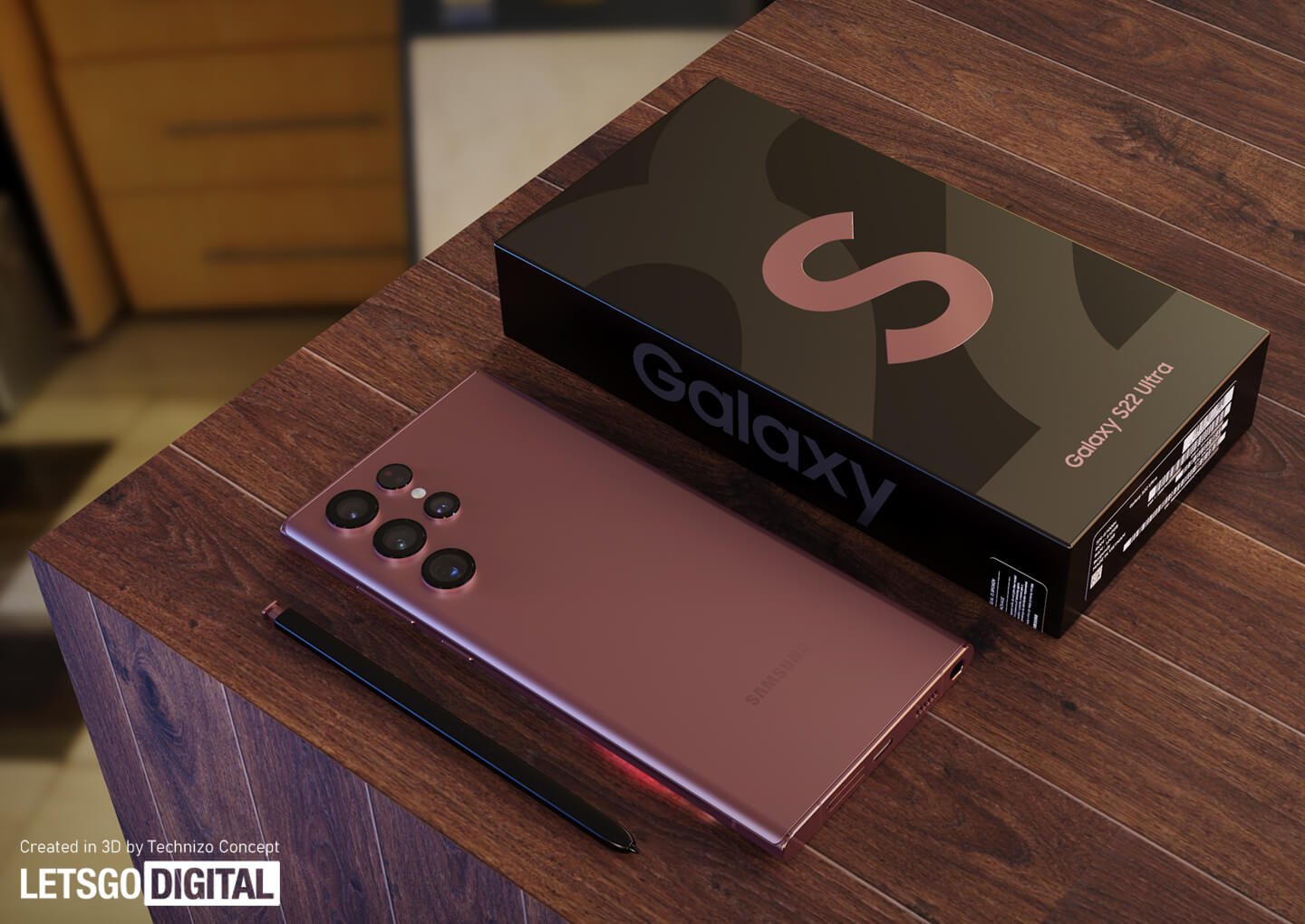 It is expected that many consumers will buy the new Samsung Galaxy S22, partly because Samsung will revise the update policy. The leaked press release of the Galaxy Tab S8 series has revealed that Samsung will now offer 4 years of Android OS updates and 5 years of security updates. This also applies to the already introduced Galaxy S21 series, the Galaxy Z Fold 3 and Galaxy Z Flip 3.
In terms of update policy, Samsung already did well in relation to other Android manufacturers – Chinese brands in particular are lagging behind when it comes to frequent and proper software updates. With the new policy, Samsung is more in line with Apple – which releases at least 6 years of iOS updates for every iPhone.
Samsung Galaxy Unpacked 2022
Samsung will officially present the Galaxy S22 and Galaxy Tab S8 series today at 16:00 CET. The Galaxy Unpacked event can be followed via the livestream below. Presales will start immediately after the official introduction. During the pre-order period you will receive a free set of Galaxy Buds Pro.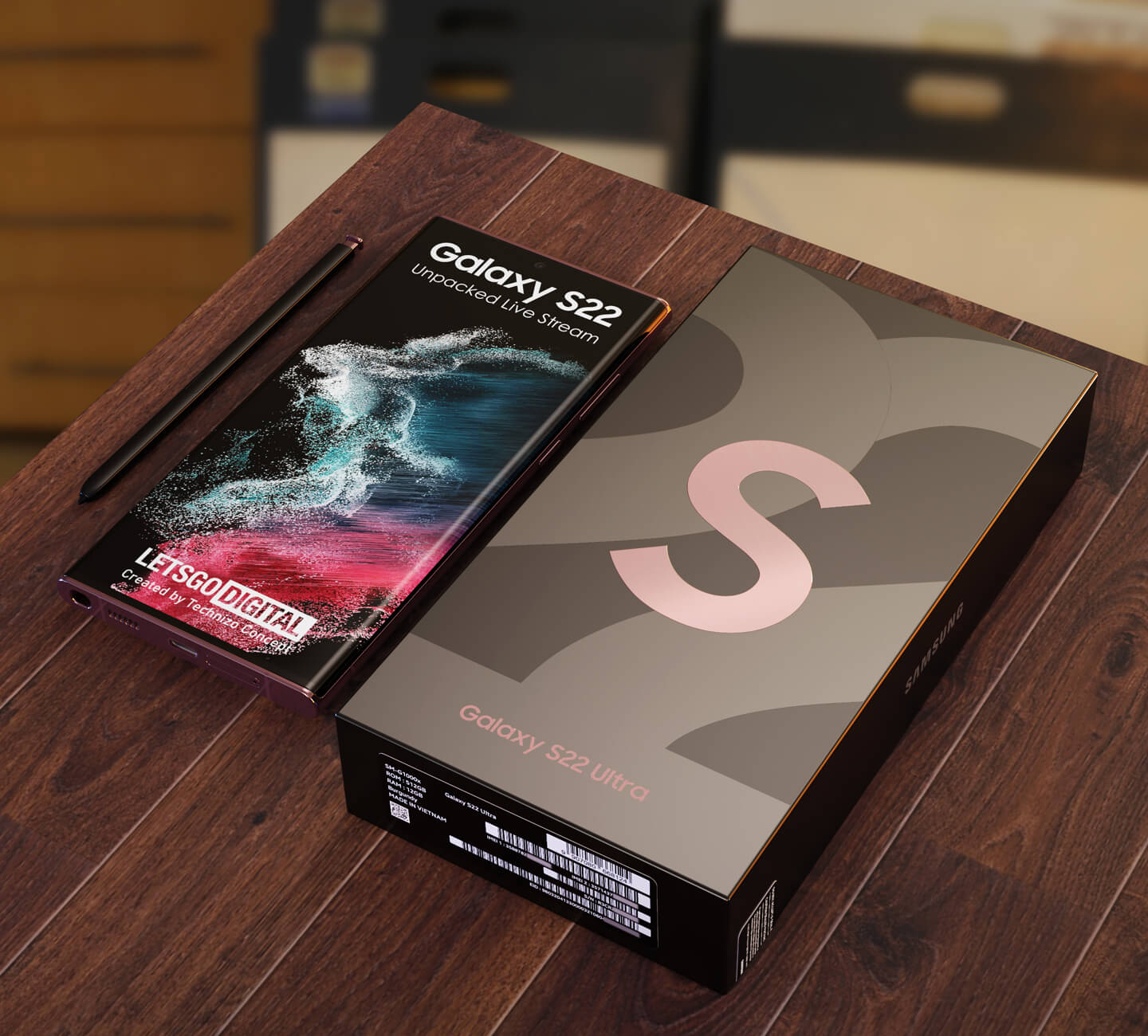 The S22 Ultra will be released first. The other two S-series models will be available from Friday 11 March, the release of the Ultra model will take place two weeks earlier, on Friday 25 February. For all three models, it is already possible to place a preorder from today.
Samsung's new top model will be put on the market for the same price as last year. This means that the starting price is set at € 1,250. This time, however, you will receive less memory. By default, the phone will be equipped with 8GB of RAM, instead of 12GB. Instead, the S Pen is supplied as standard this time.
Of course, there are also variants with more memory. The version with 12GB / 256GB is expected to cost € 1,350, in addition a 12GB / 512GB model will be made available for € 1,450. For all three S22 models, the memory will not be expandable by means of a memory card.
Note to publishers :  The 3D product renders of the Samsung Galaxy S22 Ultra Unboxing are created by graphic designer Parvez Khan, aka Technizo Concept. This smartphone is not yet for sale. You can use the copyrighted images for your own website, YouTube and/or social media channels, please be so respectful to include a clickable source link into your publication.