On September 10 the new iPhone 11 series (possibly named as Apple iPhone Pro) will be unveiled, the Apple smartphones are expected to come with a new design. Especially the camera system will be substantially different than before. If you feel you want something more unique than 'just a new iPhone', the Russian manufacturer Caviar presents five luxury iPhone 11 prototypes, decorated with various items from space.
Caviar is known for producing exclusive and limited edition handsets, which are based on existing smartphone devices. All new models will be based on the upcoming iPhone 11 and will therefore come with comparable specifications, including the triple camera.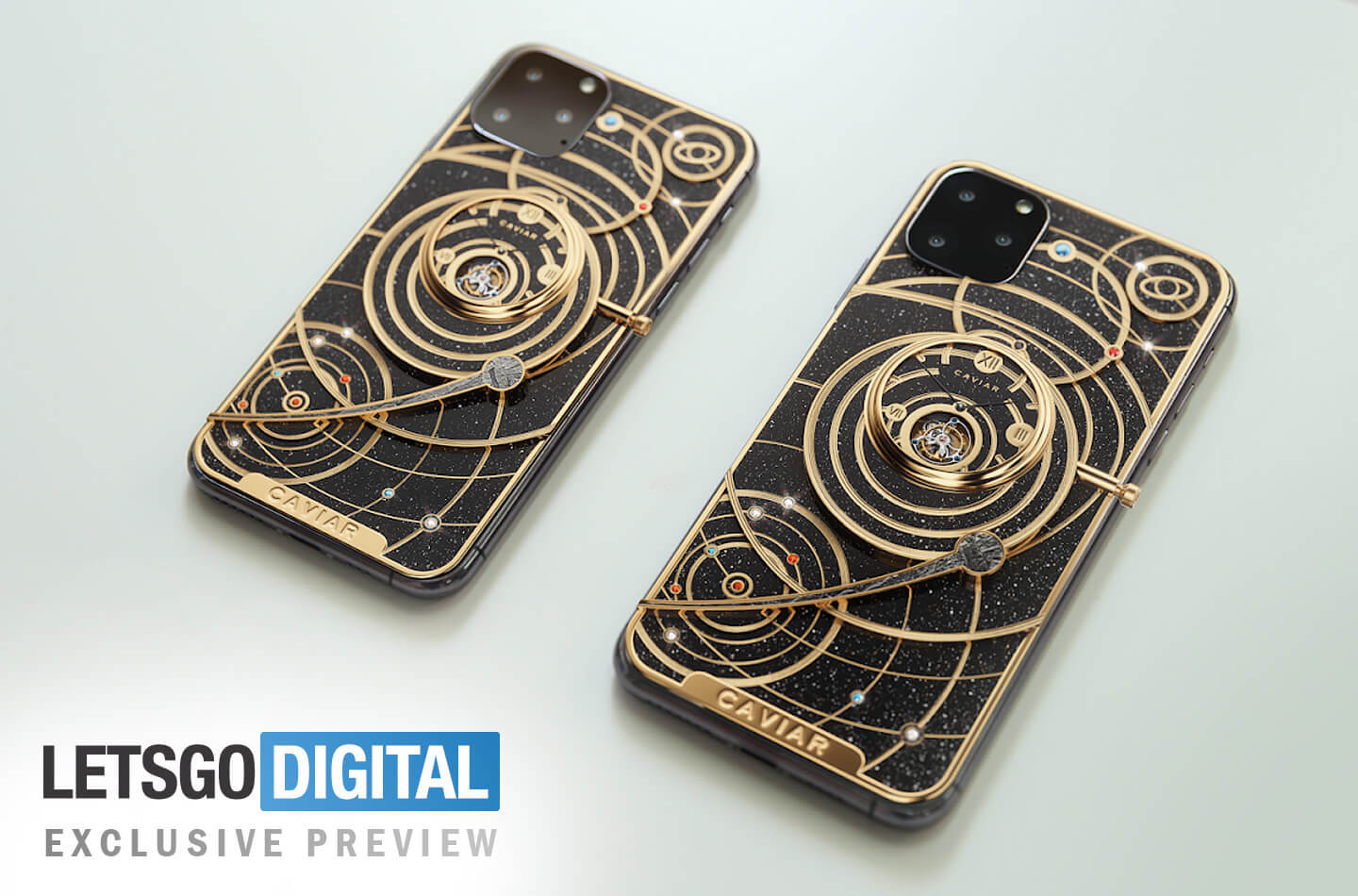 iPhone 11 Universe Diamond smartphone
The Universe Diamond Edition is the flagship model from the Space series. LetsGoDigital has already been able to take a closer look at this unique device for a short period of time. The back of this phone shows the complete solar system, with all the planets and the orbits of the planets. Small diamonds resemble the different planets, while gold spheres represent the orbits. The device feels heavy and it looks really fascinating.
We were told that on the case all kinds of precious stones have been integrated, including diamonds, rubies, cognac diamond, rare topaz blue Swiss Color and even a fragment of a real spacecraft, a particle mined from the Moon and a meteorite part.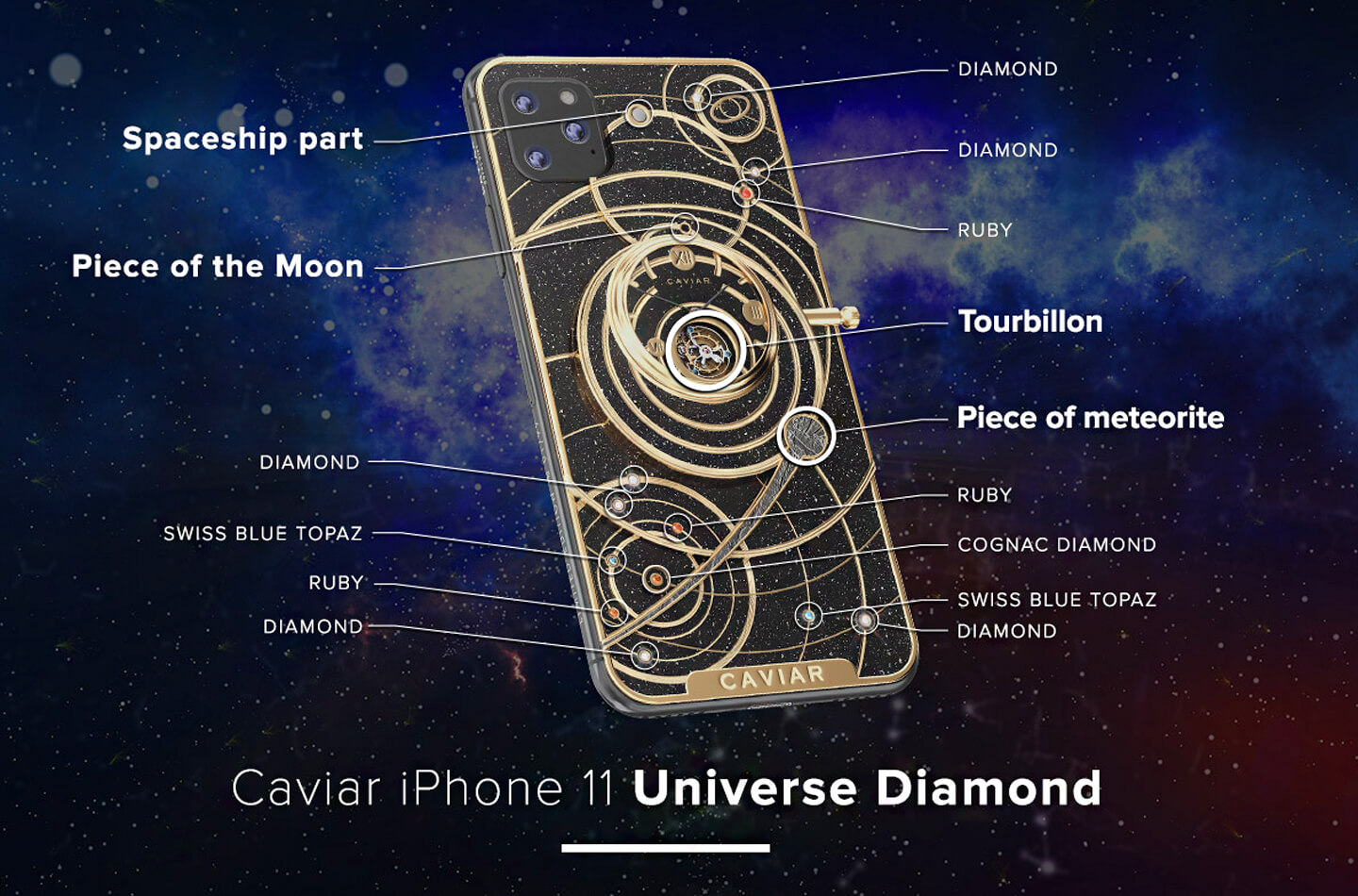 In addition, a mechanical watch with a tourbillon is placed on the case of the Caviar iPhone 11, this is an extremely accurate timepiece. It's not the first time the company introduces an iPhone with a tourbillon. In March 2019 the company revealed the iPhone Tourbillon Limited Edition, based on the iPhone XS and XS Max. This phone also featured a built-in mechanical watch (vortex).
The Caviar iPhone 11 Special Edition series will launch in September 2019, shortly after the release of the Apple iPhone 11 / iPhone Pro. Only 99 copies will be made, if you want to get your hands on one of these uniquely crafted handsets you can already place a preorder. This phone is not for everybody's budget though, the Universe Diamond model comes at a starting price of $ 48.780 USD. Is the Diamond Edition a bit too pricey? Then there is also a Universe Edition, which costs $ 7,410 USD.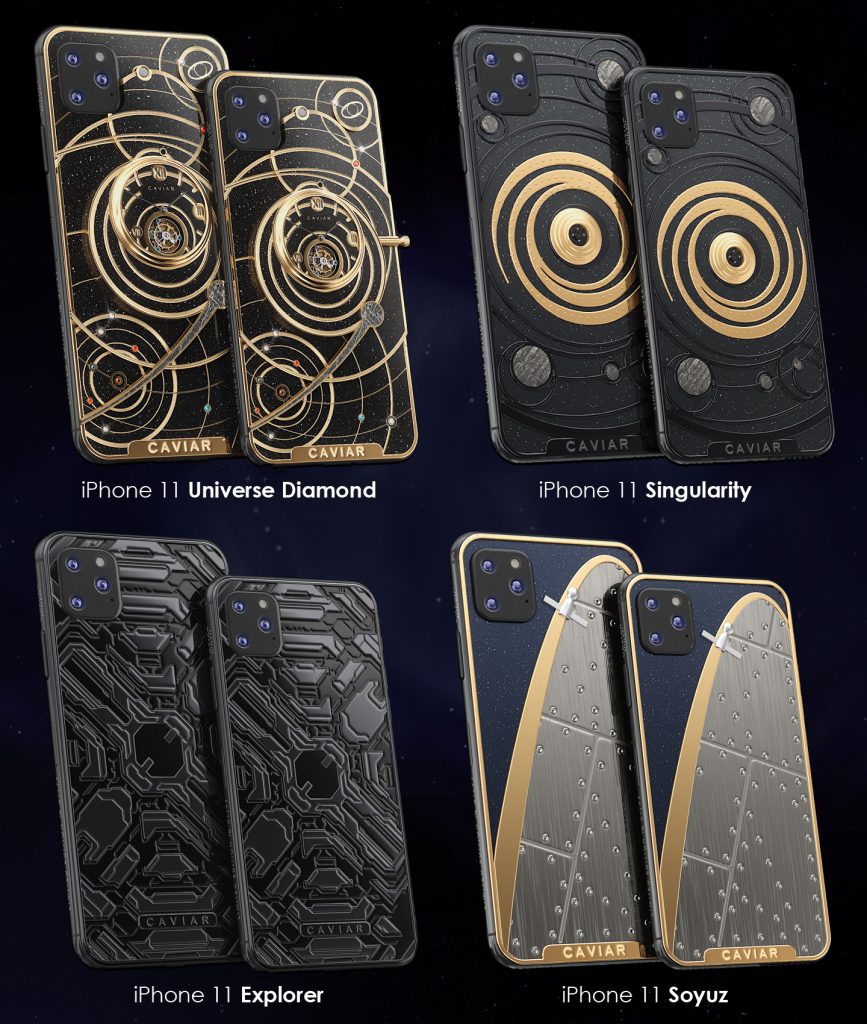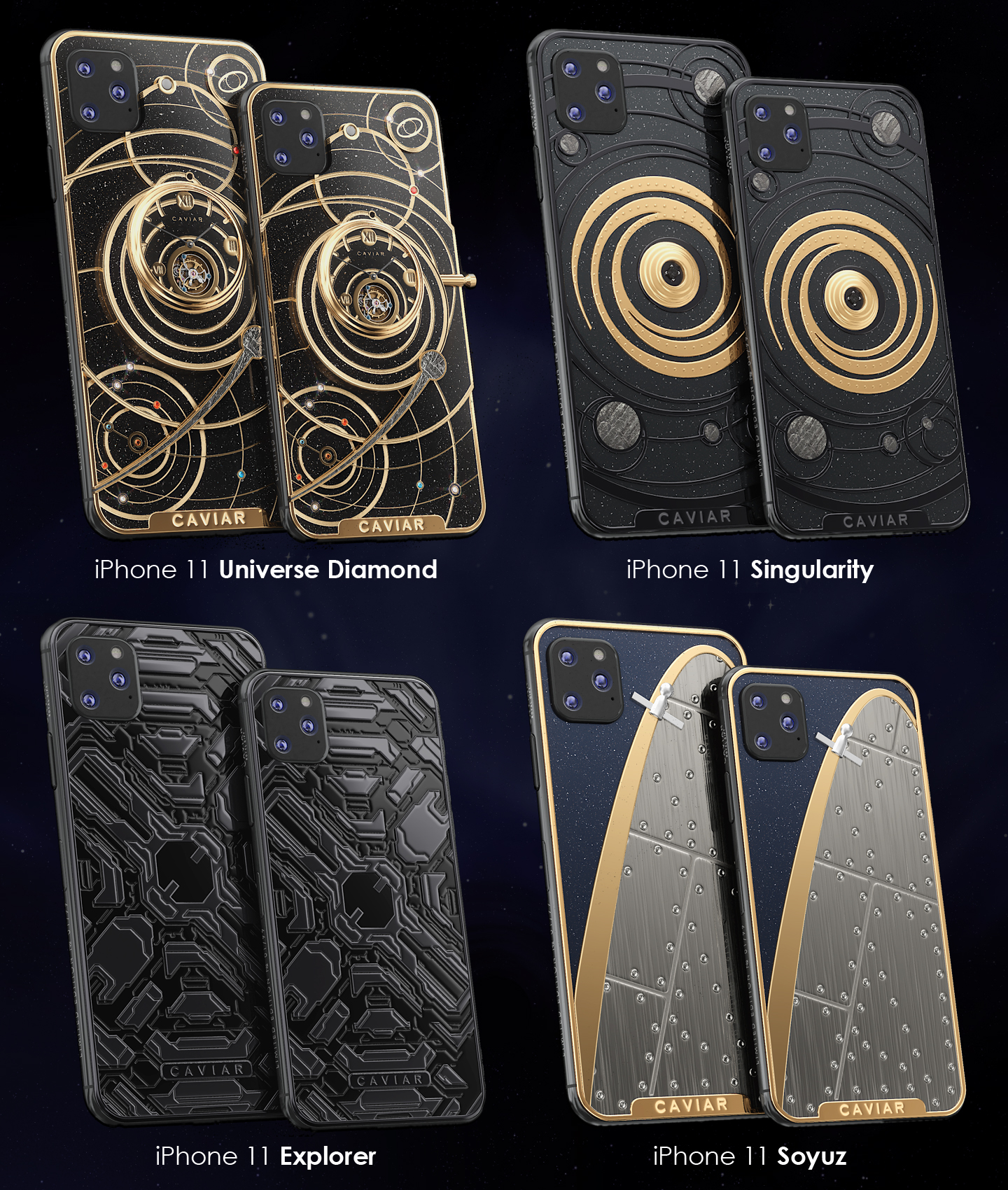 Other iPhone 11 Space Collection models from Caviar
In addition to the Universe Diamond Edition, Caviar also introduced the Singularity Edition which is dedicated to the Black Hole. Earlier this year the first reliable photos of a unique phenomenon became available. These pictures have inspired Caviar's designers for a stylistic interpretation.
The black smartphone case is supplemented with fragments of several meteorites, which represent the planets. The black hole is surrounded by a golden orbit and on the bottom a gold-plated company's logo is placed. The iPhone 11 Singularity carries an estimated retail price of $5.740 USD.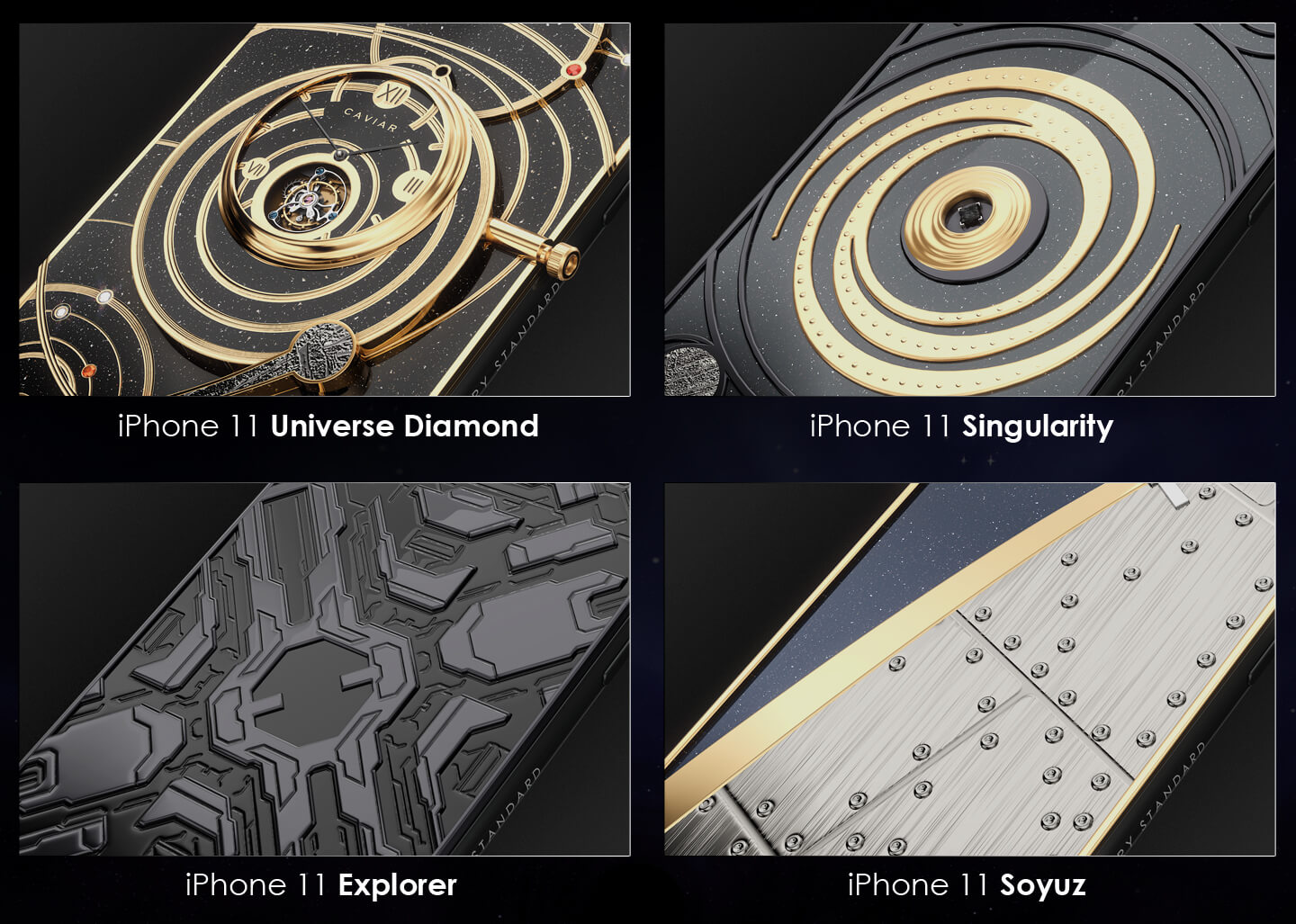 Soyuz is a series of spacecrafts designed for the Soviet space program. The Caviar iPhone 11 Soyuz Edition is dedicated to Soviet and Russian space researchers. To create a miniature satellite on the device's case, a fragment of a genuine spacecraft that traveled outside the planet Earth was used. This model carries an estimated retail price of $ 5.290 USD.
The Explorer model is invented for people that love discoveries and adventures. The black/grey housing looks powerful and brutal and is made out of titanium. This model carries a retail price of $ 4.530 USD.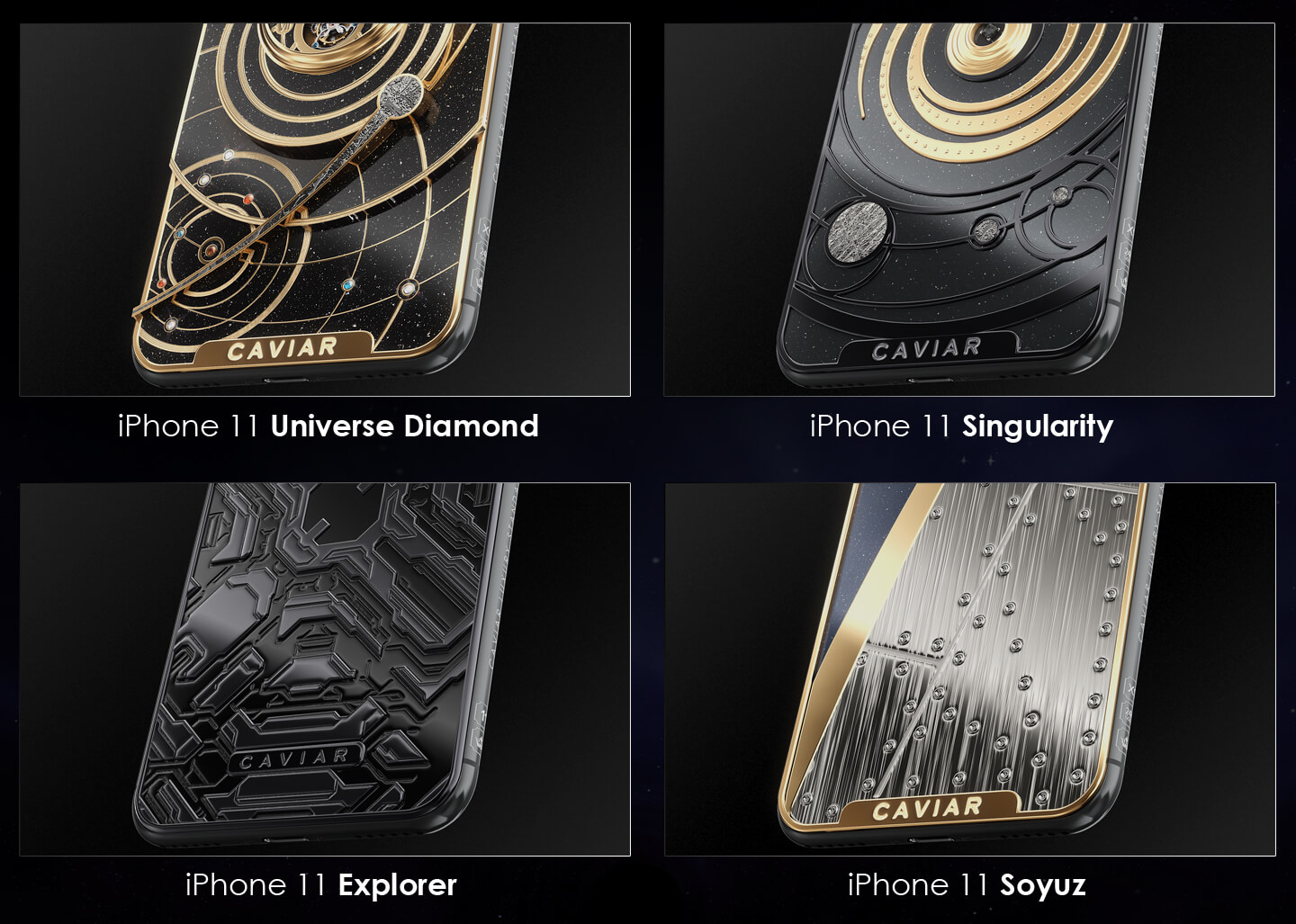 Last month Caviar released another iPhone 11 Limited Edition concept, this was the first model from the Space series. The 'Apollo 11' concept phone is not just water resistant, but also fire and frost resistant. This model was introduced during the 50th moon landing anniversary and comes at an estimated retail price of $4.400. The actual price in September may vary, as Apple has not yet released any official price information.
A spokemen from Caviar said: This collection is a unique symbiosis of the most complicated handmade work, rare materials for which you really had to go into space, innovative technologies and timeless ideas about beauty.
Besides an enhanced camera system, the iPhone 11 is believed to offer a better battery performance. In addition, the smartphone will likely support reverse wireless charging, which will enable users to charge their Apple Watch or their AirPods via their phone. You may further assume that the new iPhones will run on iOS 13 and will be powered by the new A13 Bionic processor.