Ahead of the Display Week 2021 conference, Samsung Display showed its new generation OLED screens yesterday. These included an S Foldable, a Slidable and a Rollable device. So far, the display devices have only been demonstrated by Samsung's display division. The question therefore remains when will Samsung Electronics integrate these new types of screens for the first time and what will be the name of these devices?
Today we can already unveil you the name of Samsung's upcoming rollable smartphone, as Samsung Electronics has applied for a remarkable trademark at the European Union Intellectual Property Office.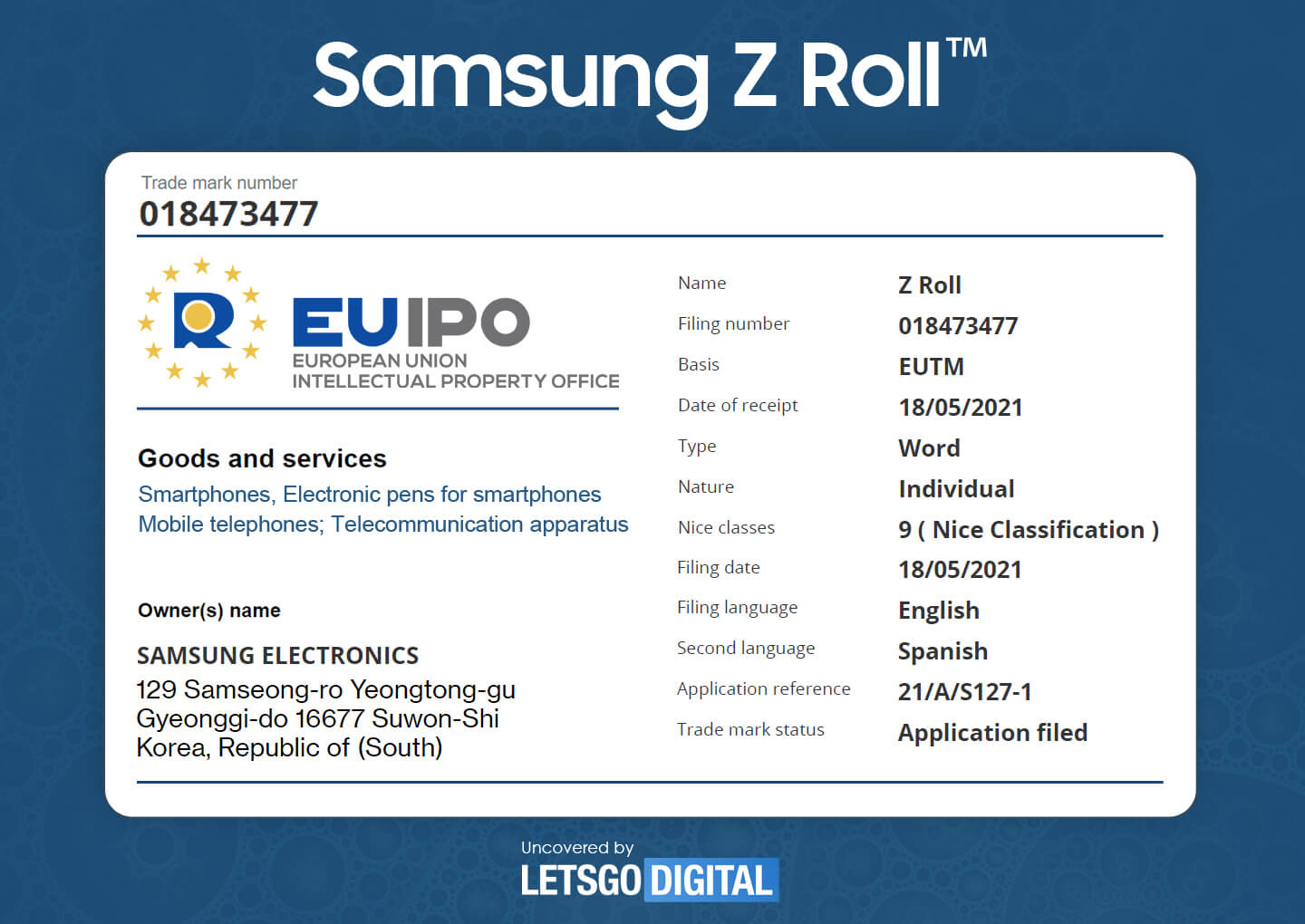 Samsung Z Roll rollable smartphone
On May 18, 2021, Samsung Electronics filed a trademark for "Z Roll". The application is categorized as Class 9 and comes with the following description.
Samsung Z Roll trademark description: "Smartphones; mobile telephones; tablet computers; telecommunication apparatus; electronic pens for smartphones and tablet computers ".
Based on the name "Roll", it is very likely that this device will have a rollable display. The "Z" seems to refer to the series, all smartphones with a folding screen are housed in the Galaxy Z series. This application shows that Samsung intends to place its rollable smartphones within the same series.
The name does not come as a complete surprise. In November last year, we already suggested that Z Roll would be a very appropriate name for Samsung's rollable smartphone. After the Galaxy Z Fold and the Galaxy Z Flip, this time it seems to be the turn of the Samsung Galaxy Z Roll.
For the time being, it remains unclear when Samsung will announce its first smartphone with retractable display. Perhaps that we will hear more about this futuristic device in August 2021, during the Galaxy Unpacked event where the Galaxy Z Fold 3 and Galaxy Z Flip 3 foldable smartphones are also expected. However, it will likely take until 2022 before the Z Roll gets released.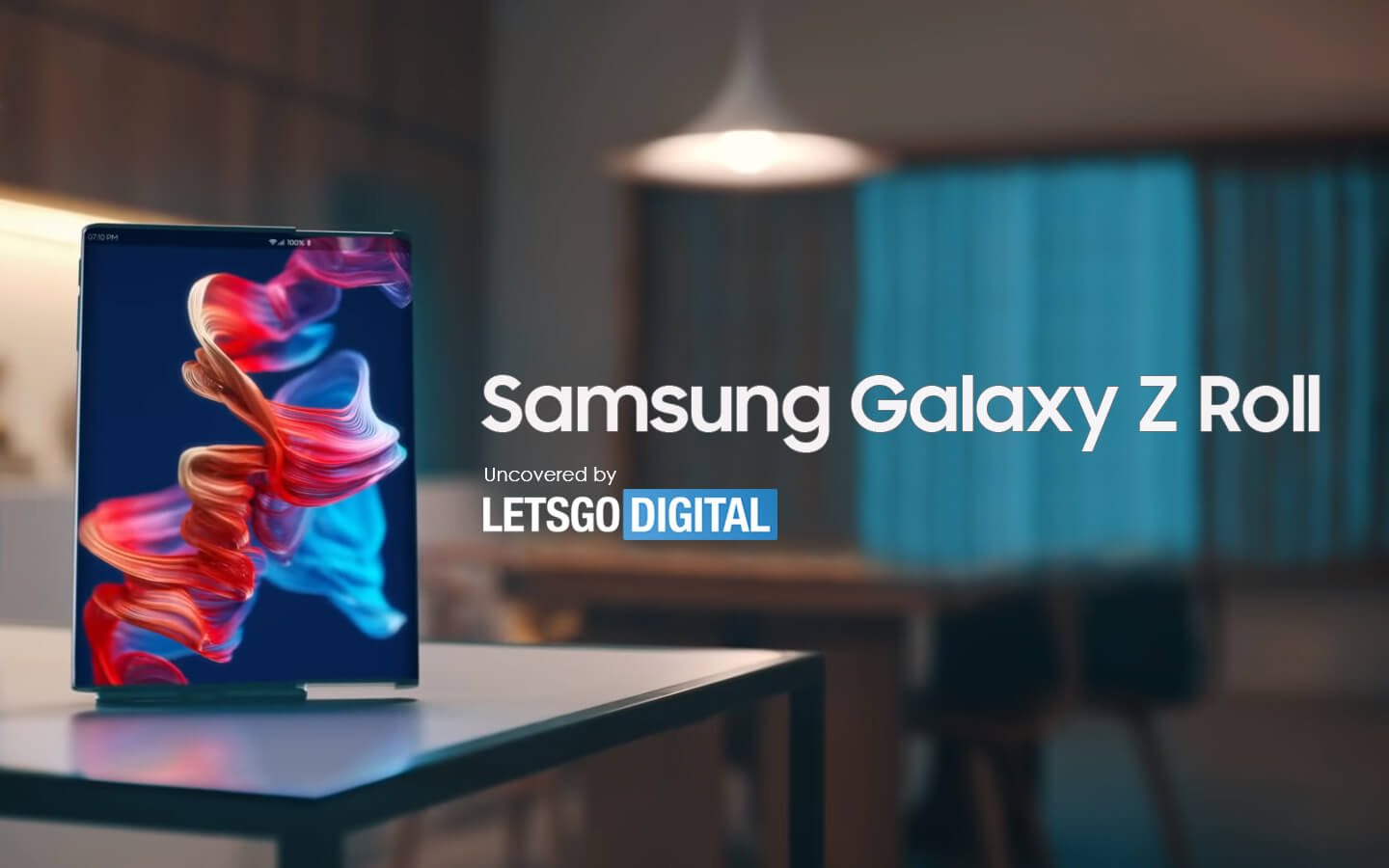 From the images released by Samsung Display, it can be concluded that the slidable smartphone is a regular-sized smartphone in its most compact form. In portrait mode, the screen can be pulled out to the right, after which the screen area is enlarged by approximately 30%. The extra screen part can serve, among other things, for displaying system icons or a messaging app.
Over time, LetsGoDigital has reported several times about a Samsung phone with a retractable screen. For example, in mid-2019 we already managed to track down a patent for a Samsung Galaxy smartphone that could be pulled out in width – as shown in the image below.
At the beginning of this year, we also reported on a slide smartphone from Samsung where the screen could be enlarged by about 30%. Rumors have been going on for some time about a rollable Samsung smartphone. At the beginning of 2020, a retractable Samsung Galaxy phone was already shown to a limited group of people during CES.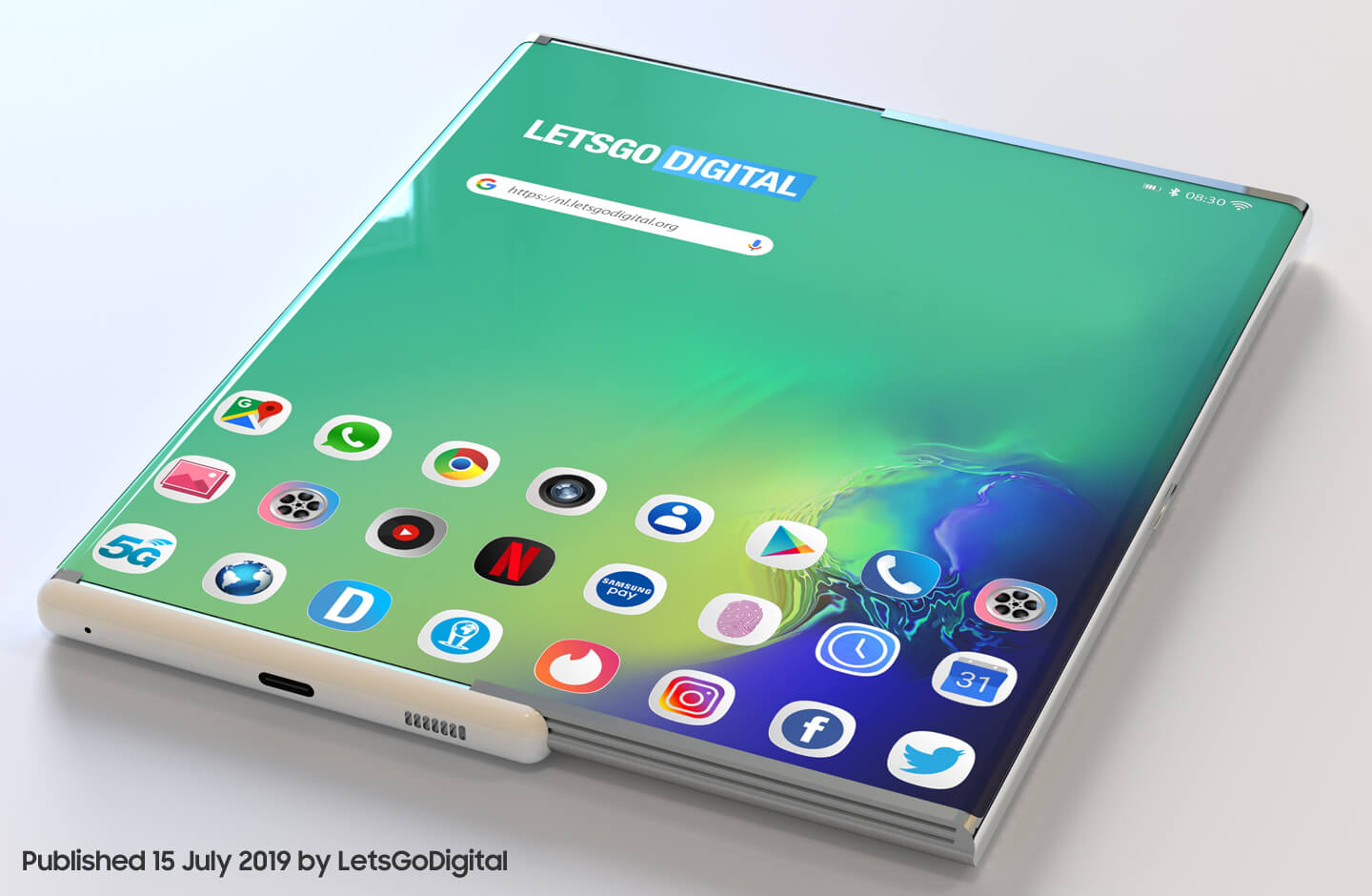 Samsung is not the only manufacturer that sees a future in rollable phones. For a long time it was thought that the LG Rollable would become the first slidable smartphone, however the development of this device has been discontinued now that LG Electronics has officially stopped the production of smartphones.
Oppo also showed a retractable phone last year. However, the Oppo x 2021 was just a concept, the company has indicated that it has no plans yet to actually release this device. More recently, TCL also showed a special concept of a Fold 'n Roll smartphone. It is certainly not inconceivable that Samsung will become the very first manufacturer to actually release a rollable smartphone.
Here you can take a look at the trademark of Samsung Electronics for Z Roll.
For those wondering why the name "Samsung Electronics" is not mentioned in the PDF, it appears that Samsung simply has not paid the bill for the application yet – which is for the first time. In our system, however, the name "Samsung Electronics" immediately comes up as the rightful owner of this trademark. In addition, the application was submitted by intermediary Abril Abogados from Spain, this company has more often been responsible for filing European trademarks for the South Korean manufacturer, including for the name Samsung Z Fold.