Samsung is market leader when it comes to foldable smartphones. The South Korean manufacturer has recently released its 3rd generation folding phones, the Galaxy Z Flip 3 and Galaxy Z Fold 3. In addition, the company is working on many other form factors. Earlier this year Samsung Display showed a very advanced multi-foldable phone as well as a rollable smartphone.
The company also regularly applies for patents for the most diverse designs. Last month, Samsung Display was awarded a patent for a 'Galaxy Flex Note' foldable smartphone, with a wrap-around display and an ingenious stylus dock.
To visualize this unique smartphone design, graphic designer Technizo Concept has made a series of 3D product renders in collaboration with LetsGoDigital. The images are based on Samsung Display's patent images. However, the camera system has been revised – we will come back to this in detail later in this publication.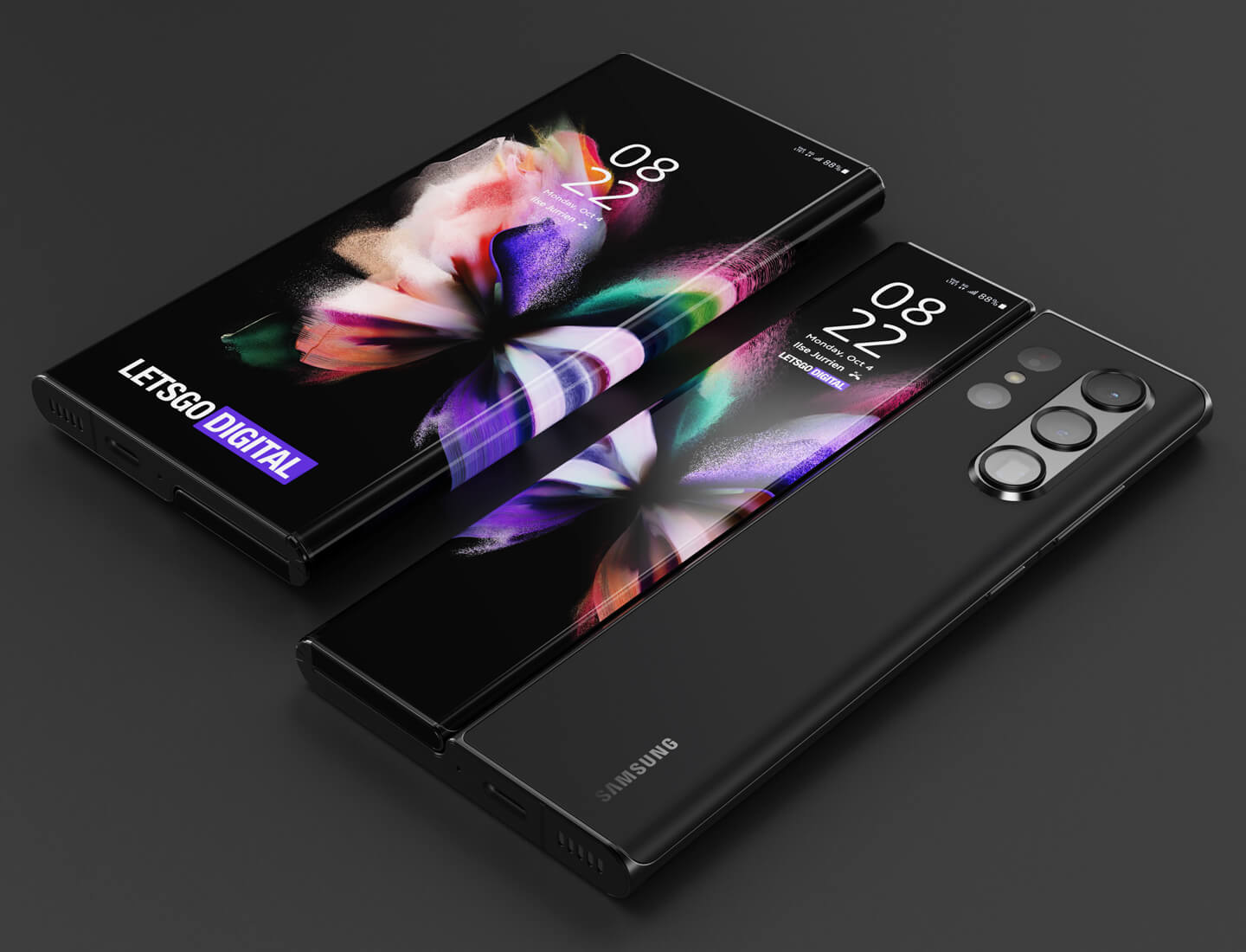 Samsung Z Fold Note with foldable wrap-around screen
In the unfolded position, this device offers a similar screen size as the Samsung Galaxy Z Fold 3. Thanks to the large screen size this phone is excellent for working productively.
However, there is no separate front display available. It is also not an inward folding screen – as is the case with all current Z Fold series of smartphones.
Instead, the patented Samsung phone features a wrap-around display, which can be wrapped around the housing. In its most compact form, the entire front, the right side and half of the back consists of screen surface. The following YouTube animation video from Technizo Concept shows the folding phone from Samsung Display in detail.
There are a number of advantages and disadvantages to this design. Starting with the drawbacks, since it is an outward folding screen, it is more likely to be damaged if the device is carried in a bag or pocket. It will also not be so easy to design a case for such a wrap-around phone.
However, there are also advantages. Because there are no two housings on top of each other when folded, this smartphone will be both lighter and thinner than the Fold. In addition, this solution is most likely cheaper to produce, which will logically also result in a lower selling price.
This design has another distinct advantage. Samsung has seen an opportunity to incorporate a S Pen stylus dock into the design. Therefore we have renamed this phone the 'Galaxy Z Fold Note'.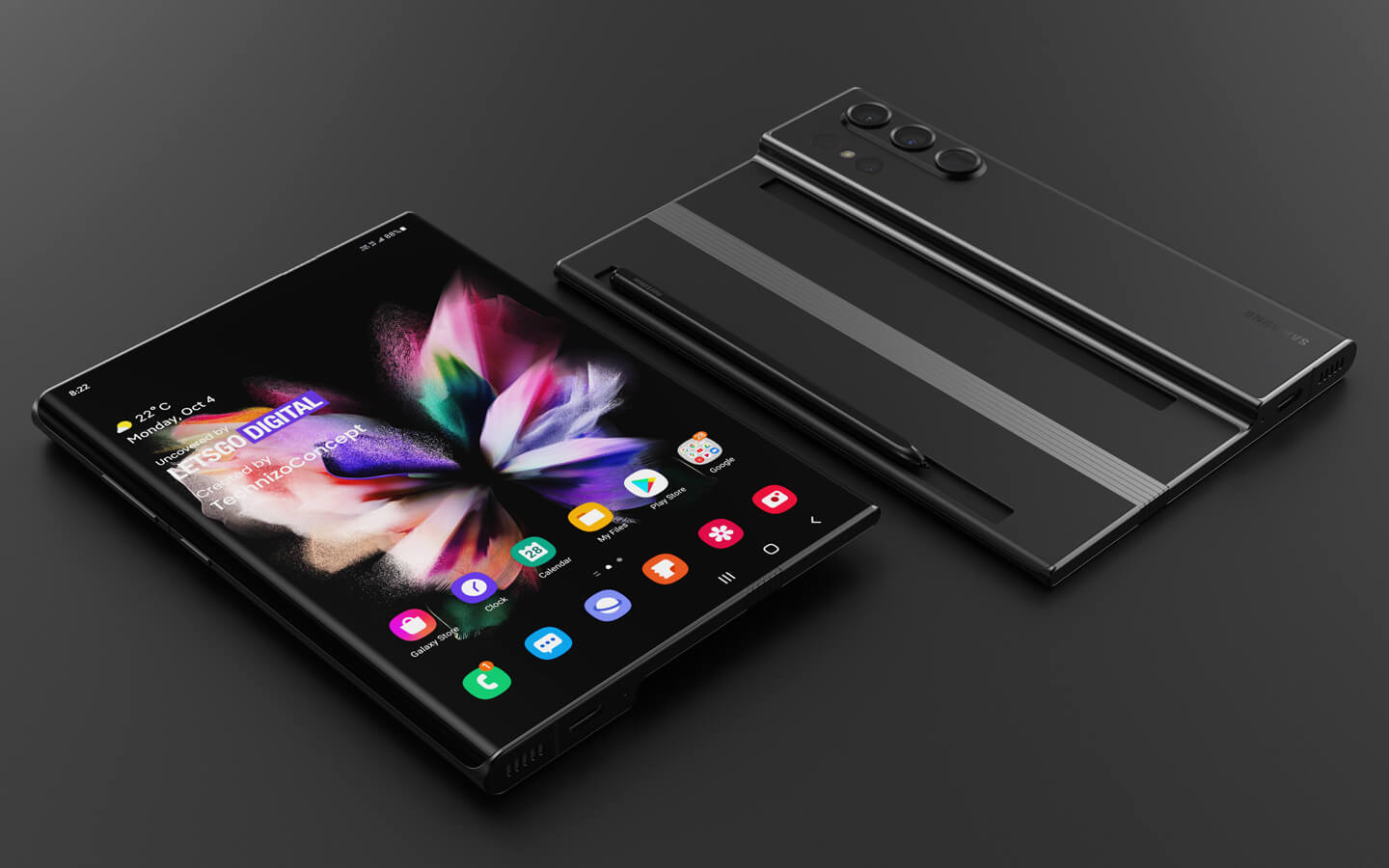 Samsung Galaxy Z Fold Note with S Pen dock
It is not an S Pen compartment, as we are used to from the Galaxy Note model series. Instead, Samsung has made two cutouts on the back of the wrap-around display. Here the S Pen can be clamped in between when the phone is folded. Thanks to magnets, the S Pen will not just fall out of the compartment when you unfold the Note foldable smartphone.
It is an ideal solution, you can easily store the stylus without the need for additional accessories. This also reduces the chance that you can lose the pen. Moreover, no valuable space in the housing is lost in this way.
The Galaxy Z Fold 3 is Samsung's first folding phone with S Pen support. It is expected that Samsung will eventually release more phone models with a flexible screen and S Pen. After all, the advantages of a stylus pen come into its own even better with a large screen surface.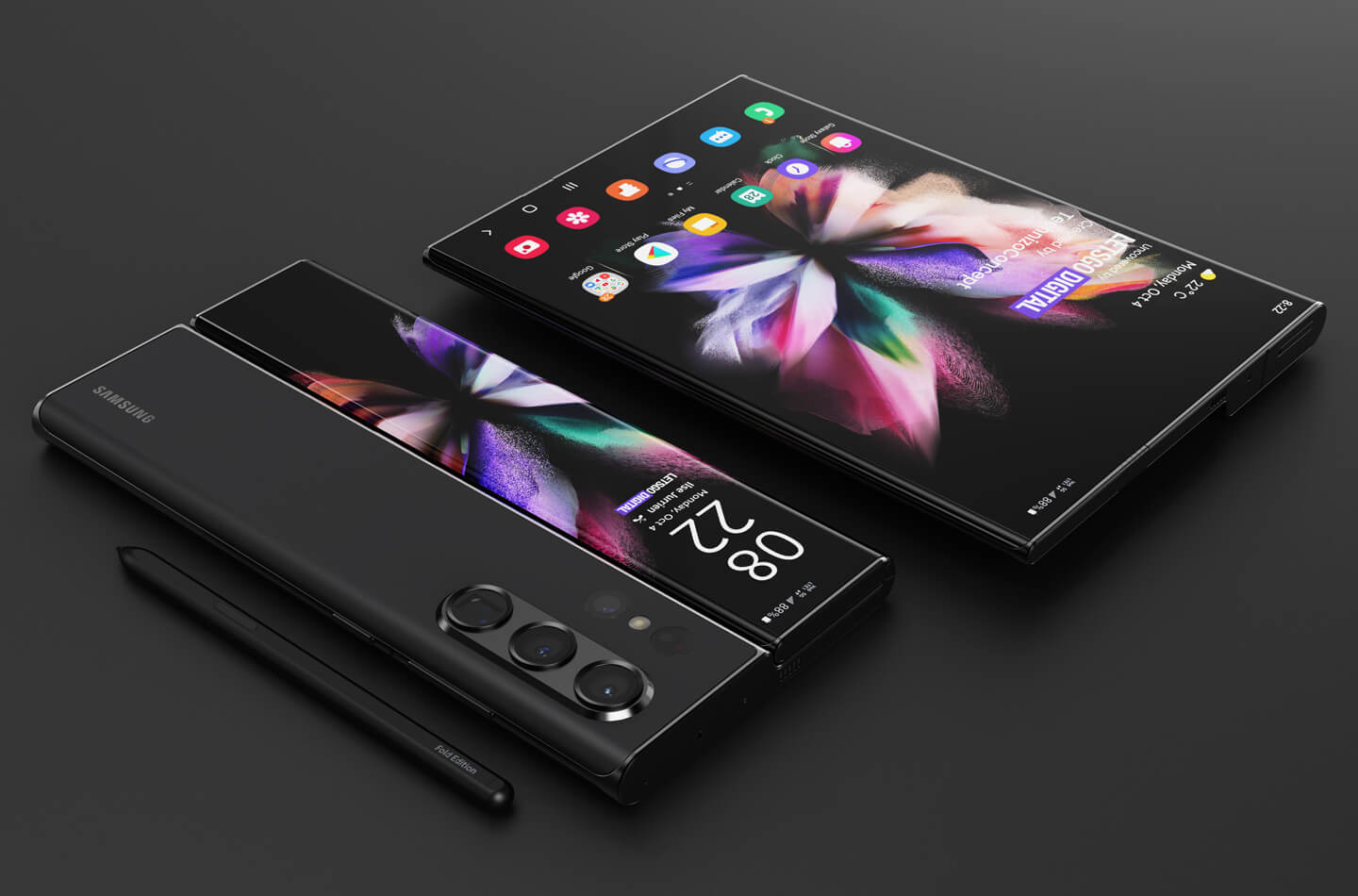 Triple camera of the Galaxy Z Fold 3
As for the cameras, two variants are shown in the patent images. One with an under display camera, the other contains a double punch-hole camera placed in the top right of the flexible screen. When the phone is unfolded, this dual camera can be used as a selfie camera for making video calls. When folded, the dual camera moves to the back, allowing you to take regular photo and video recordings.
It is a relatively cheap solution, after all, the patented device only has 2 cameras. If Samsung wants to launch this model as a cheap alternative to the Z Fold, it can be a suitable solution. However, for the product renders, Technizo Concept has chosen to place a triple camera on the back – similar to the Galaxy Z Fold 3.
In addition, the designer has placed an under-display camera under the flexible screen – as we also know from the latest Samsung Fold. Although the first generation UDC leaves something to be desired, both in terms of image quality and visibility of the camera system, it is expected that this camera technology will be further developed in the coming years to set the new standard.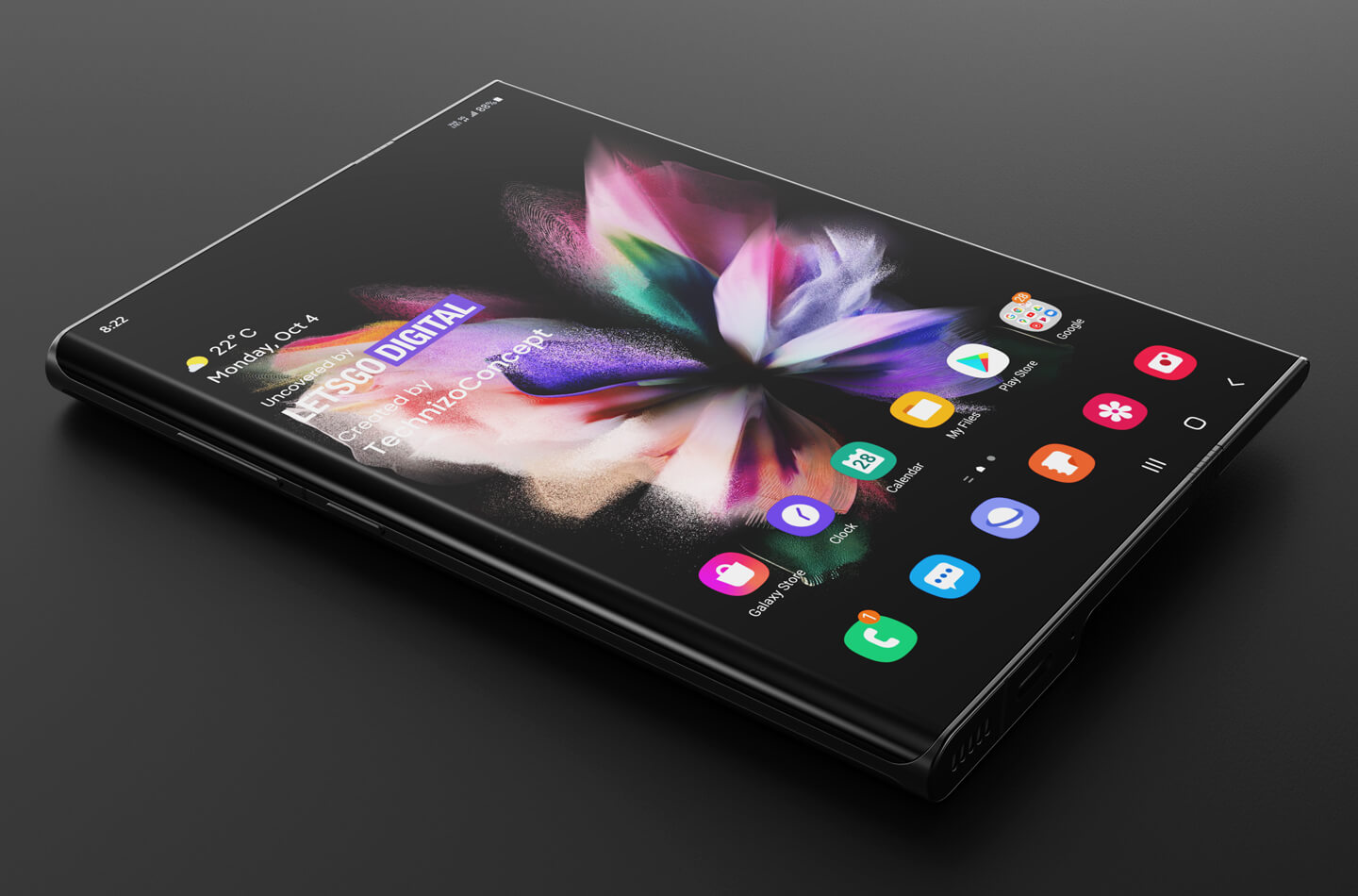 It is also good to realize that this design is patented by Samsung Display. Samsung's display division does not only supply display panels to Samsung Electronics. In the coming period, more foldable smartphones will be released with a Samsung display panel.
The Google Pixel Fold, as well as the foldables from Oppo, Vivo and Xiaomi, will feature a foldable panel from Samsung Display, according to display analyst Ross Young. Thus, in theory, this smartphone design could also be used by another smartphone brand.
It remains unclear whether Samsung Electronics actually has a wrap-around display smartphone in the planning. Xiaomi is as yet the only manufacturer that has announced a smartphone with a wrap-around display (surround display). However, with the Xiaomi Mi Mix Alpha, the screen was not foldable, it was wrapped around the housing in a fixed way, so the benefits were minimal.
In that regard, Samsung's design is much more advanced. After all, this Samsung Note foldable smartphone is a lot more versatile, as the device can be folded into a tablet format. In combination with the S Pen, you can work very productively with this phone.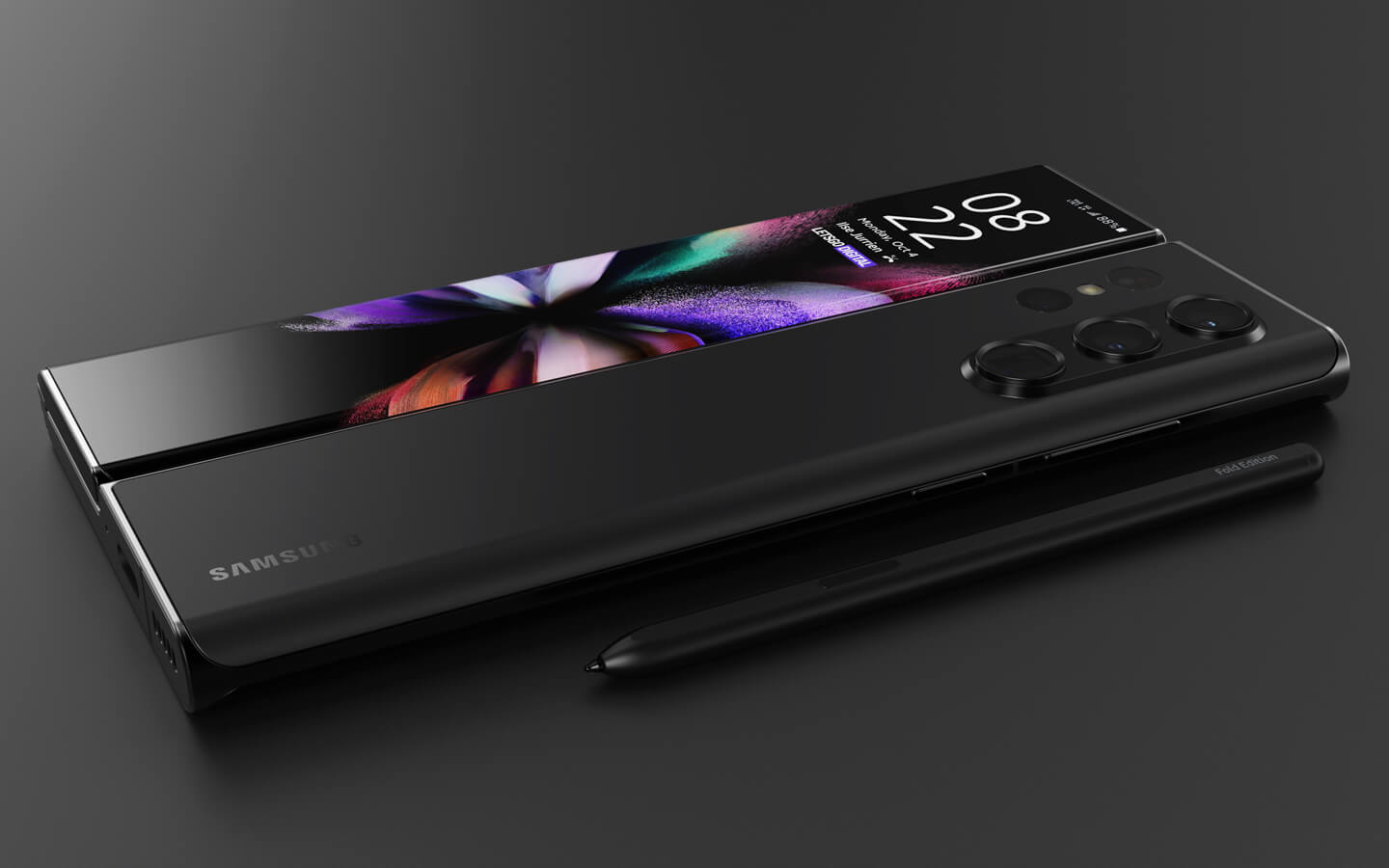 Samsung Galaxy Z series 2022
The first sales results of the Samsung Galaxy Z Flip 3 and Z Fold 3 are very positive. Pre-order sales were better than ever before. The clamshell model in particular is immensely popular, the favorable starting price of €1,050 will undoubtedly be the reason for this.
The positive sales figures of the Galaxy Z series even seem to be partly the reason that Samsung is canceling the release of the Galaxy S21 FE – which was initially expected in August this year. The Galaxy Note 21 will not appear either. This makes the Samsung Galaxy S21 series the only high-end smartphone line-up that the company has released this year – apart from the two new foldables.
The Samsung Galaxy S22 series is expected in January 2022. The new range will again consist of three models; a base model, the Galaxy S22 Plus and the top model, the Galaxy S22 Ultra. The latter will get a Note-type design with an S Pen compartment for the first time.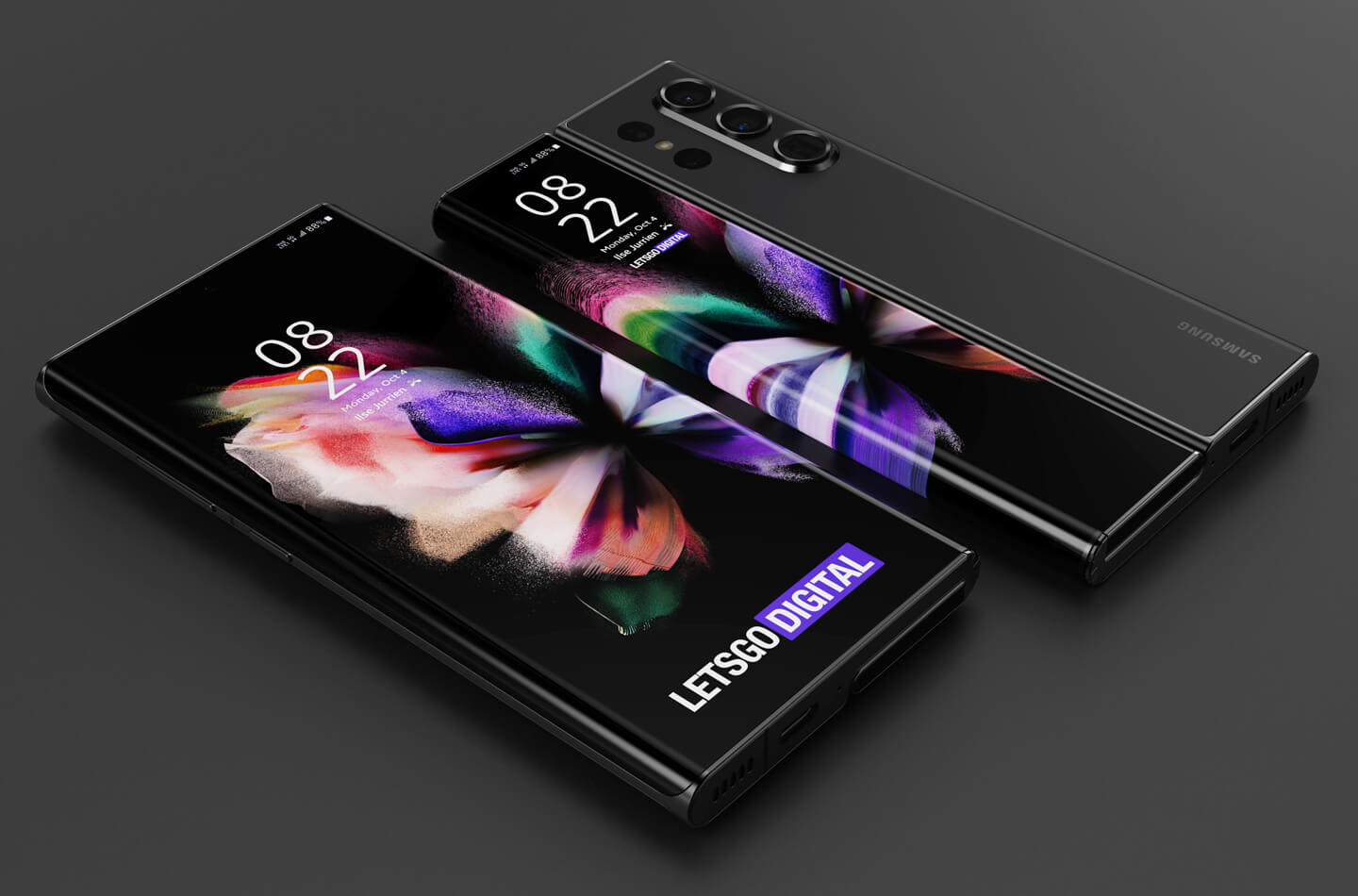 Subsequently, Samsung will undoubtedly be fully committed to a new series of folding phones. Logically, both a new Flip and Fold will be released. In addition, it is not inconceivable that new models will appear next year.
Other brands are also expected to introduce one or more folding phones in the coming period. Google may be the first, the US tech giant is organizing a launch event for Android 12 and the Pixel 6 series later this month. It is quite possible that the Pixel Fold will be introduced simultaneously.
Vivo and Oppo are also expected to release their first foldable smartphone this year. Competitor Xiaomi might release their second foldable soon; the Mi Mix Flip. After the Mi Mix Fold was released earlier this year. Huawei has also released several models, which will undoubtedly get a successor too. With so many new folding phones, this new product category will quickly increase in popularity. Although Apple doesn't seem to follow suit until 2023 / 2024 with a foldable iPhone.
Download official documentation: Samsung Galaxy Z Fold Note with S Pen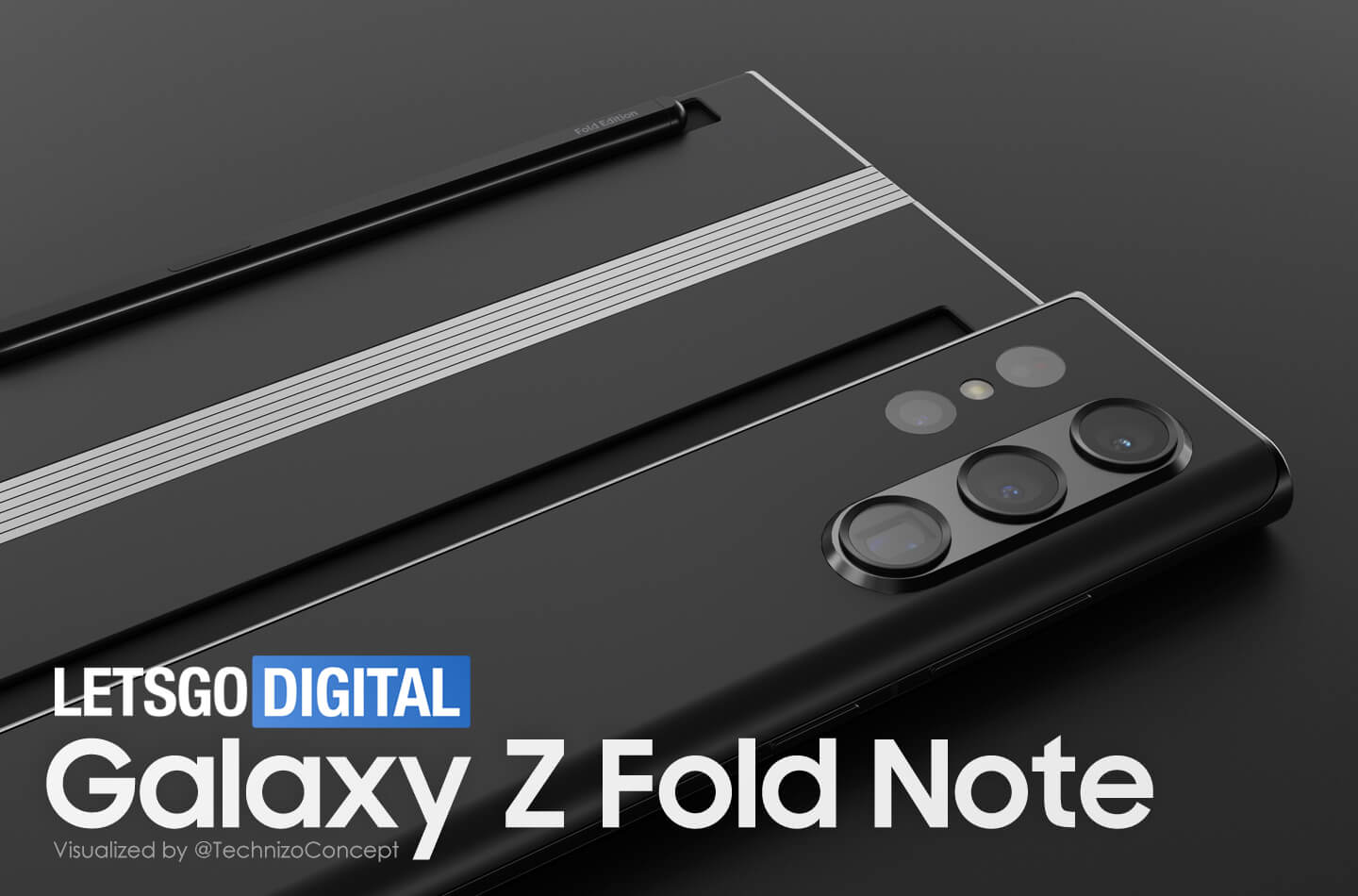 Note to publishers : The Samsung Galaxy Fold Note product renders in this publication are created by Technizo Concept in collaboration with LetsGoDigital. The 3D renders are for illustrative purposes only. This product is not for sale. You can use the copyrighted images for your own website, YouTube and/or social media channels, please be so respectful to include a clickable source link into your publication.