Since Samsung released the Galaxy Fold foldable smartphone in 2019, many are wondering when Apple will introduce its first folding phone. But we still have to be patient. Various sources have indicated that the first foldable iPhone will arrive at the earliest in 2022. Nevertheless, it seems that more and more details about this device are becoming known.
The form factor appears to have been determined by now. It will be a flip phone, or a clamshell device, comparable to the Samsung Galaxy Z Flip and the Motorola Razr. Based on all the rumors, graphic designer Technizo Concept has made a series of 3D renders of the expected iPhone Flip in collaboration with LetsGoDigital.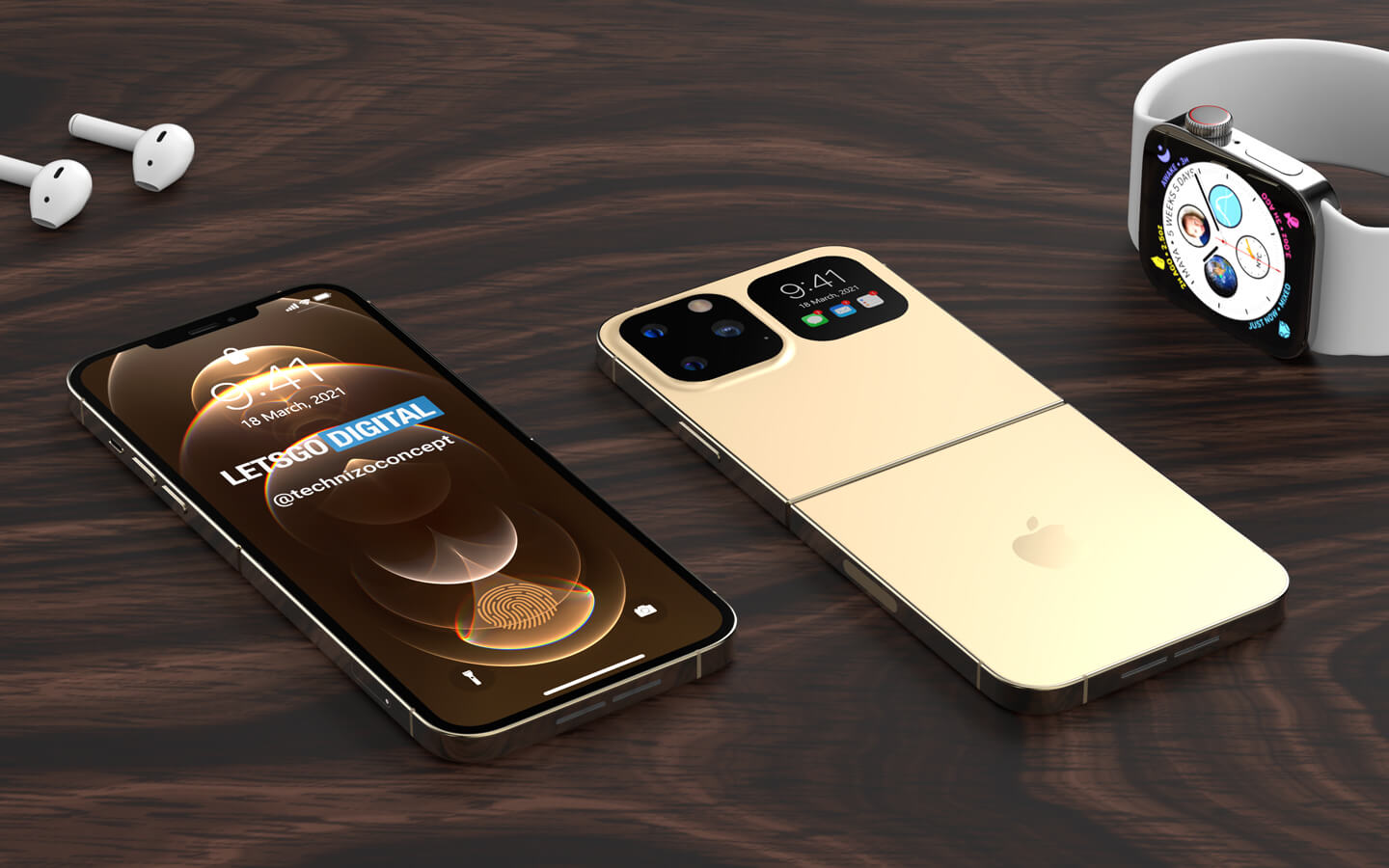 It is not the first time that LetsGoDigital shows 3D renders of an iPhone with a clamshell design. In 2019, we showed a foldable iPhone, based on a patent awarded by the American manufacturer. In the meantime, information about Apple's plans has emerged from various sources in the supply chain.
The first foldable iPhone will probably use a flexible display panel from Samsung. It seems to be an OLED screen, although mini LED could be a possibility too. For the product renders, we have assumed that Apple will maintain the notch, but reduce it, just as with the iPhone 12s / iPhone 13 models expected later this year.
For the design of the camera system we have chosen for a similar triple camera set-up as that of the iPhone 12 Pro (Max). By the time the Flip comes out, this is of course no longer the newest or most advanced camera system from Apple. Nevertheless, the focus of the iPhone Flip will not be so much on the camera system – after all, this was not the case with the RAZR and Z Flip either.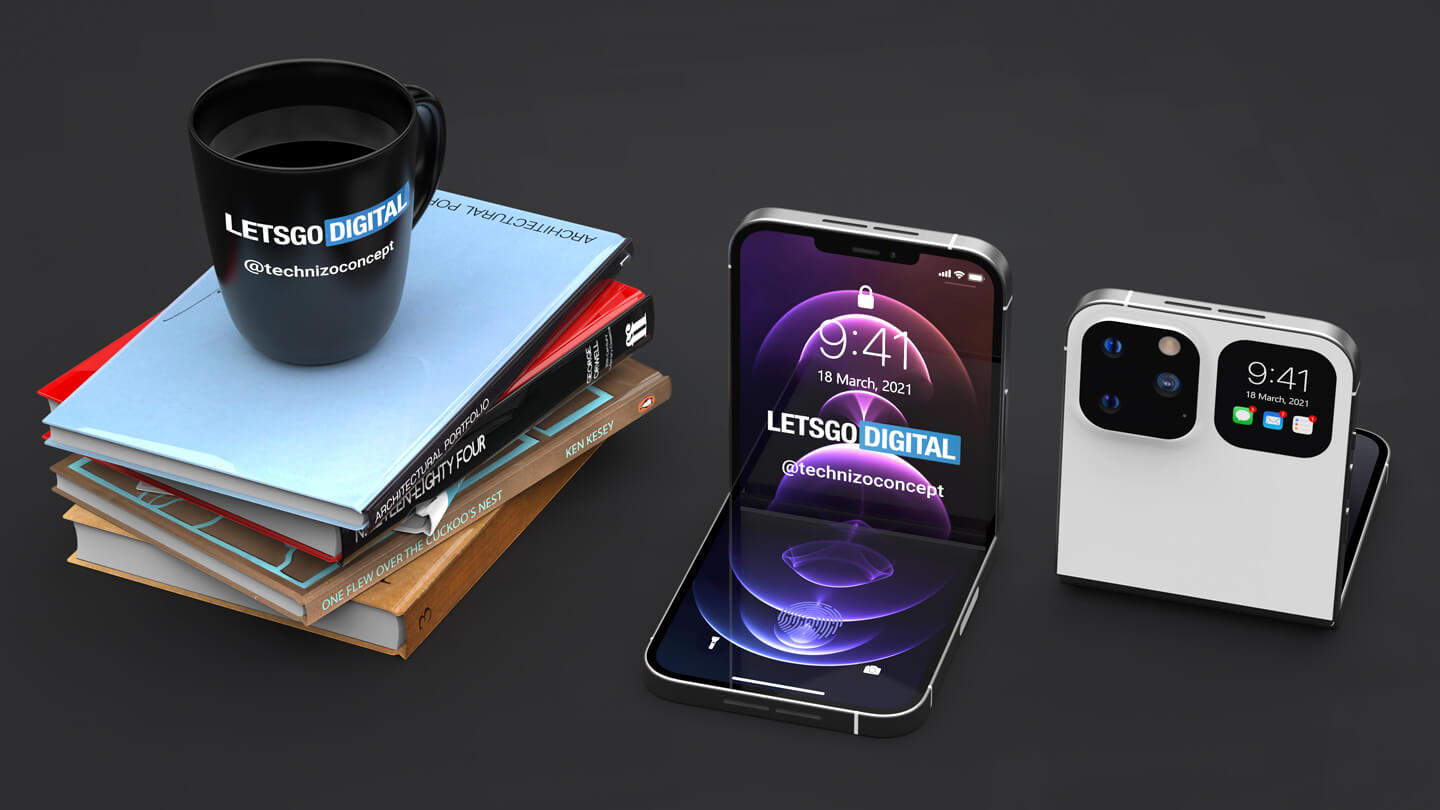 It is in line with expectations that Apple will also integrate a cover display. No information is yet known about the size of this screen. To design the renders, we opted for a relatively small display, with the same dimensions as the camera system. In terms of size, this screen is slightly larger than that of the Samsung Z Flip and slightly smaller than that of the Motorola RAZR.
The user will be automatically informed of incoming calls and notifications via the cover display. By placing the camera and the screen on one side of the folding line, it is in theory also possible to take selfies with this camera system.
Apart from the renders, Technizo Concept also made the following video in which the Apple iPhone Flip is shown from all sides in four sparkling colors: red, white, gray and gold.
When is the iPhone Flip expected?
Some time ago, the Taiwanese news medium Economic Daily News reported that Apple had several tests with the iPhone Flip successfully carried out by the Taiwanese chip manufacturer Foxconn. As part of the test, the device was opened and closed 100,000 times.
100,000x may sound like a lot, but the Samsung Z Flip's Ultra Thin Glass has been tested to last at least 200,000x. Nevertheless, Apple seems to pay a lot of attention to the durability of the device. As a display supplier, Samsung has also been involved in the test process.
In addition, Apple wants to apply special glass technology for the foldable iPhone, which should ensure that the screen remains intact even after frequent folding. Previously, stories had been circulating that Apple wants to use special ceramic protective glass, which cannot be broken so easily. It should also reduce the crease. Ceramic Shield technology was first applied for the iPhone 12 series.
For the display test, two prototypes were used, in addition to a clamshell model, Apple also has a dual screen variant in development, comparable to the Microsoft Surface Duo. This device does not have a flexible display, but two displays with a bezel in between.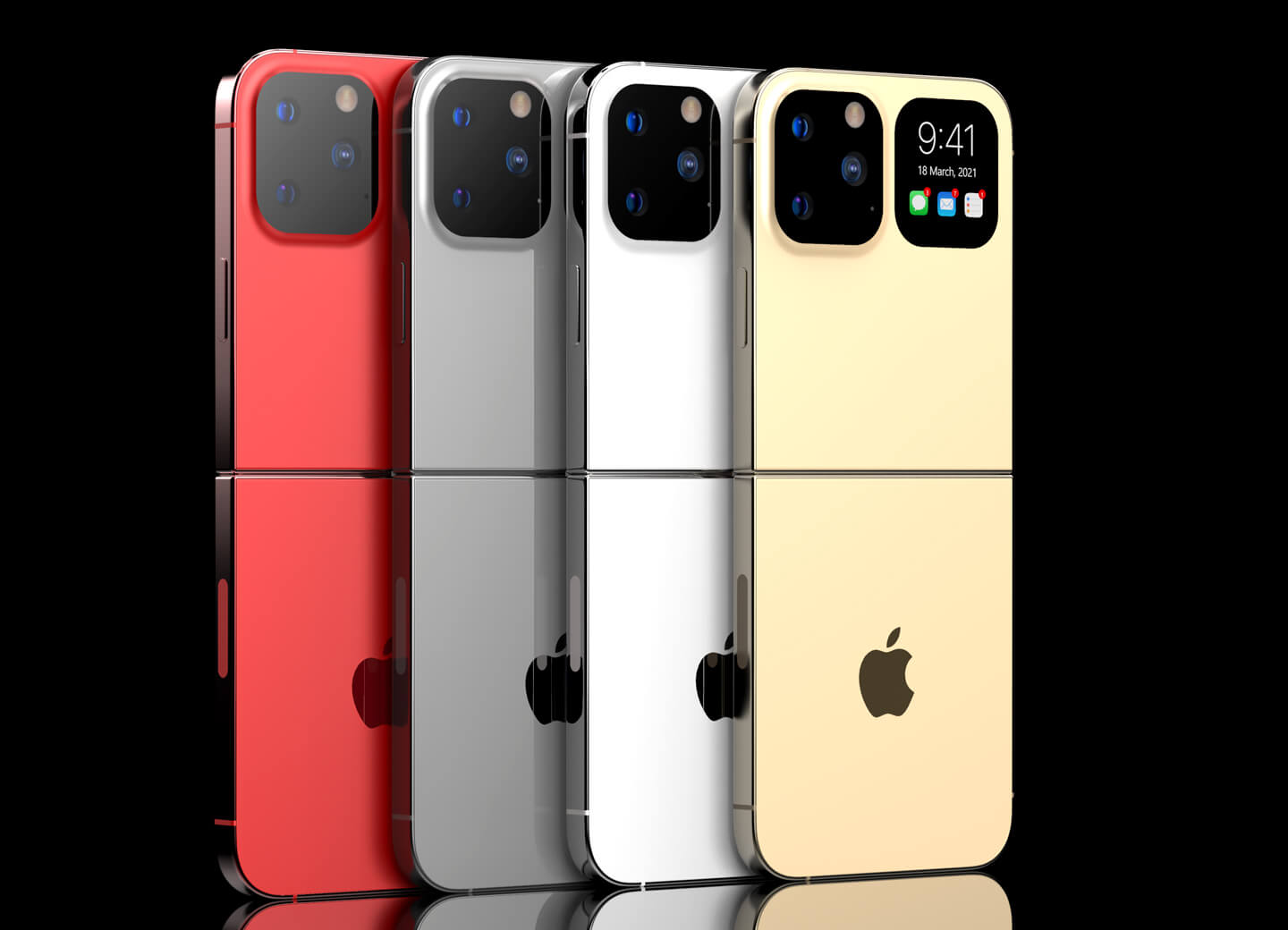 Due to this news, many assumed that an iPhone 13 Flip might be introduced in 2021. However, it did not take long before the Taiwanese website Digitimes reported that the foldable iPhone is not expected until 2022.
That may even be too early, as tech analyst Jon Prosser reported on YouTube last month that the foldable iPhone will not arrive before 2023. Furthermore, Prosser confirms that the iPhone will have an inward folding screen with a flip design. In other words, a clamshell design, comparable to the Samsung Galaxy Z Flip and the Motorola Razr.
In addition, it is mentioned in the video that the clamshell iPhone will be released in various cheerful colors. This is striking news, as it also says something about the target group of this device. Usually, Apple chooses to provide its basic models with cheerful, bright colors. While the advanced Pro models are available in predominantly dark, business tones.
Perhaps Apple will eventually also release a foldable model that unfolds into a tablet format, as a counterpart to the Samsung Galaxy Z Fold 2 and Huawei Mate X2. Thus, the iPhone Flip will then become the cheaper version. However, this seems to be a distant future, first the focus will be on the clamshell model.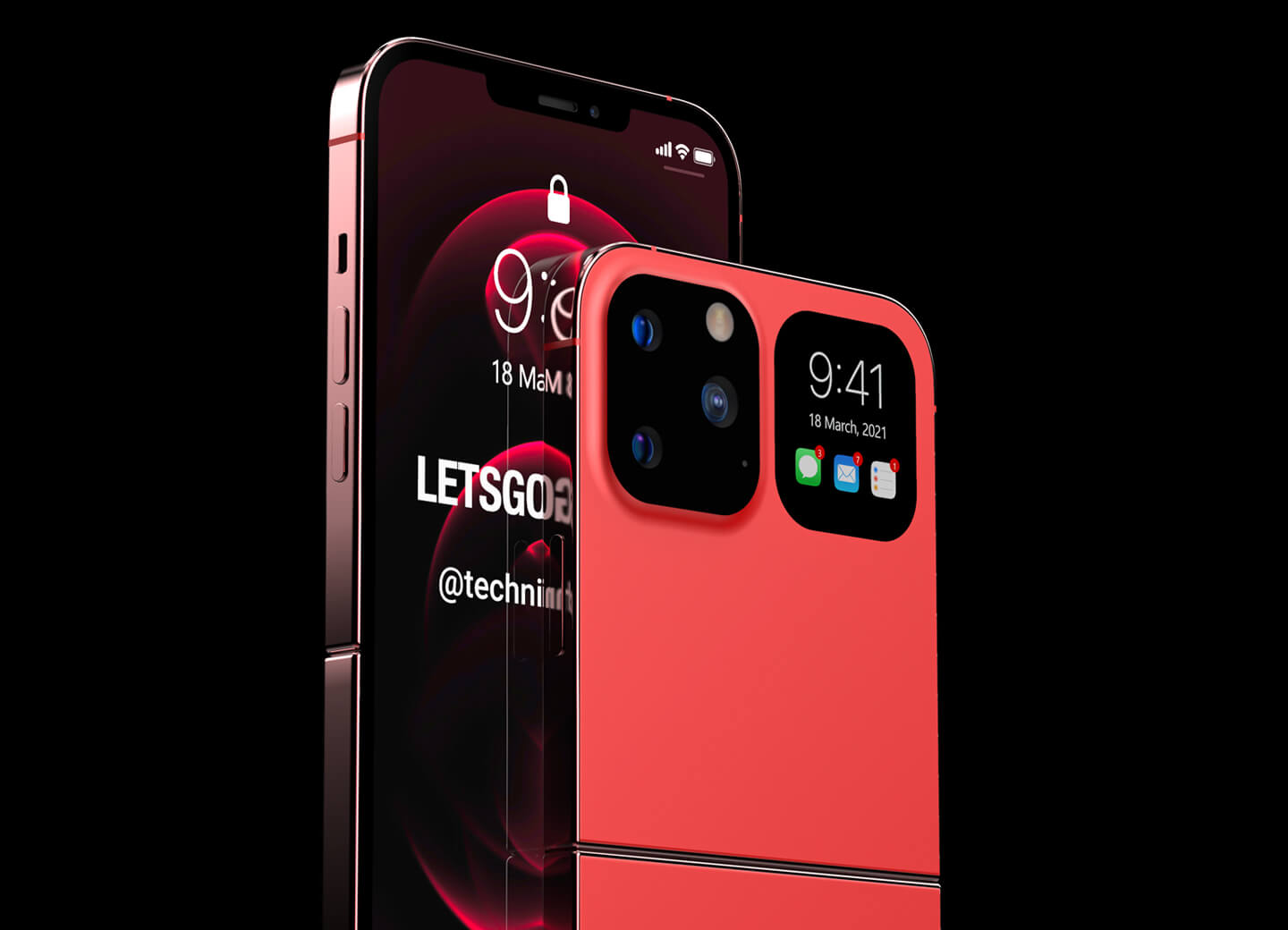 Expected clamshell smartphones in 2021
According to Prosser, the foldable iPhone will have a suggested retail price of approx. $ 1,500 USD – comparable to the price of the Samsung Z Flip and Motorola Razr. However, it still seems very early to determine a price now, after all, it is expected that it will take at least another 1.5 years before this device is officially introduced. In the meantime, a number of folding phone models will undoubtedly be introduced. In that respect, everything can change in terms of price.
One of the models that is expected this year is the Samsung Galaxy Z Flip 3. This folding phone is said to have a larger cover display than its predecessor. Samsung also intends to replace the dual camera with a triple camera.
Later this year, Xiaomi appears to be entering the foldable smartphone market as a newcomer, with no fewer than three different models. One of them will be a flip phone, a compact phone to carry with you. However, details about this device are still scarce.
Another Chinese smartphone manufacturer that wants to release a clamshell model this year is Oppo. Oppo's foldable phone reportedly features a 1.5" to 2" cover display and a 7.7-inch flexible display. All in all, there are still plenty of new developments to be expected in the field of foldable phone models.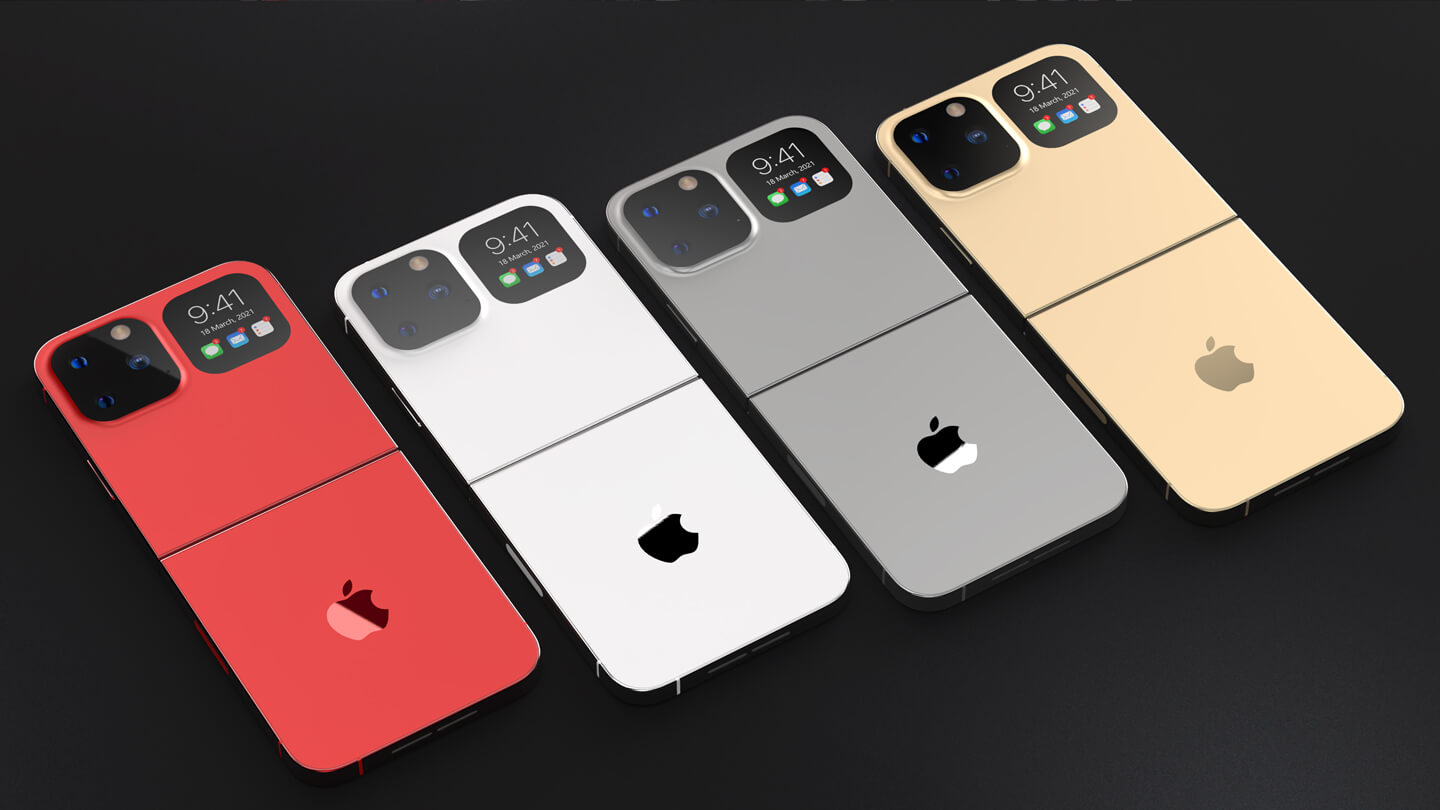 Note to editors : The product images shown in this publication are created by Technizo Concept in collaboration with LetsGoDigital. The presented 3D renders are for illustrative purposes only. This product is not for sale. The images are copyright protected. Feel free to use these renders on your own website, please be so respectful to include a source link into your publication.