In exactly two weeks from now a major Samsung Galaxy Unpacked 2021 event will take place, where the Galaxy Z Fold 3 and Galaxy Z Flip 3 will be introduced among other products. In recent times, a lot has become known about the expected foldable smartphones from Samsung. Both models will be improved on many points. For the first time, the folding phones also come with an official IP rating.
Several sources have now confirmed that both the Samsung Galaxy Z Flip 3 and Z Fold 3 will both receive an IPX8 rating. This means that both devices will be water resistant. A water resistant foldable smartphone, less than two years after the release of the fragile Galaxy Z Fold – who would have ever thought.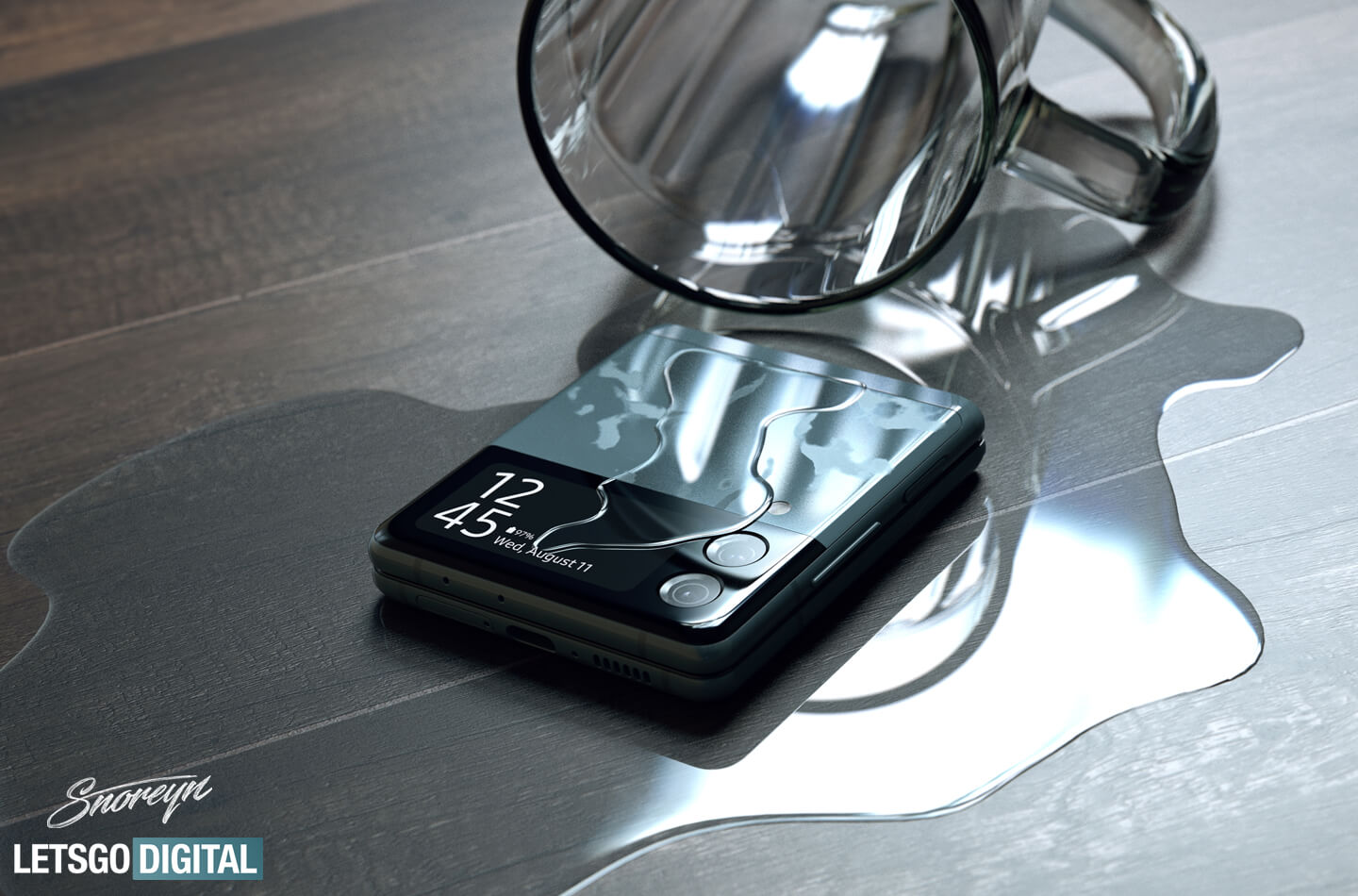 Samsung Z Flip 3 water resistant folding phone
The IP code, also known as 'Ingress Protection', consists of two numbers. The first digit indicates the degree of protection against the ingress of dust and dirt (dust resistance), the second digit indicates the degree of protection against moisture (water resistance).
IPX8 means that the smartphone has not been tested for dust ingress. When it comes to dust resistance the new folding phones will probably still be inferior to, for example, the Galaxy S series smartphones – which are usually marketed with an IP68 rating.
The number '8' indicates that the Galaxy Z Flip 3 can withstand water just as well as other top models of the brand – such as the Galaxy S21 Ultra and Galaxy Note 20 Ultra. The IPX8 rating means the Samsung Z Flip 3 can be kept under water for no less than 30 minutes, up to a depth of 1.5m.
A special achievement when you consider that the construction of a folding smartphone is completely different from that of a regular smartphone – think for example of the hinge.
By the way, did you know that Samsung was the very first manufacturer to release a waterproof smartphone? It is exactly 10 years ago that the Samsung Galaxy XCover was presented, as a robust phone with an IP67 rating. A few months later, Sony would introduce a similar Xperia Go phone.
It would then take another five years before the first Galaxy S series smartphone was provided with an IP rating. The Galaxy S7 introduced in 2016 was the very first Samsung smartphone with an IP68 standard. Afterwards, all top models of the brand have been provided with an equal IP rating. An important innovation, because since then we can also take our beloved mobile phones with us in the shower, to the pool and even to the beach.
2021 will be the year that Samsung will present world's first IP-rated foldable smartphones. Samsung will likely use this aspect in the marketing surrounding the Galaxy Z Flip 3 and Z Fold 3 too. Think, for example, of TV commercials where the Galaxy Z devices are taken to the swimming pool on a sultry summer day.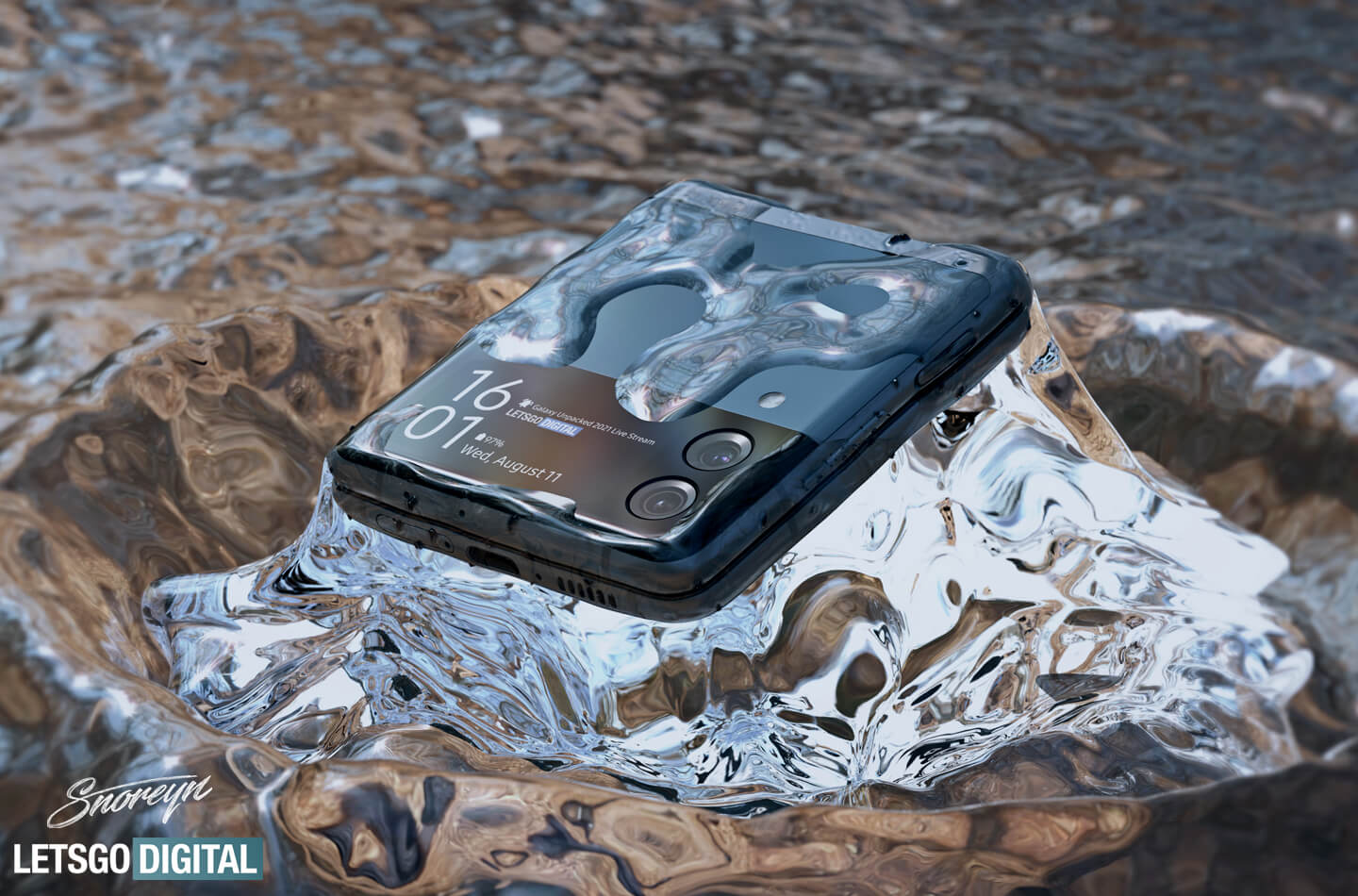 What about the dust resistance?
As for dust resistance, it is not to say that the Galaxy Z Flip 3 / Z Fold 3 cannot tolerate dust at all. The 'X' code only reveals that the devices have not been tested on this aspect. Incidentally, these tests are performed under laboratory conditions.
Nevertheless, it is quite possible that Samsung has also made progress in this area. The general expectation is that both foldable smartphones will be equipped with a new hinge and an extra robust Armor Frame, to make the devices water resistant.
With the previous model, Samsung chose to integrate a special Sweeper mechanism in the hideaway hinge. This was inspired by the bristles of a vacuum cleaner and is intended to remove accumulated dust and dirt in a smart way. This system proved to work remarkably well. Logically, the Sweeper Technology will be further developed in order to be able to present a water- and dust resistant foldable smartphone in the future.
Galaxy Unpacked will take place on Wednesday 11 August, the product presentation can be followed via a live stream. In addition to the Z Fold 3 and Z Flip 3 foldable phones, Samsung will also unveil two smartwatches, the Galaxy Watch 4 and Watch 4 Classic, and a new set of earbuds, the Galaxy Buds 2. The Samsung Galaxy S21 FE has suffered some delay and will be presented at a later date.
Note to editors : The product renders in this publication are created by graphic designer Giuseppe Spinelli (aka Snoreyn). The copyrighted images are based on the latest leaks and are for illustrative purposes only. This product is not for sale. Feel free to use the images on your own website, please be so respectful to include a source link into your publication.