Several brands have released a foldable smartphone. The Samsung Galaxy Z Fold 3 and Galaxy Z Flip 3 are by far the best-selling folding models, simply because they are the only models available worldwide. Over time, LetsGoDigital has reported several times about a tri-fold smartphone. Such devices are extra advanced and large, partly because they can be folded at two points.
Earlier this year, Samsung Display already demonstrated such a multi-foldable Galaxy smartphone. Recently we also reported on a OnePlus tri-fold smartphone that folds out into a large tablet size.
This time sister company Vivo is investigating the possibilities of a tri-fold smartphone. Last year, the company already filed documentation for a foldable phone with a stylus pen. This time, the Chinese company has applied for a patent for a Vivo tri-fold smartphone with a light-sensitive projection virtual keyboard.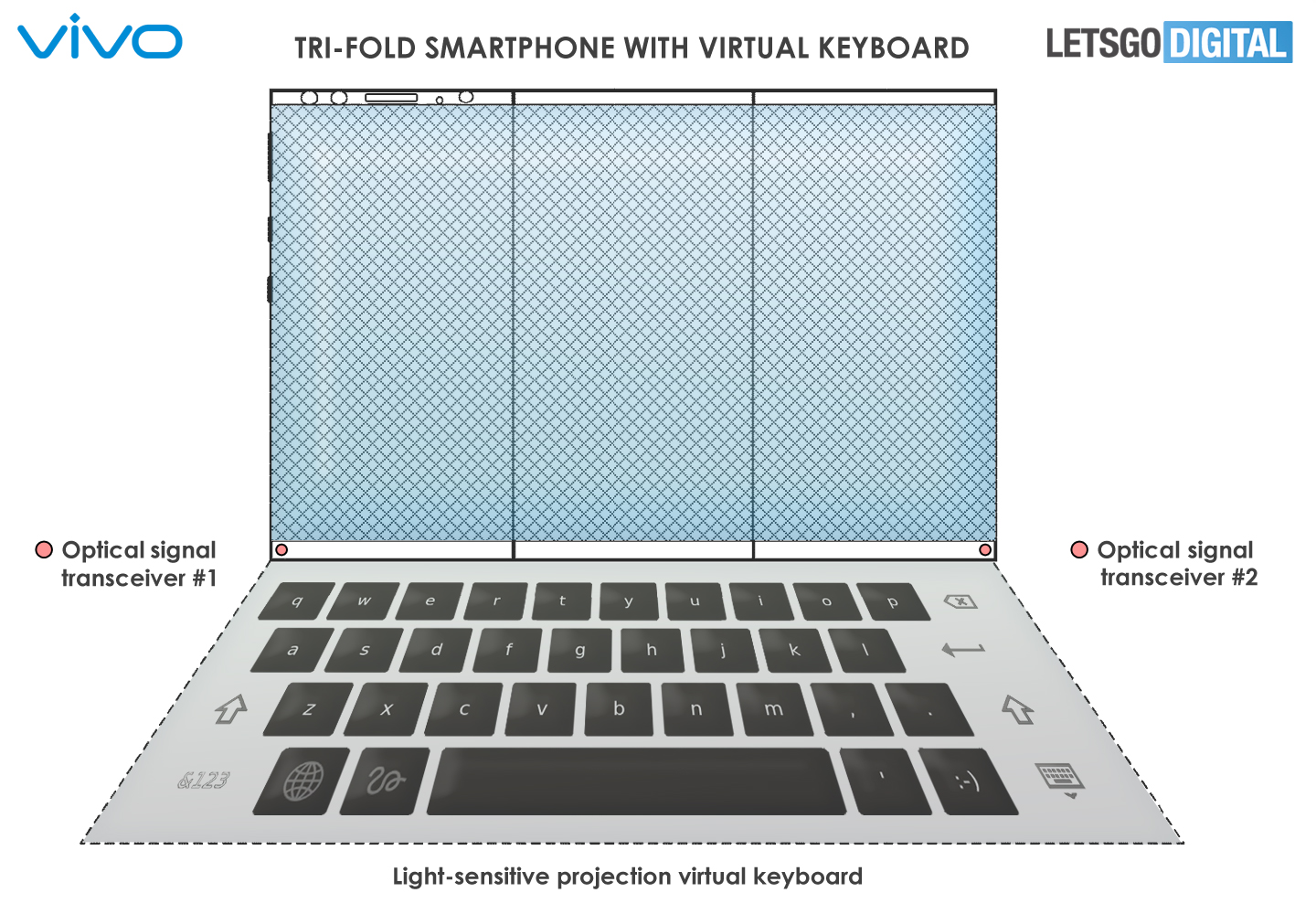 Vivo foldable smartphone with 16:9 screen
On June 29, 2021, Vivo Mobile Communication filed a patent with the USPTO (United States Patent and Trademark Office) for a 'Terminal device'. The 9-page documentation was released on November 11, 2021 and also published in the WIPO (World Intellectual Property Office) database for worldwide protection of the patented technology. The documentation builds on a patent that Vivo has already applied for in China in 2018.
In its most compact form the patented Vivo smartphone has a similar form factor to regular phone models. When the user unfolds the device completely, a large tablet-sized screen is created, which is three times as large as the most compact form.
The documentation makes mention of a telescopic system that replaces the hinge. The telescopic system can be placed on top and bottom of the housing. Optionally, grooves can also be applied, in order to make the telescopic system invisible from the outside. For the product renders we have assumed the latter solution. While this construction is obviously more complicated to realize, we don't expect Vivo to release a phone where the telescoping system will be placed on top of the phone.
Not only would this seriously disrupt the design, it would also look significantly more fragile. Moreover, the protruding parts ensure that you can easily get caught on something, with all possible consequences.
To get a better feel for Vivo's tri-fold smartphone in-house designer graphic designer Parvez Khan, aka Technizo Concept, has created a series of 3D product renders – based on Vivo's patent documentation. Technizo Concept has also made the following video animation.
The patentend Vivo tri-fold smartphone has narrow bezels. At the top and bottom the bezel is still large enough to house the necessary sensors and cameras. The receiver is also placed in the top bezel.
The device folds into a Z-shape. We have come across this form of folding before, it also corresponds to what Samsung Display and TCL have already demonstrated. An advantage of this folding method is that no separate cover display needs to be integrated. When you fold the phone, the first display part will automatically form the front screen.
This is a clear difference with the tri-fold smartphone from OnePlus, which does have a separate cover display. This keeps the flexible screen fully protected when folded, but it will obviously also cost more.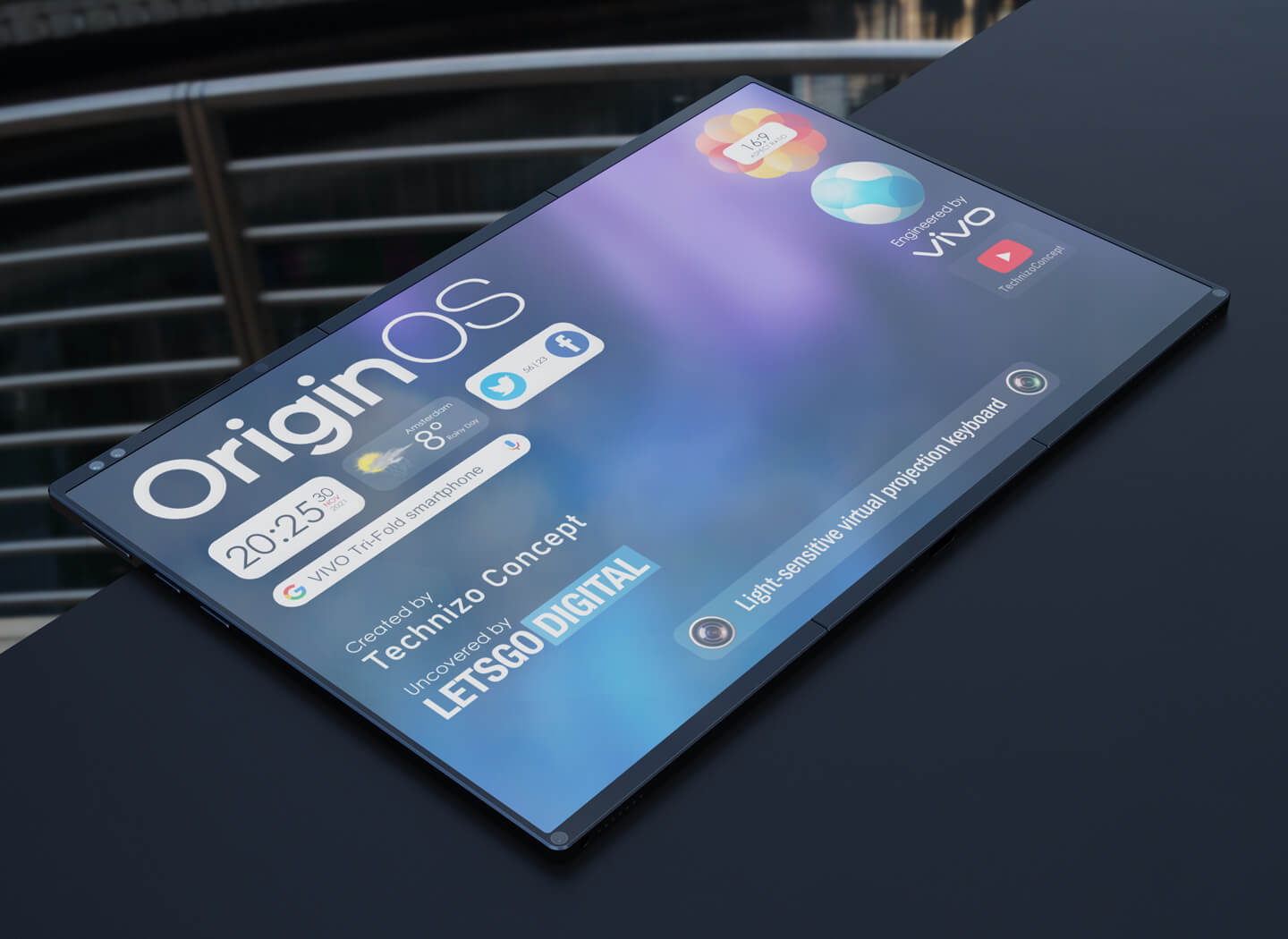 Vivo smartphone with virtual projection keyboard
Current smartphones that unfold into a tablet size are maximum 8″. With a tri-fold model, an extra display part is added, so that the user can benefit from an even larger screen surface.
Vivo has also thought about the display ratio. The company wants to make it a 16:9 screen ratio – similar to many modern notebooks and laptops. As a result, apps will scale better and thanks to the large screen surface users can also work more productively.
To further increase productivity, Vivo plans to add a light-sensitive projection virtual keyboard. To make this possible, an optical signal transceiver is integrated at the bottom of the smartphone, at the extreme left and right corners.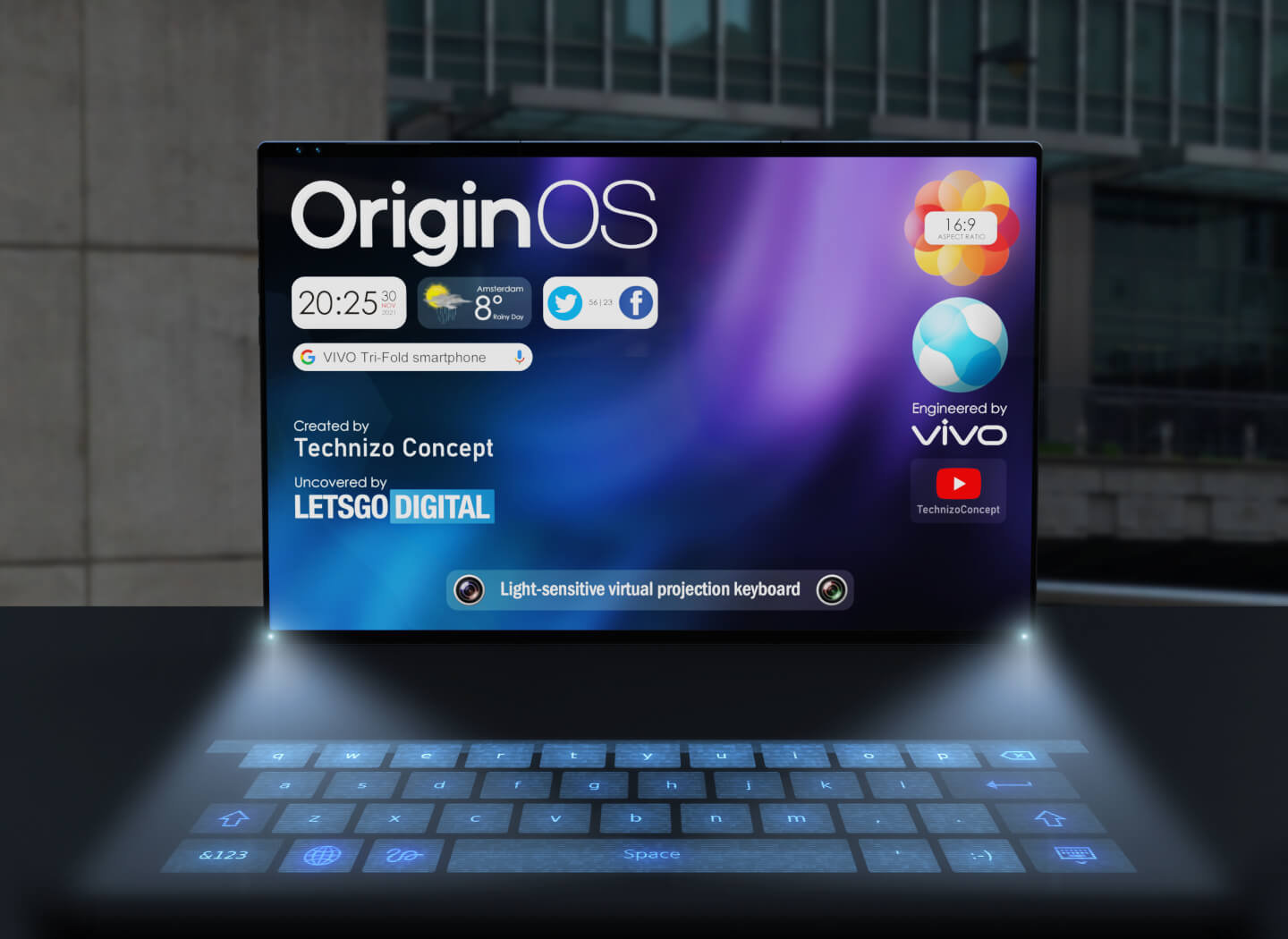 The signal transceiver can also detect whether the area where the keyboard is displayed is blocked. This is the case, for example, when the device is not lying flat (on the table). In that case, the keyboard will automatically be displayed on the smartphone screen.
By placing a signal transceiver on both the left and right side, it can also be detected whether the blockage is caused by the user's finger or palm. Unfortunately, it is not clear from the documentation how the projection takes place, it may possibly involve Bluetooth laser technology – as is more often used for a virtual keyboard.
Vivo is not the only manufacturer that is investigating the possibilities of adding a keyboard. Samsung already registered a Galaxy Z Fold smartphone with sliding keyboard last year. A Samsung dual fold smartphone with a virtual keyboard was also discussed.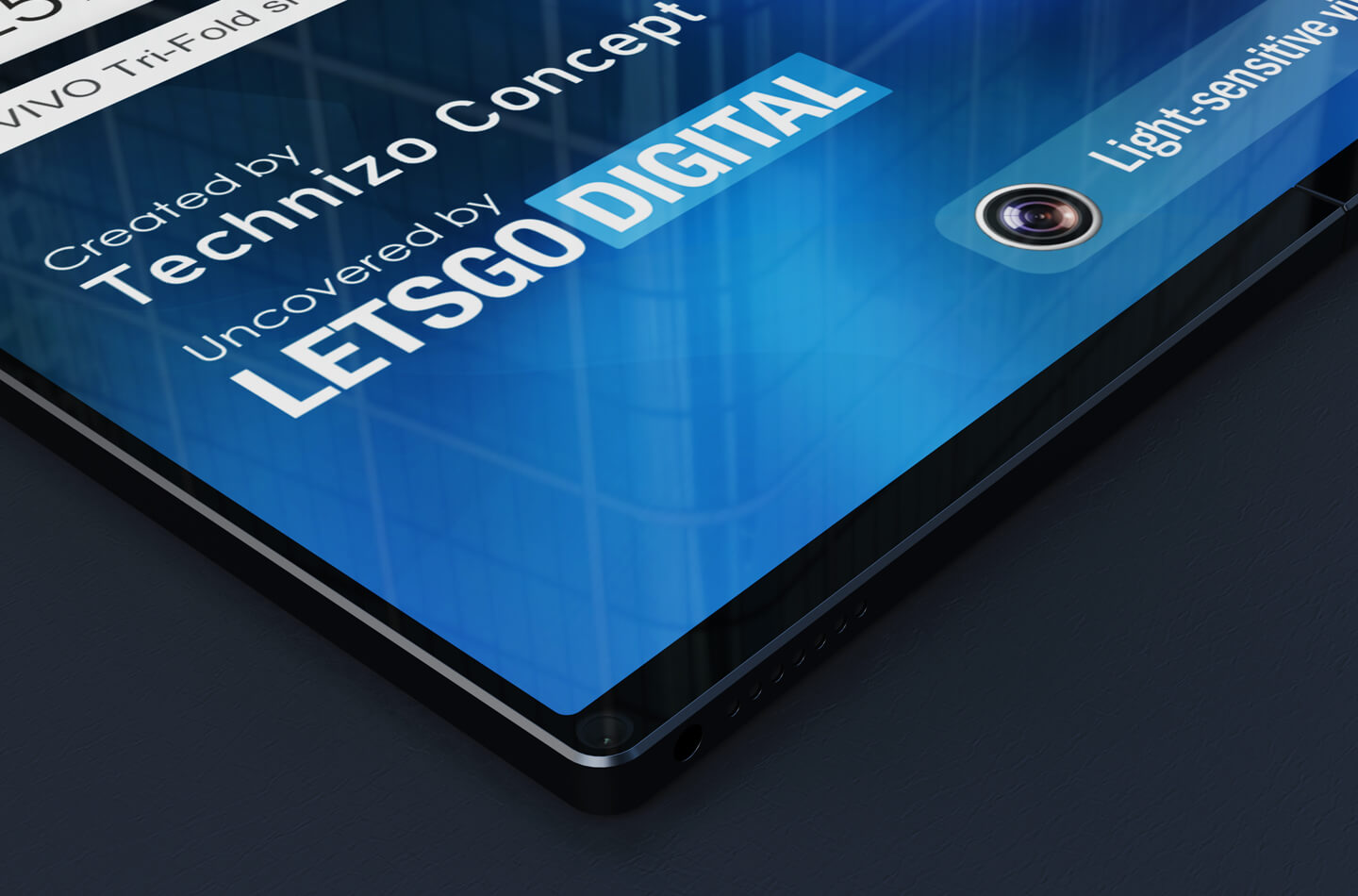 The documentation states that the foldable Vivo smartphone will feature both a selfie-camera and a rear-camera. The rear-camera will consist of multiple camera sensors and a flash. The Vivo tri-fold will also be equipped with a fingerprint sensor. Possibly this sensor will be processed in the power button, as we see with current folding phones. Another option is that the sensor is integrated under the screen.
As for the buttons and jacks, various buttons are included on the left. These include the volume keys as well as the power button. The bottom will accommodate a dual-speaker and a USB-C port. In addition, Vivo wants to integrate a 3.5mm headphone jack, which will also be accessible from the bottom.
The latter is striking, as nowadays only a few high-end smartphones have a 3.5mm jack. Let alone folding models. For the time being, there are no folding phones available with a 3.5mm connection. On laptops, on the other hand, we still see this connection quite regularly. Possibly this is the reason that Vivo also wants to provide this tri-fold smartphone with a headphone jack. This way you can connect any headset you want without any problems.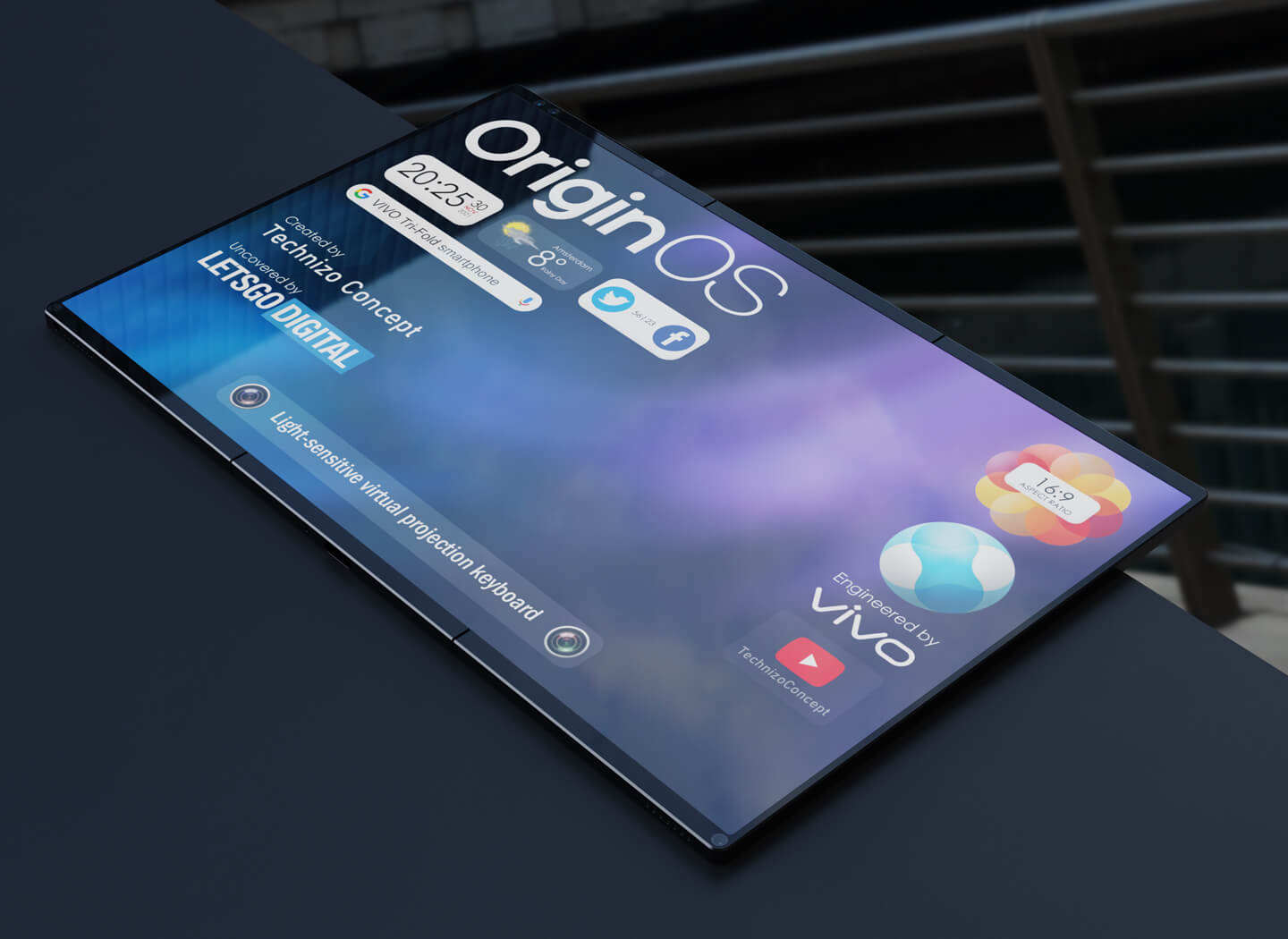 Vivo NEX Fold
We will probably have to be a bit more patient before the first tri-fold smartphone is introduced. Logically, Vivo will first release a foldable smartphone that consists of two display parts. Rumors have been circulating for some time that this device will be presented early 2022.
Earlier the year, the Chinese manufacturer already registered a corresponding trademark: Vivo NEX Fold. Display analyst Ross Young reported via Twitter that it will be the largest in-folding foldable introduced to date. It is said to be an 8.2" display.
Sister company Oppo is also expected to present their first foldable smartphone soon, the Oppo Find N. Both seem to be a model with an inward folding screen, which expands to a tablet size.
Download official documentation: Vivo tri-fold smartphone with projection keyboard.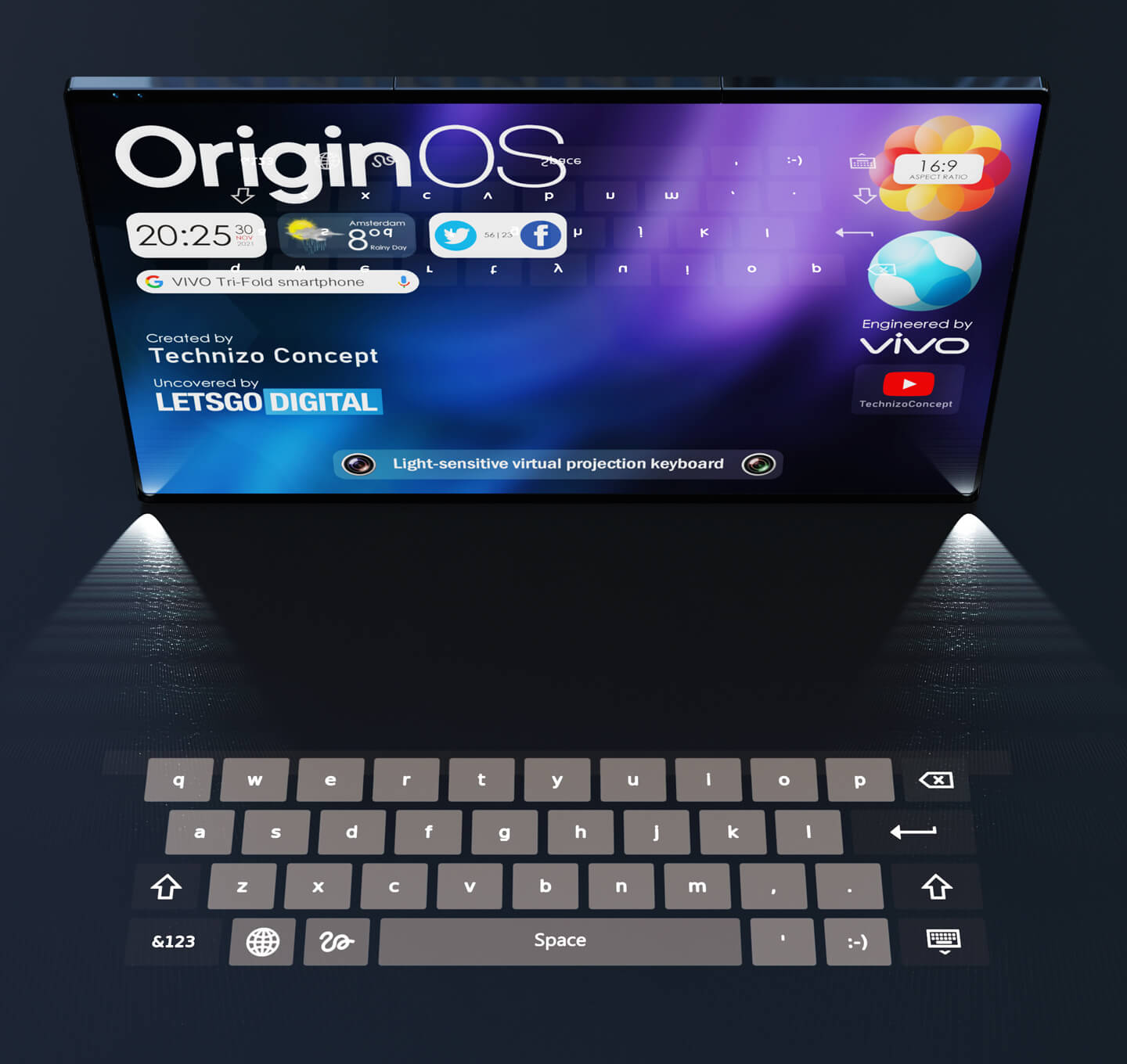 Note to publishers :  The 3D product renders of the Vivo tri-fold smartphone are created by Parvez Khan, aka Technizo Concept in collaboration with LetsGoDigital. The images are based on a patent of Vivo Mobile Communication. This product is not for sale. You can use the copyrighted images for your own website, YouTube and/or social media channels, please be so respectful to include a clickable source link into your publication.