Various smartphone manufacturers have released one or more foldable phone models. Samsung is clearly the market leader, the South Korean manufacturer has recently released its 3rd generation folding phones – the Galaxy Z Fold 3 and Galaxy Z Flip 3. Other brands are following at a steady pace. The foldable and rollable display market is expected to grow significantly in the coming years. This new development will undoubtedly also attract new parties.
Today we report on an American company called Lepton Computing, based in Brooklyn. It is a relatively small and unknown company. Despite this, the company has already applied for several interesting patents for foldable smartphone models. In addition, the website reports 'Devices coming soon'. Enough reason for LetsGoDigital to dive deeper into this.
Before we go into more detail about the three patented models, first a bit of background information. Personally, I had never heard of Lepton Computing so we did some additional research on this company. LetsGoDigital also contacted the inventor and owner of the company, Stephen Delaporte.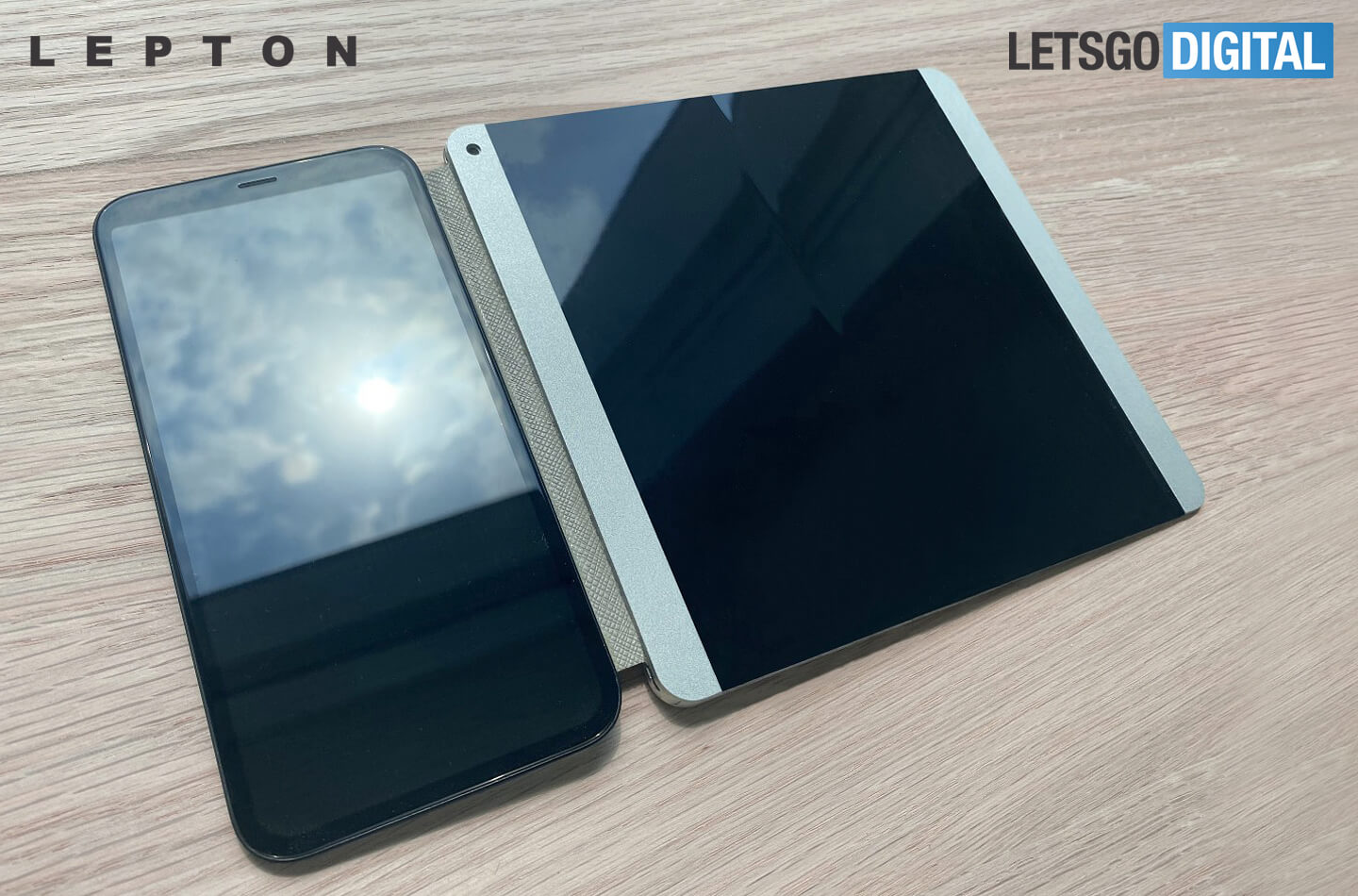 Who is Lepton Computing?
In our search for additional information, we learned that last week the inventor shared his story for the first time via Twitter, combined with an in-depth post on the open platform Medium. At the same time, the company has also released the first images of its current foldable devices.
This makes Lepton Computing the first American manufacturer to have unveiled a foldable smartphone. That already makes this device special! Google may follow later this month with the Pixel Fold. Apple seems to be in little hurry, the first foldable iPhone is not expected until 2023 / 2024.
Such innovations take an enormous amount of development time. For Stephen, the story began in 2007. Shortly after the release of the first Apple iPhone, Stephen Delaporte, a young hardware innovator graduate, started building prototypes of mobile devices with an expandable screen – also called 'morphological expansion devices' by Stephen.
At the time, very few people were involved in the development of foldable smartphones. Investors were therefore not immediately eager to support this new initiative. Nevertheless, Stephen started filing patents for foldable / flexible touch screen display devices back in 2010 – showing the very same concept that's being used by most foldable devices today.
Meanwhile, more than a decade has passed and more and more manufacturers are committed to the development of foldable display devices. The ambitious Stephen does not give up easily. Together with a small team, he develops different types of foldable smartphone models.
Lepton's devices will stand out from the crowd on three core ideas: a thinner form factor, customization and economic flexibility.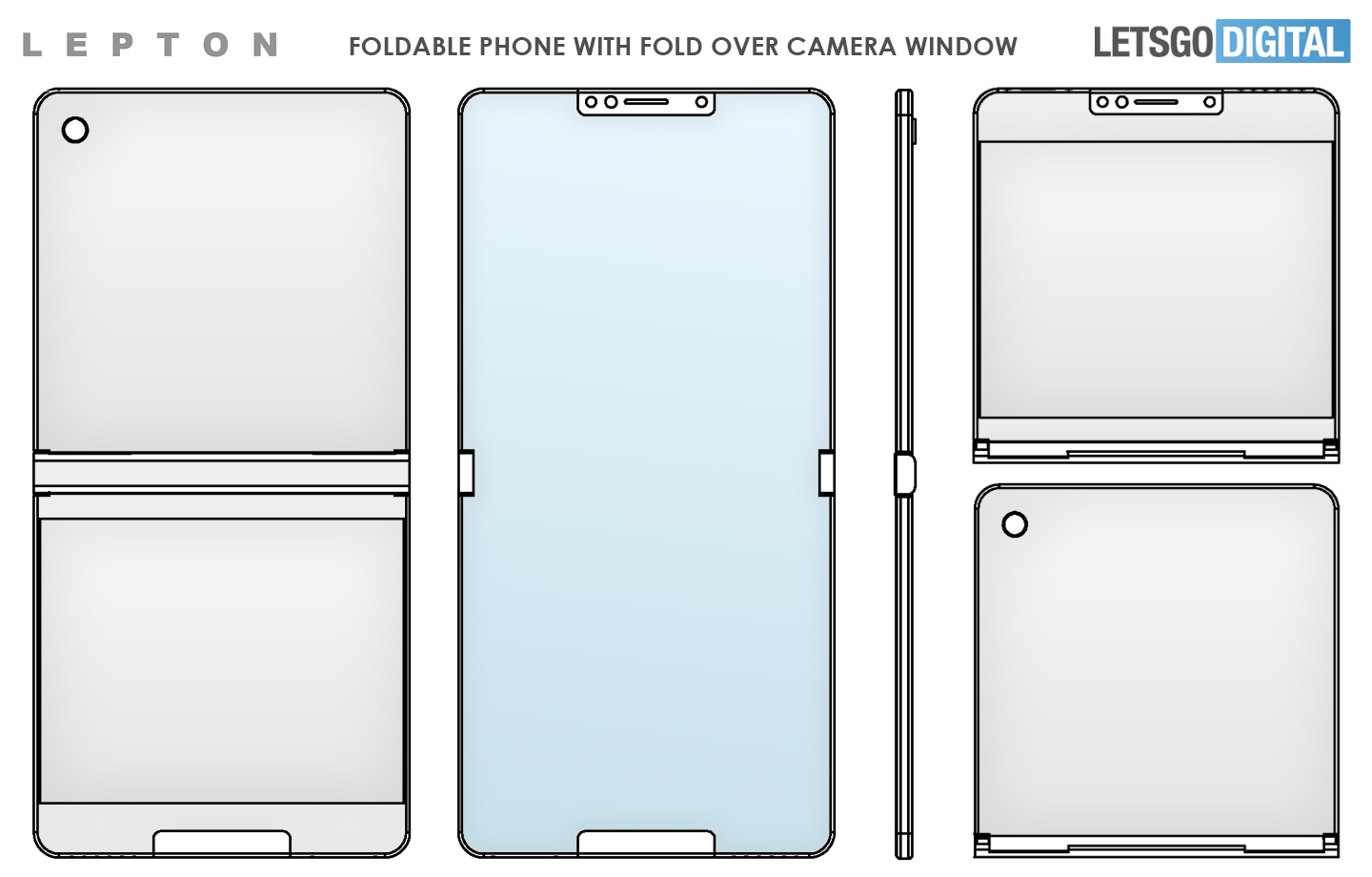 Lepton Flip foldable phone inspired on iPhone with notch
Coming back to the patents, in March 2021 Lepton Computing LLC filed several patents with the World Intellectual Property Organization (WIPO). The documentation was published on September 30, 2021. The patented technology was invented by the American Stephen Delaporte.
Three different models are discussed. The first model has a clamshell design – somewhat similar to the Samsung Galaxy Z Flip 3 and the Motorola RAZR 5G. Although the design of Lepton is more reminiscent of a foldable iPhone with notch.
Special about this model, there is a window, directly below the screen. When the device is folded, the camera system falls exactly opposite the window. Meaning that the camera module can be used in both folded and unfolded position. In addition, an extra camera has been placed on the back.
The second model is very similar in terms of design to the first model. This time, however, it is not a Flip phone, unfolded this variant has a significantly larger tablet-sized display. A front screen has also been integrated. Therefore this model has a lot of similarity with the Samsung Galaxy Z Fold 3. Although Lepton's variant features a window, as a result of which the camera to be used in both folded and unfolded position. At the bottom of this webpage you can download the 'Lepton Flip & Fold' PDF to view images of this model.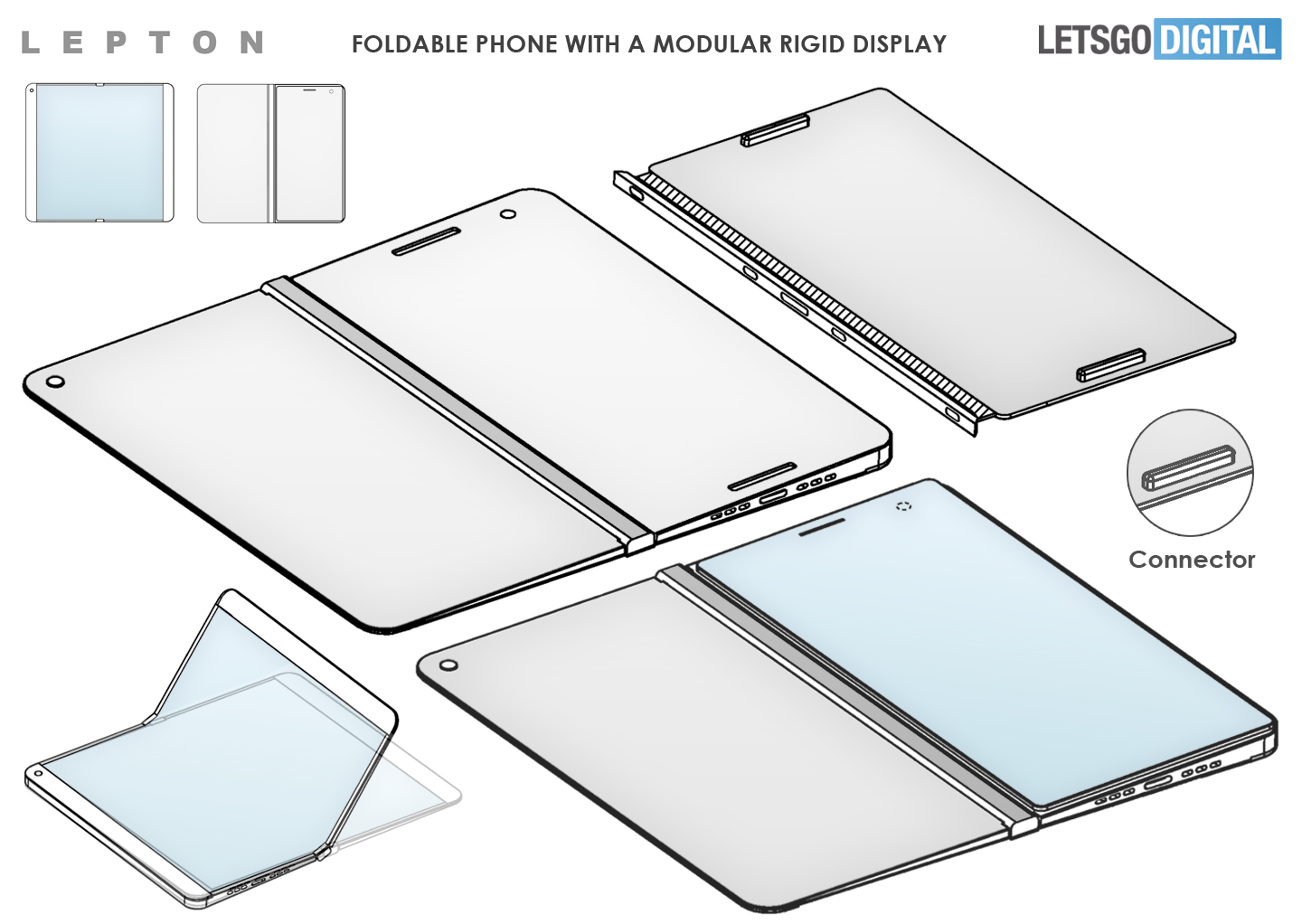 The third model has a slightly different design, as shown in the patent image above. This is also the device that Lepton Computing recently unveiled. This folding phone is called the 'Lepton Flex'.
It is a foldable smartphone with an inwardly flexible screen that unfolds to a tablet size. When unfolded, a vertical frame has been applied to the left and right side of the flexible screen, in which the selfie camera is also integrated. The device has a wedge shape, as we also know from the Huawei Mate X2. All connectors, including a USB-C connection and a double speaker, are placed in the thicker part of the housing.
Unique to this model, this foldable smartphone optionally comes with an additional modular display. The modular screen can be attached to the folding phone by means of a slide mechanism. Thereafter the user has a second display at his disposal, to work even more productively. Thanks to the flexible hinge, this extra screen can also be turned in such a way that it serves as a cover display, for those moments when the device is folded.
For now, the focus of Lepton Computing seems to be on the foldable model with modular screen. Various possibilities of this device are illustrated in the image below.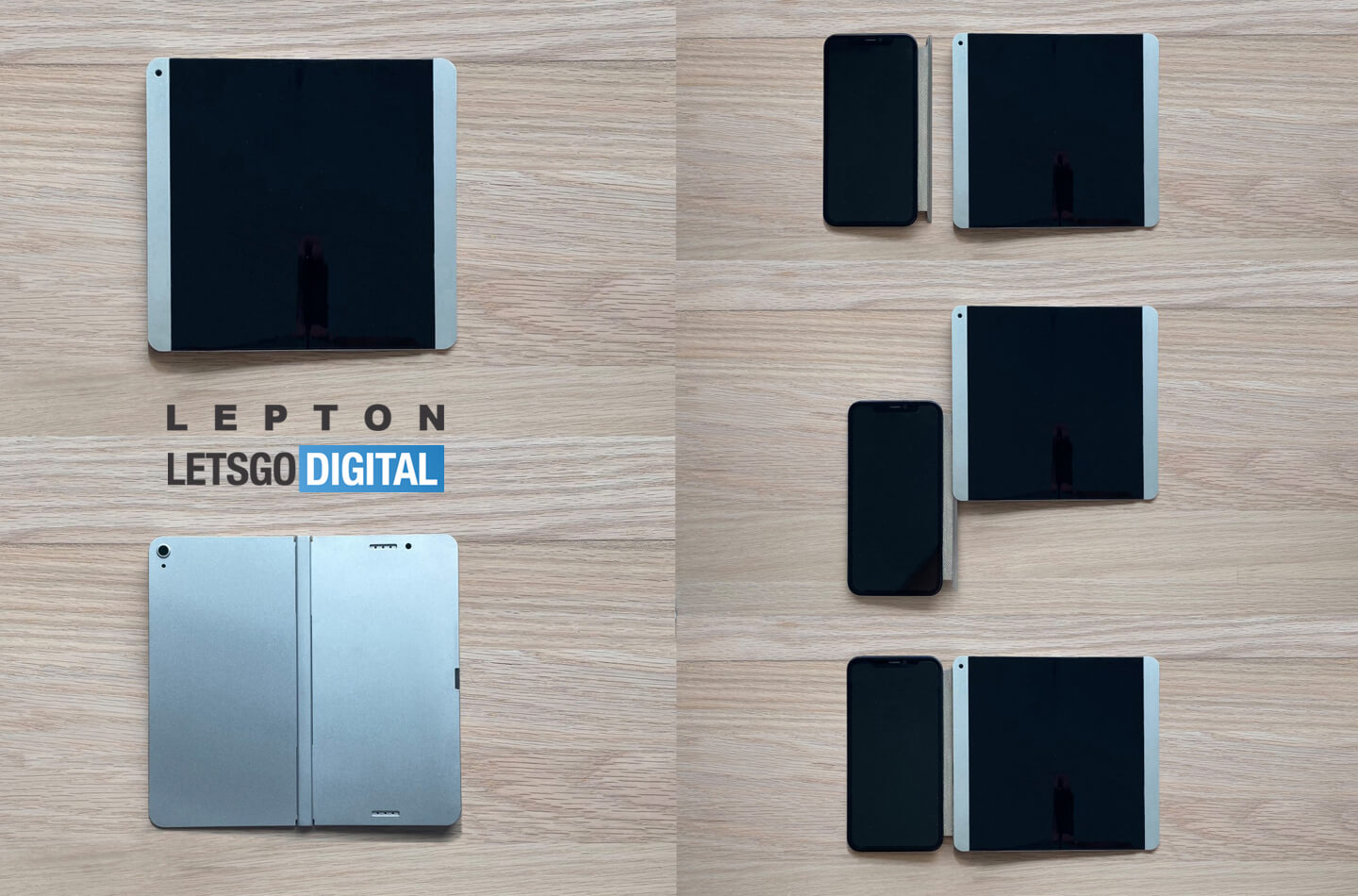 Lepton Flex foldable smartphone
Of course we also asked Stephen about his plans for a possible release. Our correspondence has shown that the new devices will run on Android OS.
We can already reveal that Lepton Computing will soon launch a full demo video, showing the Lepton Flex working on Android OS. Of course LetsGoDigital will report on this again in due course.
Stephen Delaporte, inventor and owner of Lepton Computing, states to LetsGoDigital : "We'll be releasing more info about our device designs at some point in the near future which will include a full demo video with Android running on our first foldable device, the Lepton Flex."
In addition, the company says it has recently filed dozens of new patents for future foldable / rollable models. So there is still plenty of beauty ahead. We will keep an eye on the developments for you!
Download official documentation: Lepton Flip & Fold and the Lepton Flex.