In the summer of 2021, Samsung will introduce its new foldable smartphones. Samsung is expected to launch the Galaxy Z Flip 3 and Z Fold 3 simultaneously. Much has been written recently about the possible improvements of these new models. One of Samsung's focal points is and remains durability. Last year, Samsung started to use UTG (Ultra Thin Glass) to make the screen extra scratch-resistant.
It seems that this year Samsung wants to equip at least one of its folding models with an extra strong frame, which will be called "Armor Frame". This is evident from a trademark that Samsung has applied for in Korea, Europe and the US.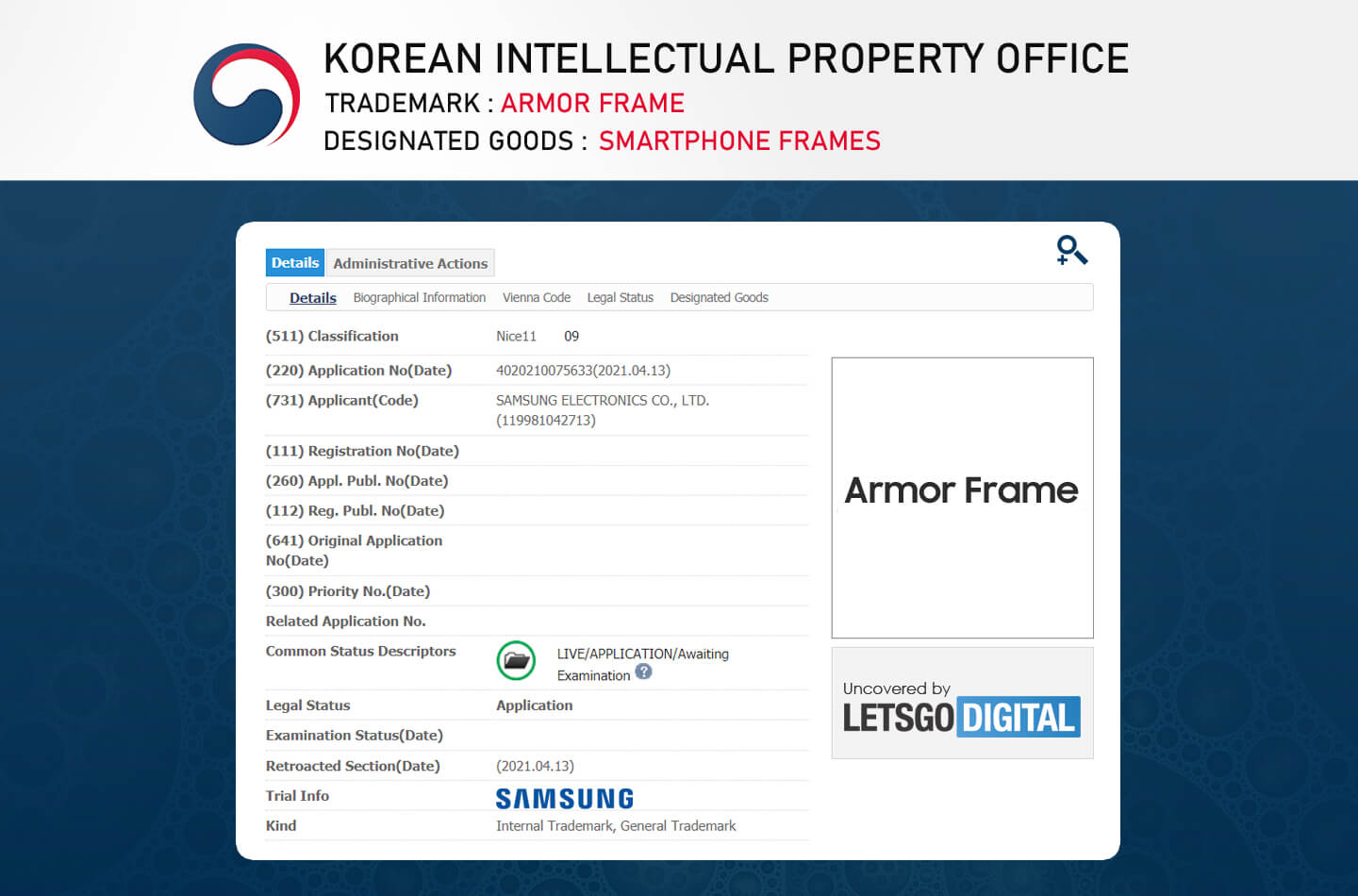 Samsung Armor Frame for foldable smartphones
On Tuesday, April 13, 2021, Samsung Electronics applied for a trademark for the name "Armor Frame". The trademark was first applied for in the home country of Korea, at the Korean Intellectual Property Office (KIPO). The same day the application was also filed with the European Union Intellectual Property Office (EUIPO) and with the United States Patent and Trademark Organization (USPTO). The trademark is categorized as Class 9 with a short, but clear description: "smartphones; smartphone frames'.
Samsung Armor Frame trademark description: 'smartphones; smartphone frames'.
The brief documentation shows that it is a new type of smartphone frame. The word "Armor" seems to indicate that it is an extra strong frame.
Samsung has used different types of smartphone frames over the years, from plastic to metal and aluminum. The latter is used for the top models within the Samsung Galaxy line-up, such as the Galaxy S21 series, but also the Galaxy Z Fold 2 and the Galaxy Z Flip.
The biggest disadvantage of an aluminum frame is that it becomes less rigid over time, causing it to lose its strength. This may have prompted Samsung to adapt and improve the frame of its new foldable smartphones. There have been rumors for some time that the bezels will be further reduced, meaning the frame and possibly also the hinge will have to be revised too.
It is still unknown from what material the "Armor Frame" is made. It may be an extra robust frame that meets the military MIL-STD-810G standard – making it more shock resistant. Another possibility is that Samsung opts for a kind of Carbon or Titanium, although this is more expensive than aluminum, it is also a lot lighter and thinner. At the same time, this could solve one of the main drawbacks of current foldable smartphones. The Galaxy Z Fold 2 in particular feels quite heavy in your hands over time. This problem can be remedied by applying a lighter and stronger frame.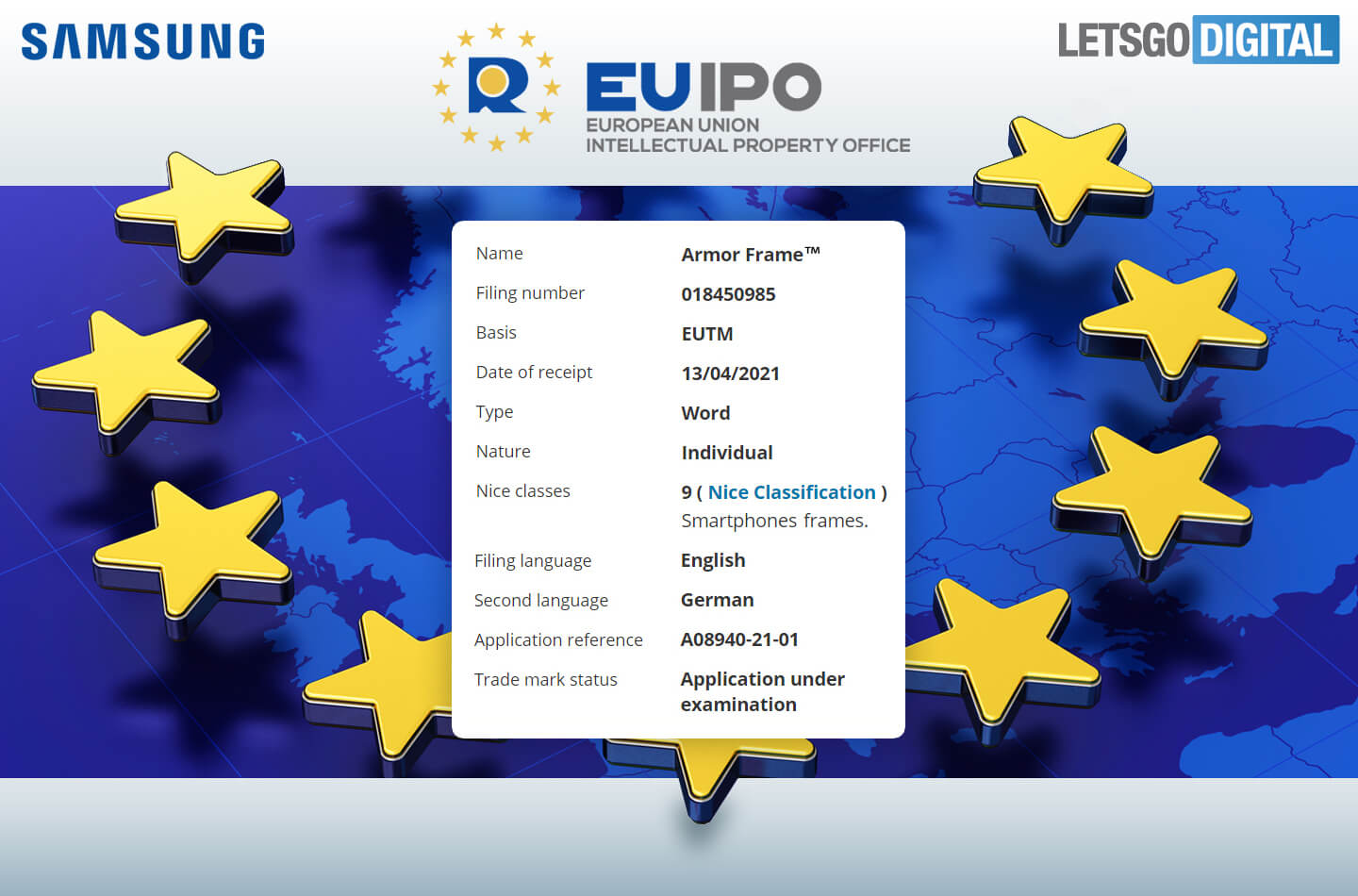 Which Samsung smartphones get an Armor Frame?
Of course, the trademark does not state that Samsung wants to use the "Armor Frame" for its foldable models. Yet this seems the most likely. After all, the Galaxy S21 series has already been officially introduced and a new Galaxy Note device is not expected this year. All attention is now focused on the new foldable smartphone models from Samsung.
In August 2021, Samsung is expected to announce both the Galaxy Z Flip 3 and Galaxy Z Fold 3. It remains unknown whether Samsung will use the Armor Frame for both models. Logically, it will in any case be used for the larger and more expensive Galaxy Z Fold 3. However, it is certainly not excluded that Samsung also wants to provide its clamshell model with an Armor Frame, just as Samsung also equipped the Z Flip with Ultra Thin Glass. .
Also in terms of timeline, it is likely that this application is intended for the upcoming foldable models from Samsung. Usually the Korean manufacturer starts filling trademarks for important names / features a few months before the official introduction, which will then be used later in the marketing. This also happened, for example, with the application for UTG, which was also requested about three months before the Galaxy Unpacked launch event.
With an extra strong frame, Samsung can stay a step ahead of the competition. More and more foldable smartphone models are being announced, also by other brands. Recently, the Huawei Mate X2 and Xiaomi Mi Mix Fold were introduced for the Chinese market. Oppo and Vivo will also reportedly announce their first folding smartphone soon. Although Apple is also developing a foldable model, it is expected that the development of the iPhone Flip will take a little longer.
Take a look at the application for Samsung Armor Frame in the US and Europe.