Caviar is known worldwide for its Limited Edition models, which are mostly based on Apple and Samsung smartphones and accessories. This time, the company has wrapped the Apple iPad Pro 2020 in a tough case of hardened titanium with a yellow PVD coating and black carbon fiber, giving the design a real Cyberpunk theme. Caviar will only manufacture 99 copies of this iPad Pro Limited Edition tablet.
The Cyberpunk-style emerged at the end of the last century. Today, there are plenty of sci-fi movies, games and books where advanced technology plays a key role in everyday life.
Caviar's designers are inspired by characters such as Deus Ex, Mirror's Edge, Blade Runner and of course Cyberpunk 2077. The latter is a futuristic open world action adventure game. The latest game, Cyberpunk 2077, was initially scheduled to release in April 2020, however, the release has been delayed until November this year. The game can be played on the Sony PlayStation, Xbox One, Google Stadia and a Windows PC.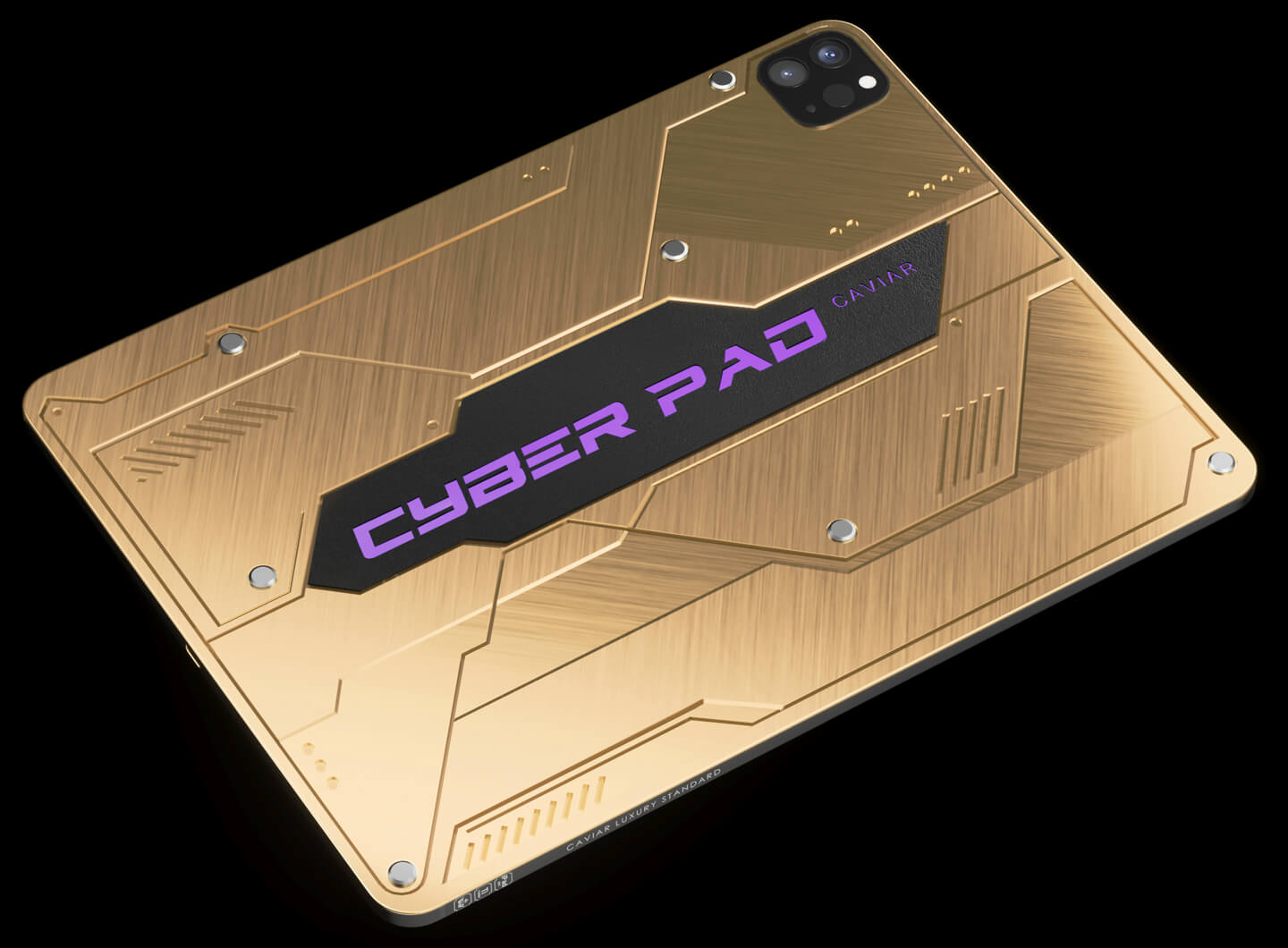 iPad Pro Limited Edition tablet
The Caviar Cyberpad consists of high-quality materials. The titanium bolts give the tablet an extra robust appearance, extra accents are set with the geometric lines and the gold-colored PVD coating.
Caviar often designs special and exclusive Apple models, including a fire-, water- and frost resistant iPhone 11. The Russian company also presented a concept smartphone of a foldable iPhone last year. In addition, an iPhone 11 Pro Cyberphone inspired on the Tesla Truck was launched earlier this year.
A brand representative of Caviar reports: Being on the cutting edge, feeling current trends, inspiring and being inspired are important postulates of the modern rhythm of life. Lots of people joke that the world around is the birth of the Cyberpunk, being written by Gibson and Sterling. Today we are searching for new forms and rethinking familiar things in order to create an actual product with a solid background. Caviar Cyberpad is the next step towards creating a unique, incomparable design in Caviar style.
Caviar's iPad Pro Limited Edition features 1 Terabyte of memory. Of course, exclusivity has its price. The 11-inch iPad Pro can be purchased for $ 7,650 USD. In addition, a 12.9-inch model is available for a suggested retail price of $ 8,110 USD.