Caviar, known for enriching and decorating existing Apple iPhone and Samsung Galaxy smartphones, has just announced its new Apple Collection. The new series consists of two iPhone 12 Pro (Max) models and three iPad Pro tablets. The Apple accessories are enriched with a wood texture and an apple tree with golden and diamond apples – which resembles the typical Apple logo. The smartphone and tablet are also provided with a well-known quote from Tim Cook and / or Steve Jobs.
With these new models, Caviar pays tribute to the visionary talent of Apple's founder and his supernatural ability to predict the future of technology. It was Steve Jobs who turned Apple into a company that brings "golden apples" to its owners.
Caviar's exclusive and stylish Apple Collection is available for a range of prices, from $ 6,000 USD for the gold iPhone 12 Pro to a whopping $ 185,000 for the diamond iPad Pro.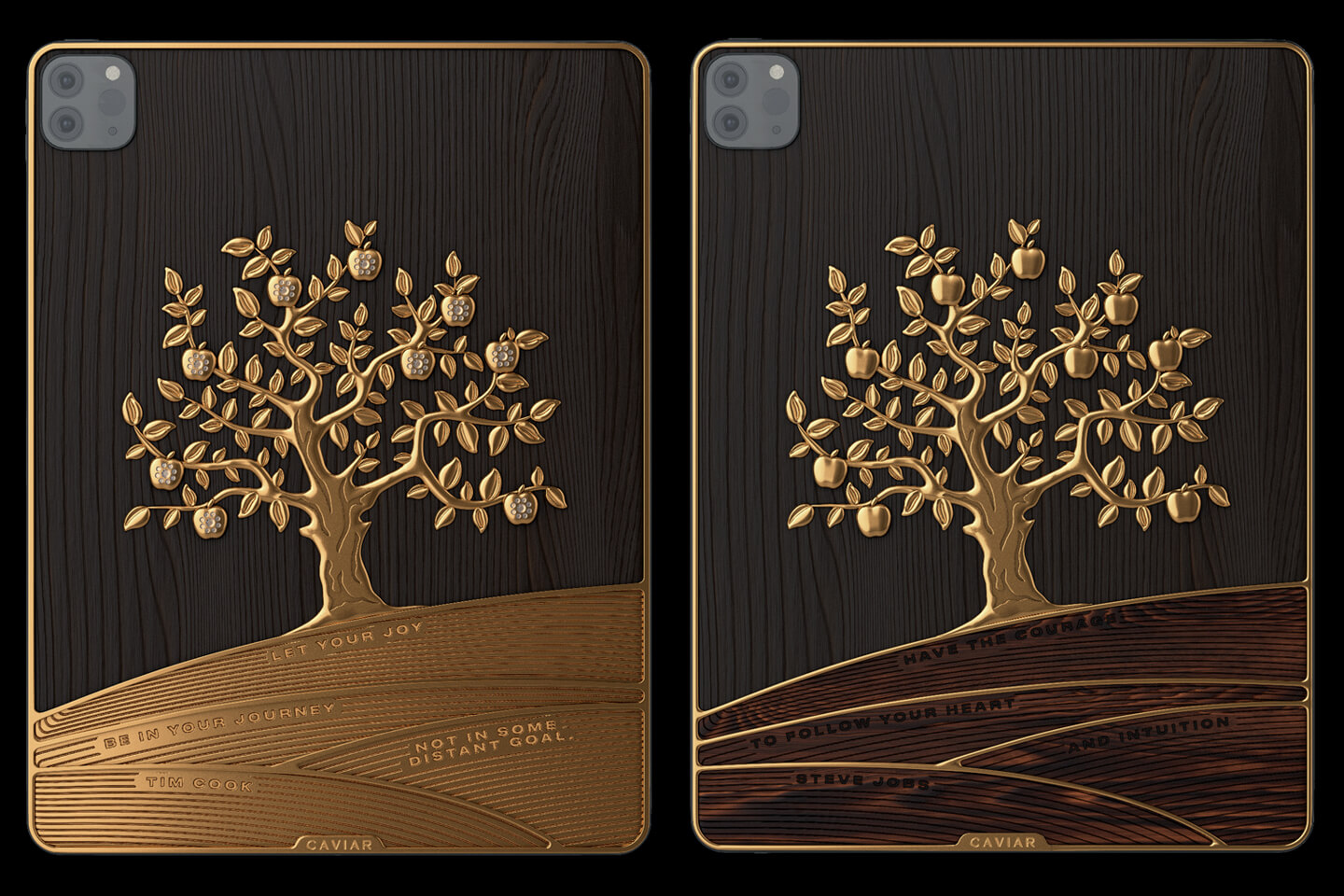 Apple Collection: iPad Pro Diamond & Wood
The jewel in the Apple Collection is the iPad Pro Grand Apple. This luxurious tablet is adorned with no less than 81 sparkling diamonds with a diameter of 3mm, which are incorporated into the apples of the apple tree. Two memorable quotes are engraved in the earth of the apple tree: 'Have the courage to follow your heart and intuition' by Steve Jobs and 'Let your joy be in your journey, not in some distant goal' by Apple CEO Tim Cook.
The case is decorated with more than 1 kilogram of 18-karat gold. The smartphone is further enriched with dark apple tree wood, which is used as a background for the apple tree. As the design is very refined, only one copy will be produced.
The starting price of this unique iPad Pro Limited Edition is set at $ 184,310 USD (128GB). For this amount you will receive the 11-inch variant with 128GB of memory. If desired, the customer can also opt for the 13-inch model. Both models are available in 4 memory variants: 128GB, 256GB, 512GB and finally 1TB.
Is this getting a bit too much of a good thing? Caviar has also announced two cheaper alternatives. The iPad Pro Diamond Apple has a similar design to the Grand Apple. This time, however, significantly less gold is used, which means that the suggested retail price is also considerably lower. The starting price for this model is $ 12,420 USD.
In the third iPad Pro model, the earth, in which the apple tree stands, is not made of 18-karat gold, but of wood. 99 copies of this special Apple tablet are produced. The iPad Pro Golden Apple has a starting price of $ 8,140 USD.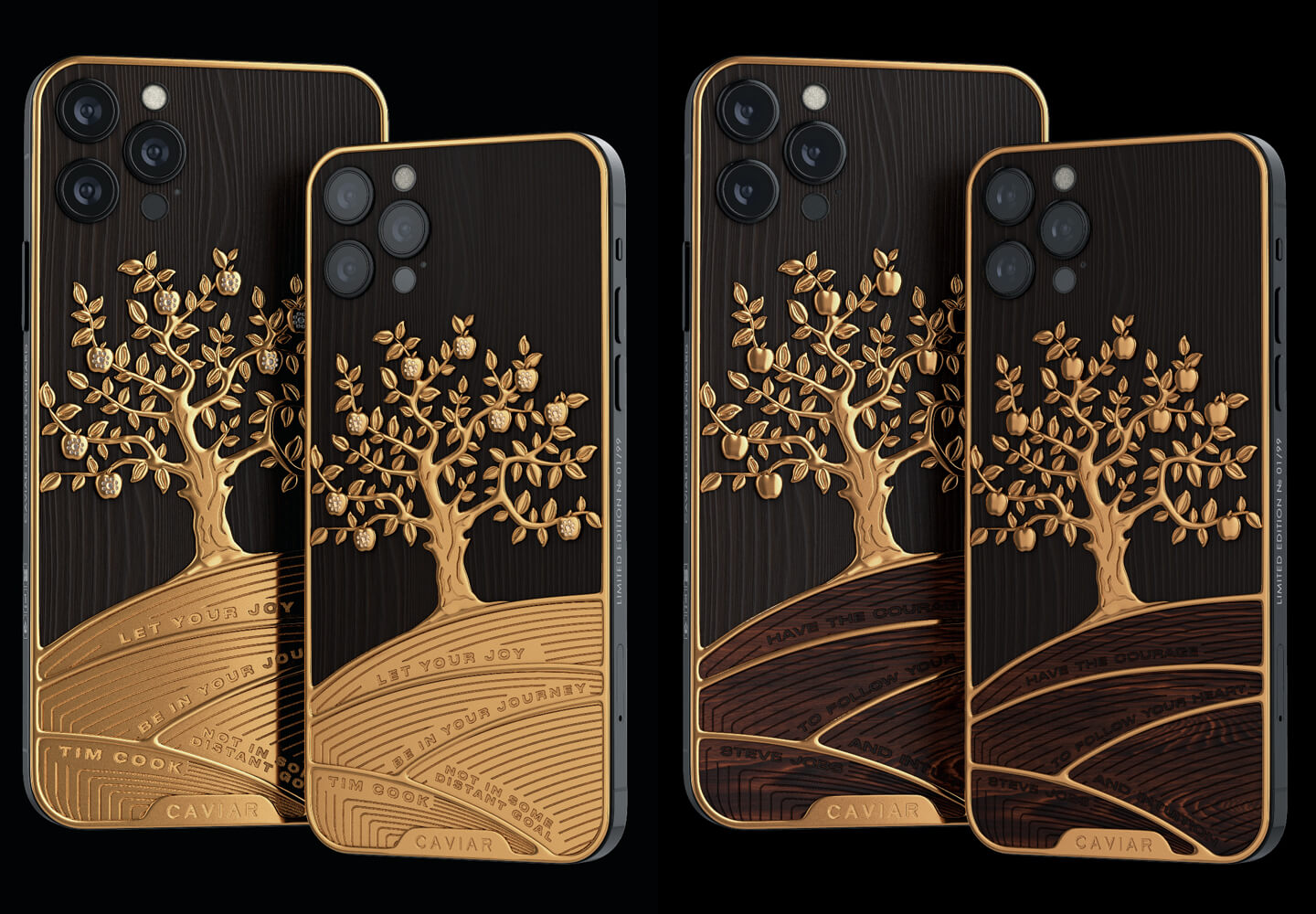 iPhone 12 Pro Diamond & Gold
In addition to the three iPad Pro tablets, Caviar has also announced two iPhone 12 Pro (Max) models, which are cast in the same theme. The smartphones also feature a beautiful apple tree, enriched with durable and robust apple wood and golden and diamond apples.
The Diamond Apple model is decorated with 9 beautiful diamonds with a diameter of 3mm and a radius of 1.5mm. The suggested retail price for this Limited Edition is set at $ 8,910 USD (128GB). In addition, there is a choice of 256GB and 512GB.
With a starting price of $ 6,080 USD, the iPhone 12 Pro Golden Apple is the cheapest addition to Caviar's 2021 Apple Collection. In this variant, the golden earth has been replaced by wood. Caviar will only produce 99 copies of both iPhone 12 Pro models, with a unique number engraved on the side of the device.
For all models, Caviar only decorates the back of the device. Meaning that the front and all the features are identical to those of the standard iPad Pro / iPhone 12 Pro. Caviar also offers a custom service to meet your specific needs, for example you can choose a different text or other materials on request.