Many technology companies are currently working on under-display camera technology for smartphones and other portable electronic devices, including Microsoft. However, the US software manufacturer seems to take a slightly different approach. The company filed a patent application for an under-display camera with 4 colors filters and 4 image sensors. The technology is meant for smartphones and Microsoft Surface devices.
The Surface line-up offers different types of laptops, mainly 2-in-1 tablet PCs with touchscreen functionality. Like, for example, the Surface Go and the Surface Pro. One of the newest additions is the Surface Duo, a dual-screen Android tablet smartphone. A new patent that was discovered by LetsGoDigital suggests Microsoft could integrate a 'logo camera' in one of its future Microsoft Surface devices.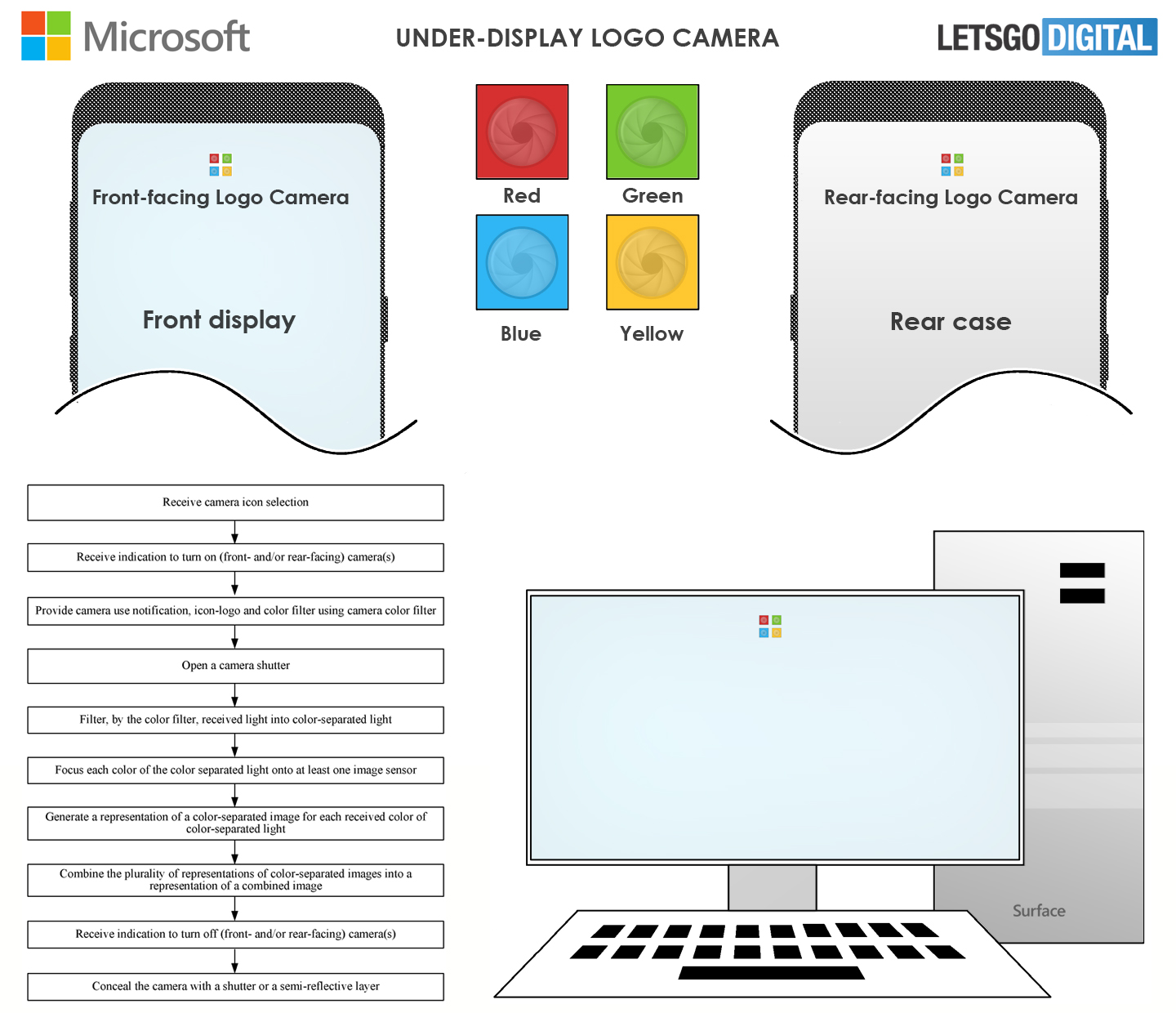 Microsoft under-screen logo camera
In October 2020, Microsoft Technology Licensing LLC filed a patent with the World Intellectual Property Office (WIPO) for a 'Logo camera'. The 40-page documentation was published on May 14, 2021.
It is a unique invention, which we have not encountered before. The documentation mentions four under-display cameras, each with their own color filter. The 4 cameras together are called a 'logo camera' by Microsoft. Thanks to the use of color filters, which can display a color icon, a true-to-color logo can be displayed when the camera is turned off.
By default, the Microsoft logo will be displayed. As soon as the camera is activated, the logo will disappear and the shutter will be activated. In addition, an icon menu will be available, enabling users to set a logo or avatar as desired. Like a company logo or a club logo.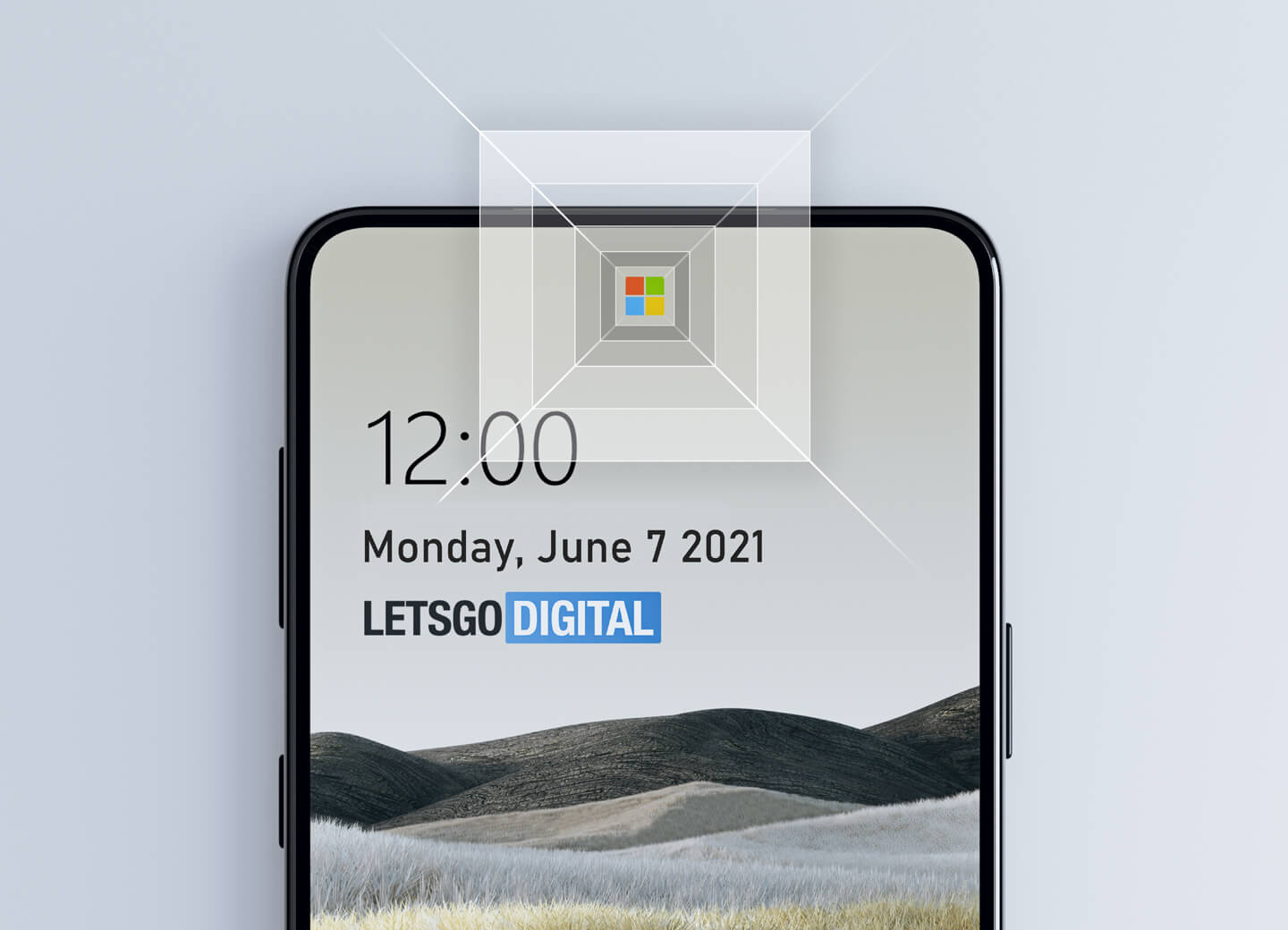 In order to visualize the patented technology, in-house designer Giuseppe Spinelli has made a number of product renders of this unique camera system. These images are for illustrative purposes only and based on the patent of Microsoft Technology.
The quad front-camera is placed in a 2×2 array. By choosing multiple camera sensors, thinner camera modules can be used, allowing the device to retain its slim form factor. To achieve a high camera resolution, the pixel density of the screen will be increased. Each sensor and lens is configured to be optimized for particular colors.
The documentation makes mention of 4 sensors, one optimized for the color Blue, the other for Green, Red and Yellow. By adding a fourth color, yellow (RGBY), in addition to the standard RGB (red, green, blue) colors, a much larger color range can be displayed.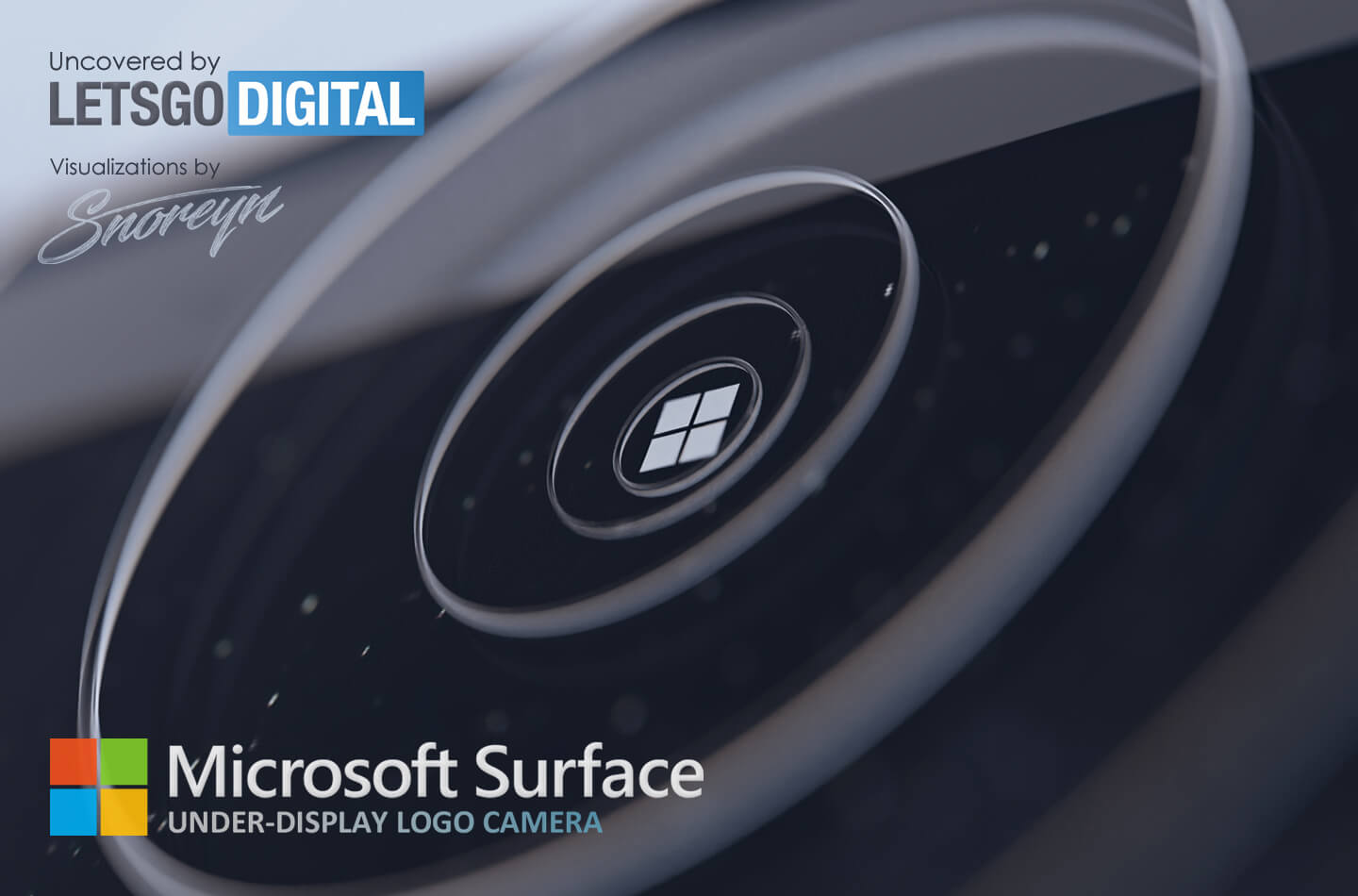 The color filters can also improve camera performance in low light. In addition, they can be used to give the user feedback, for example a color signal can be emitted when the camera is activated.
However, there are also disadvantages, as color conversion can be sensitive to noise, especially when the colors are less saturated. Microsoft wants to counter this phenomenon through software. In addition, AI technology is used to learn the difference between obscured and non-obscured light in images, in order to correct light loss and diffraction.
To implement a logo camera on the front, several small holes (1mm) have to be made in the screen, which provide a light path for the camera. The patented technology could also be used for a rear camera, according to the documentation.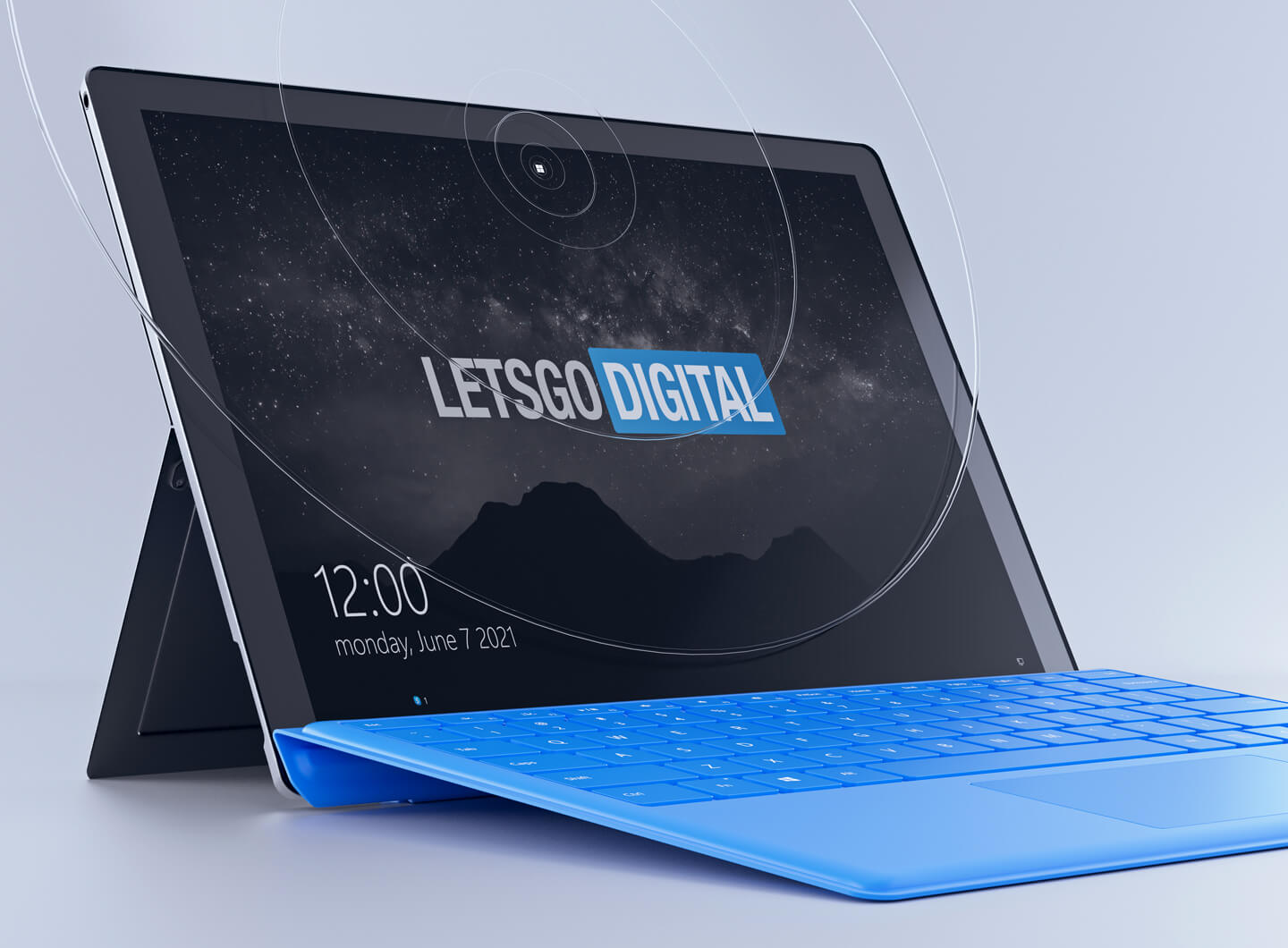 Microsoft Surface devices
Whether Microsoft actually sees a chance to integrate an under-display logo camera in one of its upcoming Surface products remains unknown. In any case, it is a totally new and different solution than we have seen so far.
It is clear that Microsoft is also involved in the development of under-screen cameras. Last month, the company published several detailed publications on its website about 'Camera In Display technology' and the use of machine learning to achieve better image quality.
In addition, Microsoft also posted a vacancy online for a 'Principal Android Camera System Architect / Engineer for Surface Development' in October last year. The software giant seems to intend to take the camera performance of its next-gen Microsoft Surface devices to a whole new level.
Here you can take a look at the documentation of the Microsoft logo camera.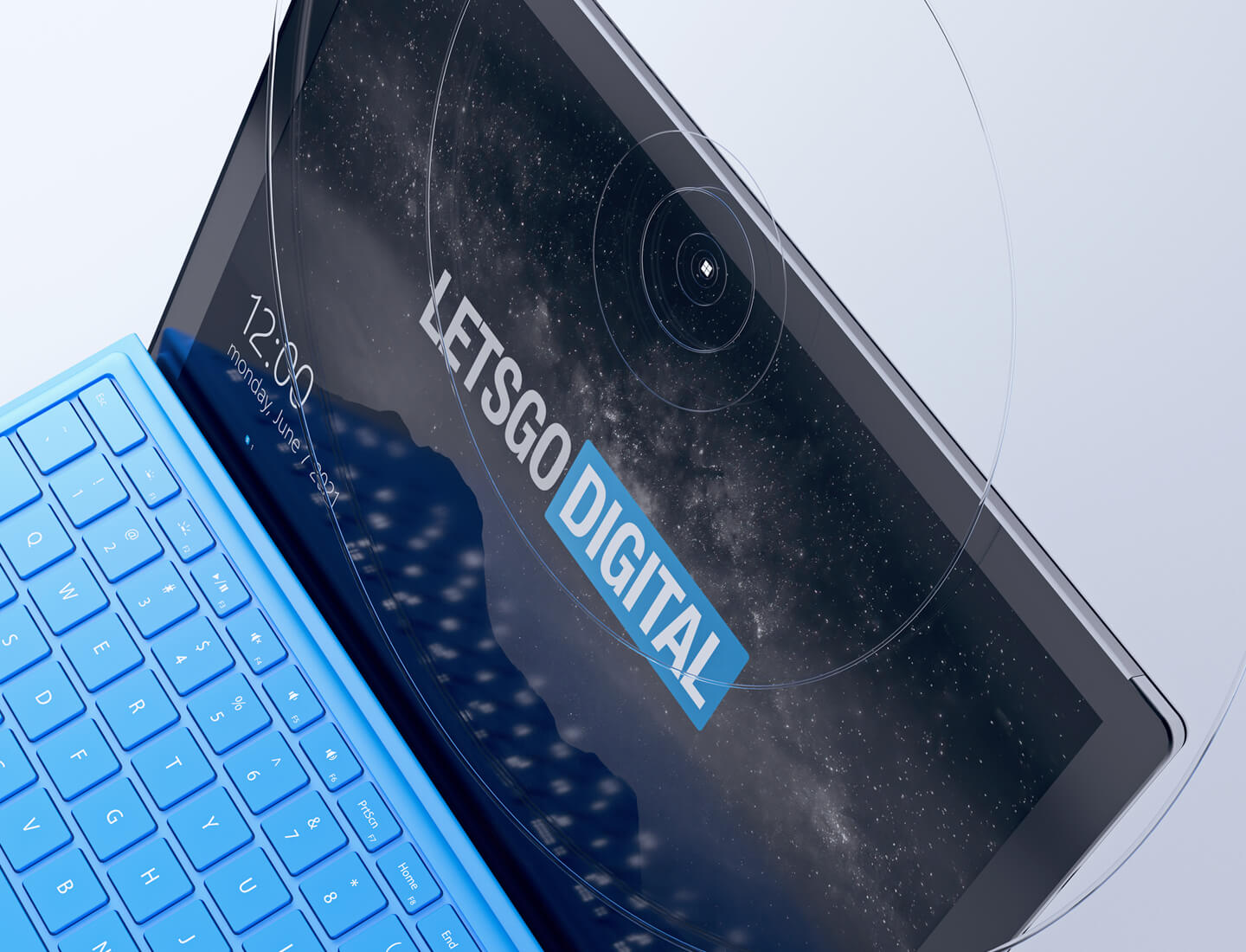 Note to editors : The high-resolution 8K 3D renders in this publication are created by in-house graphic designer Giuseppe Spinelli (aka Snoreyn).  The copyrighted images are based on the patent of Microsoft Technology. Feel free to use the images on your own website, please be so respectful to include a source link into your publication.