Smartphone manufacturers are becoming increasingly aware of their ecological footprint. Environmentally conscious and climate neutral production is an important theme for many companies nowadays. This has inspired the designers of Caviar to design an Eco Collection. Caviar is known for decorating Apple and Samsung smartphones with luxurious, durable and rare materials. The iPhone 12 Pro has been used as the basis for the new Eco Collection, however, as soon as the iPhone 13 Pro / iPhone 12s Pro is available, the new model will be used.
The back panel is enriched with environmentally friendly, natural and fully biodegradable materials. The unique thing is that these smartphones really smell like nature. The iPhones are naturally perfumed.
Caviar has announced four devices, all featuring a durable casing made from red mahogany tropical hardwood. All models have their own design with a matching aroma. The green Eco collection includes a Vanilla Coffee, Spicy Rose, Alpine Cornflower and an Alpine Chamomile model.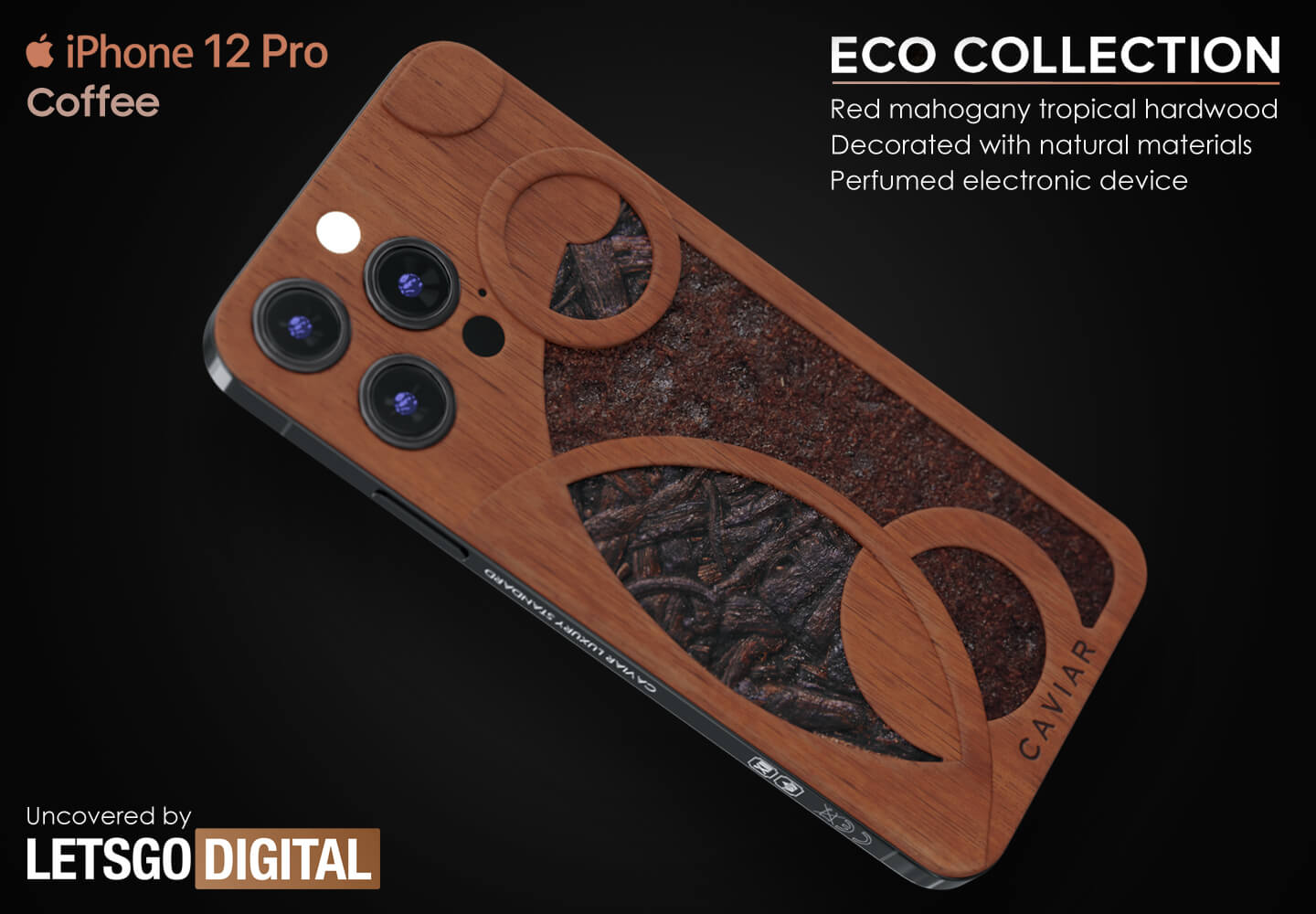 Apple smartphone with the scent of Vanilla Coffee
The mahogany wood is cut with a special knife, which contributes to a very detailed look. Mahogany hardwood does not expand, does not shrink and is resistant to moisture making it an ideal material for this Eco collection.
The first the iPhone 12 Pro model is enriched with ground coffee and vanilla. The fragrant coffee and vanilla is expertly processed in the housing. The natural materials are bonded to the base with biocide-, plasticizer- and solvent-free agents.
The scents of natural aromas can be smelled for three months. When the smell subsides, the appliance can be refilled. This way you can continue to enjoy a freshly scented iPhone.
The price of this natural-friendly phone is set at $ 6,140 USD, for this you will receive the iPhone 12 Pro with 128GB of memory. In addition, customers can opt for the iPhone 12 Pro Max, with prices starting at $6,680 USD. As soon as the iPhone 13 Pro / Pro Max is available, these models will be delivered for the same price.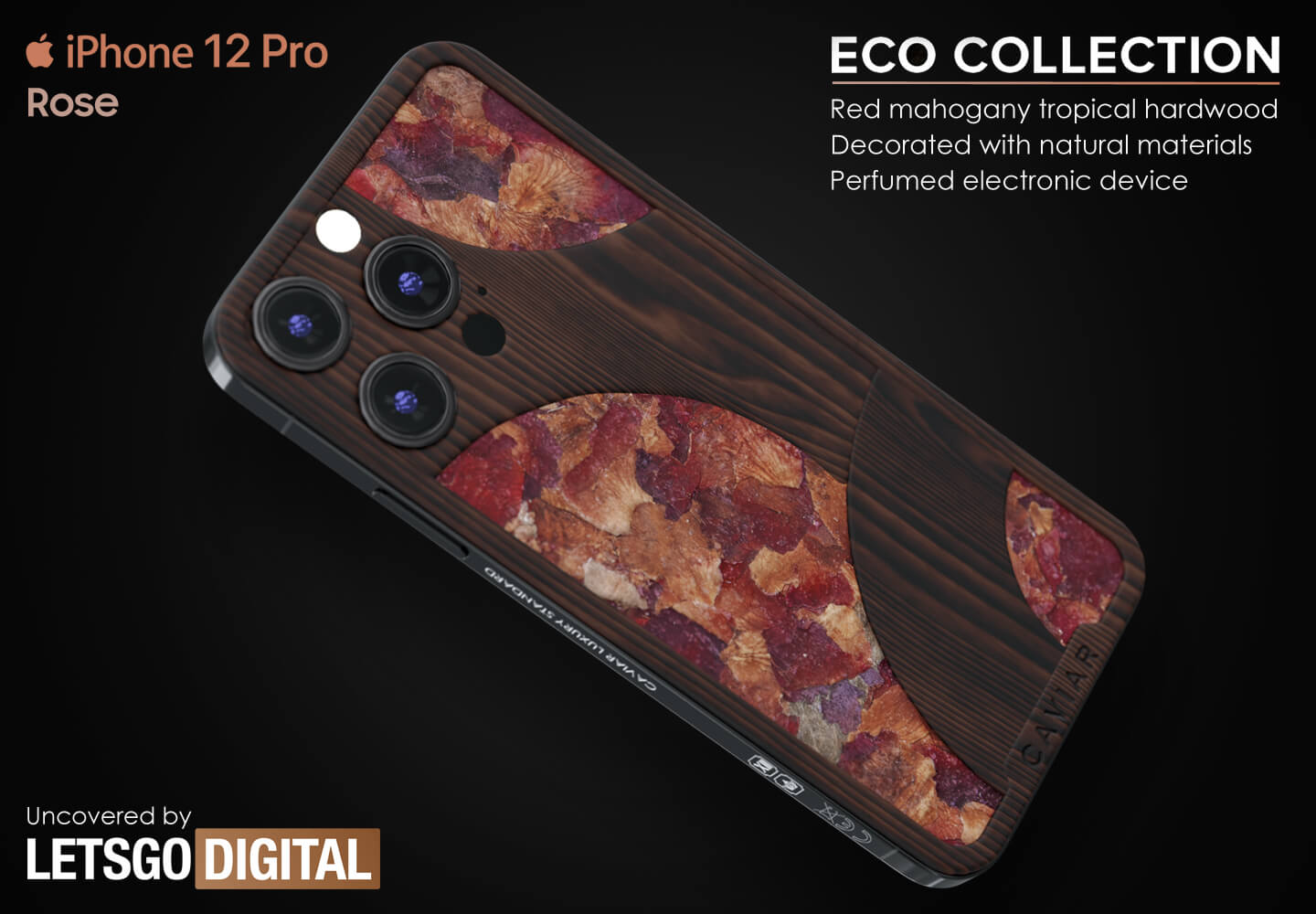 iPhone with the scent of natural rose petals
The second model in the Eco Collection from Caviar is called Spicy Rose. This iPhone 12 Pro is decorated with dried rose petals that provide a beautiful color accent. Rose petals also have a wonderful floral and sweet aroma.
Spicy rose lovers can pick up this special iPhone 12 Pro for a starting price of $5,980 USD. In addition to 128GB, you can also opt from 256GB or 512GB. In addition, this Eco model is also available with the iPhone 12 Pro Max as a base for a starting price of $6,520 USD.
"We want to bring closer the new era of unity with nature. That is why Caviar is following Apple on the path to a responsible and sustainable attitude towards nature. Like Apple, we want to drive down our carbon footprint and decrease the use of carbon and harmful materials in our designs. Eco is our first collection made of 100% natural materials supplied by companies that source them sustainably and with minimal harm to nature. We encourage all fans of our brand to follow our endeavor," – stated a Caviar brand representative.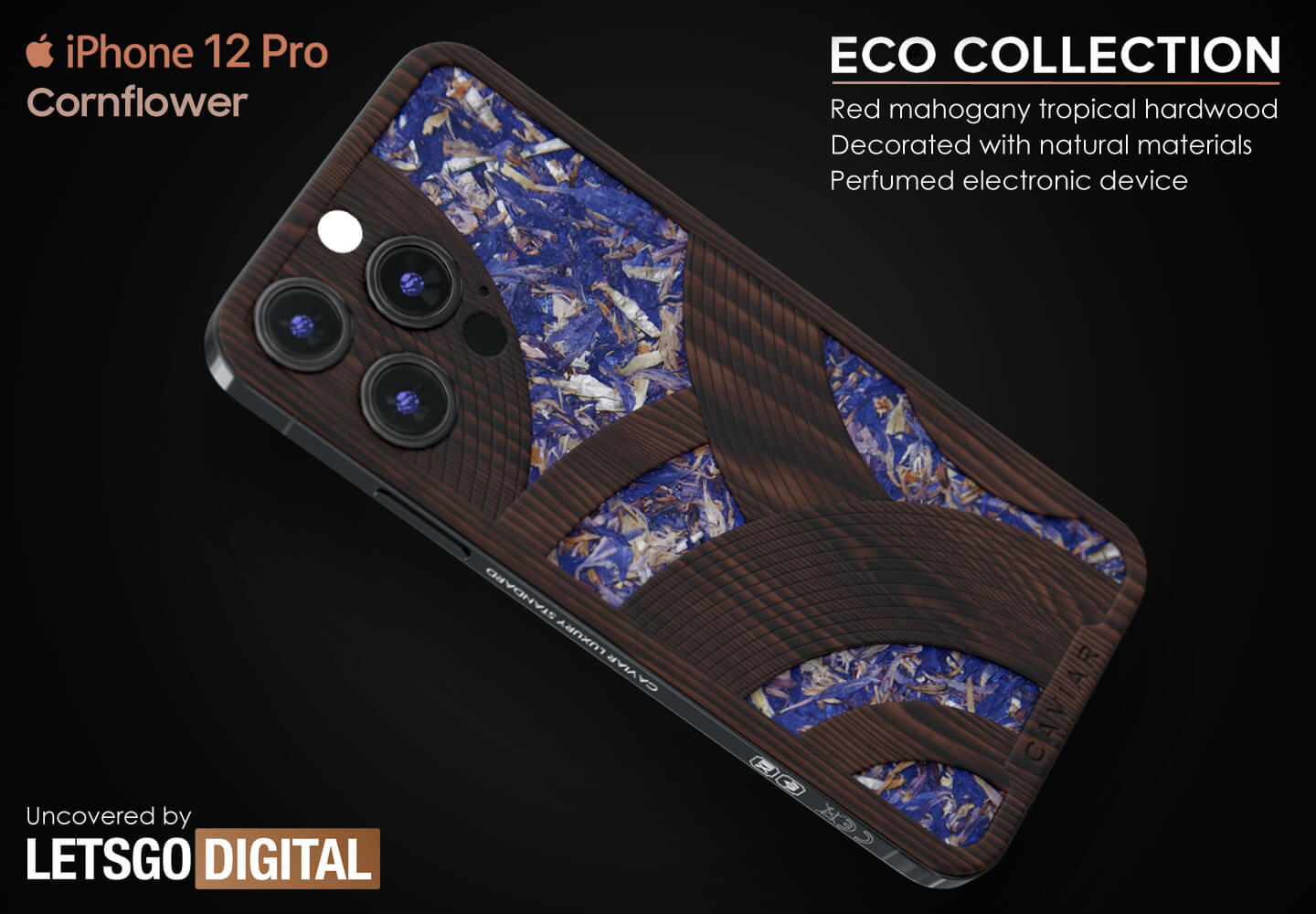 iPhone 12 with fragrant Cornflowers from the Alps
The third model in the iPhone 12 Pro Eco Collection is enriched with real cornflowers, which contrast beautifully with the dark housing. It is a blue / purple butterfly plant, which originates from the Alpine region and faithfully returns every year. This flower has a lovely fresh subtle mint-like scent.
For the Alpine Cornflower edition, the suggested retail price is $ 5,980 USD. Caviar will produce 99 units for all devices from the Eco series. A unique number is engraved on the side of the smartphone, so that the owner can see exactly which Limited Edition he/she has purchased.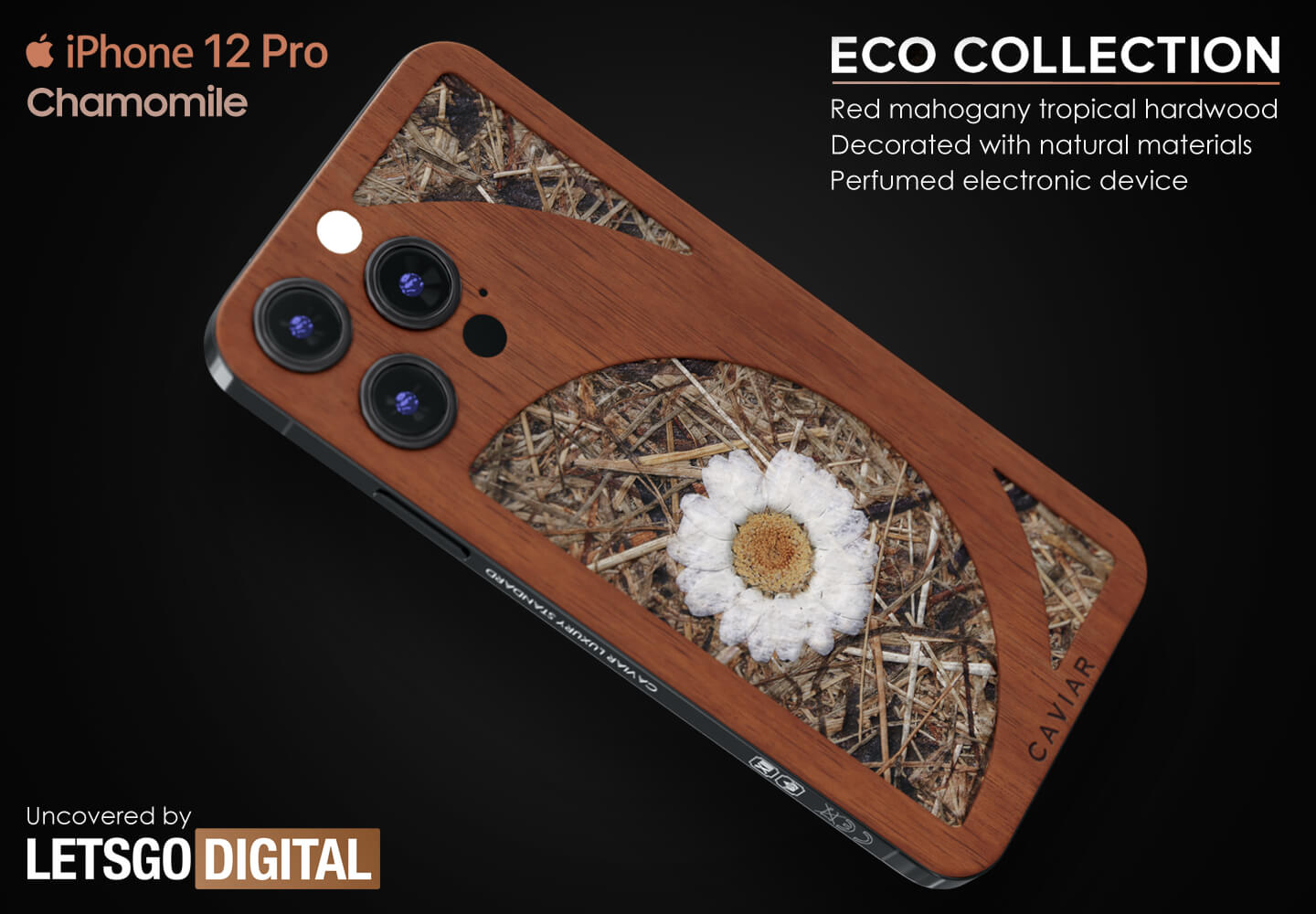 Apple phone that smells like soothing Chamomile flowers
The fourth and last model in the Caviar Eco line-up is all about Alpenkamille from Tyrol. This smartphone model is enriched with straw and naturally dried stems, topped with a beautiful white/yellow chamomile flower. Chamomile originates from Austria, the Alps is characterized by flowery slopes where the chamomile is picked by hand.
Chamomile has a fairly strong sweet scent. The taste is often considered to be calming, and chamomile also has an anti-inflammatory effect. Unlike coffee, chamomile does not contain caffeine, so it can also provide a soothing element in the evening.
The Chamomile version is the most expensive Eco model from Caviar. This iPhone 12 Pro / iPhone 13 Pro is priced at $6,220 USD (128GB). If you prefer to go the extra mile, the iPhone 12 Pro Max is available for a starting price of $6,760 USD.