Oppo releases new smartphones on a regular base. Like the Reno4 5G Series that was unveiled last week – consisting of three interesting 5G phones. Although the Chinese smartphone manufacturer is known for innovation and progressiveness, no Oppo foldable phone has been released to date. Nevertheless, the company already showed a prototype of an Oppo foldable smartphone at the beginning of 2019. However, this model offered too little added value for the user, as stated by the president of Oppo at the time.
In the months that followed, Oppo patented several foldable phone designs. For example, LetsGoDigital reported on a foldable phone from Oppo that unfolds into a tablet and has a pop-up camera. More recently, the company also filed a patent for a foldable phone with a clamshell design.
All mentioned models featured a flexible display that folds outwards. This makes the screen less protected when you take the phone with you when folded. In the meantime, however, Oppo also seems to be working on an inward folding phone.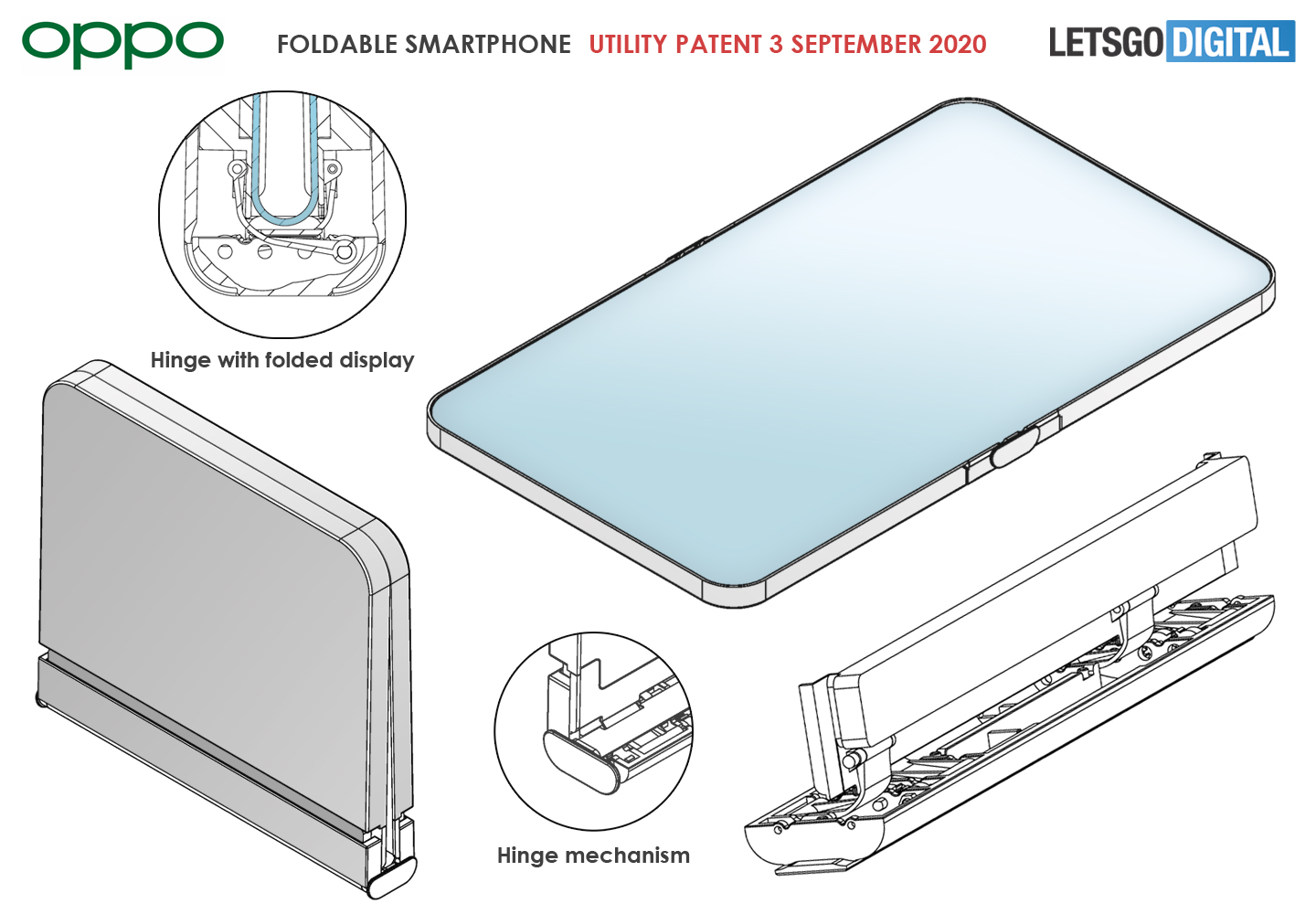 Oppo foldable phone with clamshell design
In February this year, Guangdong Oppo Mobile Telecommunications filed a patent with the WIPO (World Intellectual Property Organization) for a 'Foldable terminal'. The documentation was approved and published on September 3, 2020.
The 41-page documentation mainly describes the hinge in detail. It is a rotating hinge with gears. A pair of cover plates are rotatably coupled to the support plate and allow the housing to slide out relative to the cover plates. This way, the difference in length between the screen and the housing can be compensated for during folding and unfolding. This benefits the overall durability.
The hinge is slightly wider than the phone itself. This system makes it possible to secure the phone at various points. Think of the Flex mode on the Samsung Galaxy Z Flip. The hinge of the foldable Oppo phone also shows a striking number of similarities with the HTC foldable smartphone discussed by us last week. Oppo, however, now seems to opt for an inward flexible screen, while HTC patented an outward folding device.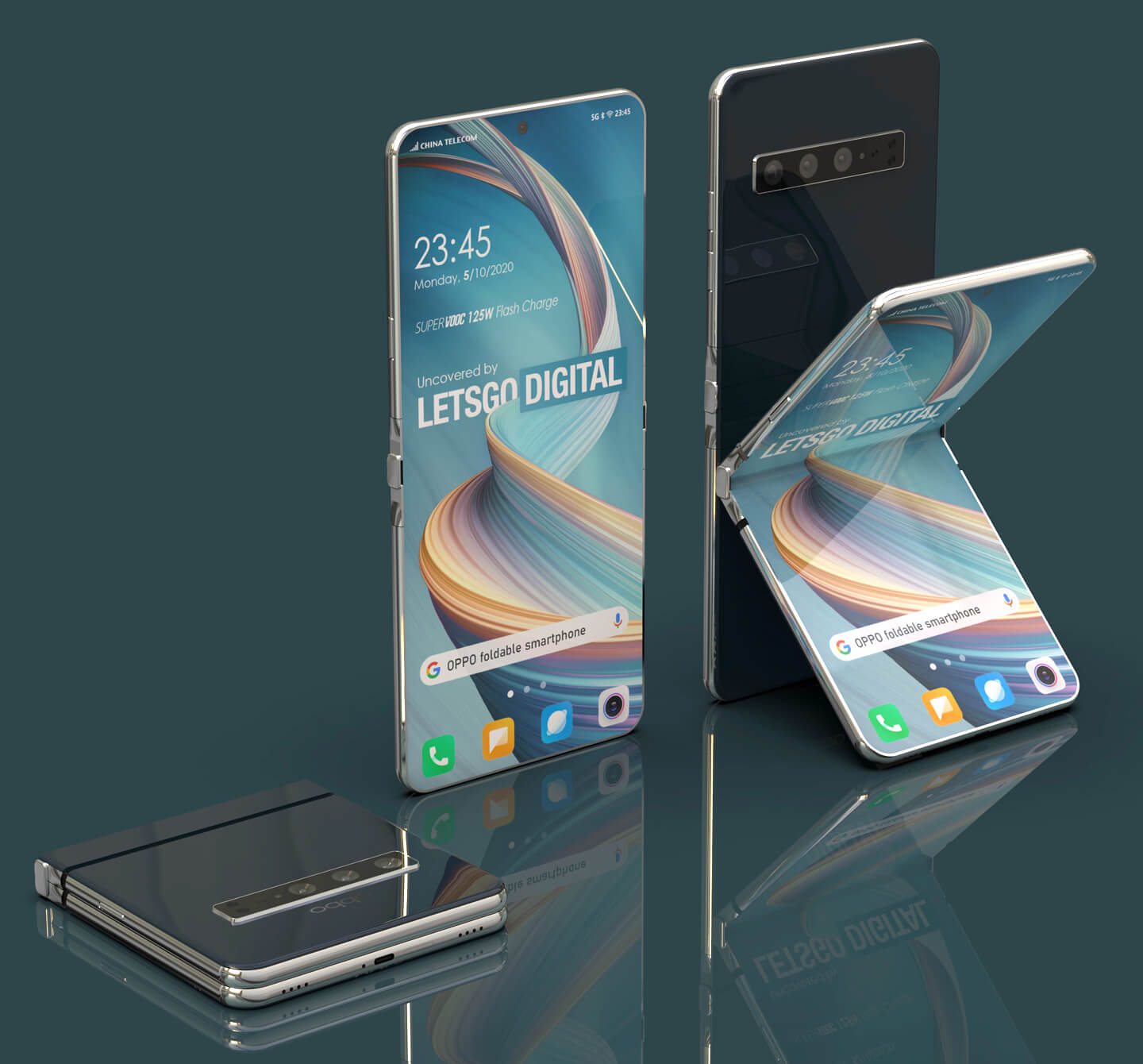 Hinge with 4 fixed positions
A properly functioning hinge will significantly improve the user experience. For example, you don't want to hear strange creaking noises during folding and the hinge should not work too stiffly. But too flexible is not good either, because then the device can unfold too easily in your pocket. In addition, it must be prevented that dust and dirt can get into the mechanism, which can adversely affect the operation of the folding process.
In short, a properly functioning hinge is not that easy to develop, but it is very important. It is therefore not surprising that smartphone manufacturers make this an important focal point. For example, the hinge of the Samsung Galaxy Z Fold 2 has also been improved, you can now fix it at an angle of 75 or 115 degrees. With the patented Oppo phone it should be possible to fix the phone at 4 points: at an angle of 30 degrees, 60 degrees, 90 degrees and 120 degrees.
The design of the hinge must also ensure that this Oppo phone has an extremely slim design. The Chinese manufacturer is more often committed to ultra-smart designs, the Oppo Find X2 Neo was the world's thinnest 5G phone and the new Reno4 Pro is also very slim, especially when you consider that this phone incorporates 65W SuperVooC 2.0 Flash Charge technology.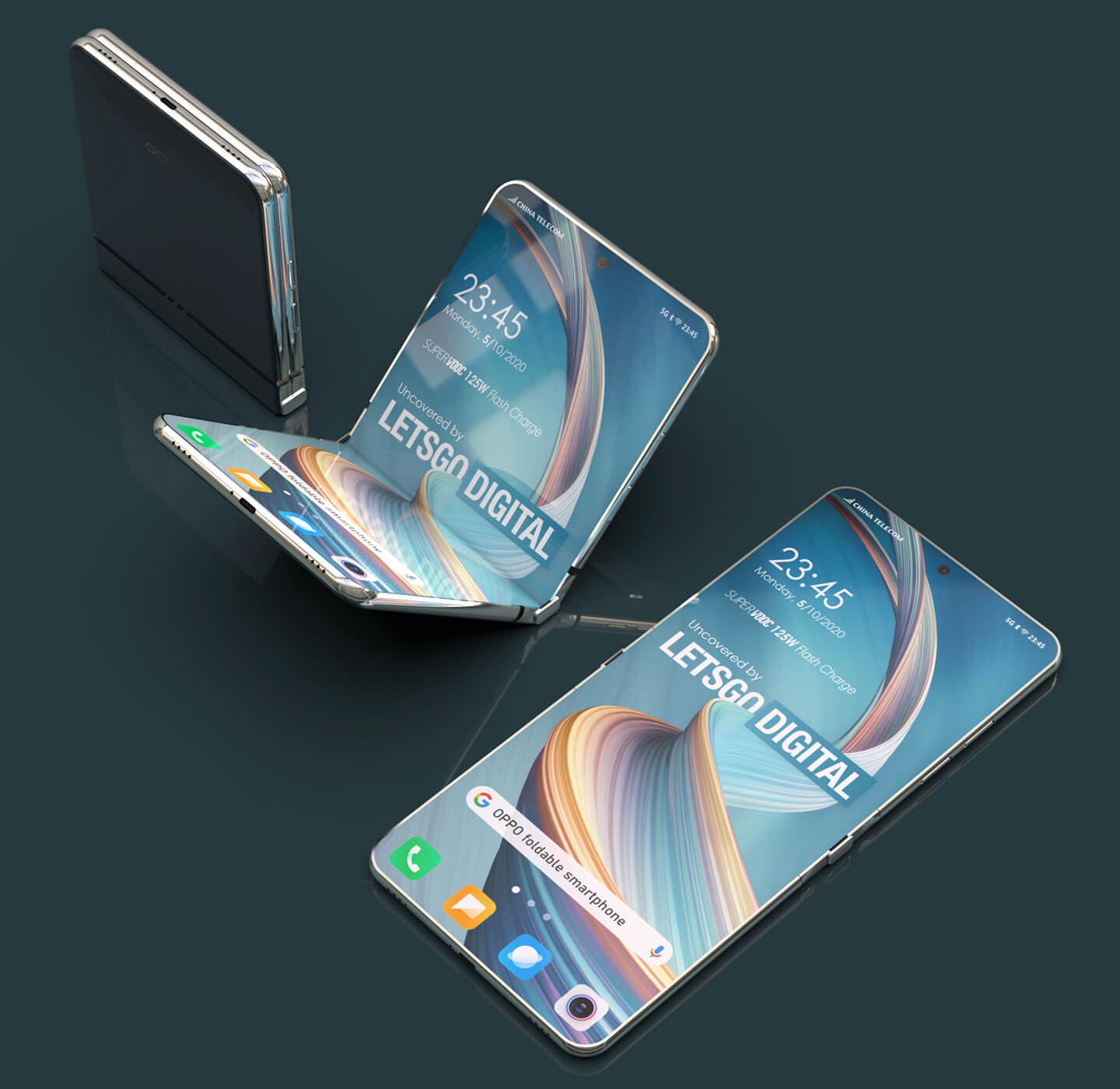 Oppo Reno Flip 5G smartphone visualized in 3D product images
To better visualize Oppo's patented foldable phone, the LetsGoDigital design team has designed a series of 3D renders. The product renders are based on the patent images and are for illustrative purposes only. Since it is a utility patent, and not a design patent, certain design aspects remain underexposed.
For example, it is unclear what Oppo's plans are regarding a cover display. Such a second display is useful when you use the phone folded. Notifications, but also incoming messages and calls can be displayed on this screen. Current flip phones, such as the Motorola Razr 5G and the Z Flip 5G, both have a cover display. Oppo will probably also decide to integrate such a second screen when it actually decides to release a clamshell phone.
Unfortunately, it also remains unclear what kind of camera system Oppo wants to use. For the renders we opted for a triple camera, as we also see with the latest top models of the brand – think of the Oppo Find X2 Pro and the Reno4 Pro. Oppo may also see a chance to incorporate a 5x Hybrid Zoom lens, after all, no other manufacturer has released so many smartphones with a 5x or even 10x Hybrid Zoom function.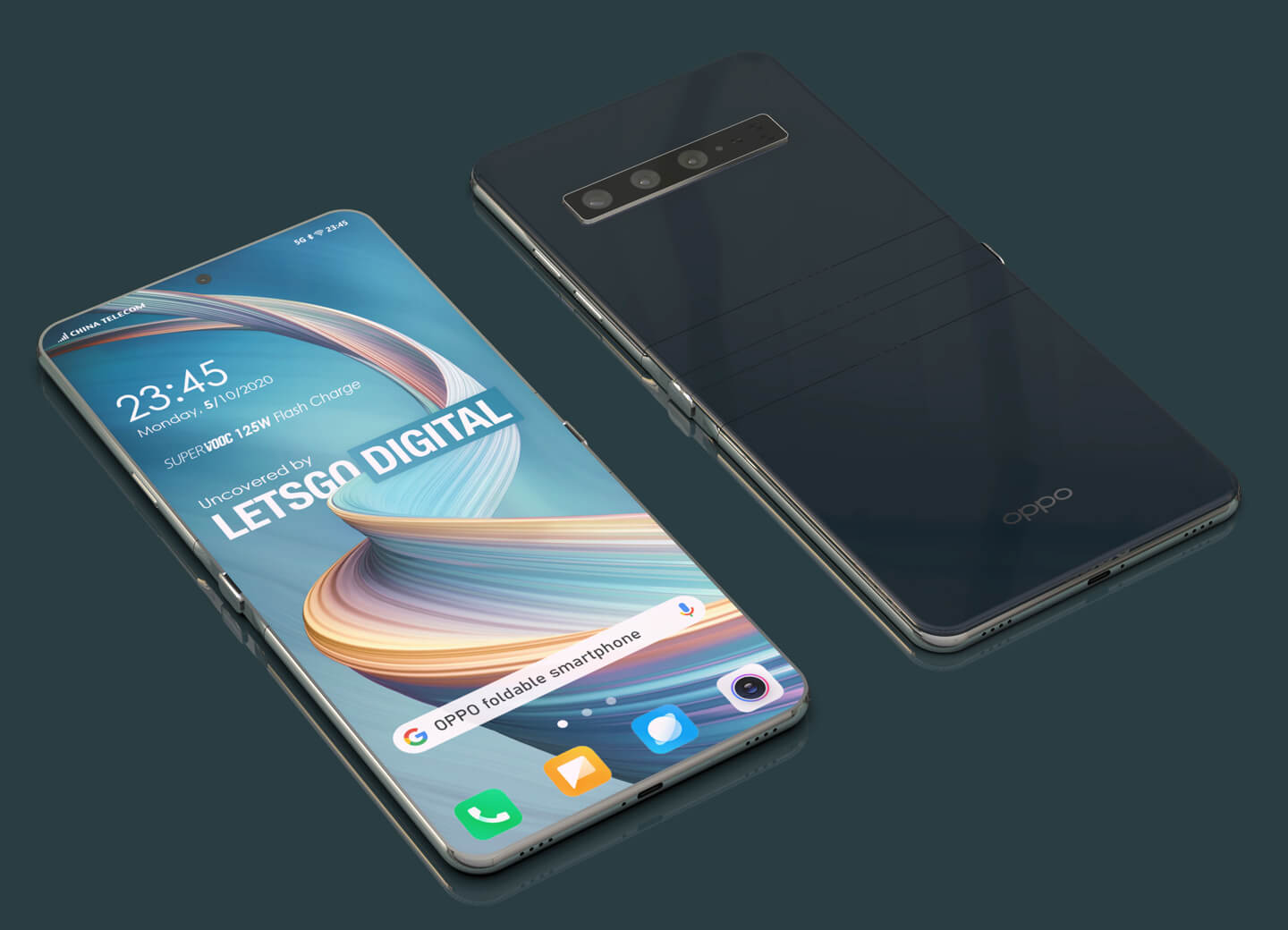 Last year Oppo released several phone models with a pop-up camera, however, this is no longer the case with the 2020 models. Instead, a hole-punch camera was chosen – a small hole is made in the screen for the selfie camera. We have continued this trend in our renders.
Oppo is increasingly focusing on video quality. For example, the new Reno4 and Reno4 Pro are both equipped with an Ultra Night mode. An Ultra Steady Video 3.0 is also built-in, this advanced optical image stabilization makes it possible to make very smooth video recordings, even when you move a lot during the recording. It goes without saying that these kinds of new technologies will also be incorporated into Oppo's folding phone.
The vast majority of all Oppo 2020 smartphone models support the super-fast 5G mobile network. Where other manufacturers often offer a choice of 4G and 5G models, all mid-range and high-end Oppo smartphones are now equipped with 5G support. Oppo was also the very first manufacturer to introduce a 5G smartphone in Europe, the Reno 5G. You can therefore assume that Oppo's foldable smartphone will also become a 5G phone.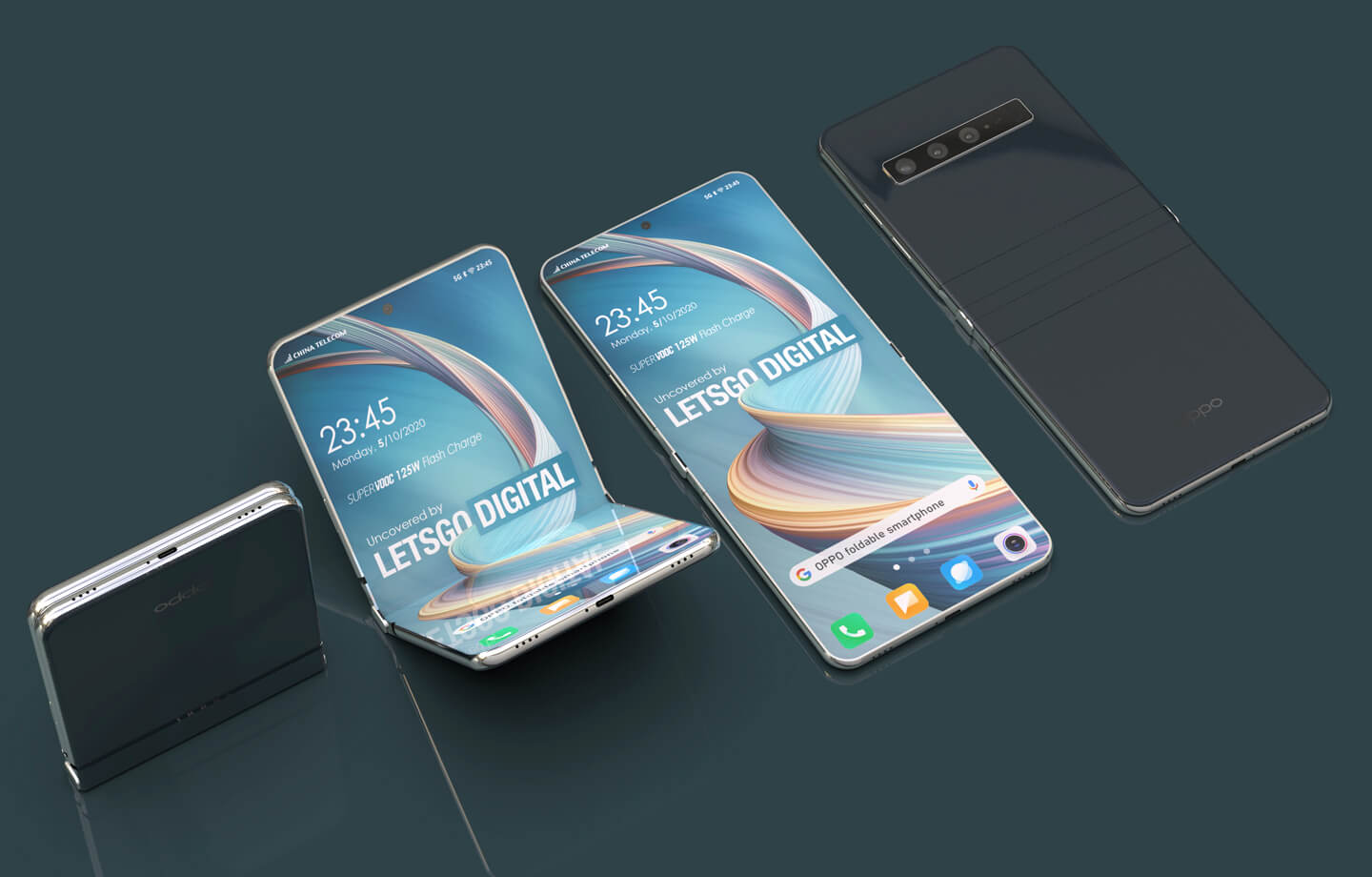 Oppo SuperVooC 2.0 Flash Charge for mobile devices
Another point in which Oppo is able to excel is fast charging. For example, the Find X2 (Pro) and Reno4 (Pro) are all supplied with a 65 Watt fast charger, so you can fully recharge an empty battery within 35 minutes. This technology is called SuperVooC 2.0 Flash Charge by Oppo.
Oppo is constantly looking for new methods to achieve even better and faster charging performance. In July this year, the company even introduced a 125W charger, as well as a 65W AirVooC fast charger. Perhaps this technology will also be incorporated in Oppo's folding phone. In any case, it is almost certain that the device can be charged very quickly.
We also expect to see impressive numbers in the field of memory. For example, budget models such as the Reno4 Z are already equipped with 8GB of RAM and 128GB of storage memory as standard.
However, the question still remains; when can we expect the first foldable Oppo phone? Unfortunately, this question remains unanswered for the time being, but it is certainly not inconceivable that the first Oppo folding phone will be introduced within now and a half years. Sister company Vivo will probably follow not much later.
Competitor Xiaomi even seems to be planning to present a foldable smartphone this year. Huawei also seems to be on the verge of introducing a completely new model, with an inwardly folding display this time.
Take a look at the original documents of the Oppo flip phone.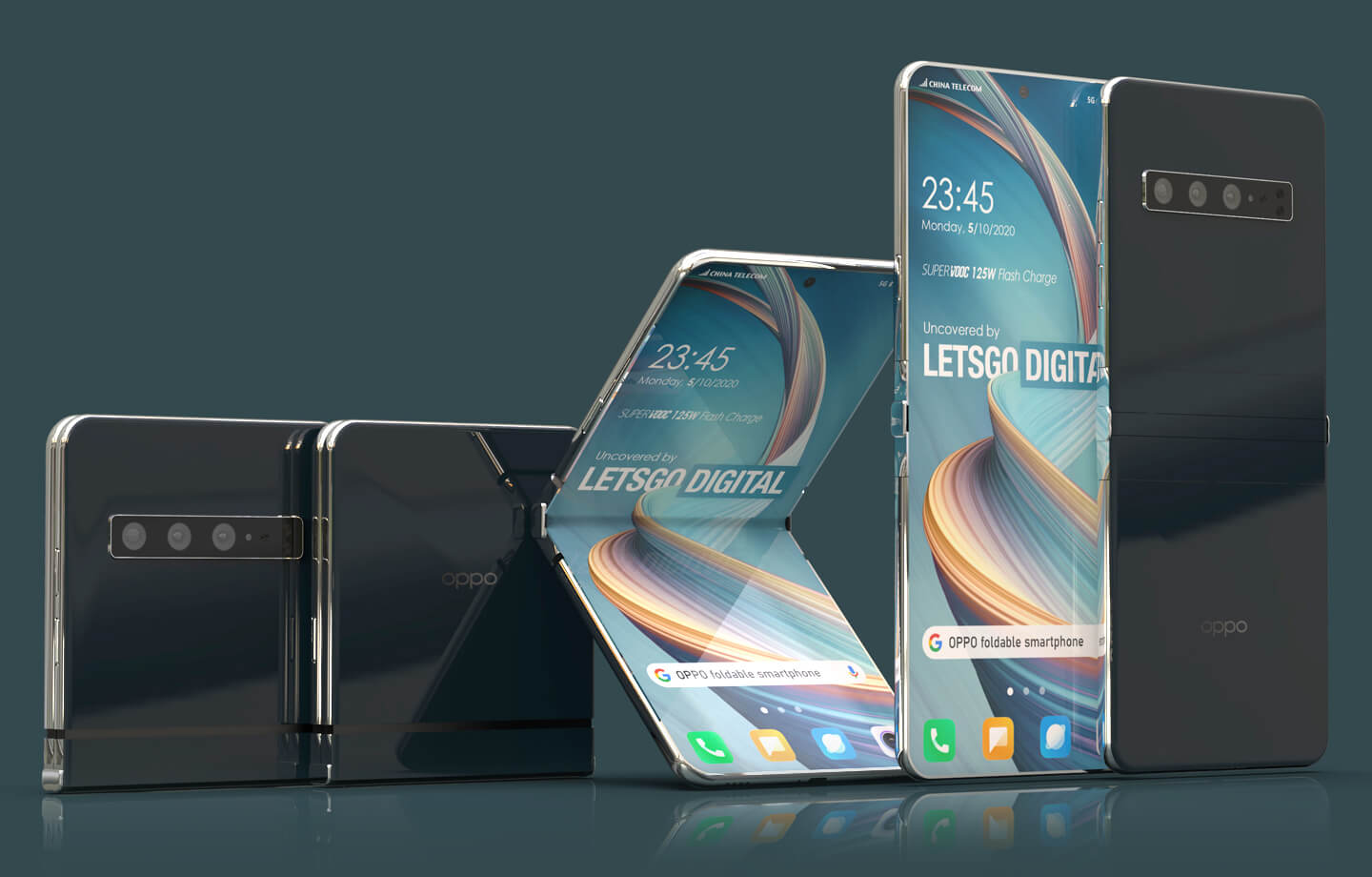 Note to editors : The 3D renders presented in this article are copyright protected by LetsGoDigital. The images are based on the original patent drawings from Guangdong Oppo Mobile Telecommunications and are for illustrative purposes only. This product is a concept and it's not for sale. You can use the 3D artwork for free, as long as include a clickable source link into your publication. Thank you for understanding.