Various manufacturers have already released one or more folding phone models, including Samsung, Huawei and Motorola. In addition, there are a handful of Chinese manufacturers, including Xiaomi and Oppo, who also have a foldable phone in the works. In February 2019, Oppo showed its first folding smartphone to the public, during MWC 2019. This phone showed a striking number of similarities with the Huawei Mate X – which was presented exactly one day earlier. However, unlike the Mate X, Oppo's folding device was never released.
An official reason for this has not been given, the Chinese manufacturer may want to wait until the demand for smartphones with a flexible screen increases, the sustainability problems have been solved and the sales prices become more favorable. In any case, Oppo will continue developing such foldable devices in the background.
Last year, LetsGoDigital already showed an Oppo foldable smartphone with a pop-up camera and we also reported on an Oppo foldable phone with a telescopic camera. Both devices could be unfolded into a tablet format, both models also had an outward foldable screen – comparable to the Huawei Mate X / Xs.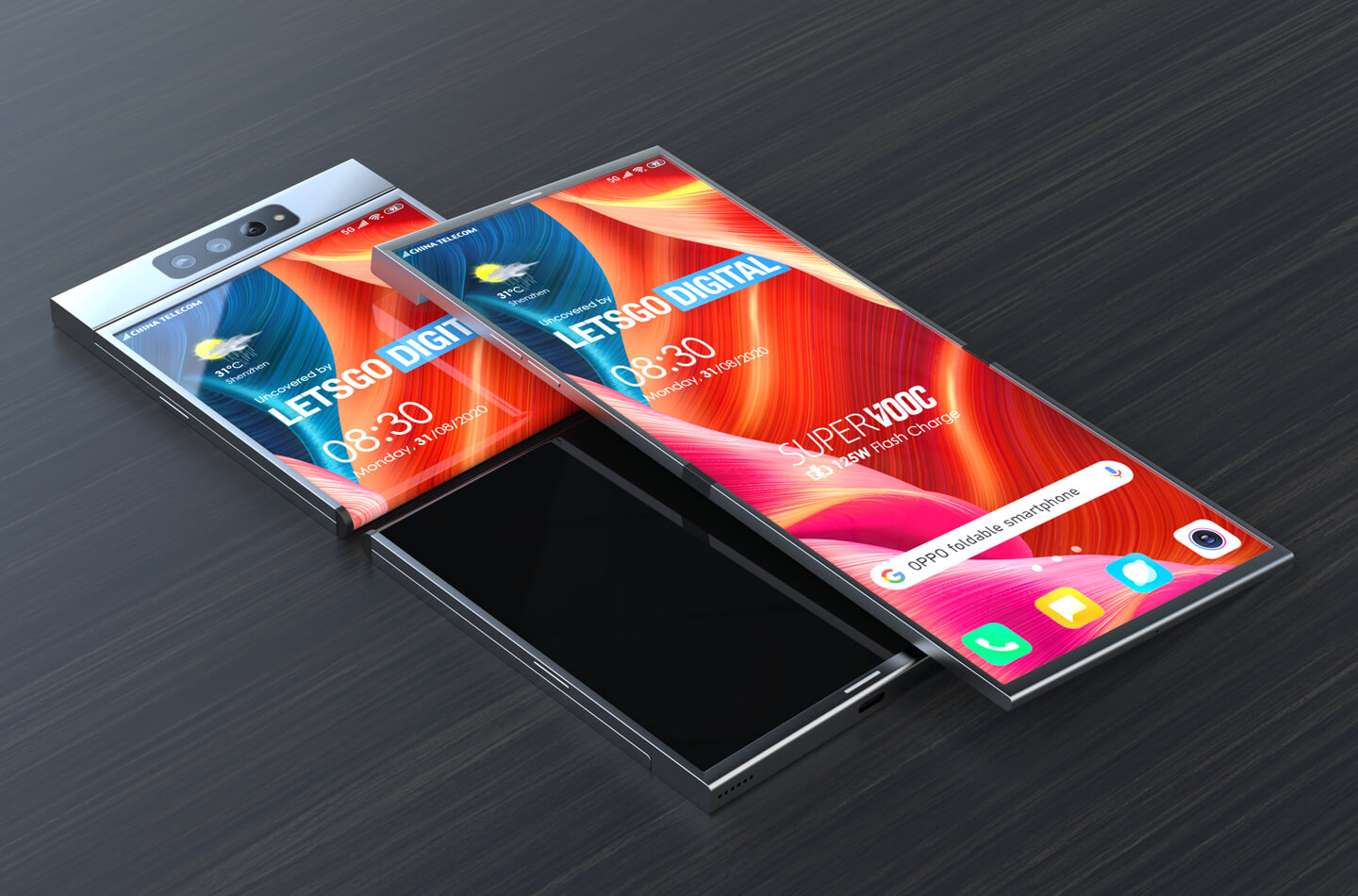 Oppo phone with foldable display on the outside
This time Oppo seems to be investigating the possibility of developing an elongated folding phone, instead of a device that folds out into a tablet. A few flip phones have already been released, such as the Motorola Razr and the Samsung Galaxy Z Flip. These smartphones are significantly smaller than the devices that fold out into a tablet.
A clamshell design folds horizontally. It's an extremely compact phone when folded and a fully-fledged phone once unfolded. However, Oppo seems to be considering placing the flexible screen on the outside – a similar design was also patented by ZTE earlier this year.
In January 2020, Guangdong Oppo Mobile Telecommunications filed a patent with the WIPO (World Intellectual Property Office). On July 30, 2020, the patent named "Foldable housing assembly and foldable electronic apparatus" was approved and published.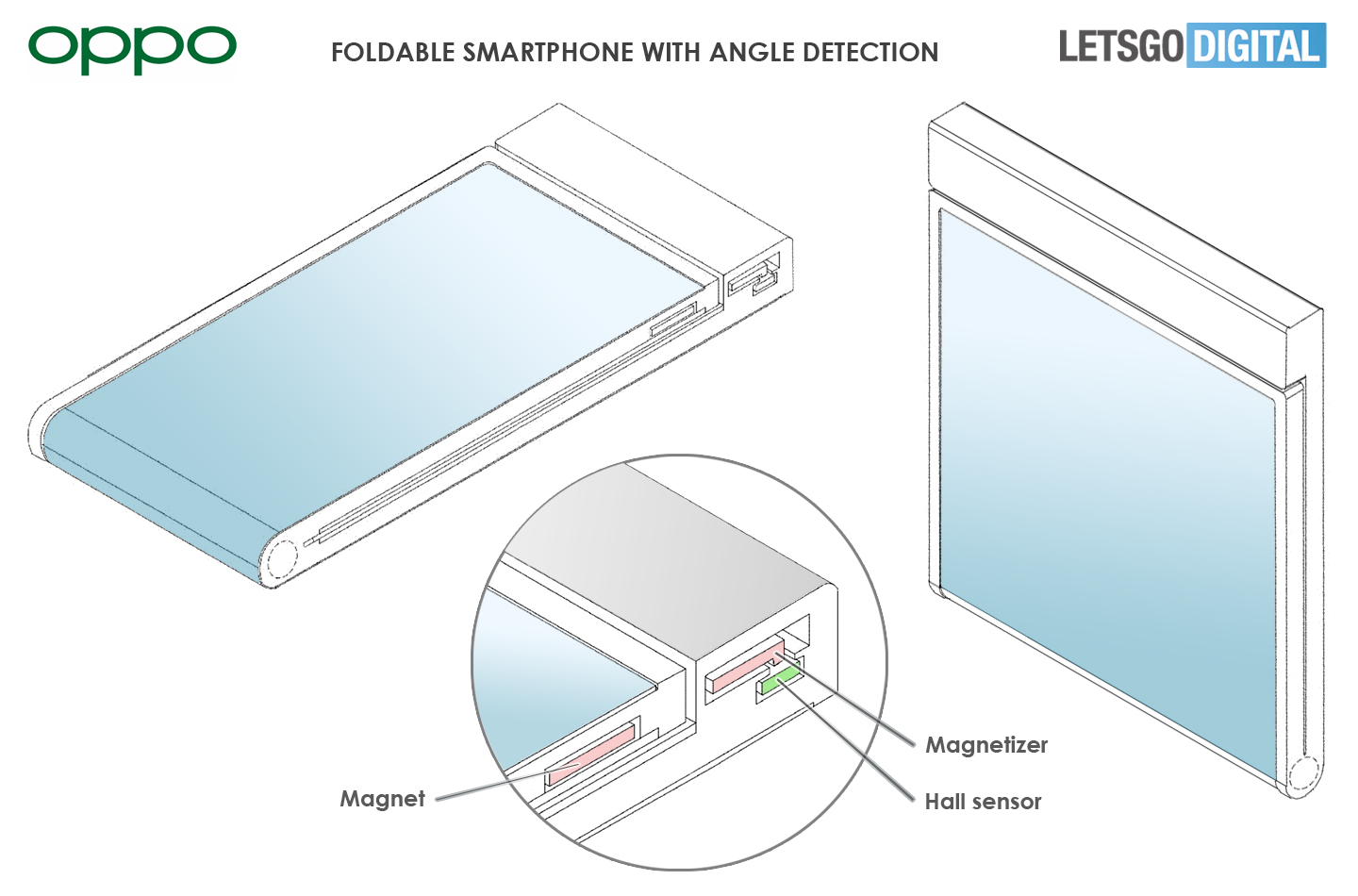 When folded, you have an extremely compact mobile device in the palm of your hands, with a large screen surface on both the front and back. This eliminates the need for a cover display, after all the main screen remains usable when the phone is folded. This also makes it unnecessary to build in a front camera, as the main cameras also serve as a selfie camera when the device is folded.
The screen edges have been kept very minimal, which makes the phone even more compact. If we look at the back, we see a rectangular metal frame at the top. All necessary components will be incorporated here, including an angle detection module.
The angle detection module calculates the angle of rotation between the two housings – one housing is fitted with a magnet, the other with a Hall sensor – in order to determine how the device is being used so that the user interface can be automatically adjusted accordingly.
The bottom of the patented Oppo phone is nicely rounded, which is made possible by the cylindrical hinge. The screen continues through the bottom of the device.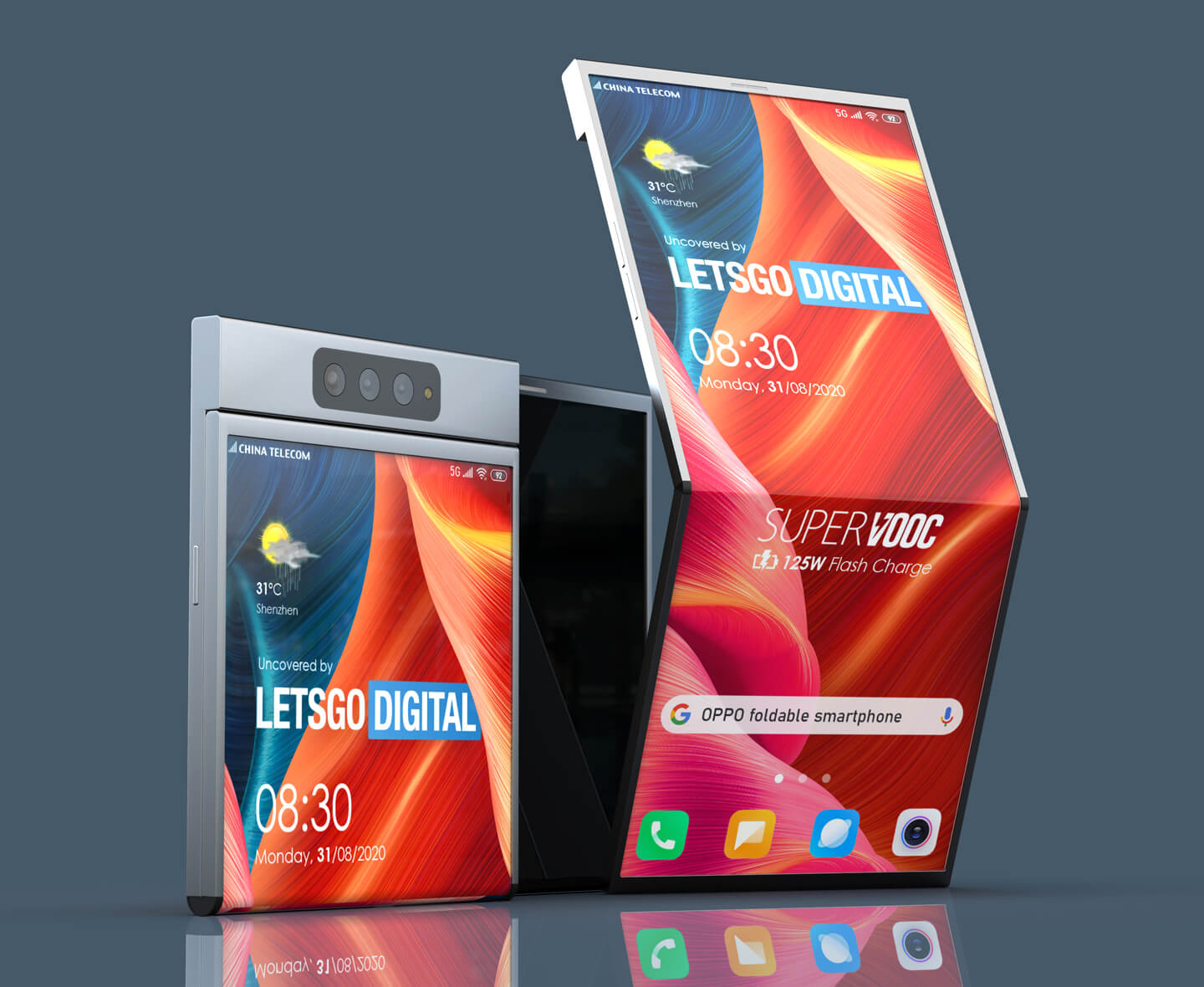 By opening the screen from the back to the front, you can use the total screen area. Unfolded, you have a relatively long phone screen. The exact dimensions are not mentioned in the documentation, it is probably a screen of about 7-inch.
The documentation does state that this flip phone will be equipped with a fingerprint sensor and an iris recognition module. However, details about this are lacking. The same applies to the camera system. Logically, the camera will be integrated in the metal frame at the rear. After all, here is the most room for the integration of a camera. Furthermore, it is likely that the USB-C connection will be placed at the top of the device, enabling users to charge the device when folded.
To get a better impression about this Oppo foldable phone, LetsGoDigital has designed a series of 3D product renders. These images are for illustrative purposes only, it should be understood that the final end product could have a slightly different design. After all, the images are based on a utility patent, which describes the technology needed to manufacture such a folding phone. As a result, certain design aspects, including the placement of the cameras, the USB-C, speakers and the physical buttons, remain underexposed.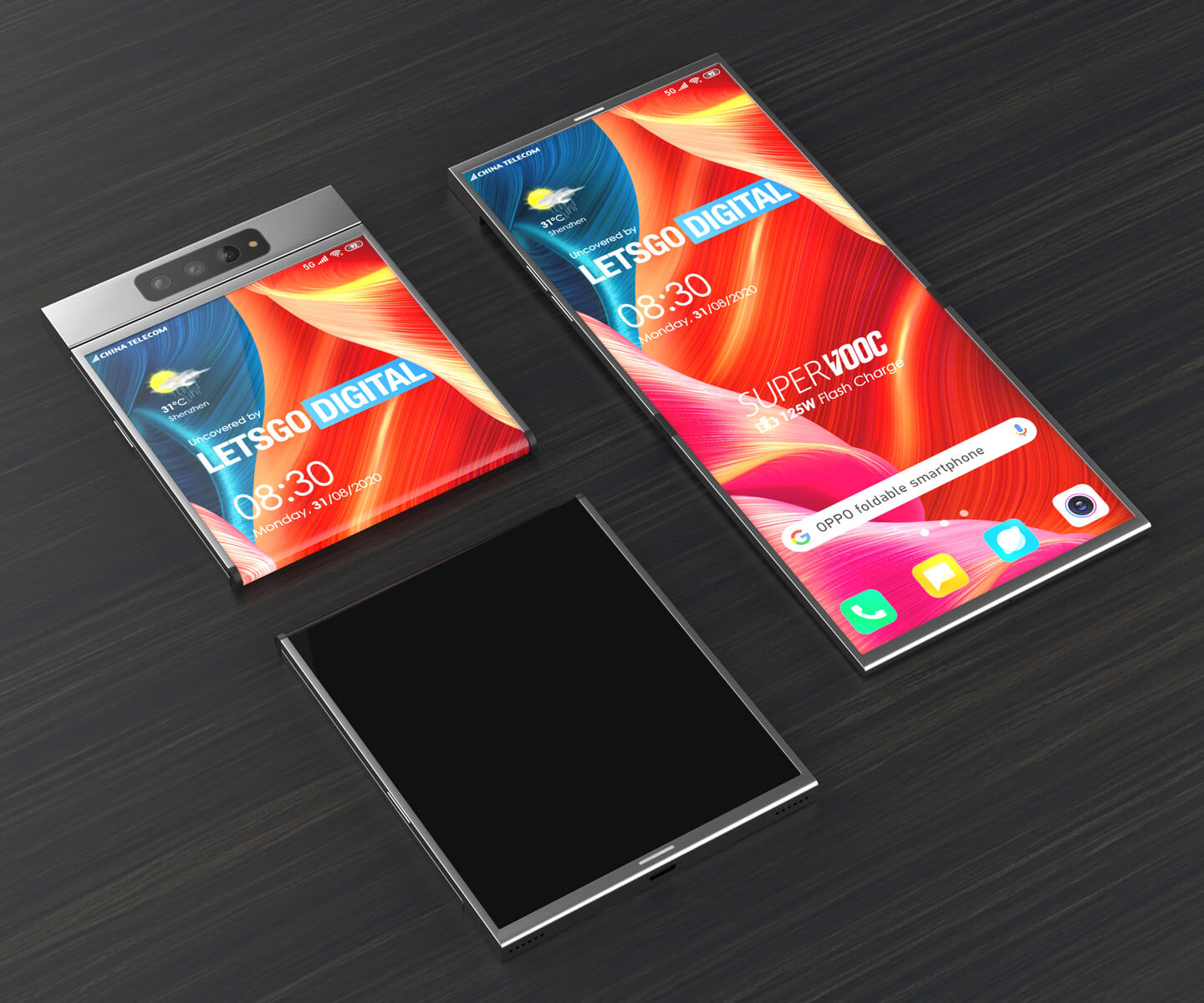 Advantages and disadvantages of this foldable smartphone
The design of this Oppo flip phone clearly differs from existing foldable phone models – in particular because of its out-folding screen. This has certain advantages, such as eliminating the need for a cover display and a front camera, which means savings can be made on the cost price. Logically, this advantage will be passed on to the customer by putting the folding phone on the market at an interesting price tag.
However, there is also a clear disadvantage, since the display is not protected by the housing, it is significantly more sensitive to scratches and bumps. The durability of flexible displays has been a major issue in the past year. The launch of Samsung's first folding phone was delayed after several early reviews of the Galaxy Fold appeared online, seriously questioning its durability. As a result, Samsung has modified the hinge and display.
The newer Z Flip and Z Fold2 both have "Ultra Thin Glass" with a thin screen protector placed over it. This new technology is significantly more scratch resistant than before, although various field tests have shown that this still does not offer an optimal solution.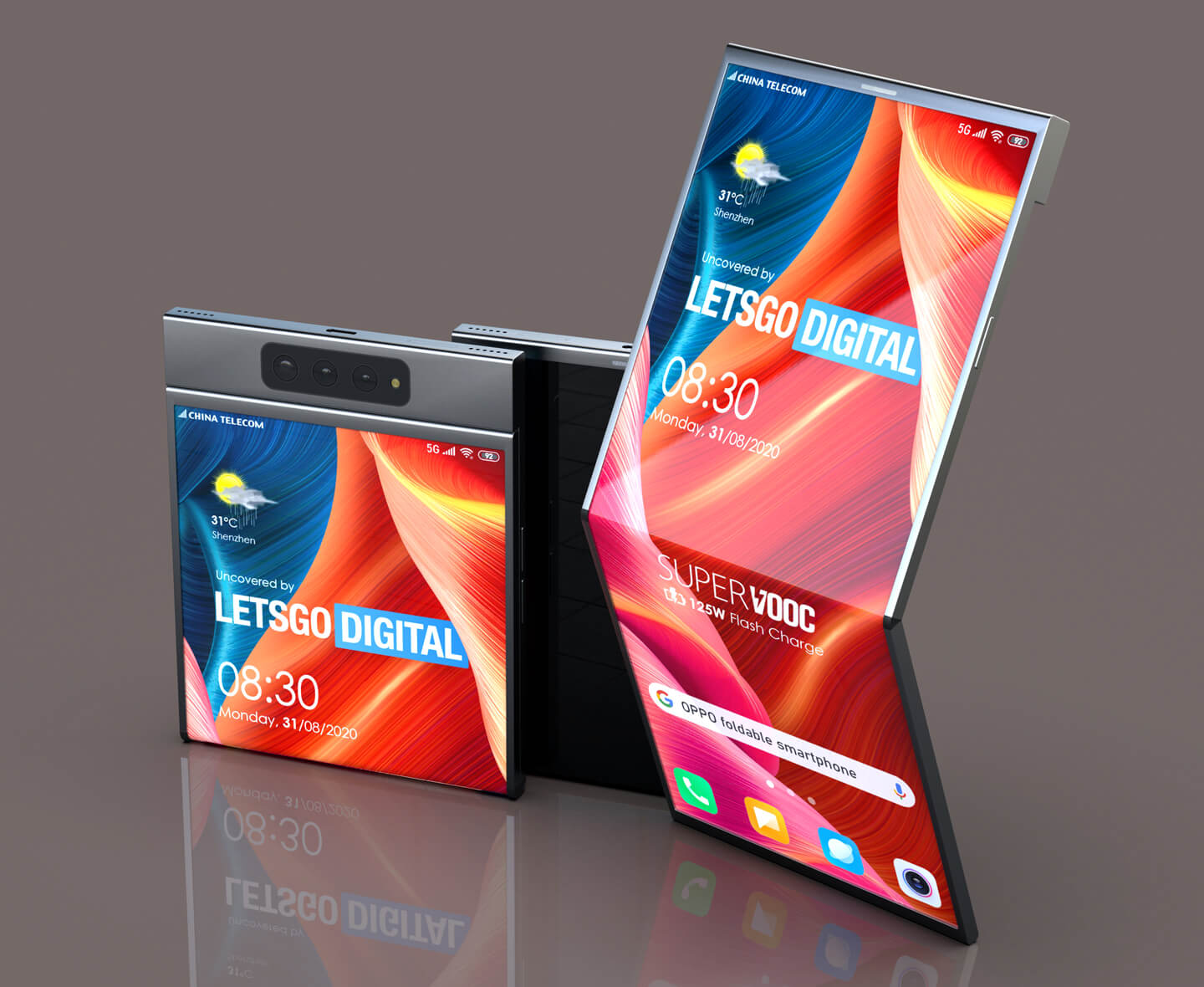 Application of bendable glass
Oppo is known for giving high priority to sustainability. Smartphones like the Reno and Find series are very solidly built with an excellent sense of detail. It therefore seems out of the question that Oppo will release an expensive folding phone of which they already know in advance that the screen will scratch quickly. The solution may be sought in a bendable screen protector.
Oppo (like many other manufacturers) often uses Corning Gorilla Glass for its existing range of phones. From the cheap A-series to the innovative Reno series and the high-end Find models, most devices are equipped with a Gorilla Glass screen protector.
At the end of 2018 Corning already announced that it has a foldable variant in development. With such a glass screen protector, the display can still show scratches, but it is the screen protector that will be damaged and not the display itself. If desired, you can replace this screen protector to create a new, scratch-free screen for just a few bucks. This way you do not have to invest in a completely new flexible screen, where the costs quickly add up to hundreds of euros.
Corning's website states that the company expects to have this new technology ready for production within 12 months. That time has already passed, making it plausible that the first foldable smartphones with bendable Gorilla Glass will be marketed next year.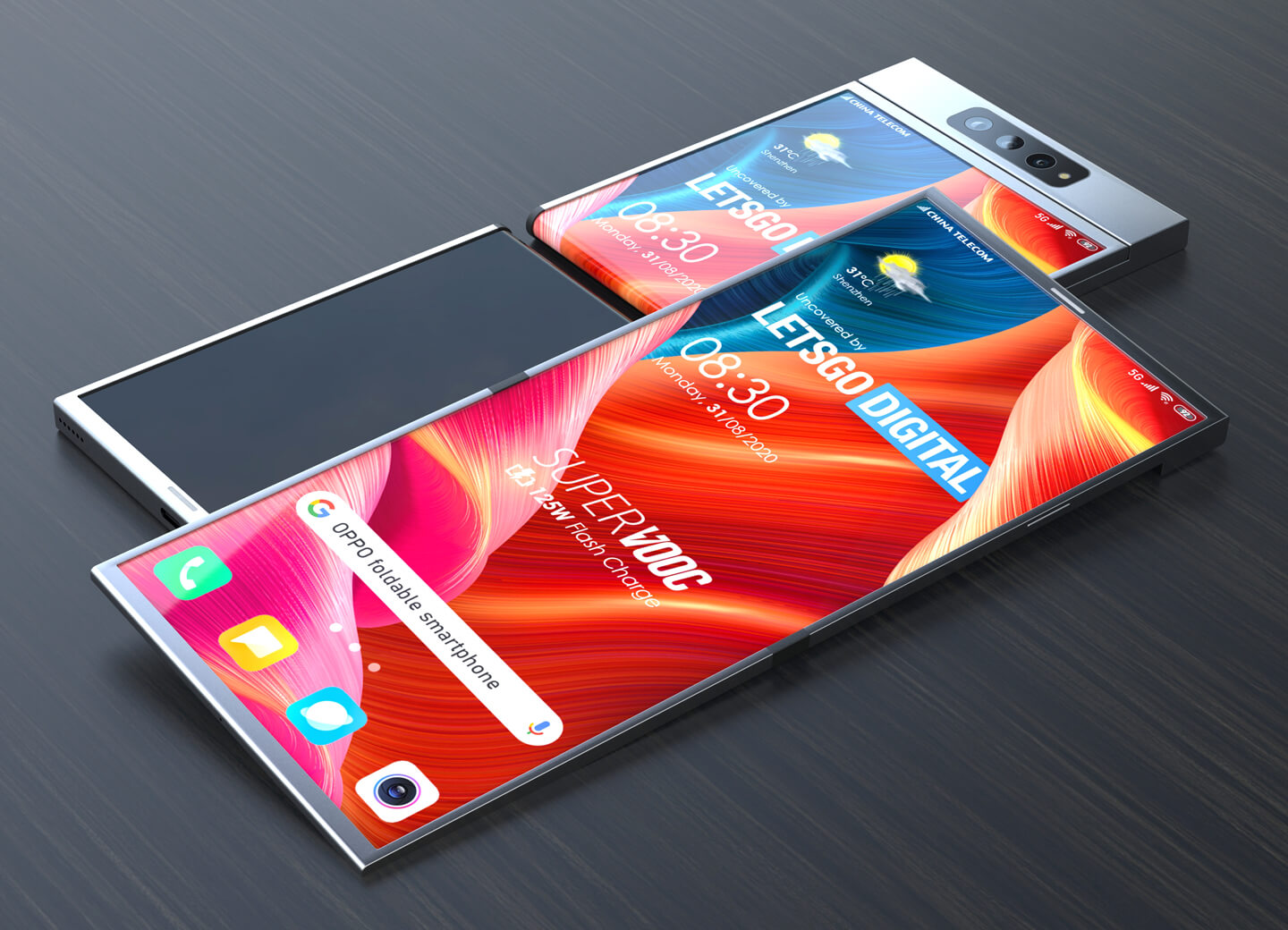 When is the first Oppo foldable phone expected?
It remains unknown when Oppo will officially introduce its first foldable phone. In recent months, there have been several rumors that competitor Xiaomi will release its first foldable phone at the end of 2020 / early 2021.
Oppo and Xiaomi are very well matched in terms of innovation and progressiveness, which means that there is a good chance that Oppo will not wait much longer. The company is a global leader when it comes to 5G connectivity. The manufacturer is also able to present high-quality technology in the field of fast charging and wireless charging.
Last month, Oppo announced a 125 Watt fast charger, as well as 65 Watt wireless charging technology. Xiaomi responded by releasing the Mi 10 Ultra, this smartphone supports 120 Watt wired charging and 55 Watt wireless charging.
In homeland China, Oppo has a significantly larger market share than Xiaomi, in order to maintain this top position, the company will have to continue to innovate. Especially since other Chinese manufacturers are not standing still either, brands like ZTE, Lenovo and TCL – all have shown several prototypes of foldable devices.
In addition, several manufacturers are already developing an entirely new type of mobile phone with a flexible screen, namely an expandable smartphone. LetsGoDigital recently reported on an Oppo slider smartphone with a retractable display. Manufacturers such as Samsung and TCL have already shown such a type of phone. All in all, it is expected that we can expect different types of phones with a flexible screen from several manufacturers in the coming period.
View the documentation of the Oppo foldable smartphone here.