Last year, Apple chose to release four iPhone 12 models. It looks like the US smartphone manufacturer will roll out a similar strategy in 2021 – an iPhone 13 mini and iPhone 13 and two Pro models in the form of an iPhone 13 Pro and iPhone 13 Pro Max are expected. With the current line-up, Apple is able to achieve impressive sales results, with the base model – the iPhone 12 – selling the best. What can we expect from Apple's upcoming flagship, expected around September 2021?
Although it will be months before Apple will introduce the iPhone 13 series (or iPhone 12s series), it seems that quite a few details are already known about the new models. The iPhone 13 Pro is expected to have a new screen and a better camera setup. Apple may also see an opportunity to implement Touch ID under the display this year.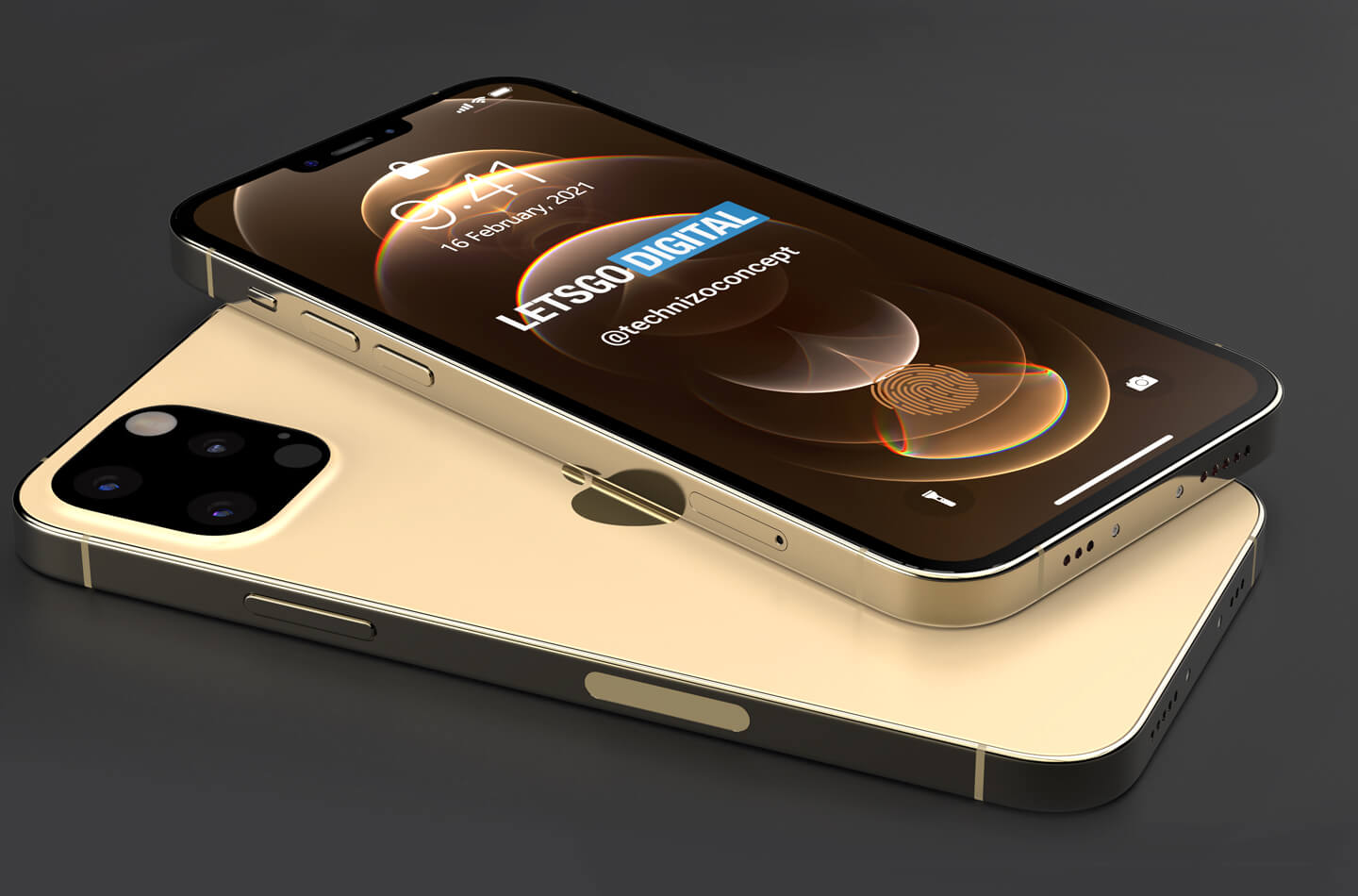 The design was already renewed last year, the straight edges and flat sides will most probably also be characteristic of the new 2021 models. Apple is expected to slightly reduce the controversial notch that made its appearance with the iPhone X in 2017.
According to another rumor, Apple will provide at least one model with another notable design change. One of the iPhone 13 models would be portless and therefore not have a Lightning connection. Thus, only wireless charging would be supported, this is where the Apple MagSafe accessory comes into play.
Based on all the rumors, graphic designer Technizo Concept has made a series of 3D product renders of the expected iPhone 13 Pro in collaboration with LetsGoDigital. To visualize this Apple smartphone even better, Technizo Concept has also designed the video below.
Renewed OLED display
The new iPhone models will probably get the same screen size as last year. For the Pro model, this means a 6.1-inch display. Although the size remains the same, Apple seems to intend to refresh and improve the screen on several points.
For example, there has been talk for some time about the integration of an "Always-on display", this function – where the screen is always on – has been praised for years by many Android users. Apple has been using the energy-efficient Always-on display since the Watch Series 5 for its smartwatches and now seems to provide the new iPhone 13 Pro models with this function too.
For the time being, iPhones only support the 60Hz refresh rate, while many Android smartphones now also support 90Hz or even 120Hz. This number indicates how often the screen is being refreshed per second. A screen with a higher refresh rate (expressed in Hertz) contributes to a better scrolling experience. Such a screen also comes into its own when watching videos and during mobile gaming. The Apple iPhone 13 Pro will probably be equipped with a ProMotion screen with a 120 Hertz adaptive refresh rate.
It is an LTPO (low-temperature polycrystalline oxide) OLED display that will be manufactured by Samsung, The Elec reported at the beginning of this year. An LTPO display is more energy efficient than an LTPS variant. Another important benefit, LTPO enables an adaptive refresh rate – where the refresh rate is automatically adjusted, based on the app you are using.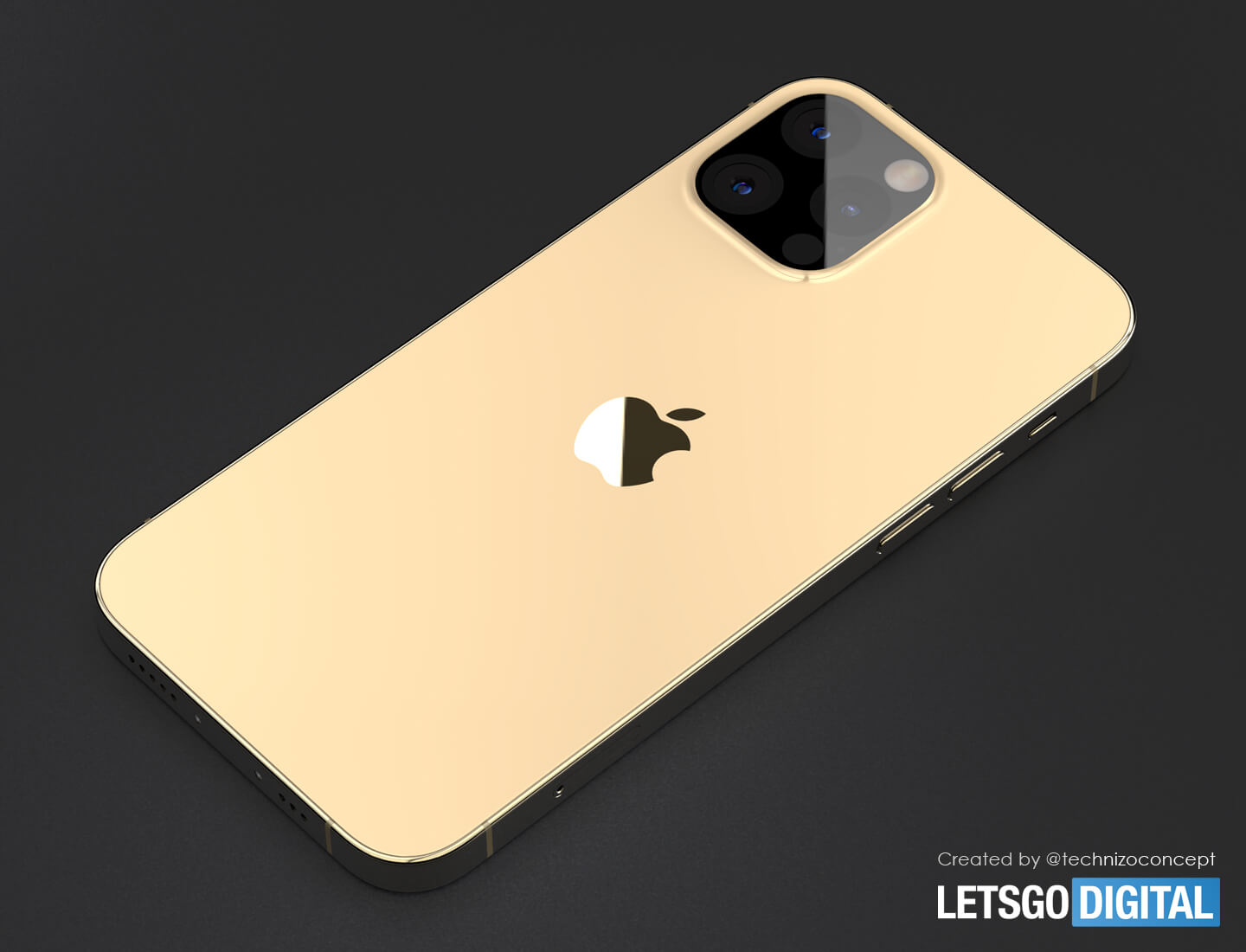 Samsung has already used this display technology for last year's Galaxy Note 20 Ultra and the recently launched Galaxy S21 Ultra. Apple also has experience with LTPO panels, although not yet applied to a phone, the Watch 4 was also equipped with such a type of screen. The two iPhone 13 Pro models are expected to be the first Apple smartphones with an LTPO OLED display.
In addition, Apple seems to intend to integrate its famous Touch ID sensor under the screen. In earlier iPhone models, this sensor was integrated into the home button – until the arrival of the iPhone X. After that, Apple mainly focused on Face ID. It is possible that the iPhone 13 Pro models will again have Touch ID and that the sensor will be placed under the screen this time.
As an alternative, Apple could also opt for a similar solution as the company used last year with the iPad Pro. This tablet comes with Touch ID in the power button – as we have also seen with various mid-range Android smartphones.
Naturally, the new iPhone 2021 models will also be equipped with updated hardware, in the form of the 5nm A15 Bionic processor. This renewed chip will also enable 5G and WiFi 6th support. Apple expert Jon Prosser recently reported on YouTube that the two Pro models will have 1 Terabyte of memory. Undoubtedly, cheaper models with less memory will become available too.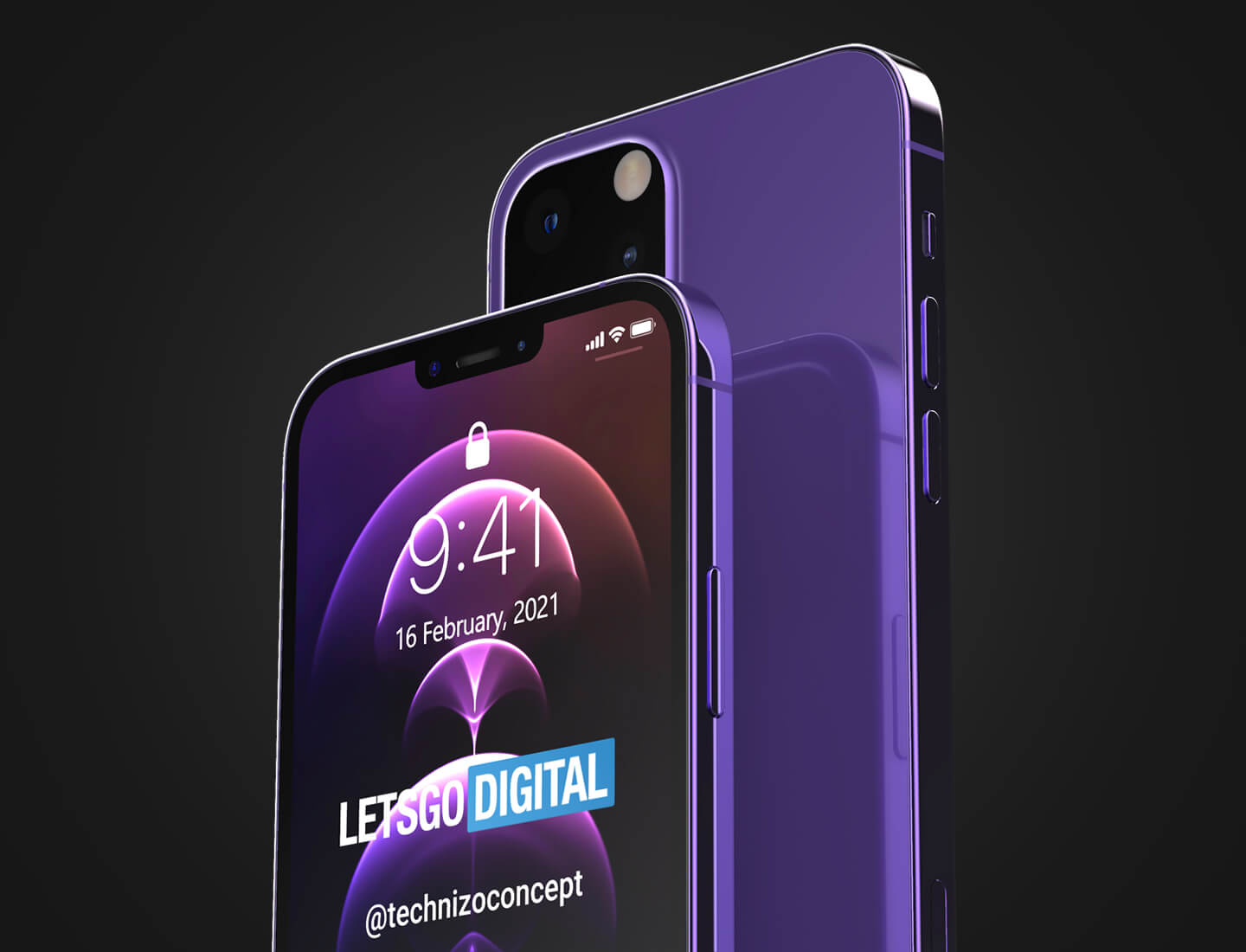 Improved camera on the iPhone 13 Pro
Some time ago, industry analyst Ming-Chi Kuo expressed the expectation that the two Pro models will have a greatly improved ultra-wide angle lens with autofocus. It will be a bright lens with an aperture of f/1.8. Apple also seems to use larger image sensors this time. A possible disadvantage might be that the camera will be a bit thicker than before.
Although the design of the camera module will probably remain the same, Apple seems to intend to use sapphire glass to cover the three lenses. This will make it look more like one large camera system. This time Apple will probably also choose to equip the iPhone 13 Pro with exactly the same camera system as the iPhone 13 Pro Max.
Last year, the larger Pro Max model was equipped with the most advanced camera, which meant that Apple fans had to choose between either the best image quality or a handy device. Apple seems to change that this year. The Pro and Pro Max models will therefore only differ in terms of display size and battery capacity.
It is also expected that the LiDAR scanner, which made its appearance in the iPhone 12 Pro models last year, will be found in all four iPhone 13 models this year. This 3D camera makes accurate depth measurements possible.
In addition, Apple also seems to have a new battery in development. A softboard battery, which is smaller than the current standard. However, it is not yet clear whether it will also be a higher capacity battery.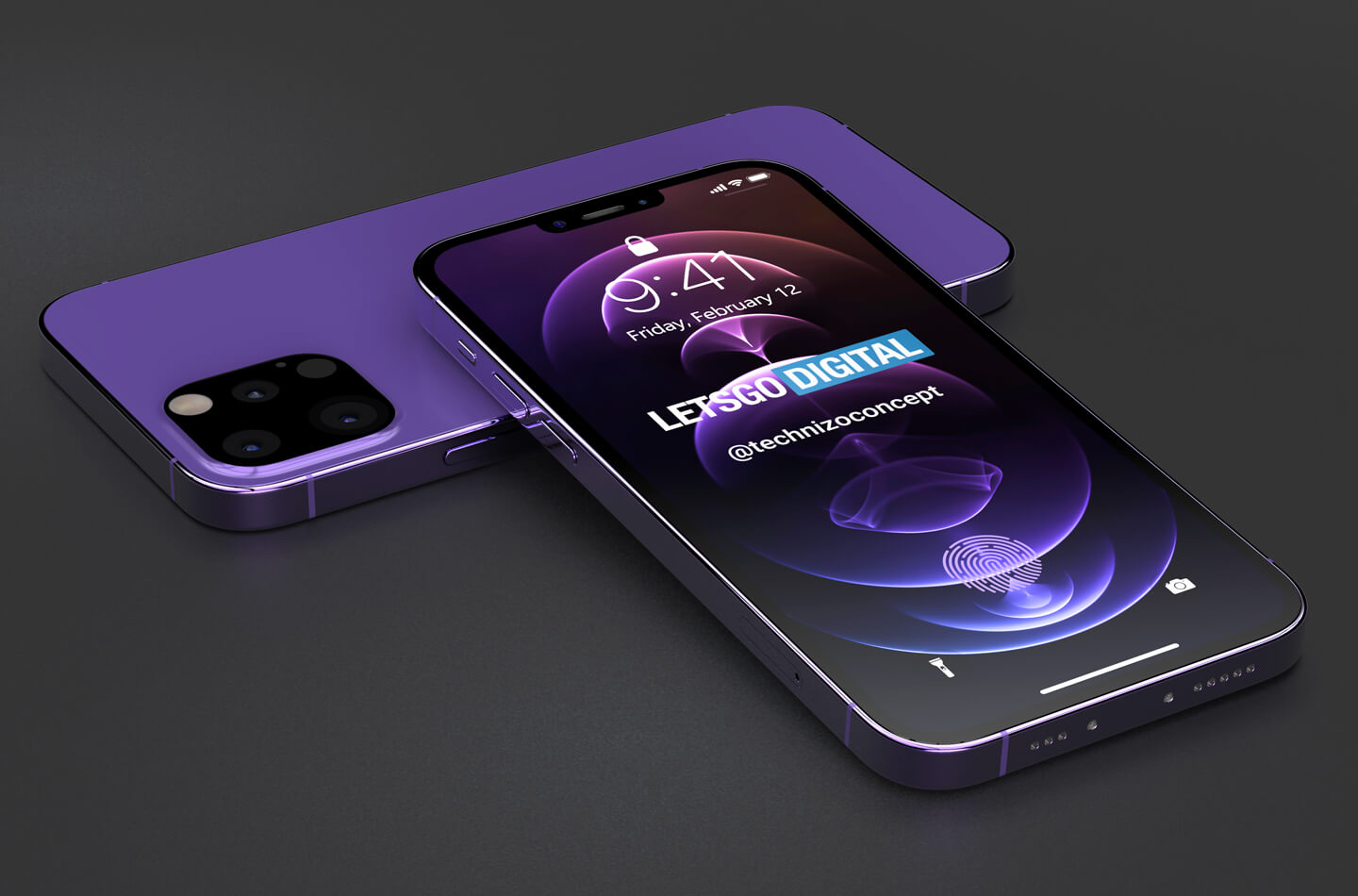 New colors and expected price & release
It is in line with expectations that the Apple iPhone 13 Pro will be available in a series of new color variants. Generally, a fairly dark color scheme is chosen for the Pro models compared to the standard models.
As for the price, the iPhone 12 Pro has a starting price of € 1,160 (6GB / 128GB), the Pro Max costs € 1,260 (6GB / 128GB). A year earlier, the iPhone Xs / Xs Max retailed at the same prices. Perhaps Apple will opt for a similar pricing in 2021 too.
Although the launch of the iPhone 12 series took place a month later than previous years, Apple appears to be planning for a September release in 2021. Presumably the devices will be announced mid-September, the official release will then take place at the end of September 2021.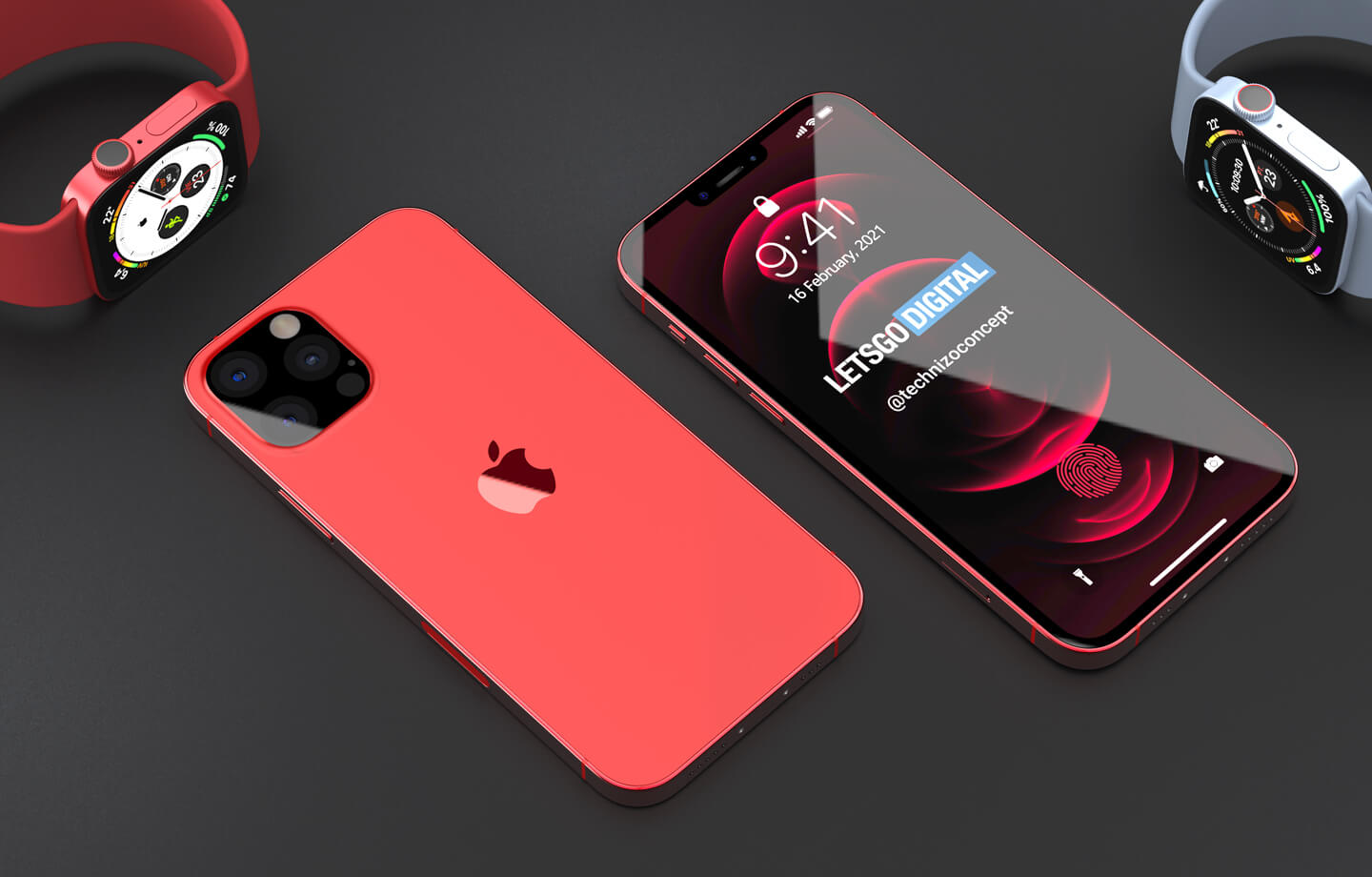 Apple Watch Series 7
In the second half of 2021, not only the new iPhone models are expected. Around the same period, Apple will also release the Watch Series 7, which is why Technizo Concept also portrayed this smartwatch. The above render shows a renewed design with straighter edges and a smaller bezel, as we also know from the iPhone 12 series.
It has long been rumored that Apple plans to equip its smartwatch with a glucose meter to measure blood sugar. It looks like this will be one of the new features of the Watch 7. An ideal function for people with diabetes.
Apple is committed to health features on its smartwatches. For example, blood oxygen measurement was added last year to the Watch 6 and an ECG meter has already been built in since the Watch 4. In addition, the Watch Series 7 will be equipped with numerous sleep tracking functions.
Furthermore, it is expected that the waterproofing will be improved too. Apple may also see an opportunity to equip the Watch 7 with a Touch ID fingerprint sensor. In the coming months, more will undoubtedly become known about the new Apple products for 2021.
Note to editors : The product images shown in this publication are created by Technizo Concept in collaboration with LetsGoDigital. The presented 3D renders are for illustrative purposes only. The images are copyright protected. Feel free to use these renders on your own website, please be so respectful to include a source link into your publication. This product is not yet for sale, Apple is expected to launch the iPhone 2021 series in September.