Two weeks ago LetsGoDigital showed a spectacular video animation made by Giuseppe Spinelli, aka Snoreyn, of a self-designed PlayStation 5 Spider-Man Miles Morales Limited Edition. His design hit like a bomb, his video became a big hit on YouTube with over 2 million views. In the meantime, Sony has officially announced that the PS5 will indeed be provided with detachable cover plates, so you can provide your console with a different skin or cover.
The Spider-Man Edition designed by Giuseppe had a 3D design. To realize such a skin, a 3D printer will be needed. But how would such a custom-made PS5 skin look like with a 2D design? This time the Italian graphic designer has gone to work with his favorite Marvel character: The Punisher.
Driven by the brutal murder of his family, Frank Castle, aka The Punisher, is a cruel law enforcement officer who goes beyond the law to crack down on criminals to stand up for the goodness of mankind. A fun fact; The Punishers made its debut in The Amazing Spider-Man in 1974.
The Punisher skin for PS5
Only one major video game has come out around The Punisher, for the Sony PS2. That game was developed by Volition (also known from Red Faction and Saints Row) and published by the Austrian ThQ (Toy Head-Quarters), in close collaboration with Marvel. By the way, this was not a PlayStation Exclusive, as the game also appeared for the Xbox and PC. Afterwards, computer game publisher ThQ went bankrupt and was taken over by Nordic Games, which has since been operating under the name ThQ Nordic.
For the PS3, a multi-player only game also announced, called 'The Punisher: No Mercy', but that game was significantly less successful. Yet the character seems to be extremely suitable to build a game on. So why not develop an all-new The Punisher game for PS5? Giuseppe has already designed an original and impressive PS5 skin, starring this popular Marvel character.
It goes without saying that Giuseppe has also incorporated the characteristic skull – the symbol of The Punisher – in his design. This revolting skull was designed by Giuseppe himself and, in combination with the black console, provides an extra bloody and repellent effect. As we have come to expect from the Italian designer, the DualSense controller has also been given a beautiful matching design.
Apart from many comic books and various films around The Punisher, two Netflix series of this Marvel character have also appeared over the years. The first series was launched in 2017, at the time Giuseppe was already able to show his incredible designer talent. Giuseppe made a huge fan poster for the first season of the Netflix TV show. This poster went viral on the internet. Even some actors, including Ben Barnes and Deborah Ann Woll, believed it was an official Netflix / Marvel poster and began retweeting Giuseppe's Tweet.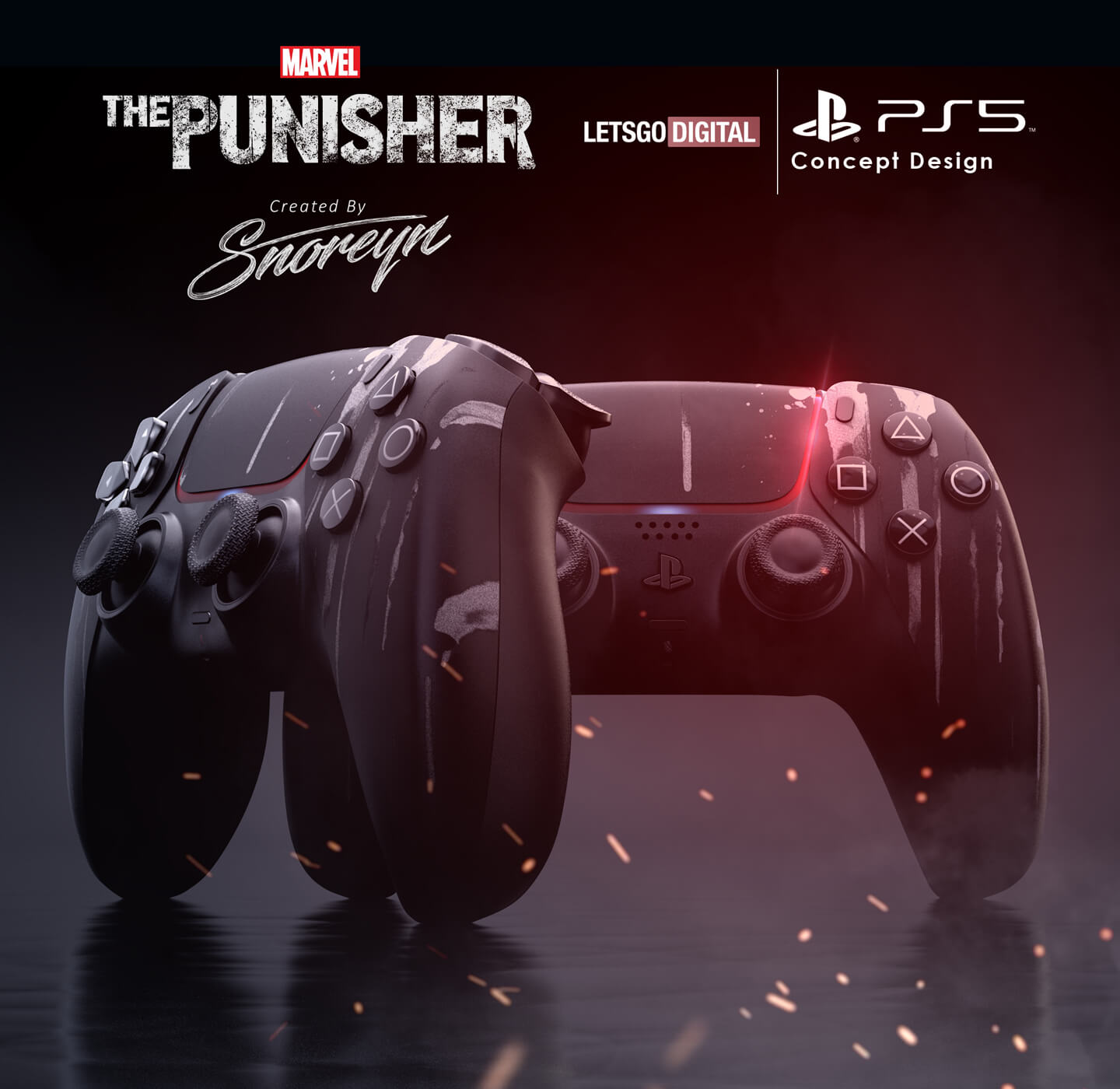 Interchangeable cover plates for the PlayStation 5
Since the PS2, Sony has always brought a black console to the market, this time however the Japanese manufacturer opted for a white game console. Some are very enthusiastic about the new design, but there are also a considerable number of gamers that would have preferred a different color scheme.
For them it is therefore a godsend that the cover of the PS5 is interchangeable. It is expected that many types of PS5 skins, covers and stickers will be released in the coming period, in order to give your console a personal touch. From cheap stickers to expensive 3D printed covers, in the coming years you will see all kinds of models and variations online.
It is the first time that Sony will release a PlayStation with interchangeable covers. Earlier, the Japanese concern already announced that the updated design of the PS5 is intended to better match the modern living room. By giving your console its own design, this feeling will be enhanced and you can transform your game console into a real showpiece in your living room.
Since it will probably take another 7 years before a PlayStation 6 or something similar appears, it is nice to be able to change the cover design in the meantime. The idea of ​​personal, customizable characteristics is also really something of our time. Nowadays we can organize everything according to our own interpretation and wishes on our smartphone, tablet, PC and other electronics devices.
Sony has not yet announced any official PS5 skins, possibly the manufacturer may choose to coincide with the release of new games. Sony did show the user interface of the PlayStation 5 for the first time last week. In addition to the Home Screen menu, the Control Center will be an important addition, to offer gamers additional control options during gaming and at the same time to stay connected with the online gaming community.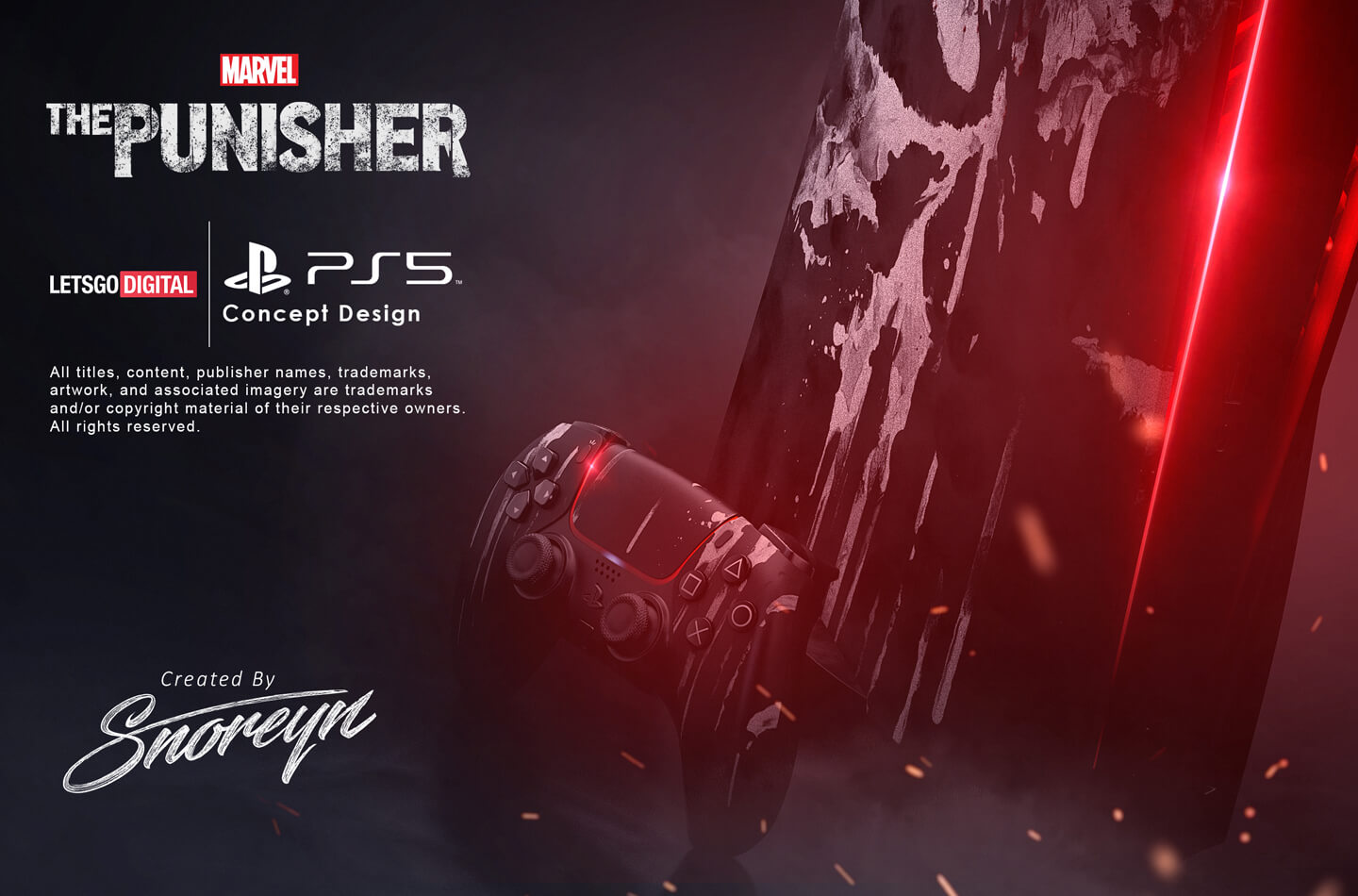 Note to editors : The product renders shown in this publication are made by in-house designer Giuseppe Spinelli (aka Snoreyn). The renders are for illustrative purposes only. This product is not for sale. The renders are copyright protected by LetsGoDigital. You can use this artwork for free, please be so kind to include a clickable link into your publication. Thank you very much for understanding.