Last month, LetsGoDigital, in collaboration with Italian 3D designer Giuseppe Spinelli (aka Snoreyn), designed a PS5 Spider-man Miles Morales Limited Edition console, which was showcased in a breathtaking YouTube video. The reactions to this video that has now been viewed more than 2.8 million times were overwhelming. Many also wondered where to buy this Limited Edition console.
To respond to all these positive and heartwarming reactions, LetsGoDigital has decided to actually produce the faceplates designed by Giuseppe, in limited edition. It contains the two side panels of the game console, which you can easily exchange.
Would you like to be one of the proud owners of this unique PS5 Spider-Man Miles Morales faceplate? That's possible, as LetsGoDigital organizes a Black Friday Giveaway!
This Giveaway is CLOSED now. All winners have been personally notified and will receive the delivery by the end of January 2021, we hope you will have a lot of fun with these PS5 face plates. Thank you all for joining the competition!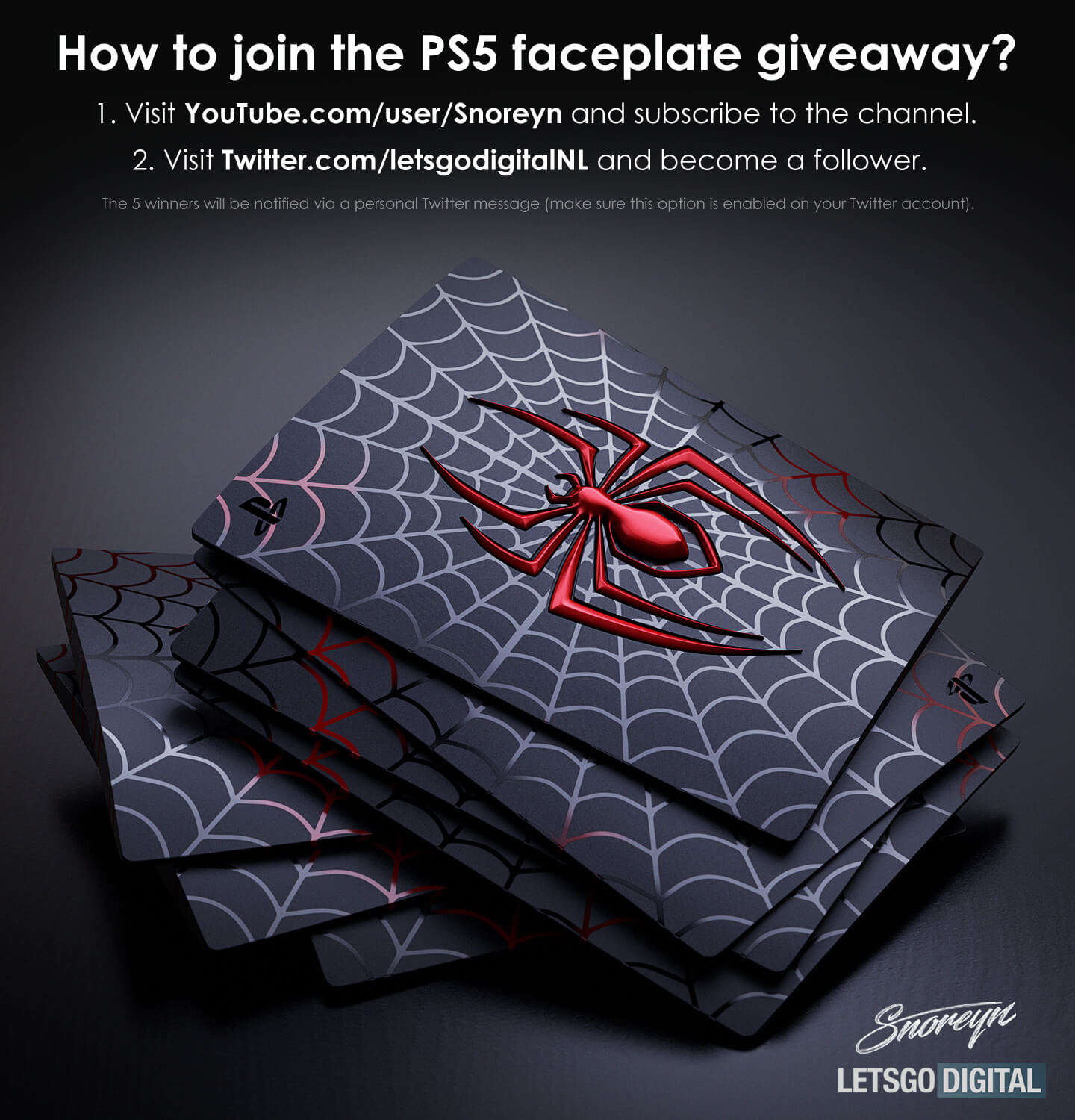 How to join the giveaway and receive a free PS5 faceplate
To participate in this giveaway, you must do the following before Saturday December 5th, 2020:
1. Subscribe to Snoreyn's YouTube channel (click 'Subscribe' in the upper right)
2. Follow LetsGoDigital NL on Twitter (click 'Follow' in the upper right)
Those of you who already follow both channels automatically enter the giveaway. 5 winners will be chosen – referring to the fifth generation of PlayStation; the Sony PS5.
It is an international giveaway in which everyone can participate once (no age limit). The winners are chosen randomly (maximum 1 per country) and will be personally notified.
Keep an eye on your Twitter account for this. Via a private message the 5 winners will be asked for their address details, after which we will send the custom-made PlayStation 5 faceplate free of charge. Please make sure this 'private message' option is enabled on your Twitter account.
Production PlayStation 5 faceplates
The 3D styled faceplates for the PS5 are currently in production. We first made a reverse mould of the original PS5 panels. The panels will be hand sprayed by an experienced airbrush artist.
The custom-made faceplates will be available by the end of January, 2021 and will be then delivered to the 5 winners of this Black Friday Giveaway.
Join the competition and win one of these 5 free PS5 Spider-Man Miles Morales faceplates, to give your new console a truly stunning design!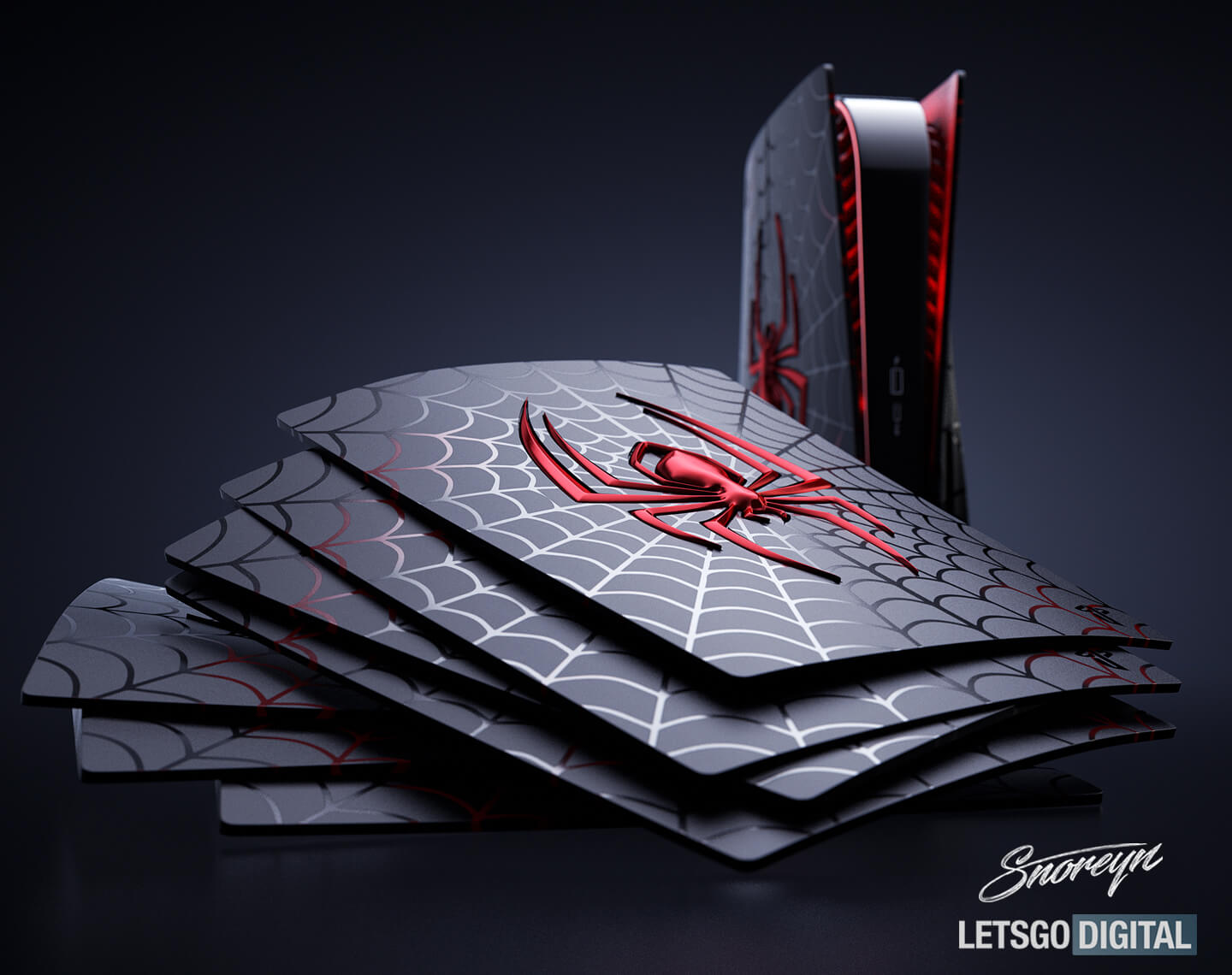 LetsGoDigital is aware Sony Interactive Entertainment does not allow any company to sell custom-made PS5 faceplates. Sony has threatened to take legal action towards various resellers of these types of products. Therefore, LetsGoDigital will not sell the faceplates. Only 7 copies will be produced, 2 of which will be used by the LetsGoDigital team and 5 will be given away through this PS5 Black Friday promotion.