In the past few months, most of the console news space was occupied by Sony's latest and greatest PlayStation 5 but there's another contender who will make the end of 2020 quite interesting indeed. The Xbox Series X from Microsoft will arrive with a bang at the same time as the PS5, surely not by coincidence. Last month Microsoft surprisingly showed the design of the Xbox X successor during The Game Awards.
The 4K teaser video showed the rectangular console set upright and we just couldn't abstain from making a comparison with a regular PC – not only because of the design but also in terms of performance. The actual size of the console remains a mystery although it's clear that Series X can be used horizontally, under a TV set for example.
To light up the flame of the console wars once again, Phil Spencer said that Xbox Series X will be the most powerful console on the market, when it comes out, of course. Somehow Microsoft is certain that their new entertainment system will beat the PlayStation 5 right out of the box. But let's delve into some details.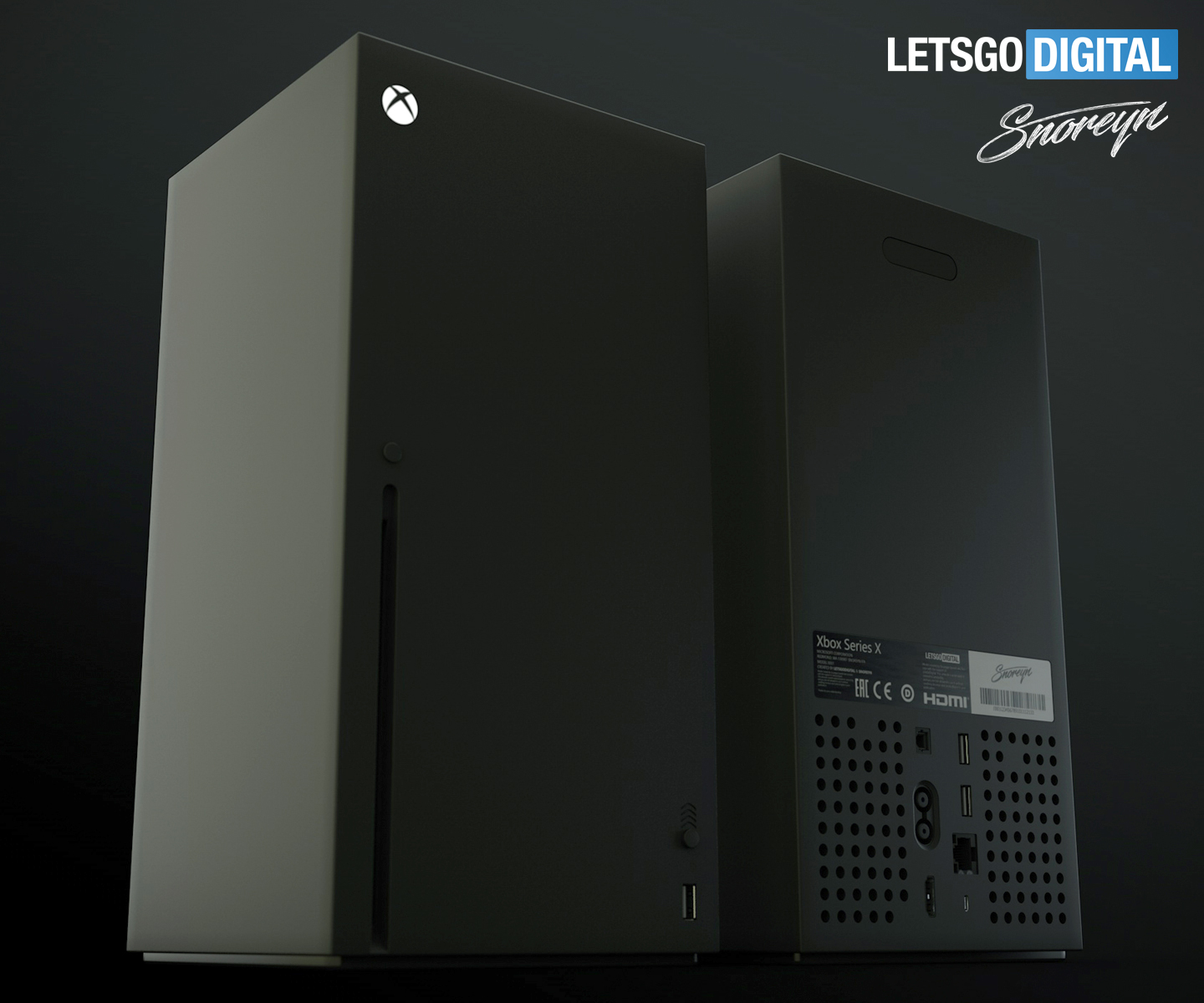 Ports and connectivity
Earlier this month AMD held a press conference at CES 2020 in which an Xbox Series X render was shown with a glimpse on the back of the console and there were, of course, some ports to be seen. Whether this info is legit remains unclear as AMD was quick to clarify that the render is "fan-made" and not representative of the final design
The US game site Thurrot asked for immediate clarification on the spot and it seems that various insiders painted a slightly different picture. The connectivity may change in the final product, but currently the new Xbox seem to sport two USB Type-A SuperSpeed ​​ports, an Ethernet connection, a single HDMI port, optical audio and a connection for the power supply.
All of the ports are placed at the bottom rear of the console with cooling vents around them and also on top to dissipate the heat, produced by the console. An additional USB-A port is placed on the front and it's quite surprising that Microsoft opted for this older interface and not the faster and up to date USB-C.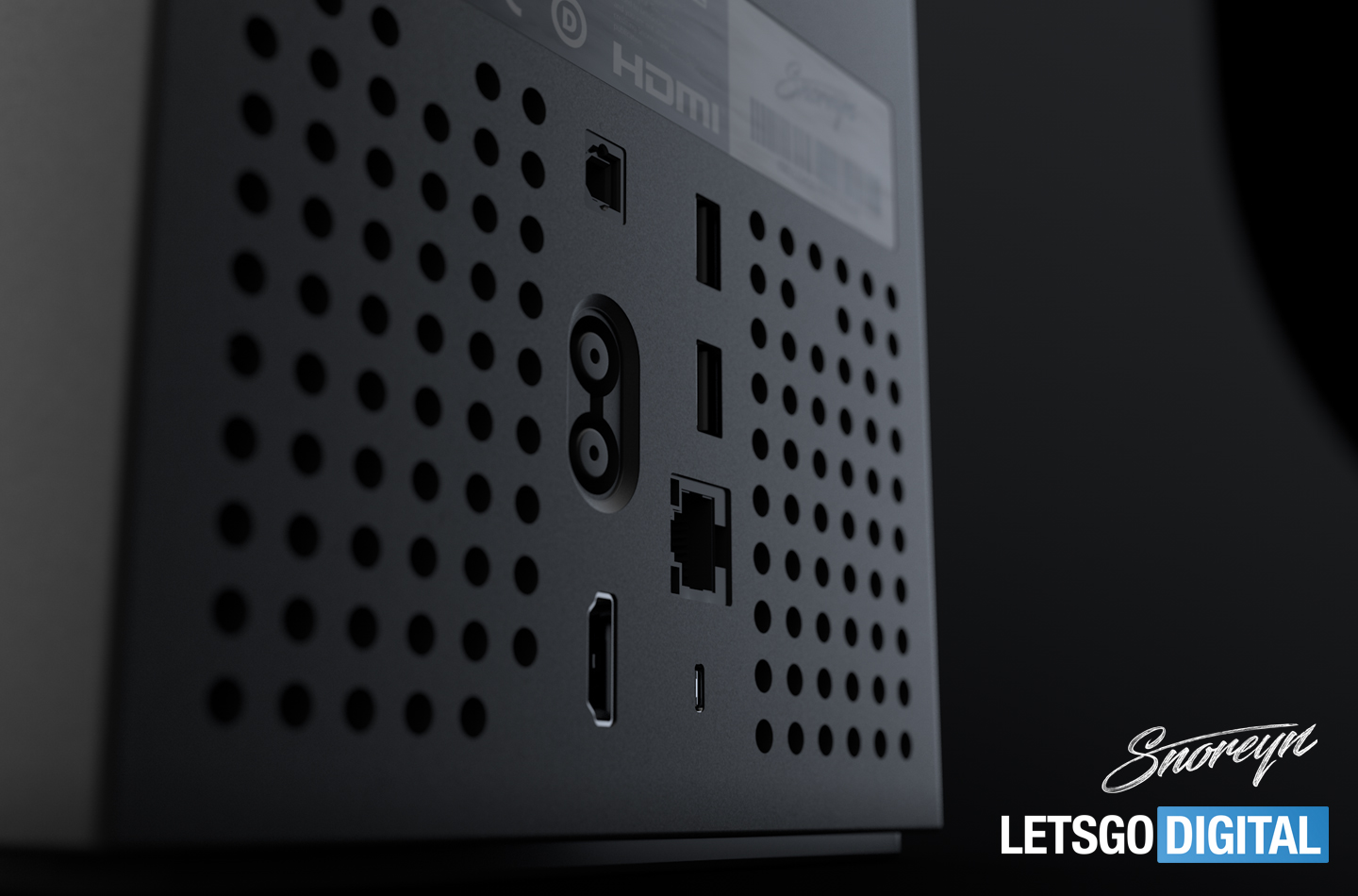 3D renders of the Xbox Series X console
The Italian designer Giuseppe Spinelli – aka Snoreyn – who recently joined the LetsGoDigital team, compiled all the information in a beautiful set of 3D renders and a video compilation. Snoreyn will put out more videos and 3D renders exclusively for us in the future, so be sure to subscribe to his YouTube channel.
I should note that two photos of the Xbox Series X were leaked earlier today, showing all the connections. Our renders were already in production at that time, meaning the location of some connectors differ slightly from the actual design of the prototype.
During The Game Awards, Microsoft gave us a glimpse into a new Xbox Wireless Controller for the upcoming Series X. The circular D-pad is redesigned and draws inspiration from the Elite Series 2 wireless controller introduced last year. A share button is also added for screenshots and easy sharing. One of the big news was that old controllers will work on the new console and the backward compatibility goes even further.
Xbox Series X specifications
The Xbox 2020 model will be backward compatible with all 4 previous generations. This shouldn't come as a surprise to anyone – Sony decided to go down that route with the PlayStation 5. Microsoft's new console will be 4x as powerful as the Xbox One X – which is currently still the most powerful game console in the world.
Series X will support 8K gaming with up to 120 frames per second and of course 4K at 60 fps for those of us who still haven't hopped on the 8K TV train. Just like the PlayStation 5, the Series X will support real-time hardware-accelerated ray tracing, courtesy of a custom-made AMD platform – presumably a Zen-2 CPU and Radeon Navi GPU with GDDR6 memory and 12 teraflops computational power. Storage will be an SSD again in line with the PS5 specs but loading times and capacity are still unknown.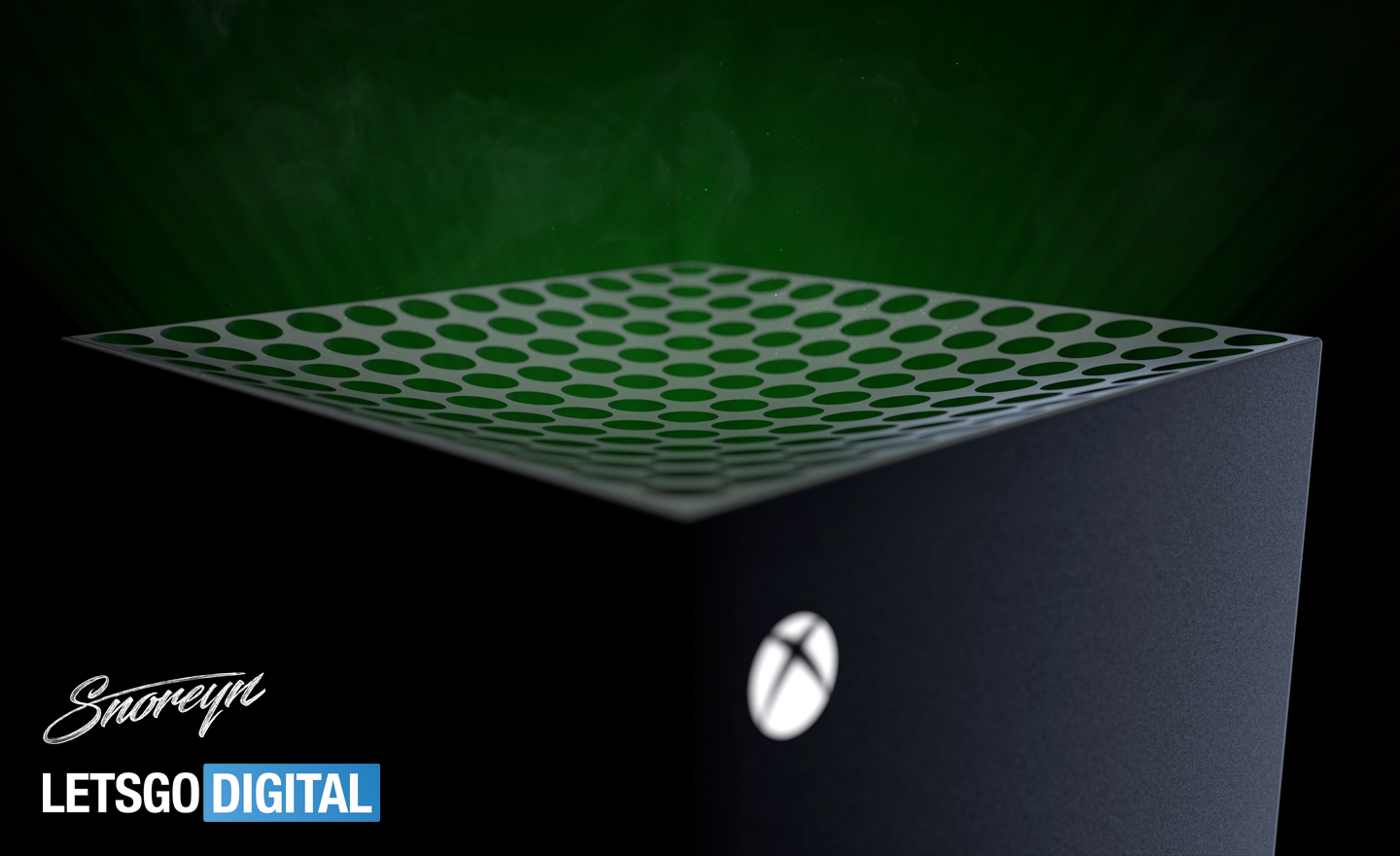 New 8K game titles
Even the best hardware in the world is just an empty husk without content and Microsoft is well aware. Several new game titles will launch with the console – Halo: Infinite and Senua's Sage: Hellblade II among them. We also got a trailer for the latter and it looks stunning.
Series X will have more tricks in its sleeve – one of them being the rumored Windows mode. It will allow players to switch between the console's own operating system and Windows 10. This mode – if it actually comes to the Series X – will not only allow for Steam and Epic support but can for all practical purposes convert the console into a PC. If this turns out to be the case, Microsoft will be making a bold move – one that may define the future of all consoles.
Making PC games available for the Series X will indirectly give access to PlayStation exclusives. Many PS-only titles found their way to PC short after release – Detroit: Become Human, Final Fantasy XV got a PC release and even Horizon Zero Dawn may see one soon.
Cross-play functionality is becoming a thing and is already present in some multiplayer titles. Xbox Play Anywhere, on the other hand, allows Xbox titles to be playable on a Windows PC and Microsoft may just want to turn around thigs this time and give the console players the opportunity to play PC games.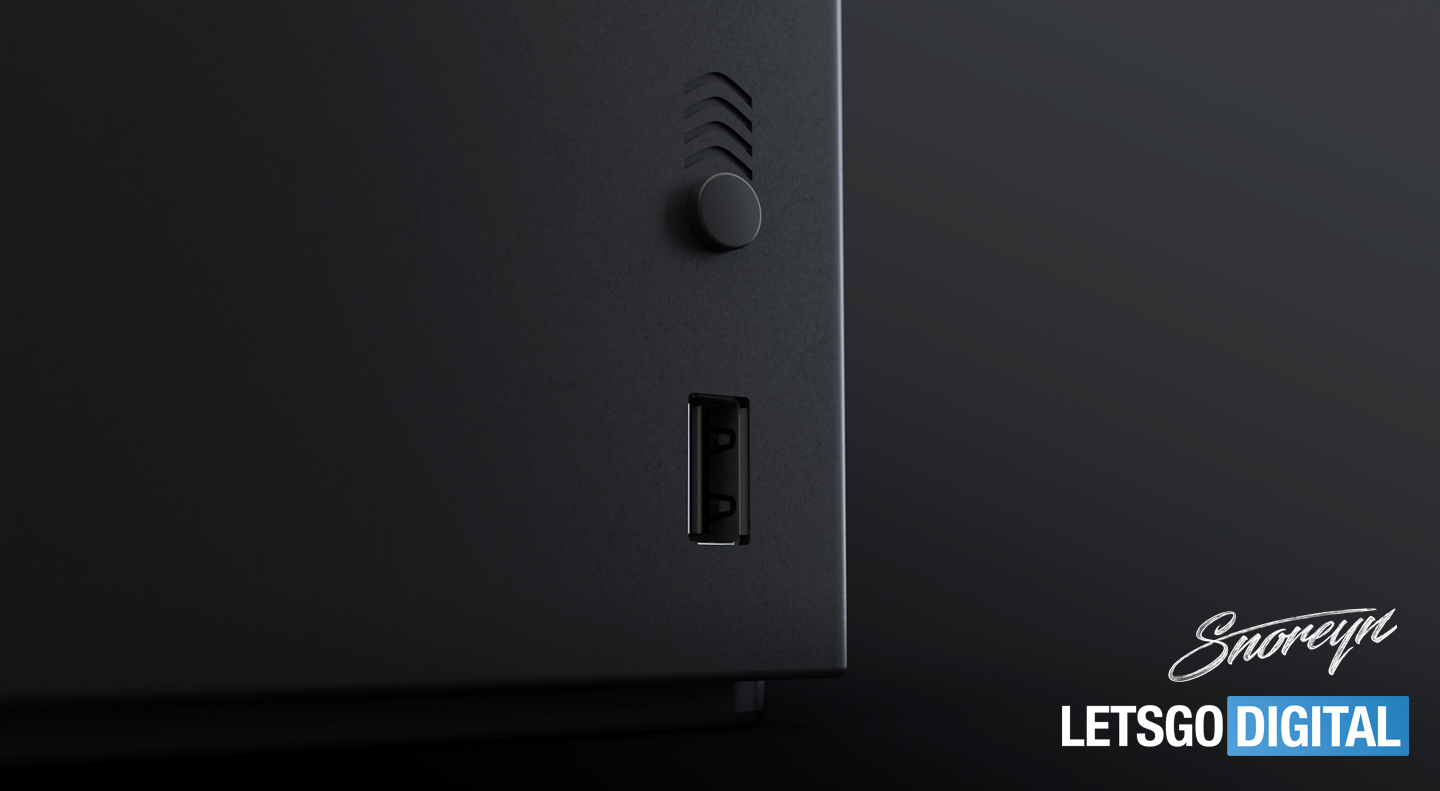 Xbox Series S
It seems Microsoft is working on a second model – a successor of the One S console. It will be a trimmed-down, more affordable version, most likely called Series S. This model probably will follow the Xbox One S All Digital Edition and omit the optical drive from the console altogether. Whether this model will be released simultaneously with the Series X and get a similar design remains unclear. What is certain is that Microsoft is keeping the trend of offering two different models with this release as well.
Microsoft Xbox Series X price and availability
The official unveiling is likely to take place in June, during E3 2020. Last year, new details emerged at the Electronic Entertainment Expo event, although at the time the 8K console was still known as Project Scarlett. We got a somewhat firm release date – December 2020, but it's not clear if the console will be available globally or just in the US and worldwide release will follow.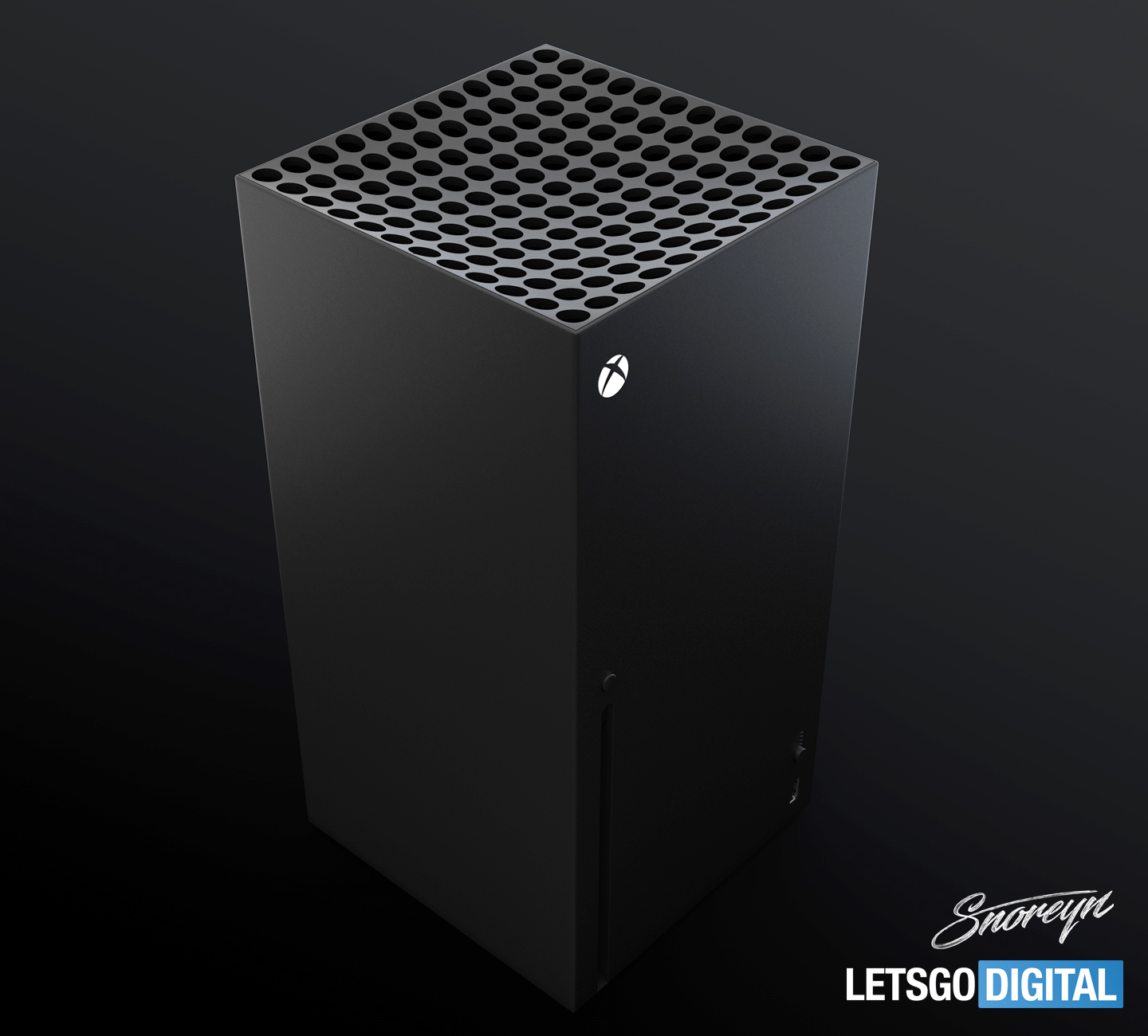 Price is the other big mystery. The Xbox One X got a pretty hefty suggested retail price of € 500 back in 2017. Considering all new functionalities and more powerful hardware of Series X we can't expect a lower price. More so if Microsoft decides to go ahead with the "console and PC in one" plan.
Although you can now pre-order the PS5 from various online stores, Microsoft is not giving that option for the Series X console at least for now. We'll have to wait for the official unveiling at E3 2020 to get more details and to see if a pre-order option will be made available.
Perhaps the Xbox All Access subscription will also be available in more countries by that time. This service initially launched in the US and offered a 2-year contract plan with monthly installments for the Xbox console, Xbox Gold and Xbox Game Pass. In June 2019, LetsGoDigital already reported that Xbox All Access will come to Europe. Four months later  All Access became available in the UK and Australia. If Microsoft decides to make it available in more European countries it'll allow more people to get the Xbox Series X despite its steeper price.
Note to editors: The 3D renders presented in this publication are copyright protected and designed by Giuseppe Spinelli (aka Snoreyn) and licensed to LetsGoDigital. Snoreyn is a professional Italian graphic designer who creates state-of-the-art 3D visualizations. You can use his artwork for free, as long as you include a clickable source link into your story. The video script can be extracted from YouTube. It is forbidden to copy the movie on your own channel / server. Thank you very much for understanding.