Samsung has launched several foldable smartphones, such as the Galaxy Z Flip and Galaxy Z Fold 2. All folding phones currently available have one thing in common; they can be folded once. Nevertheless, it is obvious that eventually smartphones will also be introduced with a dual folding flexible display. A good example of this was already shown at the beginning of last year, when Xiaomi demonstrated its first foldable smartphone.
It is known Samsung is also working on such models. Recently LetsGoDigital reported on a Galaxy Z Dual Fold smartphone. With this model, the lower screen part could be used as a virtual keyboard.
Newly found documentation shows that Samsung also considers to develop a foldable smartphone with a sliding keyboard. For convenience we call this device the Galaxy Z Fold3.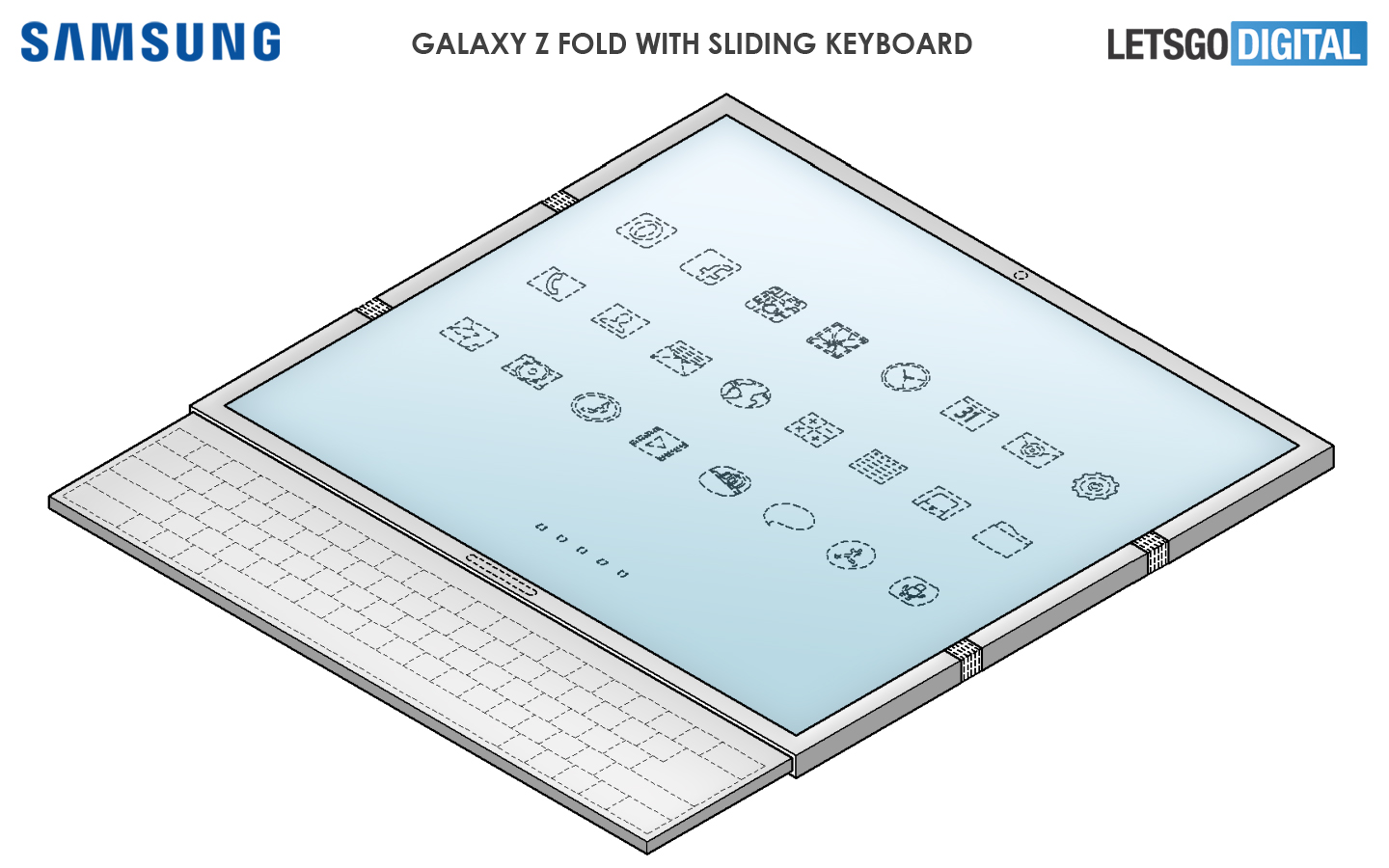 Samsung Galaxy Z Fold with double hinge and 3 screen parts
In mid-2018, Samsung Display filed a design patent with the KIPO (Korean Intellectual Property Office). The documentation was kept confidential until 17 July 2020 and contains, in addition to a brief description, eight clear product sketches.
It is a dual folding smartphone, which is remarkably slim when folded. In order to better visualize the design patented by Samsung, LetsGoDigital has made a series of 3D product renders in collaboration with industrial designer Sarang Sheth. Sarang is editor-in-chief at Yanko Design, a respected online magazine about modern, industrial designs.
As the patent has been applied for by Samsung Display, certain design features remain underexposed. In order to fully design the product, Sarang used the current top models from Samsung as a base. For example the color scheme and the camera system are derived from Samsung's latest folding phone; the Galaxy Z Fold2.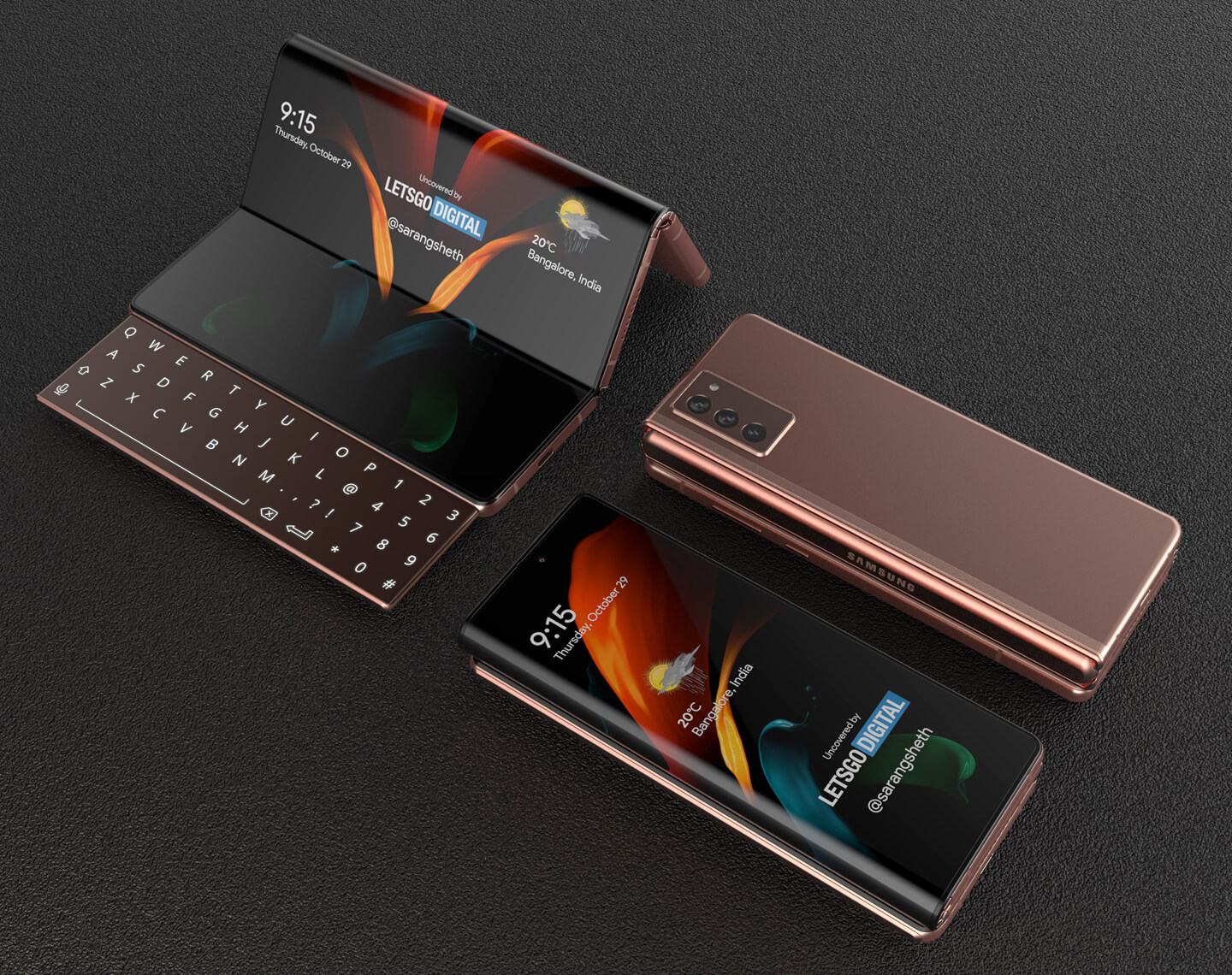 The device can be folded twice thanks to the use of a double hinge. The flexible display consists of 3 equal display parts. Folded, you have a sleek, compact phone while unfolded, you have a large tablet-sized display.
Part of the screen can always be used, even when folded. Notifications and incoming messages and calls can be displayed on this. This screen part is also large enough to reply directly to a WhatsApp message or to browse through your phone book to find a contact.
As a part of the screen always remains visible -even when you carry the phone with you- the risk of screen damage is greater. Although Samsung uses UTG (Ultra Thin Glass) for the Z Fold and Z Flip, the screen protector placed over it is significantly less scratch-resistant. Hopefully, a solid solution will be sought for this before Samsung decides to release a phone with a (partially) outwardly folding display.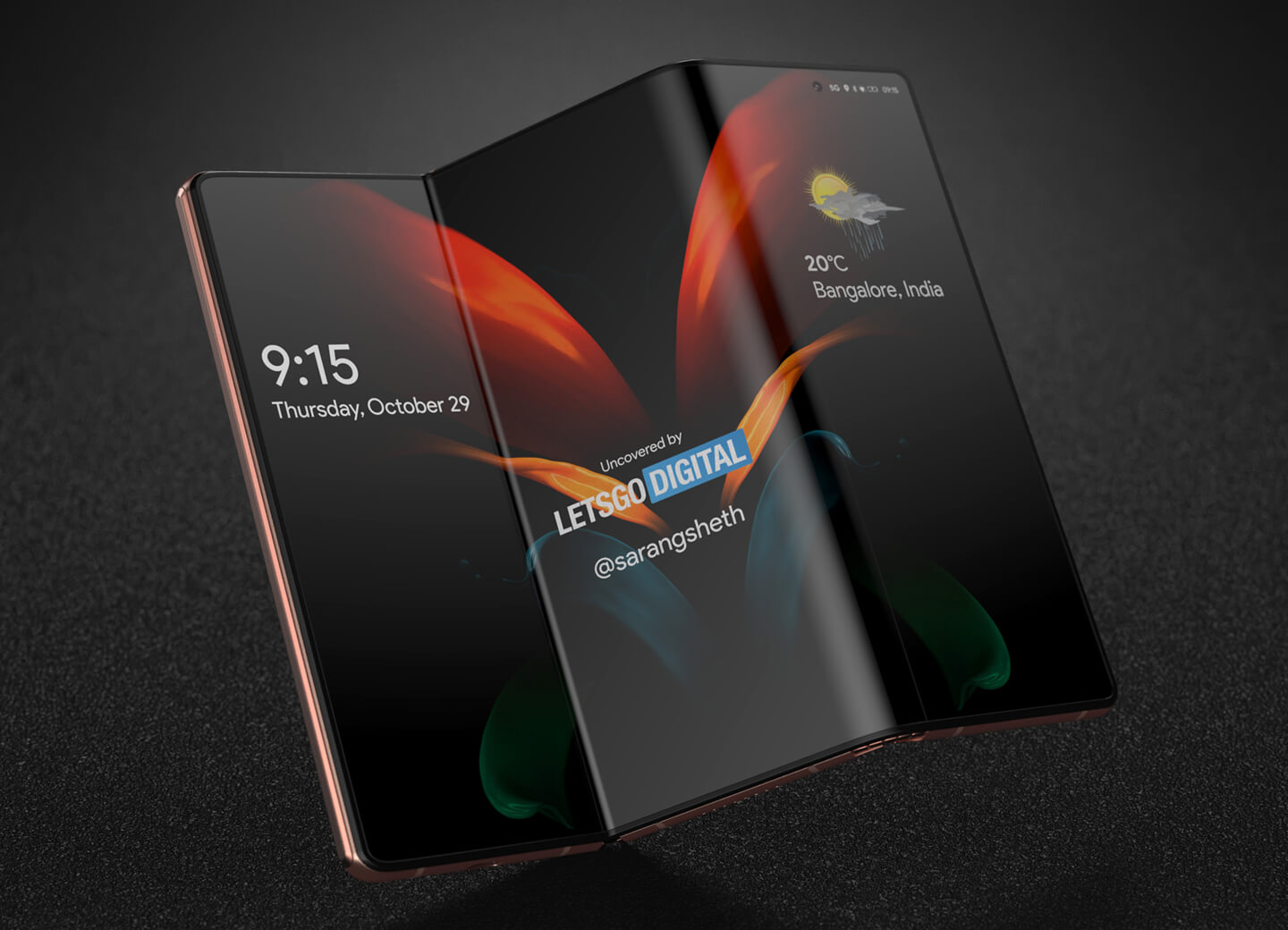 The hinge ensures that you can close the phone completely, without visible seams. This makes this phone extremely compact to carry with you. It also reduces the chance that dust particles and dirt can enter, which will have a negative effect on the operation of the device.
Samsung may also see an opportunity to integrate the unique 'sweeper technology' that made its debut in the hide-away hinge of the Galaxy Z Fold 2. Extensive durability testing has shown that this technology, which is based on the bristles of a vacuum cleaner system, works very well in practice.
Thanks to the dual hinge, multiple folding positions are made possible, allowing you to place and use the phone in different ways. The user interface will change automatically depending on how you use the device. Several of these operating options are well reflected in the 3D renders made by Sarang.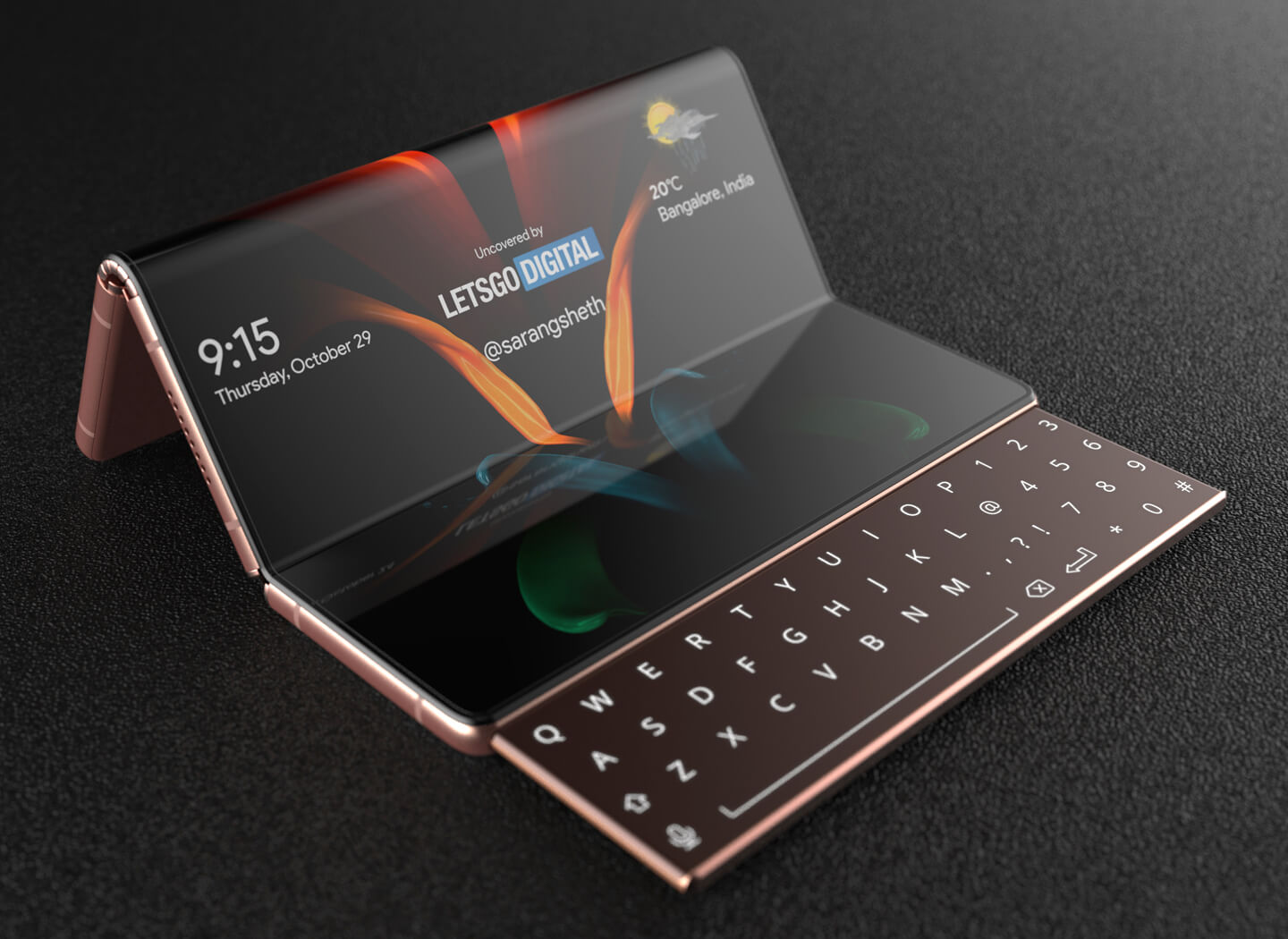 Samsung foldable smartphone with sliding keyboard
To further enhance the user experience and possibilities, this Samsung foldable smartphone is equipped with a keyboard. It is a sliding keyboard that can be slid out of the housing. The keyboard has the same size as one display part.
By integrating such a large keyboard, you can type significantly better and faster, making it an extra versatile device on which you can work productively. This way you have a phone, tablet and compact laptop in one. Even the Samsung Galaxy Tab S7 Plus doesn't have such a keyboard – unless you include the $230 Book Cover Keyboard accessory.
As it is a sliding keyboard, you can continue to use it, regardless of how the device is folded. This way you can even use the keyboard when using the phone in its most compact form. Probably some sort of locking mechanism will be built in, which prevents the keyboard and/or phone from unintentionally being unfolded.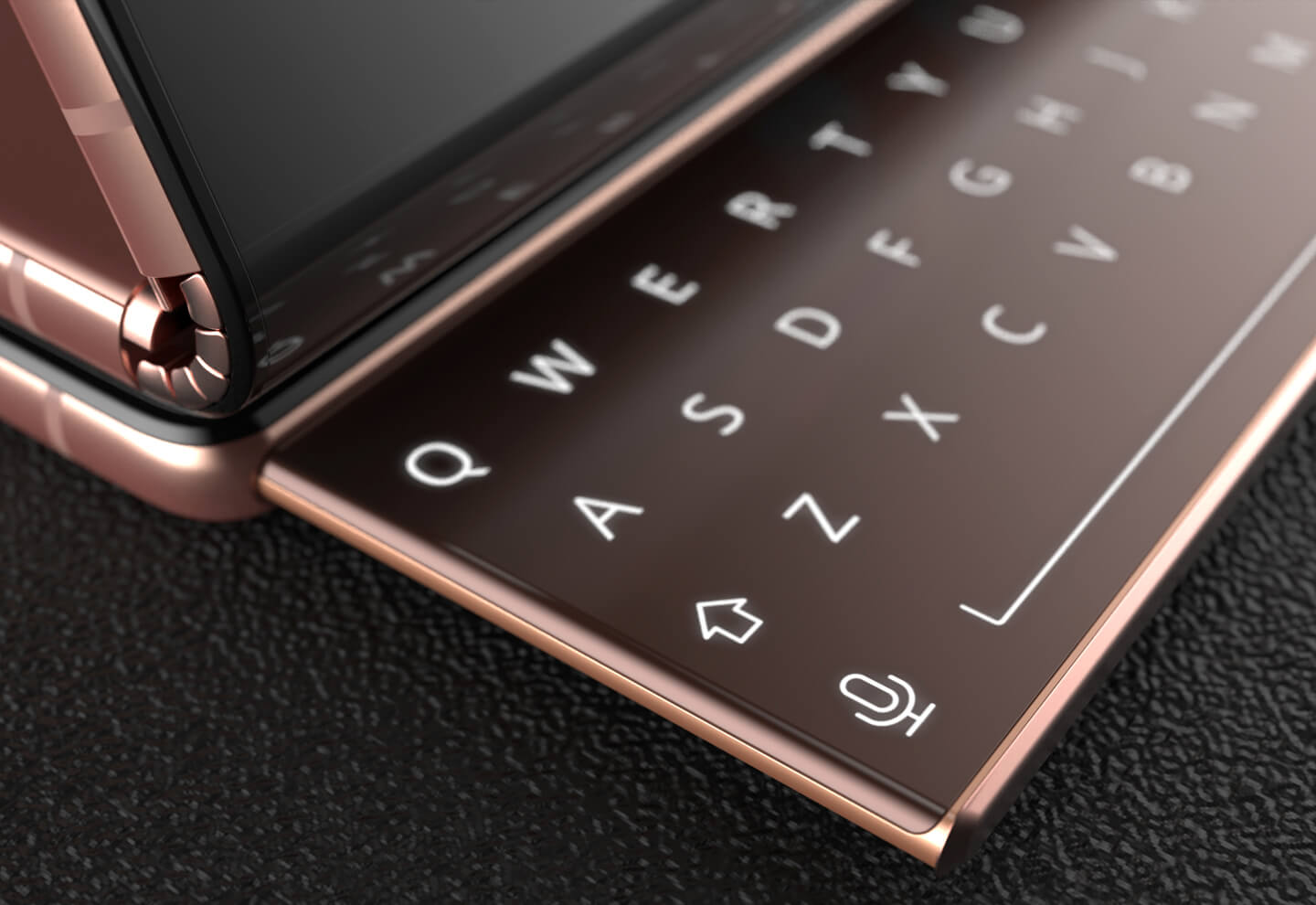 Unfortunately nothing is known about the camera system of this unique Samsung foldable phone. Nevertheless, you can assume that if Samsung wants to release this Galaxy Z Fold3, a high-quality camera will be built in. After all, this is clearly a high-end phone that will undoubtedly come with a hefty price tag, so potential users will expect the best of the best – in all fields.
For example, the Samsung Galaxy Z Fold2 is equipped with 5 cameras in total. The cover screen gives you access to a 10MP hole-punch selfie camera – similar to that of the Galaxy Note 20 Ultra. On the back a triple camera is built-in, this system includes three 12MP cameras with a wide angle, ultra-wide angle and a telephoto lens.
The patented smartphone is slimmer than most contemporary devices, but it will be significant thicker too. After all, you do not fold two, but three display parts on top of each other, which will create a significant difference in thickness. The question remains whether you can still put this phone in your pocket or breast pocket. In a handbag it will of course not be a problem, but the thickness will probably be at the expense of portability.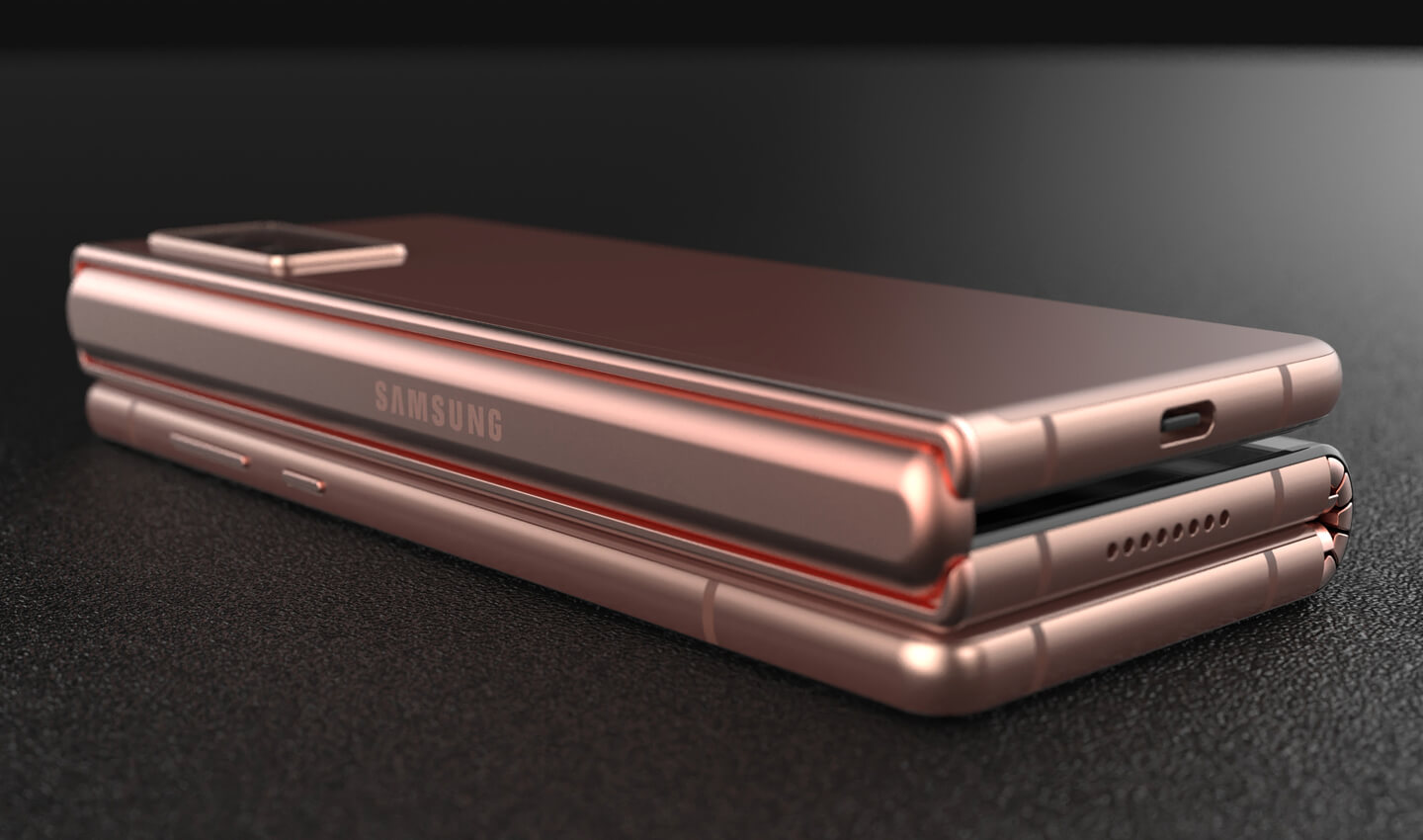 The difference between mobile phones and laptops get smaller
Samsung places its foldable smartphones within the Galaxy Z series. Two types of models are available to date. The Flip has a clamshell design with a horizontally folding display, while the Fold unfolds into a tablet with a vertically folding screen.
Thanks to the use of a flexible screen, you can expect more different types of foldable smartphones in the coming years, as well as other type of foldable and bendable electronic devices. At the beginning of this year the first foldable laptops with a flexible screen were shown by Dell and Intel, among others. In the mean time, the first foldable laptop has already been put to market, the Lenovo ThinkPad X1 Fold has a flexible display and comes without physical keyboard.
The flexible display will further narrow the difference between smartphones, tablets and laptops. As a result, both smartphone and computer manufacturers are keen to taking advantage of this new trend at an early stage. It is therefore certainly not inconceivable that we can also expect a Samsung smartphone with a sliding keyboard in the future.
Samsung has already gained the necessary experience in the development and production of smartphones, tablets, 2-in-1 PCs, Chromebooks and laptops. By combining this knowledge, an excellent user experience can be created, which would make such a device extra multifunctional and versatile. Consider, for example, Samsung DeX, to easily switch between a mobile and a desktop environment. Or Multi Active Window, which allows users to use multiple apps side by side.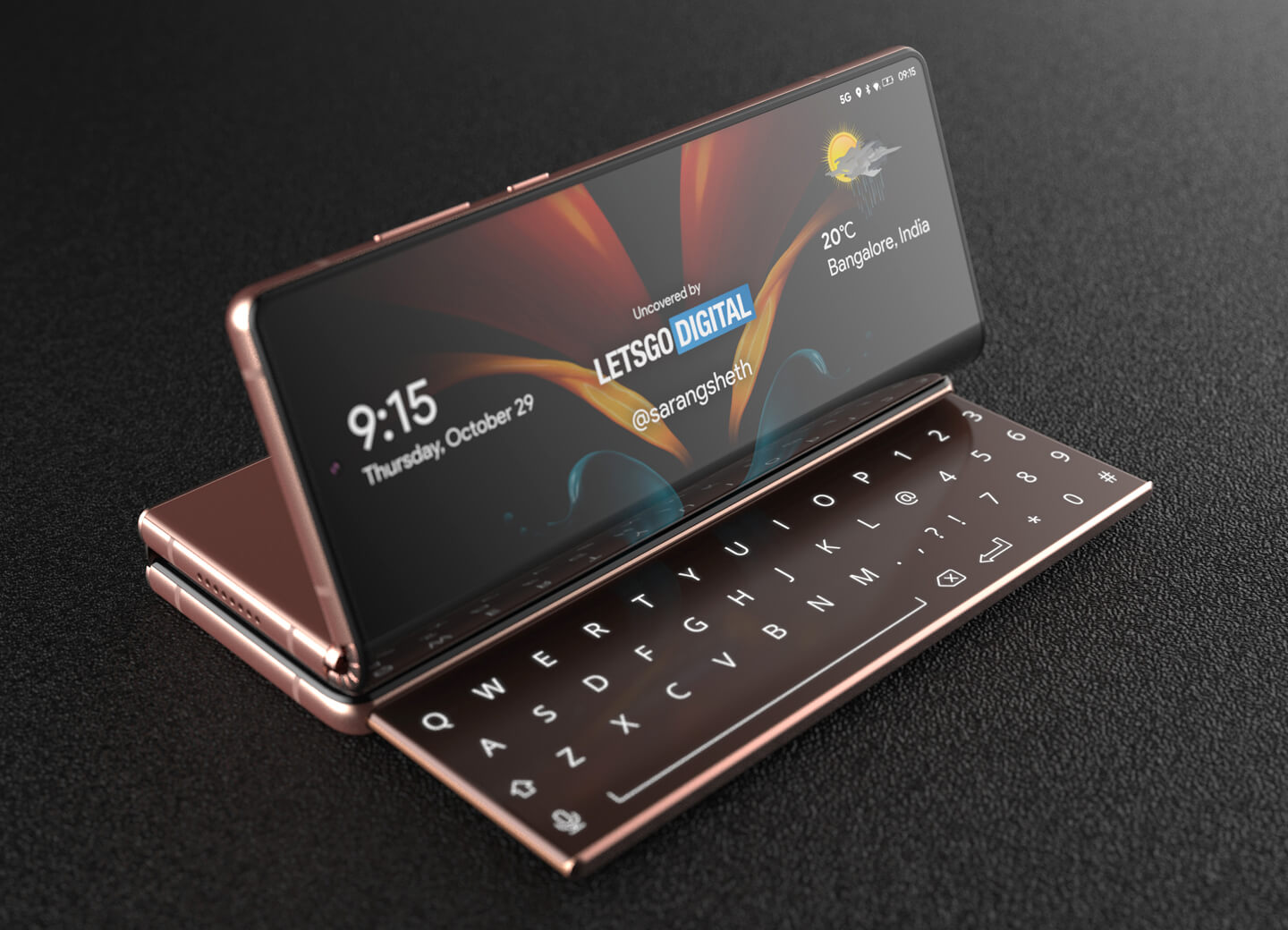 Samsung Galaxy Z Fold3 5G folding phone
Samsung will probably announce the successor to the Galaxy Z Fold 2 around August 2021. The Galaxy Z Fold 3 may be Samsung's first foldable smartphone with a stylus pen on board. The Galaxy Note series has of course been praised for the S Pen for years.
It has been discussed online for some time that Samsung wants to make its stylus compatible with flexible displays as well. Especially with a large format screen – such as that of a foldable smartphone – a stylus would offer a true added value.
Possibly the Galaxy Z Fold 3 will also be feature a light indicator on the hideaway hinge, as the company was granted a patent for earlier this month.
Next year, various smartphones will also be introduced with an under-screen camera. The first mobile phone with a camera under the screen has already been introduced, the ZTE Axon 20 5G. Some believe that Samsung also wants to apply this new camera technology to the Galaxy Z Fold3 next year. By implementing an under-display camera, a full-screen design can be created – without cuts or holes in the screen.
Where the Z Fold was provided with a large notch, the Z Fold2 got a more streamlined design thanks to the use of a hole-punch camera. If Samsung is indeed one of the manufacturers that will release a phone with an under-screen camera next year, then it is certainly not inconceivable that this technology will also be applied to foldable models in the near future.
Here you can view the documentation of the Samsung foldable smartphone with sliding keyboard.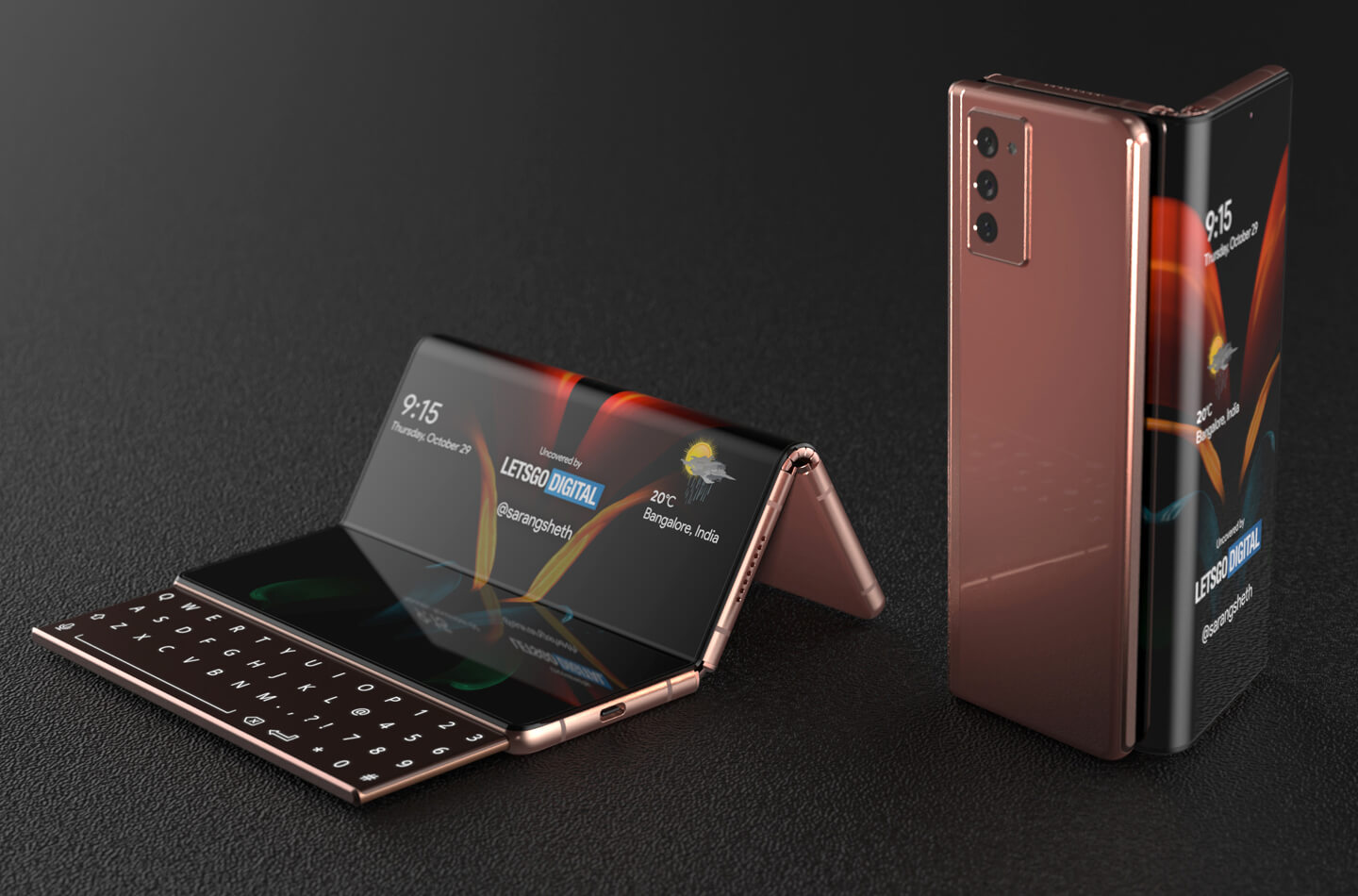 Note to editors: The 3D product renders presented in this article are made in collaboration with Sarang Sheth, Industrial Designer and Editor-in-Chief at Yanko Design. The design is based on the patent images of Samsung Display. The images are for illustrative purposes only, this product is not for sale. If you want to use one of these product renders on your own site, please include a clickable source link into your publication. Thank you very much.