In a short time, Samsung has managed to profile itself as the market leader within the new market segment of foldable smartphones. Samsung is the only manufacturer that managed to release two completely different types of folding phones: the Galaxy Z Flip has a clamshell design, while the Galaxy Z Fold 2 folds out into a tablet. In the background, the Korean manufacturer has been experimenting with numerous different types of foldable designs for some time now.
So far, Samsung has only released foldable smartphones with an inward foldable display. Nevertheless, the Korean manufacturer is also investigating the possibilities for an outward folding display – such as the Huawei Mate X. Or maybe I should say, such as the Xiaomi foldable smartphone that was shown at the beginning of 2019, because this time we are talking about a dual folding smartphone. That is why we dubbed this device the "Samsung Galaxy Z Dual Fold".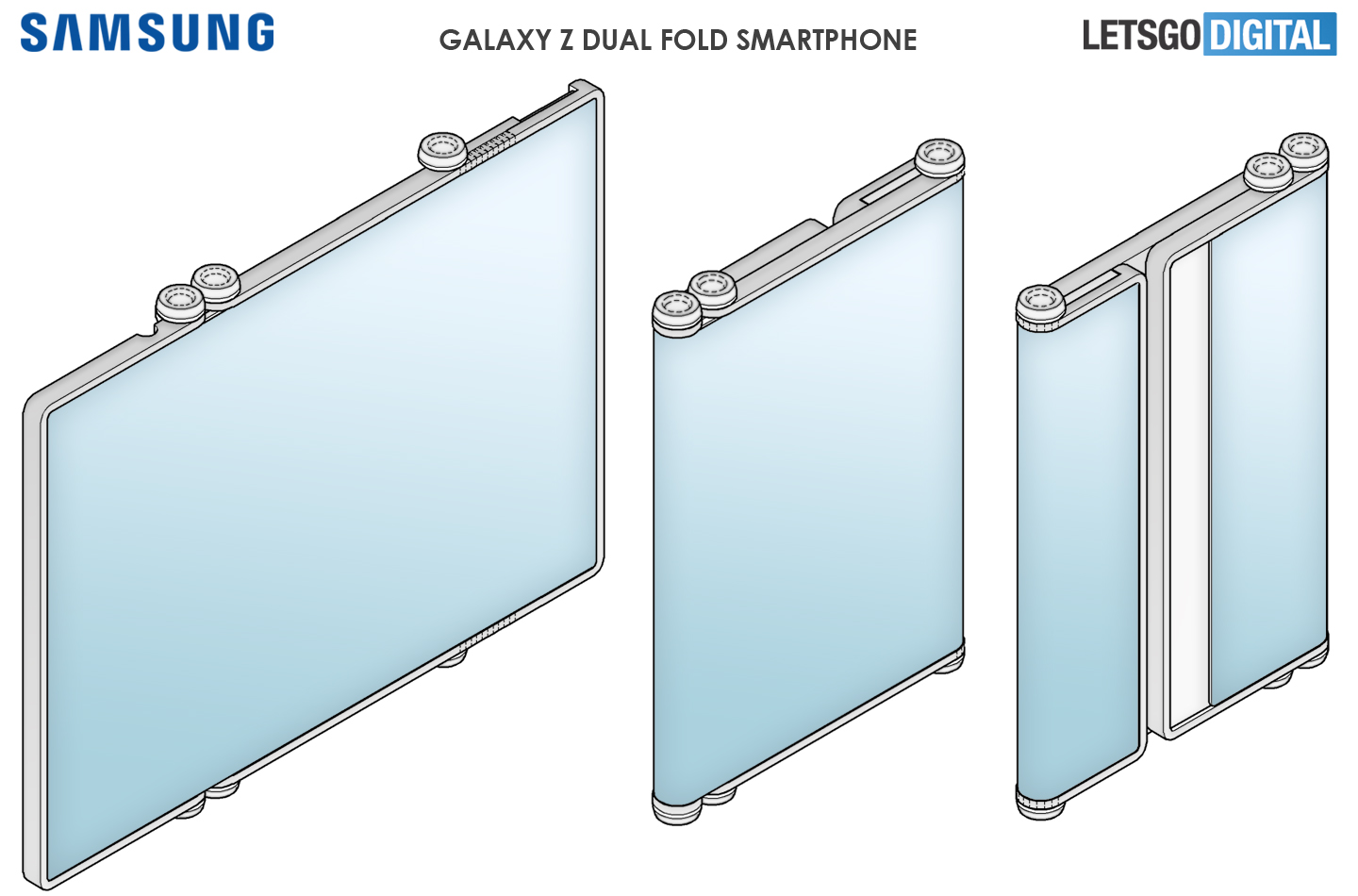 Samsung Galaxy Z Dual Fold
Samsung Display applied for a patent that was published by the KIPO (Korean Intellectual Property Office) on October 6, 2020. The application dates from September 2018 – even before Xiaomi showed their dual foldable smartphone.
The patented Samsung smartphone has an outward folding display. You can fold both the left and right side of the screen to the back. When folded, you keep a relatively short, wide device at your disposal. As soon as you unfold the smartphone completely, an extra wide display is created, whereby the screen surface is increased by approximately 85%.
To better visualize this unique Samsung foldable smartphone, in-house 3D graphic designer Giuseppe Spinelli, aka Snoreyn, made a set of product renders based on the patent images from Samsung Display. The 3D renders are for illustrative purposes only. Earlier this year, Giuseppe also presented an impressive concept video of the Galaxy Z Flip and for the PlayStation 5, the Italian designer has also created several high-profile video animations.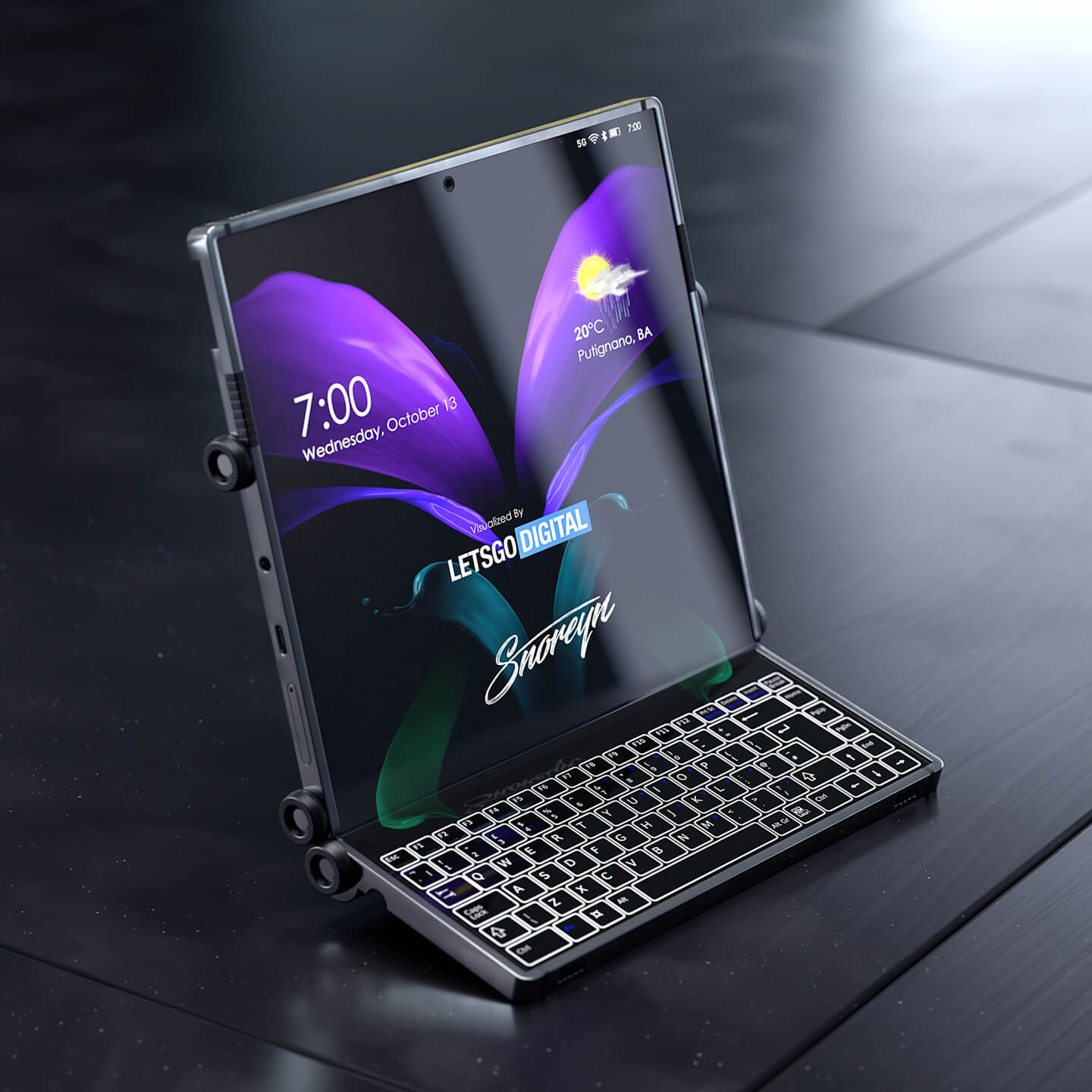 The patent was filed by Samsung Display, not Samsung Electronics. As a result, certain parts remain underexposed. For example, no cameras, speakers and control buttons are visible on the patent images. Therefore we have incorporated these missing components based on the current foldable smartphones from Samsung. For example, the phone has a hole-punch selfie camera and we also added a volume button, an on / off button and a SIM compartment. For the audio enthusiast, a 3.5mm connection has also been incorporated into the design, as well as stereo speakers and a USB-C connection.
Samsung foldable phone with kickstand
The idea of ​​a dual foldable smartphone is not new of course. A working Xiaomi foldable smartphone with a similar design was already demonstrated at the beginning of 2019. Nevertheless, there are a number of notable differences.
To start with the hinge, this Samsung phone has a completely different hinge, which also protrudes slightly from the housing. This makes the smartphone look less futuristic than the one from Xiaomi, but it does bring new operating options. Samsung seems to see an opportunity to use the double hinge to fix the device at a certain angle.
Once fixed the bottom screen part can be used as a keyboard or for displaying operating elements, while the top, and also the largest screen part, is used for displaying the content. Of course, Samsung has already rolled out such a concept with the Flex mode on the Galaxy Z Fold 2. However, as this device can be folded twice, an even larger display surface is created, which will make the advantages of this be more noticeable.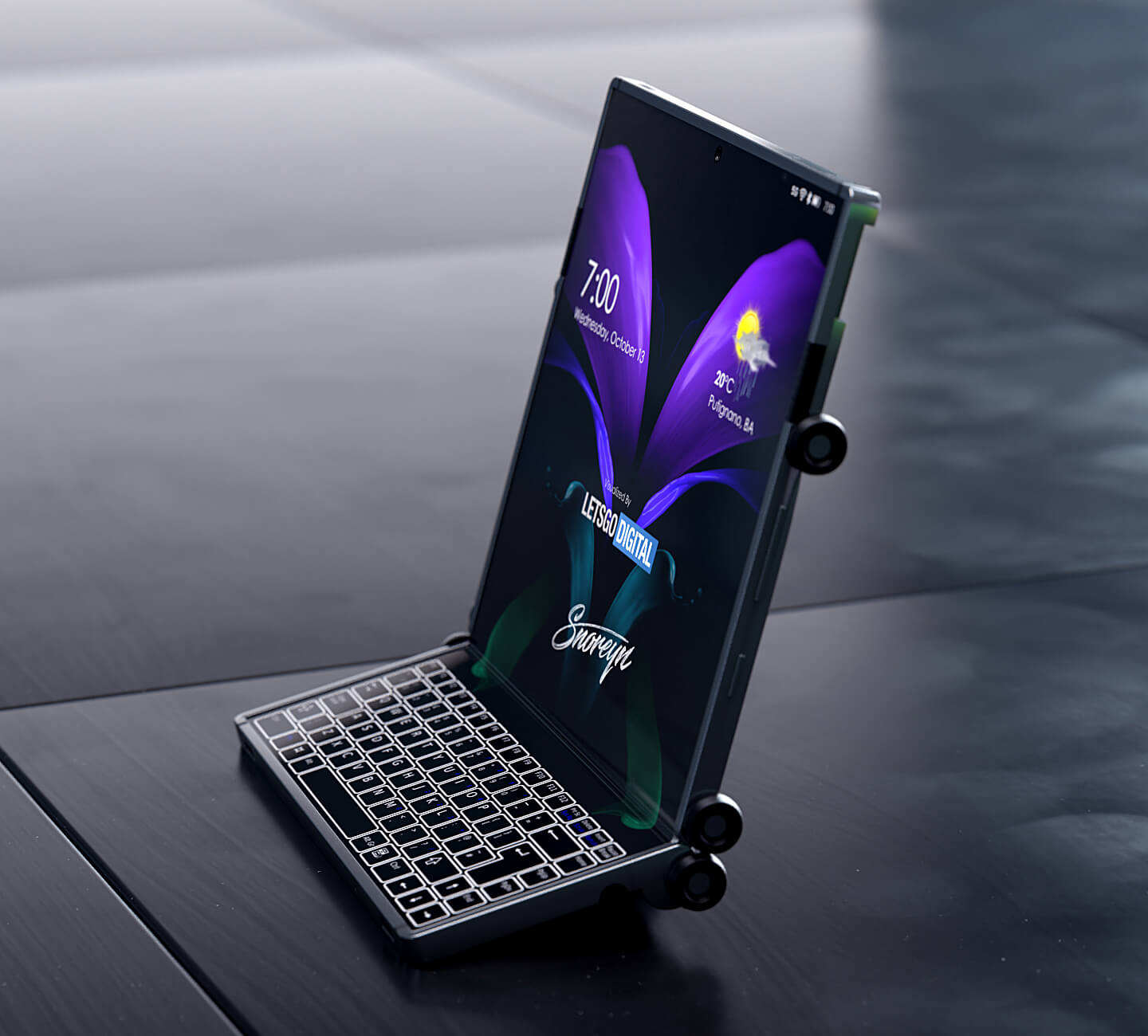 Samsung is thus cleverly responding to increasing productivity. After all, the phone becomes significantly more versatile if it can be used effectively for quick typing – without having to sacrifice too much on the user experience compared to a laptop. To support laptop mode, Samsung has also built-in a handy kickstand, which looks robust and solid. This allows you to place the device for a longer period of time and use it as a laptop screen without any problems.
The flexible display also seems to work different from the one from Xiaomi. The dual foldable phone from Xiaomi has a foldable screen. Samsung, on the other hand, seems to provide this Galaxy Z Dual Fold with a kind of extendable mechanism. If we look at the back of the phone, folded, you can see that the screen on the right side does not extend all the way to the housing. Unfolded, however, the flexible screen does close exactly up to the housing.
It seems the flexible screen can move within the housing. Unfortunately, details about this are lacking in this design patent. Presumably, Samsung designed this to facilitate the folding process. This mechanism might be help to compensate for the difference in length that occurs during folding and unfolding. Over time we have come across numerous patents focusing on eliminating this length difference – which is closely related to the durability of the device.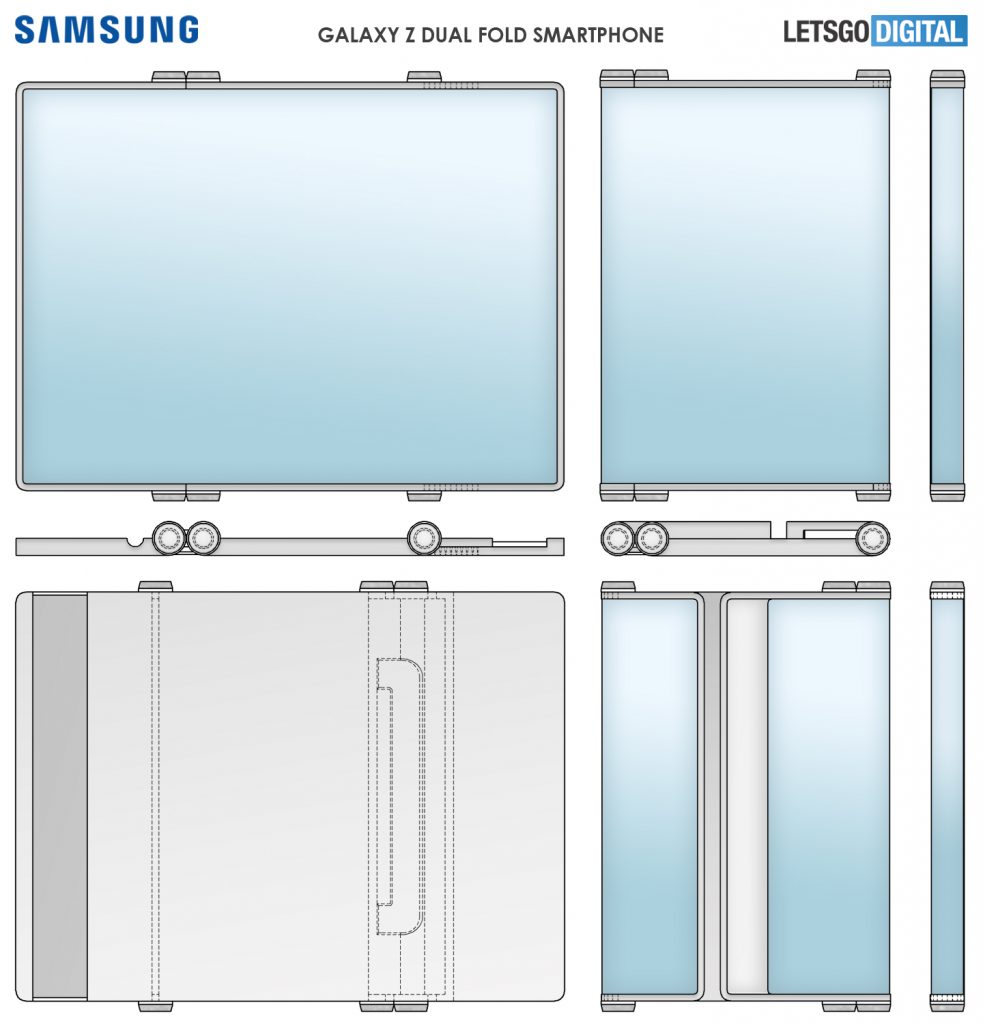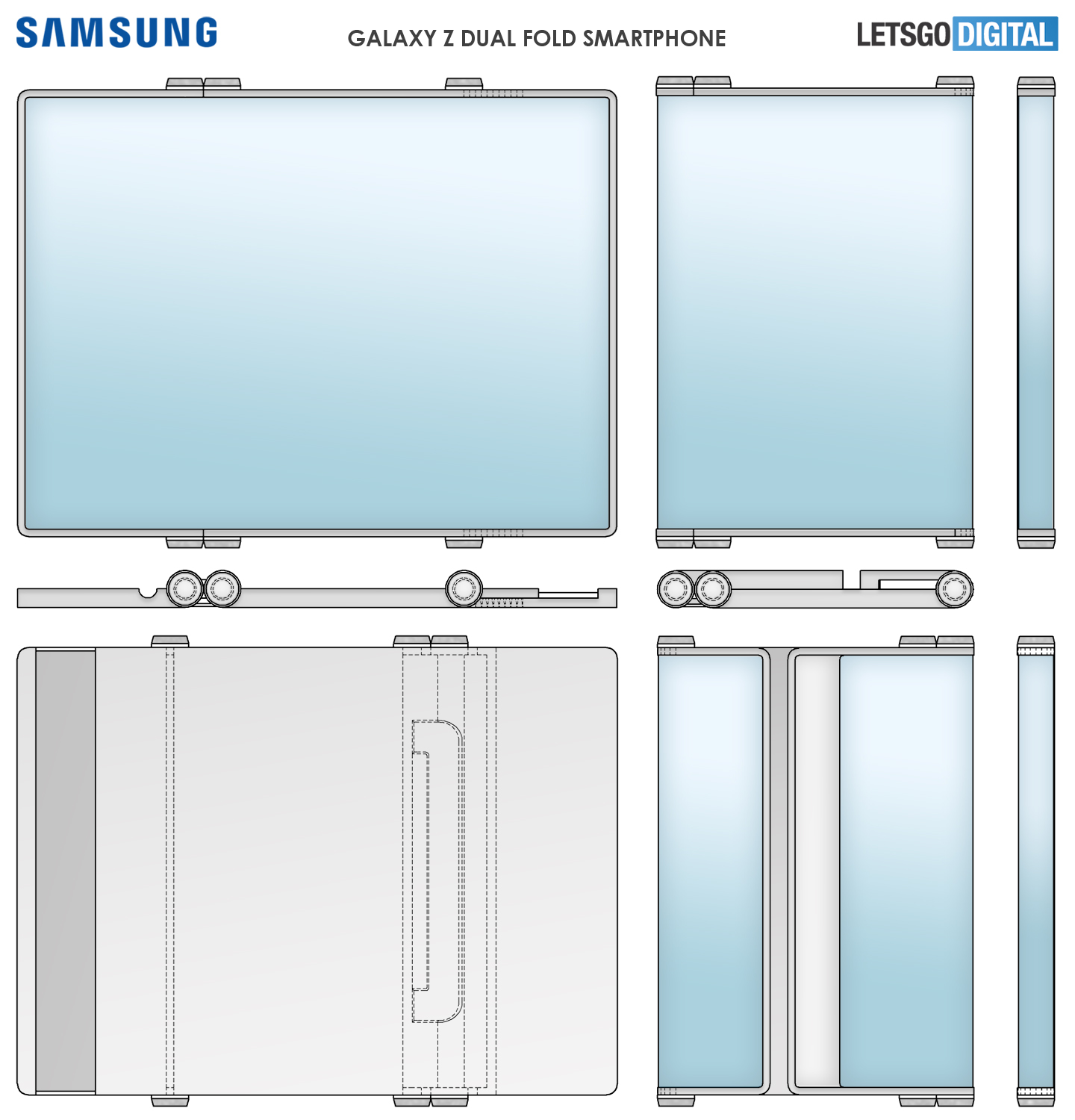 Obviously, a lot has changed in the field of foldable smartphones in recent years. Since the patent was already applied for in 2018, you may assume Samsung has taken great steps in the development of new foldable devices since then, both in terms of design and functionality.
I therefore do not expect Samsung to actually release this foldable smartphone. Nevertheless, it is certainly not inconceivable that Samsung will present a dual folding smartphone in the future.
This patent also makes it clear once again that Samsung is seeking for ways to increase productivity with a foldable phone. By being able to use your phone as a tablet and even as a compact laptop, it becomes an even more versatile device. Of course you will still miss a mouse and the keyboard will also be smaller than you are used to from a physical keyboard, as a result a foldable phone will never be able to function as a laptop replacement.
Nevertheless, these types of foldable models can certainly provide added value to the business user. Being able to quickly respond on a colleague's presentation or reply to an email, it's all just a little easier on a big screen with keyboard. Moreover, the device is still compact enough to carry with you all day long.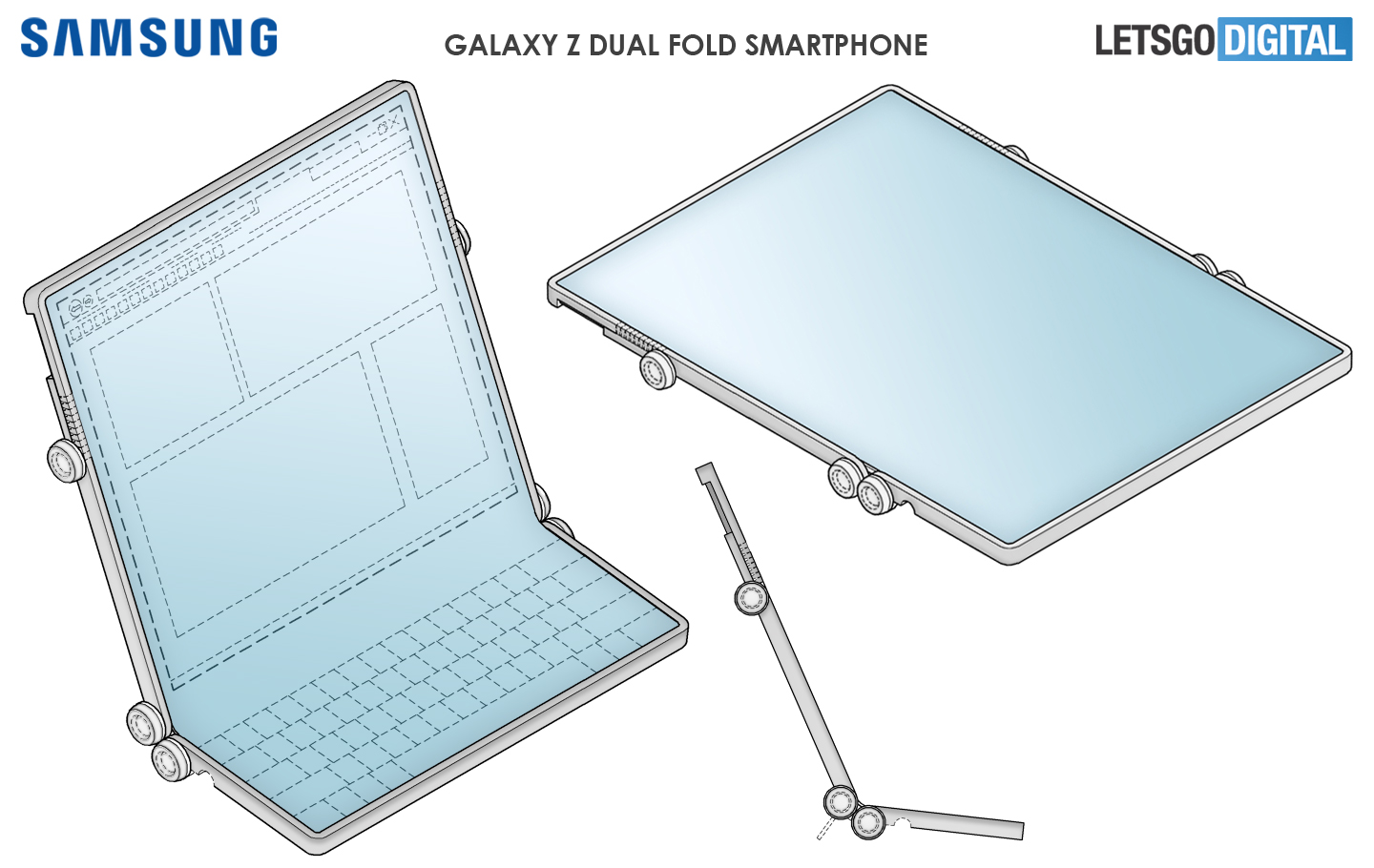 Samsung market leader in the field of foldable smartphones
At the beginning of last year, there was still some uncertainty as to which manufacturer(s) would take the lead within the new market segment of foldable smartphones. For example, the Chinese Royole was surprisingly the very first to present a foldable phone, the FlexPai. Not much later, Samsung followed with the Galaxy Fold and almost simultaneously Huawei presented the Mate X 5G. That same week, Xiaomi and Oppo also showed a prototype of a folding smartphone.
A lot has changed in the meantime. After the problematic launch of the Galaxy Fold, Samsung managed to recover quickly. The Galaxy Flip was launched at the beginning of this year, as a counterpart to the Motorola Razr. The Galaxy Z Fold 2 is now also a fact – this device has a significantly more modern design than its predecessor and has been improved on many points.
Where Samsung has accelerated, many other manufacturers have quietly faded into the background. Time will tell whether Samsung can maintain its lead, but it is clear that the Korean manufacturer sees a bright future for mobile phones that you can easily fold and unfold to make it a multifunctional device.
Here you can view the original documentation of the Samsung Display Foldable Device.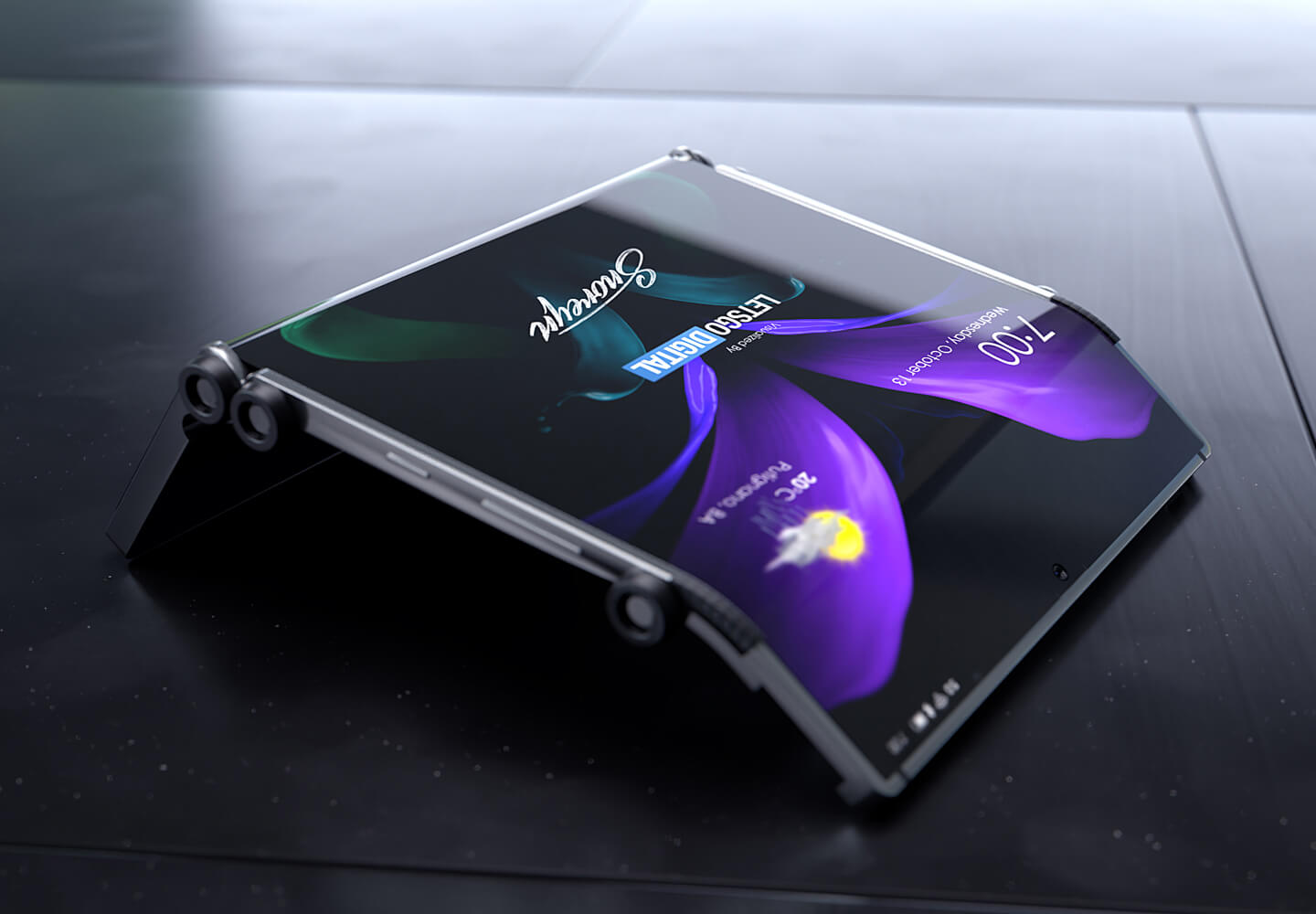 Note to editors : The product renders presented in this publication are made by in-house graphic designer Giuseppe Spinelli (aka Snoreyn). The 3D images are based on the patent drawings from Samsung Display and meant for illustrative purposes only. This product is not for sale. The renders are copyright protected. You can use this artwork for free, please be so kind to include a clickable link into your publication. Thank you very much for understanding.