Smartphone manufacturer Vivo patented a very unique smartphone model last week: A Vivo smartphone with a detachable camera drone – a story that went viral on the internet. The camera can be disconnected from the mobile phone, after which it can fly into the air thanks to four integrated propellers. It's an interesting concept, in theory it would allow you to take pictures from the most difficult and diverse angles – allowing for completely new perspectives and creative shots. On top of that it can be quite a lot of fun playing with those tiny little drones.
This fascinating thought has prompted industrial designer Sarang Sheth, editor-in-chief at Yanko Design, to bring this unique Vivo smartphone to life in a 3D visualization.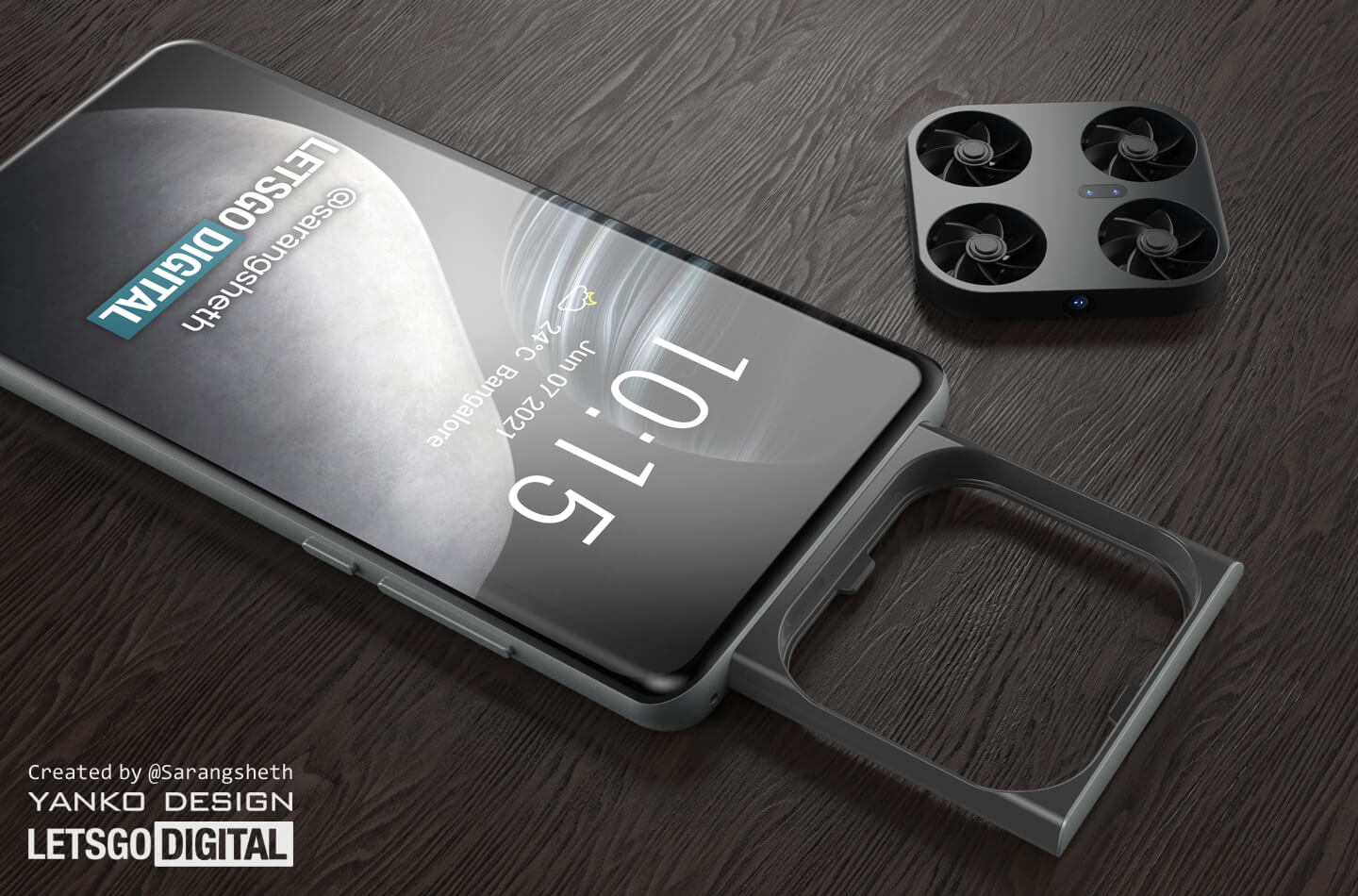 Vivo smartphone with removable camera drone
The Vivo-patented smartphone camera drone features at least two cameras – one on the front and one on the top. Optionally, a third and fourth camera can be added. For example, a downward-facing camera seems more convenient in many cases, than one that is pointed upwards.
In addition to the cameras, four propellers and three infrared proximity sensors are also installed. The sensors must ensure that the camera drone will not fly against anything. The flying camera will also be equipped with its own battery. It will probably be charged simultaneously with the smartphone. The operation of the drone will take place directly via the smartphone screen.
In the 3D renders designed by Sarang, it is clearly visible that the camera drone cannot be larger than approx. 5x5cm. Otherwise it would not fit at the top of the smartphone – where the pop-up camera would normally be situated. In addition, it has to be a very flat drone. After all, a smartphone is less than 1cm thick. So it really is a mini drone.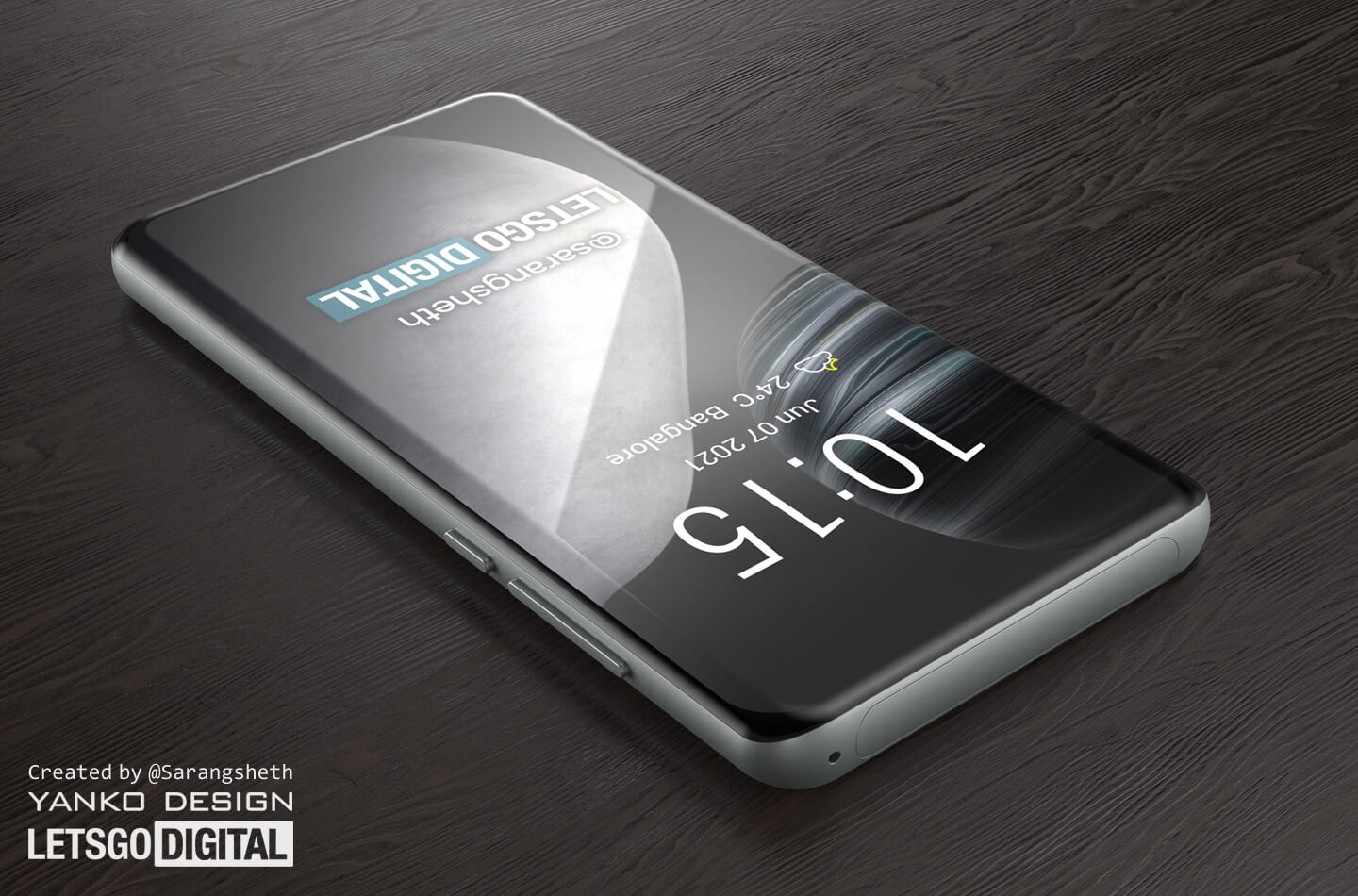 As the flying camera has to be both light and small, the flight distance will probably be limited. However, details on this are lacking in the documentation. A mini drone can have several advantages. For example, such a small drone will be much easier to take with you during vacation or a day out. Once you are done flying, you can easily store the system in your smartphone.
The current drones are all at least twice as large and heavy. The light and thin design can pose a serious problem as the wind will soon get the upper hand. Of course Vivo has designed its own unique gimbal image stabilization system, nevertheless there is a good chance that such a mini drone will have difficulty taking sharp pictures – especially as soon as there is a breeze. Moreover, such a small device is quite fragile, which increases the risk of damage and loss.
At least you don't have to worry about the cameras getting switched, in case your friend decides to buy the same smartphone. A fingerprint sensor is placed on the removable mounting bracket, with which the camera system can be identified.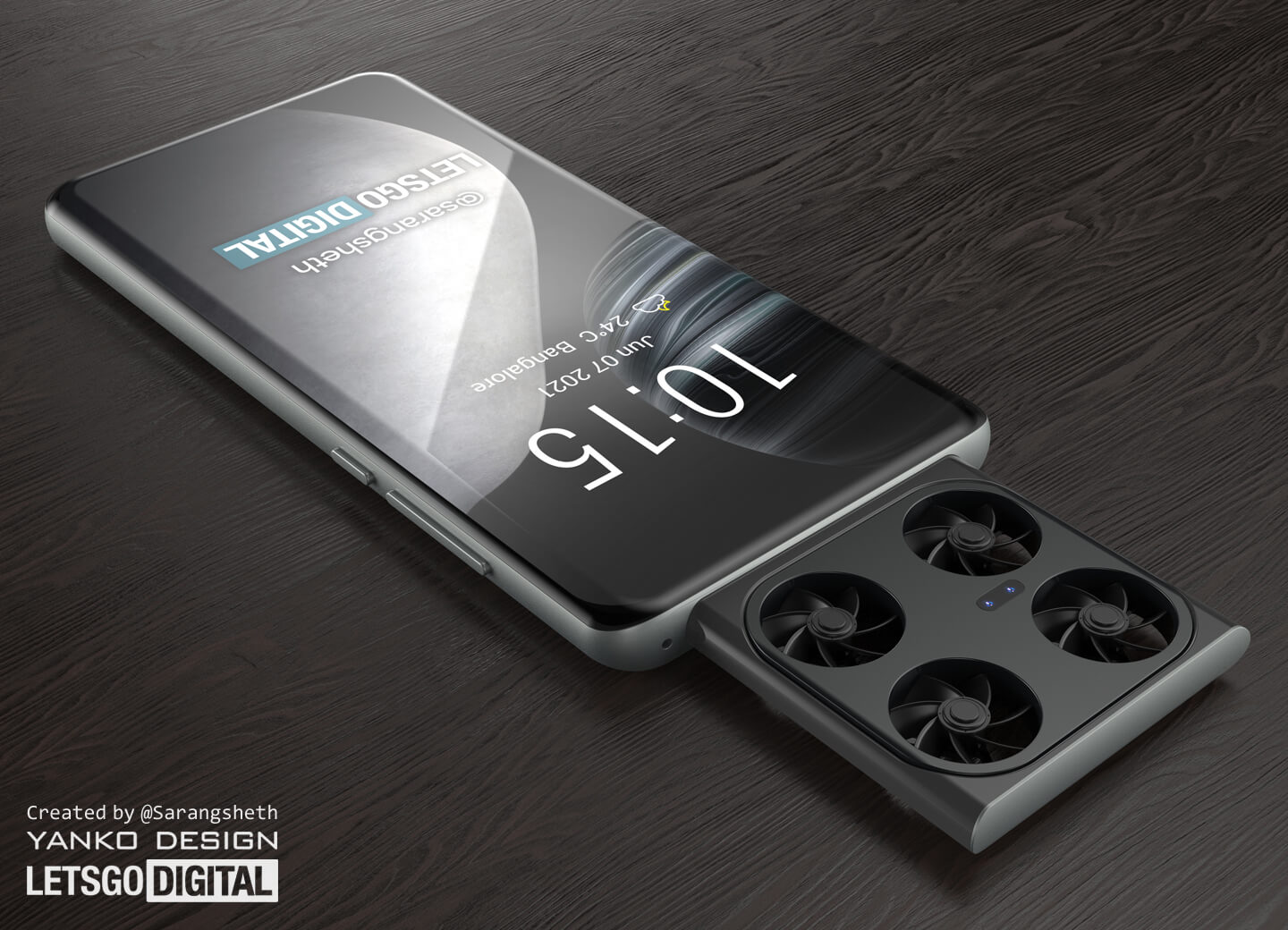 Vivo mini drone with camera in development phase
Of course, there is a greater chance that Vivo will not market this product, than it will – certainly in the short term. Smartphone manufacturers are already struggling to accommodate all the necessary components in the compact housing. Such a drone would take up a lot of valuable space.
In addition, you can wonder how large the target group will be for such a smartphone. It is certainly a funny gadget, but whether you will actually use it a lot is another matter. The regulations surrounding drones are also becoming stricter. Not to mention the technical challenges that come with such a small, light camera drone.
On the other hand, never say never. After all, last year Vivo demonstrated a concept smartphone with a detachable front-camera. The camera could not fly, but it was possible to take pictures from a distance with the detached camera. The drone concept could be a logical next step.
Speaking of Vivo smartphones, the Chinese manufacturer is expected to release its first foldable smartphone later this year. It remains unknown for the time being what type of model it will be. At the end of 2020, the company patented a Vivo foldable phone with a stylus pen.
Note to publishers: The 3D renders presented in this publication are created by Sarang Sheth, Industrial Designer and Editor in Chief at Yanko Design, in partnership with LetsGoDigital. The design is based on the patent images of Vivo Mobile Communication. The product images are for illustrative purposes only, this product has not been officially released by Vivo. You can use the copyrighted images for your own website, YouTube and/or social media channels, please be so respectful to include a clickable source link into your publication.