The high-end Samsung Galaxy S21 series was introduced last week. Three models are introduced with a completely new camera design. Luckily more top models from Samsung are expected to arrive this year, including three foldable models. Perhaps the South Korean manufacturer will also present a rollable smartphone. As the counterpart of the LG Rollable smartphone, of which a teaser was shown earlier this month at CES 2021.
Some time ago Korean media reported that Samsung is planning to use a flexible display panel to enlarge a 6" phone into an 8" tablet. Further details about the design are still unknown. Samsung may wants to apply the following technology, as the company has been granted a patent for a "Samsung slide smartphone".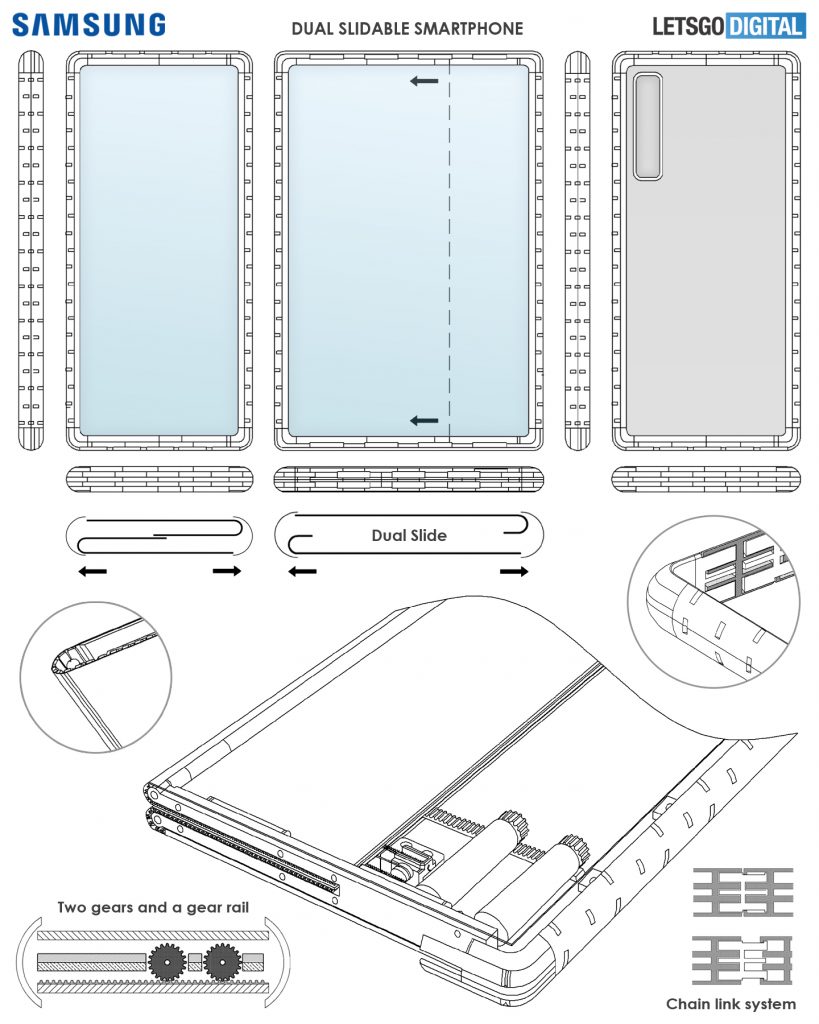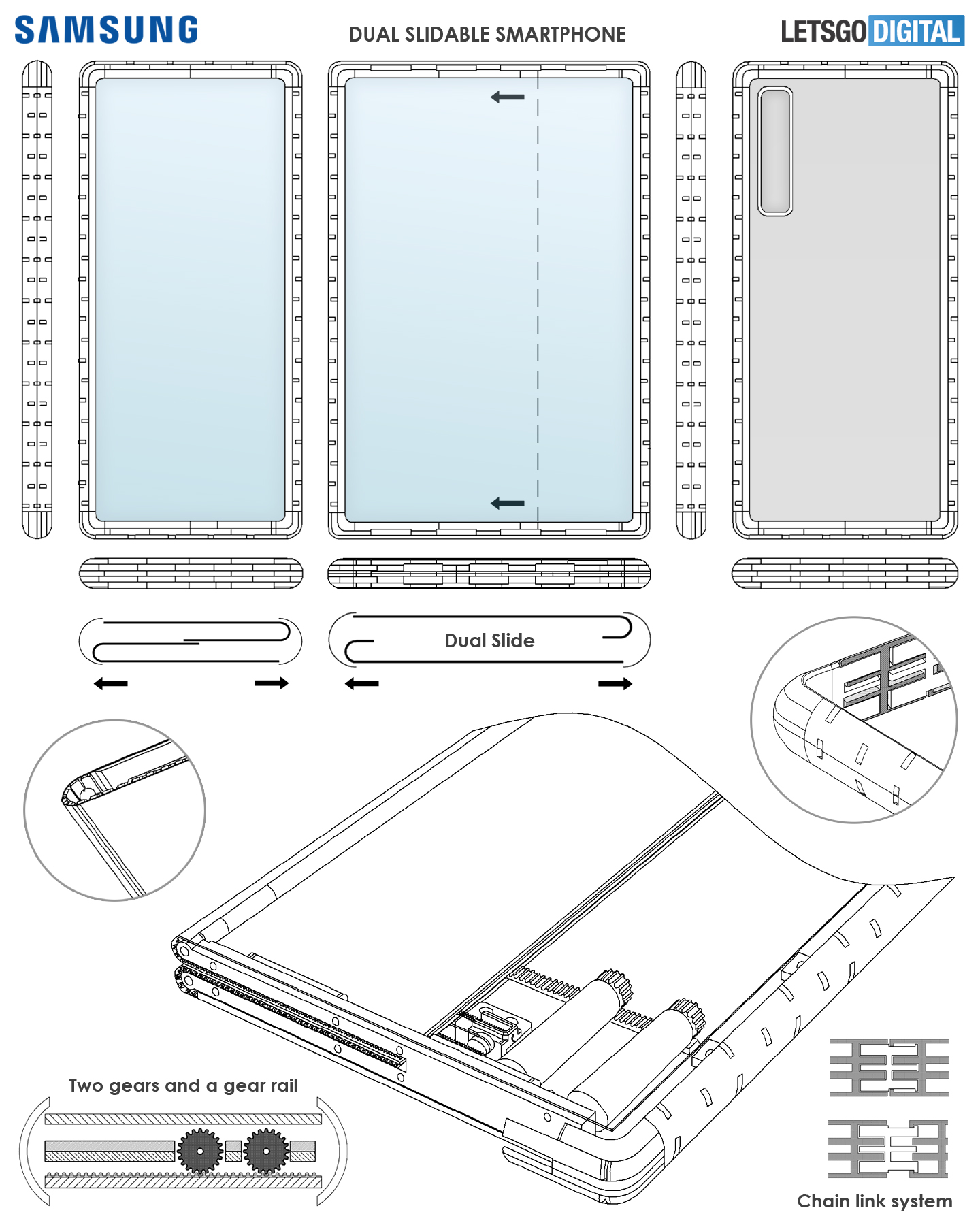 Samsung slide smartphone with rollable display
In March 2020, Samsung Electronics filed a patent for a "Dual Slidable electronic device". The documentation was published by the WIPO (World Intellectual Property Office) on January 21, 2021. The apparently normal smartphone is in fact a "dual slidable device". Both the front and back of the smartphone are provided with flexible material so that you can extend the phone in width.
A large flexible display is used for the front. There are several options available for the rear. The documentation mentions the possible integration of a second flexible display or other flexible material such as metal film, fabric or leather.
To better visualize the patented technology Jermaine Smit, aka Concept Creator, made a set of product images for LetsGoDigital. To create the 3D renders we assumed that Samsung does not provide the rear with a second screen.
Although users will have an even larger screen surface with a second display, you may wonder whether the costs will outweigh the benefits. In addition, a dual display smartphone has the disadvantage that the device is always laying on one of the two displays, which significantly increases the risk of scratches and damage.
Unlike some Chinese manufacturers, Samsung has not yet announced a dual display smartphone, so we consider it more likely that Samsung will provide the back with another type of flexible material. In order to keep the device more affordable and to make it attractive to a larger target group, in the niche market.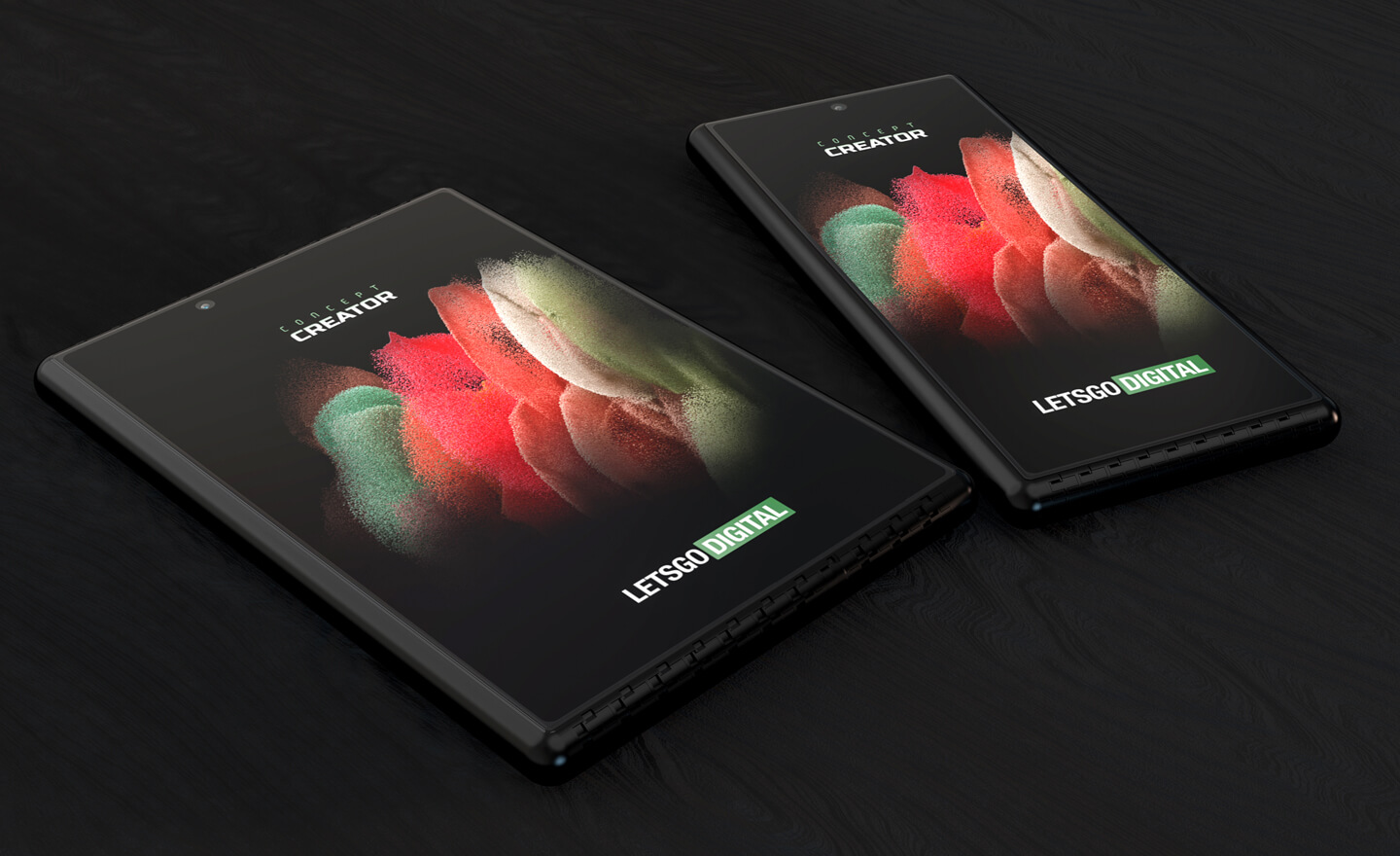 Screen area can be enlarged by approx. 30%
The housing has two gears and a gear rail that makes it possible to pull in and out the flexible display. In its most compact form, part of the rollable screen is stored in the housing. A reel element has been fitted for this, around which the screen curls. The same mechanism is also used for the rear, as a flexible material will be used the rear can also be enlarged. In order to make this happen, the frame has also been upgraded, we will come back to this later.
Unfolded, you have a screen surface that is roughly 30% larger – which would be in line with the Korean rumor that the 6 "screen can be pulled out to 8" size display. In its most compact form you have a relatively small mobile phone at your disposal, if you want to be productive and be able to use several apps at the same time, then the retractable screen offers the solution.
The fingerprint sensor is placed under the screen, as stated in the detailed description. If necessary, more sensors are processed under the screen, such as a gesture sensor, a gyro sensor, a proximity sensor and / or an Infrared sensor.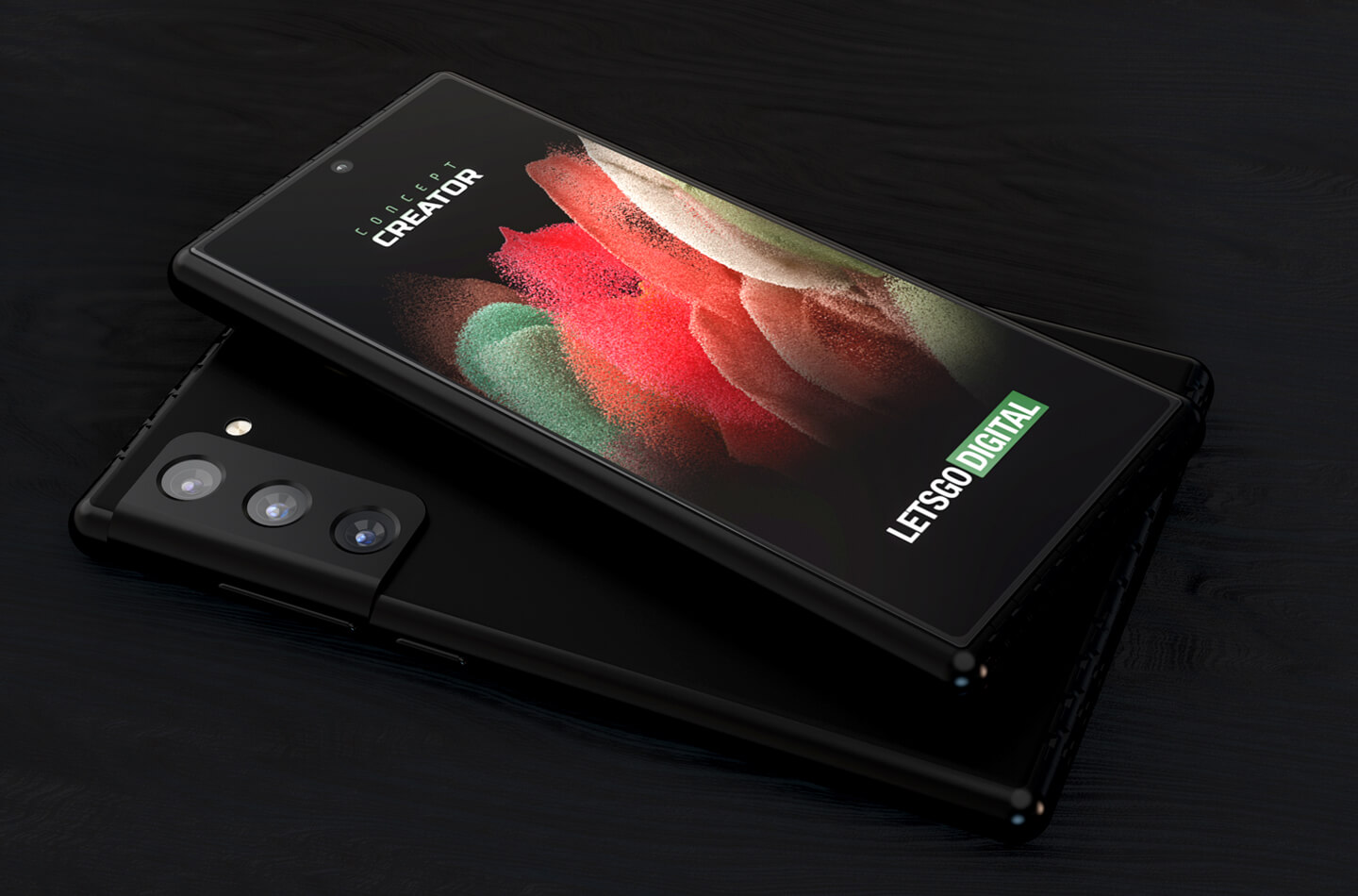 Solid frame can be pulled out thanks to a chain link system
The frame of this smartphone is also unique. It's a high-quality design, better than we have seen so far with prototype smartphones with a retractable screen. Samsung has opted to integrate a kind of chain link system at the top and bottom, which can be pulled in and out like a harmonica.
As a result, the sturdy frame remains completely intact even when extended – without creating a notch where the device is pulled apart. This benefits both grip and strength. This will make the device feel much more like one solid whole. The chain link system is covered with a flexible foil / cover material, which prevents dust and dirt from entering the mechanism.
Furthermore, the documentation mentions the integration of a front camera and a rear camera. For the selfie camera, a punch-hole camera will probably be chosen, as Samsung has also used with the Galaxy Z Flip and Z Fold 2 foldable smartphones. Such a camera system is relatively easy to apply with a flexible screen.
The rear camera will be designed vertically and will contain multiple lenses – like the triple camera of the recently introduced Samsung S21, as illustrated in the product renders. Due to the movable frame on top, the camera has only been extended to the side this time. Want to know more about this uniquely designed phone? Visit our Dutch edition for an in-depth coverage about this Samsung Dual Slide smartphone.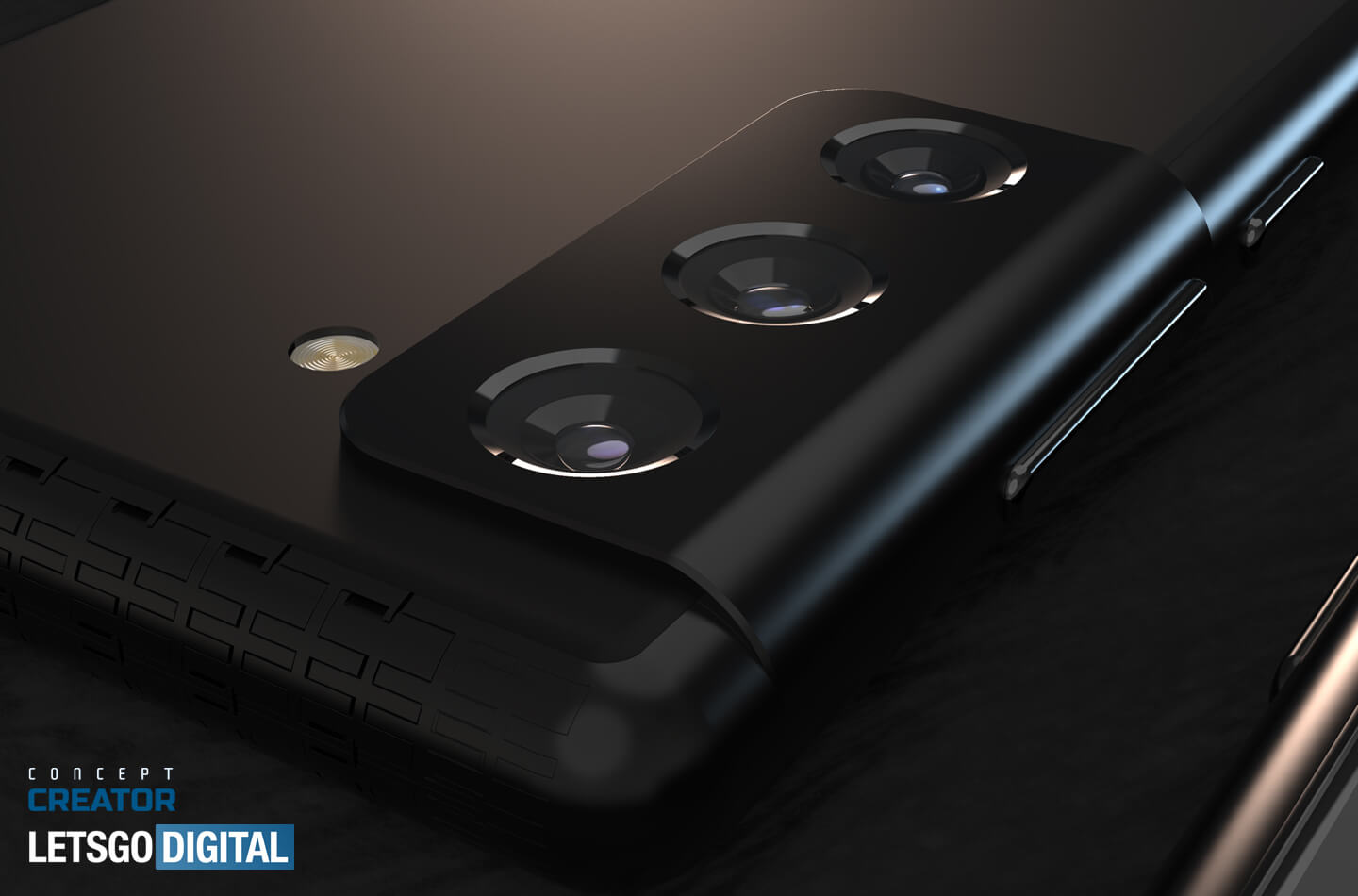 It is not the first time that we hear about a retractable Samsung Galaxy phone. Samsung has already shown a prototype to a select group of people at CES 2020. Afterwards, the company also filed multiple patents for slider smartphones.
Samsung is expected to release three foldable smartphones this year. Whether or not Samsung also intends to release a rollable smartphone this year remains unknown for the time being.
Take a look at the documentation of the Samsung dual slide smartphone.
Note to editors: The concept renders presented in this publication are made by Jermaine Smit (aka Concept Creator) and licensed to LetsGoDigital. This product is not officially announced by Samsung. You are allowed to use the high-resolution images for free if you include a clickable source link into your publication. Thank you very much for understanding.