Last week Samsung release the Galaxy Note 9. At the same time, the Galaxy Watch was also announced, as a successor to the Gear S3. The premium smartwatch offers a long-lasting 480mAh battery and LTE connectivity gives consumers a true standalone experience. With advanced wellness features and fitness tracking, it helps you achieve your health goals.

Samsung Galaxy Watch
Like previous smartwatches from Samsung, the Galaxy Watch runs on the Tizen OS. There is an Exynos 9110 Dual Core processor with 768MB RAM built in, the watch comes with 4GB of storage memory. There will be two variants, a 42mm model with a 1.2-inch display and a 46mm version with a 1.3-inch screen. Both displays have a resolution of 360 × 360 pixels.
Through the iconic rotating ring around the dial users can enter options, adjust the volume or take phone calls. In addition, the new Samsung smartwatch is extra durable, thanks to Corning Gorilla Glass DX+. The smartwatch is also waterproof according to 5 ATM.
With LTE connectivity, Samsung Galaxy Watch users can enjoy a true standalone experience. They can answer calls, respond to text messages, use GPS mapping, stream music, and more, just from the smartwatch, and all without a smartphone in their pocket. Users can also start and end their day with morning and evening briefings to help stay on top of reminders, weather and their latest schedule.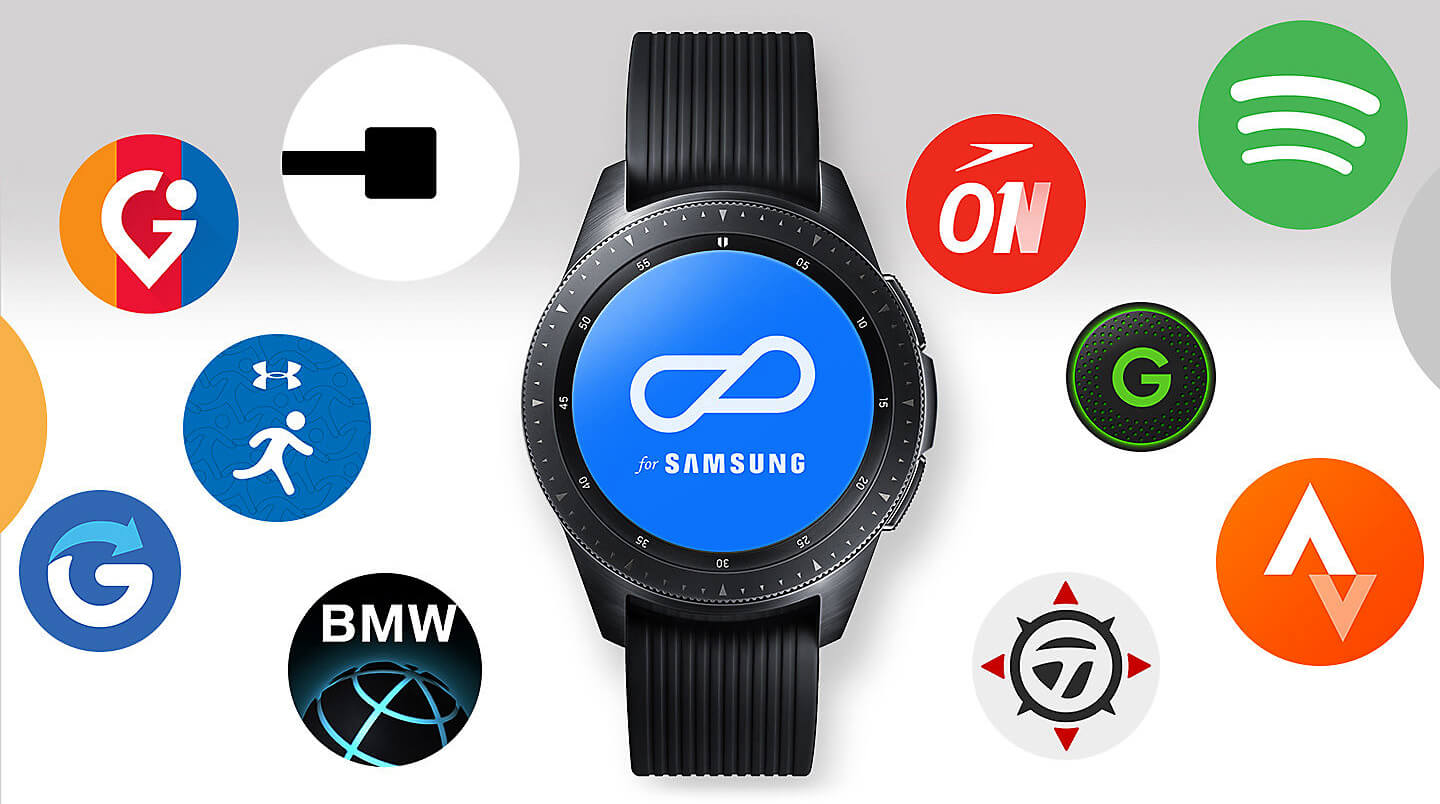 Premium smartwatch with advanced features
The Galaxy Watch comes with a new stress management tracker, the smartwatch tracks your heart rate and provides breathing exercises to help users stay focused. In addition, Samsung's smartwatch comes with a sleep tracking system, that monitors all levels of sleep, including REM cycles, to help users get the rest they need to take on their day.
The Galaxy Watch's advanced fitness tracking features keep you motivated and on track. It automatically tracks six of the most popular exercises – walking, running, cycling, elliptical, training, rowing, and dynamic workouts – and features 21 new indoor exercises from a selection of 39 activities.
And because balanced nutrition is as important as exercise, the Galaxy Watch is designed to help users track food and water intake. Input your meals and get personalized alerts from Samsung Health, or, use Bixby on your Galaxy device to automatically count calories, and get a personalized summary on your Galaxy Watch.
The Galaxy Watch is more than a smartwatch, it's part of the Galaxy Ecosystem. Including Samsung Health, Samsung Pay, Bixby, SmartThings and select third-party partnerships such as Spotify and Under Armour. Users can easily access and control their IoT compatible devices on the Galaxy Watch with SmartThings – turn on the lights in the morning or adjust the temperature before bed. Spotify allows users to listen to songs offline or without a smartphone. It's also easy to keep information secure thanks to Samsung Knox, and unlock PCs or tablets using Samsung Flow.

Samsung Watch preorder
The new smartwatch is offered in two sizes and multiple styles with a 46mm version in Silver, as well as a 42mm option in Midnight Black and Rose Gold. Users can further customize with a selection of watch faces and watch band options.
The Samsung Galaxy Watch Bluetooth 42mm version will be available for $329.99, and the 46mm version will be available for $349.99 in the US at Amazon, Best Buy and Samsung website starting August 24, 2018. The Samsung Galaxy Watch LTE version will be available at AT&T, Samsung, T-Mobile, Sprint and Verizon, along with select major national retailers later in 2018.
Consumers can place a preorder till August 23, 2018. Consumers who preorder the Galaxy Watch before September 8, 2018 on Samsung will receive a free Samsung watch band.