Yesterday Samsung announced both the Galaxy Note 10 and the Note 10+. In addition, the company paid attention to the Galaxy Watch Active 2, a new sports smartwatch. Two sizes have been announced, a 40 mm and a 44 mm version that incorporate a 1.2-inch and a 1.4-inch curved Super AMOLED display respectively. The new smartwatches can be purchased from 13 September for a starting price of € 300.

Samsung smartwatch with digital rotating bezel
An important addition is the rotating touch bezel. Previously, Samsung smartwatches were already equipped with a rotatable bezel, but this was omitted from the Galaxy Watch Active. Now the bezel returns in a digital form. The rotating touch screen contributes to an intuitive operation.
The new wearable is well capable of setting health goals. The smartwatch can automatically recognize seven different types of training, from running or walking to cycling, swimming or rowing. Are you going for a run? Then you can follow your running pace in real time. Super handy of course. A total of 39 types of training can be tracked manually.
Samsung's newest smartwatch is also capable of monitoring you during your sleep. In addition, you can monitor your stress level in real time via Samsung Health. The Watch Active 2 also features a built-in heart rate sensor.
The intelligent watch can easily be connected to a Galaxy smartphone or tablet. This allows you to take photos with your phone via your smartwatch, among other things. The Samsung Galaxy Watch Active 2 is also water resistant and comes with Bluetooth 5.0, WiFi and NFC support.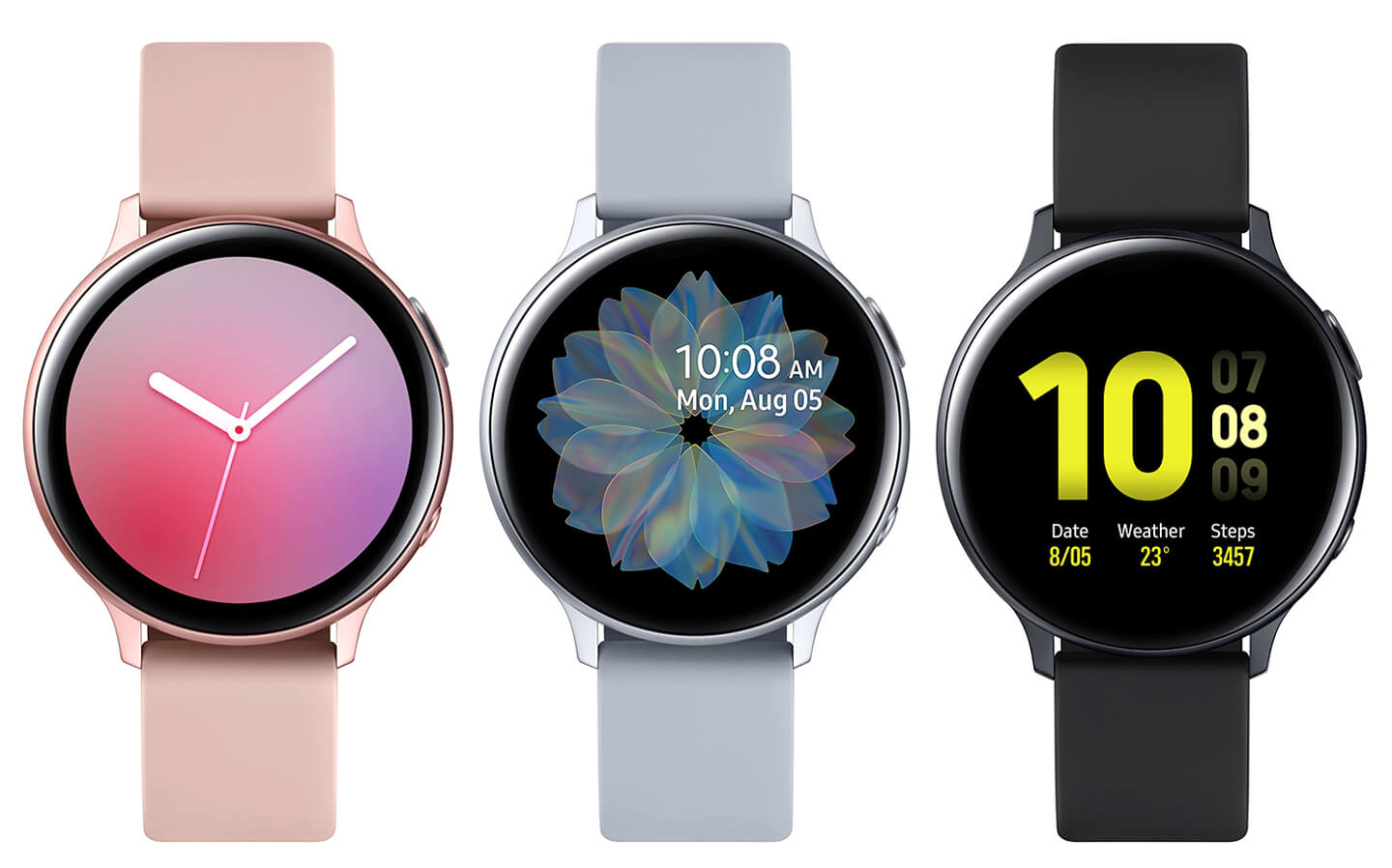 Samsung Galaxy Watch Active 2 models, prices and colors
The Tizen watch is powered by the Exynos 9110 dual core processor with 767MB RAM and 4GB of storage. There are two styles available: a stainless steel version with a casual Fluoroelastomer strap or an aluminum version with a leather strap.
You can further personalize the smartwatch through various strap and watch options. You can also adjust the color of the watch face to the colors of your outfit, by simply taking a picture of your clothing. It's a nice addition that many women will certainly appreciate.
In Europe you can buy the Samsung Galaxy Watch Active 2 from September 13.
• Aluminum 40mm model – price: € 300
• Aluminum 44mm model – price: € 320
• Stainless steel 40mm model – price: € 400
• Stainless steel 44mm model – price: € 420
The aluminum model comes in the colors Cloud Silver, Aqua Black and Pink Gold with a Fluoroelastomer watch strap. The stainless steel watch is available in silver, black and gold with a leather strap.