The Apple AirPods have been among the most popular earbuds for years. Earlier this month, Apple introduced the new AirPods Max, the brand's first advanced over-ear headphone. The AirPods Max offer hi-fi sound, adaptive EQ and active noise cancellation. With a suggested retail price of € 630 this headphone belongs to the absolute top. If you are looking for something more exclusive, Caviar now offers a special alternative for the rich among us. Caviar has just introduced a gold Apple AirPods Max, with a whopping 830 grams of pure gold.
Caviar is known for enriching Apple products with durable and rare materials, such as gold, leather and gemstones. The company already offers numerous Limited Edition versions of the AirPods Pro. This time, the jewelry atelier from Caviar have crafted a unique and luxurious AirPods Max.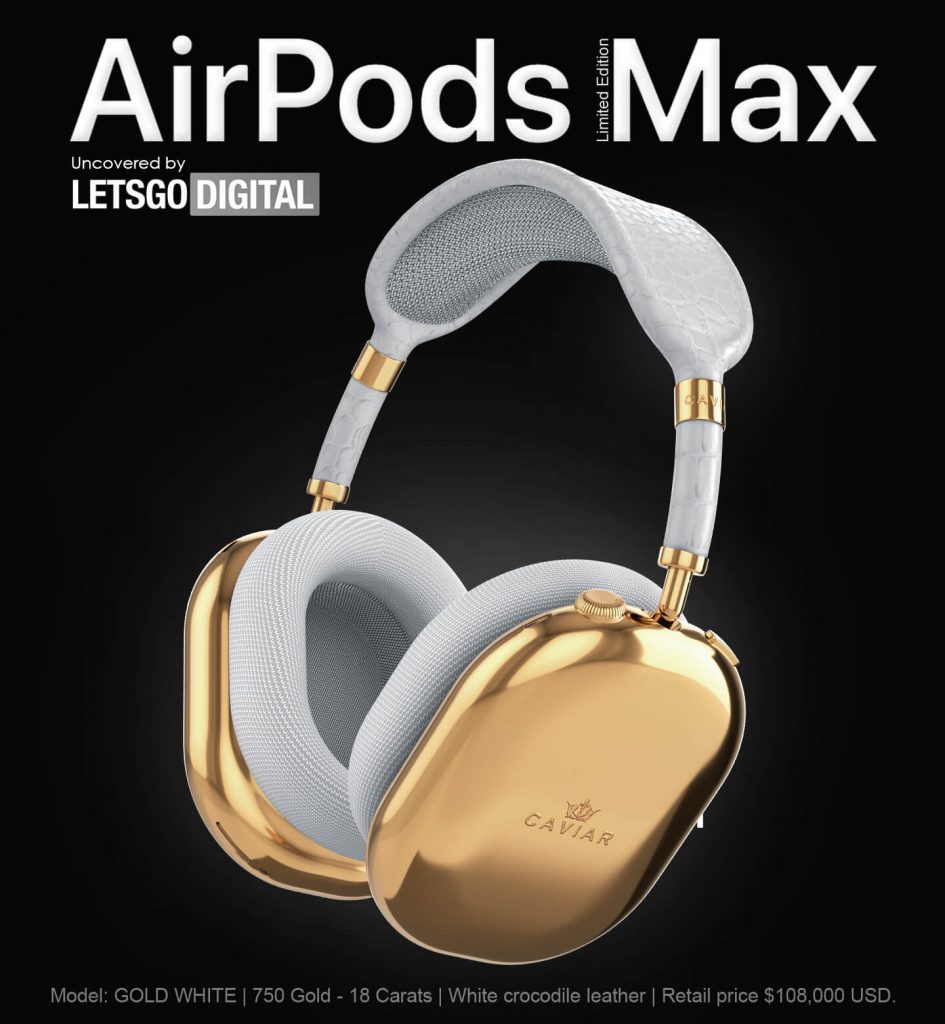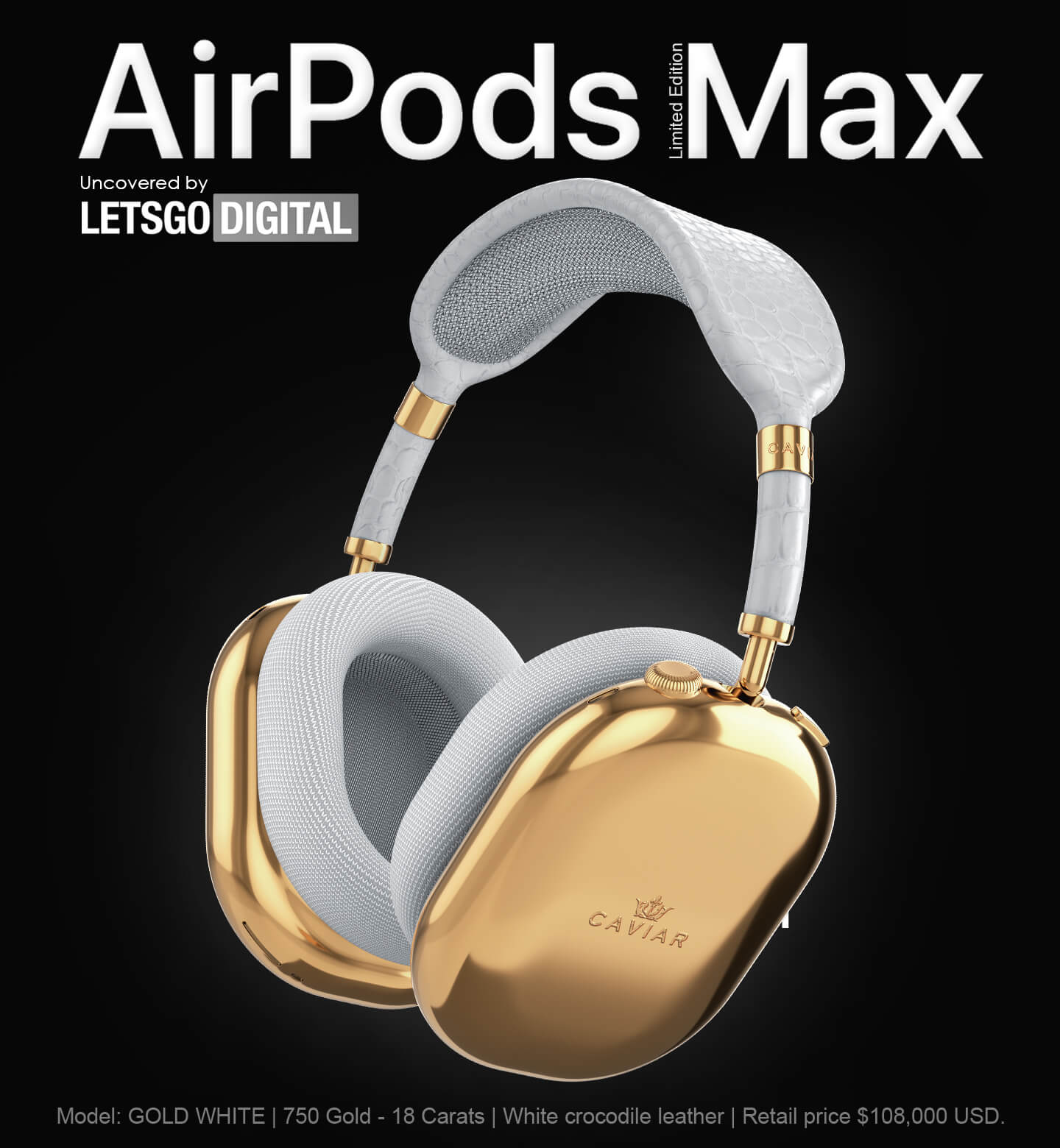 AirPods Max gold headphone with crocodile leather headband
The AirPods Max Limited Edition from Caviar is available in two colors: white and black. The headband is made of crocodile leather, which contributes to a particularly stylish appearance and also feels nice and soft. The high-gloss ear cups are decorated with 18-karat gold, which makes this headphone very luxurious and unique. The Caviar logo is incorporated in the middle of the ear cups. The buttons and Digital Crown are also covered in gold.
This unique headphone is provided with no less than 830 grams of gold. In fact, more than a kilogram of gold is needed to manufacture it. Naturally, this also adds the necessary extra weight. Just like with the regular AirPods Max, Caviar supplies a soft compact Smart Case, to safely store the wireless headphone. The case also serves as a charger. The headphone offers a long battery life of 20 hours.
The AirPods Max Limited Edition version from Caviar offers exactly the same functionality as the regular version from Apple. For example, the headphone automatically detects when it is put on the head, based on optical and position sensors. As soon as you put on the headset, you will hear sound.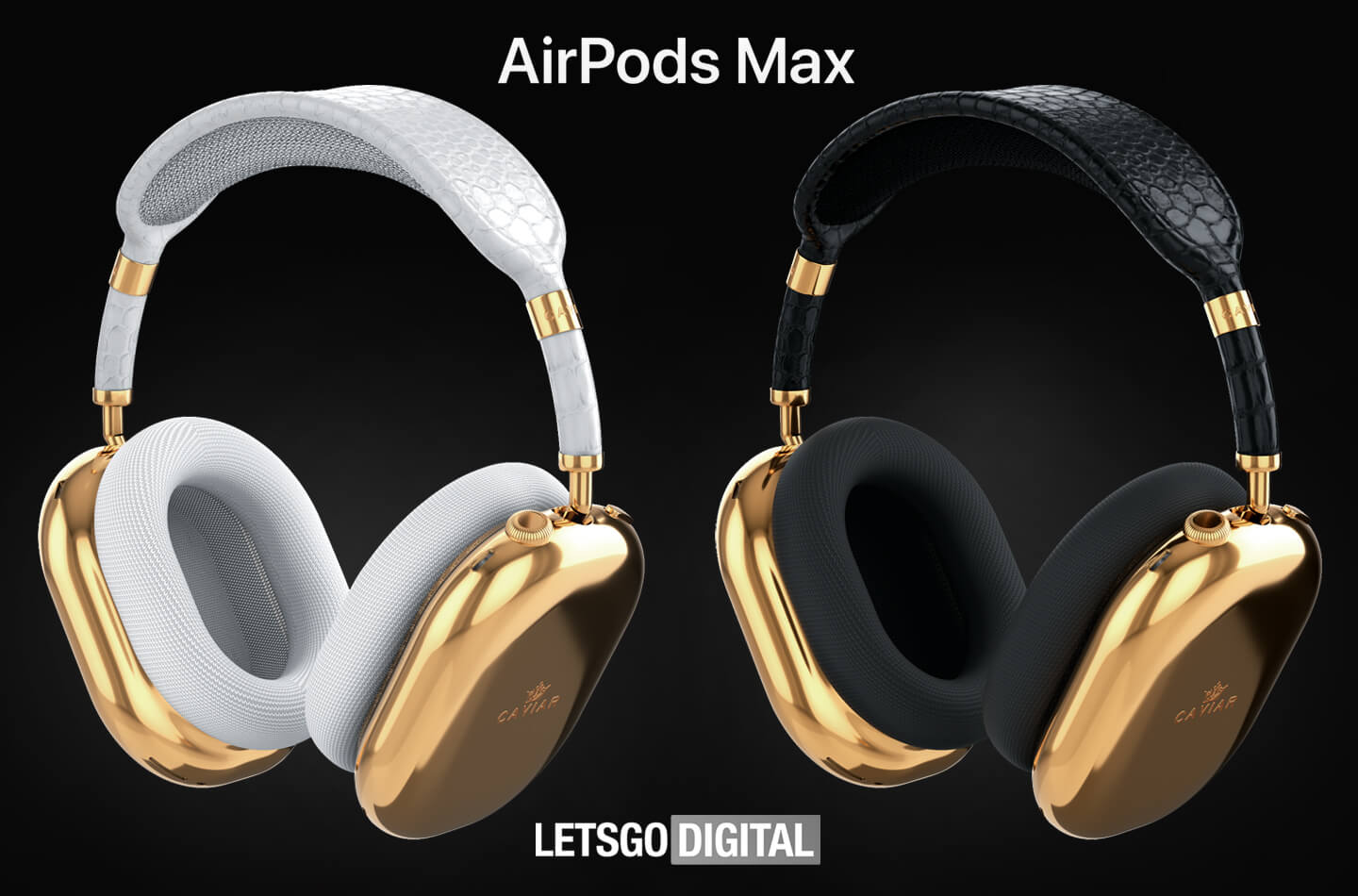 This stylish audio accessory can be used in combination with an iPhone, an iPad, a Mac and / or an Apple Watch. In addition to playing music, you can also use the headphone to make calls. Thanks to the support for Siri, you can also give the headphone voice commands, for example, you can ask for directions or have messages read out to you.
Due to the large amount of gold that is used in this Limited Edition edition, Caviar has chosen to produce only 1 copy of both color variants. For an amount of $ 108,000, you are guaranteed to be the only one in the world to walk around with this glamorous gold headphone.
This is not the only product that Caviar has introduced today. As part of the new 2021 portfolio, the Russian brand has also released a very luxurious, golden Sony PS5 Limited Edition. In addition, the company also releases a Samsung Galaxy S21 Ultra Limited Edition, which is also richly decorated with solid gold.