Every PlayStation fan out there is eager to find out more about the next generation console from Sony and despite the scarce official information the web is flooded with leaked specs and designs. The PS5 Dev Kit was first spotted by us in the patent department and later on popped-up in person around the web to confirm its existence. Meanwhile, things around the next controller – the DualShock 5 are getting even hotter.
Awaiting the official introduction, hardcore gamer Giuseppe Spinelli – aka Snoreyn – created a fan-based video for LetsGoDigital, including every feature of DS5 fans dream of. The PS5 trailer got quite a lot of attention on Snoreyn's YouTube channel – after about 10 days it hit the 3 million mark of views and the counter is still rolling.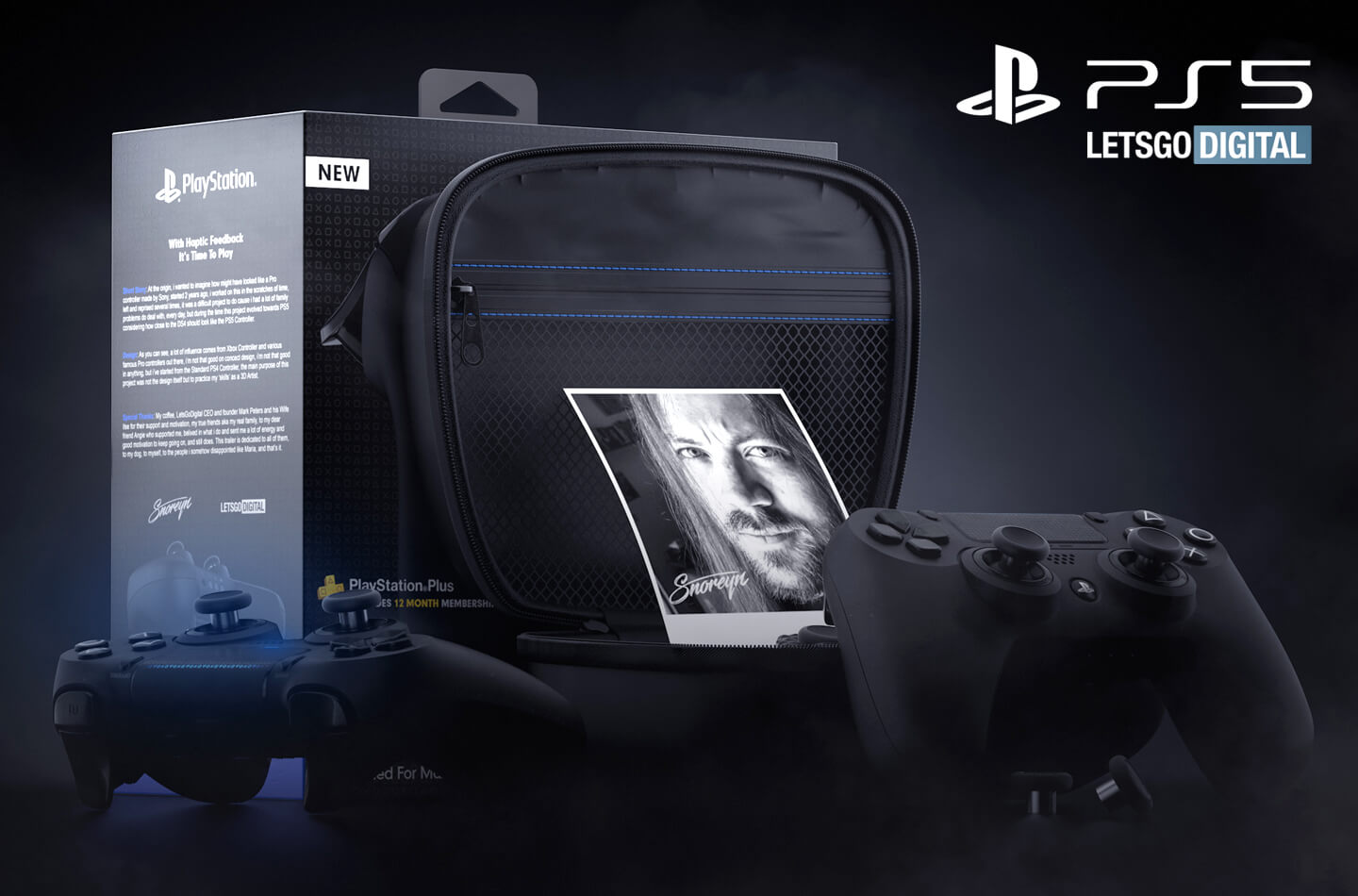 Comments and social impact of the PlayStation 5 video
More than 100,000 people have liked the video and more than 8,000 viewers have taken the trouble to post a comment. The reactions are overwhelmingly positive! The vast majority of comments and questions were also personally addressed by Giuseppe himself. Here are some of the comments and reactions:
Holeeeyyy shaaat this was amazing. Sony you better snatch this man up before another competitor does and make this controller come to life this is outstanding and better then PS4 controller that took a team of Engineers and look what this man has done. Just amazing !!!!!!! – YourModSucks clouds
Sony should hire you, man. I thought this was official. Wow, everyone tweets this to Sony. You're really talented. – Seb
If Sony's releases aren't half as good as yours, then we should start asking why one person is able to do a better job than a whole company. – Maixer
If you're by any chance not one of these 3+ million views, you should correct this mistake immediately. Just to clear things out – the video render is made from scratch and does not correspond to any real product – past or future. Giuseppe has been working on this for some time, mainly because he's a PlayStation enthusiast and to further refine his skills as a designer and 3D artist.
The basis of the design is taken from a standard PS4 controller with some elements added from the Xbox Elite and other Pro game periphery, from companies like Nacon and Razer. All the new features of the DualShock 5, that have been confirmed by Sony are also present in Guiseppe's design. The result is very close to the Ultimate PlayStation controller or so it seems, judging by YouTube comments and reactions.
Expect more videos from Giuseppe in the following weeks – last month the Italian designer brought us the Xbox Series X render to add to the glamour and grandeur of other videos like the PlayStation Dev Kit one and a patent based version of the DS5 controller. In the meantime, Giuseppe has started another new project in the Netherlands. He will focus on the 'PlayStation' theme for the Bonami Game Museum in Zwolle – expect more on this matter soon.
When will the Sony PlayStation 5 be officially introduced?
The word around is that the long wait is coming to an end and PlayStation 5 will be officially unveiled later this month. A few days ago Sony got the PlayStation 5 website online and running with a registration option for people to receive news about the upcoming release. The required trademarks for 'PS5' have also been submitted in a large number of countries.
All we have to do now is wait for sony to send the press kits out, although this might take a little longer than expected. The raging Coronavirus has already canceled the MWC 2020 event and Sony will have to rely on a digital launch of its new Xperia line via a live stream. With more than 1000 death toll and most of China quarantined, people fear a global outbreak will follow and governments and organizations try to put measures in place. World Mobile Congress is a place where hundreds of thousands congregate and many China-based companies attend the event. The fear of an outbreak in Europe has forced GSMA to cancel the event altogether.
The same might happen to any preplanned Sony event, including the official launch of the PS5 on the PlayStation Meeting in February. We'll have to wait and see if the Japanese company will postpone the event or decide to opt for a digital release like the one of the Xperia line.