We're still half a year or so away from the official announcement of the iPhone 12 series, but the rumor mill is strong with Apple, as always. New information pop-up into existence over the web daily and it seems we'll get a total of five new devices in 2020. Before the official launch of the iPhone 12 lineup in September the company plans to revive the SE affordable line with a new SE 2 model supposedly coming this March.
The main iPhone lineup will consist of four devices and is expected during the annual event in September. Apple has to play catch up with other big manufacturers regarding 5G and camera count and 2020 is shaping to be very interesting and challenging for the American company.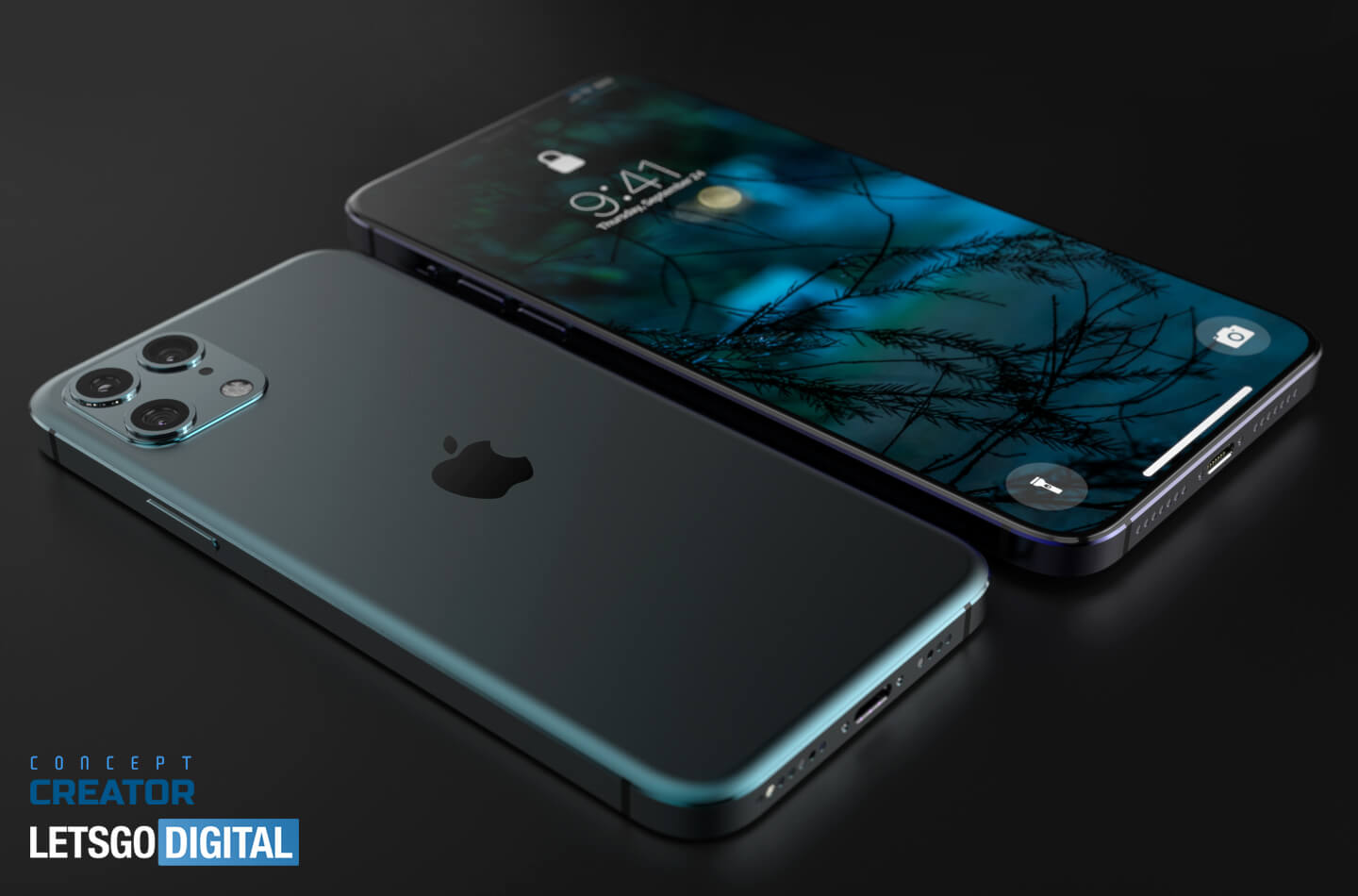 iPhone 12 series includes a Mini model
The next batch of iPhone models will replace the current series 11 and instead of the usual trio this time we'll get four devices. And while Samsung is expanding its portfolio in the upper echelon with the Galaxy S20 Ultra, Apple is opting for a different approach, reviving the almost forgotten Mini craze from a few years back with its own compact and powerful model.
The company had listened to the voice of nostalgy and user's recent demand for a compact form factor pointing their fingers back to the dearly missed iPhone 4 and 5 models. The new device may be called iPhone 12 Mini and sports a 5.4-inch OLED display and a dual-camera system. It will retain the power and premium looks of its bigger brothers and only shrink in size. This is not the iPhone SE 2 model from our subtitle, we'll get to that later.
Next in line is the standard 6.1-inch model again with two cameras on its back and an OLED display. The iPhone 12 Pro retains the same diagonal but adds another camera and a ToF sensor. And finally, the iPhone 12 Pro Max has grown to the respectable 6.7-inch size. It's an interesting bunch and we'll have to dig a bit deeper into Apple's logic in order to understand what's going on.
Last year's devices messed up the sizes a bit, with the iPhone 11 Pro being the smallest of them all at 5.8-inches, while the standard model got a 6.1-inch display. The iPhone 11 Pro Max sported a 6.5-inch screen and this decision made people scratch their heads.
Things are back to normal with the 2020 line up – Apple opted for three sizes, gradually increasing the screen estate with each model. The iPhone 12 Mini is getting 5.8 inches, both standard and Pro versions will come at 6.1, and Pro Max catches up with the competition with its large 6.7-inch display. All screens are of the OLED variety and we expect small bezels and good screen-to-body ratio.
Finally, a couple of words about the rumored SE 2 model, although details about the device are almost non-existent. Some inside sources from the supply-chain industry reported 5,42-inch display for the next SE model and of the LCD variety, to keep the cost down, of course. Famous analyst Ming-Chi Kuo, on the other hand, puts the design of the SE 2 close to iPhone 8 devices. Apart from this, information is all over the place and we'll have to wait and see if anything SE comes out of Apple's hat in March.
Jermaine Smit – aka Concept Creator – has compiled all the information and made a series of 3D renders of the new devices exclusively for LetsGoDigital. There's a iPhone 12 video as well, another quality job of the Dutch designer.
iPhone 12 5G connectivity with a flaw
With the 5G race at full speed, Apple finally decided to take part and put out a 5G device. All new models will support 5G courtesy of Qualcomm's 5G modem. iPhone 12 devices will probably also feature sub-6GHz and perhaps even mmWave networks. However, there's a catch – not all countries will get to use the 5G connectivity – USA, UK, Canada, Japan, and South Korea all have the necessary equipment and infrastructure but the rest of the world will have to deal with LTE instead.
It's a messy situation – omitting the support for European 5G networks is a massive disappointment and although not all is set in stone yet, Apple operates very differently with its overseas policy and business model, so don't get your hopes high.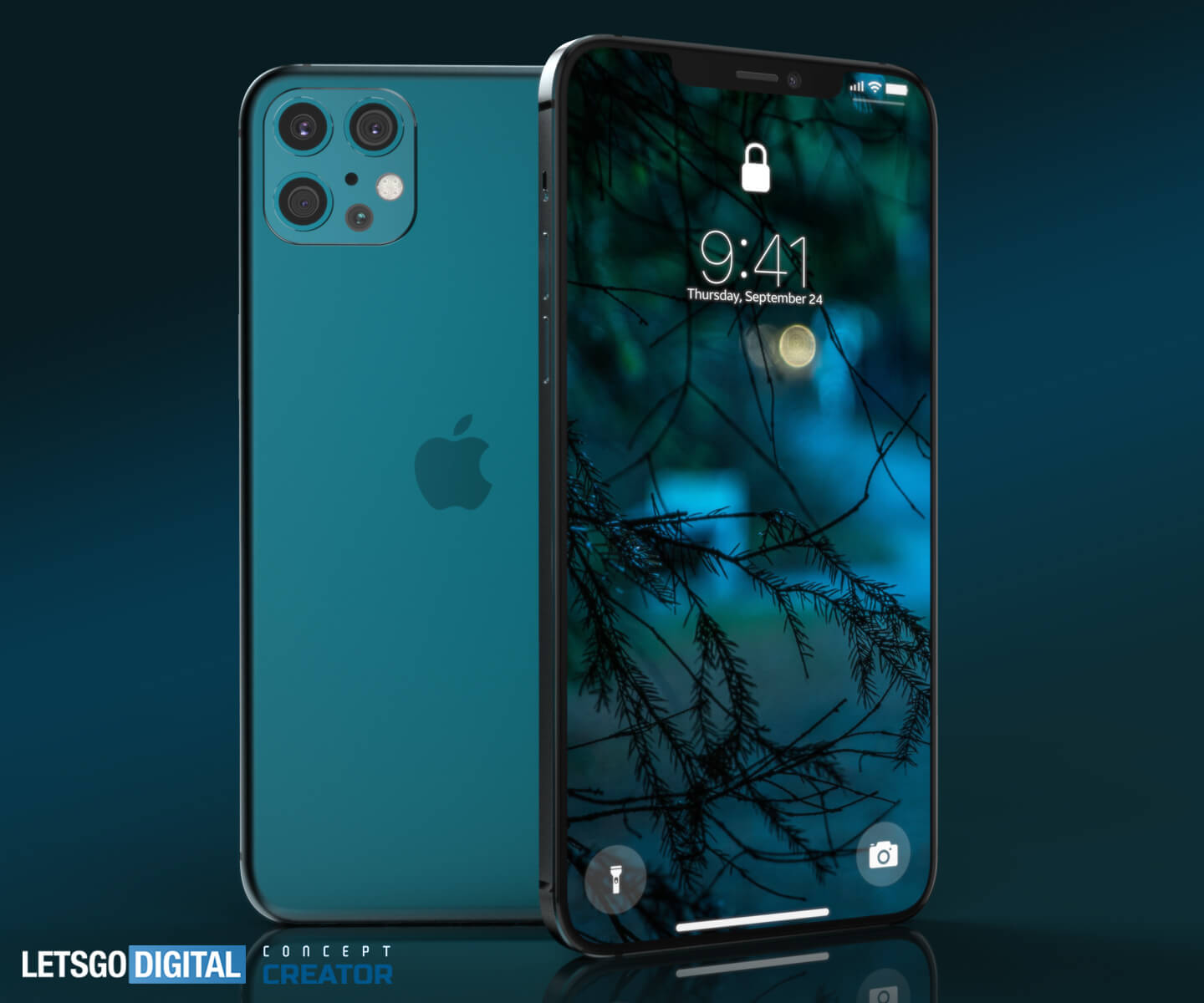 Modern design inspired by the past
After several generations in the aluminum round-edges camp, Apple will make another U-turn with the design. There were rumors and reports for quite some time now, and again the all-knowing Ming-Chi Kuo predicted that the design of the iPhone 12 will resemble the already mentioned iPhone 4. This means a more industrial looking device with straight edges and a stainless steel frame.
Apparently, Apple will use new manufacturing techniques to create the iPhone 12 and we can expect very sleek and stylish devices. As you can see from the renders, the device looks stunning with minimal bezels, steel frames and keeping the same 2.5D glass front and back. Furthermore, the iPhone 12 lineup will slim its waistline with rumors setting the thickness of the iPhone 12 Pro Max at only 7.4 mm – almost 10% thinner than the iPhone 11 Pro Max and its 8.1 mm.
Notch haters will hate again, as no significant change is expected in the design here. True, the notch may become smaller and more refined but Apple still needs the Face ID and TrueDepth systems and no under-display magic will happen, so the notch stays. Speaking of which, the selfie camera is an unknown quantity at this moment. Last year we got 7-megapixel snappers and this should be upgraded along with the aforementioned FaceID for a better, more secured and faster face unlocks.
We explored the possibility of a notch-free iPhone some time ago, but it seems Apple is not ready with the under-display Touch ID and Face ID  integration. Ming-Chi Kuo believes that the company is getting there, aiming for 2021 release but we still don't know if this is the case indeed.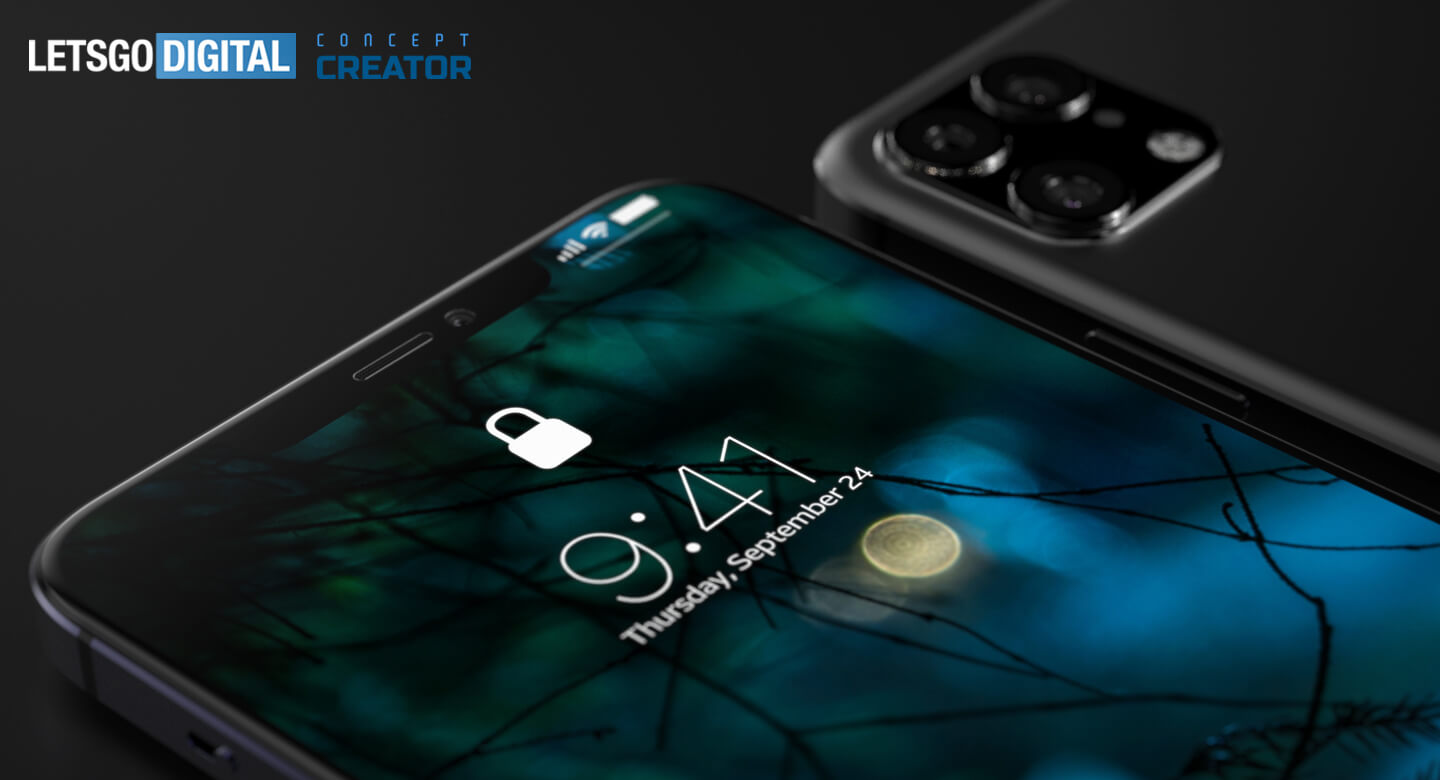 OLED displays and a 120Hz refresh rate
For the first time, the whole iPhone lineup is equipped with OLED screens and in addition to the deep blacks and vivid colors, we'll get a bump in the refresh rates as well. Word of a ProMotion display is tossed around with a 120Hz refresh rate – which is exactly two times last year's Herz count of 60.
The smartphone industry is moving towards faster displays with Samsung Galaxy S20 and Huawei P40 Pro both sporting a 120Hz screen with OnePlus, Oppo and Xiaomi following the trend as well. It's only natural for Apple to opt for that technology too, considering the company uses 120Hz displays in its iPad portfolio since 2017.
All this will undoubtedly make gamers happy as games will run smoother and look better on these devices. Apple Arcade gaming service will come handy – the company launched it last year and for a small monthly subscription fee you'll be able to play hundreds of games on all iOS devices, including iPad, Mac PC or Apple TV.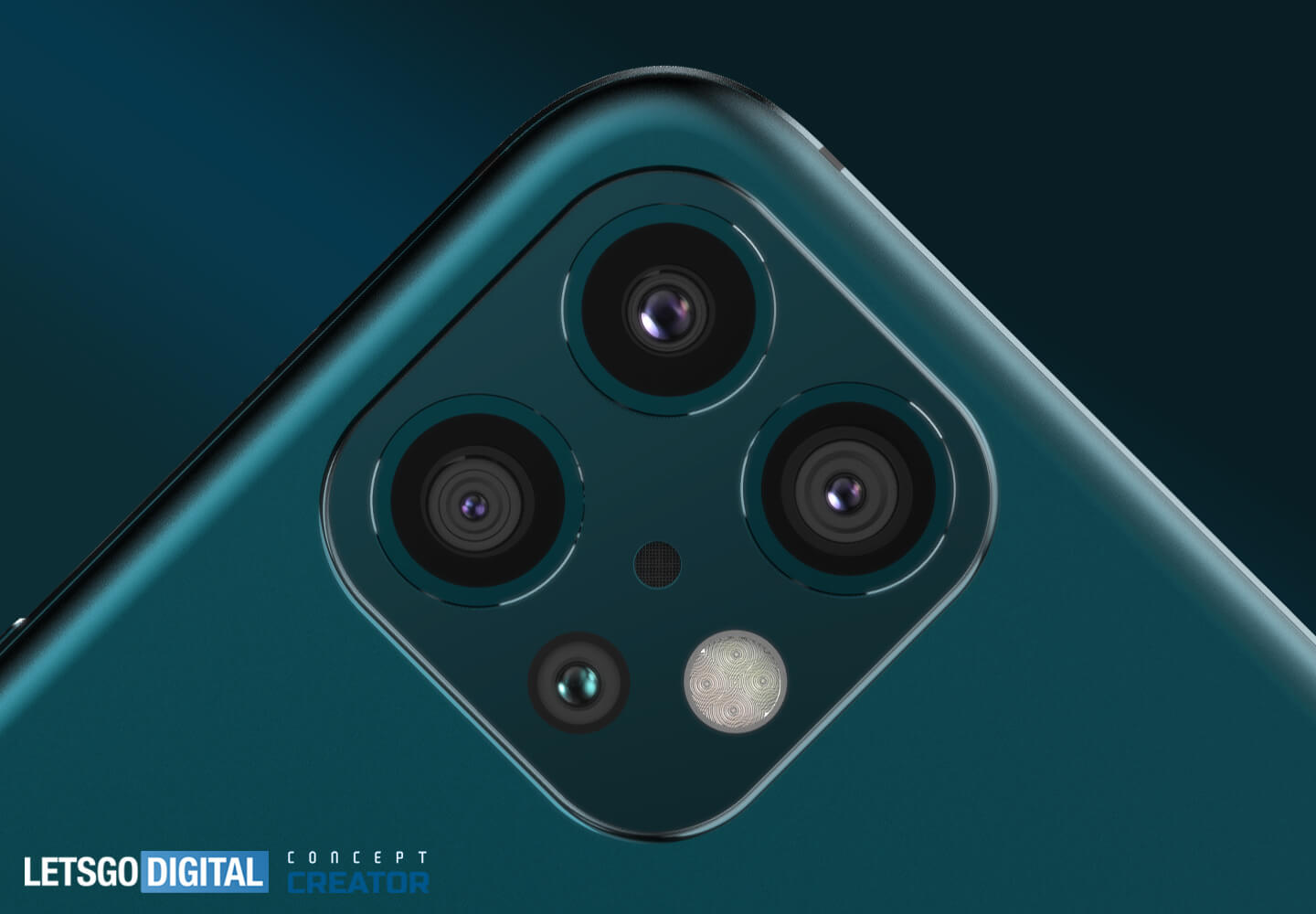 iPhone 12 Pro Max to offer the best camera
Apart from display sizes, the new models also differ in terms of camera set-up. The iPhone 12 Mini gets a dual-camera system on the back – probably a wide-lens and ultrawide lens setup. The same applies to the standard model – the iPhone 12, with things getting more interesting in the upper tier.
The two Pro models get the good stuff – a third camera with a telephoto lens and another ToF (Time-of-Flight) sensor allowing for 3D imaging. These depth sensors also get the job done when it comes to portrait photos, so expect next-level bokeh effects and even more selfie-goodness.
In fact, the TrueDepth front camera is also a sort of a ToF sensor itself. The main difference is that the rear ToF uses a laser, while the TrueDepth relies on infrared. Using a laser makes for a greater distance when measuring, thus making iPhone 12 Pro and Pro Max well equipped to tackle Augmented Reality (AR) tasks and applications. AR has been a big thing for Apple for years – it was the first company to introduce Animoji and Memoji in a smartphone and there will be new AR features in the iPhone 12 for sure.
Deep Fusion, Night mode, and QuickTake features will make a return in the new phones, allowing for better night shots and low-light condition photography altogether. QuickTake.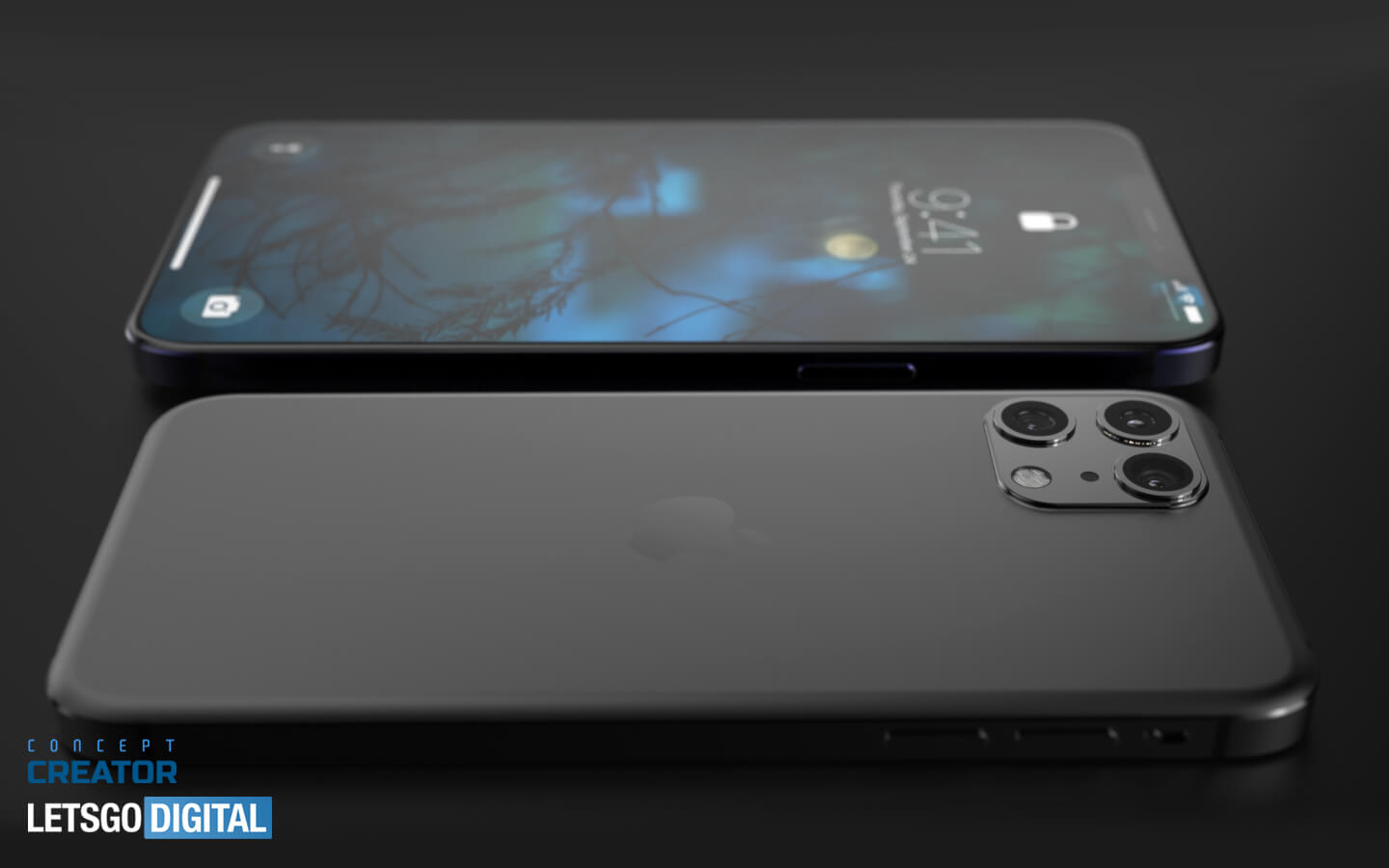 Apple A14 Bionic power
A new iPhone model means inevitably new chipset and that's how Apple tic-tac-toe cycle operates. In 2020, the A14 Bionic chip will be used baked under the 5-nanometer digital anvils – a substantial upgrade compared to the 7nm A13 chip. You may think 2nm is not such big of a deal but getting silicon smaller and more efficient while getting more performance out gets exponentially harder.
Expect stellar performance and top benchmark results – which is a kind of iPhone's trademark – when a new device comes out, it tops the charts. The extra energy efficiency should contribute to battery life – a weak link in otherwise flawless devices. Another stubborn concept Apple is holding onto is the base storage and lack of microSD expansion option. 64GB was a decent amount last year but we hope the company will rethink and update the number to at least 128GB. 64GB storage can remain an SE-exclusive option and it will be a win-win situation for everyone.
RAM capacity will probably change too, but there are lots of unknowns. The Pro models will most likely get 6GB of RAM which is an improvement and although it falls short on paper with phones with 12 or 16GB of RAM, the way Apple utilizes the memory makes 6GB more than enough. The Mini and the Standard though will probably stay with 4GB like their predecessors.
Naturally, along with the new hardware we always get a software update. Apple is expected to announce its new iOS 14 operating system during the WWDC Developer Conference in June 2020. According to the latest rumors, all iPhones running on iOS 13 will have the option to upgrade to iOS 14 later in the year.
Battery capacity remains a big question mark for the iPhone 12 and although Apple is slowly increasing the capacities, we have to manage our expectations. Last year's iPhone 11 Pro Max got 3500 mAh battery – the largest ever used in an Apple smartphone – and we can expect similar or even bigger capacity batteries in the new devices. The OLED screens and efficient chipsets will provide the necessary autonomy and we might even get two full days away from the plug.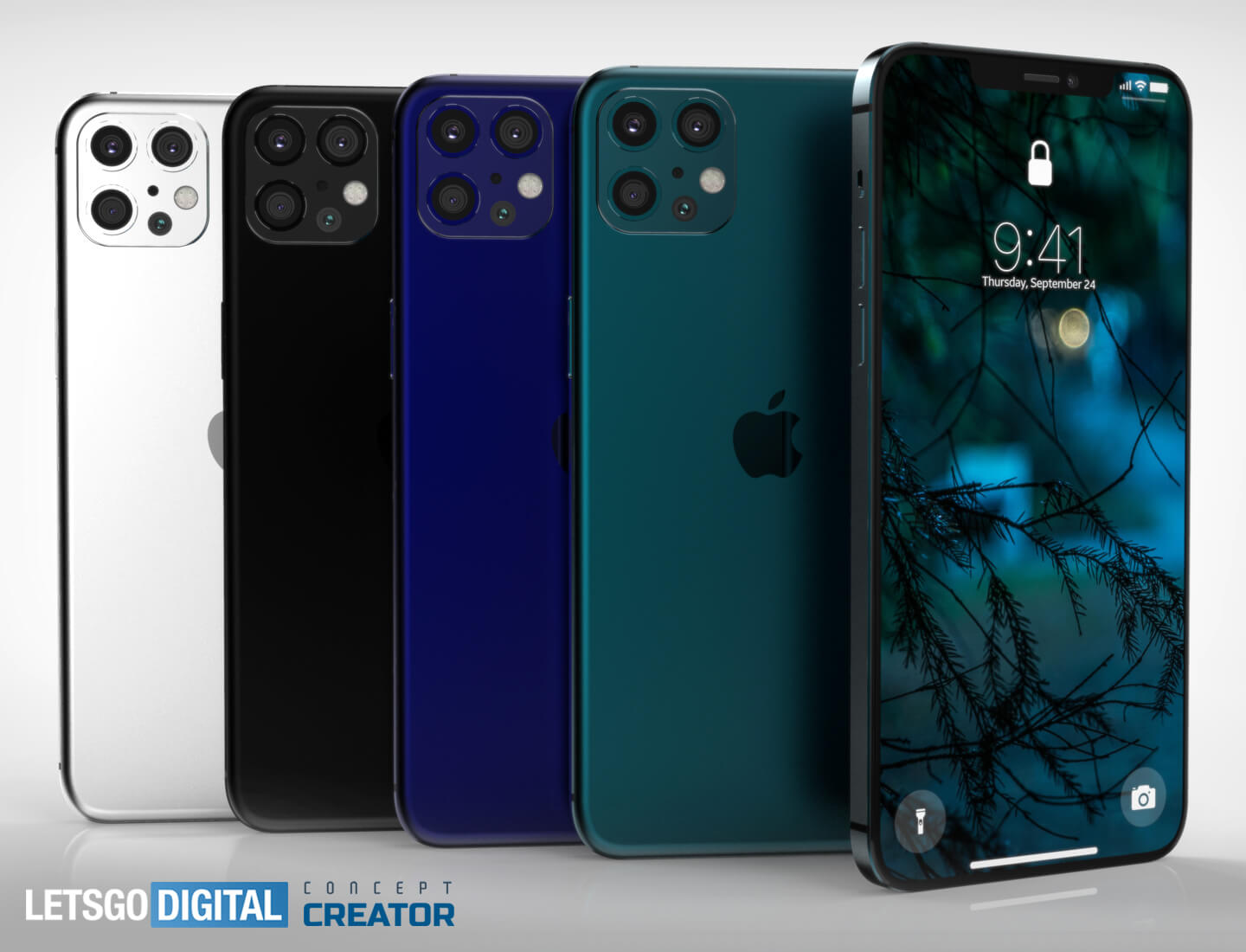 Apple iPhone 12 price & colors
Last year Midnight-Green appeared in the iPhone 11 Pro color palette for the first time and it proved to be quite a popular option. Sadly, this color doesn't seem to be available with the new devices, but we might get a Navy Blue option in addition to the usual Space Gray and Silver color schemes.
Apple keeps prices relatively constant throughout generations but this year we might see some reshuffling. iPhone 11, 11 Pro and 11 Pro Max debuted at $699, $999 and $1099 respectively and we can expect an overlap but the wild card is the 5G connectivity. Ming-Chi Kuo estimates a rise of $30 to $100, which is not so bad. In addition, we're getting the Mini and it has to be the least expensive of the lot. Maybe it will retain the $699 price, while the other three models will get a tad more expensive but we honestly don't know at this point.
The rumored iPhone SE 2 is another variable in the equation, aiming to deliver the Apple experience to a wider consumer audience. The first SE model received a modest $399 price tag and if there is, in fact, a successor – it's safe to assume it'll be similarly priced. All in all, SE was a popular spin-off and releasing a second iteration will make sense.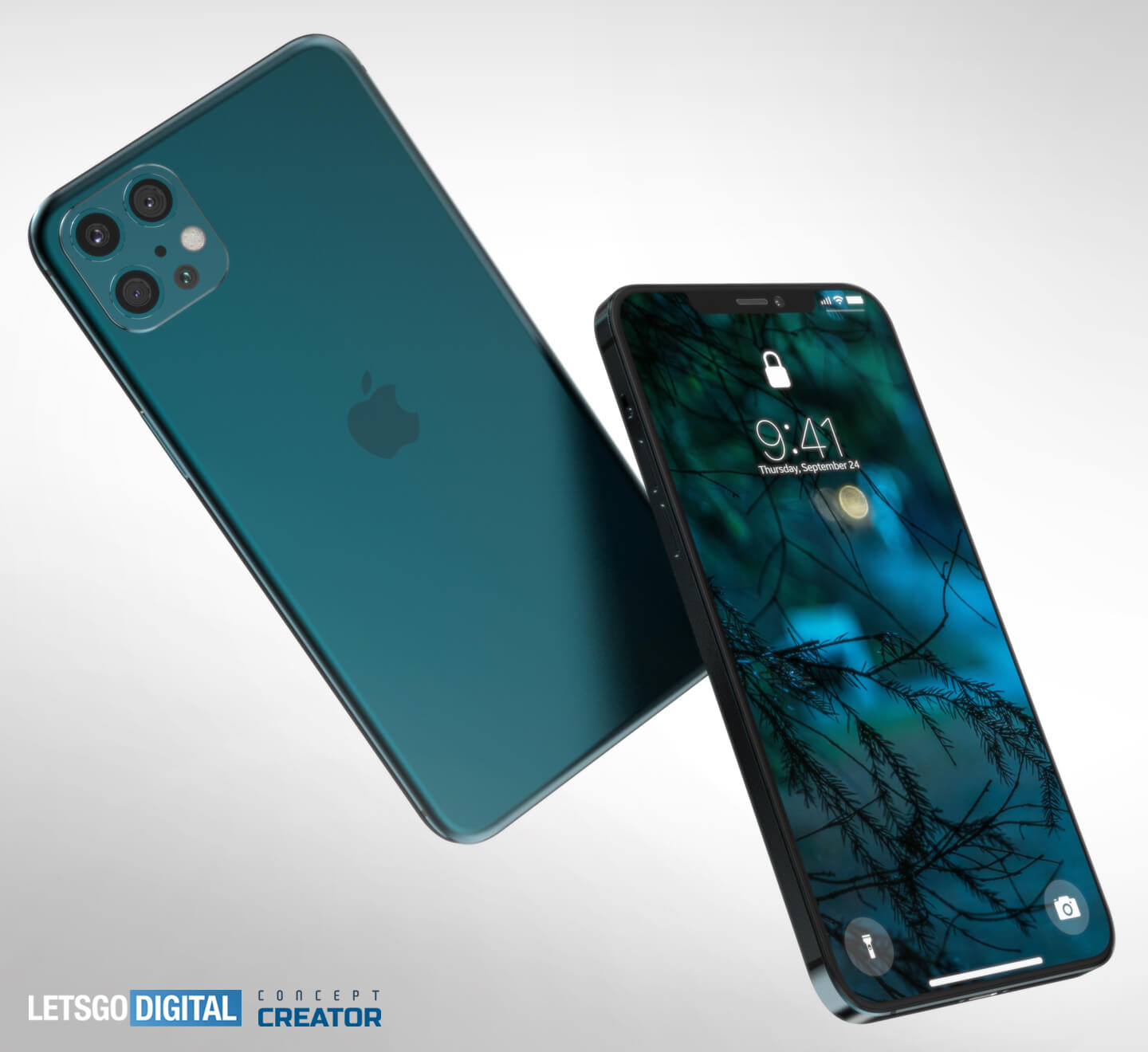 Buying options
Apple devices tend to hold their value and it's hard to get a new iPhone at a discount price or on sale. There are some options but all of them include a contract with a carrier. Incentives like Apple Trade-in where you can get discounts if you trade your old iPhone make things slightly better – you can get between $80 (for an iPhone 6s) and $500 (for the iPhone XS Max).
The secondhand and so-called refurbished market is another option if you have the patience to wait for a couple of months after the official debut. These are generally subdivided into three categories: "as good as new", "light user traces", "clear user traces." The better the condition, the higher the price and some devices come with a warranty too.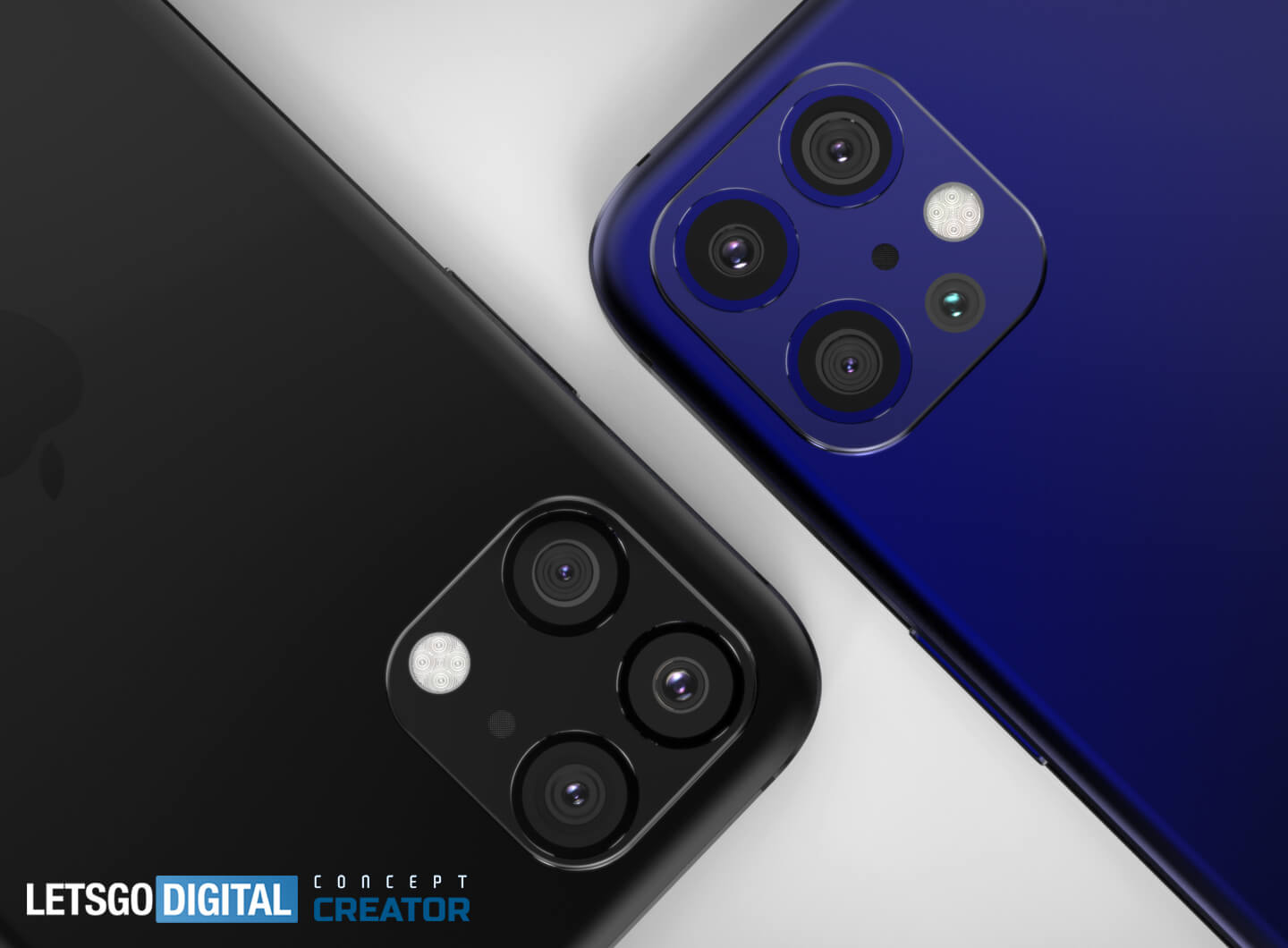 iPhone 12 official launch dates
Apple makes the official announcement usually in September – last year the event was held on the 10th of September with preorders starting three days later. The devices hit the market a week later and there's no reason for Apple to diverge from this scenario in 2020. The only exception might be the iPhone SE 2 – the phone is rumored to get announced sometime in March.
Along with the new phones, Apple will also release a number of new accessories. Get ready for a variety of new cases – from sleek transparent silicon ones to the luxury leather bound business type.