A rollable display is a flexible display, that can be rolled up into a scroll. Although it may still take a few years before we can actually buy such a screen, we have already seen various prototypes during recent years. With CES 2018 and SID 2018 being just around the corner, we may soon see the latest developments. Today we have got news about Samsung's rollable OLED display, as we might be witnessing the development process of Samsung's rollable tablet.

Rollable displays
At IFA 2005 the Dutch royal company Philips showed world's first prototype of an e-Reader Radius rollable display concept. Years later, at CES 2016, LG showed an 18″ flexible OLED display of only 1mm thick. The rollable TV was the lightest and thinnest display ever shown working.
Two months later Samsung demonstrated a rollable OLED display at SID 2016, it was a 5.7 inch screen, only 0.3mm thick and 5 grams. This screen could very well be used as a flexible smartphone screen.
A new patent from Samsung Display Co. Ltd has just been published in the WIPO database. The application filling date was June 13 2017, while the original application was filed exactly one year earlier with the Korean Intellectual Property Office.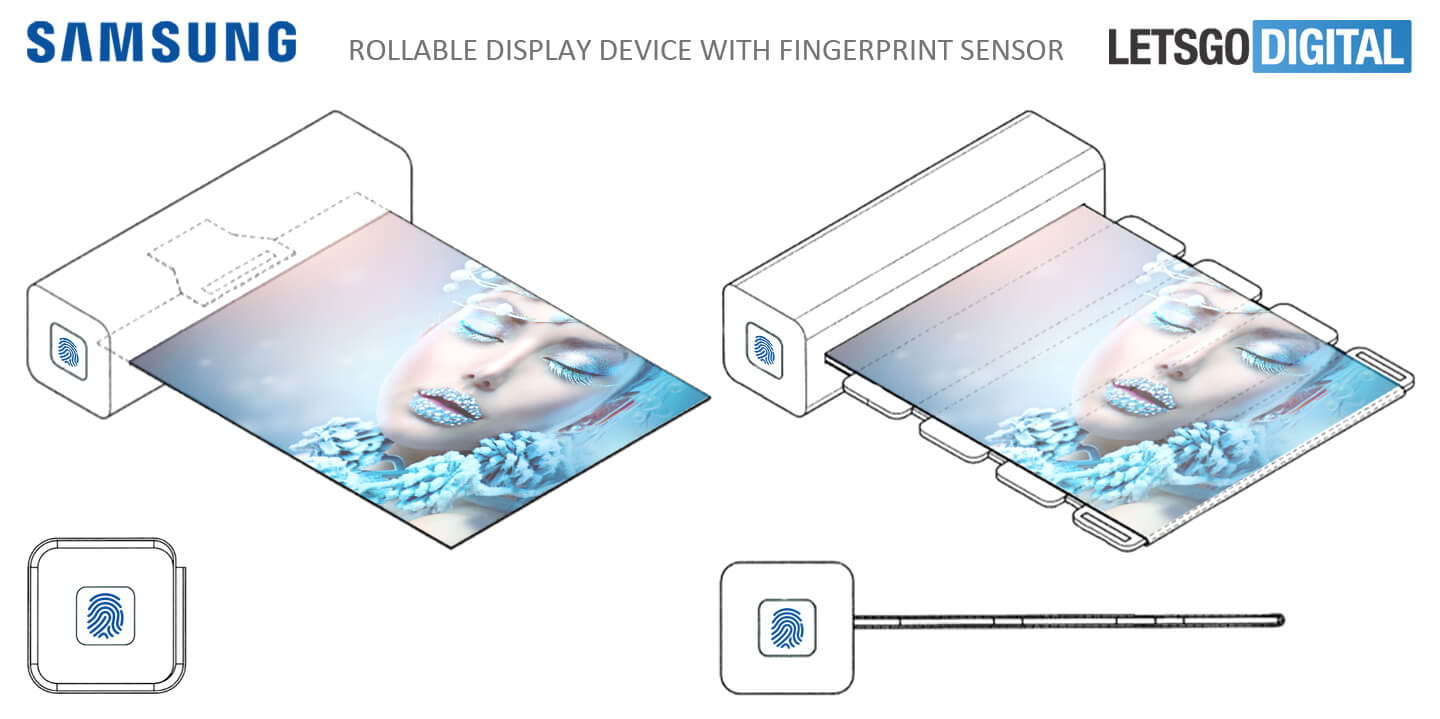 Samsung flexible display panel and a main body with fingerprint sensor
The patented flexible display panel from Samsung can curl around a main body. The main body will be made from a metallic material, while the display includes one or more magnets, to easily attach the rollable display to the body. The patent shows rollable display devices with different form factors, including one with a square and cylindrical body.
The cylindrical model has a roller that can rotate to spirally wind the flexible display panel. When the flexible display panel is being spirally wound around the main body, the display can be fixed to the body by a magnetic force of the magnet.
At the beginning of this month we showed a patent from LG, showing a rollable display with a cassette. The cassette contained a rotating motor. Samsung seems to choose for magnets, the magnets can be placed along the length or width direction of the flexible display panel.
Videoconcept by Yanko Design
Samsung rollable display with fingerprint sensor
That´s not the only thing shown in the patent. Once rolled up, users will be able to easily carry the rollable display device anywhere they want. To secure the data shown on the flexible display panel, the main body will feature an integrated fingerprint sensor. By simply pressing the main body with your thumb, the display panel will be unlocked and can be rolled out.
It has already been a while seen we have seen the last prototype of a rollable OLED display. We hope to bring you more news next month when CES 2018 takes place in Las Vegas.
Here you can find the patent claim and the drawings.