In recent weeks, much has been written about the new S-Series models that will be announced in early 2022 during the Samsung Galaxy Unpacked event. A week ago, LetsGoDigital revealed the camera design of the Galaxy S22 Ultra. LetsGoDigital had high-quality product renders made, based on exclusive information obtained from South Korean former Samsung employee Super Roader. The information showed that Samsung will equip its new top model within the Galaxy S-Series with a water drop camera system.
In the meantime, in-house graphic designer Giuseppe Spinelli, aka Snoreyn, has started working with Technizo Concept's Galaxy S22 Ultra model, to place the smartphone in a photo-realistic environment – it seems like the devices are being displayed during Samsung Unpacked. It is the first time that two designers work together to achieve an extra realistic result. The new 4K and 8K renders give an even better impression of what the Samsung Galaxy S22 Ultra will look like in real-life.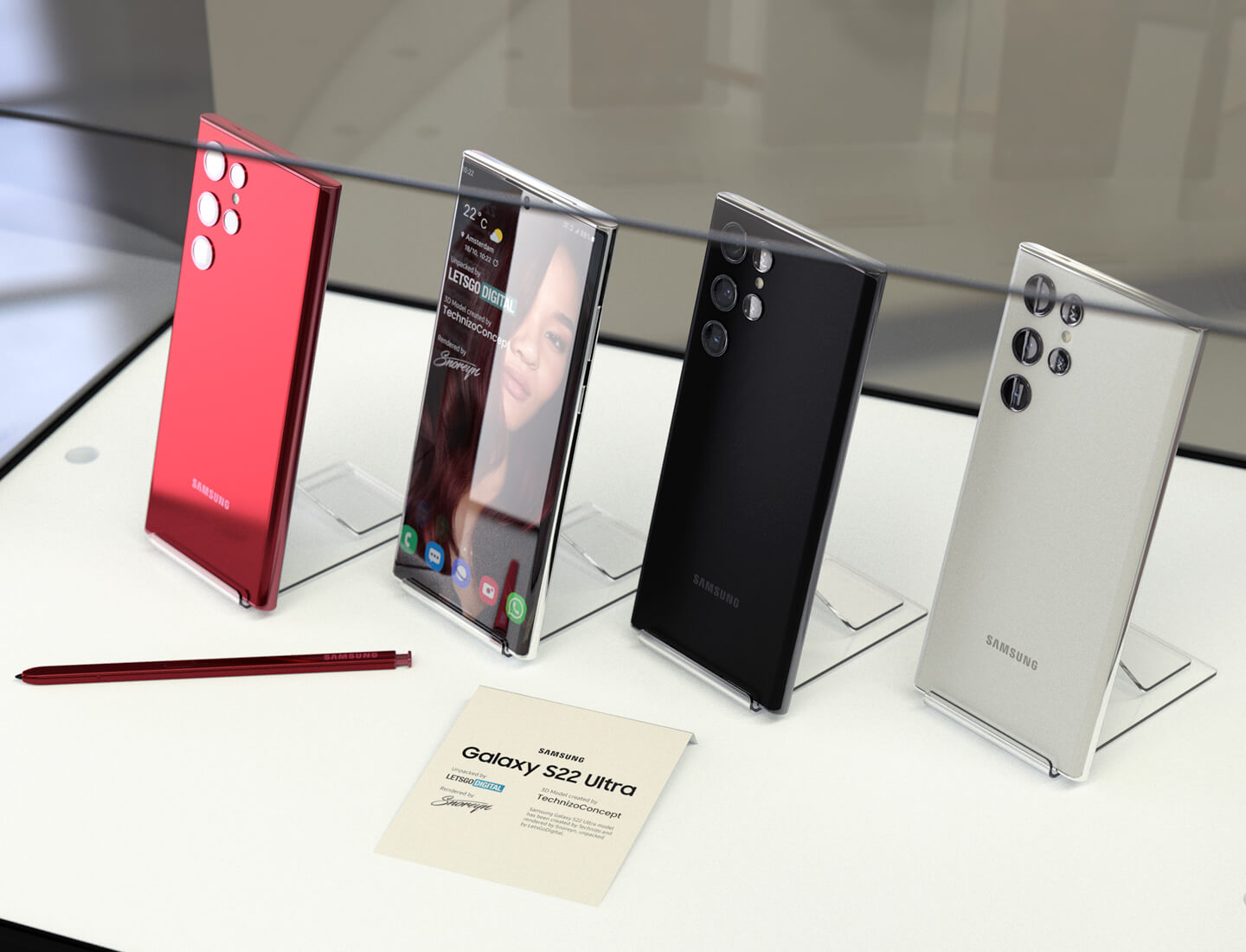 Samsung Galaxy S22 Ultra with water drop camera
Many are now wondering what to believe. After all, it is not the first time that the camera system of the S22 Ultra has been shown. The French leaker OnLeaks reported some time ago that the S22U will come with a P-shaped camera island. Ice Universe knew it wouldn't be a P-shape and expected Samsung to provide the S22 Ultra with an 11-shaped camera island. As a result, many different variants circulated.
The water drop design as showed by LetsGoDigital last week has now been confirmed, since a photo is circulating on Weibo showing a back panel with five camera holes. From the leaked photo it can be concluded that Samsung wants to keep the camera design as minimalist as possible. The design looks similar to the budget Galaxy A32. Samsung has adopted this design style from LG Electronics – who provided the LG Velvet with a similar water drop camera.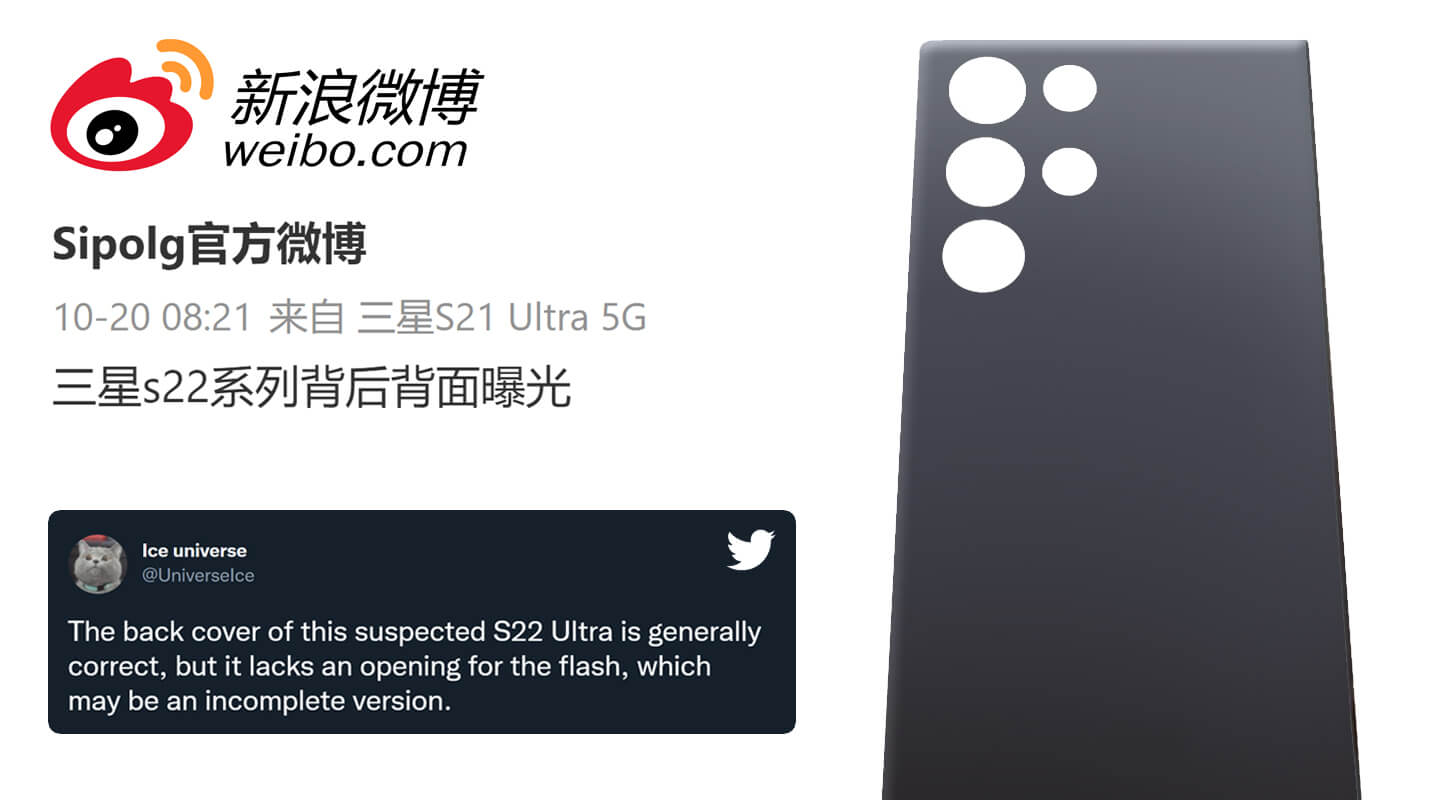 The leaked back panel does leave one question mark. What about the laser autofocus sensor and the flash? The renders made by LetsGoDigital show 6 circles – four cameras, a flash and a laser autofocus sensor. According to Ice Universe, this may be explained by the fact that the leaked back panel is an incomplete version – without an opening for the flash.
What about the camera configuration. The Samsung S22 Ultra is expected to be equipped with a quad-camera, consisting of a 108MP main camera, a 12MP camera with ultra-wide angle lens and two 10MP telephoto lenses – with 3x and 10x optical zoom. All cameras will feature optical image stabilization – a first for the ultra-wide angle camera.
The 40 megapixel selfie camera will most likely be maintained. Samsung will again opt for a punch-hole selfie camera. The under-display camera as used in the Galaxy Z Fold 3 will be refined, before Samsung wants to apply this selfie camera technology to an S-Series device.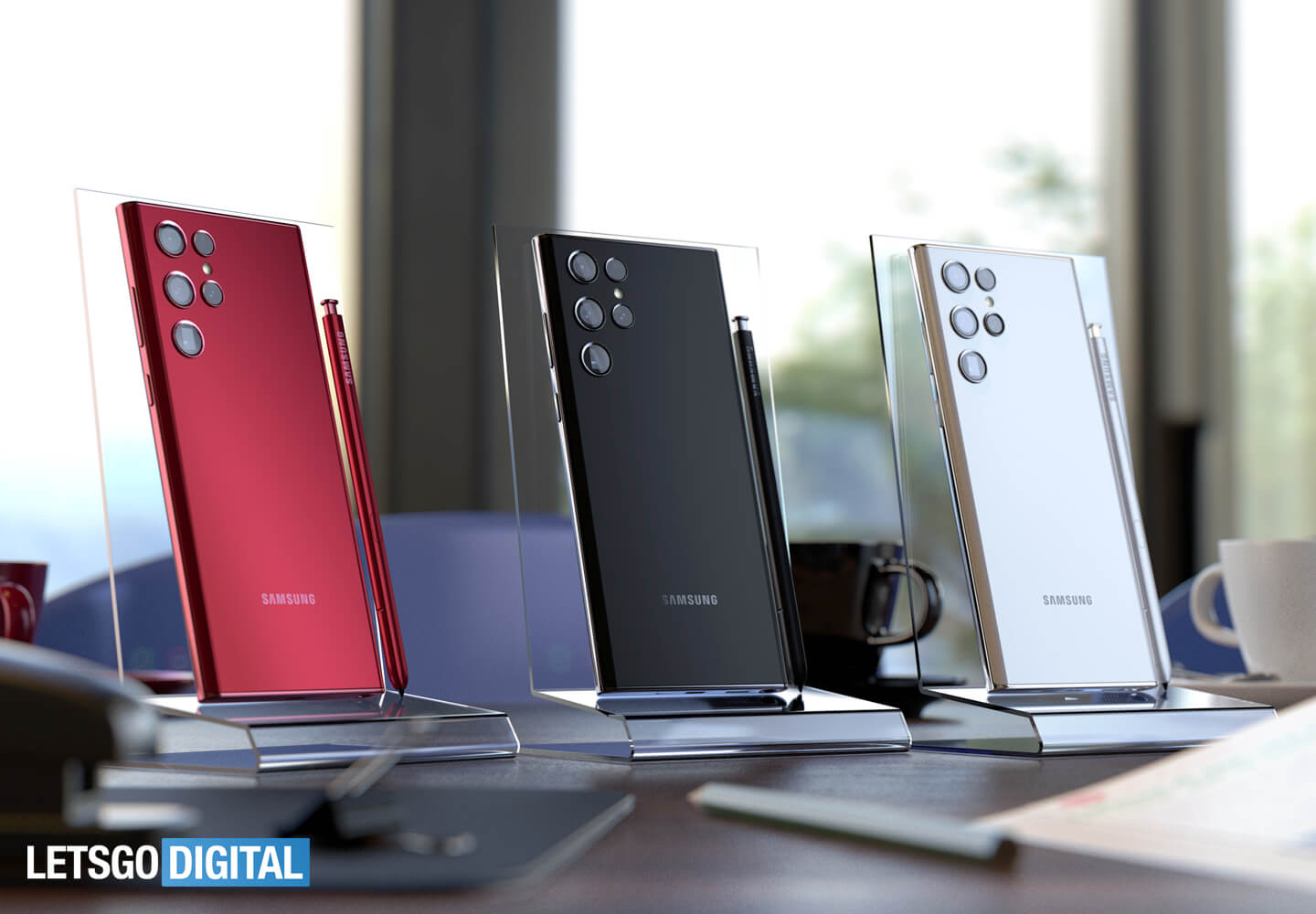 Samsung S22 Ultra with Galaxy Note design
The new Ultra model has less rounded corners than before. Leaving enough space to integrate an S Pen compartment – as we are used to from the Galaxy Note model series. Via the left bottom it will be possible to store the S Pen in the housing of the phone.
Although the Galaxy S21 Ultra is also compatible with Samsung's stylus pen, that model is not equipped with a compartment. Instead, Samsung has released optional accessories in the form of smartphone cases with an S Pen holder. This is going to change with the S22 Ultra.
Samsung Note users find this good news in particular. After all, the famous Note series will continue to live on – although the new models will be placed within the S-Series from 2022. There are also less enthusiastic reactions to be read online. Not so strange, as fans who were charmed by the round design of the S20 Ultra / S21 Ultra and/or who see no added value in an S Pen, will have to switch to the less advanced Galaxy S22 Plus this time.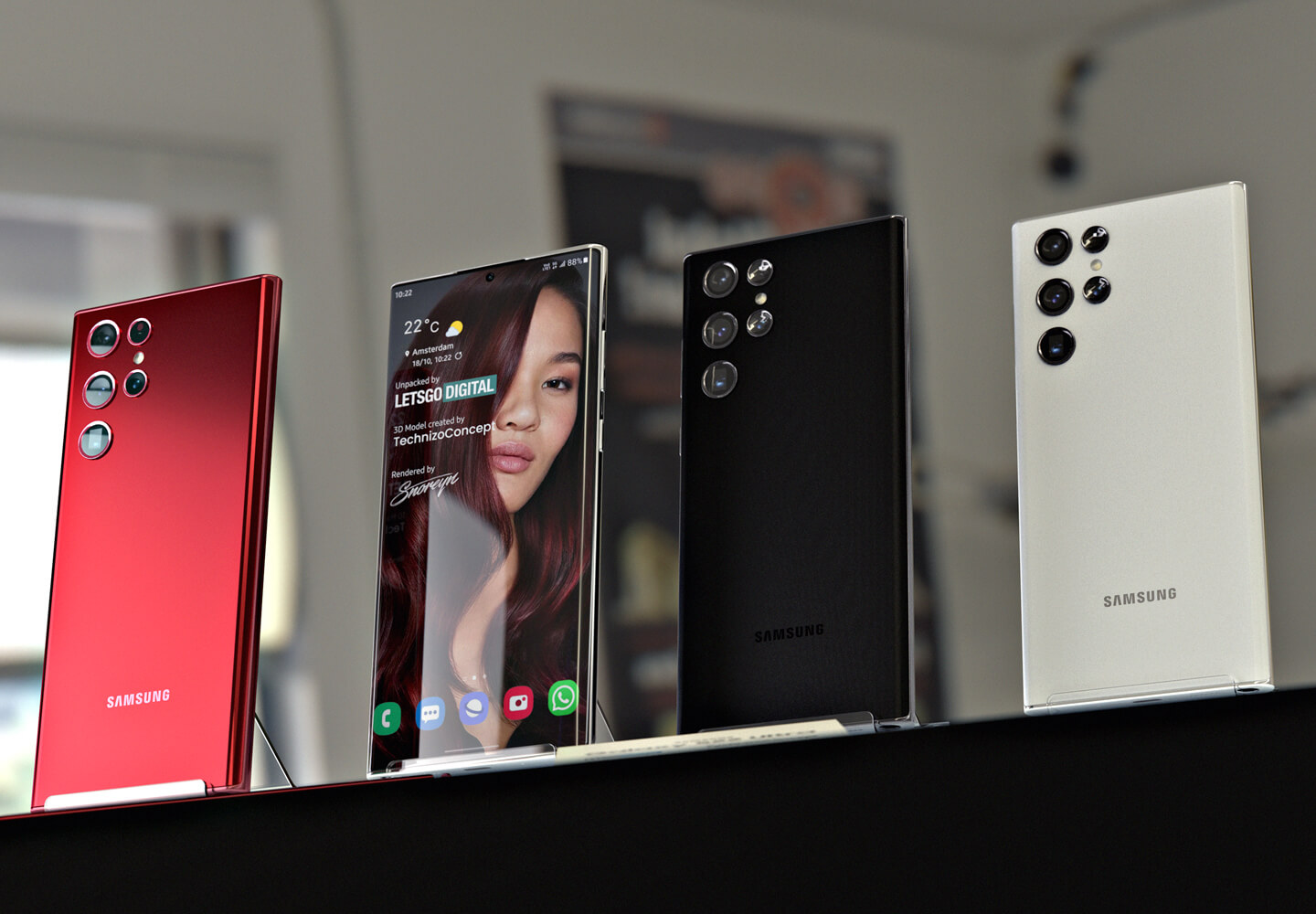 6.8" Curved AMOLED display
The Samsung Galaxy S22 Ultra will be equipped with a 6.8-inch AMOLED screen. The new flagship will be the only S-Series 2022 model with a curved display and a WQHD+ resolution. The adaptive 120Hz refresh rate will also be available again.
The bezels will be further reduced, as was clearly visible on to three pictures published by Ice Universe last week. The images show the screen of the Galaxy S22 Ultra including the black bezels. These will still not be completely symmetrical – the bottom bezel remains the thickest.
The Galaxy S22 series will be the first Samsung smartphone that runs on Android 12 OS out of the box. Combined with the new One UI 4 user interface of Samsung. The South-Korean company already gave a first preview and the beta version is already available for download.
More details about One UI 4 were expected to be released during Samsung Unpacked Part 2, which took place last week. Instead, Samsung announced the Galaxy Z Flip 3 Bespoke Edition, as well as a Maison Kitsuné edition of the Galaxy Buds 2 and Galaxy Watch 4. We clearly have to wait a little longer for the final version of One UI 4 to arrive. Nevertheless, it is expected that Samsung will roll out an Android 12 update for its S21 models before the end of 2021.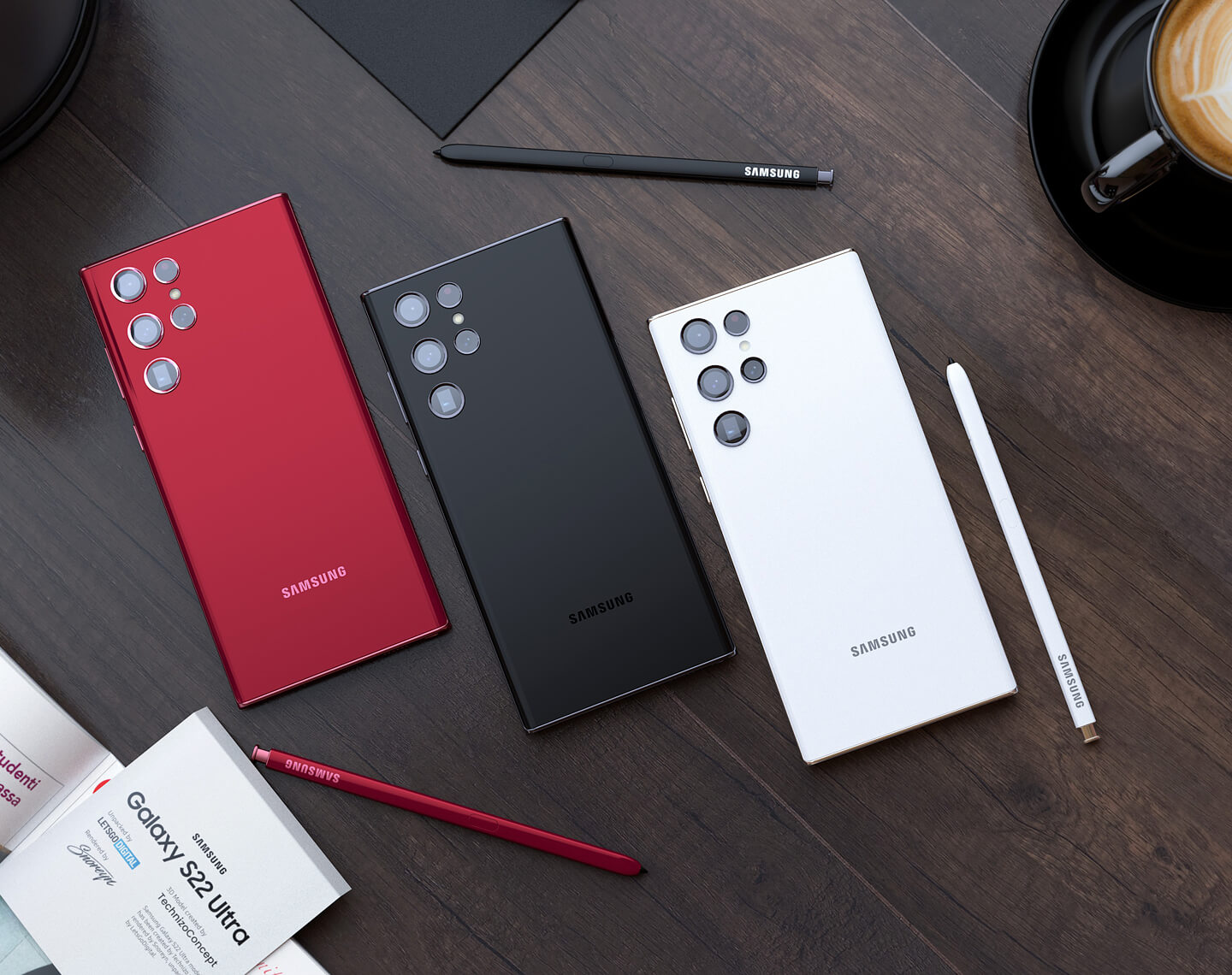 Of course, the high-end S-series smartphones will be equipped with the most powerful chipset of the moment. Like the Galaxy S22 and Galaxy S22 Plus, the Ultra model will be powered by the new Samsung Exynos 2200 SoC – at least in Europe.
Unlike previous years, this chip will come with an AMD RDNA2 GPU with ray-tracing technology – as we know from laptops and game consoles, such as the Sony PS5 and Xbox Series X. Although the European S22 models will be equipped with the Exynos 2200, the Qualcomm Snapdragon 898 will be used in many other parts of the world. Both chips offer 5G support.
It is also highly likely that Samsung will release several memory variants. That is also desirable, after all, it will not be possible to expand the memory by means of a memory card. Presumably, the basic variant will have 12GB/128GB, in addition, a 256GB and a 512GB model is expected. For the time being, there are no signs that Samsung will also release a 1TB model – as Apple has done with the two iPhone 13 Pro models.
Samsung is expected to provide the Galaxy S22 Ultra with a 5,000 mAh battery. It will support 45W wired charging. However, a charger will not be included in the sales package, you have to buy it as a separate accessory.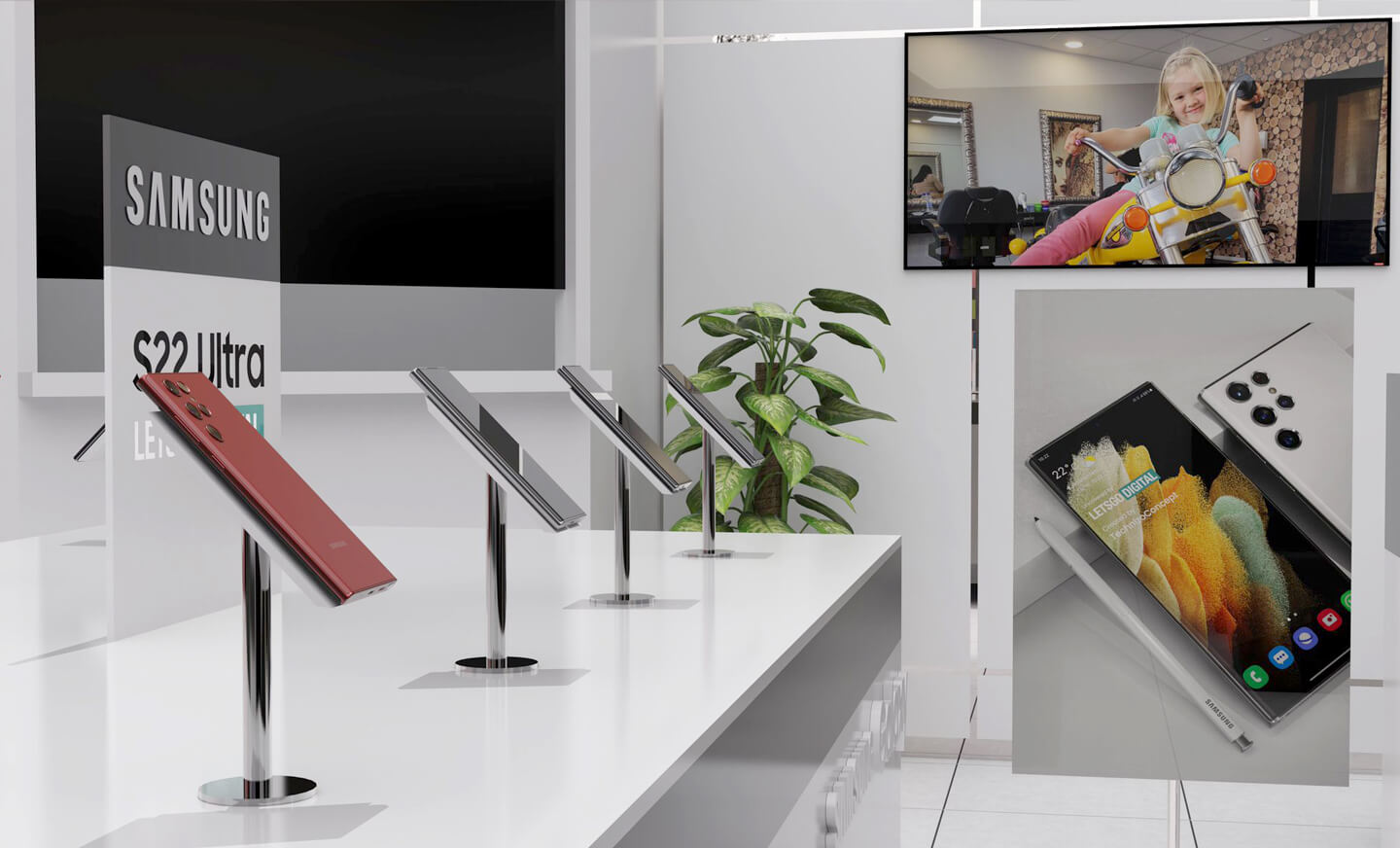 Introduction Galaxy S22 series during Samsung Unpacked 2022
As for the price, the Samsung Galaxy S22 Ultra will probably not be cheaper than its predecessor. The S21 Ultra was reduced in price by €100 last year. The device carried a starting price of €1,250 (12GB/128GB). The new Ultra model will include an S Pen, making it likely that the S22 Ultra will go on sale for around $1,300.
Samsung annually organizes an Galaxy Unpacked event to officially announce the new S-series models. The long-awaited Galaxy S21 FE is expected to appear on January 11, 2022, but no major event will be set up for this device. A month later, in February, Samsung is expected to set up an Unpacked event for the new Samsung S22 series. On February 28, MWC 2022 will kick off in Barcelona, ​​Spain. The new phone models will most likely be exhibited during this annual, well-attended telecom fair.
Note to publishers :  The Samsung Galaxy S22 Ultra product renders presented in this article are created by in-house designer Giuseppe Spinelli (aka Snoreyn) in cooperation with Parvez Khan, aka Technizo Concept. The 3D renders are based on rumors and meant for illustrative purposes only. This product is not (yet) for sale. You can use the copyrighted images for your own website, YouTube and/or social media channels, please be so respectful to include a clickable source link into your publication.