At the beginning of this month, LetsGoDigital reported on a potential Samsung Galaxy A-series smartphone with a rotating camera. With the help of this camera system, selfies as well as regular photo and video recordings can be made. Moreover, thanks to this solution, a beautiful full screen design can be realized, without a notch or hole in the screen. It seems to be a good alternative to the rotating camera of the already released Galaxy A80. Perhaps this new technology will be applied to its successor, the Samsung Galaxy A82 5G is expected later this year.
However, a new patent shows that Samsung is considering multiple options. This time, the South Korean manufacturer has applied for  a patent for a dual slider smartphone. The cameras are included in the slider section, so no camera is visible when not in use.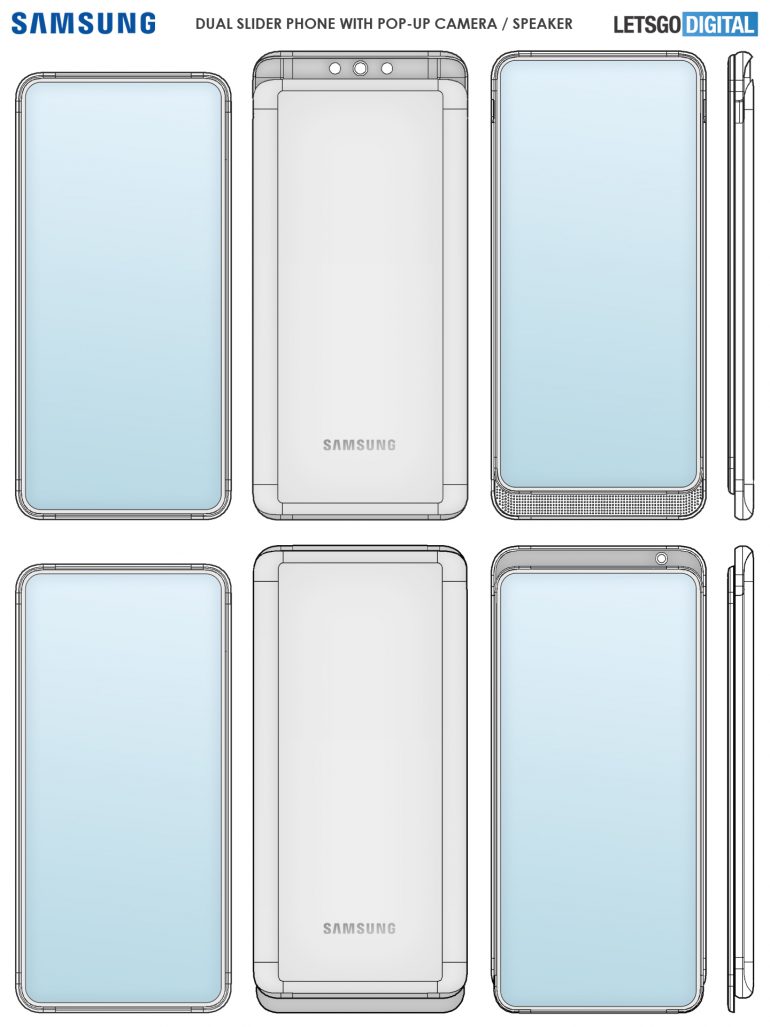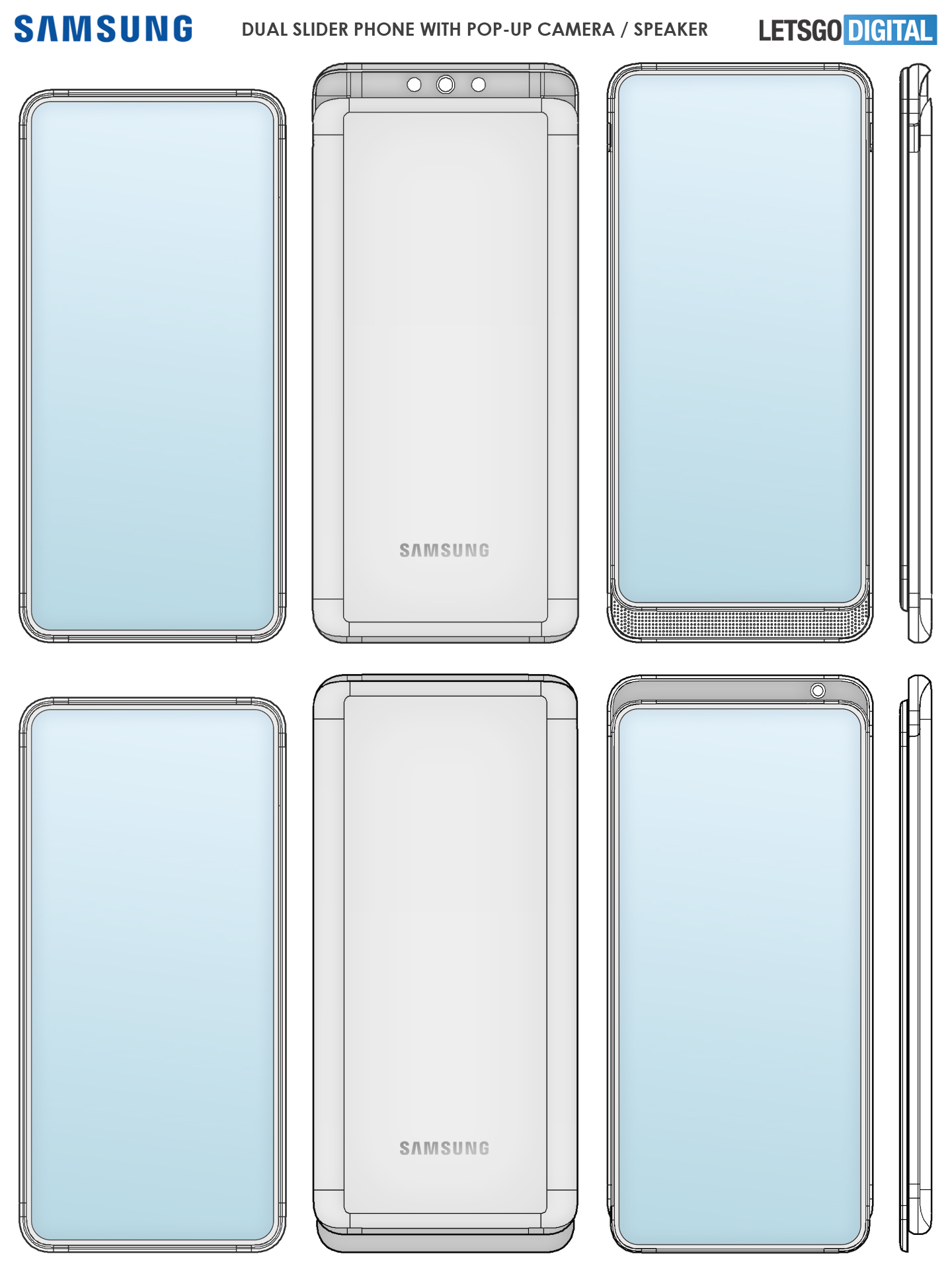 Samsung dual slider smartphone works in two directions
The documentation entitled "Electronic device including front plate slidable in both directions" was filed by Samsung Electronics at the USPTO (United States Patent and Trademark Office) in mid-2020. On January 28, 2021, the patent was approved and included in the WIPO (World Intellectual Property Office) database for worldwide protection of the patented technology.
It is a dual slider smartphone. In other words, this Samsung phone can slide in two directions; up and down. Various components have been incorporated in the slider part, including the front camera and three rear cameras. There is also a large loudspeaker available, which can be activated via the bottom slide section.
Now you may be wondering; what will such a Samsung Galaxy smartphone look like? Industrial designer Sarang Sheth, editor-in-chief at Yanko Design, has teamed up with LetsGoDigital to create a series of product renders based on Samsung Electronics' patent images. The 3D product images are for illustrative purposes only, to provide a better visual representation of the patented technology.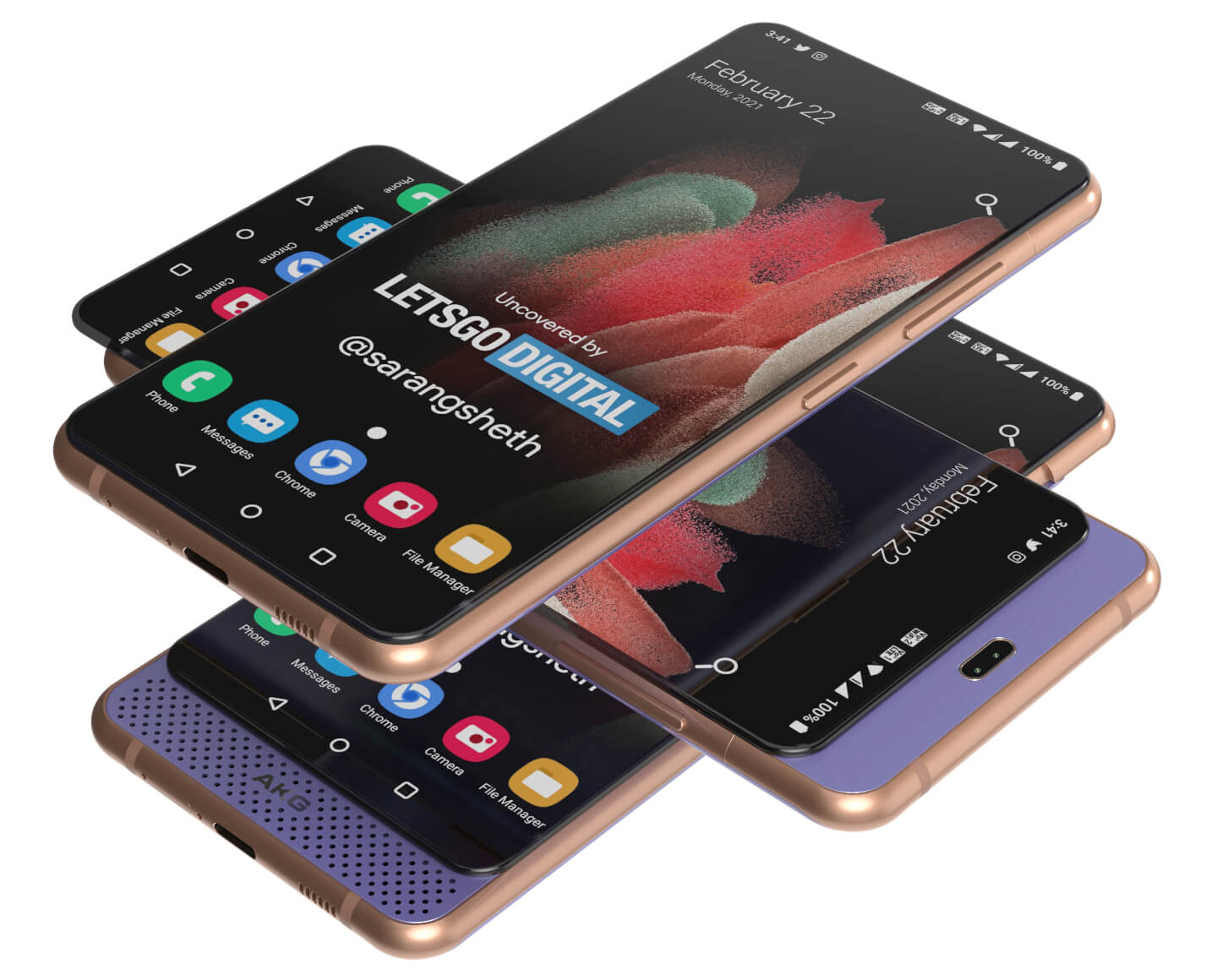 Operation of the Samsung slider smartphone
By sliding the front downwards, compared to the back, the selfie camera becomes visible. One front camera is shown in the patent illustrations, however, in the documentation Samsung reserves the right to integrate multiple camera sensors into the slide section. In addition, an LED flash will be integrated.
If you slide the front upwards, the triple camera system will become visible at the rear. Here too, the number of cameras may differ from the images shown. In addition, additional sensors can be added. Regardless of how many cameras and sensors are implemented, they are placed horizontally from each other. A flash will also be included in the design.
For the product renders Sarang has integrated a dual front camera with a flash. A triple camera with laser AF sensor is placed on the back. Samsung has used this fast and accurate autofocus sensor in its most recent top models; the Galaxy Note 20 Ultra and the Galaxy S21 Ultra. Numerous expert reviews have shown that this laser autofocus sensor is a worthy replacement for the 3D ToF DepthVision camera that Samsung previously used.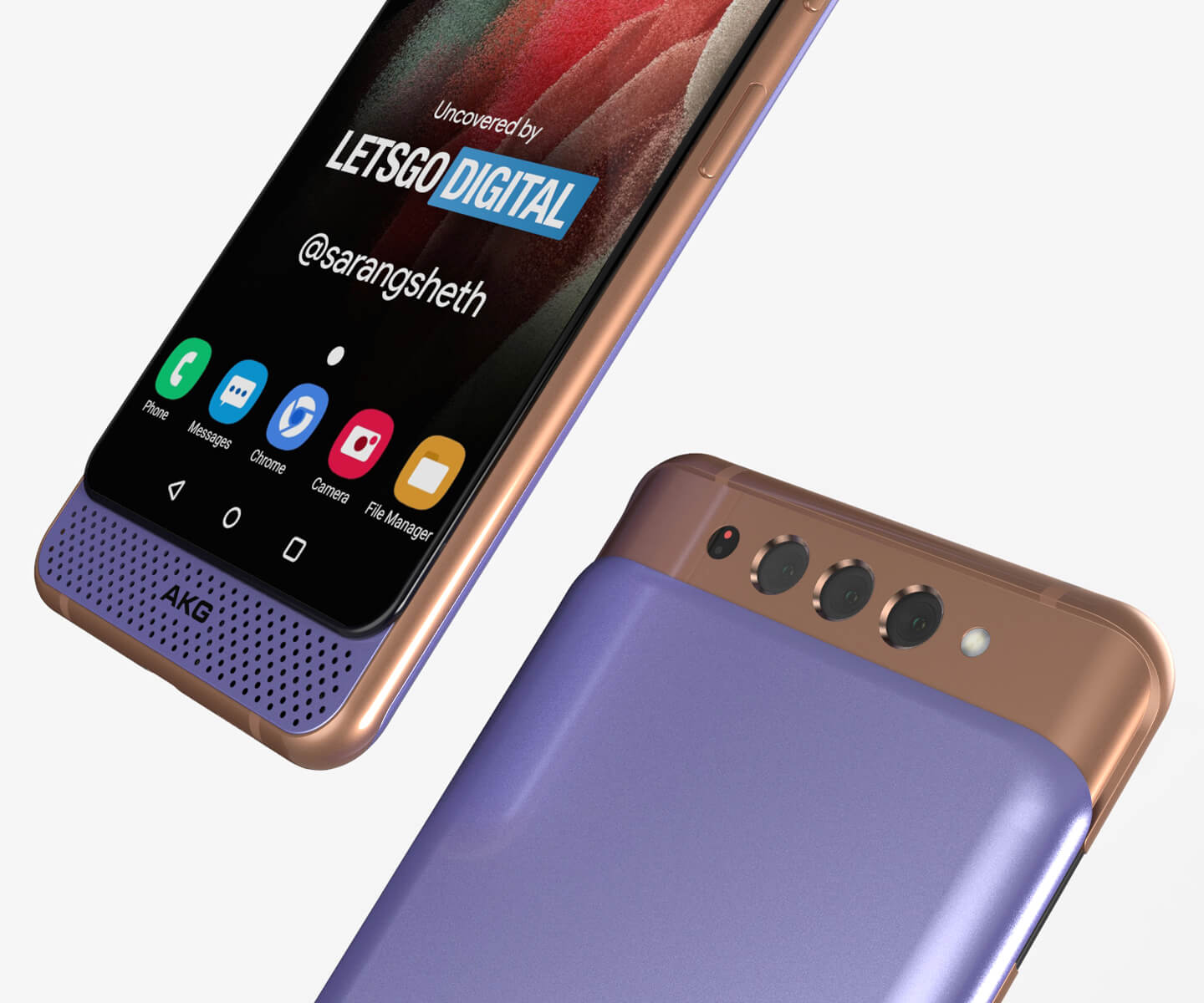 When the triple camera at the rear becomes visible, something happens at the front at the same time. Users can enjoy a large speaker via the extendable section at the bottom. A microphone will also be included in this slide section. It seems to be an ideal phone for multimedia enthusiasts. When watching a movie or video, but of course also when gaming, such a qualitative speaker can deliver real added value.
The large speaker will undoubtedly be able to produce a good sound. Samsung will presumably use AKG's expertise for this. AKG is part of Harman International Industries, which has been a subsidiary of Samsung Electronics since 2017. Since the acquisition, all high-end Galaxy smartphones are equipped with high-quality AKG sound technology.
We have therefore chosen for a qualitative AKG speaker for the renders. Samsung is no longer the only manufacturer that uses Harman Kardon's sound expertise for its smartphones. The recently launched Xiaomi Mi 11 Pro also features a dual speaker from Harman Kardon.
Thanks to the dual slider system, the entire front consists of display surface, at least if you use the phone in its most compact position. The patent images show a phone with a flat screen. Although Samsung was known for its edge display for many years, the company now has fewer and fewer phone models with a curved display. Within the recently released Galaxy S21 series, only the S21 Ultra is equipped with a curved screen. The back of the patented device is nicely rounded, which will undoubtedly benefit the hand-fit.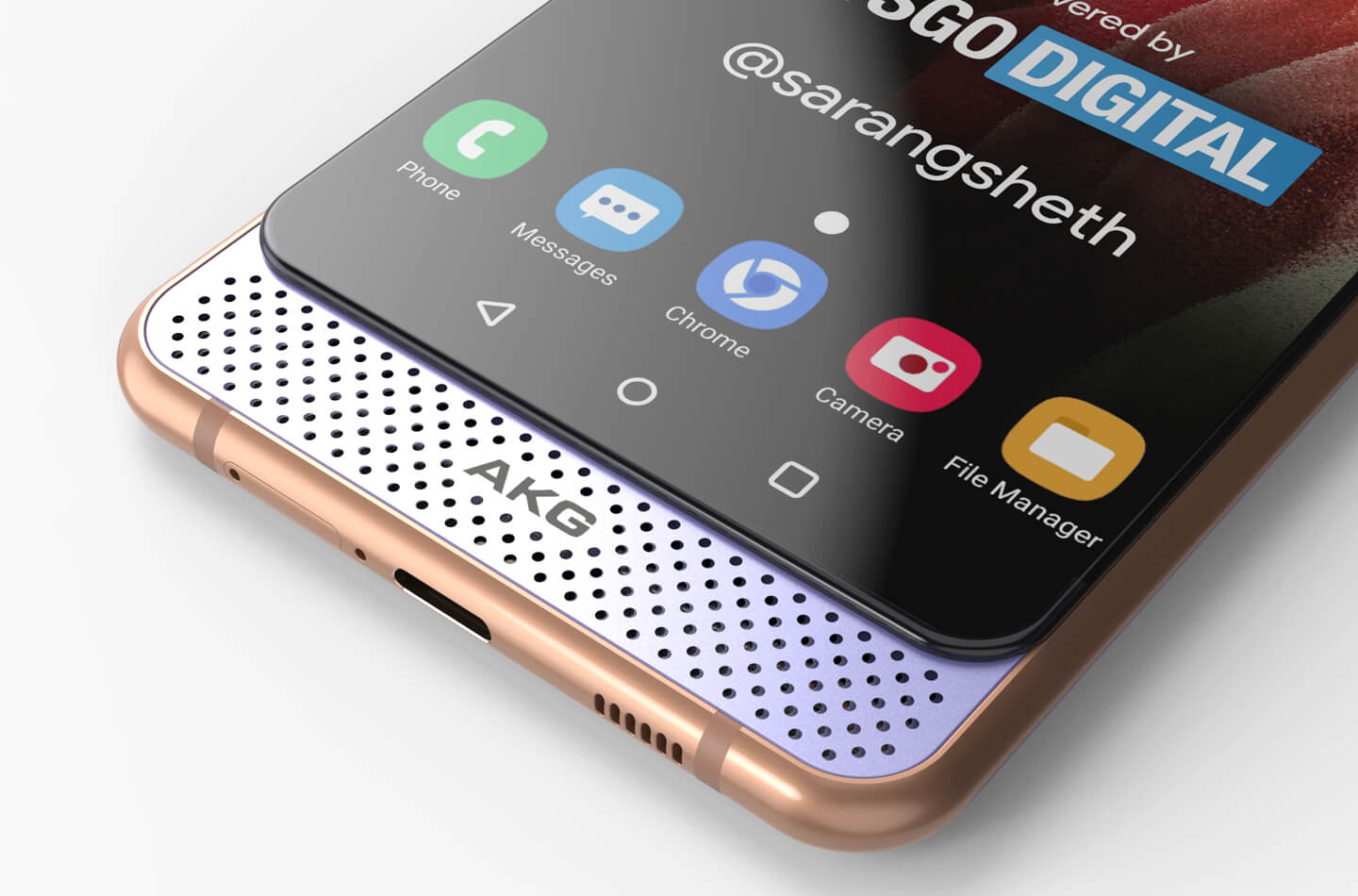 Advantages and disadvantages of a slider camera and speaker
A dual slide smartphone has several advantages. Perhaps the most important advantage is the design. Such a dual slider phone simply looks cool and the user also benefits from a full screen smartphone experience, without a notch or hole in the screen.
Another advantage of this design is of course the speaker. It's significantly larger than we are used to on a regular smartphone, which will undoubtedly ensure better sound quality.
A slide phone also has some drawbacks. Such a system takes up a lot of space in the already so compact housing. Limited space has been a problem for smartphone manufacturers for years. A larger battery, a better chipset, more sensors – it all takes up extra space, at the same time our mobile phones must of course remain handy.
Another possible disadvantage can be found in durability. Sliding systems are simply more sensitive to dust and dirt, which can have a detrimental effect on their operation over time.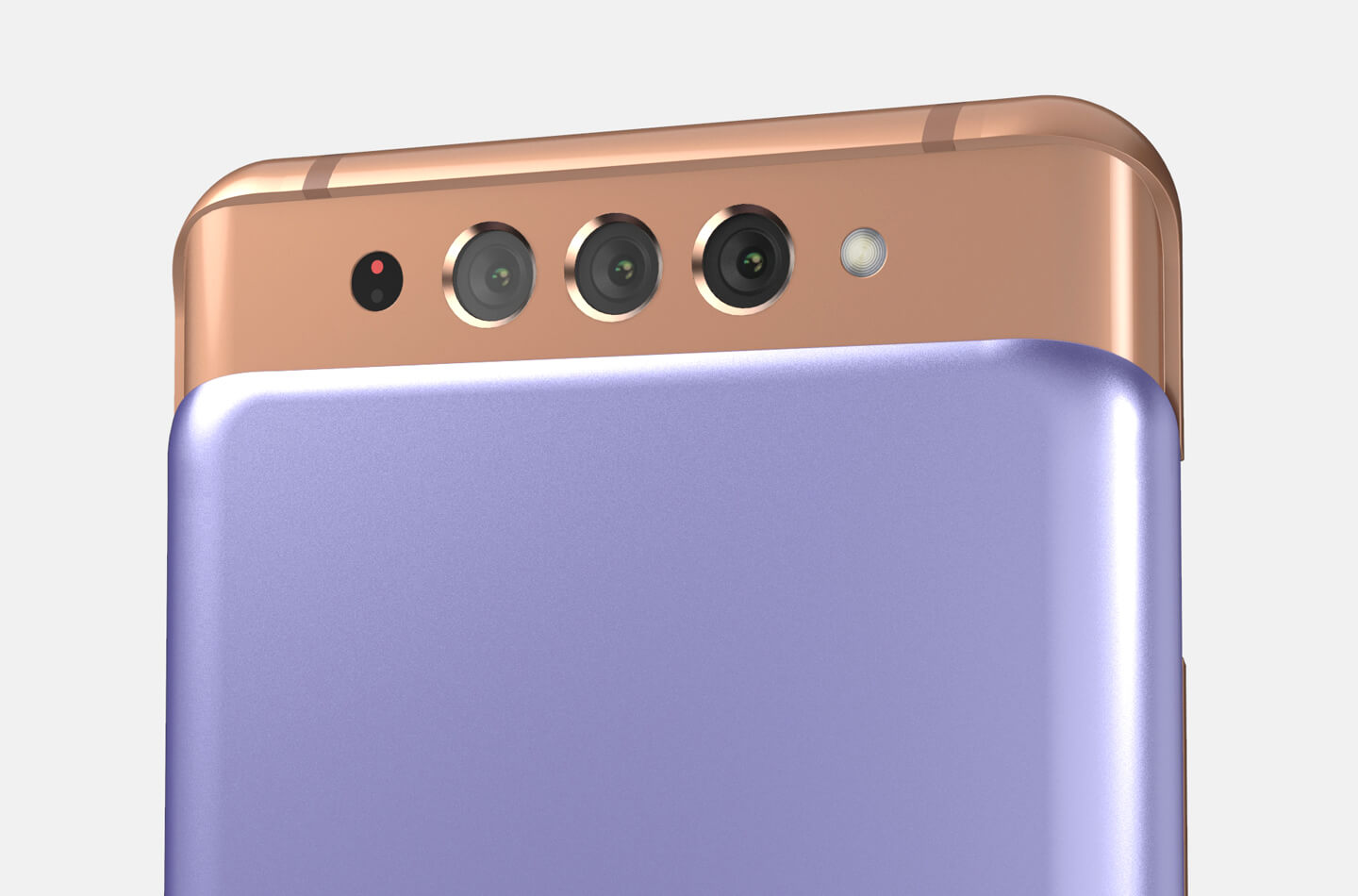 Slider phones over the years
The idea of ​​a dual slider smartphone with integrated camera and speaker is not entirely new. In 2019, a video of an Asus Zenfone Dual Slider concept phone appeared online. The model that Samsung has patented is very similar to this Asus Zenfone. Ultimately, however, the Zenfone 6 was provided with a rotatable camera, similar to the A80. Last year, Sony also registered a patent for an Xperia phone with a pop-up camera and speaker.
Going back a bit further, the HTC 7 Surround smartphone from 2010 also had a slider system with a speaker. However, that was a vertical slider model, instead of horizontal. In the time of the feature phones, extendable mechanisms were often used, such as the immensely popular Nokia N95 from 2007. With this dual slider smartphone, the camera system and the keyboard were incorporated in the slider part. Samsung themselves brought the E2550 Monte Slider and S5200 Slider to the market, both had a sliding keyboard.
Whether Samsung sees an opportunity to process the patented technology in an end product is as yet unknown. It is possible that Samsung will place such a slider smartphone within the popular Galaxy A series. This is the mid-range line-up and also the most popular smartphone series from Samsung.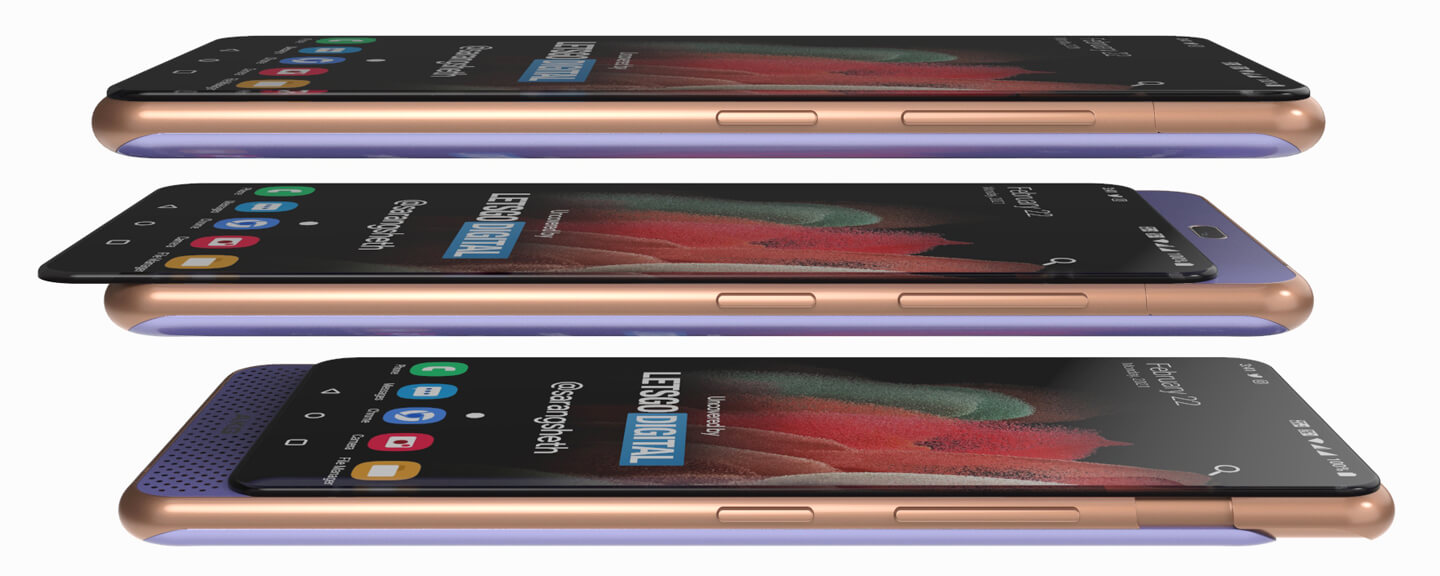 Samsung Galaxy A82 5G
Samsung will probably release the Galaxy A82 5G this year. The Galaxy A80, from 2019, is as yet the only Samsung smartphone with a rotating camera, enabling a full screen design to be realized.
The A81 never appeared, it is expected that the A82 will be based on the two years older A80. However, it is still unknown whether the new Samsung A82 will also have a rotating / extendable camera. And if so, what kind of pop-up / slider camera it will be.
Two months ago Samsung also registered a smartphone with a sliding camera. It was an advanced Samsung Galaxy smartphone with a surround display. More recently the Korean manufacturer also filed a patent for a foldable smartphone with dual slide design. Although this was a different type of slide system, Samsung seems to be considering several options for using a sliding mechanism.
View the documentation of the Samsung Dual Slider smartphone here.
Note to editors: The 3D product renders presented in this article are made in collaboration with Sarang Sheth, Industrial Designer and Editor in Chief at Yanko Design. The design is based on the patent images of Samsung Electronics. The images are for illustrative purposes only, this product is not for sale. If you want to use the product renders on your own website, please include a clickable source link into your publication. Thank you very much.