Like previous years Samsung is expected to release a wide variety of smartphones this year. The Galaxy S21 series has now been officially introduced, as has the cheap Galaxy A32. More mid-range A-series and budget M-series models will follow later this year, as well as several foldable smartphones. What can we expect in the field of camera design this year; Will new types of pop-up cameras be used in 2021 or will phone manufacturers prefer the cheaper and easier to implement punch-hole camera?
Samsung released the Galaxy A80 in mid-2019, this mobile phone was equipped with a rotating camera with which you can take selfies as well as regular photo and video recordings. It seems that Samsung intends to announce its successor this year, in the form of a Galaxy A82 5G.
For the time being, it remains unknown what kind of (selfie) camera the Galaxy A82 will have. Samsung may be considering implementing the following technology for its Galaxy A-series.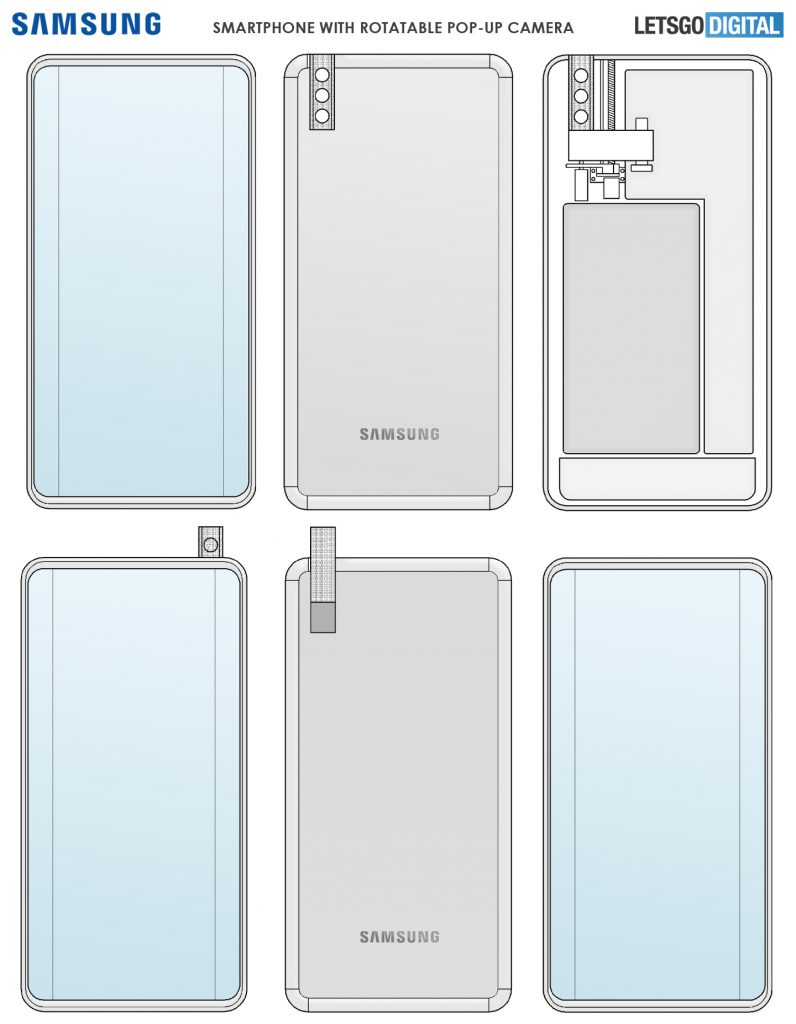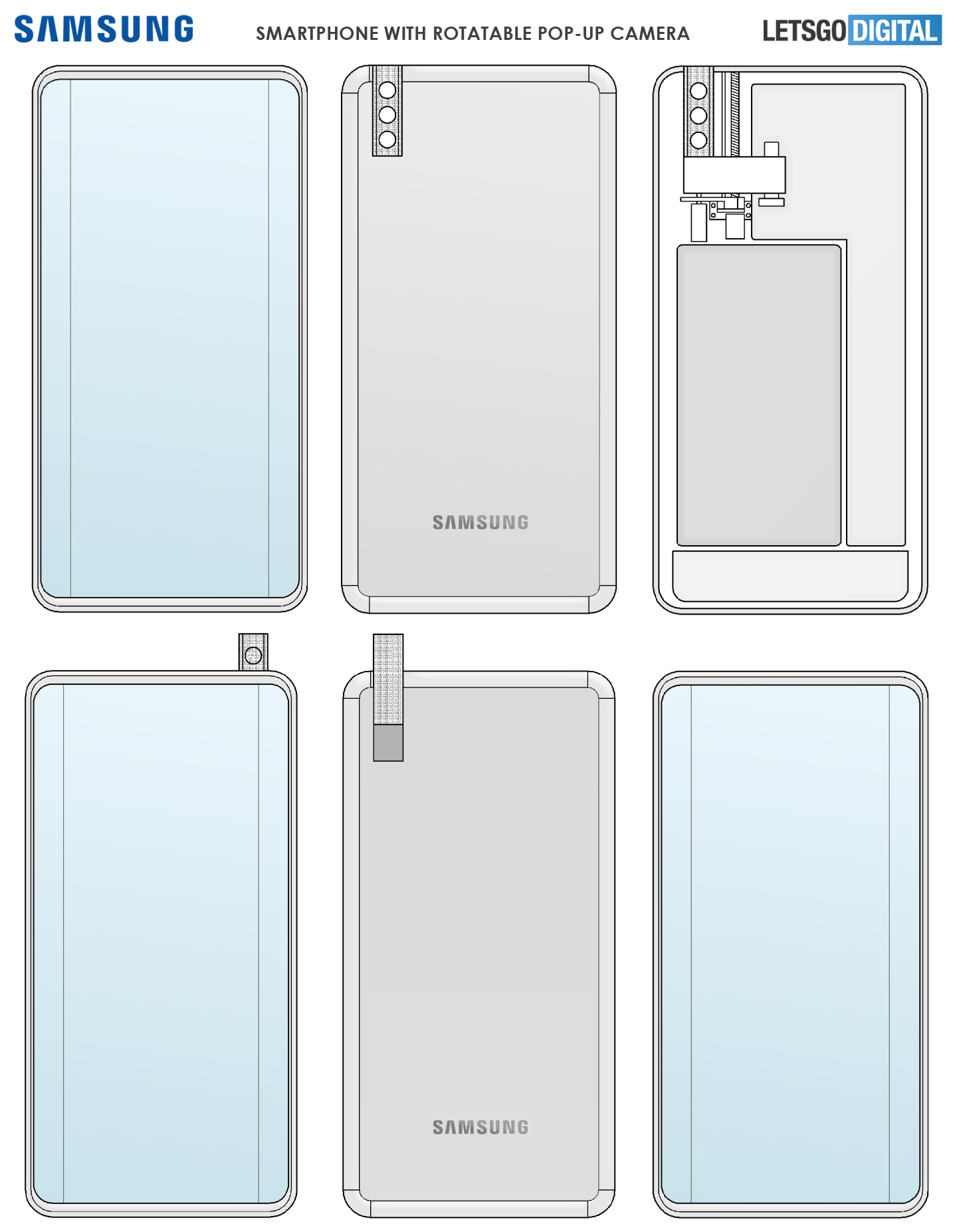 Samsung smartphone with rotating pop-up camera
In mid-2020, Samsung Electronics applied for a patent for an "Electronic device including camera module". The 70-page documentation was published by the WIPO (World Intellectual Property Office) on January 14, 2021 and describes a Samsung smartphone with an ingenious pop-up camera that can be aimed both forwards and backwards, in order to take selfies and regular photos and videos. It is a fairly small, cylindrical shaped retractable camera. The pop-up system houses no less than 3 camera lenses.
By default, the triple camera will be aimed backwards, all three camera lenses are then visible. The camera will be completely stored in the housing. As soon as you want to take a selfie, the pop-up camera will be rotated and it will partly come out of the housing.
When taking selfies and making video calls, you only have one of the three cameras at your disposal. The two bottom cameras remain in the housing and are automatically deactivated.
The pop-up camera system works fully automatically. A motor is installed that supplies power. In addition, two gears and a long screw shaft are used to enable the rotation and the pop-up mechanism. Finally, a movable frame is built in. The flexible printed circuit board is stored in this frame, which moves up and down, along with the camera system.
This frame is located directly under the pop-up camera system. When the camera rises, an opening is created at the back, which is covered by the frame. Samsung can optionally design this in such a way that you can see the flexible circuit board through it, as described in the extensive documentation.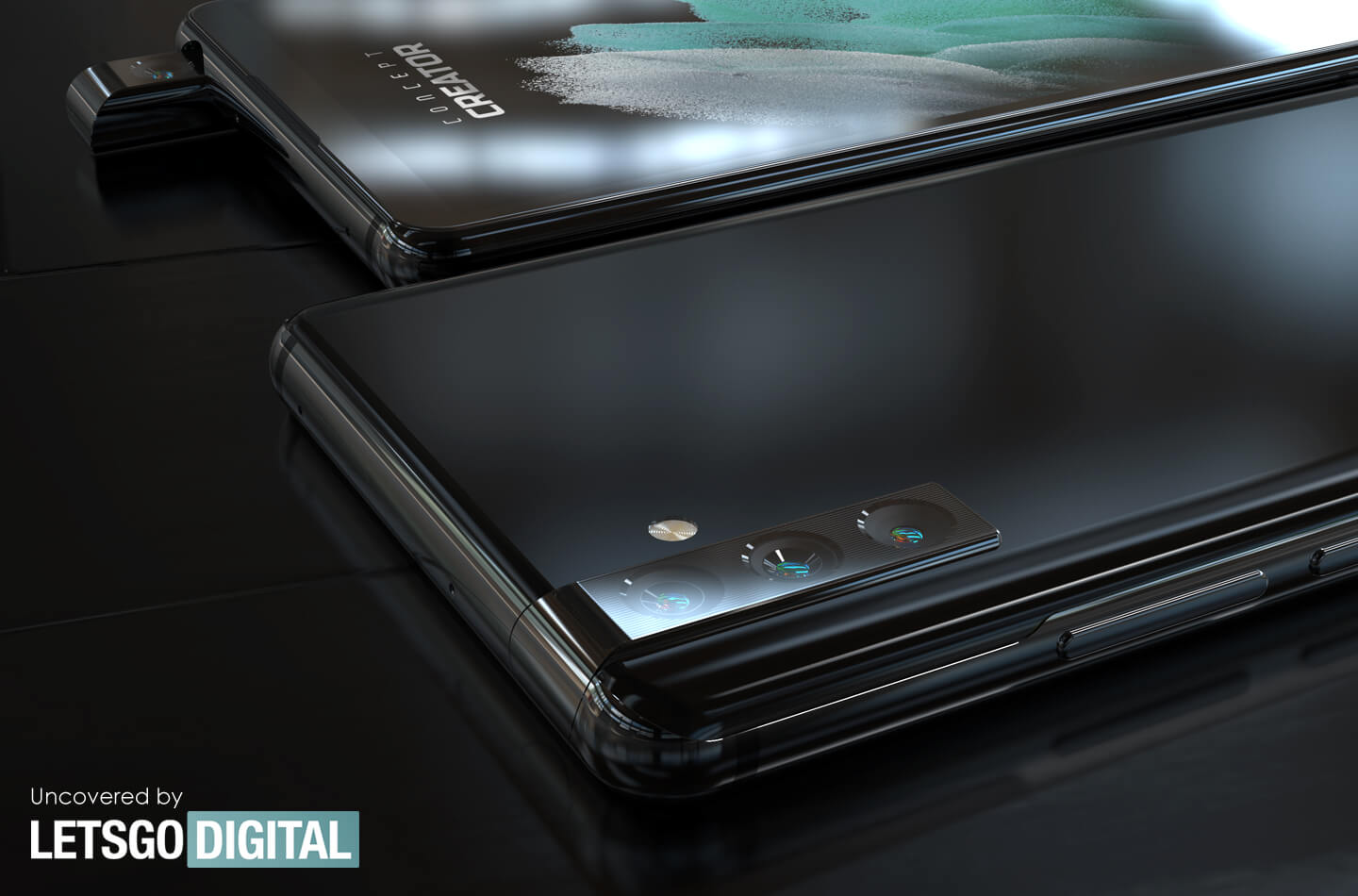 For a better visual representation of the patented technology, Jermaine Smit, aka Concept Creator, made a series of product images for LetsGoDigital illustrating this unique Samsung smartphone with rotating pop-up camera.
When taking selfies, you basically only have one lens at your disposal. Nevertheless, more options have been set out. Optionally, the camera can rise even further to expose a second camera lens, as described in the documentation.
In practice, however, this appears to be a less solid and durable solution, all the more so because it is a fairly small pop-up system, which will then have to protrude quite far from the housing. This would make the camera system extra vulnerable.
Apart from the Galaxy S10 Plus, Samsung has integrated very few dual selfie cameras. For the renders, we therefore assumed that only one camera will come out of the housing – as the patent images also illustrate, by the way.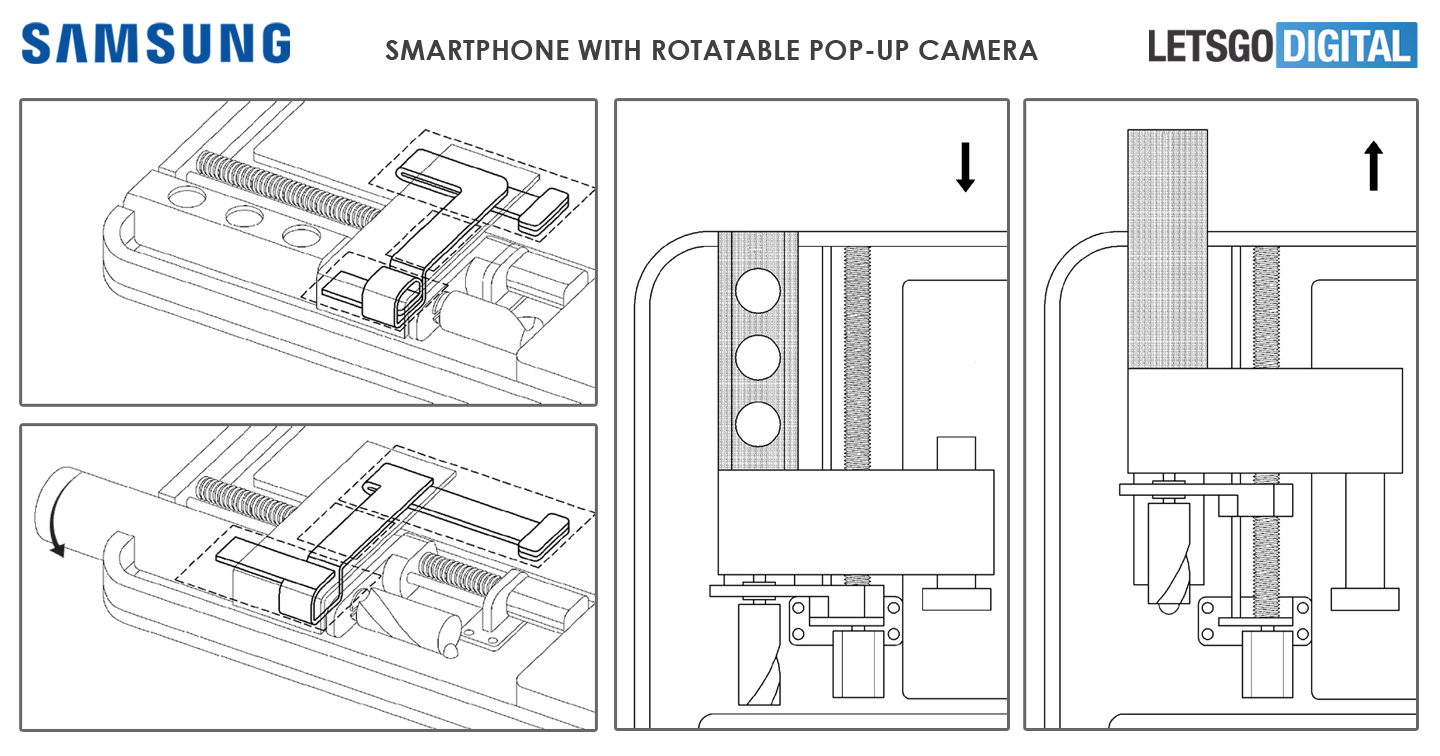 Smartphones with a pop-up selfie camera
A large number of phone models with a pop-up camera were introduced in 2019. Not only Samsung, also brands such as Oppo, Vivo, OnePlus, Motorola, Huawei, Honor and Xiaomi introduced several phone models with a pop-up selfie camera that year.
Such a camera system has several advantages. First of all, the use of a pop-up camera makes it possible to apply a larger screen area, without notches or screen holes. It gives the smartphone an extra modern and elegant look. Nevertheless, significantly fewer mobile phones with such a camera were introduced in 2020. This brings us to the disadvantages of an pop-up camera.
A common flaw is the durability. In practice, this is not too bad. Most retractable cameras used to date have been tested to last at least 200,000 times. This means that you can use the selfie camera no less than 100 times a day for 5 years. Another disadvantage is the waterproofness, because of the moving parts and the recess that is needed at the top of the frame, it is difficult to make the smartphone dust and waterproof.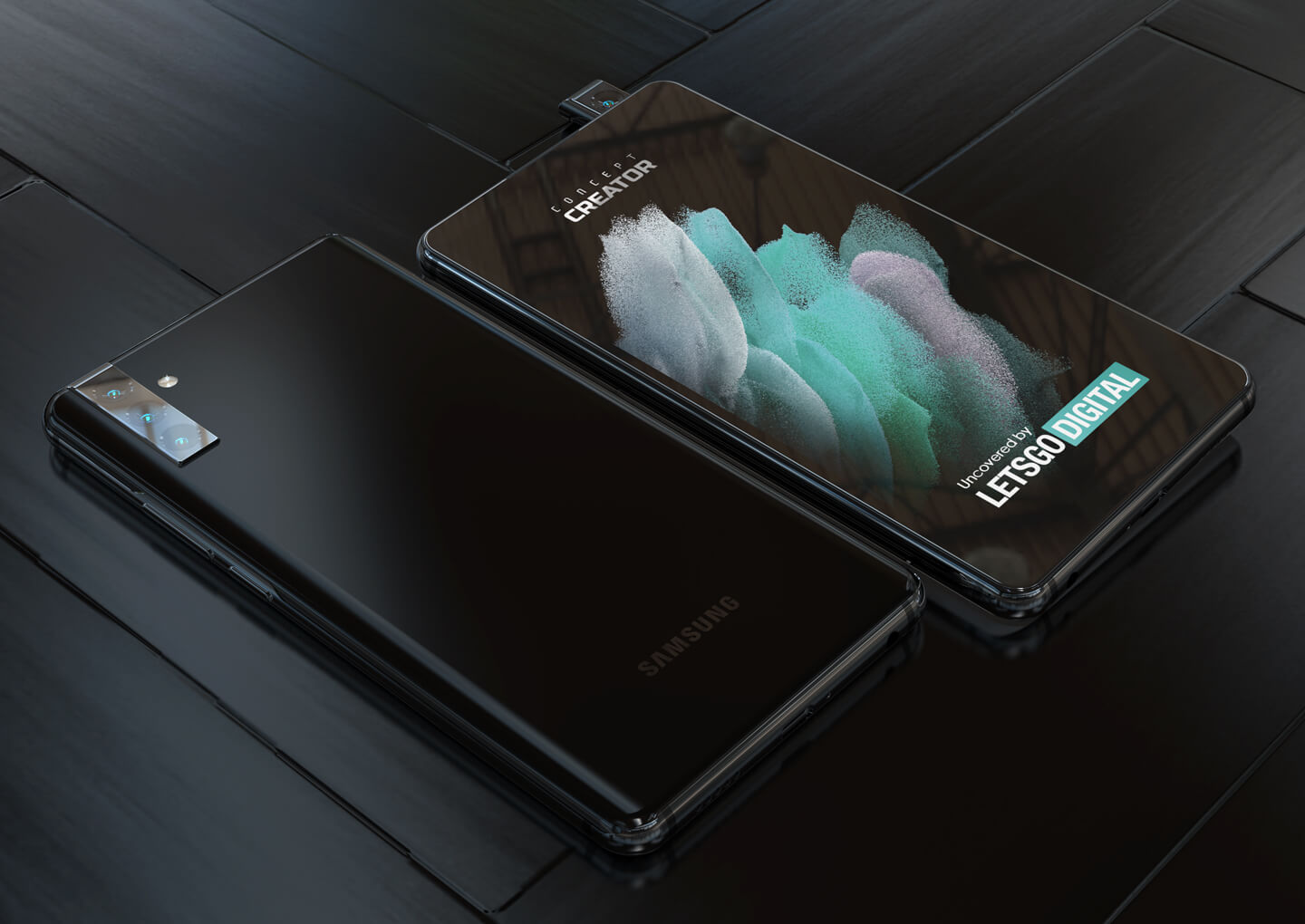 Still, there's a completely different problem that developers run into. The implementation of a pop-up camera requires a relatively large number of adjustments to the housing. Such a camera system also simply requires a lot more space, while the housing is already so small to accommodate all the necessary components.
In addition, other parts are also getting better, which often results into larger parts. Consider, for example, the battery, today's 5G phones require an extra large battery capacity. The same also applies to heat dissipation, better and more complex systems are being devised for good heat dissipation. These parts also take up the necessary space.
In addition, the flexible circuit board must be able to move along, which makes it extra vulnerable. Competitor Xiaomi has recently come up with something ingenious for this: a smartphone with a pop-up camera that uses a reflective mirror.
By using a mirror, the flexible printed circuit board does not have to be attached to the camera system, which saves both costs and space in the housing. Moreover, with this solution it was also possible to use the camera in two directions.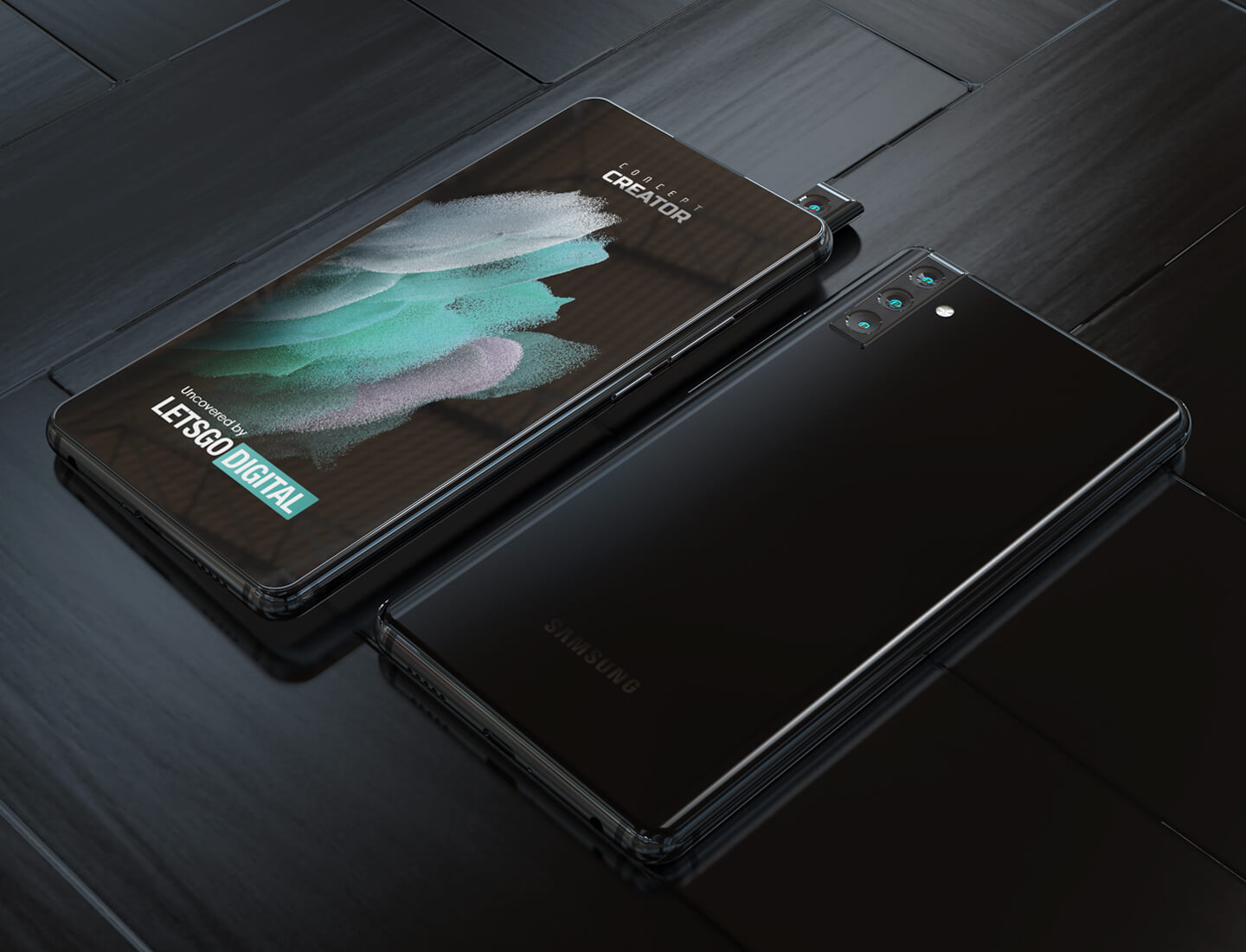 All in all, it is certainly possible that pop-up camera smartphones will be introduced again in the future. It is not without reason that patents are still being applied for for such technology. Moreover, it simply appears to be the best selfie camera solution available to date.
In the background, manufacturers are working on the development of an under-display camera, which is expected to become the next selfie camera trend. Logically, however, not all smartphone models will immediately incorporate a camera under the screen.
It is possible that this pop-up camera can therefore offer a good alternative, all the more because manufacturers have been playing with the idea of ​​using a single camera system for some time, with which you can take selfies as well as regular photo and video recordings. As a result, the number of cameras can be saved, which means that both costs and space can be saved without compromising image quality.
We do not expect that Samsung will opt for such a solution for its new flagship devices. On the other hand, it could be a nice addition to the Galaxy A series. The budget and mid-range smartphones of the company are housed within this series.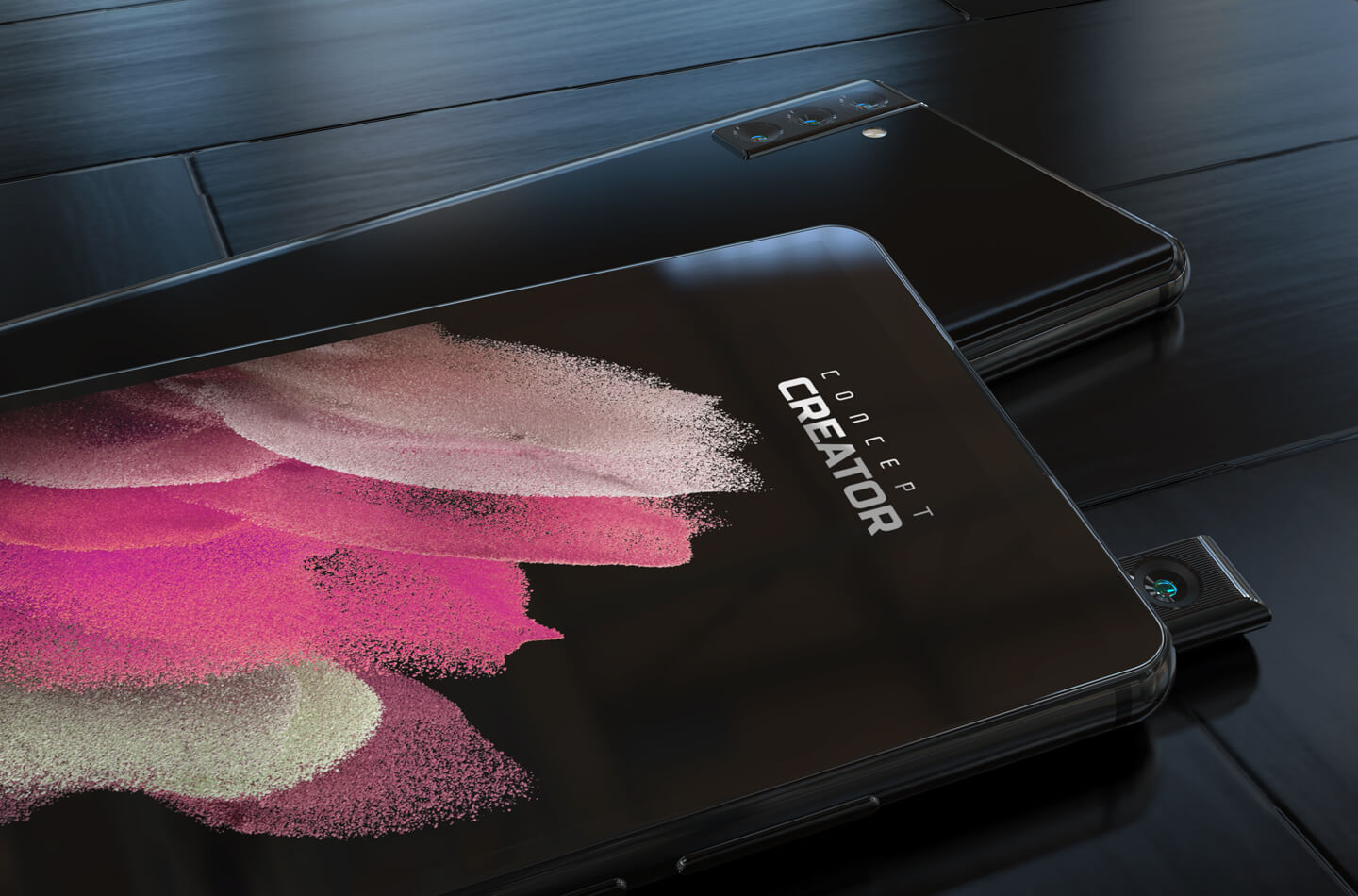 Samsung A series 2021 models
The A series is Samsung's best-selling smartphone series. The Galaxy A51 and A71 were introduced exactly a year ago and were among the best-selling phones in Europe. Both the Samsung Galaxy A52 and the Galaxy A72 are expected soon. Both 5G phones will have a small punch-hole camera that is placed at the top center.
Earlier this month, the Galaxy A32 was already officially announced, this Samsung smartphone has a v-shaped notch. Just like the A42 also comes with a notch. The even cheaper A22 and A12 will most likely not get a pop-up camera either.
Thus, our thought quickly turns to the more expensive models within the Galaxy A series. The Samsung A82 is expected later this year, it would be a very suitable candidate to apply such a camera system. Just like its predecessor, the Samsung A80, also had a rotating camera. With the A80 however, you had to pay a relatively high amount for the camera system, possibly the new solution will be slightly more affordable.
View the documentation of the Samsung Galaxy smartphone with rotating pop-up camera here.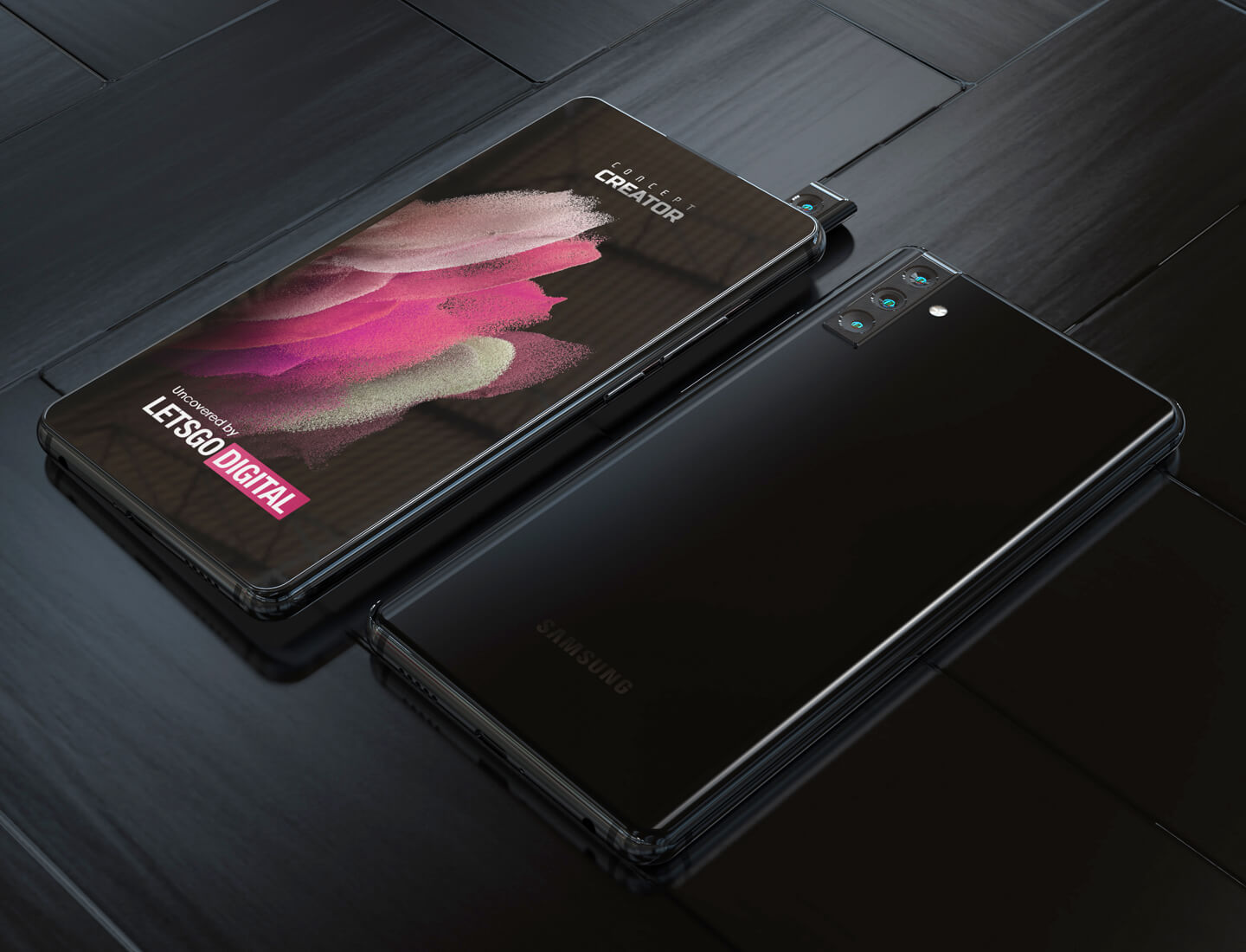 Note to editors: The concept renders and product video presented in this publication are made in collaboration with Jermaine Smit (aka Concept Creator). This product is not officially announced by Samsung. You are allowed to use the high-resolution images for free if you include a clickable source link into your publication. Thank you very much for understanding.