This week, Samsung will introduce the Galaxy S21 smartphone series during the Galaxy Unpacked 2021 event. It is expected that Samsung will no longer supply a charger and earplugs with the three new models. The FCC approval has shown that the base model will support fast charging with a maximum charging power of 25 watts. It is expected that this will also apply to the Galaxy S21 Plus and S21 Ultra.
Last year, Samsung chose to equip the S20 Ultra with 45W fast charging technology. However, with the Note 20 Ultra, this was limited to 25W. Thus, it seemed for a while that Samsung does not want to prioritize fast charging technologies.
Nevertheless, a new photo has now surfaced, showing that Samsung is indeed working on a faster charger. Is this 65W charger predestined for the Galaxy Note 21 Ultra, which is expected later this year, or does Samsung still have a surprise in store for the Galaxy S21 Ultra?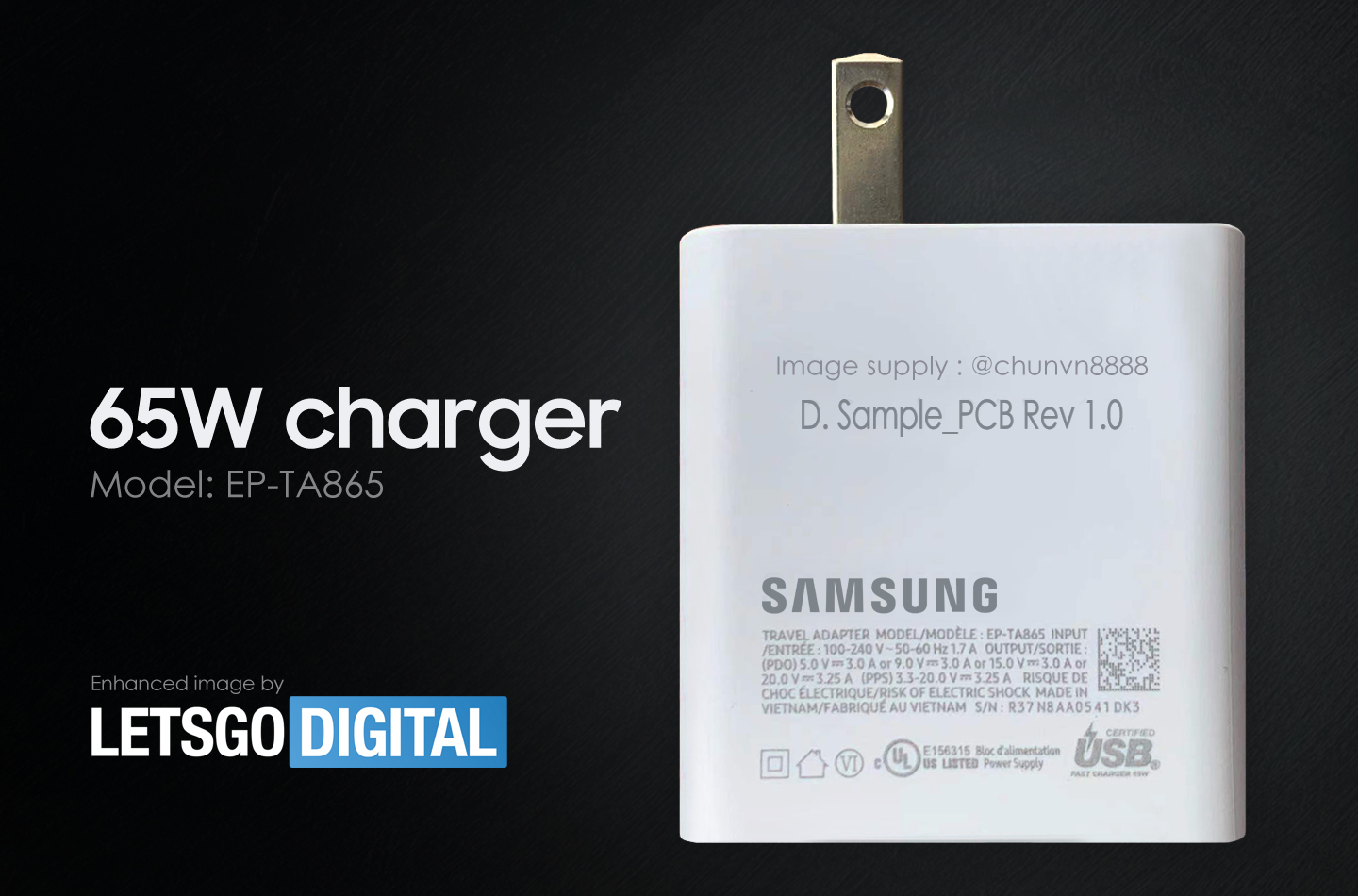 Samsung 65W Travel Adapter
It is a 65 Watt fast charger with model number EP-TA865 – thanks for the tip @chunvn8888. This same model number already passed the Korean certification institute in September 2020. The Travel Adapter with model number EP-TA865 comes from manufacturer Solum, a well-known supplier of Samsung chargers. The certification already showed that it is a 65W charger. Now the first real photo has also surfaced, confirming that this Travel Adapter is indeed meant for Samsung.
However, it remains to be seen when Samsung will announce this charger. All details about the Samsung S21 Ultra seem to be known by now. The chance is therefore very small that this travel adapter is intended for the upcoming flagship.
It is possible that this charger remains predestined for the Note 21 – which will most likely be the last Note smartphone that Samsung will introduce, before the South Korean manufacturer says goodbye to its now 10-year-old high-end smartphone series.
In any case, Samsung will not be the first manufacturer with a 65W charger in its portfolio. Last year, the Oppo Find X2 Pro was launched with 65W SuperVooC 2.0 technology. The Oppo Reno 4 Pro, introduced later that year, also comes standard with a 65W charger, as does the OnePlus 8T. With such a fast charger you can fully charge a 4,000 mAh battery in just half an hour. A few minutes on the charger is enough to get you through the day – ideal!