Following the historic American elections between Joe Biden and Donald Trump, Caviar has designed a Limited Edition smartphone of the iPhone 12 Pro and iPhone 12 Pro Max, dedicated to the two politicians and the power struggle between the Republicans and the Democrats. This addition is called "Sands of Time", referring to the new era that is ushering in.
Caviar is a Russian company specializing in enriching and decorating Apple and Samsung smartphones with luxurious materials, such as gold, titanium, leather and gemstones. This time the iPhone 12 Pro (Max) is used as the basis. Caviar has provided two bas-relief portraits of President-elect Joe Biden and President Donald Trump on the back of the device. An hourglass indicates that the old era is passing and new hopes and plans are emerging.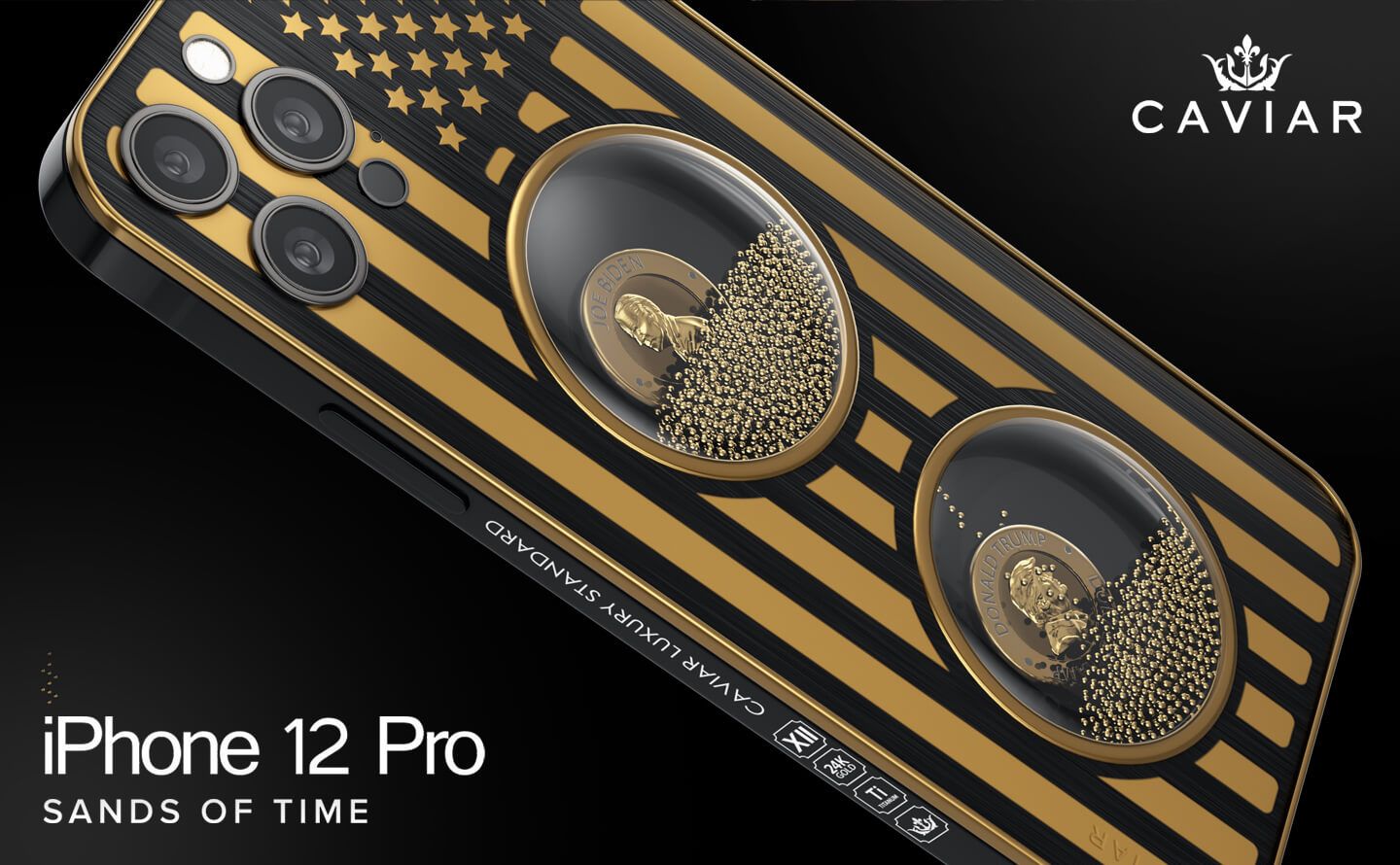 iPhone 12 Pro Max with golden hourglass
The phone's cover also features an image of the American flag, which is made of durable titanium. The American flag is characterized by 50 stars, referring to the 50 American member states. The 7 horizontal lines are displayed vertically in the phone design.
18 karat gold is used to shape the hourglass, the bas-relief portraits of Joe Biden and Donald Trump are also made of real gold, which is protected by a layer of glass. This iPhone 12 Pro Max Limited Edition is not only a specially designed smartphone, it also symbolizes the historic event that is currently going on in America.
For the iPhone 12 Pro Limited Edition (128GB) prices start at $ 14,900 USD. The larger model, the iPhone 12 Pro Max, is available for a starting price of $ 18,360. Caviar will produce 46 copies of this new Limited Edition smartphone. The number 46 refers to the number of presidents America has known over time.
American elections between Joe Biden and Donald Trump
Four years ago, Donald Trump managed to cause quite a stir. Never before had a non-politician won the American election. However, during the 4 years that Trump has served as president of America, the population got more divided, with the Republicans on one side and the Democrats on the other.
The elections this year were therefore extremely exciting. Joe Biden is now the president-elect. However, incumbent President Donald Trump believes that the election has been fraudulent and thus refuses to accept the election results. Meanwhile, the country is facing major problems, both economically and in the field of COVID-19 (coronavirus). America is one of the hardest hit countries worldwide, some believe Trump's approach is to blame. It is now up to Biden 'to heal America again', as he stated in his election speech.
It is not the first time that Caviar uses politics as a theme for its Limited Edition collections. Last year, the Russian company released a collection of 24-karat gold models during President's Day, focusing on the memorable presidents of America.