The iPhone XS and iPhone XS Max are already luxurious smartphones. However, the Russian manufacturer Caviar manages to make the popular Apple smartphones even more exclusive. On the occasion of President's Day in America, the jewelry maker introduced a new collection of iPhone XS and iPhone XS Max smartphones decorated with the portraits of former presidents of America. LetsGoDigital brings an exclusive hands-on of these golden smartphones.

Exclusive smartphones from Caviar
Caviar is known for their luxury and exclusive smartphone models, which are mainly based on the Apple iPhone and high-end Samsung Galaxy smartphones. Like the Donald Trump iPhone, which was introduced two years ago. With the new Presidents Edition, the company brings once again a very special collection on the market.
Early this year Caviar conducted an online survey via their website over 11,000 respondents. The survey results showed that Abraham Lincoln, George Washington and Franklin D. Roosevelt are among the most popular former presidents of America. Former President John F. Kennedy is the absolute number one on the list.
Caviar has developed a special smartphone model of the four most popular presidents in American history. The series consists of only 99 models. The devices are hand-made, it takes no less than 10 days to produce one Limited Edition smartphone.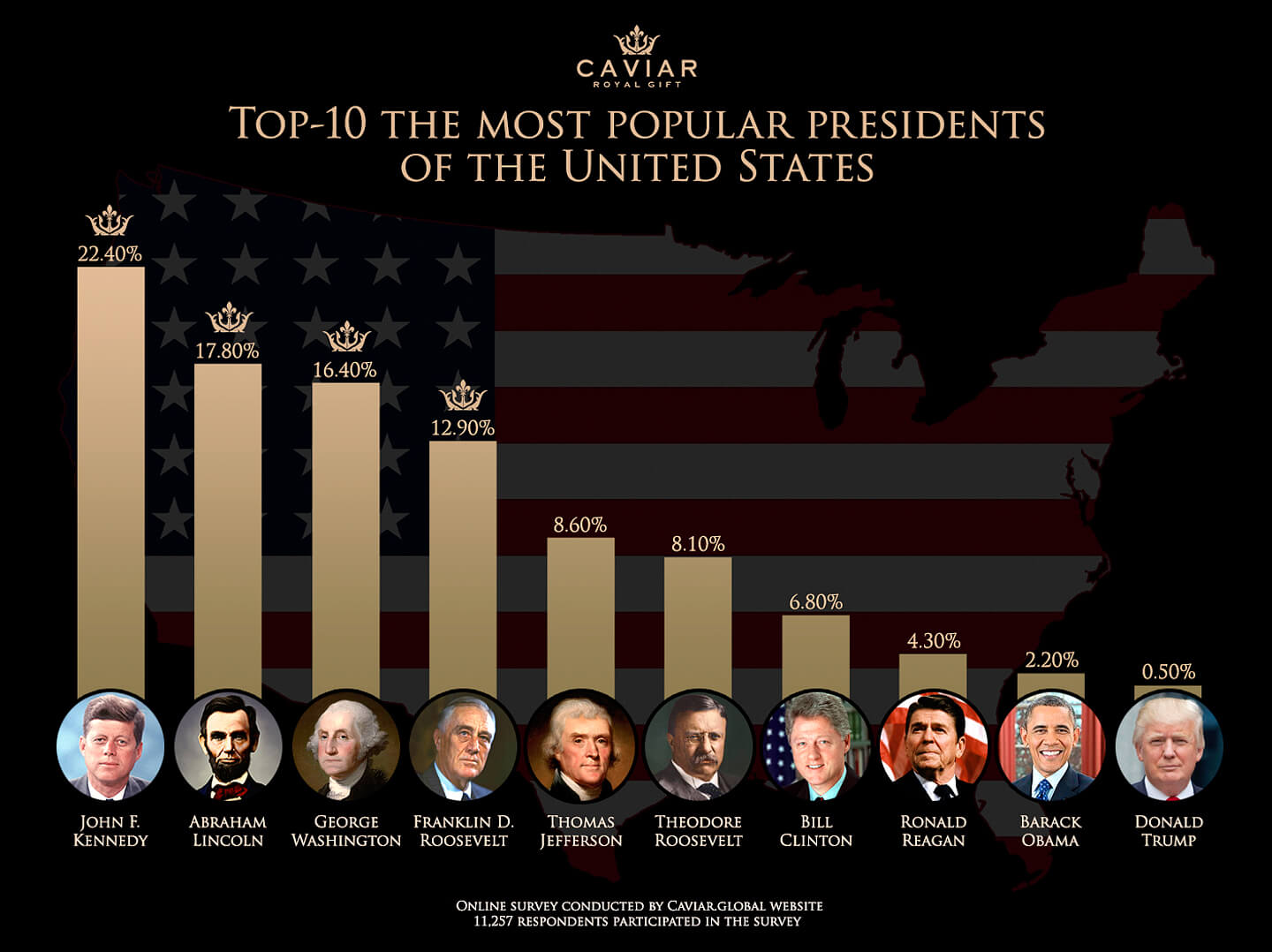 iPhone XS Max Limited Edition on the occasion of President's Day
On the third Monday of February, America traditionally celebrates President's Day. This is a public holiday in honor of President Washington, Lincoln and other former heads of state. This year, President's Day is on Monday, 18 February 2019. An ideal opportunity to unveil the new exclusive collection, Caviar must have thought.
LetsGoDigital has been given the opportunity to take a closer look at these special devices. The Caviar Presidents Collection comes in a luxurious black leather case. On the front, the Caviar logo is engraved in shiny golden letters. As soon as you hold the box you can already feel by the weight that you are dealing with a quality product – even if you do not know yet what is inside.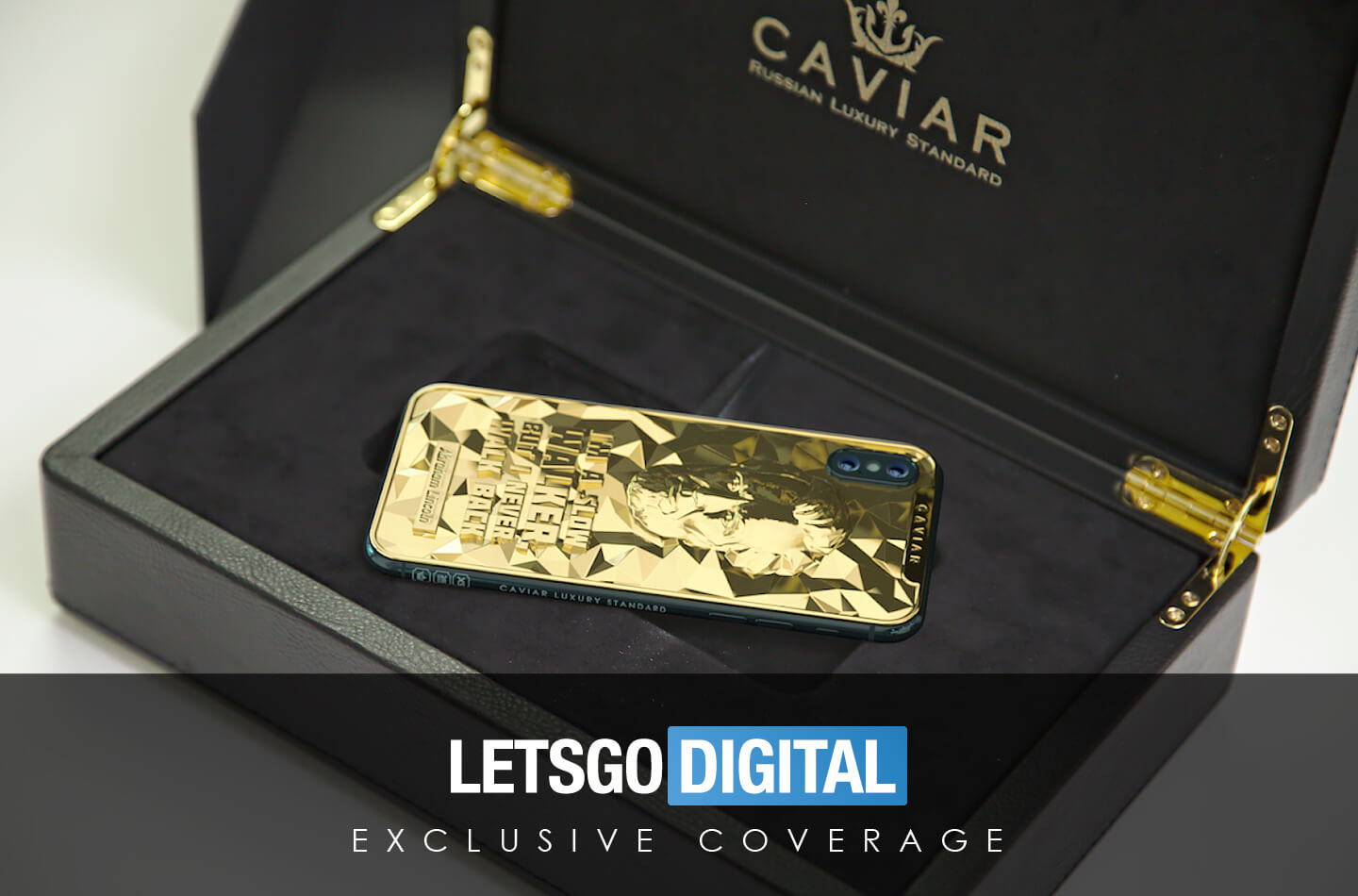 When you open the beautifully finished leather covered box, you look at a black velvet soft inlay and the iPhone shines right at you. The front retains its distinctive Apple design. But as soon as you hold the smartphone you feel that this is not a normal iPhone.
The back of the iPhone XS / XS Max is completely gold-plated with 24-carat gold and shows a portrait of one of the former presidents, combined with a well-known phrase from the president. For example, the portrait of Abraham Lincoln states 'I'm a slow walker, but I never walk back' while John Kennedy says 'The best road to progress is Freedom's road'.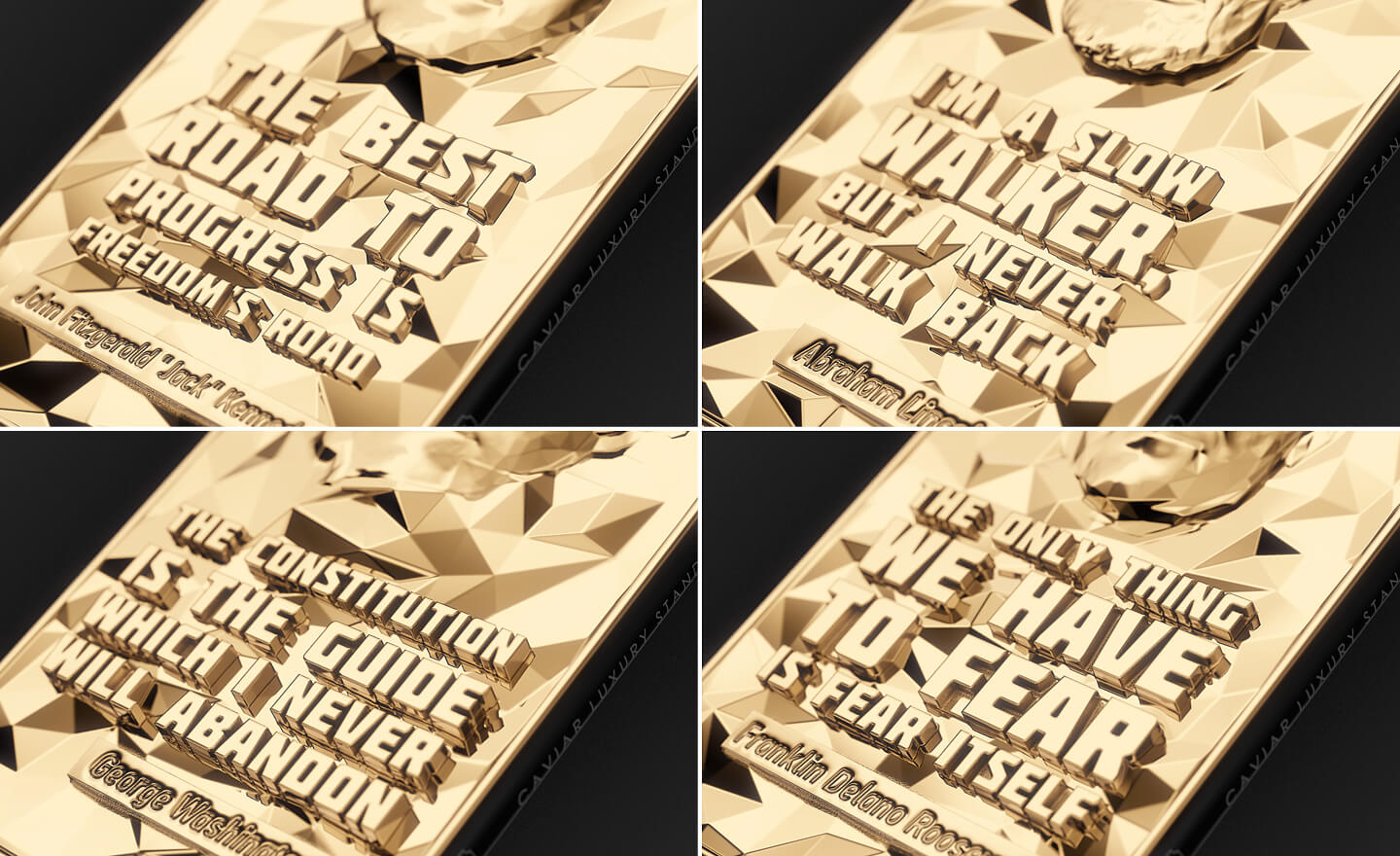 The design of the portraits is inspired by the American monument Mount Rushmore in South Dakota. This world famous rock monument consists of 18m high carved heads of four US presidents. Caviar has also opted for the same rocky background.
The beautiful 3D effect creates an extra lively feeling. In terms of hand position I had to get used to it a little, after all, I'm used to a flat back. But it is certainly not disturbing, and actually provides quite a good grip. And that is of course beneficial, since you do not want a smartphone of this caliber to slip out of your hands.
Although smartphones in this price segment will mostly be used as a luxury jewelery, and not so much for daily use. It is a real collector's item. And it will certainly make you stand out of the crowd.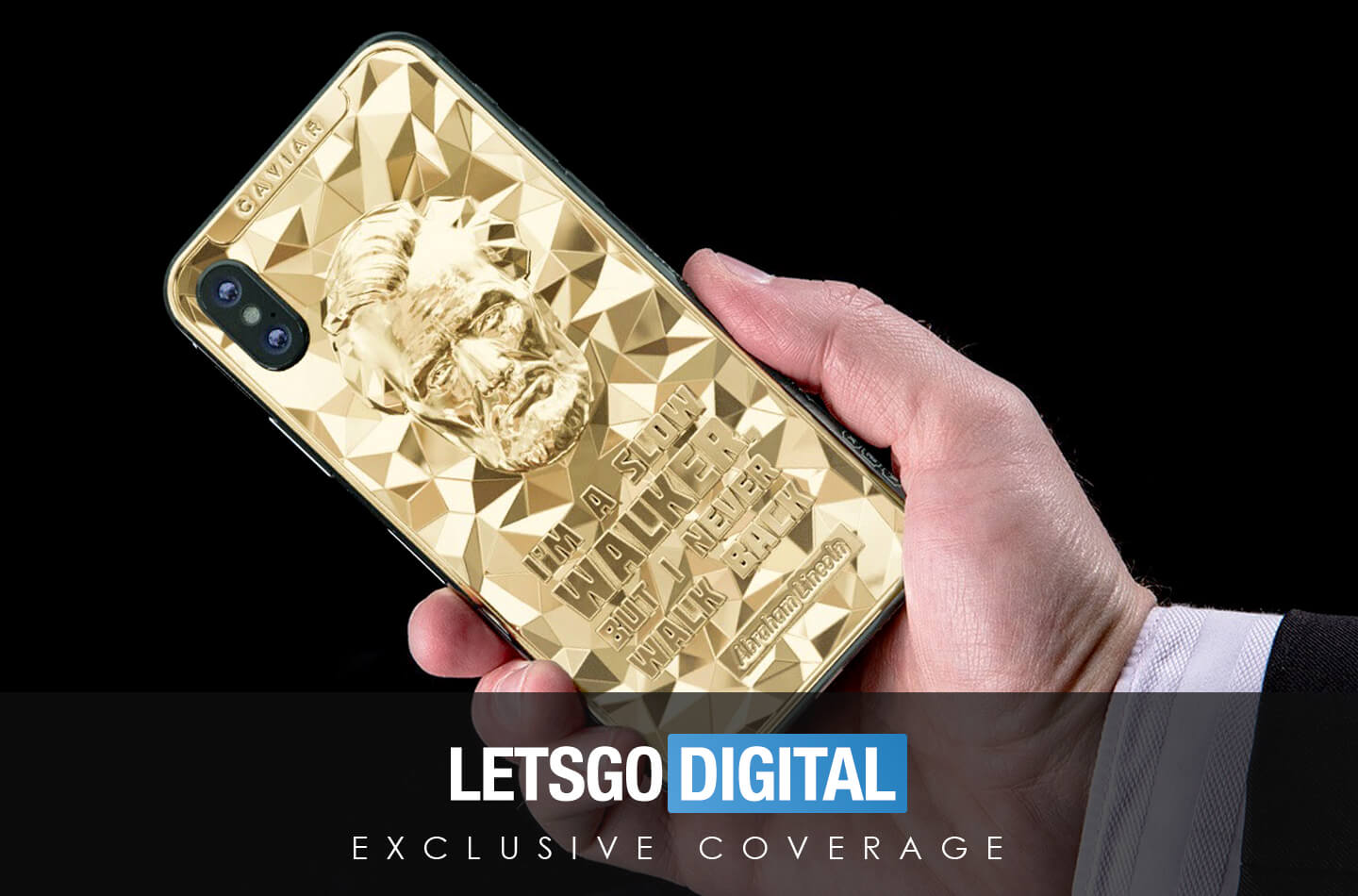 iPhone XS Max Limited Edition hands-on
Unfortunately, we have had this exclusive iPhone too short to write a complete review. But no worries, LetsGoDigital will soon write an in-depth review about another luxurious model.
Incidentally, the Donald Trump smartphone that the company introduced two years ago has since been removed from the site, a spokesman from Caviar told LetsGoDigital.
Caviar spokesman : We thought that it would be great to make such a gift to the Americans for the holiday on February 18th. The personalities of Kennedy, Lincoln and other heroes of this collection have been inspiring people already for many years as they are examples of will, leadership, honesty and wisdom. By the way, after seeing the result of the poll that we made we removed the smartphone with a portrait of Donald Trump from the site.

Every phone in the collection is a very complicated piece, this is why the series is limited by 99 models; it takes 10 days to create each of such phones. However, the result is worth it.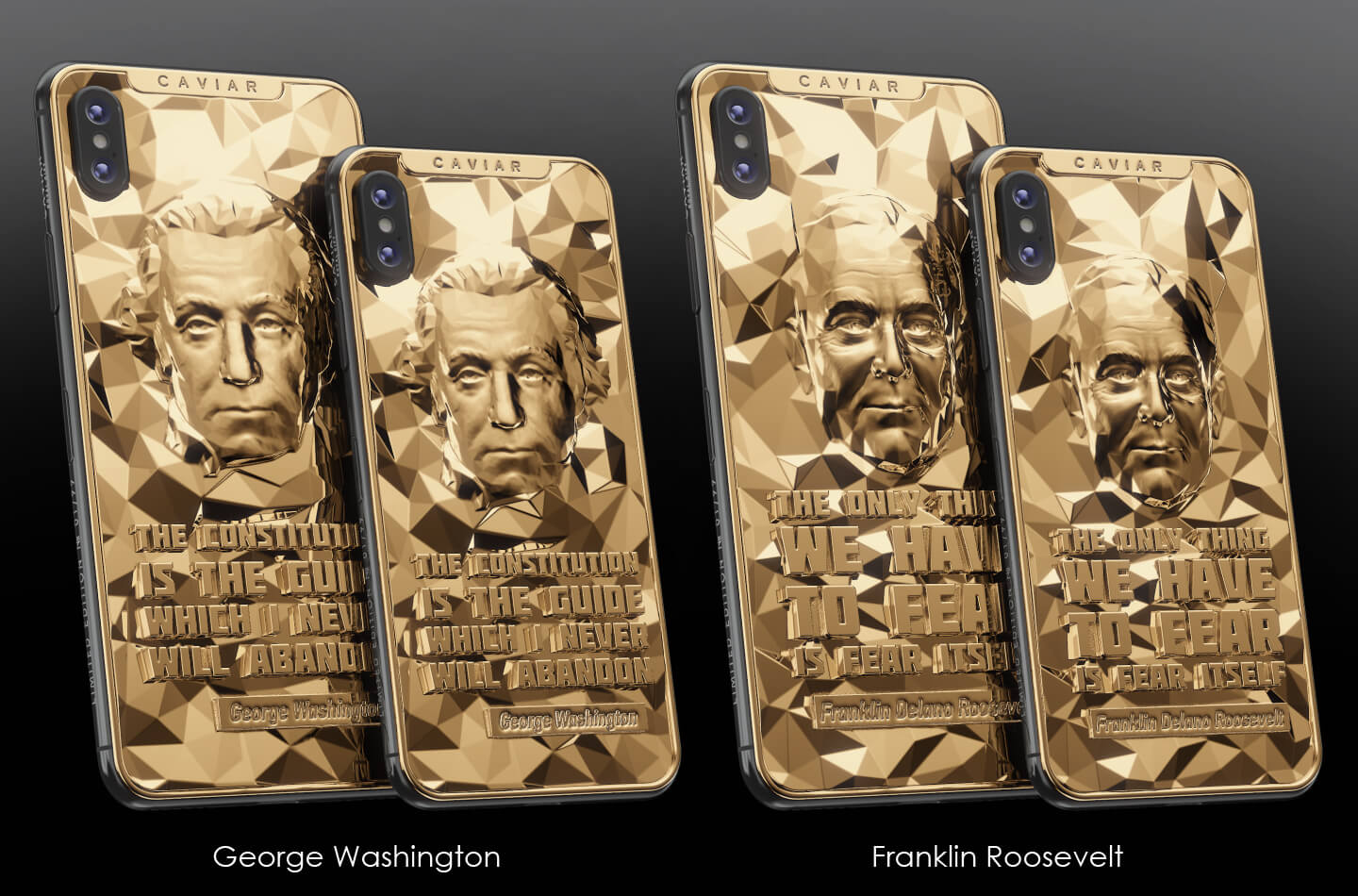 If you consider to buy or gift such an Limited Edition iPhone yourself, this Caviar smartphone will be available from today. Prices start at $ 5,000 USD for the iPhone XS 64GB model. In addition, there is a choice of 256GB and 512GB of memory. All four presidents are available in both an iPhone XS and XS Max version.
Caviar offers free worldwide shipping, however, you should take local taxes and customs costs into account. Obviously, a certificate of authenticity is also included, as well as a guarantee certificate. Here you can see all models from Caviar.