Christmas is the perfect time to give your love ones something special. This has inspired the Russian company Caviar to create a very unique Limited Edition smartphone based on the iPhone 11 Pro and iPhone 11 Pro Max. Three new models have been announced that are part of the Credo series, all of which are dedicated to Christmas. The most exclusive iPhone comes with a huge diamond and a golden image of Jesus Christ.
Caviar is a well known Russian brand of exclusive accessories. During the past months the Russian company has released numerous exclusive iPhone 11 Pro Limited Edition models, including the Space Collection, the Discovery Collection, the Victory Collection and even an exclusive model with a piece of Steve Jobs turtleneck. This time the company created a Christmas Star Collection consisting of three interesting and very luxury models.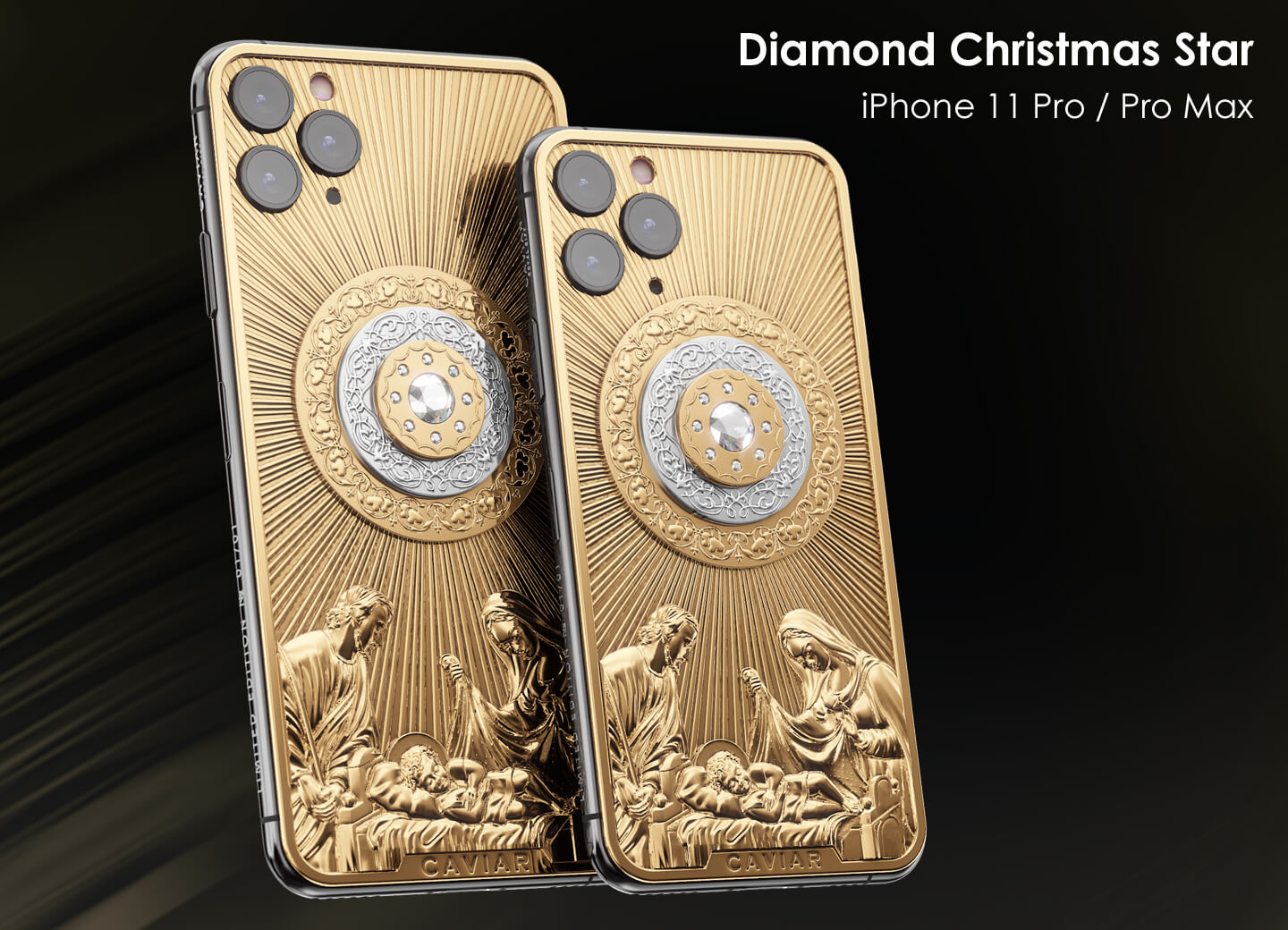 iPhone 11 Pro Diamond Christmas Star
The new flagship model comes with an enormous diamond with a diameter of almost one centimeter! The gemstone represents the Christmas Star, also known as the Star of Bethlehem. This famous star lead the wise men from the East to Jerusalem where Jesus was born.
The diamond forms the center of the whole design. Enclosed in engraved circles the star illuminates the relief scene of the birth of Jesus Christ. The case of this exclusive Limited Edition smartphone is made of solid 18-karats gold. Diamonds like these are really rare, therefore only one copy will be available.
The customer can choose between the iPhone 11 Pro and iPhone 11 Pro Max. The retail price of this exclusive phone starts at $128.050 USD – depending on the model and memory capacity.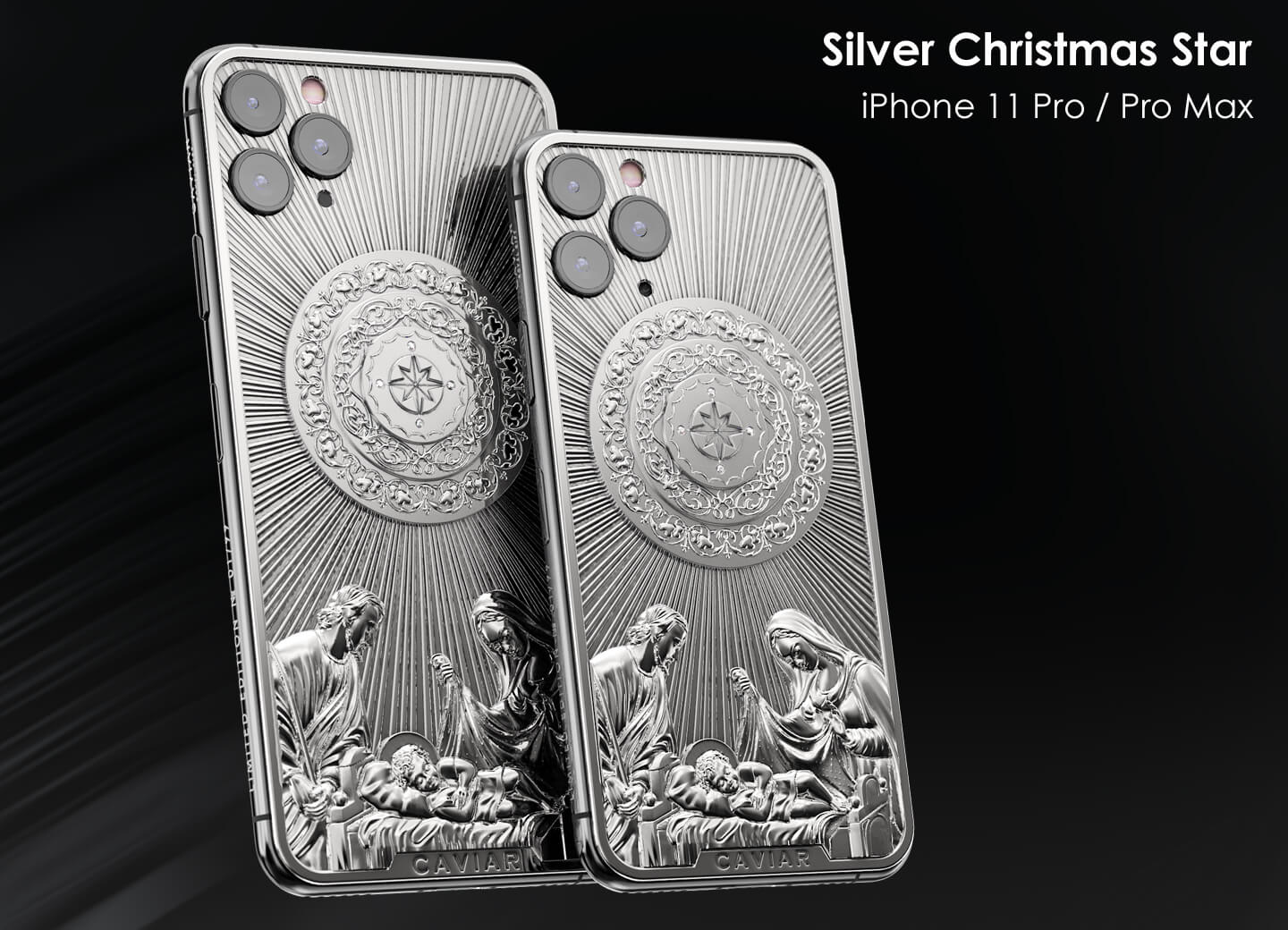 iPhone 11 Pro Silver Christmas Star
In addition to the Diamond Christmas Star model two other more affordable models have been unveiled by Caviar, both of which comes in a limited series of 99 copies. The iPhone 11 Pro Silver Christmas Star is made out of 925 sterling silver with a composite stone and three-dimensional reliefs made of precious metals, inlaid with diamonds.
This Limited Edition model comes at a starting price of $9.320 USD for the iPhone 11 Pro with 64GB memory. Prices go up to $11.440 USD for the iPhone 11 Pro Max with 512GB of memory.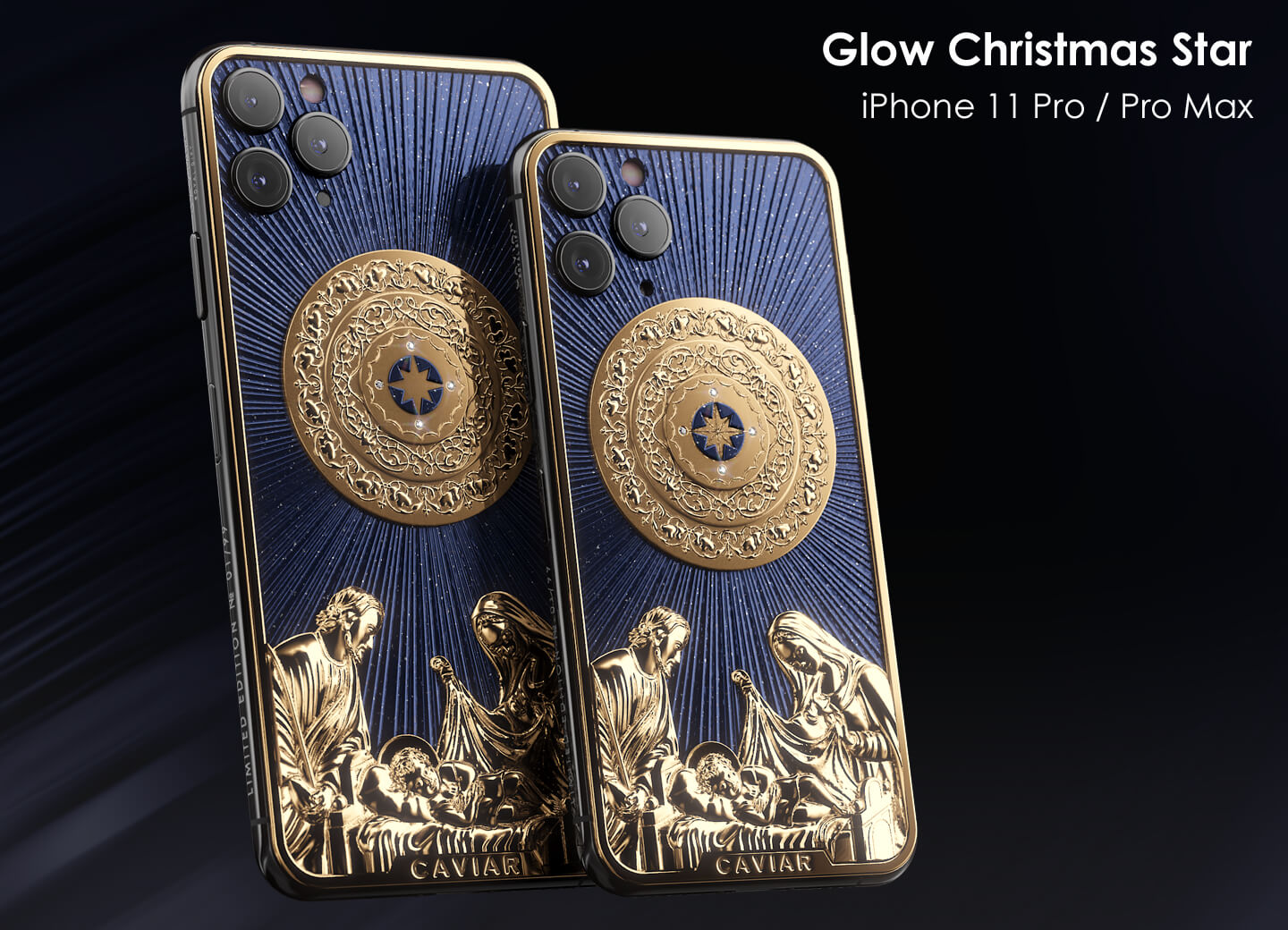 iPhone 11 Pro Glow Christmas Star
The third model is also made of luxurious materials and offers a rich combination of royal blue and gold. The basis of the body is made of composite stone, the blue color reminds of the night sky full of stars. This is the cheapest model with a price tag starting at $6.360 USD.
A Caviar representative commented: Each culture has a special holiday. One that is waiting with bated breath. For many people around the world, Christmas is a time of true miracles. The Christmas star of the new Caviar collection will become a real artifact for the owner of this smartphone, leading to a bright, kind, eternal. We are very pleased to congratulate everyone who honors this holiday. And we wish you never to lose your guiding star.
Through time LetsGoDigital has covered a lot of exclusive handsets from Caviar. These phones are like no other. To get a better feeling of the exclusiveness of these smartphones we have decided to order a Limited Edition smartphone ourselves. We expect this phone to be delivered within a week or so, as soon as we got our hands on our own customized model we will let you know about our experiences with Caviar's customized service and the quality of the handset itself. To be continued….