LetsGoDigital is celebrating its 20th anniversary in a very special way. We have decided to get ourselves a Limited Edition smartphone made by Caviar. The Galaxy S-series from Samsung has dominated the high-end smartphone market in recent decades and our weapon of choice had to be the Galaxy S10 – a sleek and stylish device by itself, ready to receive the luxury treatment.
The Russian brand Caviar is known for decorating high-end Samsung and Apple smartphones with top-notch materials, such as gold, silver, platinum, precious stones and leather. LetsGoDigital has decided to place an order with this world-famous company and now we'll take you through the process and show you the final result.
Who is Caviar?
Caviar mastered the craft of goldsmith in Italy, by working together with Florentine jewellers they returned to their homeland as a certified goldsmith. The company combines this centuries-old craft with the newest technology available today – the almighty smartphone, as well as a wide range of other gadgets – smartwatches, headphones and cases. The end result is a work of art devices that stand-out in the crowded and bland tech world of rectangular shapes and plastic materials.
In addition to its website, Caviar also has a number of physical stores in various locations including Uzbekistan, Azerbaijan and Qatar. The Russian company also has a store in Seoul, the capital of South Korea, the homeland of Samsung devices.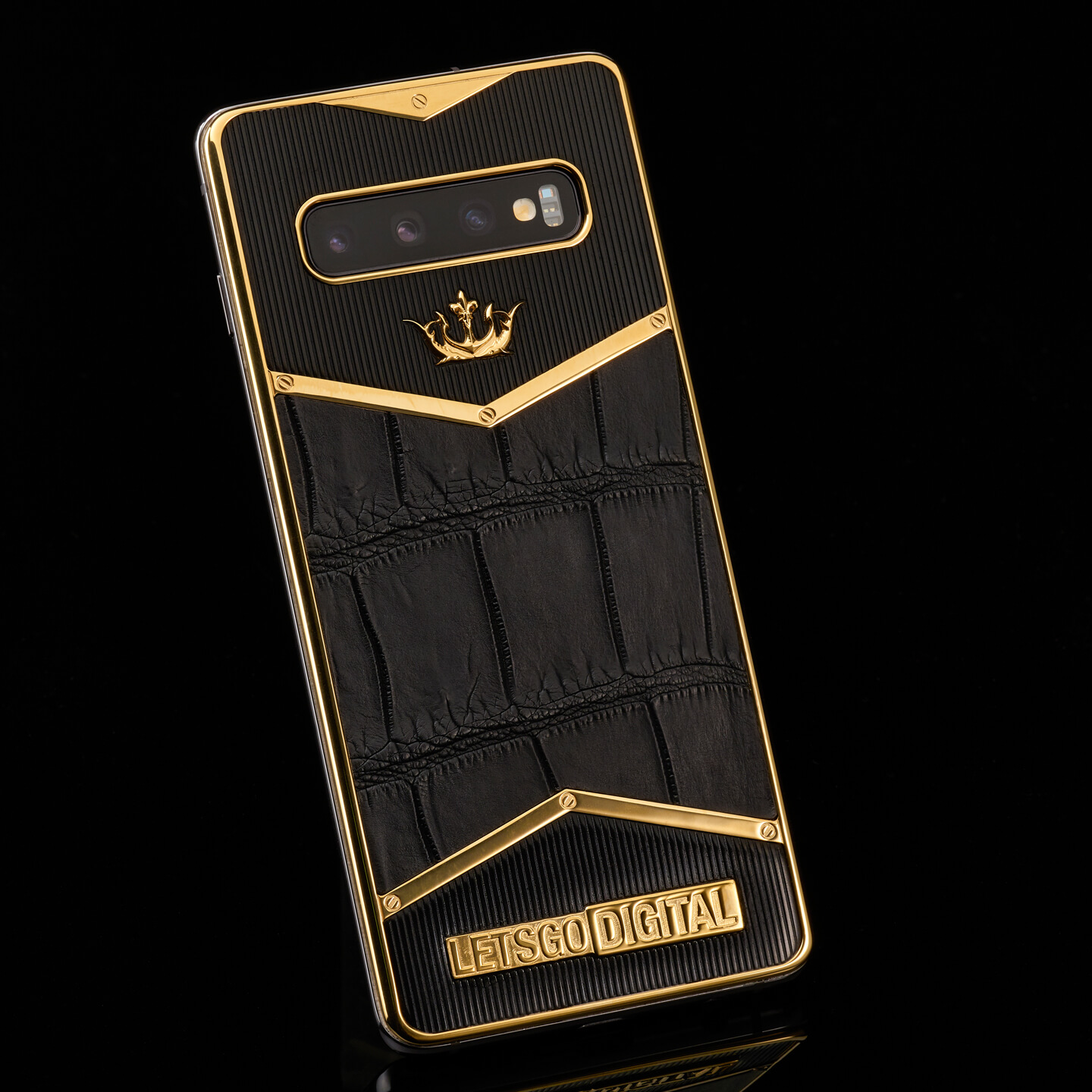 Samsung Galaxy S10 Limited Edition
There are different options available on the website. You can buy a phone designed by Caviar, but you can also have a unique design made just for you. Fortunately, the Russian site is also available in English, which makes the ordering process a lot easier.
LetsGoDigital has opted for an existing model, the Caviar X-Edition Black Gold. We added just a pinch of customisation with a special LetsGoDigital logo in gold added to the final design.
After the design is submitted Caviar will give you a price by email – in our case it took less than 48 hours to get a quote on the price. There was also a render of the final product included in the email and it made us go "Wow! That's exactly how we want it!". Then we had to pay the quoted price and wait for the real product to be made.
After two weeks, the design department contacted us by email to show the actual phone. We were very pleased with the end result. "Let's hope this shipment reaches its destination," we thought. Horror stories of failed and never delivered packages popped into our heads – as tech editors, we have plenty of those etched in our memory.
Fortunately, our fears turned out to be unfounded, and after a month there was a takeaway receipt in our mailbox. On to the post office then, filled with righteous excitement. After paying the all the customs taxes we finally lay hands on the box.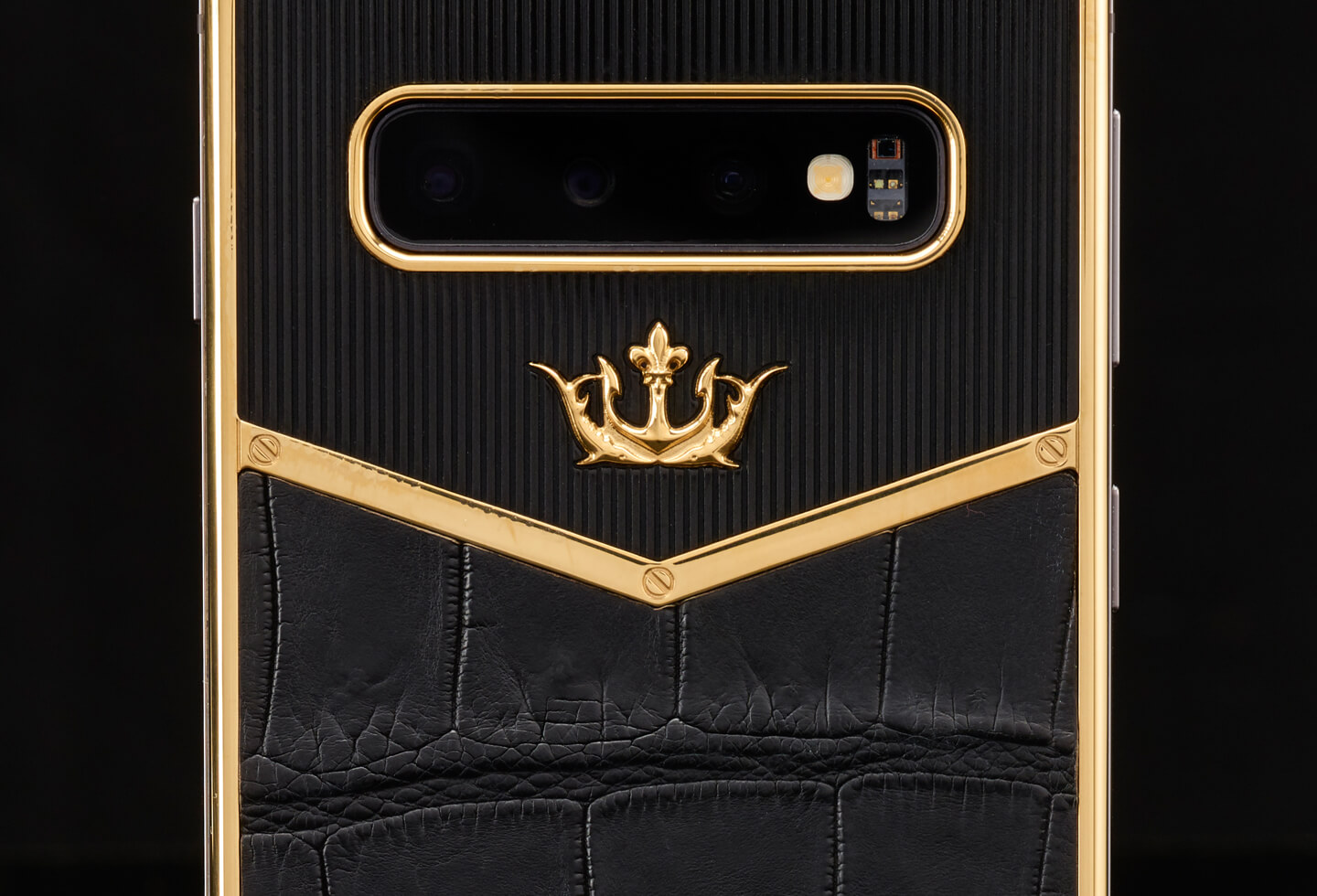 First glance and hands-on
Once we came back to the office, we sat down quietly and our hearts pounded. "Jeez, this thing is heavy!" was the first impression holding the package. The Limited Edition Galaxy S10 smartphone comes in a beautiful matching case with a total weight of around 2 kilograms.
Time to open the box! After tearing down the wraps we laid eyes on a stylish leather case. The golden Caviar logo radiated light towards us and under it was our custom made smartphone. The device was placed on a soft bed of black velvet. The case consists of two compartments, in the lower one you find the certificate of authenticity and the accessories. The S10 comes with earbuds, a USB cable and a charger – all accessories are packed separately in a black box with the golden Caviar logo printed on it.
After examining the device extensively from all sides and feeling the refined design and the soft leather, it was time to switch on our Samsung Galaxy S10 Limited Edition. Oops … everything is in Russian … what now? First decipher where we can find the 'Settings' menu and now look for the word 'язык', or 'language' in Russian. Fortunately, we managed to switch to English. Time to really enjoy our Limited Edition smartphone.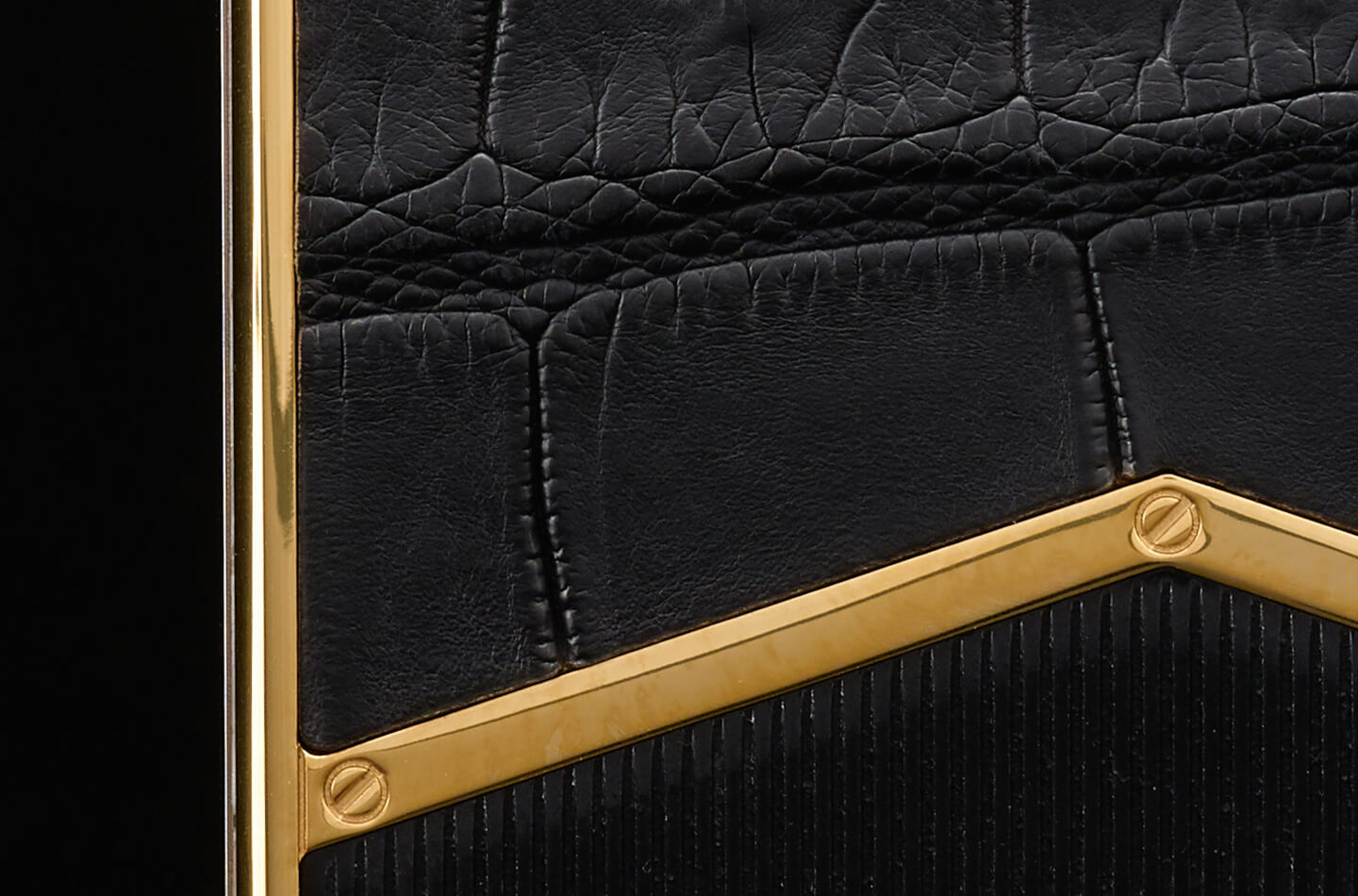 Wide range of exclusive models
Caviar has a wide range of exclusive smartphones with only premium materials used. No matter if you like to go all shiny and sparkly or prefer a more business-like look, you'll find your device at Caviar.
Some versions use a specific theme, for example, the Russian company also makes devices with embedded pieces of the world-famous Titanic or various space oddities – a piece from an actual spaceship or the Moon if you like. Last month, Caviar released an iPhone 11 Pro Limited Edition with a cloth from Steve Jobs actual turtleneck.
LetsGoDigital has opted for the X-Edition Black Gold. "Charismatic, elegant and with a look of superiority," reads the model description on the site. That is exactly the feeling that this device evokes. The beautiful black housing looks particularly luxurious thanks to the golden elements. You can see and feel it as you hold it in your hand. The smartphone offers a very good grip – even better than a regular Galaxy S10.
When you hold the phone and let your fingers rest on the leather, it feels nice and soft and warm. Golden V-shape elements enclose the crocodile leather patches and there is also a gold accent around the triple camera and the Caviar logo. To complete the luxurious design, the frame around the device also features a gold coating with everything being of the 24-carat variety.
We wanted our readers to be able to share our excitement and in order to do this we approached our friends at PRCLSS Imaging (Priceless Imaging), a start-up in high-end photography and videography, to help us show you this Limited Edition phone in the best possible way. The photoshoot and a video recording was done at the John Geven Studios in Nuenen, the Netherlands. You can enjoy the high-resolution images (by clicking to open full-frame) and the clip below.
Caviar also supplies a certificate of authenticity with every Limited Edition smartphone. It bears a unique number and lists all the materials used in the build. In our case, it is 999-grade gold with a thickness of 7 microns. There is production date and a signature of the designer as well. An international warranty card is also included as well as a carefully prepared brochure, which highlights other Caviar models.
In terms of functionality, this exclusive edition features the same specs as the regular Samsung Galaxy S10. The smartphone has a 6.1-inch Dynamic AMOLED display with a Quad HD+ resolution and a punch-hole selfy camera on the top right. The Android Pie smartphone is powered by the Exynos 9820 chipset with 8GB RAM and 128GB storage.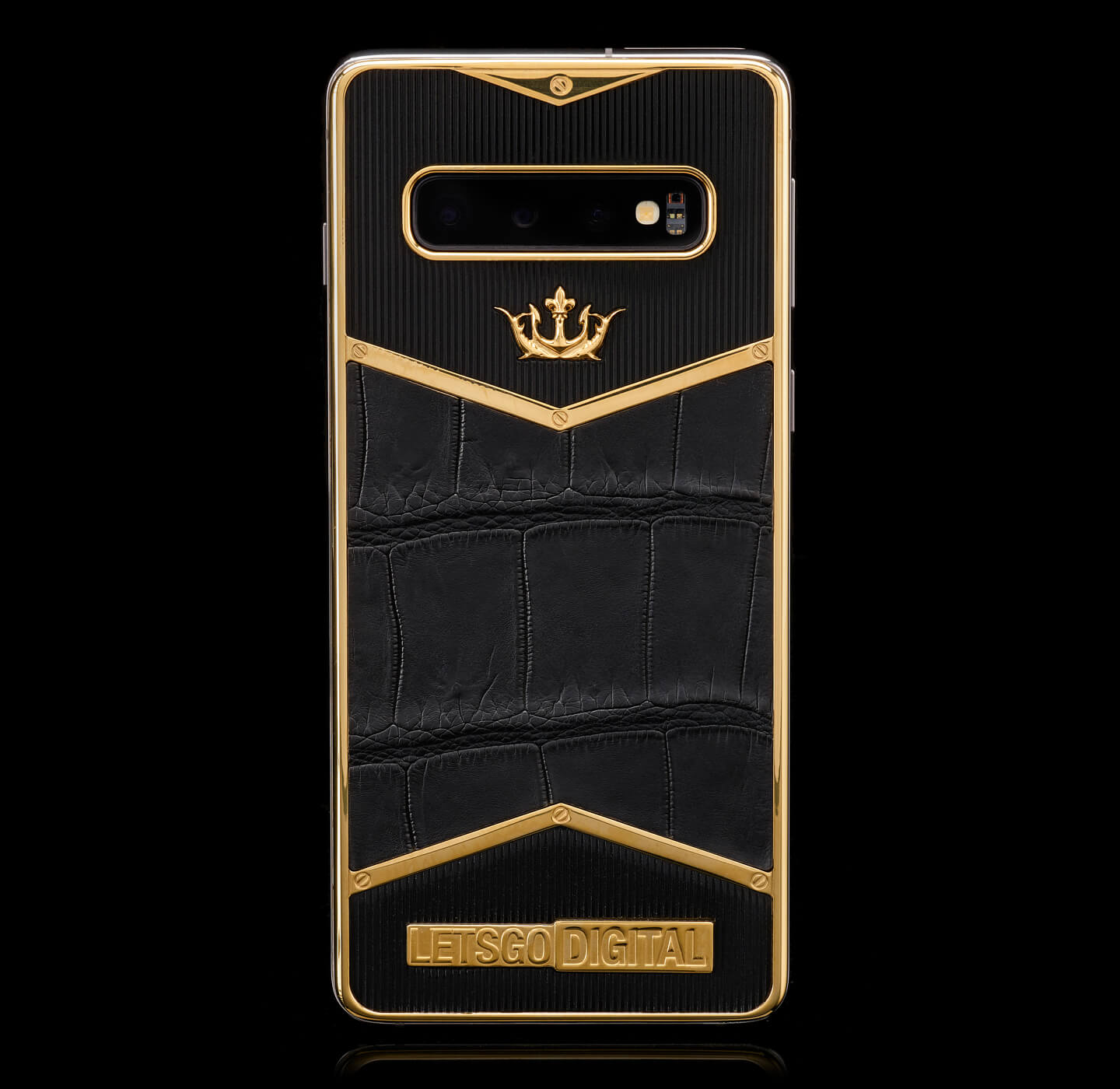 What about the price?
At this point you're most certainly curious about the price, right?. The Samsung Galaxy S10 received a suggested retail price of € 900 after its debut in February 2019. Our Limited Edition version costs $ 4,920 USD, and when we add the LetsGoDigital logo in gold, the total price went up to $ 5,740 USD.
Of course, the price will vary depending on the design, materials used and manufacturing. You can opt for very pricy stuff like diamonds and white gold, or go down the leather road instead.
Is this smartphone worth the money? That's a very personal question and depends on a lot of things – the thickness of your wallet surely being one of them. In our case, 20 years of hard work deserve to be celebrated and our Samsung Galaxy S10 Limited Edition will always have a special place on the editorial board.
It is a very unique and luxurious product that makes a perfect gift for a business partner or anniversary item. We're very happy with the result and it surely was an experience from the first concept to the moment we opened up that box.