Earlier this month LetsGoDigital reported about a unique LG foldable smartphone with a so-called Z-Fold design. The special thing about this design is that the front screen can be folded in such a way that it becomes part of the main display. Ideal, this creates an extra-large screen when you unfold the device. However, LG did not opt for one large flexible screen, as there was still a thin bezel between the flexible display and the front display. Competitor Samsung seems to choose for a different approach.

Samsung foldable phone can fold multiple ways
At the end of 2018, Samsung Display filed a design patent with the KIPO (Korean Intellectual Property Office) for a foldable smartphone, a Z-Fold type that is. Although the patent was already approved at the end of May, it took until 7 August 2019 before the patent was published in the Korean database. A total of 23 sketches are included.
It is a simplistic, but very stylish and multi-functional device. The folding phone is equipped with one large flexible screen with very minimal bezels. Expanded you have a large tablet at your disposal. The smartphone has two folding lines, one screen section you can fold forward, the other you fold backwards. Hence the name "Z-Fold", you fold the device in the shape of a Z.
Once folded you have a full screen display. As the device features one large flexible screen, the display on the left continues as if it were an edge screen. The other three sides show a small bezel.
However, it is also possible to fold this phone in such a way that the middle screen part becomes the front screen. The other two screen parts are then folded backwards, which means that the device remains extremely compact. If you choose this folding style, then you have an edge screen on both sides and only a narrow bezel on the top and bottom.
Versatile foldable device
Do you need two screen parts? That too is possible. You simply fold one screen backwards. Although the design patent does not provide any information regarding the operating options, you may assume that the interface will be adjusted depending on how the device is being folded.
The maximum screen size of this foldable device is 3x the width of a contemporary phone screen. This makes it a very versatile handset. You actually have a smartphone, tablet and small PC in one. With the right hardware, it will therefore be an ideal device for multitasking, but of course also for watching a video or film.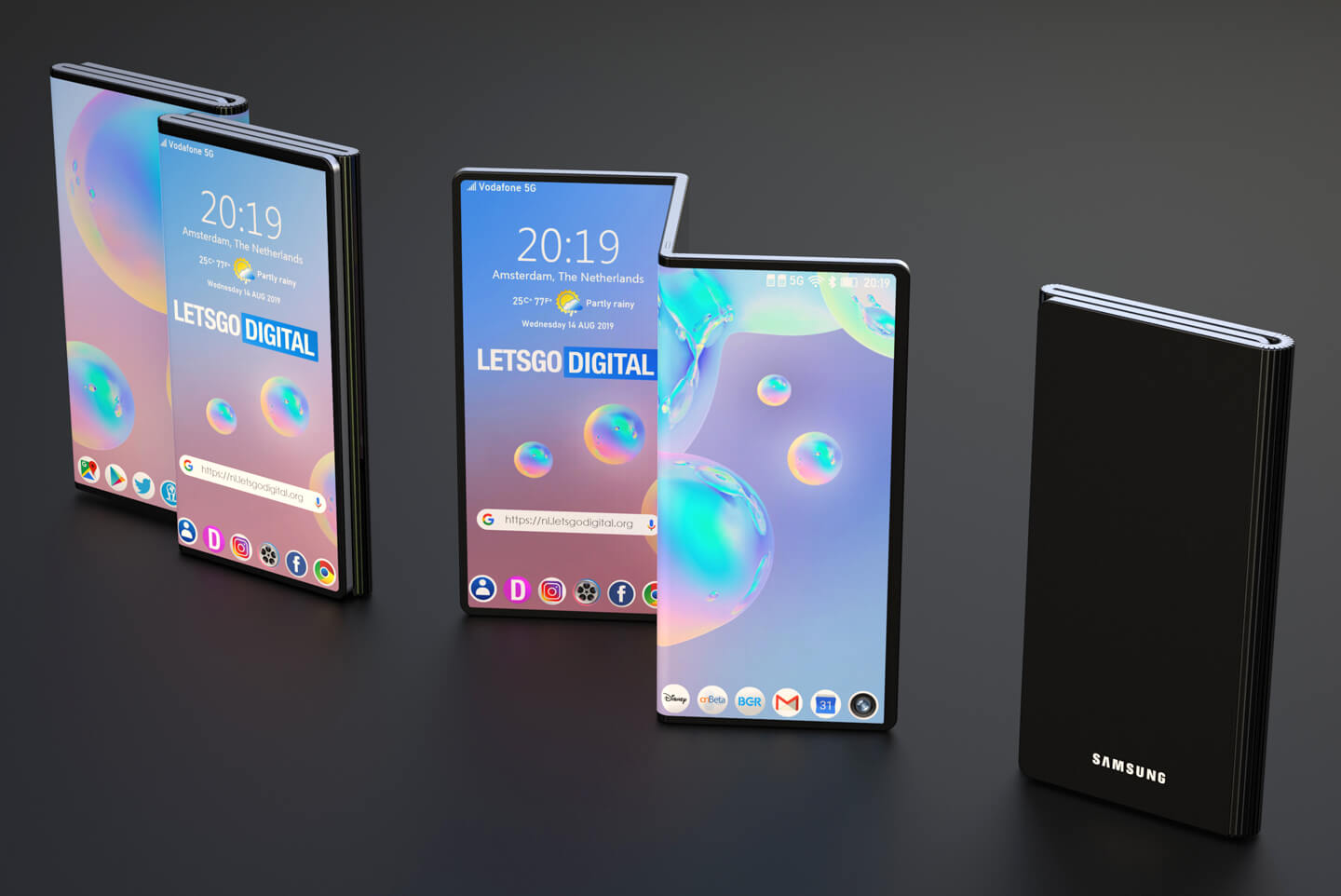 Undoubtedly, attention will also be paid to mobile gaming. Smartphones are increasingly being used to play a game. With its large screen, this device is perfect for gaming.
There are no buttons or connections visible on this model. In addition, there is no camera visible on the patent sketches either. However, that does not have to mean anything, after all the patent was applied for by Samsung Display and not by Samsung Electronics. The focus of this patent is purely on the double folding screen. As the development progresses, Samsung Electronics will give the necessary components an appropriate place, and the operation will also be considered.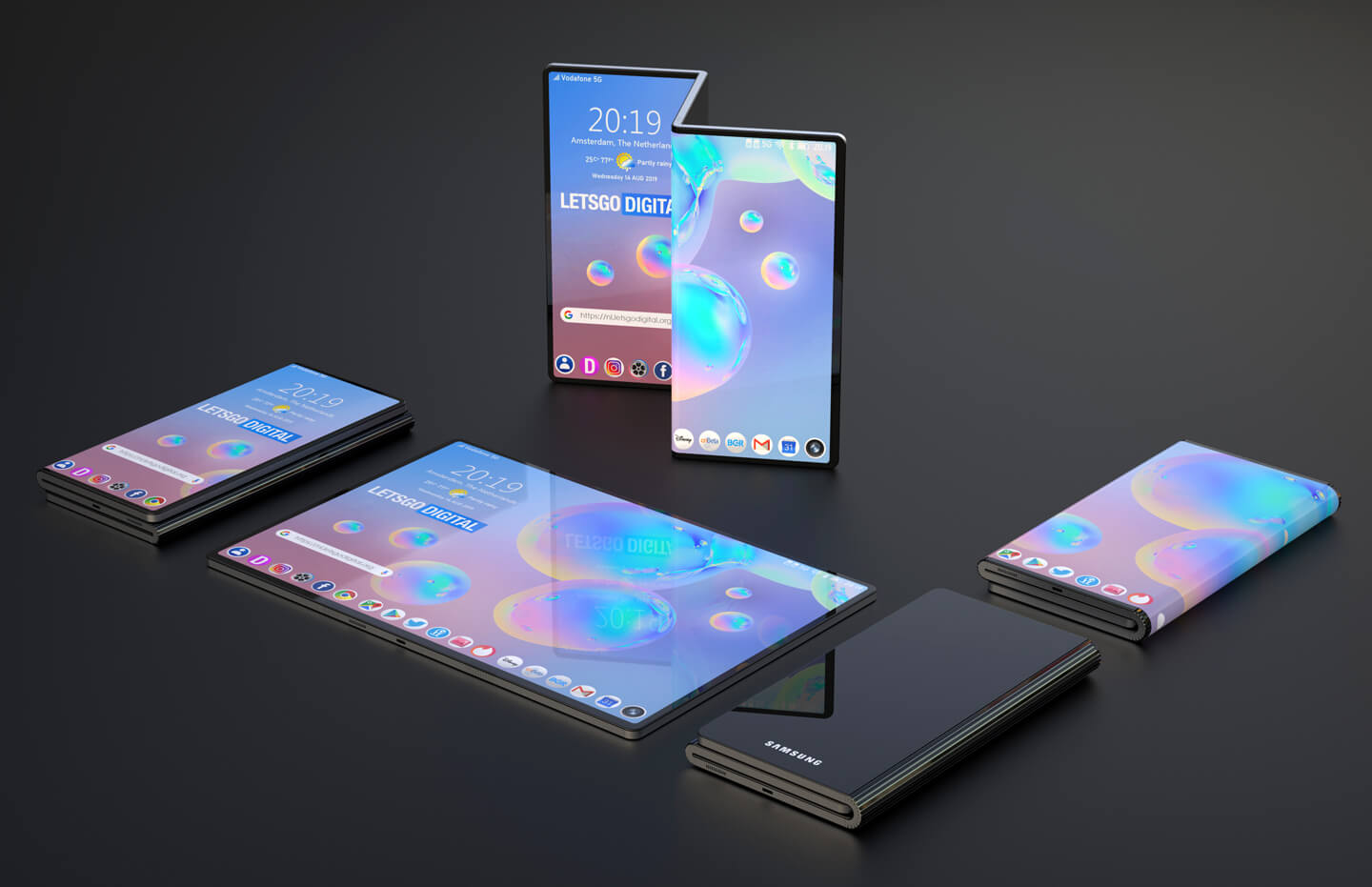 Nevertheless, you do see a clear trend emerging from as few physical buttons and access ports as possible. Aesthetically this looks better. Yet not everyone is equally positive about this development. After all, it remains to be seen whether this will also be perceived as user-friendly.
In addition, more and more components are being processed behind the screen. Like the fingerprint sensor, which is being integrated behind the screen in more and more smartphone models. Also this year the first smartphones were unveiled with an in-display speaker and the first phones with an under-screen camera will probably appear next year. It is of course possible that these new technologies will also be applied to this futuristic model.
Future Samsung foldable phones
For the time being this is a phone model that we can only dream of. A folding device like this will certainly not be introduced in the coming years. At the moment, one folding line is already a huge challenge, although Xiaomi already showed a concept model on MWC 2019 that could be folded twice. Both sides of this unit could be folded backwards. However, it is not for nothing that you can still not buy the Samsung Galaxy Fold or the Huawei Mate X. The durability of the flexible screens turned out to be a bigger issue than expected.
Nonetheless, it seems to be a matter of time before foldable phones become generally good. After all, these mobile devices offer clear added value – if everything works properly and of course continues to work properly. The Z-Fold model as Samsung has now patented is certainly a big contender for the future. As far as I am concerned, it's one of the most interesting models that I have encountered over time.
Here you can find the patent from Samsung Display.
Note to editors: The 3D renders presented in this article are copyright protected and designed by LetsGoDigital. You can use our artwork for free, as long as you include a clickable source link into your story. Thank you very much for understanding.