The Russian company Caviar regularly releases luxury Limited Edition smartphones, which are often based on the top models from Apple and Samsung. Last week Caviar released a special iPhone 12 Pro Max in the name of Joe Biden and Donald Trump. This time the company is introducing an iPhone 12 Pro without any camera.
Caviar's latest model, called Titanium iPhone 12 Pro Stealth, is designed to protect the owner from covert surveillance. The designation Stealth refers to the Stealth aircraft, which is designed to prevent detection using a variety of technologies that reduce reflection / emissions of radar, infrared, visible light, radio frequency spectrum and audio – collectively known as 'stealth technology'.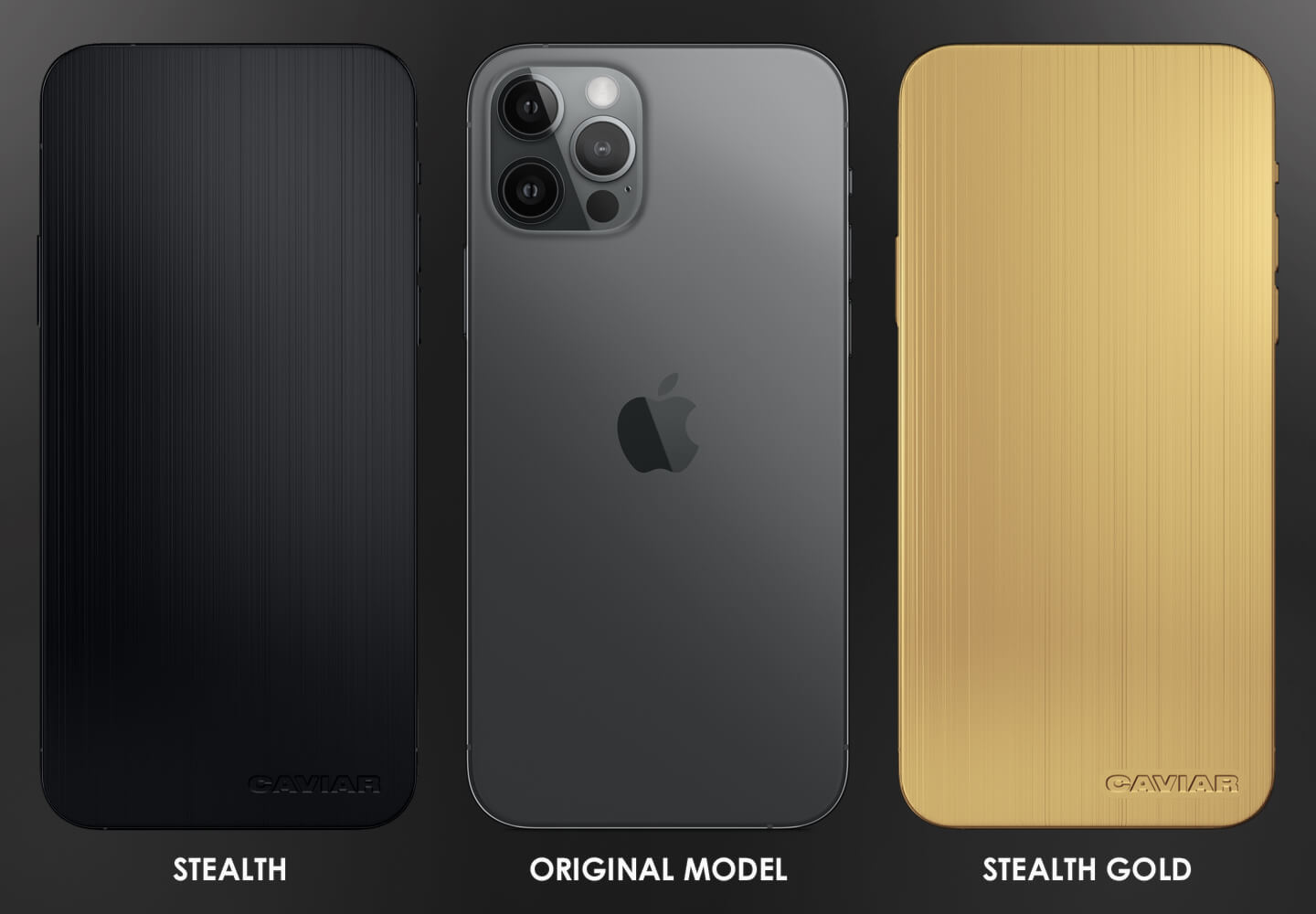 Smartphone without camera
The main feature of the new iPhone 12 Pro Limited Edition is the absence of cameras. All cameras have been removed at the rear, at the front the camera is disabled. As a result, it is not possible for fraudsters to gain access to your smartphone, which should give the user an extra secure feeling. Particularly in certain industries where security is an important aspect, the use of smartphones with a camera is often not allowed.
The new collection consists of two models. The iPhone 12 Pro Stealth is made of hardened titanium with vertical guilloche. "Guilloche" is a decorative drawing with an intricate repetitive pattern, designed to protect documents and certificates. This Limited Edition smartphone is finished with a durable black laser coating, which gives this device a sleek minimalist appearance.
The second model is more colorful. The iPhone 12 Pro Stealth Gold has a housing made of hardened titanium, with an extra durable PVD gold coating placed over it.
iPhone 12 Pro Stealth Gold Limited Edition
Caviar will produce 99 copies of both models. Each Limited Edition phone comes with its own unique number, which is engraved on the side of the device.
Those interested can choose from two basic models: the iPhone 12 Pro and iPhone 12 Pro Max, both are available in three memory variants: 128GB, 256GB and 512GB. The Stealth Edition starts at $ 5,060 USD, the Stealth Gold Edition has a starting price of $ 5,520 USD.