Huawei has become a strong player in the global smartphone market. Last year, the Huawei P10 and P10 Plus were introduced at MWC 2017. Next month the 2018 edition will take place in Barcelona. During this event Huawei is expected to unveil the successors of its flagship models. Previously we believed this would be the Huawei P11, but lately more and more sources start to talk about the P20.
Huawei is not the only manufacturer that will work with dozens. LG is also expected to skip the G7, the Korean company wants to work with dozens too, just like its V-series.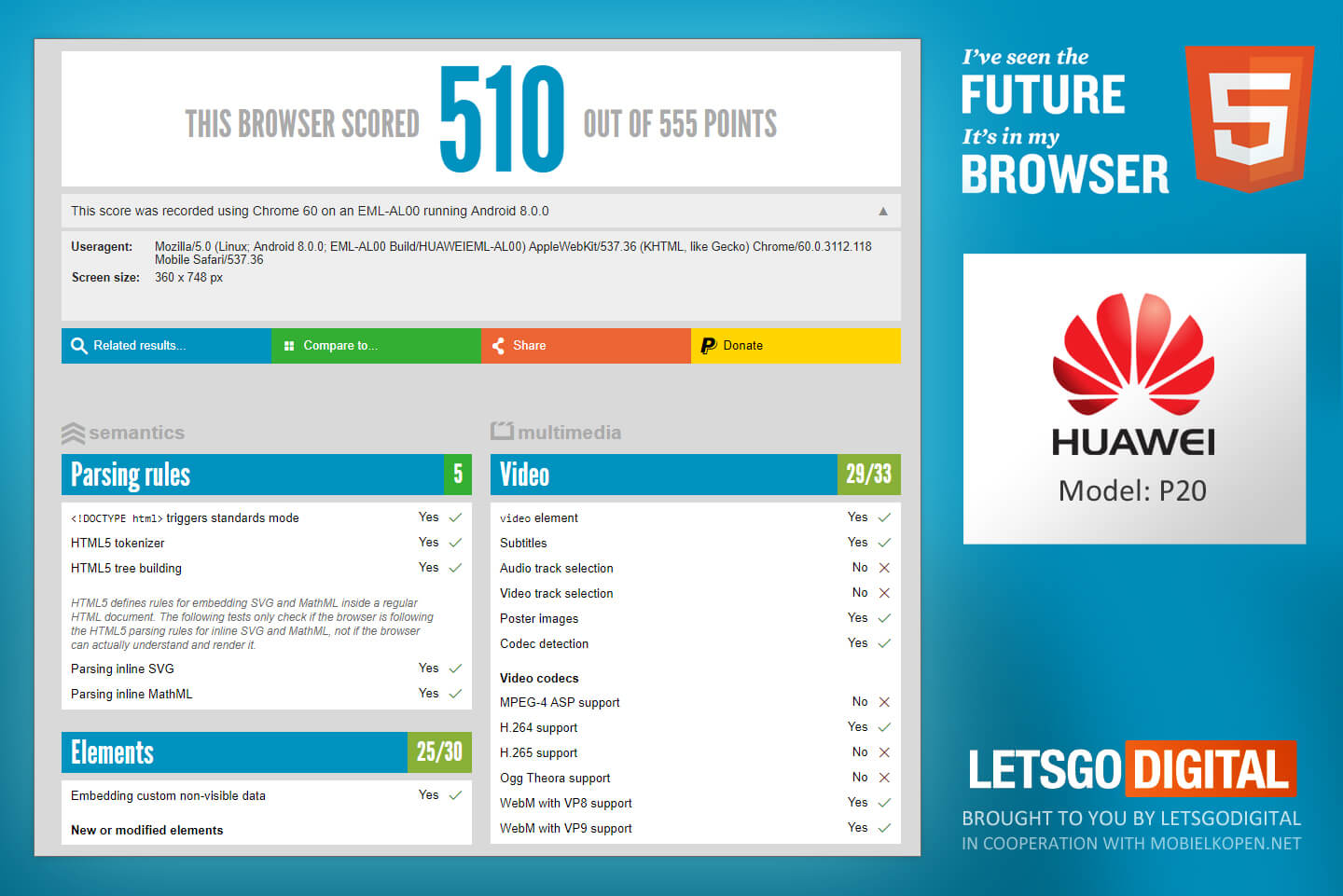 Huawei P20 features a FHD+ display
The new Huawei P20 is expected to come with a completely new design. Back in December XDA Developers discovered the official firmware files and found out the new phone will have a notch. Similar to the iPhone X. The firmware also revealed the P20 has the following model numbers: EML-AL00, EML-L09, EML-L29 en EML-TL00.
Last week there was talk the Huawei P20 would still feature a regular Full HD resolution of 1920×1080 pixels, but new information tells us this is not the case.
Our friends over at Mobiel Kopen just discovered one of these previous mentioned model numbers. The EML-A100 has surfaced in a benchmark on the HTML5Test website. This test is done to test the internet browser and to compare the results with other smartphones. The benchmark shows the Huawei P20 will have a Full HD+ resolution (2244×1080 pixels).
The screen size mentioned in the benchmark is 360×748 pixels. This is not the actual resolution, but it does indicate the aspect ratio. By converting these numbers to a Full HD resolution, we can tell the physical screen will still have a resolution of 2160×1080 (18:9). But due to the notch the total number of pixels will be 2244×1080.
Although it's not very surprising, the HTML5 Test also reveals the phone runs on Android 8.0.
Huawei P20 release date
At this moment, not much is known about the specs of the new Huawei P20 models. Earlier information from Evan Blass tells us the phone may come with a triple camera. Some days ago this news was confirmed by some pictures of the new handsets, which were published on the Chinese Weibo website.
Next month MWC 2018 will take place in Barcelona, Spain. The new Huawei handsets are expected to be revealed during this event.
Although Forbes mentioned something different two days ago. After visiting factories in China, they are convinced the new P20 smartphones will not be presented during MWC. Huawei is supposed to hold its own event one month later. The new flagship models are already ready to enter the market, but the Chinese would make this strategic decision to give more space to Huawei's other flagship model, the Mate 10.