At the beginning of 2019, LetsGoDigital reported on a foldable smartphone from Intel. Just a few months later, during a Japanese interview, Joshua D. Newman, Intel's general manager of mobile innovation, confirmed that the US CPU manufacturer is indeed working on foldable technology. At the time, reports had put Intel at least two years away from producing an actual device with a flexible display.
During the same interview with Nikkei Asian Review, it became clear that the US company is working on this technology in collaboration with various display manufacturers, including LG Display, Boe Technology Group, Sharp and Samsung Display. Newman added, that if Intel's research was to show that flexible displays actually contribute to a positive user experience then the company will accelerate the development and bring them to the market sooner.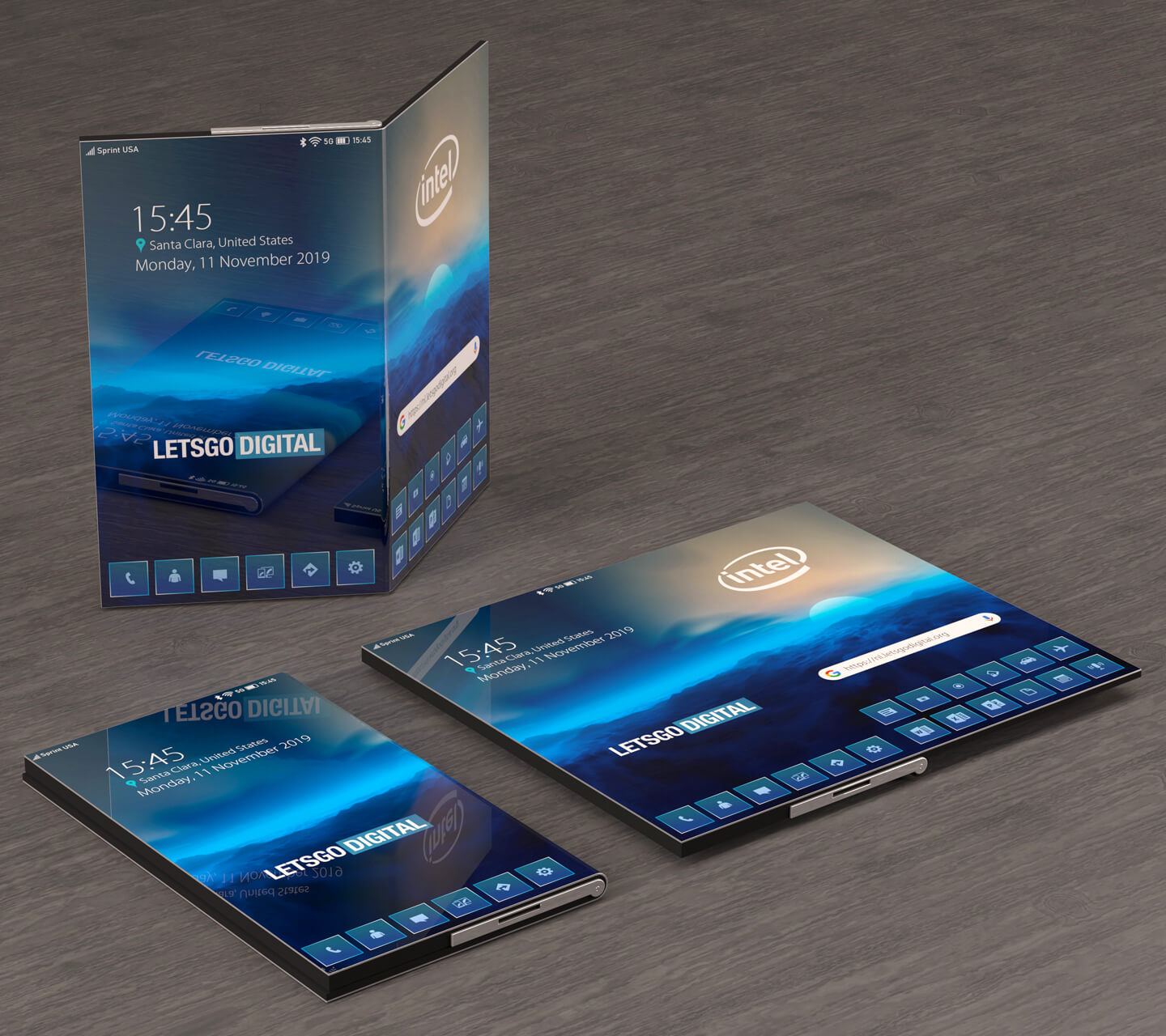 Intel foldable phone
In October 2018, Intel Corporation applied for a patent for a folding device in Korea. The patent was published in October 2019 by the KIPRIS (Korean Intellectual Property Office). To illustrate the idea behind this product we made a series of 3D renders based on the patent, showing the smartphone/tablet in question.
The design uses the so-called wrap-around display similar to the one used in Huawei Mate X. The screen folds around the hinge and stays on the outer side of the folded device, essentially creating a compact device with displays on both sides – front and back. When unfolded, it turns into a full-fledged tablet with plenty of screen estate.
Intel opted for this design in order to keep the hinge compact and as a result, the device is very thin and light. The screen itself covers almost the entire front surface with extremely thin bezels, creating a very futuristic and modern design. At the bottom, there is a button for unlocking and unfolding the device.
In an unfolded state the right part is slightly thicker, housing all the necessary components and electronics, and making it easier for the device to be held in one hand. The images in the patent application don't show any cameras, so it's not clear how Intel will integrate those in the design. All things considered, the device looks stunning and if it makes its way to the public there will be quite an impact.
The last part is unlikely though, as Intel probably won't try to compete with other smartphone manufacturers like Huawei and Samsung. The company is probably using such devices as a testbed for even bigger flexible displays – ones that can make their way into laptops for example.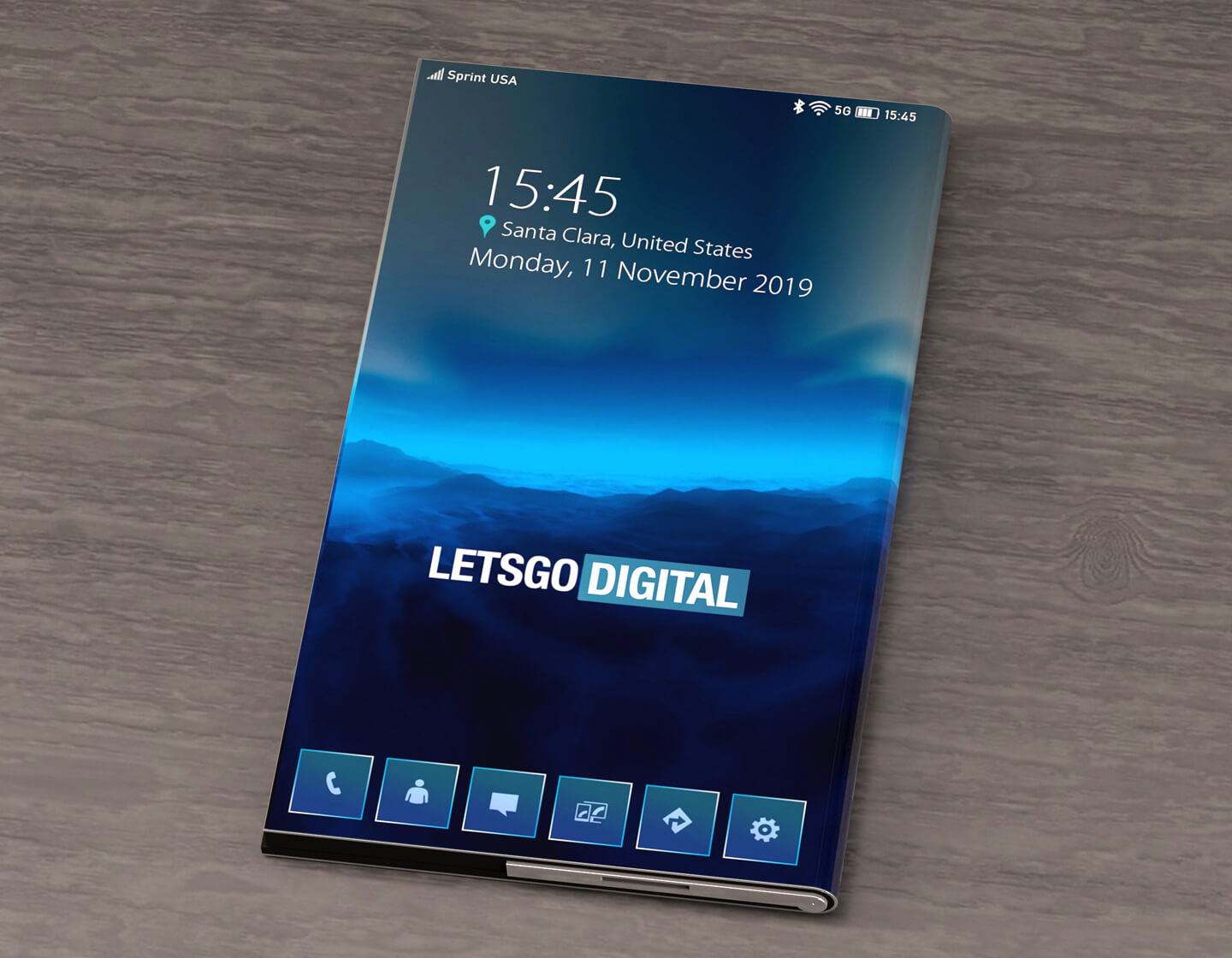 Foldable devices 
During CES 2020, Intel demonstrated for the first time a prototype of a folding PC called the Horseshoe Bend. The device builds upon earlier prototypes of the company under the code names Tiger Rapids and Twin Rivers. There is a key difference though as the Horseshoe Bend is equipped with a gigantic 17.3-inch foldable OLED screen.
It featured a stand, transforming it into a kind of a desktop all-in-one PC and Intel had also brought a non-working mock-up keyboard that can be attached magnetically to one of the folds. The resulting device resembles a regular 12.5-inch laptop with a physical keyboard, and users can use a virtual keyboard as well. The Horseshoe Bend is equipped with an Intel processor of the new Tiger Lake family and also supports a stylus.
Intel wasn't the only big company, "flexing" its muscles at CES. Dell brought its own foldable laptop called Concept Ori featuring a 13-inch flexible display. And while both devices from Intel and Dell serve only as a showcase and probably won't make it to the consumers anytime soon, Lenovo made a bold statement about its ThinkPad X1 Fold, also part of this year's CES foldable craze. The company intends to release the 13.3-inch flexible laptop later in 2020 with a starting price of $ 2500.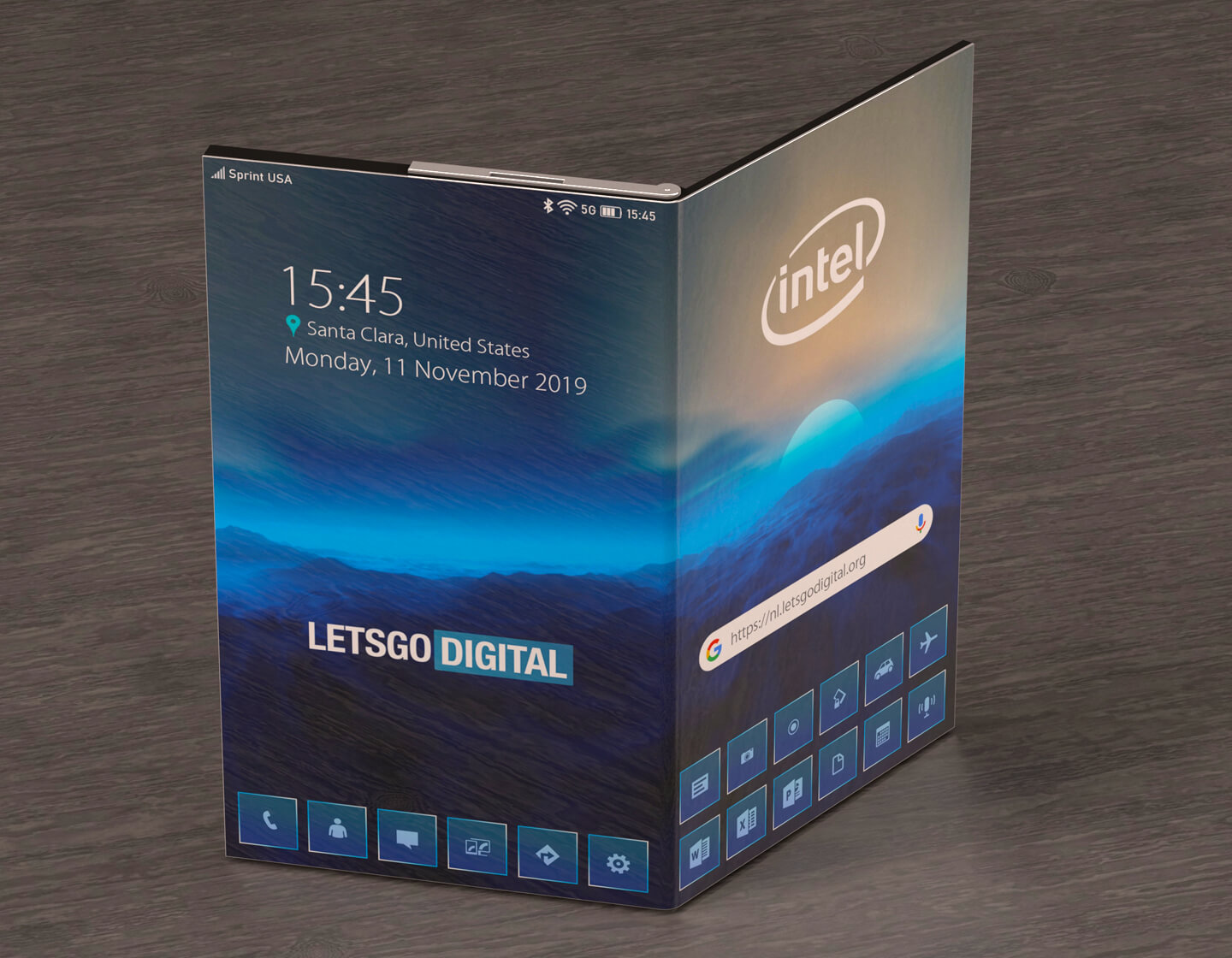 It's becoming clear that flexible display technology is here to stay. With the first foldable phones paving the way in 2019 it seems foldable laptops will follow suit. It's all shaping into the next technological revolution as these devices will not only cause unexpected market reshuffle but change the way we interact with devices. The thin line dividing smartphones, tablets, and laptops is getting even thinner and now we have another big player in the flexible game.
Take a look at the patent of the Intel foldable tablet PC.
Note to editors : The product renders presented in this article are copyright protected and designed by LetsGoDigital. You can use our artwork for free, as long as you include a clickable source link into your publication. Thank you very much for understanding.