LG Display, founded in 1999 as a joint venture between LG Electronics and the Dutch electronics multinational Royal Philips Electronics, already make all kinds of vehicle components, including battery packs, infotainment- and safety devices. Last week LG Display also announced its new flexible OLED lighting brand Luflex. The Korean based company will start manufacturing OLED lights for the automotive industry. But it seems LG Electronics has another idea for luxury vehicles.
Today we discovered a patent from LG, containing a ´Vehicle display device´. However, this is not just a display device, it´s a transparent flexible display, a head-up-display, that can be used in multiple ways and offers many different functionalities that enables a safer and more comfortable driving experience.
The patent was already filed on December 2015 by LG Electronics, while it took till December 7th, 2017 for the patent to be published by WIPO (World Intellectual Property Organization). The original Korean patent was already filed in Demceber 2014.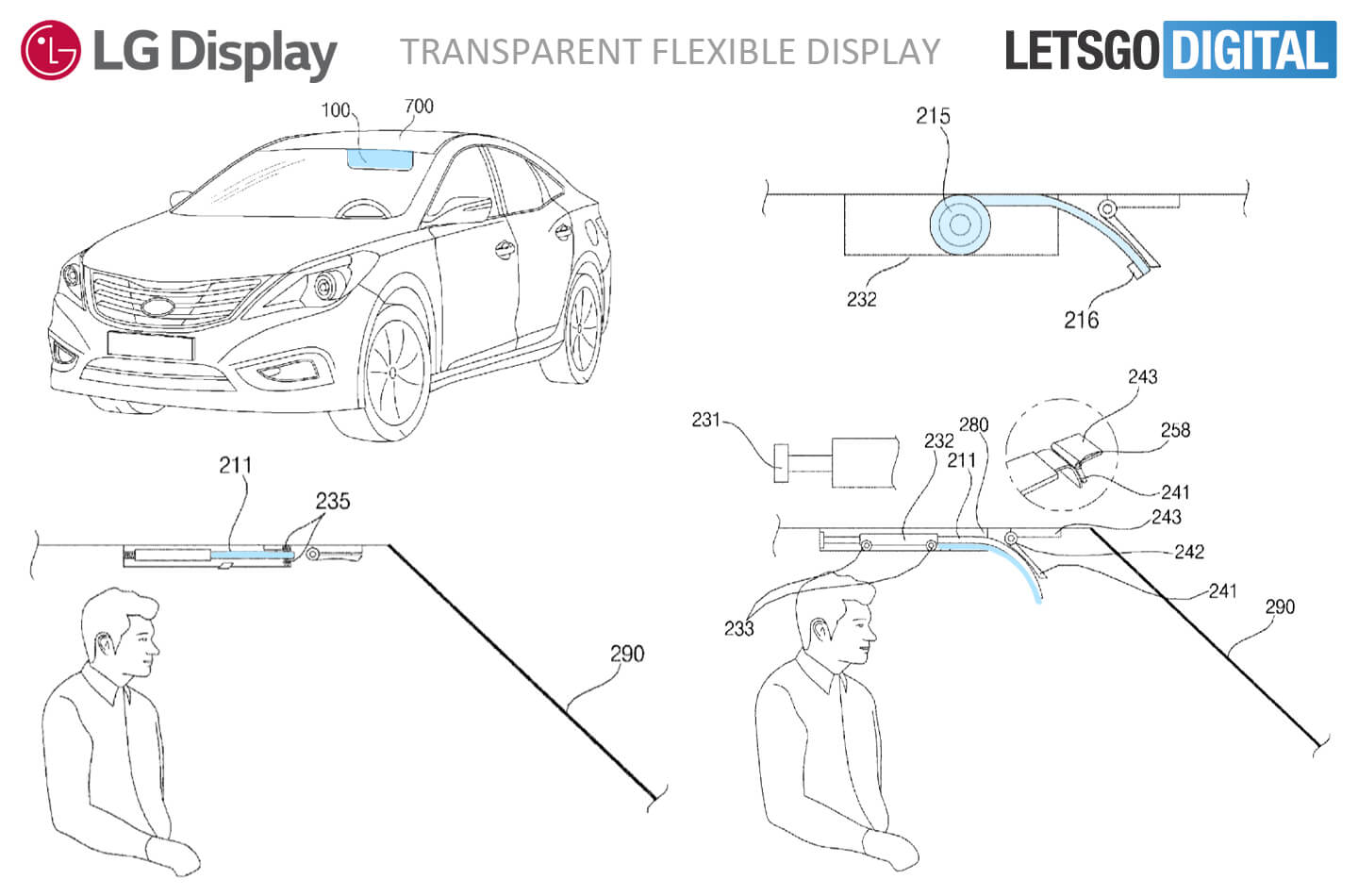 LG transparent flexible display for drivers
The transparent flexible display can be rolled around a predetermined shaft. The length of the transparent display is adjustable via a roller unit. When not in use, the display can be fully folded over the driver's head. The driver can control the unit by the steering wheel and adjust the transparent display to the desired position.
In addition, the vehicle display device also offers Internet of Things (IoT) and Augmented Reality (AR) capabilities. The display unit contains a processor for displaying screen images on the transparent flexible display. This can be various kind of images, let me give you some examples.
Image data received from a camera installed around the car can be displayed on LG's flexible screen. This allows the  driver to see what happens around him, without having to look through the mirrors. It can also be considered to be the next-gen blind mirror solution.
Thanks to IoT, LG´s vehicle display is also able to display the speed of the car ahead of you. Once that car suddenly brakes the driver will see a warning signal in the display. The head-up display offers many more safety features. It can inform the driver about vehicle information, like the speed, traffic signs, navigation, remaining fuel amount, vehicle faults and traffic information.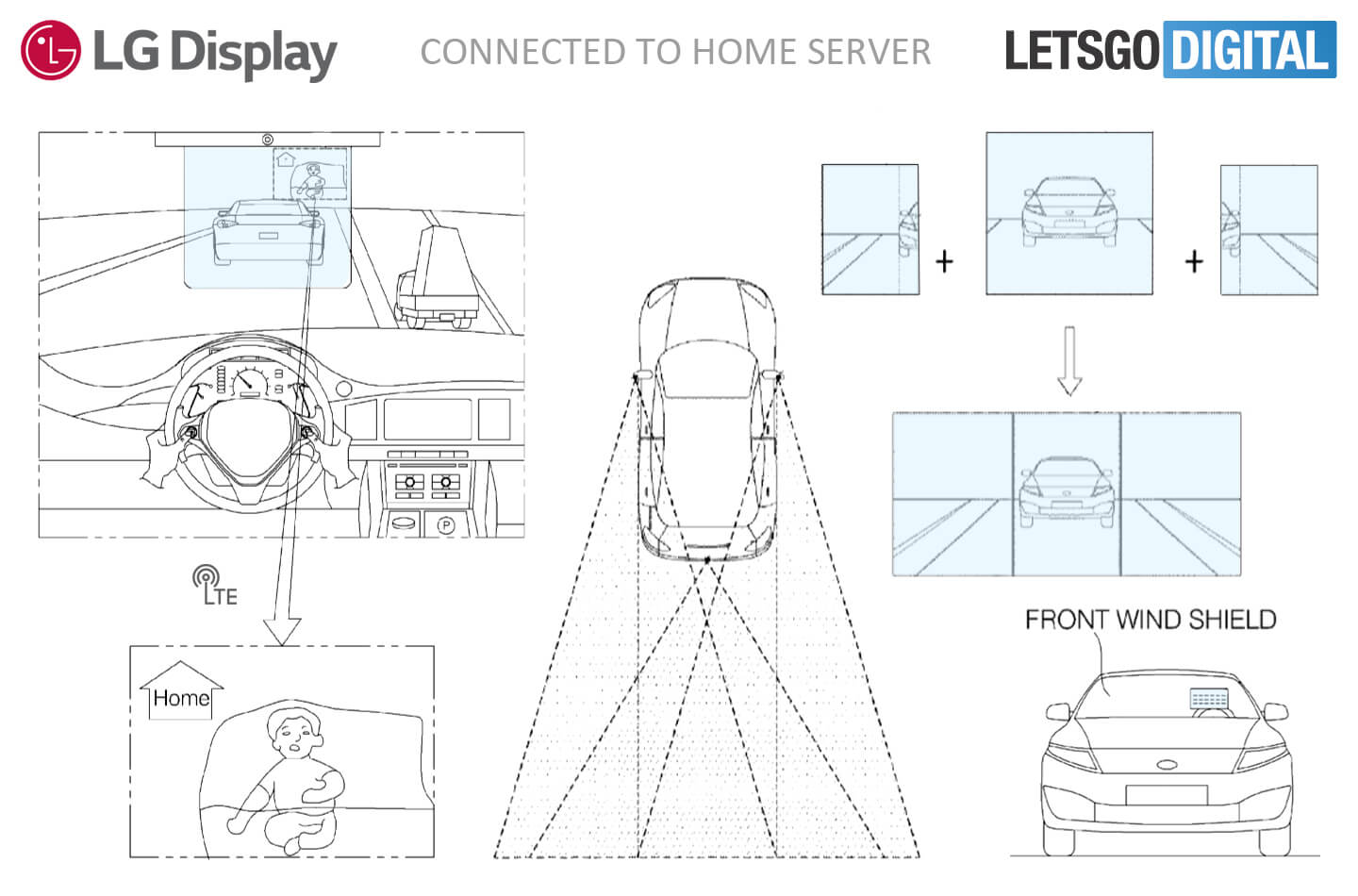 LG's head-up display can connect to a server
The new OLED display can also connect to a server, for example a home server. An image captured from a camera installed in a house may be delivered to the home server. The processor receives the captured image through the communication unit and displays the image on the transparent flexible display. So when you are recording your kids back home, you will be able to see them while driving your car.
Voice controlled operation
Furthermore, this display offers voice controlled operation. LG's latest invention will be equipped with a sound output unit, enabling the processor to output vehicle information by voice. In addition, it also offers voice recognition, so the driver (and passengers) are able to give voice commands for an even more seamless operation.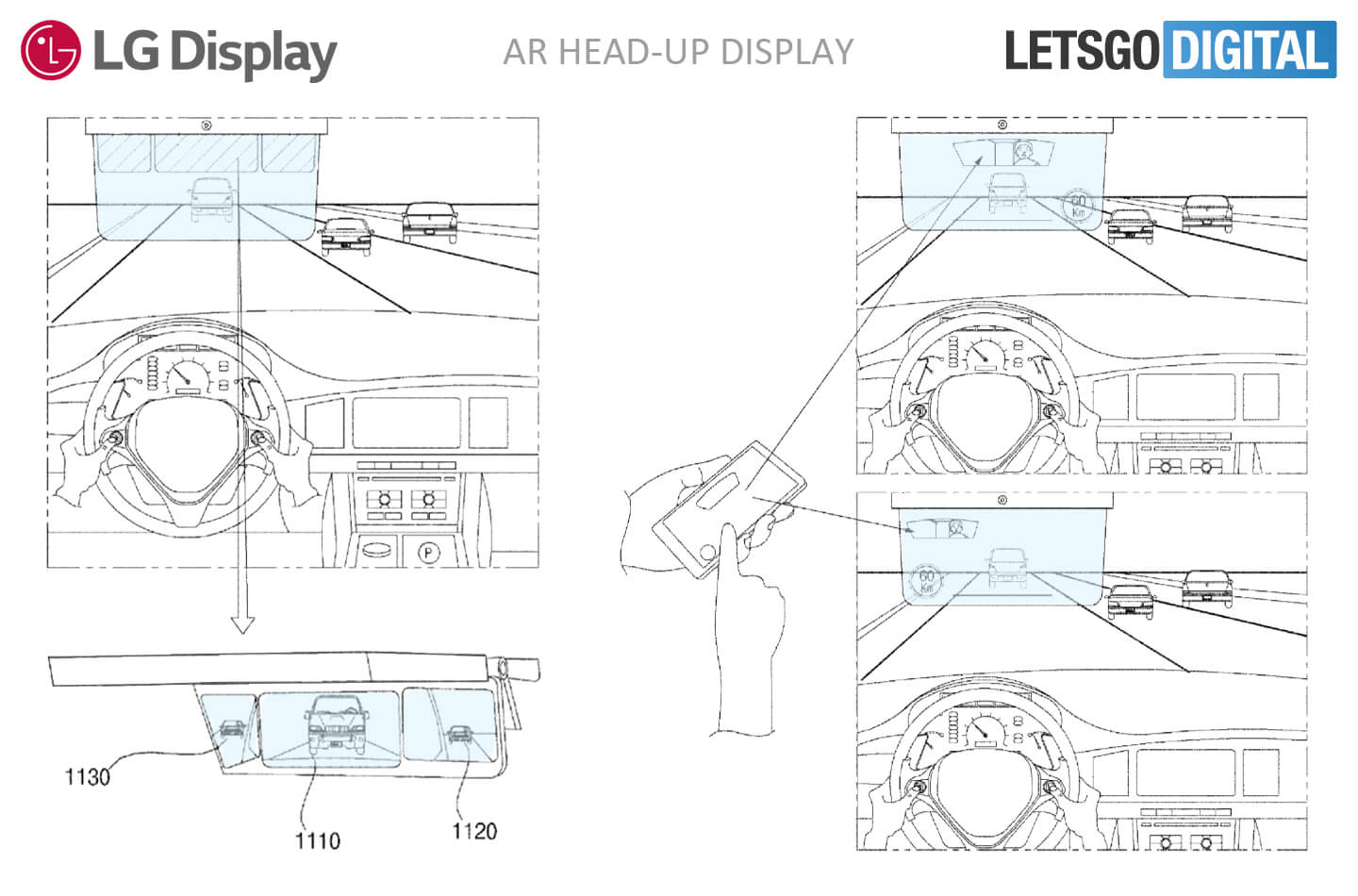 It is also possible to operate the display from a smartphone device. Once connected to a smart device the display is able to assist you even better. At this point, the only thing missing in LG's claim seems to be gesture control features. Perhaps this has to do with the law, as drivers need to keep their hands on the steering wheel while driving.
The vehicle display device even features a light amount sensor. The processor can darken the transparent flexible display automatically according to the amount of light emitted into the vehicle interior.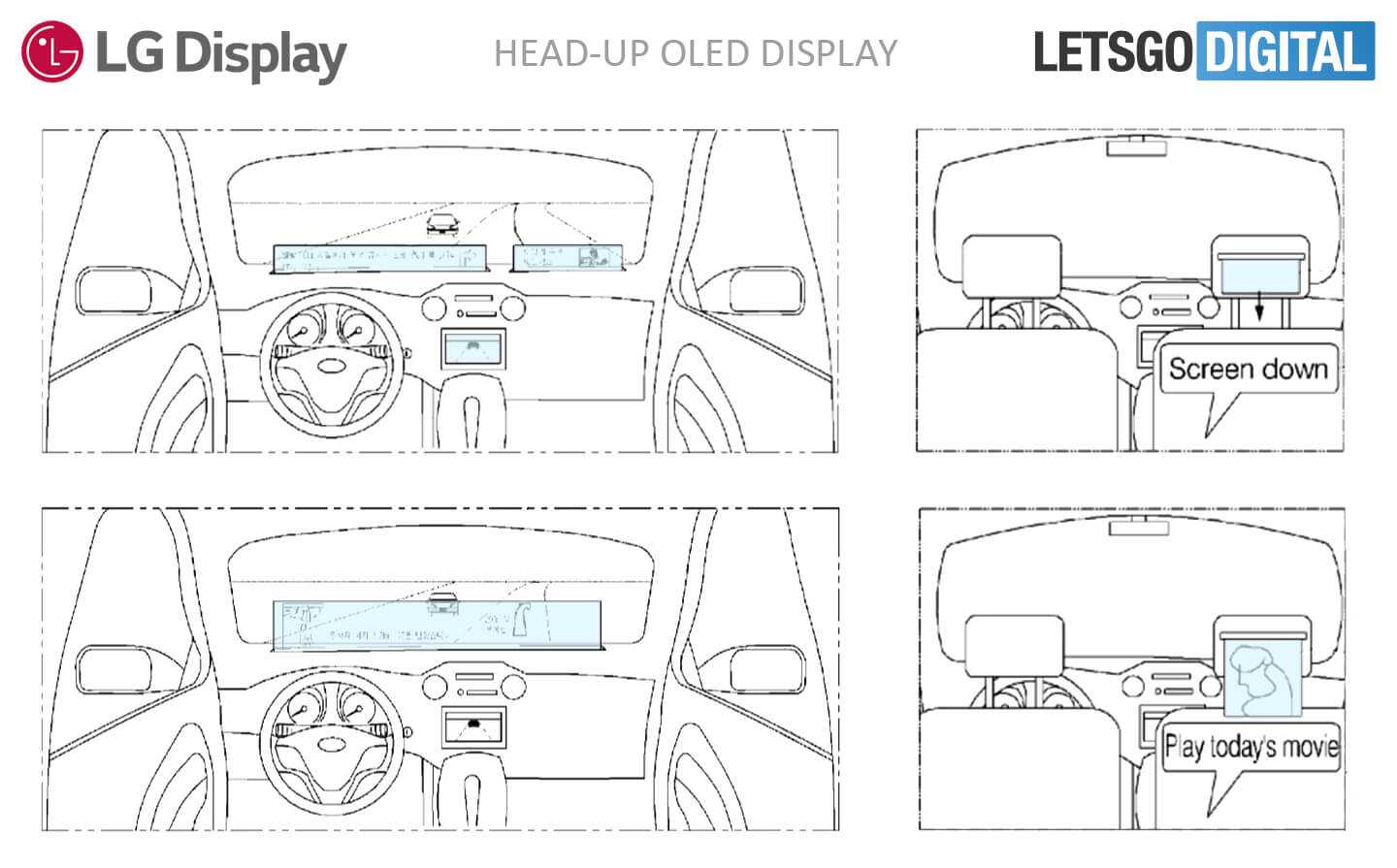 LG transparent flexible display for passengers
Unlike any other head-up display out there, LG's display can come in multiple form factors. It's not just meant for the driver. Also passengers can benefit from this display in multiple ways, for example for the back seats it can be used as a voice controlled infotainment system.
The patent drawings show the transparent display can also be implemented as a second screen on the passenger seat, and one huge display covering almost whole of the front windshield is also shown.
It can also function as an a-pillar display, to unroll the display towards the side window glass. We even see two displays, connected together through the a-pillar. The displays cover half of the front windshield and a part of the side window. This looks very ingenious and will certainly benefit the driver in realizing a safe and comfortable driving environment.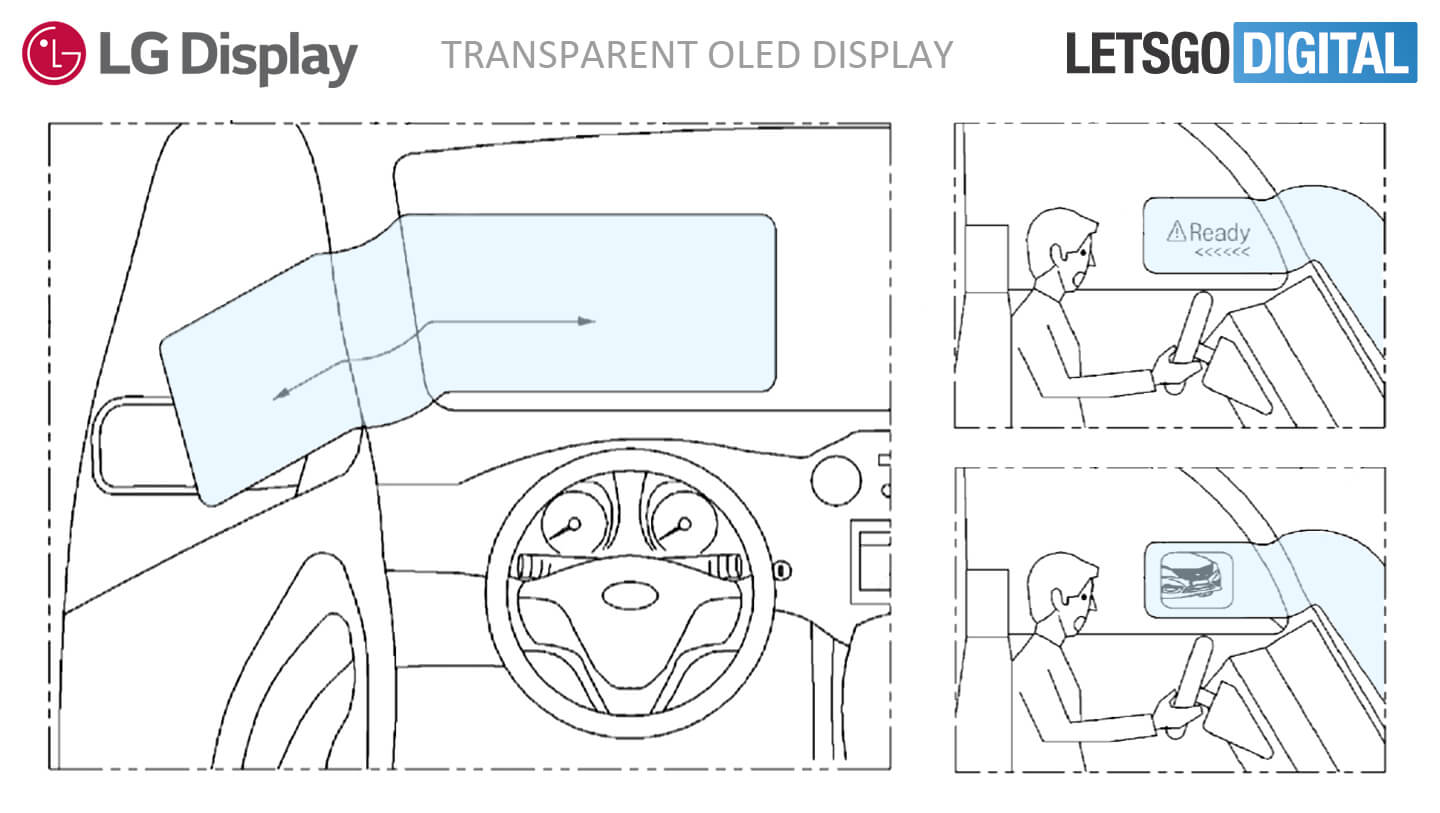 In addition, the LG head-up display can also be turned towards other road users to inform them by displaying text and images like; 'Baby on board' or 'Taxi available'. In the future, this technology may also be used for advertising purposes. It could for example be a warm welcome for visitors of the city of Las Vegas, where lights and exposure mean everything.
Will Mercedes integrate LG's display in its future S-Class?
LG already has various important partners in the automotive industry. A month ago the company announced a partnership with Qualcomm to jointly develop 5G and C-V2X (Cellular Vehicle-to-Everything) technologies for vehicles.
In July last year, LG announced a partnership with Volkswagen (VW) to develop a connected car platform. But this is not LG's first partnership with a German car manufacturer.
The Korean company has been a 'partner in excellence' of Mercedes-Benz since 2012. The two companies collaborate on developing a system to power self-driving cars. LG also builds intelligent stereo camera systems for driverless Mercedes cars. And of course the newly announced LG Luflex OLED lighting brand will benefit this partnership as well.
Premium car manufacturers like Mercedes-Benz and BMW rely on technological developments to upgrade their current cars, in order to stay in leading position in this competitive market.
Mercedes is currently testing fully autonomous driving with an S-Class. The test period runs from October 2017 till January 2018 and will be performed on five different continents. The self-driving Mercedes needs to deal with complex traffic situations, as the company stated in a recent press release.
Last month ago we also discovered a patent from LG containing a new technology to switch between autonomous driving and manual driving mode, this technology may very well be used in future Mercedes cars as well.
If you ask me, the patented head-up display from LG would perfectly fit the premium Mercedes S-Class. This year Mercedes-Benz has presented a facelift upgrade of its S-Class 2013 model. Every 7/8 years Mercedes introduces a completely new S-Class model, a facelift will be introduced halfway through the cycle. Meaning we will have to wait another 3 to 4 years before a completely new S Class will be presented. Will the time be right?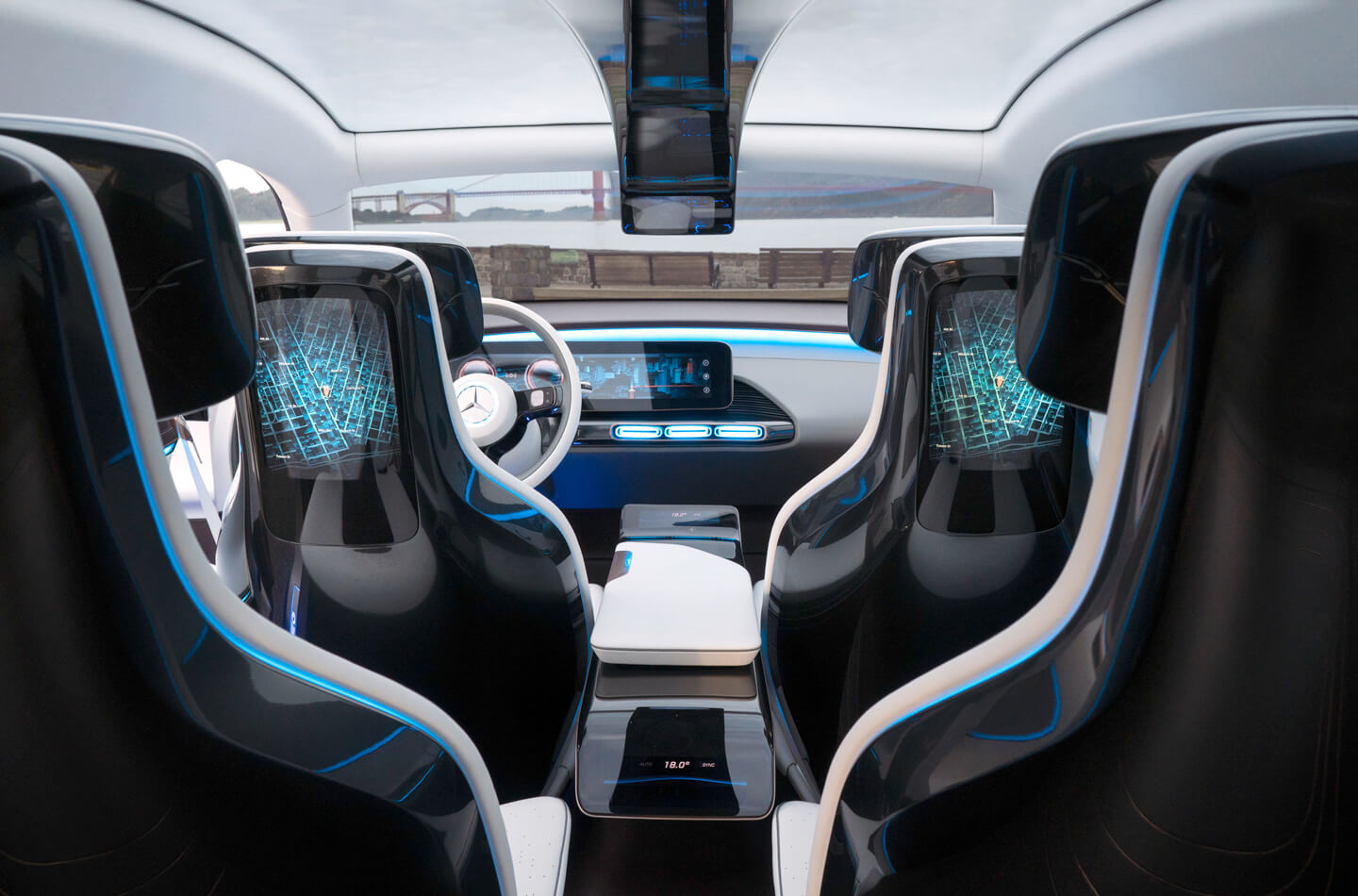 In fact, Mercedes-Benz has two 'partners in excellence', besides LG the German car manufacturer also collaborates with tire manufacturer Continental. Surprisingly, this American company has also developed an Augmented Reality head-up display (AR-HUD). Companies like Harman and Panasonic also offer an AR-HUD, both were presented at CES 2017. Does this mean LG will introduce it's head-up display in January at CES 2018? The company had to wait two years before the patent was approved, they could very well be ready for an official presentation by now.
Yesterday Mercedes also announced to introduce its new infotainment system based on artificial intelligence at CES 2018.
The patent can be seen here.