Amazon and Best Buy announced a collaboration to bring the next generation of Fire TV Edition smart TVs to customers in the United States and Canada. As a first step in the partnership, Best Buy will launch more than ten 4K and HD Fire TV Edition models from Toshiba and Insignia, beginning this summer.
Jeff Bezos, Amazon founder and CEO said: Amazon and Best Buy have a long history of working together, and today we take our partnership to a new level. These Fire Edition smart TVs by Insignia and Toshiba deliver beautiful visuals and all the movies and TV shows you love, with an experience that gets better every day with Alexa. We could not have a better partner in this endeavor.
Amazon partners with Best Buy
The newly designed smart TVs come with the Fire TV experience built in, uniquely bringing together live, over-the-air TV and all your streaming content into one easy-to-view location. Connect any HD antenna and instantly use Alexa to search for and watch broadcast TV, or choose from a vast catalog of streaming TV episodes and movies from Netflix, Prime Video, HBO, PlayStation Vue, Hulu, and many more. Fire TV Edition includes a Voice Remote with Alexa, making it easy to launch apps, search for TV shows, play music, switch inputs, control smart home devices, and more. It can also be paired with any Echo device, allowing you to easily use your voice to control your TV experience hands-free with Alexa.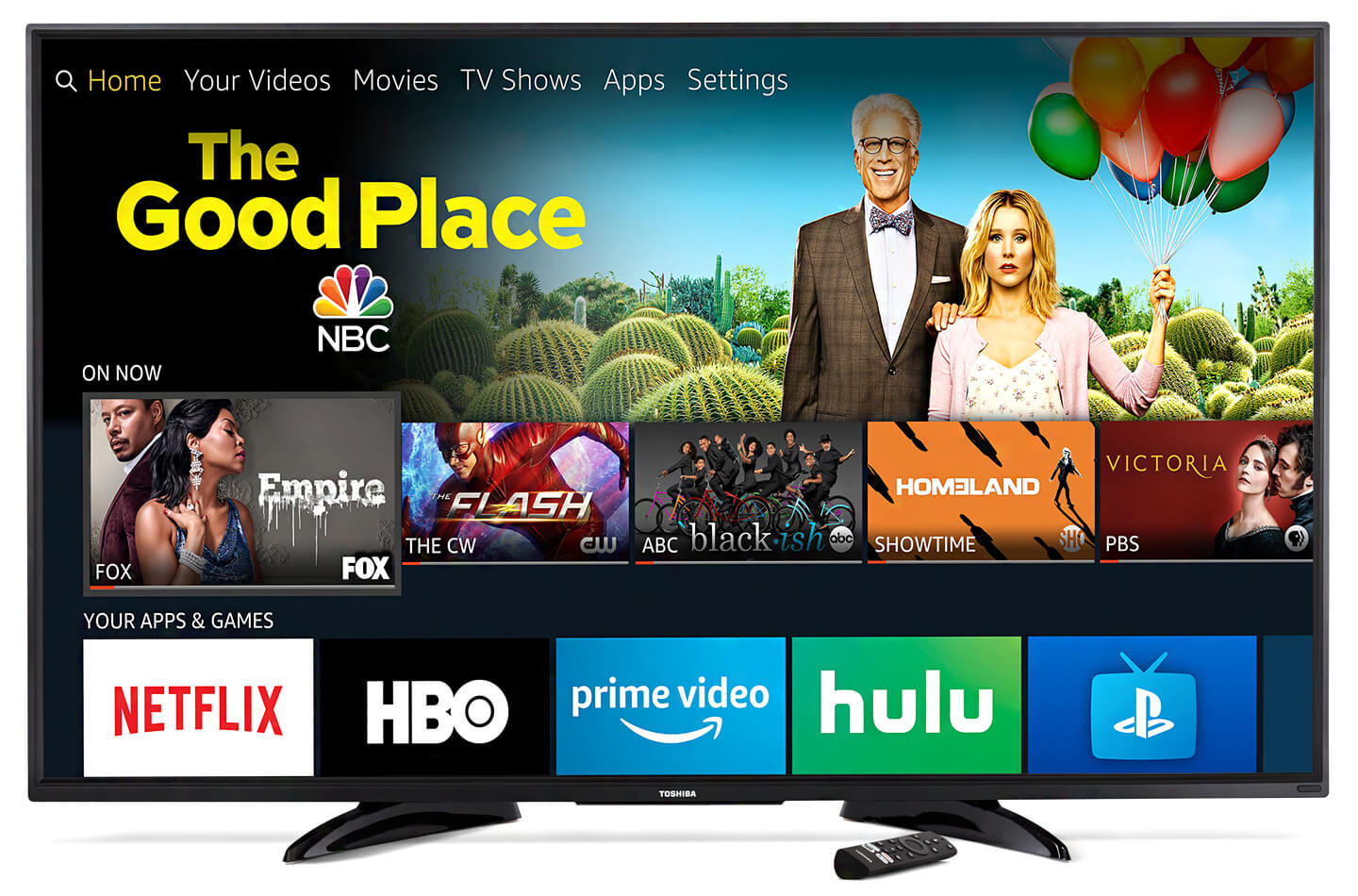 Fire TV Edition smart TVs with Alexa
Fire TV Edition continues to improve even after your purchase, with more new Alexa skills, software features, and applications added regularly. Tens of thousands of Alexa skills are already accessible today, allowing you to have amazing entertainment experiences, view and control your smart home connected cameras, lighting, security systems, and more.
Hubert Joly, Best Buy chairman and CEO said: Our goal is to enrich the lives of our customers by offering them the very best products and services, whether they come to us online, visit our stores, or invite us into their homes. Our partnership with Amazon is exciting because we believe Fire TV Edition delivers an incredible user experience and further strengthens the growing connection between home theater, home automation and voice control.
Availability of the Toshiba and Insignia Fire TV Edition smart TVs
Customers in the United States will have the ability to purchase the first Fire TV Edition smart TV from Toshiba beginning this summer, with additional models to be released in 2018. Fire TV Edition smart TVs will be available exclusively in Best Buy stores, on the BestBuy website, and for the first time, from Best Buy as a third-party seller on the Amazon website. The new Fire TV Edition smart TVs will be available for purchase in Canada later this year.