The Galaxy S9 and Galaxy S9+ are the latest premium handsets. Both devices offer a high-quality camera system that enables new possibilities to capture and experience the world around you. In this article you'll find a brief description of the most important camera features.

Galaxy S9 features the best smartphone camera for low-light photography
The Galaxy S9 dual aperture camera is designed to adapt to various lighting conditions just as the human eye would, automatically letting in more light when it's dark and less when it's too bright to guarantee that images are crisp and clear.
This level of clarity is possible thanks to Samsung's pairing of a new F1.5 aperture lens, which is the brightest currently available on a smartphone, with an F2.4 lens. The camera lenses automatically adjust their apertures to reduce visual distortion and deliver the best possible image, and help the camera provide better reception to light. Users can also adjust the aperture manually by utilizing the camera's Pro Photography Mode.
The Galaxy S9 multi-frame noise reduction technology enhances low-light image quality even further by capturing and combining twelve pictures in quick succession to eliminate noise and create a better picture.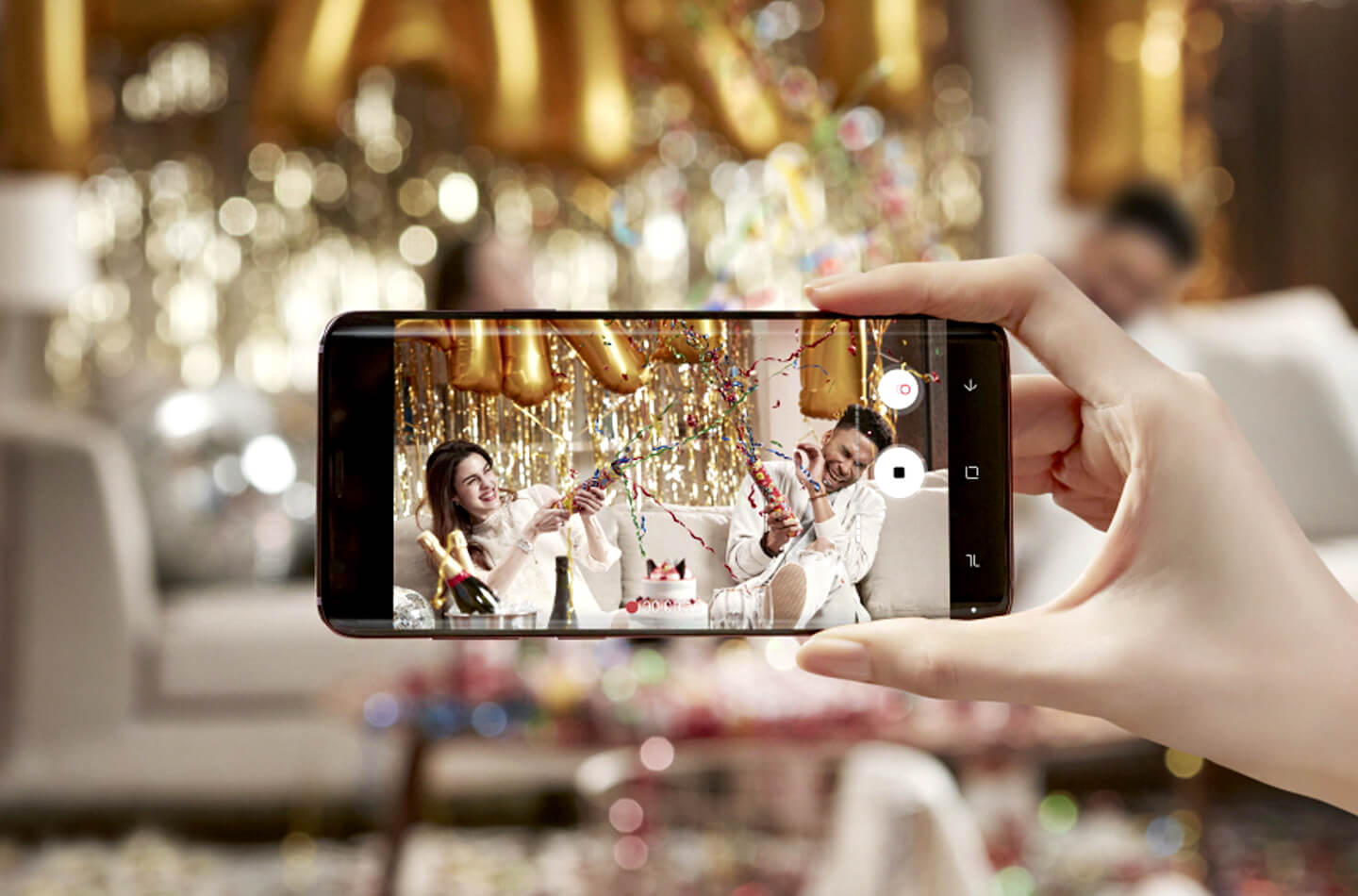 New camera offers super slow motion video capture
By increasing the camera's shutter speed to a blistering 960 frames per second, the Galaxy S9's new super slow motion function makes it easy for users to record special moments that pass too quickly to be seen by the naked eye.
In order to incorporate the function, Samsung outfitted the Galaxy S9 phones with a super speed dual pixel image sensor that supports faster image processing.
Composed of an image sensor, a fast readout circuit, and a smart dedicated memory chip, this sensor allows super slow-motion to record content that's 32 times slower than normal video, and four times slower than any other slow-motion mobile technology. That means that just 0.2 seconds of normal video can be transformed into approximately six seconds of slow motion footage.
When activated on the Galaxy S9, the new video function is not just fast, it's also smart. To make capturing slow motion footage even simpler, Samsung engineers enhanced the function with an intelligent feature called 'Automatic Motion Detection'.
This allows users to automatically record moments that could pass them by in the time it would take to manually activate the function. Users can easily adjust the size of the motion detection area on the camera screen, and have the option to capture either a 'Single-take' or 'Multi-take' Super Slow motion video, with the latter allowing them to record up to 20 slow-motion clips.
The enhanced camera system also makes customizing and sharing Super Slow motion videos simple. Users have the option to create a GIF of their clip that they may save and share with three playback options: on loop, in reverse, or in swing mode. They can also add a soundtrack to their video, utilizing a song from their library or any of Super Slow motion's 35 built-in options, and choose to display their Super Slow motion clip on Galaxy S9's home screen or lock screen.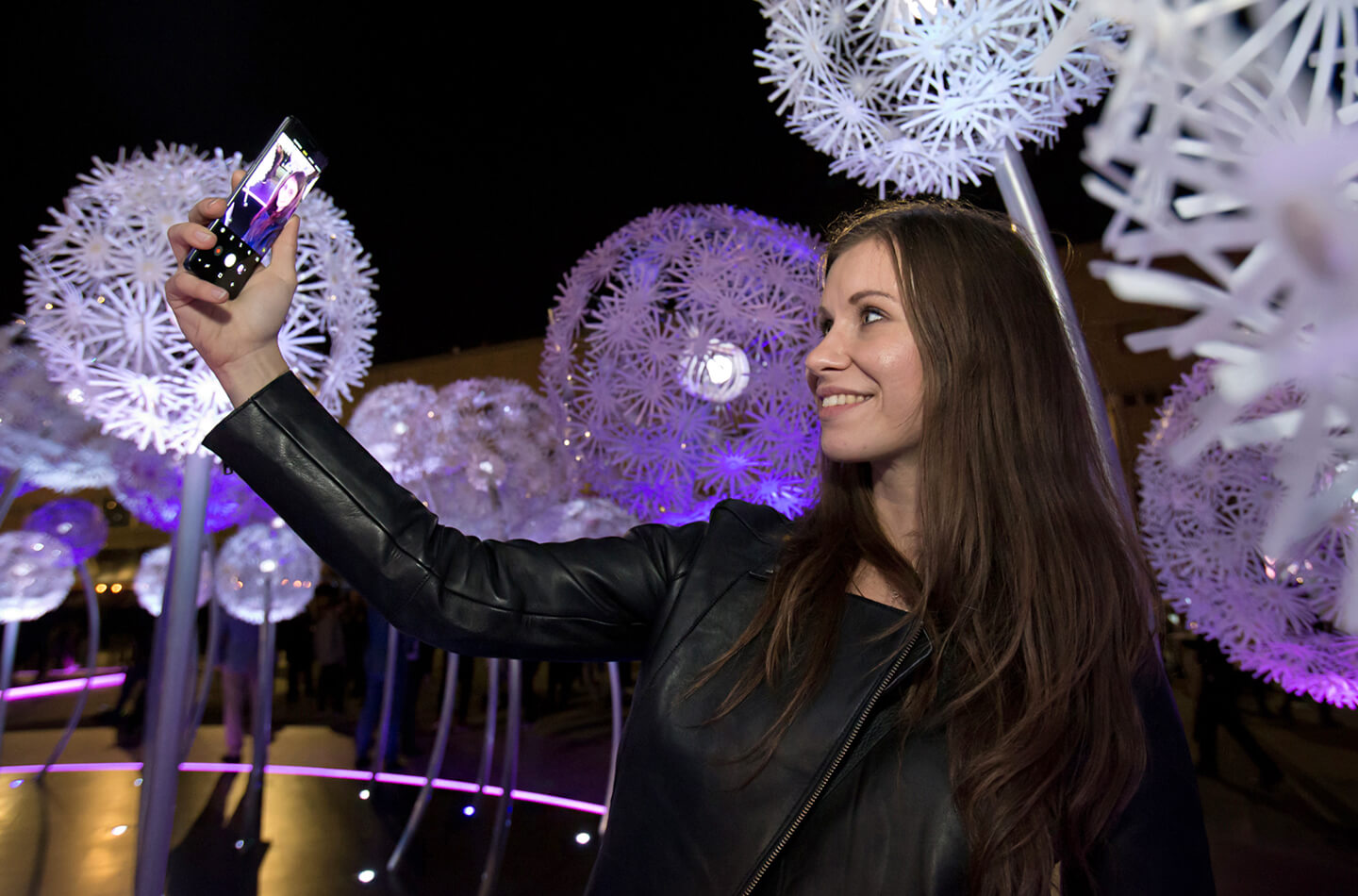 Samsung Galaxy S9+ dual camera system
The dual camera system featured on the Galaxy S9+ is composed of a pair of 12 megapixel cameras – an F1.5 wide-angle lens with super speed dual pixel image sensor, and an F2.4 telephoto lens – that combine their respective images into one.
The telephoto lens offers 2x optical and up to 10x digital zooming capabilities, while the camera's dual optical image stabilization technology ensures that both lenses provide crisp, clear pictures even when the user has a shaky hand.
The camera's live focus feature makes snapping selfies more fun, and allows you to easily capture a perfect portrait photo and adjust the depth of field before the picture is taken, or afterward, in the Gallery app. The background blur function offers users even more creative control over their pictures, allowing them to adjust their photo's focus by applying a variety of shapes, including a heart or star to the background.
The dual capture feature was specifically designed to capture beauty in the background – or views that could be missed when taking a live focus shot. This function allows you to snap a close-up live focus portrait while also capturing the surrounding scenery, so the final photo will encapsulate the beauty of the moment in its entirety.
In addition, the camera system of both the Galaxy S9 and S9+ utilize machine learning technology to ensure that captured images are as clear as can be. The cameras' Selfie focus feature automatically distinguishes the user's face from their surroundings when taking a selfie. Image classification solution automatically categorizes images and recognizes subjects' surroundings to apply filters that make the photos looks like they were taken by a professional photographer.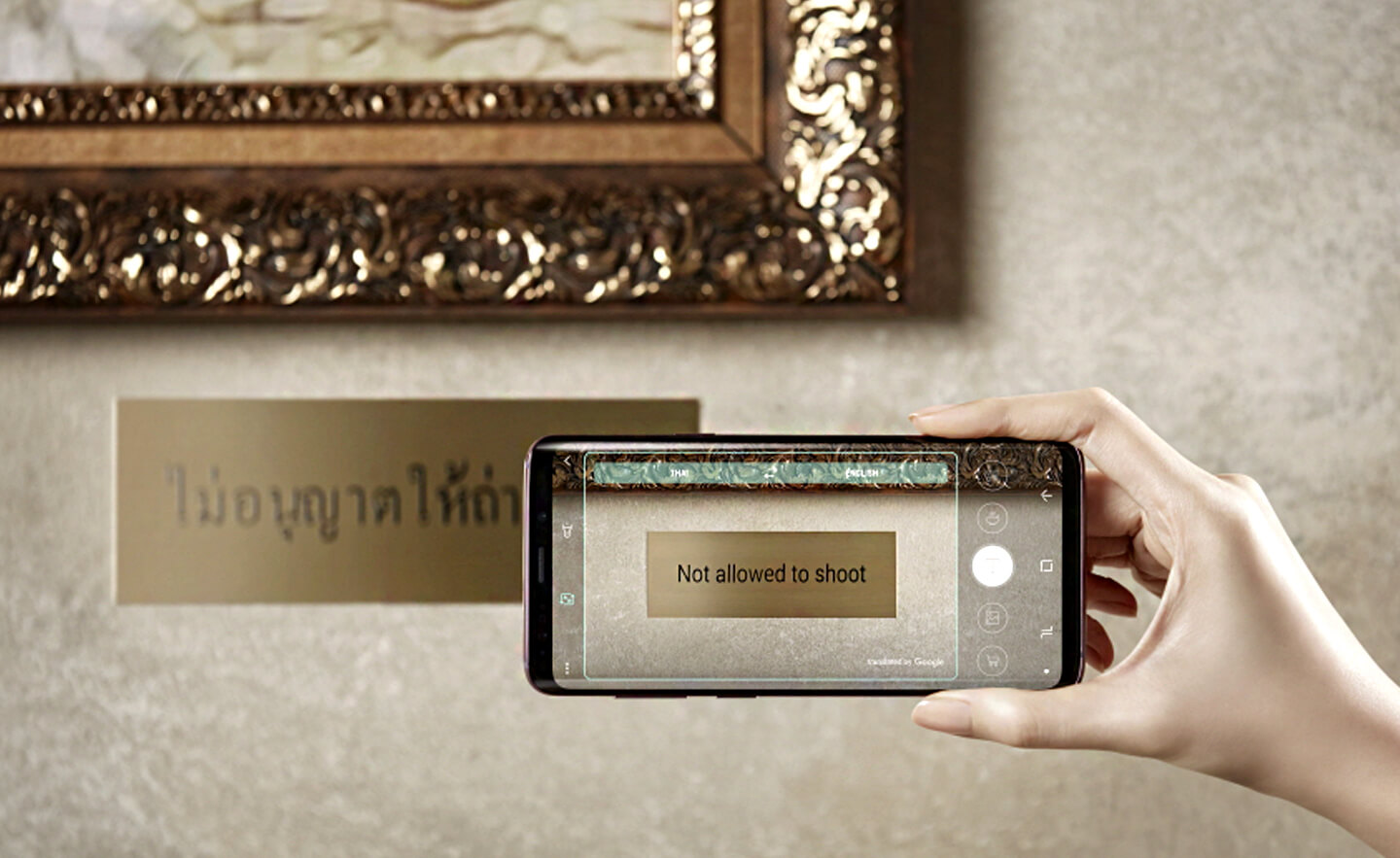 Smartphone camera can be used for live translation
Samsung Bixby is now deeply integrated into the Galaxy S9's camera system, and utilizes augmented reality and deep learning technologies to provide users with a wide range of helpful, real-time information about the world around them.
When the user points their camera at an object, Bixby recognizes what it's looking at and instantly presents information related to that object overlaid on top of the image. Bixby currently features nine different camera modes, including text, food, makeup, wine, shopping, image, QR code and more, which allow users to receive instant insight into their surroundings.
This means that, for instance, a user on a business trip abroad may utilize the live translation function under Bixby's text mode to instantly translate a menu or sign written in a foreign language, or even foreign currency, in real-time. Bixby is currently capable of detecting 54 languages and translating them into a total of 104 languages.
Speaking of food, Bixby vision's food mode allows the Galaxy S9 camera system to provide comprehensive information on the food you're eating, including the calorie count and recipes. Makeup mode delivers similar levels of analysis and convenience, allowing the Galaxy S9 camera to recognize the kinds of makeup that the person is wearing, and providing direct links to websites that sell them.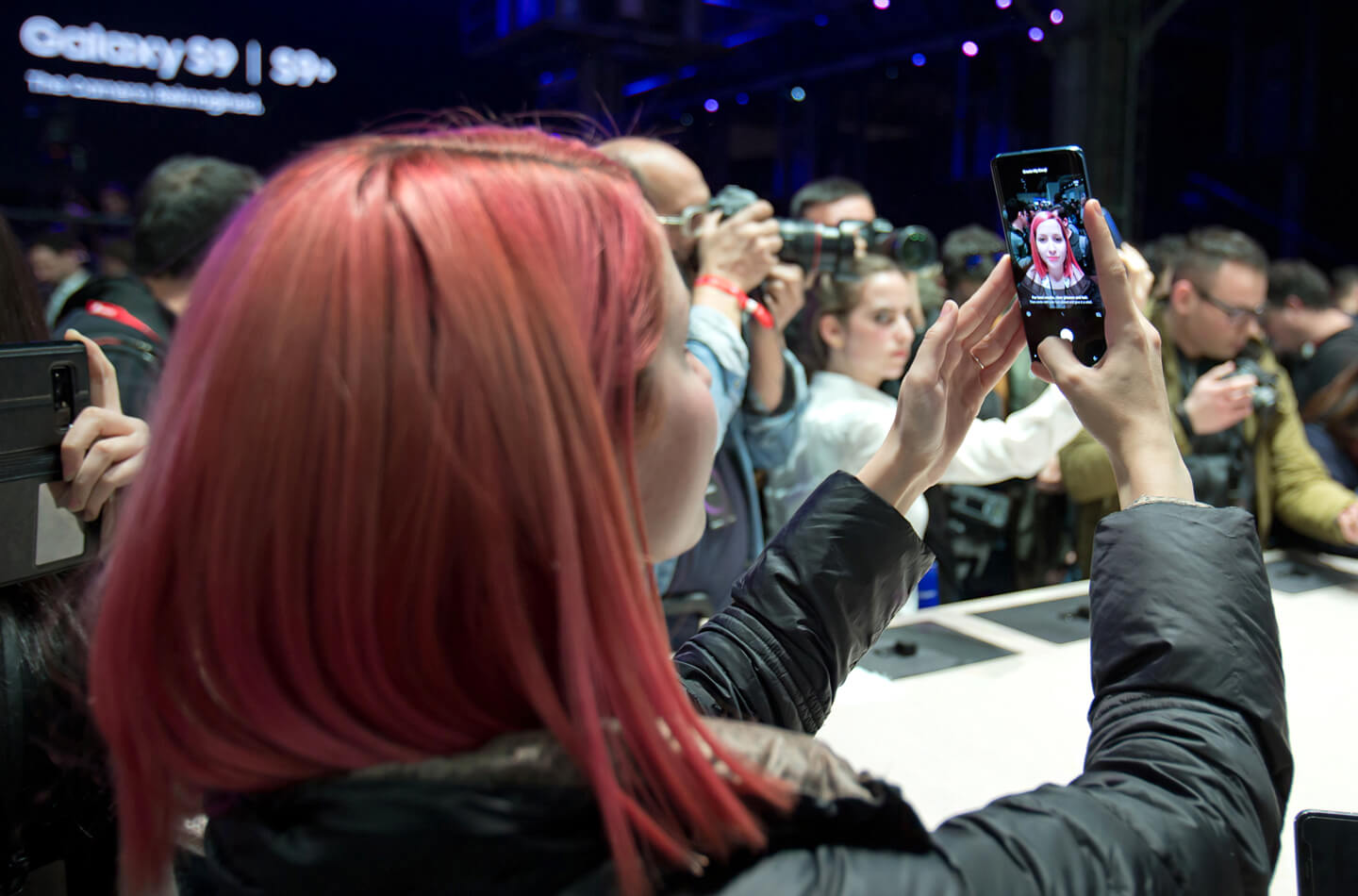 Premium Galaxy smartphone
Today, smartphone users are relying less on phone calls and texts and more on selfies, emoji and GIFs to communicate with one another. That's why Samsung engineers outfitted both the Galaxy S9 and S9+ with innovative camera technologies designed not just to produce high-quality images, but to help users connect more comfortably and have more fun with their premium Galaxy smartphone.