Four days ago, LetsGoDigital reported that Samsung has applied for a trademark for Infinity-V. Soon the rumor mill got going; Will this be the screen of the foldable smartphone, is it meant for the Galaxy S10 or…?
To make the confusion complete, yesterday we reported exclusively on our Dutch edition about three new brand names that have been applied for at the USPTO (United States Patent and Trademark Office).
On October 30, 2018, Samsung Electronics registered the following brand names: Samsung Infinity-Flex, Samsung Infinity-O and Samsung Infinity-U.
All three trademark applications were published on November 2, 2018 and are classified as; 'Mobile phones; Smartphones; Displays for mobile phones; Displays for smartphones'.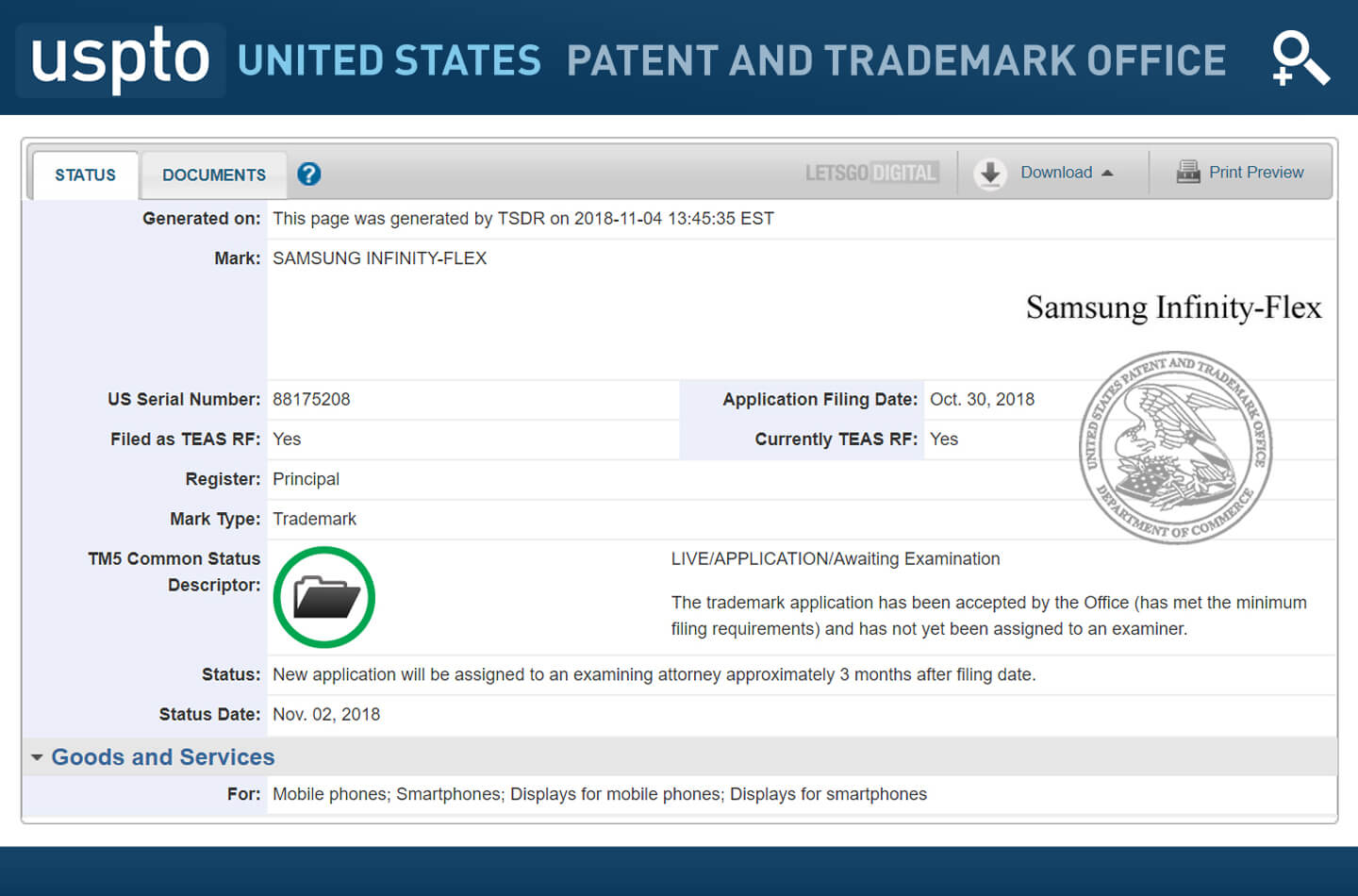 Samsung Infinity Flex is probably the screen of the foldable smartphone
The applications can have multiple meanings. Most likely, at least one of these names will be used for the screen of the folding smartphone. My guess would be that this screen will be called Infinity Flex. There are more and more signals that the device itself gets the name Galaxy F, where the 'F' refers to 'Fold'.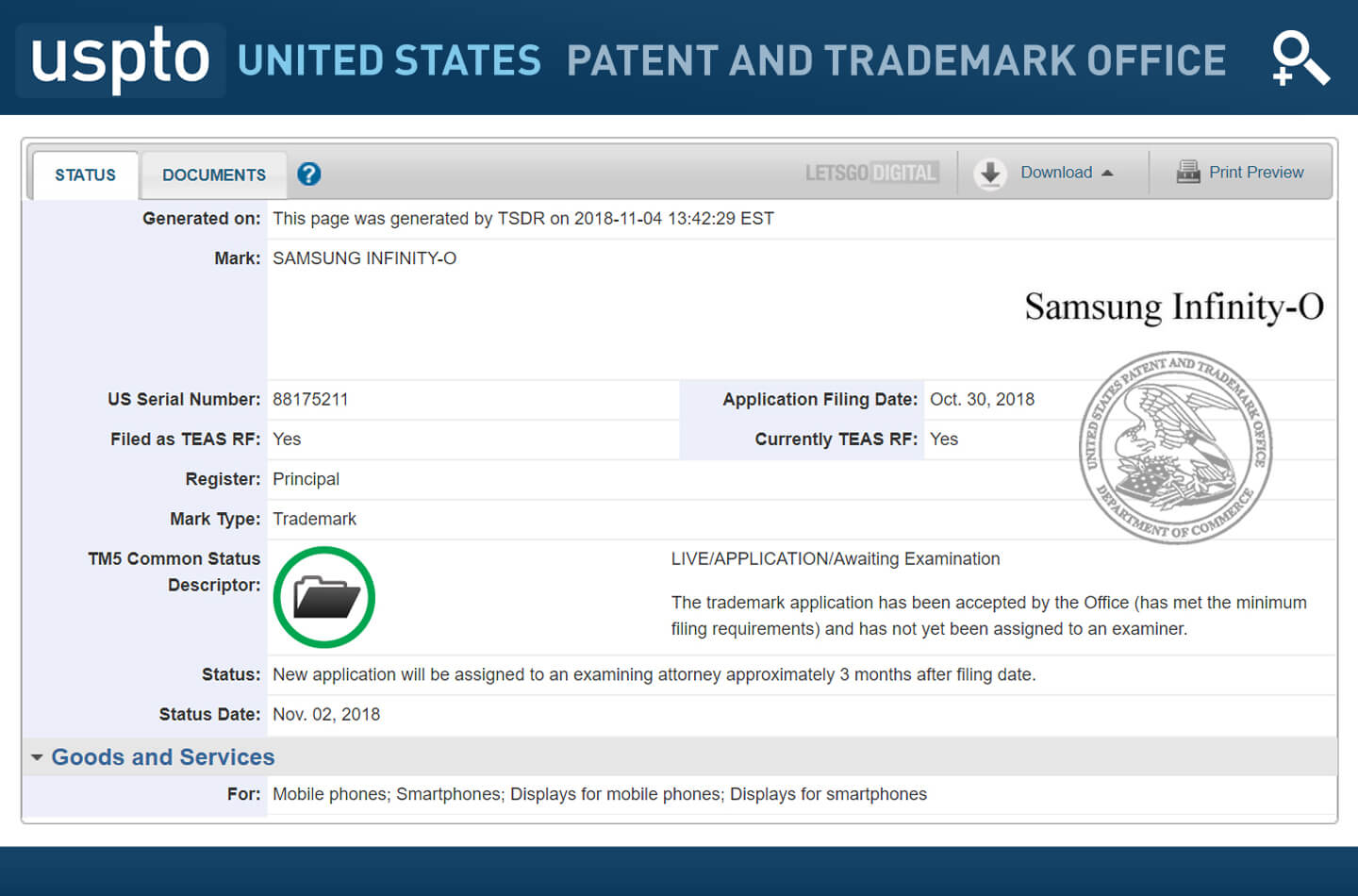 Then still three names remain; Infinity-O, Infinity-U and Infinity-V. Although three different Galaxy S10 models are expected, I do not think that all these screens will get a different name.
Possibly the Korean manufacturer is working on a new smartphone line-up, including a rollable and a bendable phone. In addition, a gaming smartphone is also expected. In any case, Samsung seems to be introducing a series of new displays (and smartphones) soon.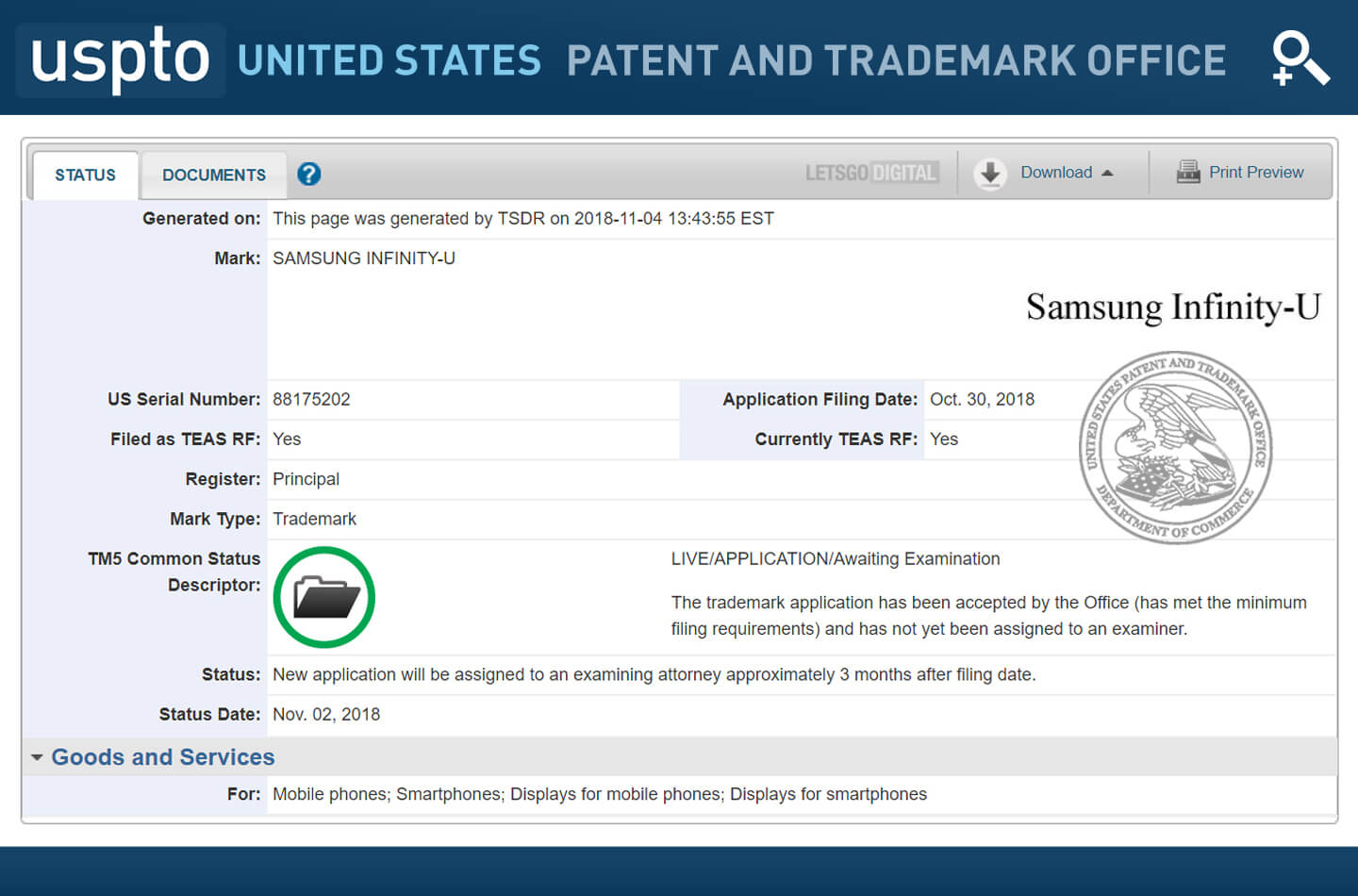 Samsung smartphones with Infinity display
The Galaxy S8 was the first smartphone from Samsung with an Infinity display. Later, the Galaxy Note smartphones also got equipped with an almost full screen. And now even the top models from the Galaxy A series come with an Infinitiy screen, although this is a flat display, while the Galaxy S and Note devices have a so-called Edge screen with rounded corners.
Here you can see the trademarks: Samsung Infinity-Flex, Samsung Infinity-O and Samsung Infinity-U.