It is already known that Samsung will change the design of the Galaxy S10, more sensors will be integrated into the display. This allows the bezels to be minimized, making it possible to create a full screen smartphone. It seems that the company has therefore come up with a new screen name.
Samsung Electronics filed a trademark with the Korean Intellectual Property Office (KIPO) on 26 October 2018. It is a trademark application for 'Samsung Infinity-V'. The application is categorized as classification 09. This includes 'smartphones and displays for smartphones'.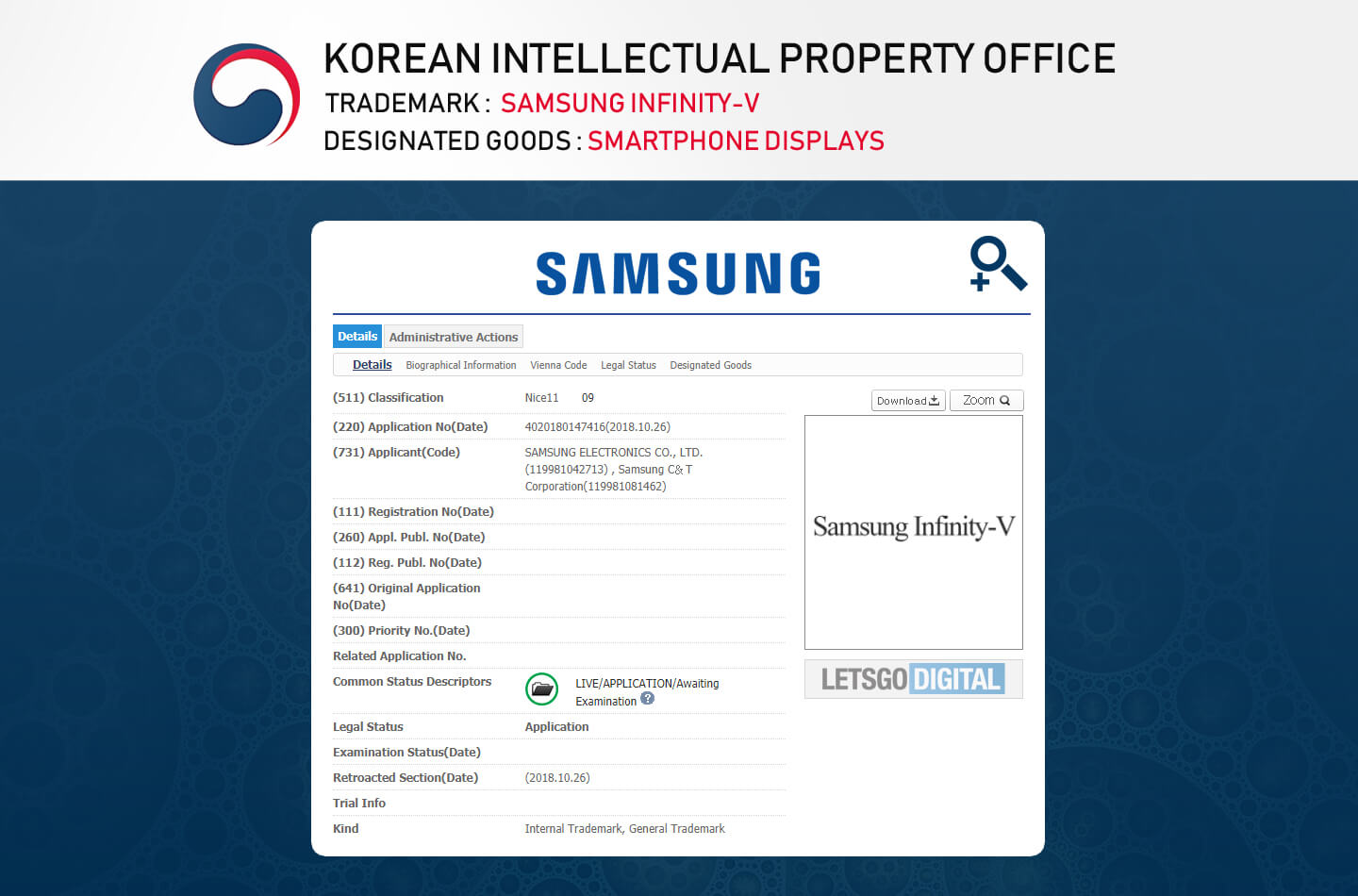 Samsung Infinity-V display for Galaxy S10 or foldable phone
The Samsung Galaxy S8 series was launched last year, these were the first smartphones from the Korean manufacturer with an Infinity display. The large display and the narrow bezels were groundbreaking and made you get more screen surface without the device getting bigger.
The Galaxy S9 series has a similar design to the S8. Samsung has already indicated that "very significant" changes will be made in the design of the Galaxy S10. Subsequent rumors show that the company intends to process all sensors and the camera behind the display. This allows for an even larger screen area to be created. The Galaxy S10 seems to be the first true full screen smartphone of the Korean manufacturer. The S10 will also be the first smartphone from Samsung with an in-display fingerprint scanner.
The Samsung Galaxy S10 is expected in the first quarter of 2019. By that time we expect to hear more about the Samsung Infinity-V display. Although it is of course also possible that this is the display name of Samsung's foldable smartphone, this device will probably also be presented soon. As this display is foldable, it is logical for Samsung to choose a different name for this type of screen. By calling it Infinity-V, it would still be very similar to the current high-end models from Samsung. On November 7, 2018 the Samsung Developer Conference will start in Moscow, Russia. By then we hope to hear more about Samsung's foldable phone.
The trademark from Samsung Electronics can be seen here.