The three Samsung Galaxy S21 smartphones have been announced in a range of different colors. The entry-level model comes in four standard colors, the S21 Plus is available in a choice of three standard color variants and two custom colors. In addition, the Ultra model is offered in two standard colors and three custom colors. These special custom color variants are produced on request and are available exclusively through the Samsung eStore.
It looks like an additional color variant will be available for the Galaxy S21 Plus soon. On the Samsung Australia website (scroll down to the fold-down header "What are the participating products?") a Phantom Green version is mentioned. This color variant seems to be exclusively for the Samsung S21+. Model number SM-G886BZGEXSA is the variant with 8GB RAM and 256GB memory. In addition, a 128GB variant will be released with model number SM-G996BZGAXSA.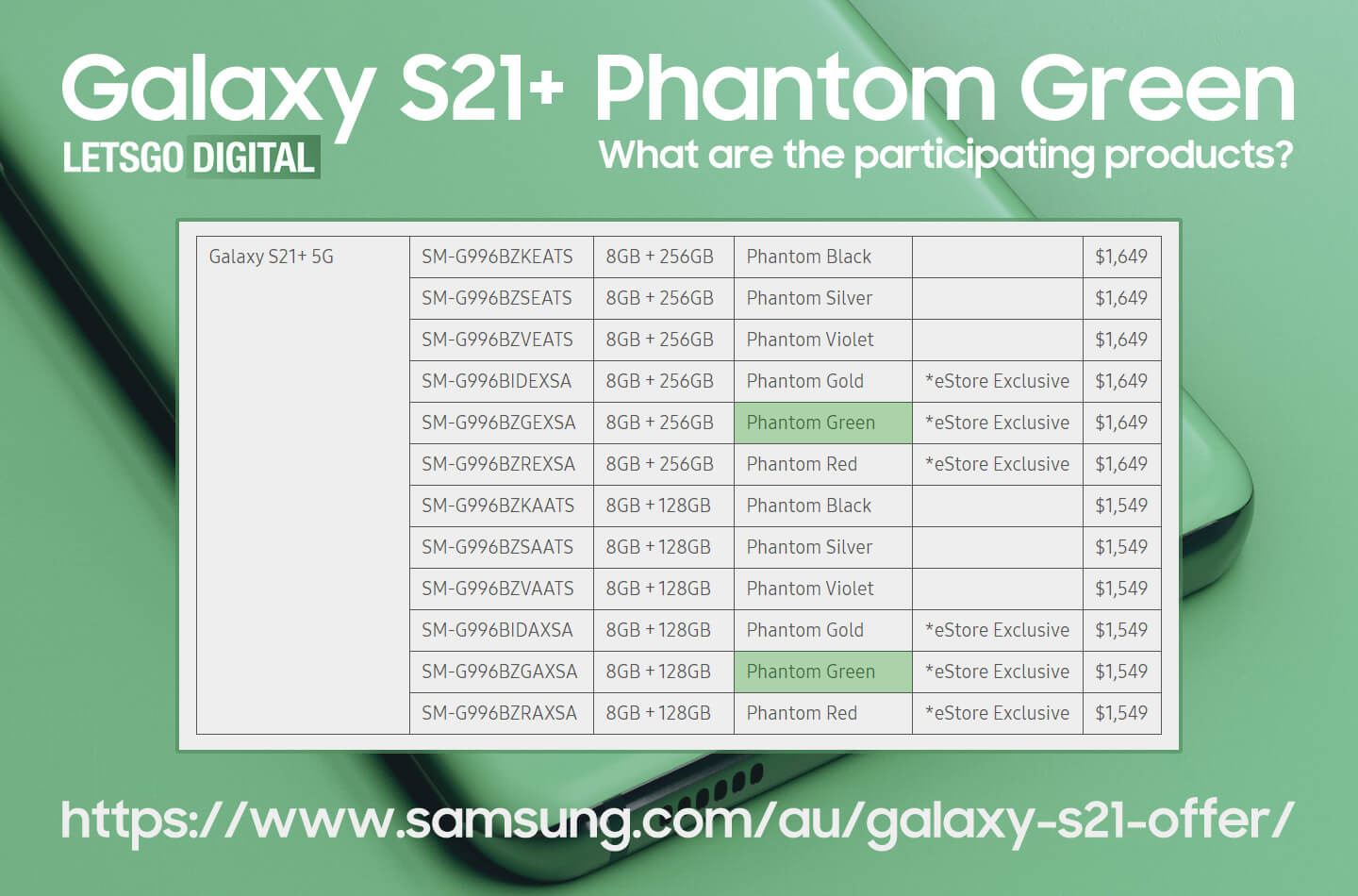 Custom colors for the Galaxy S21 Plus
The custom colors are sold for the same price as the standard color variants. There is, however, a considerable difference in delivery time. As the special colors are processed on request, the delivery time is about 4 weeks.
The Samsung Galaxy S21 Plus is already available in two special colors: Phantom Red and Phantom Gold. These are significantly lighter variants than the custom colors of the Ultra model. We therefore assume that the new green color scheme will also be a vibrant color.
In-house designer Giuseppe Spinelli has made a series of product renders of the expected Galaxy S21+ Phantom Green edition. No official images of the green model are available yet, so the rendering is based solely on our perception. The color may differ from the final product.
Samsung more often uses the color green for its smartphone models. The Galaxy S20 FE was released in Cloud Mint, the Galaxy Note 20 appeared in Mystic Green and the Galaxy S10 was available in Prism Green.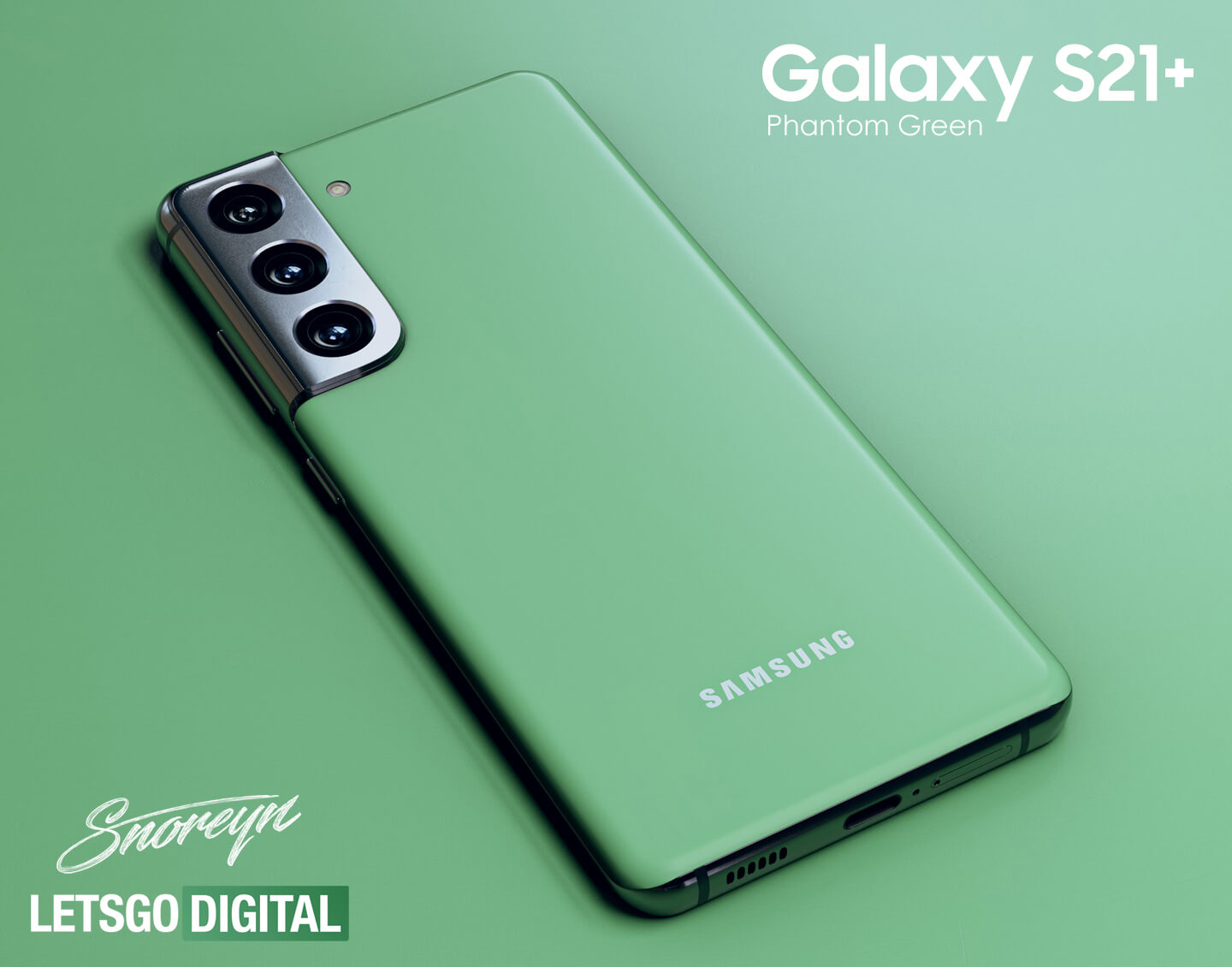 Placing a preorder for the Samsung S21 Plus
The Galaxy S21+ has a starting price of € 1,050 for the 12GB / 128GB model. For an extra € 50 you get 12GB RAM / 256GB ROM. A memory card is no longer supported, which is something to keep in the back of your mind when opting for one of the S21 models.
During the pre-order period, which lasts until January 28, 2021, you will receive a free set of Galaxy Buds Live wireless earbuds and the new Galaxy SmartTag Bluetooth tracker as a gift when you purchase a Samsung Galaxy S21 Plus.
Furthermore, it is important to realize that a charger or earplugs are no longer included in the sales package. These will be sold as an optional accessory. Old chargers are compatible in most cases, but it will take longer to charge the phone. The Samsung S21 Plus supports 25W fast charging.
Additional colors (part of Samsung press release)
Starting on January 29, 2021, Galaxy S21+ will be widely available through your network providers, retailers and Samsung.com. Galaxy S21+ will be available in two bold colors featuring deluxe haze finishes:
Phantom Silver: 256GB model with 8GB RAM
Phantom Black: 256GB model with 8GB RAM
Phantom Violet: 256GB model with 8GB RAM
Additional colours will be available exclusively on Samsung.com including Phantom Red, Phantom Gold and Phantom Green. Pre-orders for the Samsung Galaxy S21 Ultra and Galaxy S21+ begin January 15 at 8:00am NZT. Between January 15 and January 29, 2021, consumers who pre-order can get Galaxy Buds Pro.